Samsung has achieved much success in increasing its brand recognition and attracting a large number of customers to trust its products. To achieve this success, Samsung has built and implemented effective marketing strategies according to the 4P model. Let's learn about Samsung's Marketing strategy through the article below.
l. An overview of Samsung corporation
According to  Wikipedia , Samsung is a giant Korean multinational corporation with its headquarters located in the Samsung Town complex, Seocho district, Seoul city. This group currently owns many subsidiaries, sales systems and representative offices globally, most of which are operating under the brand name 'Samsung'.
Samsung is a multi-industry conglomerate with the largest scale and influence on the economy in Korea in particular and is also one of the most valuable technology brands in the world today.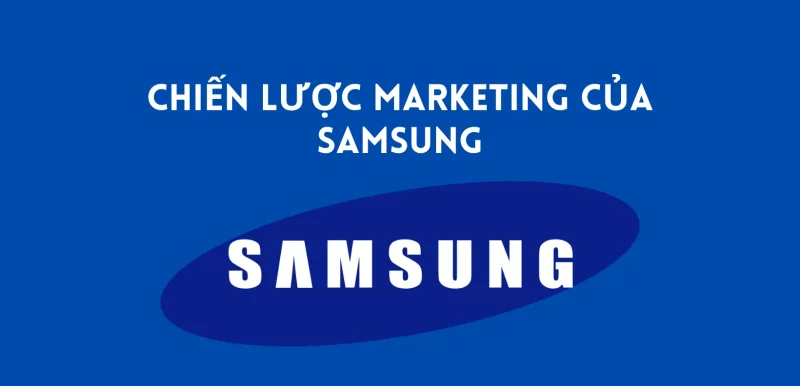 Samsung was founded by Lee Byung-chul – a Korean businessman and industrialist in 1938, starting as a small retail trading company. After more than 3 decades of formation and development, Samsung Group gradually diversified into industries including: food processing, textiles, insurance, securities, real estate and retail.
Samsung expands its operations on a global scale, focusing on investing in research and strategic development the most in the fields of high technology and consumer electronics, specifically the mobile phone, TV, and power chip segments. atoms and semiconductors. As a result, many of the above fields gradually become the most important spearhead, with an increasingly large contribution and a high proportion, to the point that it is almost impossible to replace the total revenue of the whole group.
Notable Samsung subsidiaries include: Samsung Electronics (the largest electronics and high-tech company in the world by revenue, and the 4th largest in the world by market value in 2012), Samsung Heavy Industries (the world's 2nd largest shipbuilding company, second only to Hyundai Heavy Industry), Samsung Engineering and Samsung C&T (the world's 12th and 36th largest construction companies, respectively).
Other important subsidiaries include Samsung Life Insurance (the world's 14th largest insurance company), Samsung Everland (managing Everland Resort, the oldest theme park in Korea), Samsung Techwin (an insurance company). space exploration, production of surveillance equipment, protection, military equipment, etc.) and Cheil Worldwide (15th largest advertising company in the world by 2012 revenue).
Samsung has had a great influence in the development of economics, politics, media, culture, and social life in Korea, and is the driving force, the main 'core' behind its success. of 'Miracle of the Han River'. Samsung contributes up to 1/5 of the country's total export turnover, and at the same time, the group's revenue also accounted for 17% of the total GDP size of 1,100 billion USD of the Korean economy in 2013.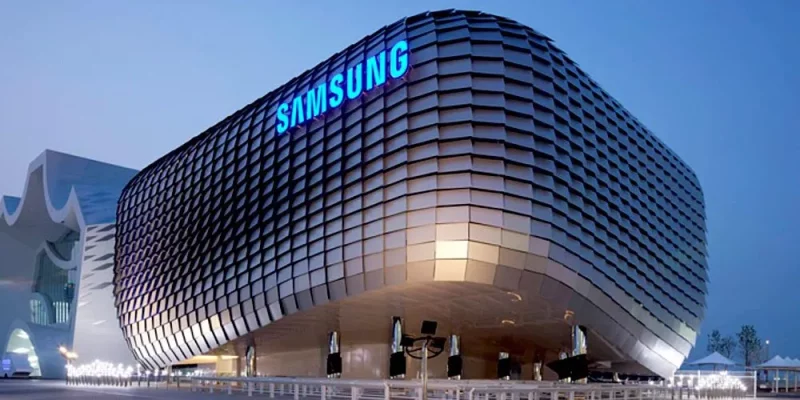 ll. Analyze Samsung's outstanding Marketing Mix strategy according to the 4P model
In 2019, Samsung had the largest global brand value in Asia in particular and was also ranked 4th in the world. In July 2020, Samsung once again surpassed major competitors such as Apple, Google, Sony, LG, Panasonic, Philips,… to continue to top the ranking of Asia's 1,000 most loved brands for 9 consecutive years. Conducted by leading companies specializing in market research, Campaign (Asia-Pacific) and Nielsen Media Research.
To achieve the above success, Samsung has implemented effective and successful 4P Marketing Mix strategies   in increasing brand awareness and attracting customers. So what is Samsung's Marketing Mix strategy? How did Samsung build its Marketing Mix strategy? Join Malu for a detailed analysis below. In addition, readers can refer to the Marketing plan template, which helps Marketers build, monitor and evaluate the effectiveness of Marketing campaigns.
1. Samsung's Marketing mix strategy for products (Product)
When it comes to Samsung's marketing strategy for products, this brand invests heavily in research and development to be able to bring the best products to its customers. Samsung offers many products in different product categories. Diverse products are offered according to Samsung's product mix strategies.
The product portfolio of this brand currently includes:
Mobile Devices – Smartphones like Samsung Galaxy series, Tablets, Other Phones, Accessories,…

Samsung home appliances – Refrigerators, Washing machines, Cooking appliances, Air conditioners, Vacuum cleaners

TV/AV – Samsung TV, Audio and Video, Accessories

Information technology – Printers, Monitors,…

Memory/Storage – SSD, Portable SSD, Memory Card, USB Flash Drive

TV – LED, LCD, Plasma TV, SMART TV, HDTV,…

Cameras and Camcorders

Laptops, Tablets, Printers and other accessories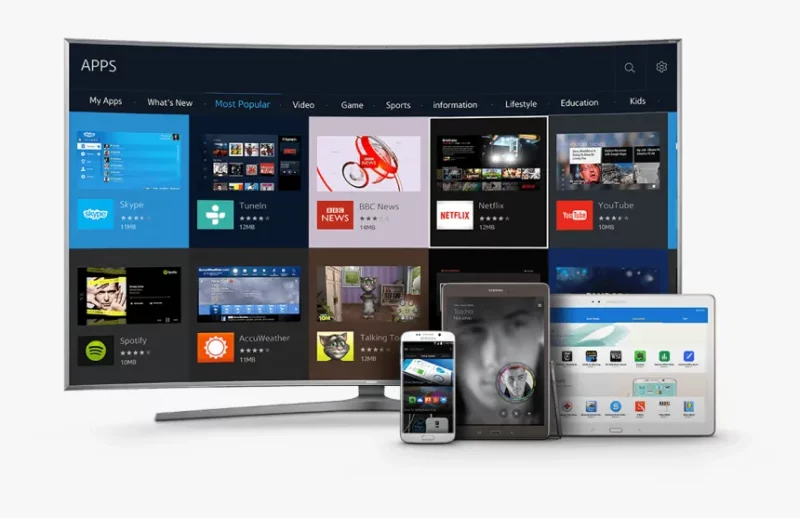 Besides diverse products, unique and meaningful product logos are also a marketing strategy of Samsung about products.
Samsung's logo has an elliptical shape – the symbol of a galaxy. However, in reality, the Samsung logo has another meaning: "The brand covers everything". The ellipse represents the equator surrounding the globe, and the words Samsung inside imply that: Samsung produces everything in every field. And more than that, Samsung connects people together.
Regarding packaging and boxes, Samsung's marketing strategy is to limit the use of plastic in the product packaging process and the packaging will be made from molded paper pulp to maximize internal space for the product and accessories. comes as well as minimizing waste into the environment.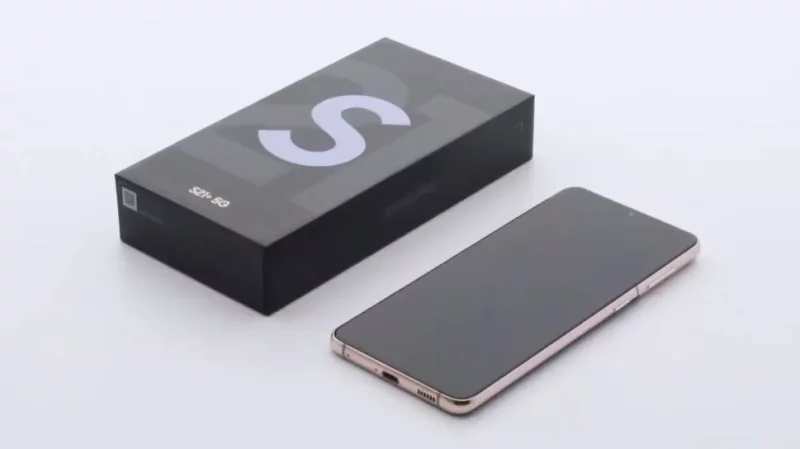 Not only replacing the plastic material on the packaging with paper, Samsung also uses a matte coating on the charger instead of the glossy coating like before. This helps the company avoid the need for a vinyl coating on the outside of the charger like before.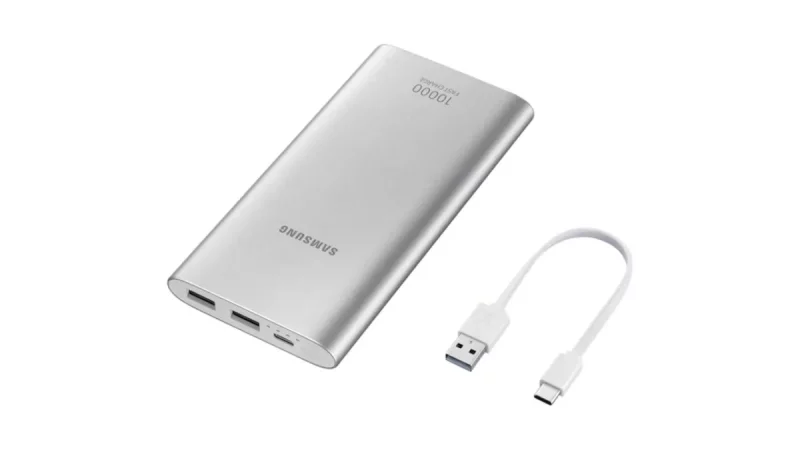 With a diverse product line with unique meaningful logos as well as packaging and boxes made of environmentally friendly materials, Samsung has succeeded in attracting target customers and convincing them to choose  them  . Choose your product over your competitors' products.
2. Samsung's Marketing mix strategy in terms of price (Price)
Product pricing  is very important in the Marketing Mix strategy. Adjusting the price of a product has a major impact on the entire marketing strategy and has a major impact on product sales and demand.
Therefore, when building an effective price marketing strategy, businesses will understand how to offer the best price for their products and convince customers to choose Samsung products instead of Samsung products. competitors' products.
Regarding Samsung's marketing strategy for product pricing, unlike some other brands that only focus on 1 or 2 price segments, Samsung has decided to spread its products from low to mid-range. average and high class. This makes it easy for customers to access Samsung products. All types of users as well as different professions and diverse uses can choose Samsung products.
In general, Samsung's marketing strategy on price includes the following main strategies:
Price skimming strategy
The "skimming" price strategy or skimming price strategy is a pricing strategy in which sellers set relatively high initial selling prices for new products to exploit the needs of a group of customers with high purchasing power, to Quickly recover investment capital and have immediate profits.
After exploiting this group of customers, businesses gradually reduce prices to exploit customer groups with lower purchasing power.
Samsung often puts hefty prices on its latest smartphones and other products with advanced and revolutionary features. Like its competitors launching products with the same functions, Samsung can reduce costs and increase its market share.
Samsung smartphones are some of the best on the market. They are market leaders in terms of features and  USPs  they offer.
Samsung Galaxy Z Flip recently attracted the attention of many people right after its market launch. Therefore, Samsung uses price skimming for this product. The firm strives to achieve high value from the start before competitors catch up. Once the old model or any competitor has launched a similar product, Samsung immediately reduces the price.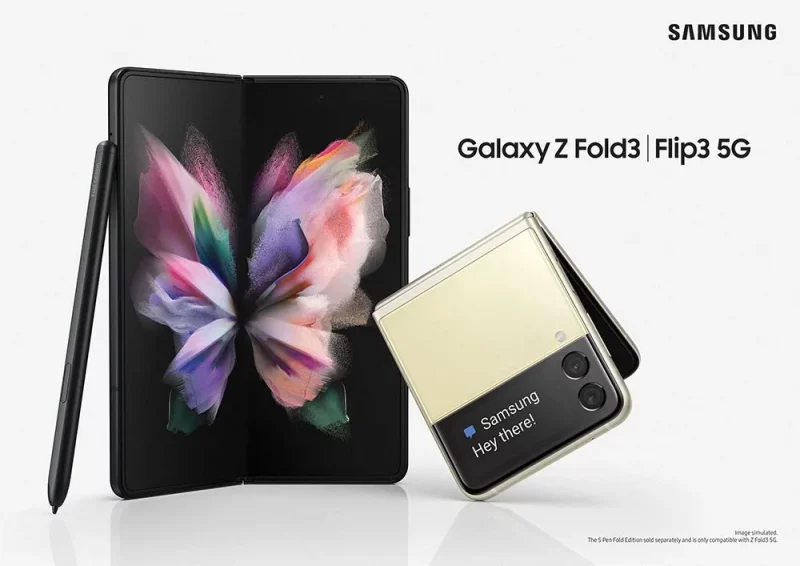 Competitive pricing strategy
Competitive product pricing is a pricing method that utilizes competitors' prices for the same, similar product as the basis for pricing. This pricing strategy focuses on information from the market rather than the cost of production (cost-based pricing) and the value of the product (value-based pricing).
With this strategy, the prices of competing products can be used as a benchmark. Based on that milestone, businesses can price products in three ways as follows:
Pricing is lower than the price of competing products

Set the price equal to the price of competing products

Set a price higher than the price of competing products
Samsung is known as a famous corporation that produces electronic devices and smartphones. However, this brand is not bigger than LG in the field of products for the family. In fact, LG has the ability to beat Samsung in the home appliance sector. Similar to the washing machine industry is Whirlpool and cameras are Cannon. These are brands that compete with Samsung in the washing machine and camera segments. So overall, Samsung keeps prices competitive to beat its competitors.
Read more :  Top 10 pricing strategies applied by businesses in their Marketing Mix strategy
3. Samsung's Marketing Mix strategy on distribution system (Place)
Extensive distribution system is one of Samsung's marketing strategies. Samsung is present through many different channels in the market. However, basically, Samsung's main channels include:
Retail company

System of electronics supermarkets

Samsung Brand Shop
For the retail distribution channel, Samsung has chosen to cooperate with large and reputable retail companies in Vietnam such as: Mobile World, FPT, Vien Thong A, Viettel Store, Nguyen Kim, Anh Duong, VP Group, CellphoneS, TechOne,… Samsung's distributors are all reputable and experienced names.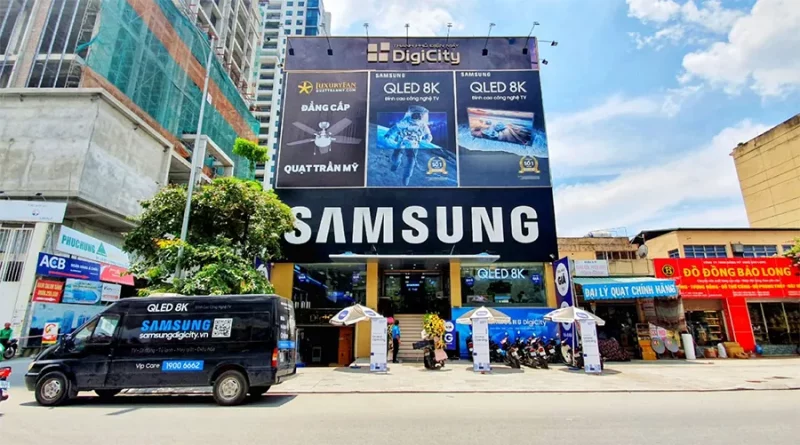 In addition, Samsung also has a network of phone stores and electronics supermarkets that provide products and accompanying components to customers.
For the electronics supermarket system, Samsung also chooses to distribute its products in large supermarkets such as Pico Plaza, Ruby Plaza, Nguyen Kim, Tran Anh,… In the Hanoi market, the electronics supermarket network Samsung product distribution spreads throughout the districts.
In addition, for Samsung's marketing strategy regarding the distribution system, Samsung also cooperates with distributors to open a series of Samsung Brand Shop stores. Recently, Samsung opened Samsung Plaza in Cau Giay. This is Samsung's third Samsung Plaza store in Vietnam following the Brand Shop model.
Brand Shop only sells Samsung products. This is considered a new development step in the distribution system of this brand. Samsung Brand Shop helps enhance the brand position of Samsung products, making it easier for customers to access and feel confident when purchasing genuine Samsung products.
4. Samsung's Marketing Mix strategy on mixed promotion (Promotion)
When analyzing Samsung's marketing strategy on mixed promotion, this brand has taken advantage of four main forms: advertising, personal selling, promotions and public relations.
Advertisement 
In Vietnam, Samsung focuses on advertising on mass media. Samsung focuses on increasing brand awareness by taking advantage of television channels and social media marketing channels. We can see that Samsung wants to focus on the market segment with young customers by continuously running ads on Facebook and Instagram with many trendy, youthful articles and advertising images that stimulate creativity.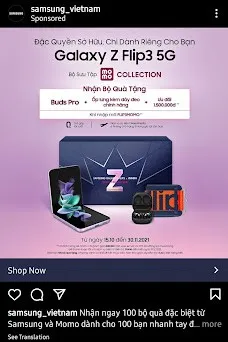 Samsung's marketing strategy in advertising is to take advantage of  Influencer Marketing .
Samsung has cooperated with celebrities among young people to advertise its products. For example, when the Galaxy Note 10 product line was launched, Samsung invited famous names in the entertainment industry such as Thanh Hang, Quang Vinh, Chau Bui, Diem My,… to this product launch event. Illustration
The appearance of celebrities has attracted a lot of public attention, especially young people. The famous Korean music group BlackPink was also invited to cooperate with Samsung to promote the Galaxy product brand.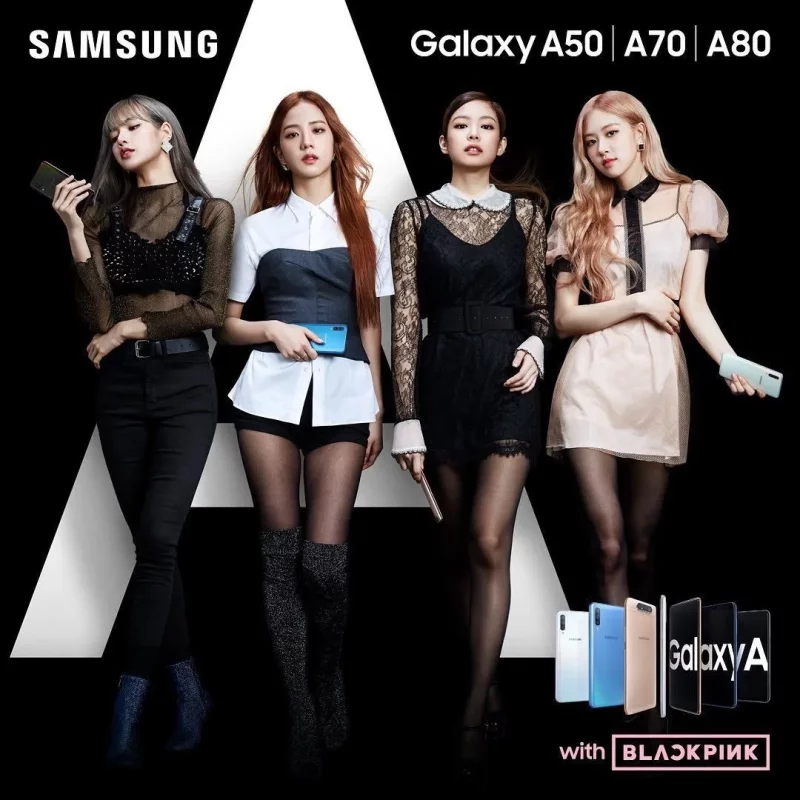 Personal sales
Samsung considers sales pitching as marketing through people. Samsung's promotional activities include main activities such as:
Provide product information to customers

Samsung sales staff are always interested in maintaining and improving relationships with customers

Samsung sales staff often provide useful information for planning promotions and advertising programs
Samsung also has a bonus policy for its sales staff: Each individual who sells a product through a personal relationship will receive a 5% commission on a product.
Promotion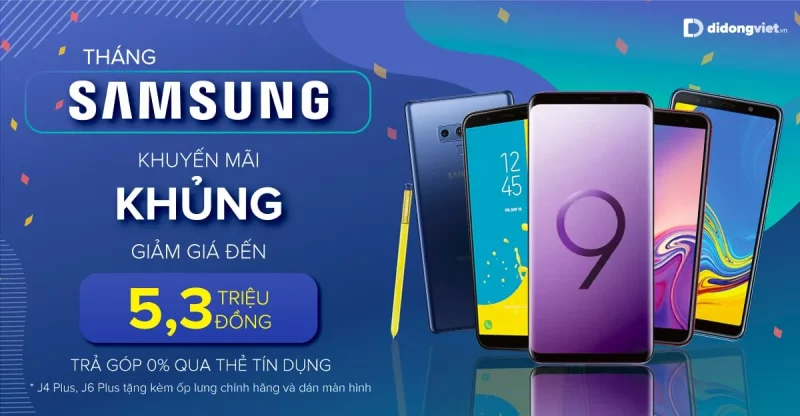 Samsung's Marketing strategy is to continuously offer promotions to attract and attract customers.
For example, with the Galaxy Note 10 product, when pre-ordering, customers will receive an extremely valuable gift set from Samsung up to 6 million VND including: Wireless Power backup battery, health monitoring bracelet. Galaxy Fit, Super Fast Charger 45W,…
Samsung also has the program "Renew old and new" with the message of saving up to 12.5 million VND nationwide. Accordingly, Samsung will purchase old Samsung phone products under certain conditions, instead customers will also receive a completely new Samsung Galaxy Note 10 with a 0% installment payment program.
Public Relations 
Another Samsung marketing strategy is to focus on improving public relations. Samsung always sees this as an opportunity to create a good image of this brand through the press without spending too much money.
For the Galaxy Note product line, Samsung organized a series of Note Fan Party events in Vietnam. This is an activity exclusively for the Galaxy Note fan community with many interesting interactions and interactions with Vietnamese stars. In addition, Samsung also sees this as an opportunity to express gratitude to users who have supported the Galaxy Note series for many years.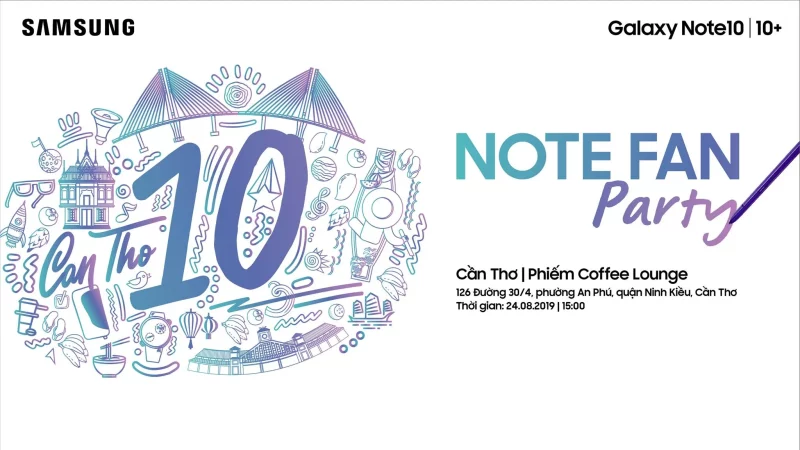 In addition to business activities, Samsung is also a famous brand with the public for maintaining employee welfare programs and social responsibility (CSR) activities with the goal of creating sympathy for customers. with the public. Some of Samsung's social programs can be mentioned such as: campaign to reduce plastic waste at employee dormitories, SDV sports festival in 2019,…
Summary
Samsung has achieved much success in increasing its brand recognition and attracting a large number of customers to trust its products. To achieve this success, Samsung has built and deployed effective Marketing Mix strategies according to the 4P model.
With a diverse and quality product line that comes with prices consistent with product value, Samsung has a competitive advantage over competitors and convinces customers to use its products. Besides, through investing in advertising campaigns and collaborating with celebrities, Samsung has also effectively promoted its brand and products.