Nowadays, brochures have become an indispensable part of the marketing industry. So what is brochure? What is the role of brochures? How to create an excellent brochure? Let's find out with Malu through this article!
1. What is a brochure?
Brochure is a form of advertising publication, which can be folded into a template, or in the form of a leaflet. Brochures are mainly used to introduce a company, organization, product or service to potential customers or the public about its benefits. Brochures are often tucked inside newspapers, hand-delivered, or placed on shelves in high-traffic locations.
2. What is the use of Brochure?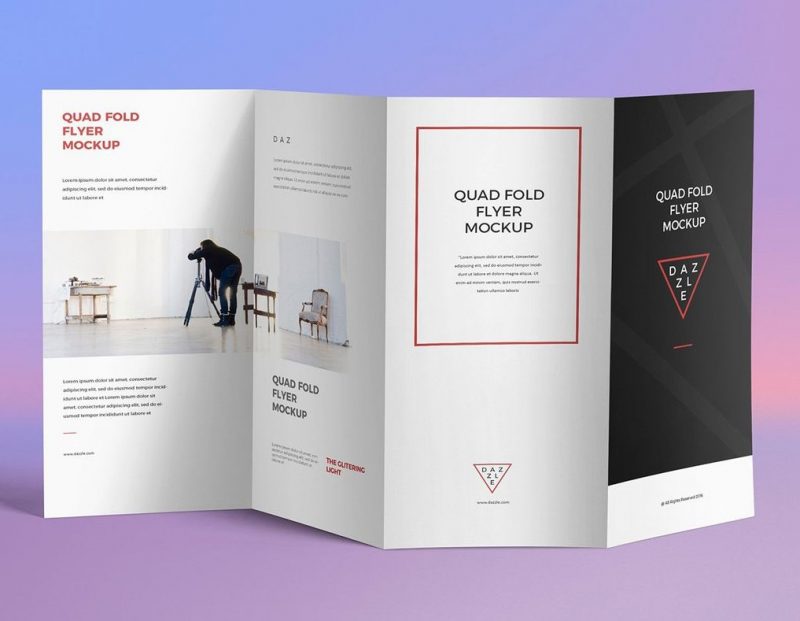 The main purpose of a brochure is to help broaden the reader's understanding of a particular topic that the brochure revolves around. Include:
Impress your target audience at first sight with stunning visual design.

Advertise your product, agency or service visually.

Build trust between you and your potential customers.

Compared to advertising on TV or in newspapers, Brochure is much more cost-effective.

When people are tired of glitzy online ads, a tangible, eye-catching, and subtle flyer becomes more impressive.
3. What types of brochures are included?
Brochures come in different types and take on different roles. Brochure can be classified into the following 4 categories according to its format and layout.
3.1. Gate Fold Brochure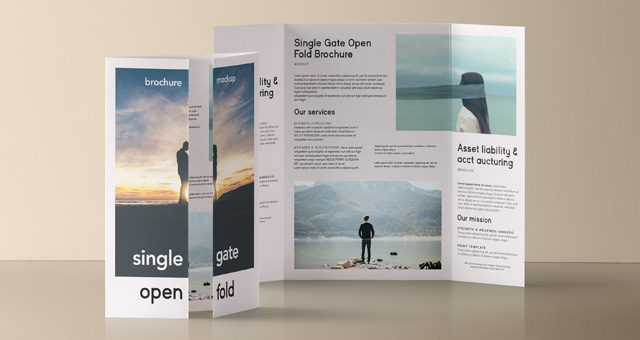 This is an uncommon brochure template because the cost is quite expensive. Its fold-in design is very convenient to carry and this brochure is usually printed with very high quality paper; Mainly used for high end marketing.
3.2. Bi-Fold Brochure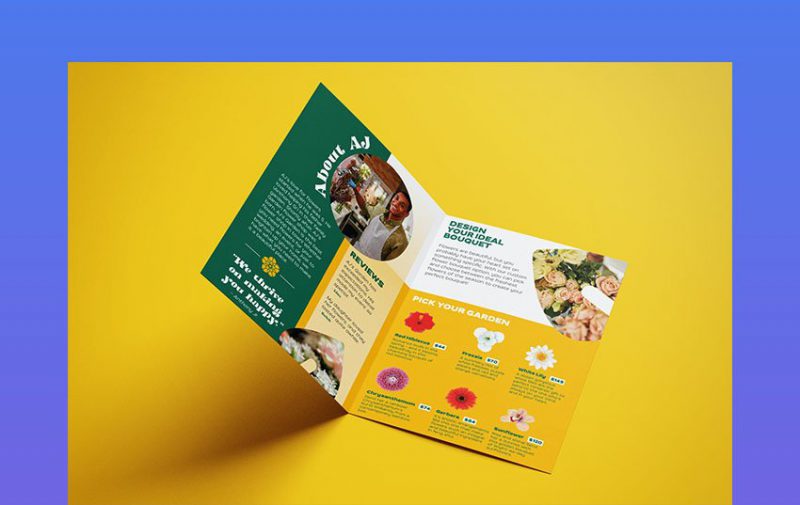 Bi-Fold Brochure is a brochure folded in two, it is one of the most popular and widely used brochures.
3.3. Tri-Fold Brochure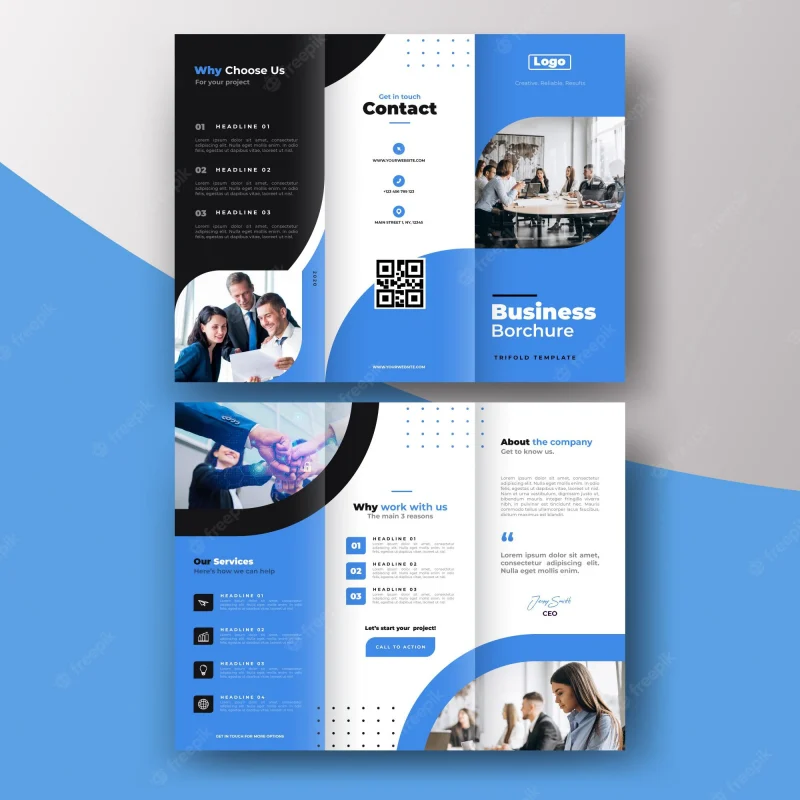 It can be easily recognized that this is a brochure folded in 3 according to its name. And this is a fairly common and common form of advertising material that we can easily find it everywhere. This type of brochure has enough space for the designer to design and present the information in an attractive way, thus easily capturing the reader's attention.
3.4. Z-Fold Brochure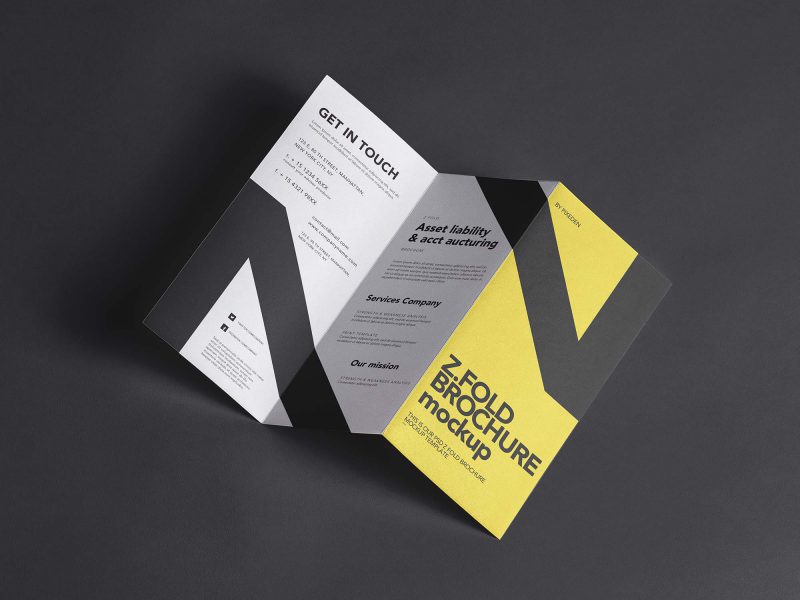 The Z-Fold Brochure is folded in the style of an organ, forming a Z shape. This brochure is one of the top choices for its versatility. Because designers can separate each side of the Brochure into independent parts or design the Brochure into a unified whole, so that when opening the Brochure, customers will be impressed with a comprehensive and vivid picture. .
4. Things to do before proceeding to design Brochure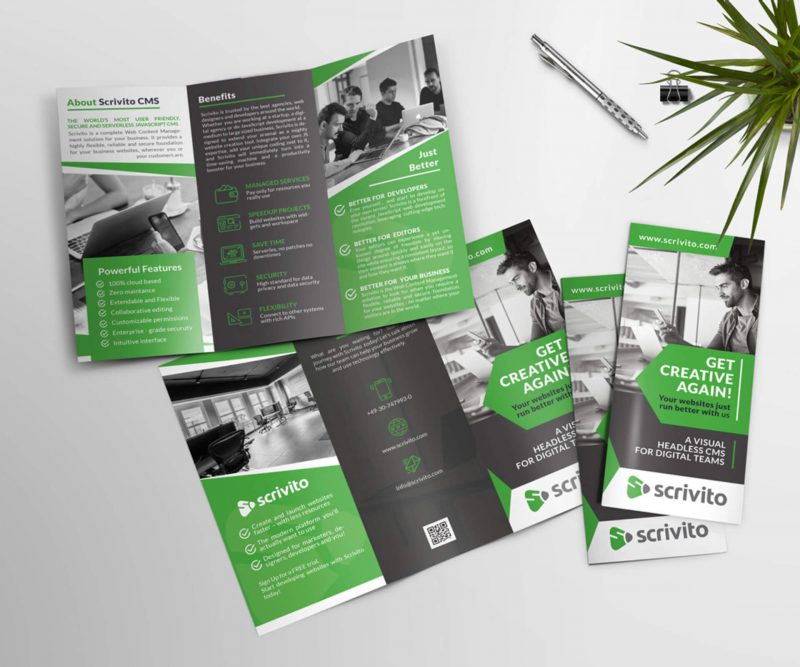 4.1. Collect ideas and examples
As with any other project, your end goal is to create an attractive, beautifully designed, and informative brochure. Therefore, you need to start by familiarizing yourself with your brochure's style, graphics, and writing style. The best way to do this is to gather some examples that match your original idea.
4.2. Brainstorm your project
After collecting examples and having a clear understanding of how you will present your brochure, start brainstorming ideas. Ask yourself the following questions:
What is your brochure's target customer?
What is your budget for the whole process of making this brochure?
Who should you consult for additional input, clarification, and even manuscript feedback?
4.3. Write an outline using a mind map.
Mind maps are a great way to present your ideas. Outlining with a mind map will help you determine what the brochure will look like, what it will include, and how it will be laid out.
5. Some tips to design a beautiful Brochure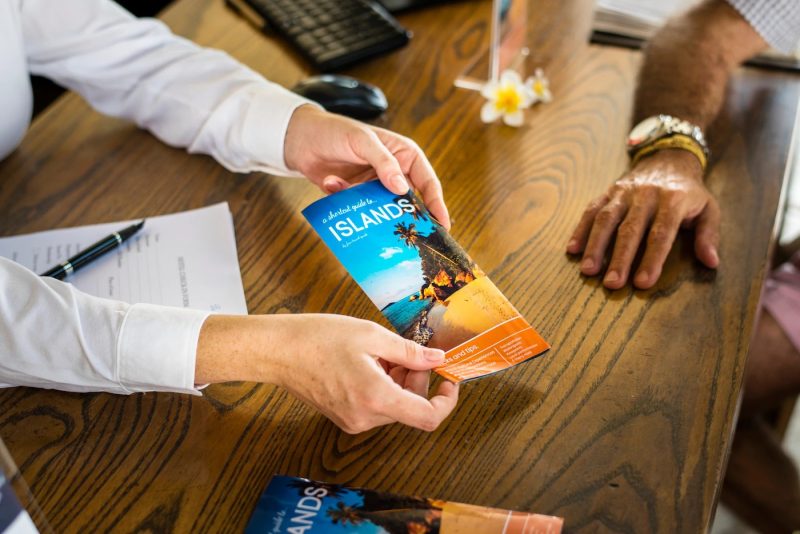 5.1. Identify target customers
Defining your target audience is essential so that you can determine the style and language you will use when designing your brochure. So, before you start the whole brochure design process, ask yourself who are you, or what are you creating this brochure for?
5.2. Choose an appropriate format
Format is another essential element that you need to consider when designing your brochure. Because each format will be compatible with different objects. To be able to impress your target customers, you should consider carefully when choosing the format for your Brochure, including size, font, color and language.
5.3. Determine the type of information to include
This is an extremely sensitive part, simply because it determines whether your brochure conveys the right or wrong message. In many cases, you don't need to put all the information in the brochure, because too much text will sometimes confuse customers and make the brochure unattractive. So just summarize the information in a short, complete, concise way, with a suitable voice for the context, and you will have a satisfactory Brochure right away.
Above are some information as well as notes when designing Brochure, wish you success in applying!