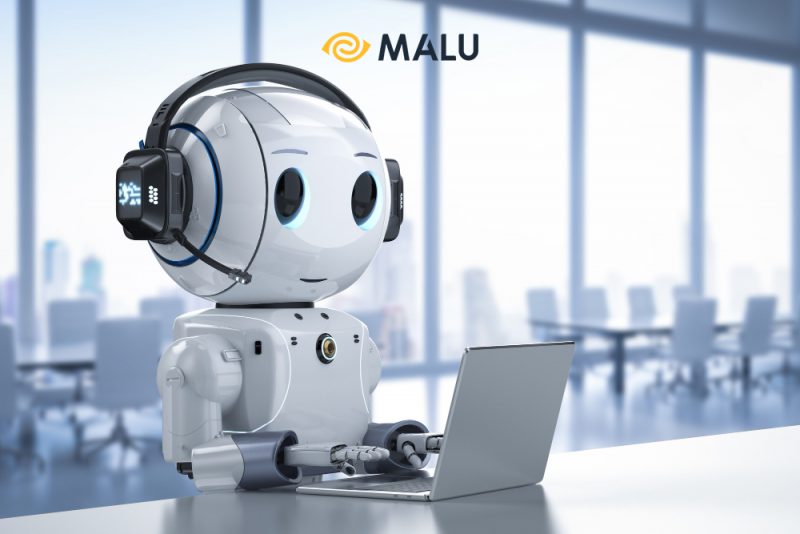 In the era of technology 4.0,  Chatbot  emerged as a solution to optimize business operations of enterprises.
Have you ever wished you had a "divine" tool, which can automatically reply to you on behalf of all types of customer messages? That is no longer a distant dream, because  Chatbots  are real.
So what is a Chatbot tool that thousands of people love, so much so that a series of big tech giants like Google have to spend billions to invest in it? What tools  – Chatbot software  can be used for your business?
Let's find out with Malu through the article below.
1. What is Chatbot?
Chatbot  is a tool that can simulate a human chatting directly with a user. Chatbots can learn and use very natural language to communicate through social networking platforms, websites, OTT applications, etc.
You can train and set up a chatbot to respond to customers on your behalf. Chatbots can  understand  human language and respond appropriately.
The ability to automatically reply when using Chatbot can make you really overwhelmed, some examples can be mentioned as follows:
FAQ:

  Create a bot to automatically answer your frequently asked questions

Order Tracking/Shipping:

  Let the Chatbot respond to the status of orders as well as  

inventory management

 activities .

eCommerce:

  Train Chatbot to invite customers to visit your website and convert them into customers.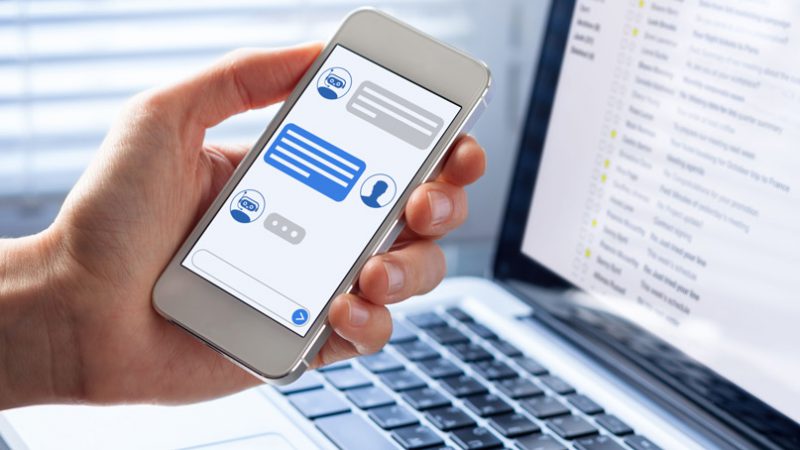 You can develop a Chatbot yourself or use the Chatbot tool software available in the market.
2. Should you use Chatbot for Facebook, Instagram or not?
The answer is:  Yes , it is recommended to use chatbots to reply to comments on Facebook Messenger and Instagram.
Using Chatbot definitely makes your business activities easier and more professional. Now there will be a tool that automatically responds to customer messages right for you, without being too afraid that those answers may be mechanical and unnatural.
Your business can be expanded, because the bot can respond to messages from many people at the same time. You can also focus on performing other necessary tasks, such as building a sales website, focusing on management activities, etc.
But Chatbot also requires training, and customer data information so that its answers are accurate and natural. You also need to consider a number of factors when using Chatbot in Facebook or Instagram, such as who your customers are, you already have full data information, their habits, preferences, which Chatbot tool you use. , how far is its ability to learn?
Without further ado, here are 11 free Chatbot creation tools just for you
3. 11 completely free Chatbot creation tools
Morph.ai
Morph.ai allows you to build a chatbot in minutes. You can observe and control the bot's activity through an incredibly simple and intuitive user interface. Morph can respond with natural language, is contextual, and has gradual machine learning capabilities.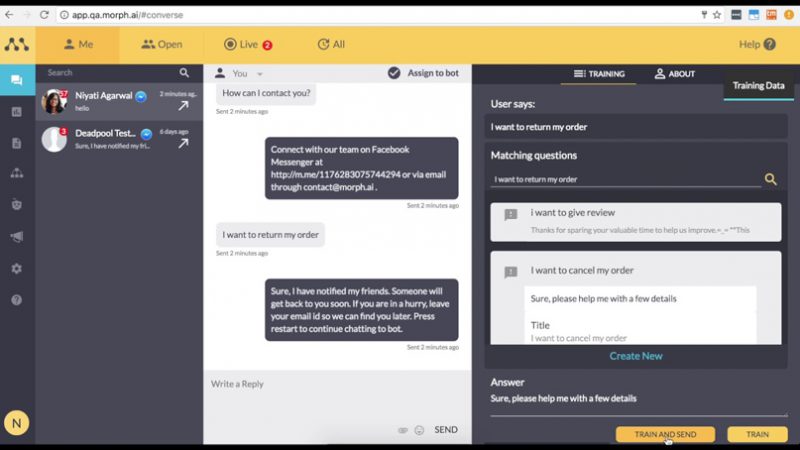 Morph.ai allows you unlimited customization, ensuring coherence when chatting. Morph supports messaging platforms for:
Facebook Messenger
Twitter
Slack
Skype
LINE
SMS
Especially, you can integrate Morph's bot into Shopify, Zendesk, Salesforce, Intercom, API, Hooks. The worry of manually statistic information as well as data also gradually disappeared.
In summary, configuring the bot through the admin control screen is quite easy to understand, so experience and create your own bot.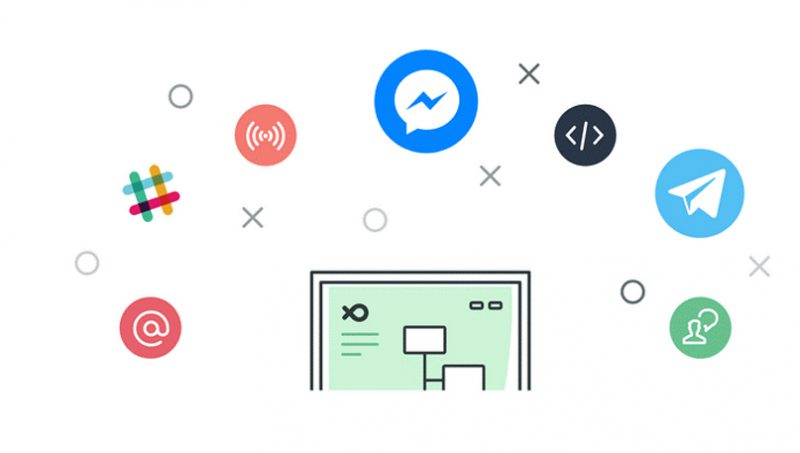 Flow XO
Create and master awesome bots for Messenger, Slack, or Telegram with  FlowXO . You don't need to know programming to create your own bot.
FlowXO helps you integrate your bot with more than 90 platforms, including: Linkedin, Facebook, Twitter, …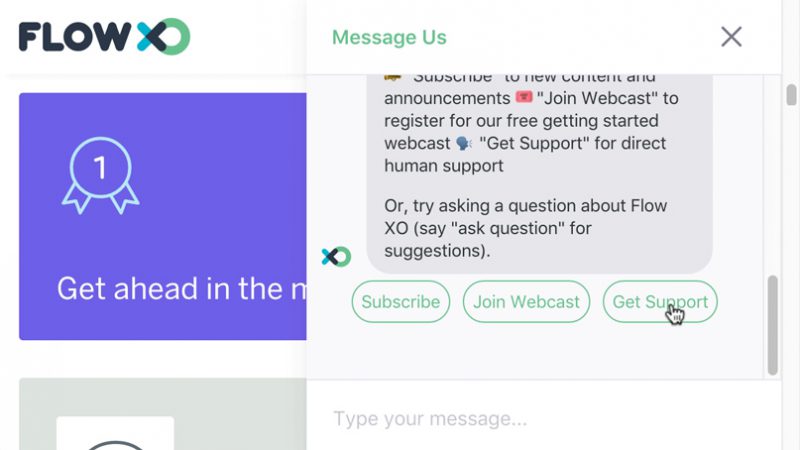 SnatchBot
SnatchBot  allows you to build completely free chatbot on Facebook Messenger, Telegram, Line, Skype, Website, Viber, and many other platforms. It has its own natural language processor that can be used for 135 different languages. Intuitive interface, easy to use, no programming required.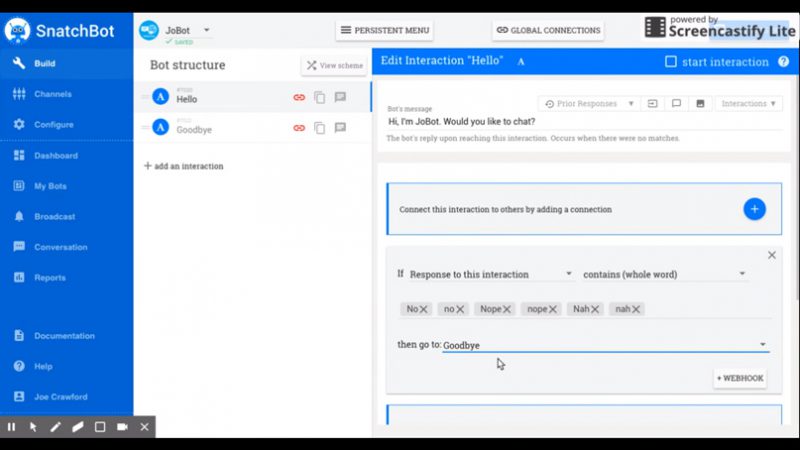 Botsify
Botsify  allows you to create a chatbot that supports answering 100 customers completely for free. If you're looking for a basic Chatbot platform on Facebook, it's Botsify.
Does your website use the WordPress platform? You can try creating a Chatbot for this platform  here .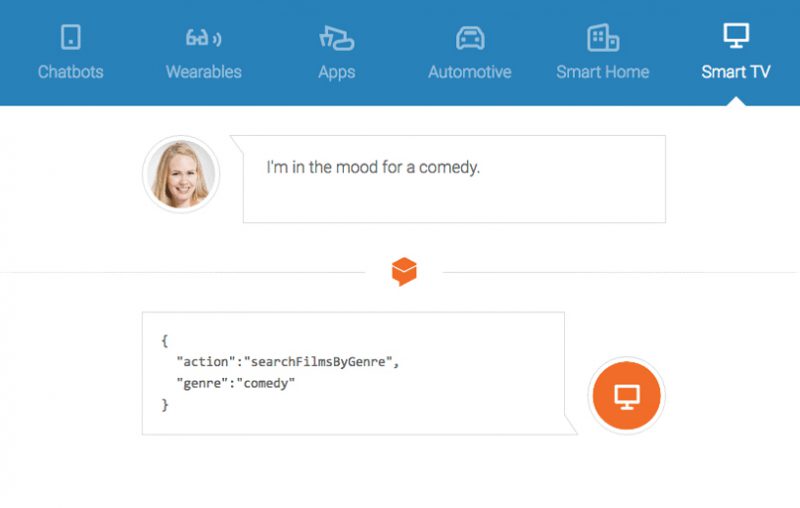 In addition, Botsify's Chatbot also has an image and video search function, integrated with Medium.
API.AI
With only 3 steps, you can completely create yourself a smart Chatbot with  api.ai.
#1: Design  – Create your bot
#2: Connect  – integrate Chatbot into the right business platform
#3: Deployment  – ​​put the product to use
API.AI provides a full range of solutions to support machine learning in an intelligent way, compatible with programming languages ​​such as Android, HTML, Node.js, iOS, Python.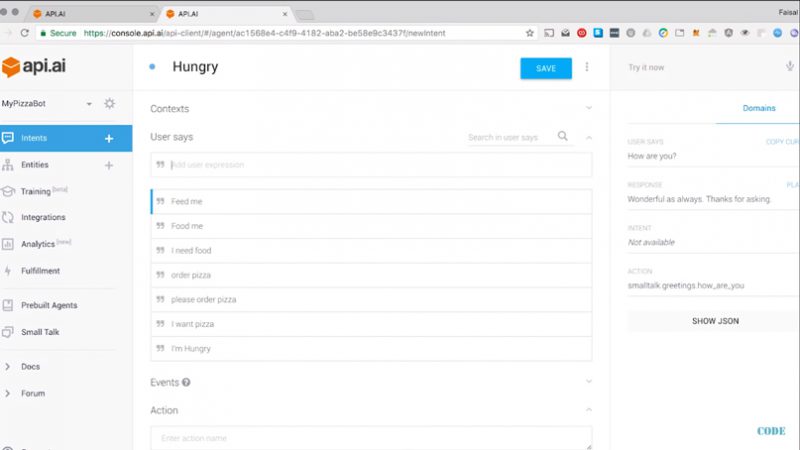 Currently, it supports up to 14 different languages ​​and can integrate with: Twitter, Cortana, Facebook, …
Motion.ai
You can create 2 chatbots that can reply to 1000 messages/month for free, with  Motion.ai . Not only Facebook, Motion also allows you to create Chatbot for SMS, Web platform, Email, Slack, etc.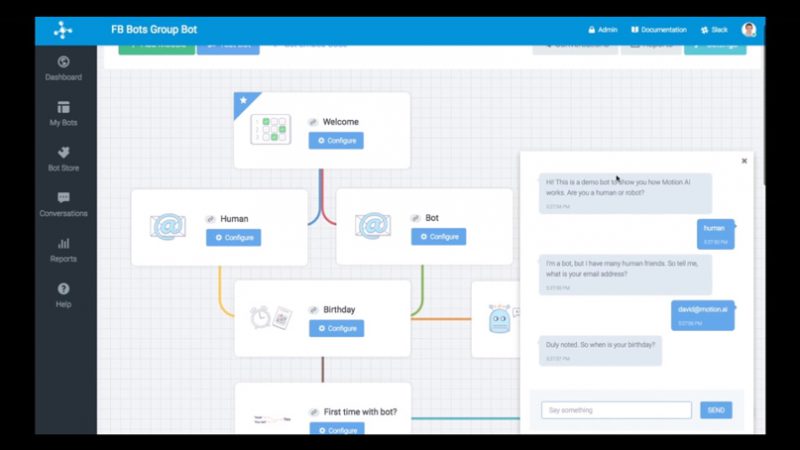 With an intuitive interface, displaying closely linked branches, Motion.ai is certainly a powerful Chatbot tool for your business.
Chat fuel
Run Facebook chatbot in 10 minutes without programming. Chatfuel  is trusted by big players like UBER and TechCrunch.
Chatfuel is also capable of supporting multiple platforms, including Twitter, YouTube, JSON, Instagram, ..
Learn more about Chatfuel via the video below:
Manybot
Manybot  allows you to create a bot for RSS platform (online news delivery platform) without having to write a single line of code.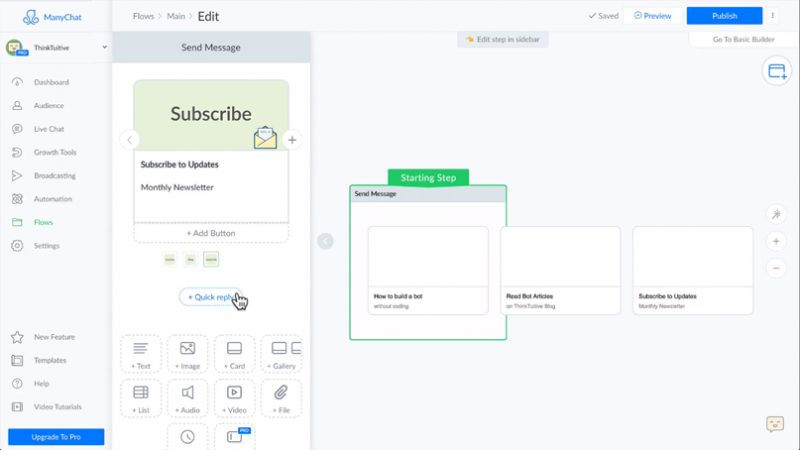 You can send messages, photos, videos to registered users, unlimited storage. In particular, Manybot supports you to set up an automatic posting process. A double job!
Bottr
Not only is Bottr "a powerful assistant when tweeting to Twitter" as advertised, Bottr also allows you to import data from gaming applications, convert them into meaningful conversations, and respond to customer messages. . Everything works automatically.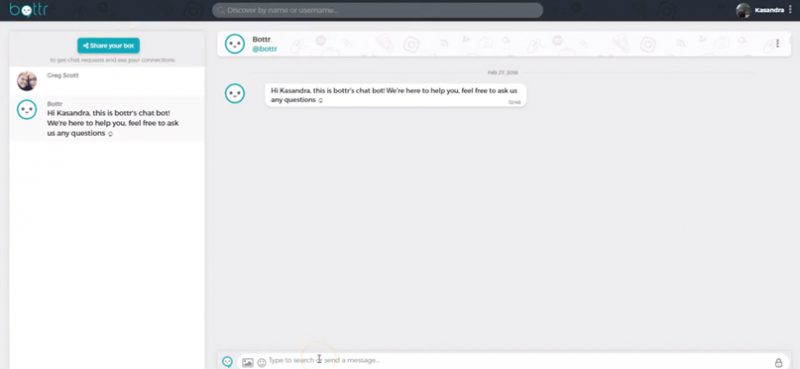 Bottr supports platforms such as: Facebook, Instagram, WordPress, etc.
Bottr also allows you to personalize the URL, integrating it into social networking platforms.
Wondering how Bottr works? Visit  Bottr's homepage  to learn more.
Recast
If you are looking for a Chatbot that can run cross-platform, then  Recast  might be what you are looking for
You can run bots on Facebook, Slack, Skype, Kik, etc.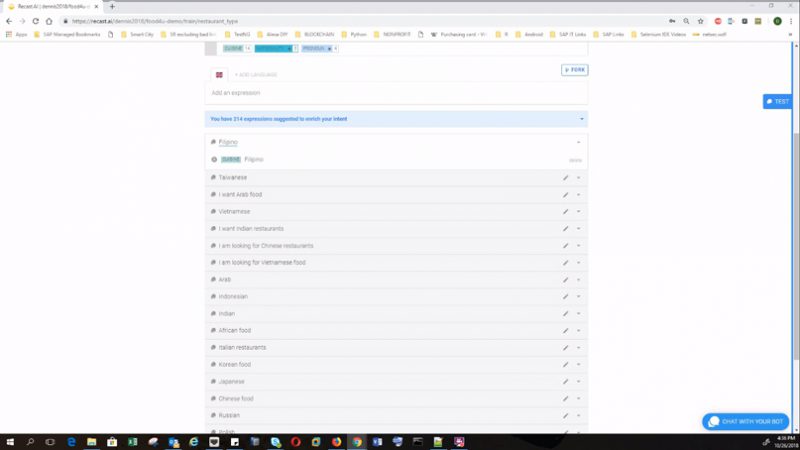 Resume Bot
Do you have a CV that you want to show off your skills to employers? Want to use Chatbot to "replace what you want to say". Resume/CV bot by Motion AI allows you to create Chatbot to respond to recruiters completely automatically and for free on platforms like:
Facebook
Slack
Email
Smooch

Wechat

SMS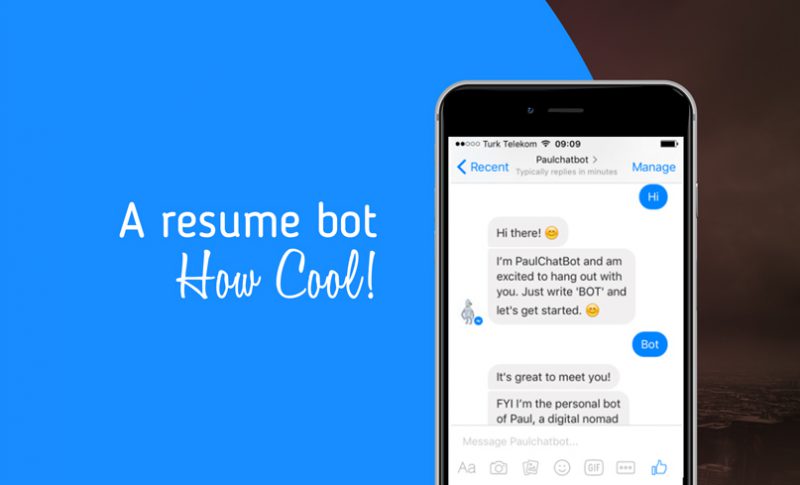 Hope the above information has helped you understand more concepts and tools to create Chatbot completely free. Surely your business will become better, thanks to the direct application of Chatbot in Website and social networking platforms.