Vinamilk is one of the leading companies producing and trading milk and dairy products in Vietnam. Vinamilk is also a brand known to many consumers thanks to the development and implementation of effective marketing strategies. In particular, the Vinamilk campaign to change its new logo attracted attention from large communities.
So what is Vinamilk's Marketing strategy? What makes Vinamilk's Marketing strategies successful? Join us to learn about Vinamilk's effective Marketing strategy through this article.
I. General introduction about Vinamilk
Vinamilk's official name is Vietnam Dairy Products Joint Stock Company. Vinamilk is a company that produces and sells milk and dairy products as well as related machinery and equipment in Vietnam.
According to Wikipedia, Vinamilk is the leading enterprise in the milk processing industry in Vietnam, accounting for more than 54.5% of the liquid milk market share, 40.6% of the powdered milk market share, and 33.9% of the drinking yogurt market share. , 84.5% of the yogurt market share and 79.7% of the condensed milk market share nationwide.

Vinamilk's main business activities include processing, producing and trading fresh milk, canned milk, powdered milk, nutritional powder, yogurt, condensed milk, soy milk, soft drinks and products from other milk.
Vinamilk's products are also exported to a number of countries such as Cambodia, Philippines, Australia and some Middle Eastern countries. Export revenue accounts for 13% of the company's total revenue. In 2011, Vinamilk expanded production, shifting to the fruit and vegetable segment. Not long after the new product segment, the product line achieved success with 25% market share in the supermarket retail channel. In February 2012, the company expanded production to juice products for children.
After more than 40 years of launching to consumers, up to now Vinamilk has built 14 manufacturing factories, 2 logistics factories, 3 sales office branches, a milk factory in Cambodia (Angkormilk) and an office. representative in Thailand. In 2018, Vinamilk was one of the companies in the Top 200 companies with revenue over $1 billion in Asia Pacific (Best over a billion).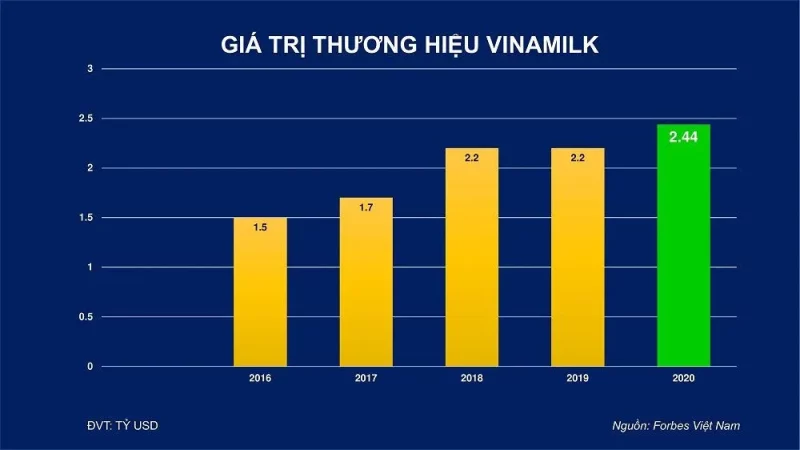 Besides being famous for its product quality as well as providing diverse products, Vinamilk is also a popular brand and attracts customers to know it through attractive and novel content in its campaigns. Marketing campaigns promote products and brands successfully.
To achieve this success, Vinamilk has built appropriate marketing strategies when implementing its marketing campaigns to help this brand effectively reach and attract customers.
II. Vinamilk's strategy on changing brand identity
On July 6, 2023, Vinamilk announced a new brand identity with many changes, highly appreciated by experts. This is considered a bold strategic move, strongly demonstrating Vinamilk's determination to conquer the global market. At the same time, through that, Vinamilk wants to convey the message of "bold, determined, always being yourself" personality, connecting traditional and modern values. So what's special about Vinamilk's strategy on changing brand identity?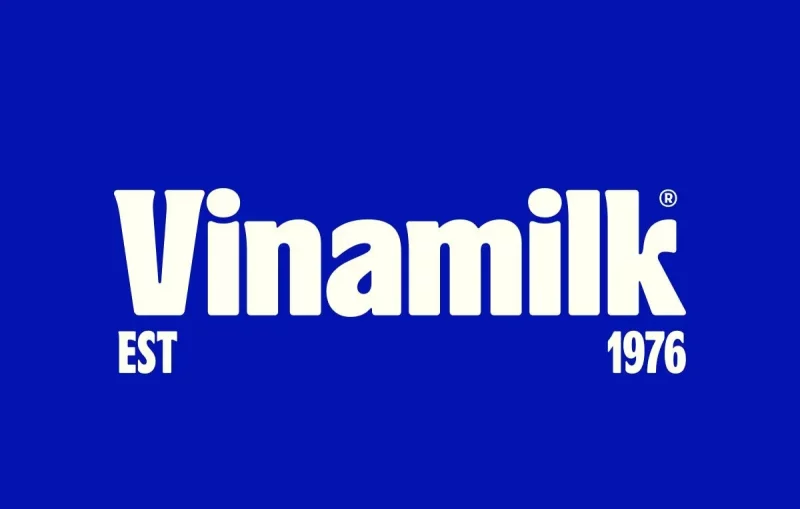 Overall, the new Vinamilk logo uses a wordmark, bolded into strong lines. This healthy, youthful spirit is seamless with Vinamilk's past communication strategies such as "Reaching Vietnam", "For a healthy Vietnam", "Healthy you, healthy Vietnam"… and associated with Vinamilk's core value of "becoming the leading symbol of trust in Vietnam in nutritional and health products serving human life".
The main color tones of the logo are striking blue and sweet creamy white, the two main colors that have created Vinamilk's identity over the years. The milk drop detail hidden between the letter "a" in the logo and the words "EST 1976" reminds of Vinamilk's two most proud values: "dairy products" and "long-standing tradition since 1976".
Compared to the previous badge-shaped logo, Vinamilk's new letter-shaped logo is simple, easy to recognize and easily creates touch points in the digital environment. "Simplification" is also the trend that has led the wave of logo changes of major brands in recent years. For example, minimizing details (Coca Cola), eliminating drawings and 3D effects (BMW, Audi), using one color tone on the wordmark…
In Brandirectory's ranking of the 10 largest milk and dairy product brands in the world in 2022, the common point is that most brands use logos in the form of emblems, many colors and shapes. These are all long-standing brands and in their development history, there have been logo changes in the direction of gradually minimizing details. However, Yakult is the only brand that has modernized and changed its logo to a wordmark. And now Vinamilk is the second name to follow this direction of logo improvement.
Vinamilk's strategy to change the logo this time will clearly help the brand access the international market more easily, increasing brand coverage and recognition. Because when present in the digital environment, the amount of information customers have access to is a lot, it is clear that simple logos such as wordmark or 2D form will create better visual effects, making customers remember faster and limit Minimize barriers in terms of language, characters, and writing. This is a very smart and well-calculated logo changing strategy from Vinamilk.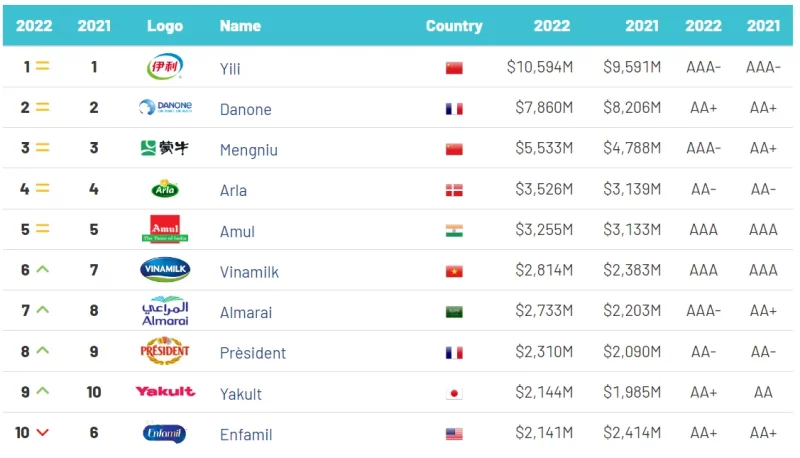 Not only stopping at the logo, Vinamilk also created 3 new typefaces, designed specifically for the brand, along with a system of hand-drawn motifs and illustrations, filled with colors and imbued with breath and spirit. Vietnamese god. This is not a new strategy. In Vietnam, Baemin and Unilever have been very successful with their own sets of writing and drawings.
This is always an extremely effective strategy in conveying the brand story in an emotional and artistic way, creating uniformity across media channels, and especially cannot be copied. Besides, in a country with a great sense of national pride like Vietnam, pure Vietnamese images are easy to go viral and create a strong wave of love.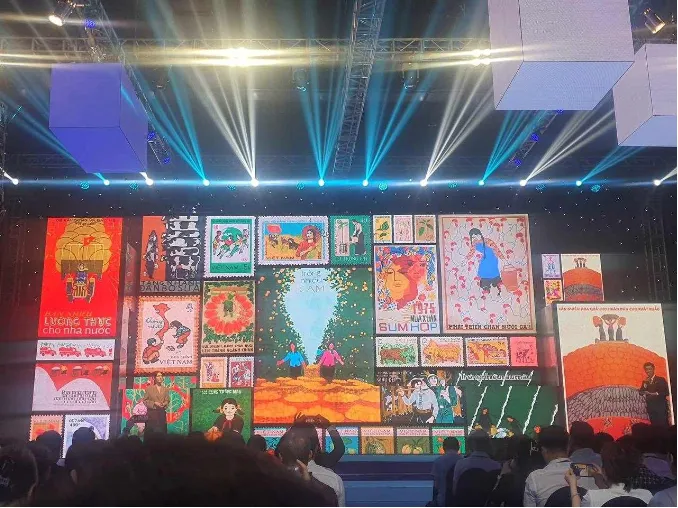 This is also the material to create natural and interesting touch points for customers, especially young people. In 2021, TH True Milk was very successful with the campaign Buy yogurt to drink and get a free Seven Color Rabbit board game set. Combining the cute images and stories of the Seven-Colored Rabbit character with the familiar Uno game, TH True Milk has attracted young customers to try the product and boosted sales of drinking yogurt products. dominant.
With Vinamilk, the media story can be even more emotional, because all elements such as images, colors, and character personalities inherently belong to the "Vinamilk universe", and so every detail exists. cohesion, easily developed into many products and touch points to attract many different customers.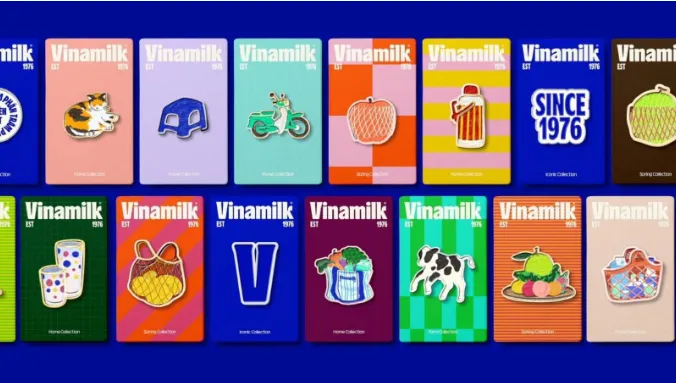 Along with the communication campaign about the new brand identity, all online sales points, store systems, product packaging and all brand touch points will be changed to a "new shirt" color from July 2023. The highlight is the prominent V-shaped visual merchandising strategy and vibrant color scheme, bringing a fresh atmosphere to the brand and creating happy and excited emotions for customers at all points of purchase. shopping.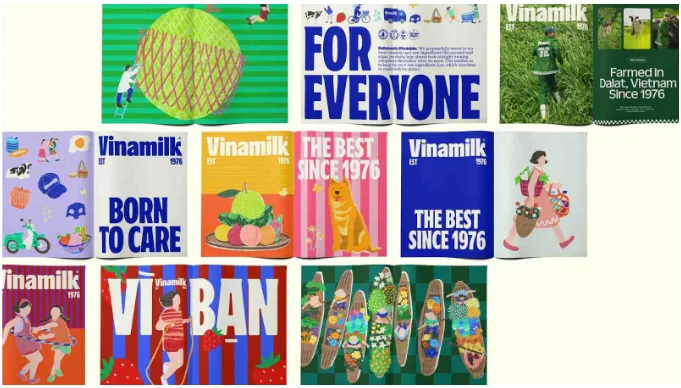 Analyzing Coca-Cola's Marketing strategy in Vietnam
lII. Vinamilk's 4P Marketing Mix Strategy
How has Vinamilk implemented the 4P Marketing Mix strategy? What is Vinamilk's 4P Marketing Mix strategy?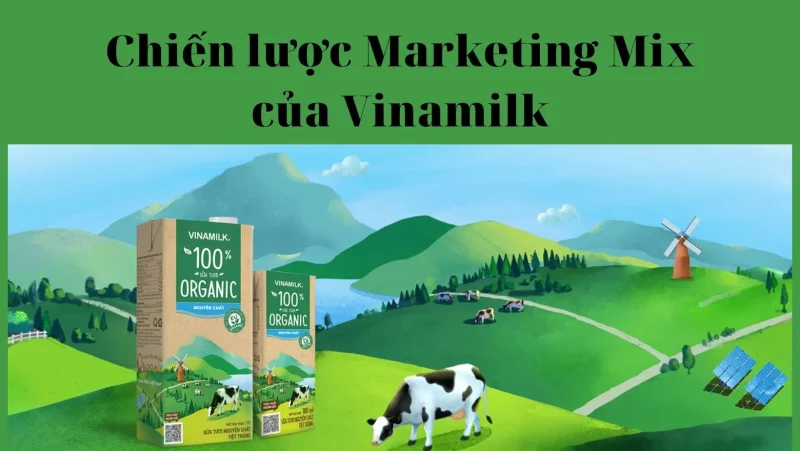 1. Vinamilk's Marketing Strategy for Products
When it comes to Vinamilk products, from inception to development, Vinamilk always makes great efforts to expand the product portfolio with the goal of bringing clean, natural milk and meeting diverse desires. types of consumers, from children, adults to the elderly.
Vinamilk's dairy products always provide customers with nutritional solutions and especially always ensure international quality. Dairy products are very delicious, nutritious and good for health so they are loved by many people, specifically: Liquid milk, powdered milk, condensed milk, yogurt and Vfresh fruit juice,…
Vinamilk's product strategy always focuses on innovation and adding new types. In 2009, this brand developed and launched nearly 20 products with many similar segments and industries in the market. One of which must be mentioned is Yoko's powdered milk products, Organic powdered milk… and plans to diversify plant-based products are also very important such as milk smoothies, nut milk, fruit juices. ,…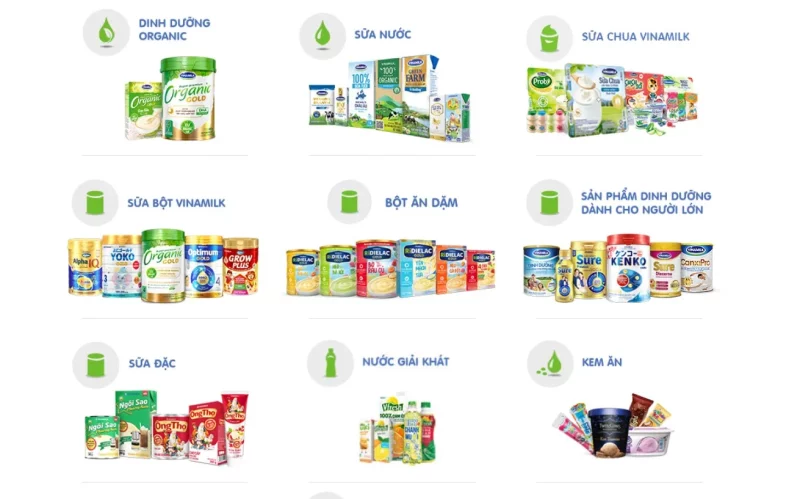 Besides a diverse product portfolio, Vinamilk also always focuses on improving product quality.
To meet the increasing needs of consumers and improve product quality, in 1999, Vinamilk successfully applied the Quality Management System according to international standard ISO 9002 and is currently applying the Quality Management System according to international standards ISO 9002. Quality management according to international standards 9001:2000. This has partly eliminated the quality gap compared to imported milk and increased the trust and reputation of this brand in the market.
With a diverse and healthy product portfolio as well as meeting the needs of all ages and customers, the Vinamilk brand has always been remembered and trusted by customers, making Vinamilk one of the leading brands in the world. Vietnam's most famous milk brand.
2. Vinamilk's Marketing Strategy on Price (Price)
Price is considered an important competitive factor in attracting customers for every business. Therefore,  appropriate product pricing  is especially important, helping Vinamilk possess a competitive advantage and deploy effective marketing campaigns.
Regarding its pricing strategy, although Vinamilk's products all meet international standards, their prices are much lower than imported milk lines. For example, Vinamilk's powdered milk for children is only one-third the price of other milk lines on the market.
With a high level of competition in the dairy market, if Vinamilk raises its price to half that of other brands, the business's market share will be negatively affected. Besides, Vinamilk also believes that increasing product prices will reduce consumers' purchasing power because Vietnam's per capita income is still low compared to other countries.
To be able to build a suitable price policy, Vinamilk will reduce raw materials imported from abroad if domestic raw materials are always abundant and guaranteed in quality. Taking advantage of domestic raw materials will help Vinamilk price products more appropriately to customers as well as deploy  sales discount programs more frequently to attract customers.
3. Vinamilk's Marketing Strategy regarding distribution system (Place)
Vinamilk's distribution system spreads across the country in all three forms of distribution: wholesale, retail (240,000 retail points) and direct distribution stores (575 stores). Vinamilk products are also present in nearly 1,500 large and small supermarkets and nearly 600 convenience stores nationwide and on the e-commerce channel www.giacmosuaviet.com.
Basically, Vinamilk's distribution system includes 3 main channels:
The first channel is the supermarket channel. Vinamilk divides the supermarket channel into two types: Type 1 is large supermarkets such as Big C, Metro, and type 2 is small supermarkets such as Fivimart, Citi mart, Intimex. These supermarkets place orders directly with retailers. Vinamilk branch representative.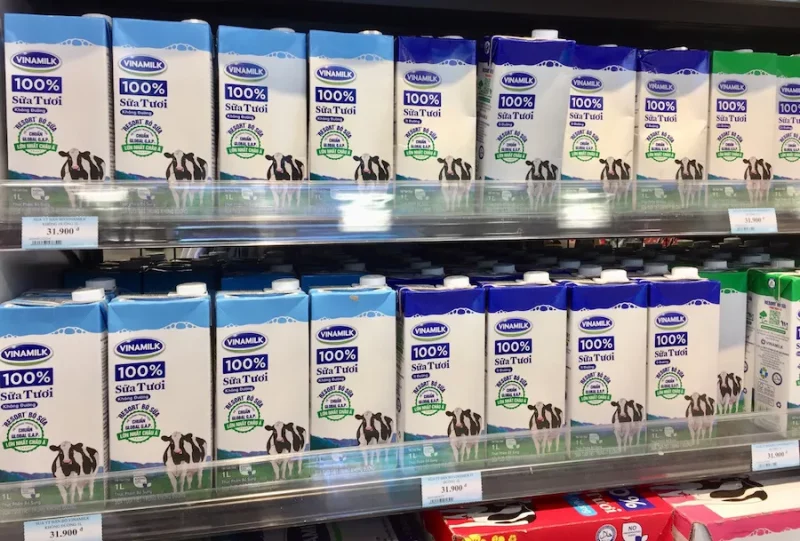 The second channel in Vinamilk's distribution system is the key accounts channel. This channel includes restaurants, hotels, schools, and agencies. These units also directly place orders with Vinamilk branch representatives in large quantities.
The third type of channel that Vinamilk considers strategic is the traditional channel. The nature of this type of channel is actually a VMS channel (Vertical Marketing System – a distribution channel with a focused program and professional management) in which the manufacturer Vinamilk manages its distributors through signing contracts. Binding contracts on the rights and obligations of both parties. Distributors are located throughout the provinces and cities nationwide according to the market map that Vinamilk has outlined.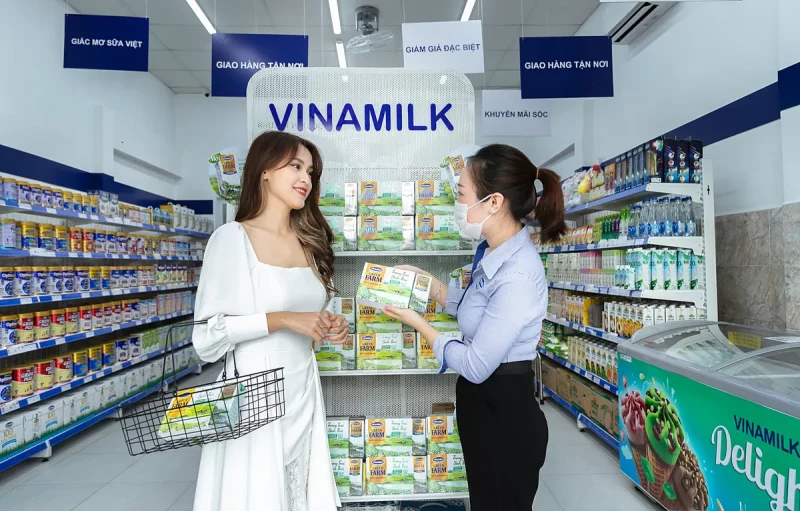 In addition to a diverse distribution channel system, Vinamilk has also applied an online sales management system (DMS One) for distributors, retailers and sales staff across the country since the end of February 2013. Each salesperson has been equipped with a tablet connected to 3G and GPS, and relevant information about goods will be updated regularly.
Thanks to that, Vinamilk's managers can monitor and update retailers' sales information periodically every 2-3 hours. Furthermore, this system is considered to be the largest and most consistent ERP distribution system in Vietnam today.
4. Vinamilk's Marketing Strategy on Mixed Promotion (Promotion)
To increase brand recognition and attract customers, Vinamilk has conducted multi-channel product advertising such as advertising on fanpage, advertising on television, outdoor advertising, developing videos on YouTube,… Inside In addition, it is necessary to regularly change and refresh advertising content and forms to attract attention from consumers.
Along with advertising campaigns, Vinamilk also regularly deploys promotional programs such as: increasing product capacity but unchanged price, accompanying gifts, product discounts,…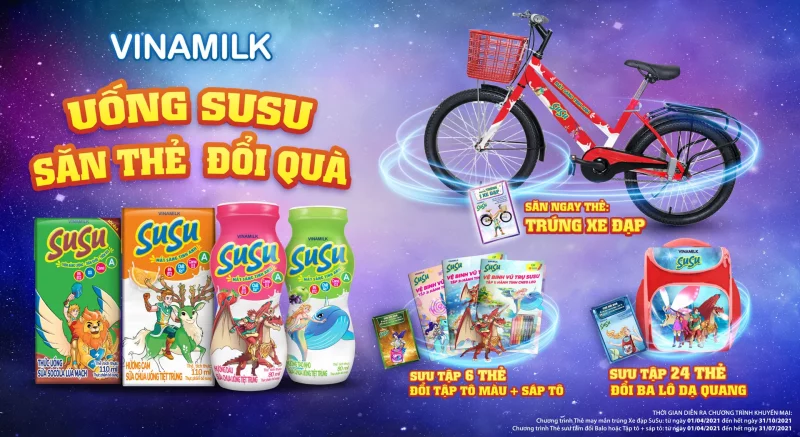 In recent times, Vinamilk has also paid great attention to social and charitable activities, establishing the scholarship fund "Vinamilk – nurturing young Vietnamese talents", the milk fund "Vietnam is constantly developing", the milk fund "Vietnam is constantly developing", the charity "One million trees for Vietnam", accompanying the epidemic season…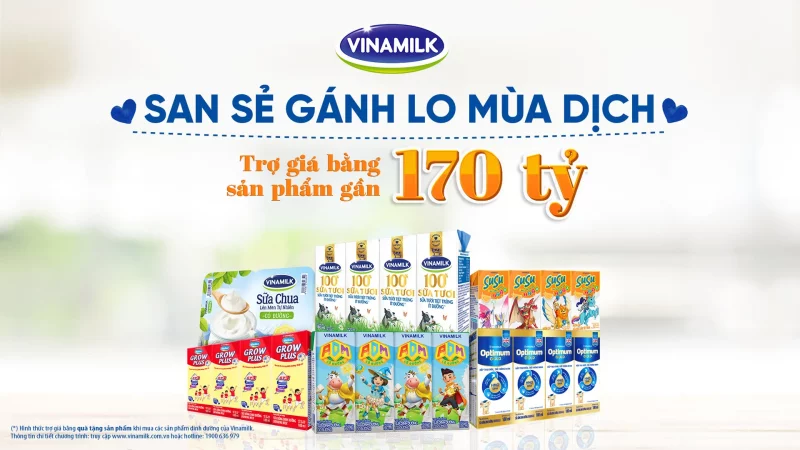 Through advertising campaigns, promotions and sponsorship programs, scholarships and social activities, Vinamilk has become a famous dairy brand, attracting many customers and being trusted by customers. .
lV. 3 successful marketing strategies of Vinamilk in Vietnam
In the above section, we analyzed an overview of Vinamilk's 4P marketing mix strategy. Let us analyze in detail Vinamilk's most successful marketing strategies in this section.
1. Multi-channel product advertising strategy
One of Vinamilk's marketing strategies is to take advantage of a variety of channels such as TV, radio, billboard, fanpage, television,… to advertise its products. With a multi-channel product advertising strategy, coverage has helped Vinamilk successfully deploy its Marketing campaigns.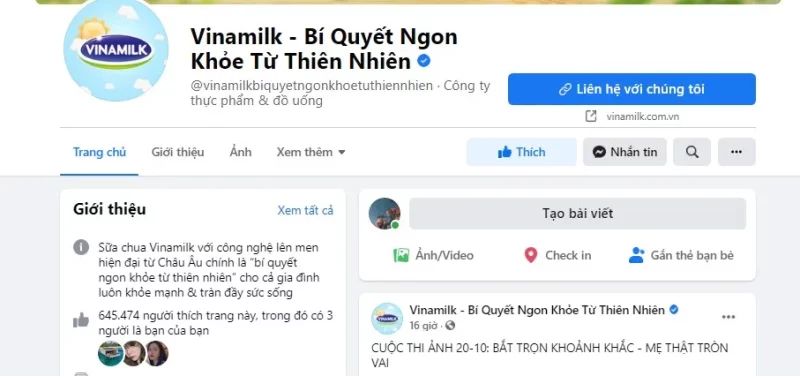 Advertise products via fanpage
On the social network Facebook, Vinamilk's Fanpage has 626,267 people liking the page and 637,313 followers. This is a channel for the company to spread its brand to reach more customers.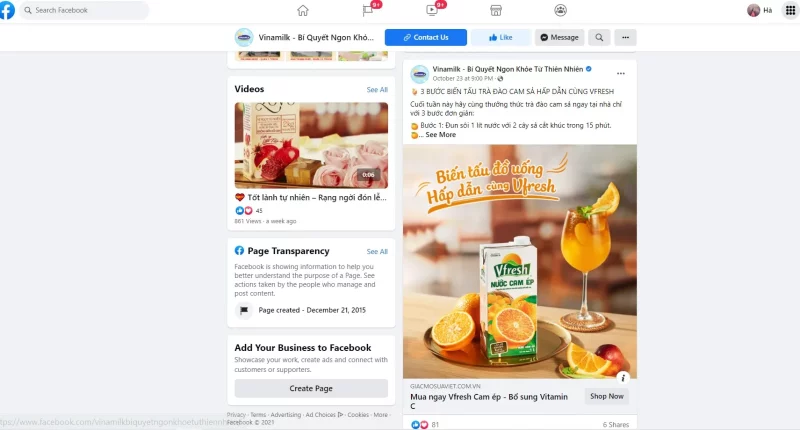 Vinamilk regularly posts posts to advertise products, promotions, contests… on the fanpage. In product advertising posts, Vinamilk always emphasizes the benefits that customers can possess when using this brand's products. Besides, attractive, unique and eye-catching images are also a  USP  (Unique Selling Proposition) of Vinamilk.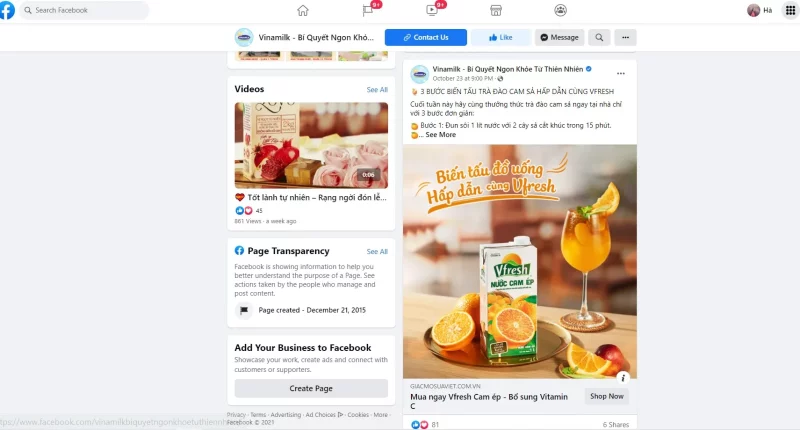 Product advertising strategy through outdoor billboards  
Outdoor advertising is a  traditional way to reach customers  with the main purpose of creating brand awareness.
This is a way to reach target customers that is present very early but is still effective for businesses' marketing campaigns. We can easily see this type of advertising at large, crowded intersections. Because it is placed in crowded places, outdoor advertising needs to be interesting, eye-catching and make an impression on viewers. In addition, many businesses also place advertisements in elevators, buildings or on buses. In general, businesses need to determine where potential customers most often appear to have a reasonable, cost-effective and still highly effective strategy.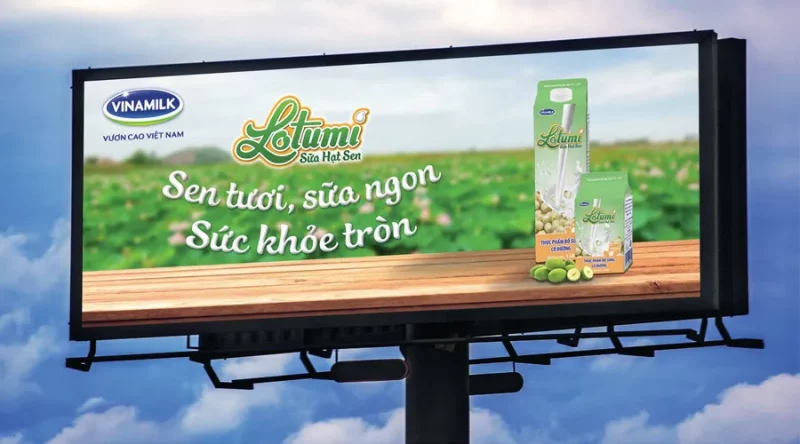 To reach a large number of customers, another effective marketing strategy of Vinamilk is to advertise products by taking advantage of outdoor billboards.
With outdoor advertising signs, Vinamilk has effectively attracted customers and successfully increased brand recognition.
Strategy for advertising products via television 
Advertising products via television is also an effective marketing strategy of Vinamilk. The advantage of television advertising is that it broadcasts sound and images, helping customers easily recognize the meaning and communication messages of the business, helping Vinamilk's advertising attract customers.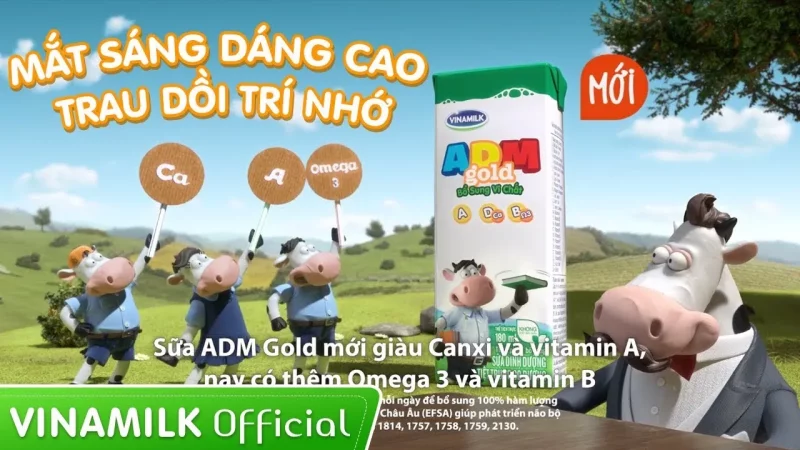 In Vinamilk's advertisements, images of green grass fields, vast, sunny, close to nature often appear along with images of healthy, fun and active dairy cows. These are truly vivid, emotional images that have the effect of connecting consumers' emotions with the Vinamilk brand.
A typical TVC advertising campaign of Vinamilk can be mentioned as the "6 million glasses of milk" campaign. In this advertisement, the image of balloons carrying Vinamilk milk cartons to poor children with a strong humanity also helps Vinamilk attract the attention of customers.

2. Sponsor competitions and scholarship programs
A marketing strategy of Vinamilk that is effective in attracting customers and increasing brand awareness is sponsoring competitions and scholarship programs.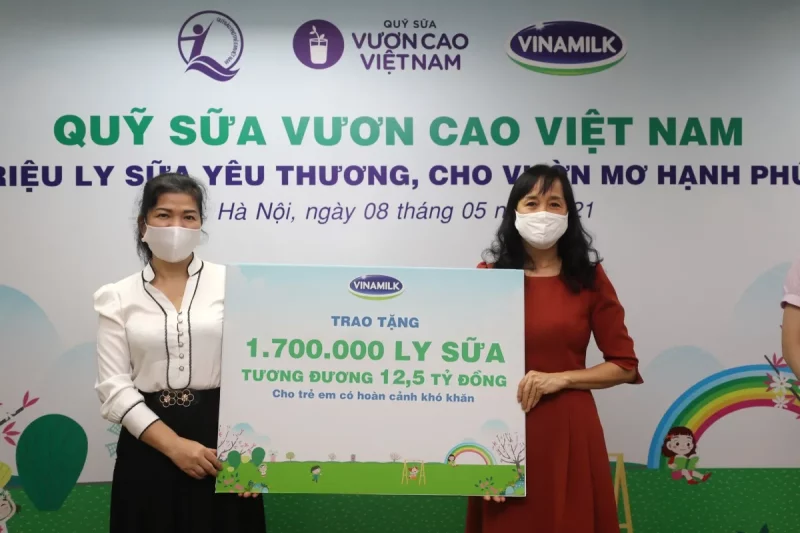 Many of the sponsorship campaigns for competitions and scholarship programs organized and implemented by Vinamilk are supported by the press, people, schools, and the government. With noble gestures and positive social activities, Vinamilk's brand becomes more prestigious among Vietnamese users.
Some of Vinamilk's outstanding sponsorship programs can be mentioned as: "3 million glasses of milk program for poor children" worth 10 billion VND, Vinamilk also spent 3.1 billion VND for the "Vinamilk incubation" scholarship fund. young talents and activities to help the poor and children in difficult circumstances worth 2.8 billion.
3. Take advantage of the Hero-Hub-Help model in content development
By grasping trends and investing in video content, Vinamilk has increased brand awareness and become the first consumer packaged goods (CPG) brand in Southeast Asia to reach nearly 2 million followers. watched on YouTube as of August 2021.
To achieve this success, Vinamilk used the 3H model: Hero – Hub – Help when implementing its Marketing campaigns to help this brand effectively reach and attract customers.
Vinamilk is the leading enterprise in the milk processing industry in Vietnam. In addition to product quality that many customers trust, Vinamilk's brand is also widely known for its investment in advertising content in Marketing campaigns as well as content that provides useful information to customers. row.
To be able to produce good and attractive content, Vinamilk has applied the  Hero – Hub – Help (3H) model  in its content strategy effectively to achieve certain successes.
Hero – Hub – Help model
The Hero – Hub – Help model, also known as the 3H model, is an effective content creation model introduced by Google to help businesses increase their brand recognition easily and successfully. labour.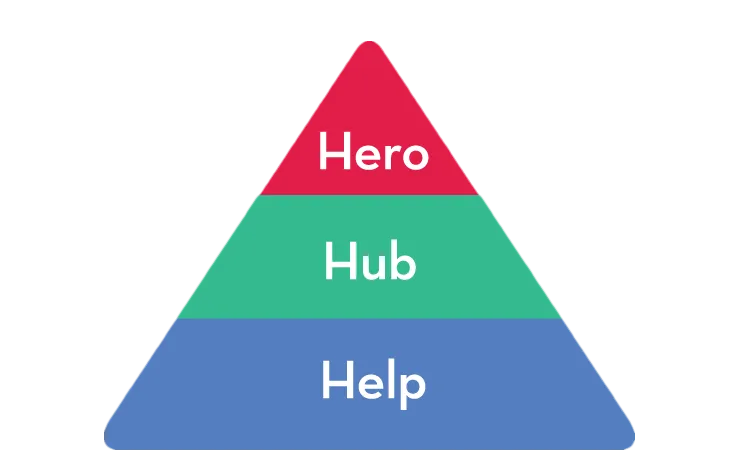 The Hero – Hub -Help model is deployed based on 3 main types of content: Hero content, Hub content and Help content. These 3 types of content are developed with the aim of achieving 3 basic brand goals:
Hero Content

 : The main task of this type of content is to increase reach to a large number of customers and improve brand awareness

Hub content

 : The purpose of the Hub content type is to maintain the frequency of content reaching the audiences the business wants to target, the goal of the Hub is to increase conversion rates and sales revenue.

Help content

 : As the name suggests, this type of content will appear and support when users have a need and search for a related issue on the Internet (such as blogs, reviews, etc.).
Main types of content in the Hero – Hub – Help model
For each element Hero, Hub and Help, businesses need to deploy diverse and different content as shown in the following table.
Hero element

Hub element

Help element

main content

Content that attracts many customers, spreads quickly (Viral) and raises brand awareness

The main content must encourage website visitors to make a purchase and continue to encourage them to return for more purchases in the future.

Businesses need to ensure that customers will easily find Help content on search engines. These are useful content that answers questions that customers frequently ask such as instructions for use, usage advice, definitions, etc.

Message

The message is succinct and profound, easy to remember

The main message will target an   extremely specific 

target customer segment, because the purpose of this type of content is to increase sales revenue for the brand.

The message here is simply useful information that helps customers gain more knowledge and interest in the business's field, thereby leading readers back to Hub Content to increase conversion rates.

Form

Viral videos or using KOLs/Influencers

Video, use of social media and KOLs/Influencers

Blogs provide detailed information or instructional videos
Benefits of applying the Hero – Hub – Help model in Marketing campaigns 
Basically, when implementing the Hero – Hub – Help model, businesses can possess the following benefits.
The Hero – Hub – Help model helps businesses determine clear content strategies 
Each element of the Hero – Hub – Help model will need different types of content, serving each stage of the  customer journey  .
Each content strategy in the Hero – Hub – Help model takes on the role of helping businesses connect with different customers with very diverse frequency and "coverage". From there, creative products will be classified according to more specific purposes, accessibility will also be maximized and more effective.
The Hero – Hub – Help model helps businesses save costs and optimize resources 
When applying the Hero – Hub – Help model, businesses can effectively allocate time and resources to different content genres, avoiding wasting time, costs and resources on focusing only on into a single content type.
At the same time, investing resources in all three types of content Hero, Hub and Help also ensures that building the image of the business is carried out continuously and continuously over a long period of time.
Businesses can take advantage of increasing brand awareness at different times, optimize work performance as well as save time waiting for major campaigns or events to improve. its brand.
The Hero – Hub – Help model can be applied to all businesses 
The 3H model is not limited in resources, finances or has any principles that need to be considered. Every business, from start-ups, small and medium-sized companies (SMEs) to large corporations, can apply this model to their content strategy.
Each business can adjust the frequency of posting or planning and ideas to suit its own goals and creative style.
How has Vinamilk applied the Hero – Hub – Help model when creating content for Marketing campaigns?
One of the businesses that successfully and effectively applies  the Hero – Hub – Help model  is Vinamilk with appropriate content and attracts customers through its activities and Marketing campaigns.
Although 2020 had many fluctuations due to the COVID-19 pandemic, Vinamilk's total net revenue and profit after tax reached VND 42,277 billion and VND 8,967 billion, respectively, an increase of 7.4% and 7.0% respectively. % compared to the first 9 months of 2019. In fact, Vinamilk has gradually used the content strategies of the 3H model since 2016 and achieved many significant successes.
So how has Vinamilk applied the Hero – Hub – Help model? 
With the aim of reaching the female consumer group, especially mothers – customers who are very interested in dairy products to effectively feed their children, this brand has used the following content building strategy: video format and upload them to your Youtube channel. Vinamilk produces long-form videos with profound and engaging content.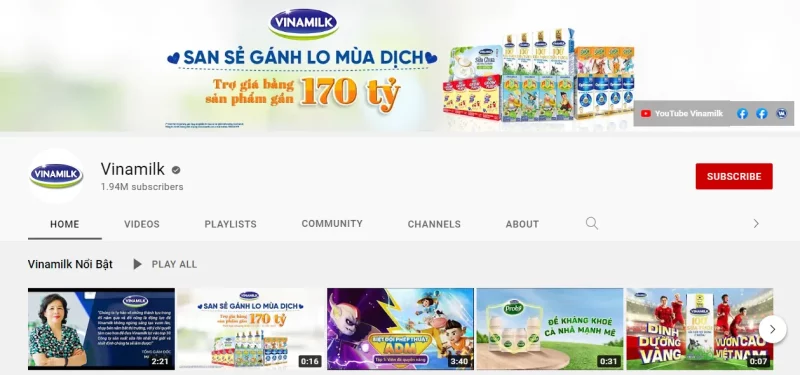 Promotional videos are always an important part of Vinamilk's Marketing campaign. With certain successes, this is an effective form of advertising content that helps Vinamilk effectively increase its brand recognition.
When implementing market research activities  , Vinamilk realized that, with 55 million internet users nationwide, of which 4 out of 5 mothers will watch online videos at least once a week. Realizing that the ability to reach consumers with online videos is very high, this brand has built a strategy to increase interaction and brand awareness among Vietnamese women, especially mothers.
When it comes to watching videos online, Vietnamese mothers are very interested in family content, including cartoons and videos related to healthy foods and drinks that are good for the health of themselves and their families.
This gave Vinamilk an opportunity to build a content marketing strategy with its video format around content that its customers care about.
The content in Vinamilk's videos often revolves around messages about family and health as well as emphasizing that by trusting Vinamilk, customers will have a healthier and happier life.
To successfully deploy attractive marketing content, a specific plan is needed. And the content marketing plan template is the foundation that businesses aim to reach and attract the attention of potential customers. The Content Marketing plan template can help businesses effectively deploy advertising strategies on social channels or websites.
Vinamilk's Hero content strategy
The main purpose of this type of content is to increase reach to a large number of customers and improve brand awareness.
As the main target customers that Vinamilk wants to target are women and mothers, Vinamilk prioritizes investing its resources and costs to create trend-catching videos by collaborating with famous content creators on the Internet. YouTube like Huynh Lap and Thu Trang with the goal of reaching a large number of their target customers.
To ensure visibility, each video is promoted with YouTube Masthead ads (ads on the YouTube homepage) and TrueView ads (ads displayed in videos).
With the campaign "The secret to raising children for comprehensive development", Vinamilk has created video content that is an eternal story that often happens in 3-generation families in Vietnam, which is the relationship between mother-in-law and daughter-in-law. and the whole family's concern for the physical health of their children and grandchildren.
Therefore, the video clip ""Secrets to raising children for comprehensive development" – "Someone's Wife" version is quite long but not boring. On the contrary, towards the end, viewers and target customers, mothers and women, are even more eager to wait for how the details will be resolved.
Besides, with the "addictive" melody of the song "Someone's Wife" composed by Phan Manh Quynh, the story is told gracefully and becomes easy to remember and memorize, making the advertising's pervasiveness even more memorable. should be stronger.
The advertisement attracts viewers not only because of their love for the brand but also for the characters participating in the acting.
The video is a very harmonious and humorous combination of the trio including singer Phan Manh Quynh, comedian Thu Trang and actor Huynh Lap. The new version of "Someone's Wife" carries a realistic message about "The secret to taking care of children for comprehensive development" and has attracted more than 200 million views, becoming one of the most famous advertising videos in Vietnam.
Vinamilk's Hub content strategy
To increase the likelihood of customers returning to purchase in the future as well as maintain the interest of target customers who are mothers and babies, Vinamilk has developed video series such as: video series "Children's music" and series "Children's music" Vinamilk Farm". Vinamilk focuses on creating content for children.
Vinamilk's content strength is funny animated advertising videos, along with funny and humorous songs and the habit of children in Vietnam to like watching advertisements. Vinamilk's Youtube channel has posted content Appropriate and attractive content for children.
Vinamilk's Hub content is often the best commercials for children, children's music, children's cartoons, commercials for delicious food for children, cover contests about singing or dancing, EDM Gold Banana party cover contest, and TV shows. educational programs, etc. In particular, videos like "Advertisement for babies to eat deliciously" always receive "huge" views when played by mothers for their babies with the purpose of helping them eat better.
In addition, posts related to Vinamilk products such as "Healthy belly dance to welcome the new year with Probi"; "Vinamilk Nut Milk Trio"; "Vinamilk Love Yogurt Yogurt"; "Celebrate a prosperous Tet with Vinamilk fresh milk containing bird's nest" has been posted every other week, every day or even multiple times a day very regularly, with the purpose of consolidating and maintaining customer awareness of the product. Products.
Vinamilk's Help content strategy
With the main purpose of providing useful information to customers and helping them solve their problems or needs, Vinamilk also posts detailed instructional videos for mothers on how to cook or cook. create delicious and nutritious foods for children to help them develop more comprehensively.
After the children's music series for children, Vinamilk focused on creating video content for parents. It is a series of good tips for mothers called "Delicious dishes from Vinamilk" to ensure that Vinamilk is always present when customers need it, closely associated in customers' lives.

In addition, articles provide knowledge and information for consumers about Vinamilk products such as "The secret to choosing cool milk to help your baby digest and absorb well"; "Whey Protein – The optimal protein for early childhood development"; "Revealing the secret of 'choosing the gold' when buying Organic food" is often highly appreciated.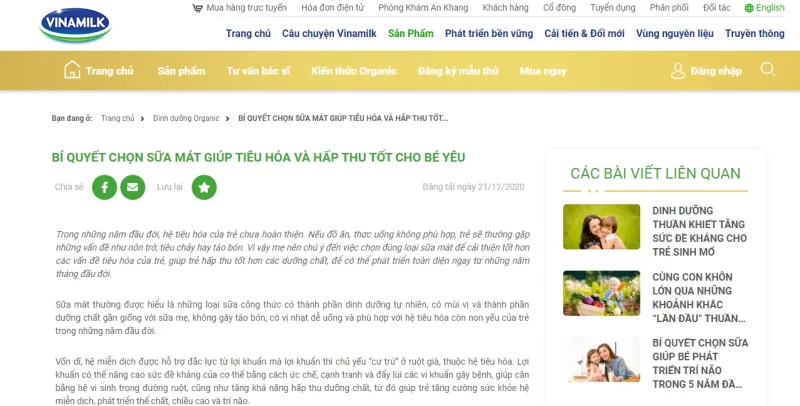 Once potential customers search for keywords related to "Organic food" and "secrets for choosing milk", they will likely see Vinamilk's articles and quickly approach the brand. easy.
To help customers find useful information easily, Vinamilk also optimizes SEO to make its articles appear on the first pages of search engines. With videos, Vinamilk also optimizes video titles, thumbnails, metadata tags and creates playlists on its channel with the aim of increasing the organic views of videos.
Through Vinamilk's Hero – Hub – Help strategy, we can learn lessons about content marketing strategies that businesses can apply: customers only watch or read content. content that is relevant to them or helps them solve their problems.
Vinamilk is a typical example of successfully using the right content marketing strategy at the right time. By leveraging consumer data to build a specific content strategy, this brand has built a large loyal following among Vietnamese women.
Vinamilk has such success because it has produced content that meets the needs of viewers, can also promote brand awareness and increase interaction, especially long-term videos.
Through effective marketing strategies, Vinamilk has succeeded in becoming one of the most famous Vietnamese dairy brands, attracting a large number of customers and possessing a large loyal customer base. .
In this article, we have analyzed in detail Vinamilk's 4P marketing mix strategy and detailed two marketing strategies that bring efficiency and success to this brand. Hopefully you have found useful knowledge from the case study about Vinamilk's effective marketing strategy to research and apply appropriate marketing strategies for your business.
To update our latest articles, please sign up to receive the newsletter. The editorial board will send you updated articles on Marketing via email every week.