Honda is one of the famous car manufacturing brands in Vietnam as well as in the world. To achieve current success in the Vietnamese market, Honda has effectively deployed marketing strategies according to the Marketing Mix model. Let's analyze Honda's Marketing strategy in the article below. 
Overview of Honda Vietnam company
Honda Vietnam Company was established in 1996, as a joint venture between Honda Motor Company Japan, Asian Honda Motor Company Thailand and Vietnam Engine and Agricultural Machinery Corporation.
With modern production lines and advanced assembly technology, Honda Vietnam is proud to contribute to the development and prosperity of Vietnam such as: accelerating the localization process, creating jobs for workers. Actively contribute to the state budget and actively participate in social and humanitarian activities.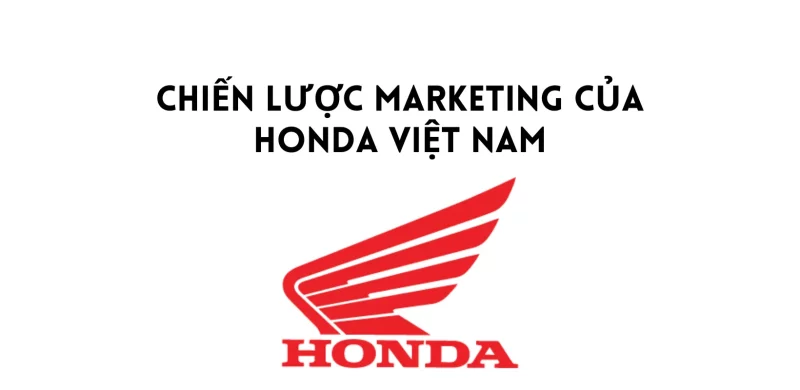 In March 2005, Honda Vietnam officially received a license from the Ministry of Planning and Investment allowing automobile production and assembly in Vietnam – marking an important historical milestone in the Company's development.
Starting its automobile business in 2006, after just over 1 year, Honda Vietnam has successfully built a factory, dealer network, and sales, service, and safe driving training programs for customers. dealership staff and launched the first car model, Honda Civic, in August 2006. Continuously striving to diversify products, the Honda CR-V model continued to be introduced by Honda Vietnam in December 2006. 2008 and Honda City in June 2013.
In addition to domestically produced cars, Honda Vietnam also imports high-end sedans and multi-purpose vehicles, namely Honda Accord and Honda Odyssey, respectively, to meet the increasing needs of customers. In 2016, Honda Vietnam switched to importing the Honda Civic model instead of producing it domestically. Up to now, Honda Vietnam has provided the Vietnamese automobile market with 3 vehicle lines to serve the diverse needs of customers: sedans (large, medium and small), SUVs and SUVs. MPV.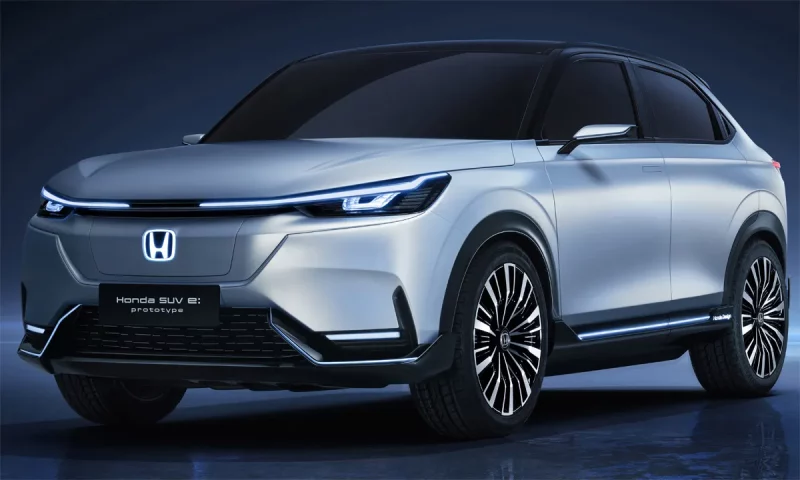 With unremitting efforts, Honda Vietnam is not only known as a reputable motorbike manufacturer but also a leading reputable automobile manufacturer in the Vietnamese market.
From the first day of establishment, Honda Vietnam Company has determined that the Company's development must always be associated with the common interests of society. After 11 years of development in Vietnam, Honda Vietnam always strives for the happiness and safety of Vietnamese people with the desire to become an active member of the country.
The message "I love Vietnam" and the activities in the program "I love Vietnam" represent what Honda Vietnam wants to say. With that motivation and desire, over the past 11 years, Honda Vietnam has continuously strived to provide Vietnamese customers with products that meet global Honda quality standards, are fashionable and reasonably priced, exceeding above customer expectations.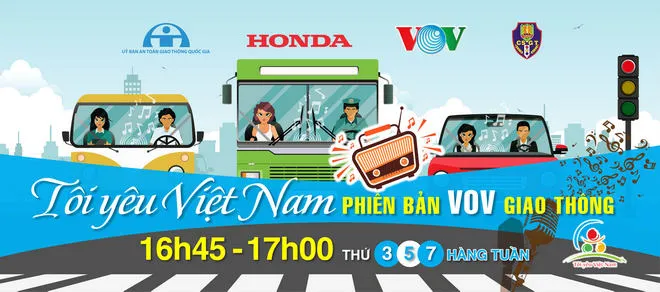 Honda's Marketing Mix strategy follows the 4P model
After 25 years of presence in Vietnam, Honda Vietnam has continuously developed and become one of the leading companies in the field of motorcycle manufacturing and a reputable automobile manufacturer in the Vietnamese market.
To achieve this success, Honda has developed and implemented effective marketing strategies according to the 4P model. So what is Honda's Marketing strategy?  How does this brand implement its Marketing Strategy according to  Marketing Mix 4P ?
Honda's Marketing Strategy for Products
Honda's marketing strategy  for products is a product diversification strategy.
Product diversification is an effective strategy to renew itself, increase sales, expand market share, and improve competitiveness. With the orientation of product diversification, Honda Vietnam has many products. Motorcycle products suitable for each age, gender, economic situation of each family…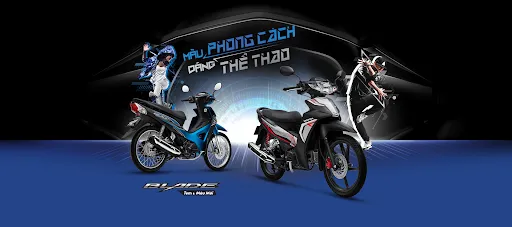 Depending on the needs of each person, you will choose the type of car that is right for you. Each type of vehicle has many colors, the colors represent the personality of the driver. Therefore, Honda products are loved by everyone. With such a diversification orientation, when a person wants to buy a car, he or she immediately thinks of Honda cars. Because when buying products from Honda Vietnam, it will be very easy to choose the right car for you.
Every consumer, when choosing to buy Honda Vietnam products, is sure the first reason they think of is Honda's quality. When we talk about Honda, we talk about quality. Honda Vietnam always puts quality as the first criterion to serve customers.
Regarding product quality, Honda's product quality is very durable, highly safe, especially suitable for traffic conditions in Vietnam along with thoughtful after-sales services, Honda Vietnam products Nam has captured the hearts of Vietnamese customers. To date, there have been more than 2.5 million Honda Vietnam products loved and used by customers across the country.
Honda Vietnam's products and after-sales services have always been voted by consumers as High Quality Vietnamese Goods for the past 9 years and have been awarded the Golden Dragon Award by the Ministry of Planning and Investment and the Economic Times Newspaper for 5 years. consecutive. The company was also awarded certificates of merit from the Ministry of Industry, Ministry of Planning & Investment, Ministry of Trade…
Each type of Honda Vietnam vehicle has its own technical specifications and outstanding features. Not only that, each car also has many different colors to choose from. Researching customer needs, the company has launched new types of cars that suit consumers' expectations and outstanding functions. of each of these vehicles is only available at Honda Vietnam. When mentioning these unique features, users will immediately think of Honda Vietnam.
For example, for the Air Blade product line, some of the outstanding features of this vehicle line can be mentioned as:
Honda technology creates the perfect combination for optimal performance: Compact engine, strong and stable power, helping to reduce noise and save fuel.

The side stand switch prevents unfortunate accidents when forgetting to move the stand, bringing safety to the user.

The hanger is sturdy and convenient, located on both the left and right sides under the saddle, and can hang both helmets.

The large storage compartment has enough room for helmets and other personal items. The storage compartment can be opened easily by simply pressing the saddle switch located next to the magnetic lock.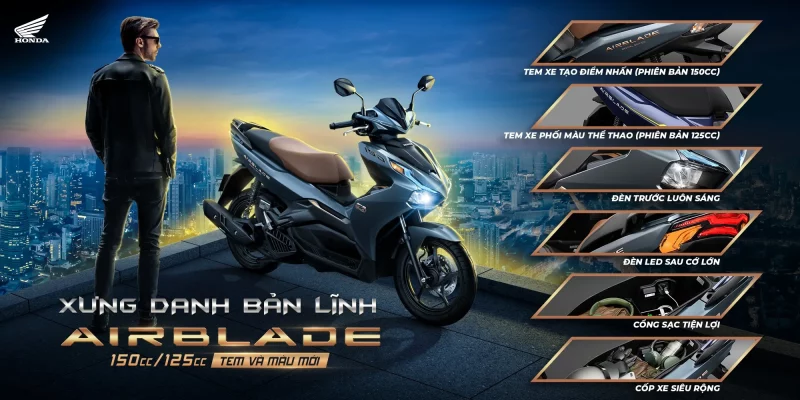 With Honda's marketing strategy of diversifying products and investing in improving product quality, Honda's products are always trusted and used by the majority of customers.
Honda's Marketing Strategy on Price
Honda's success in dominating the market is not only based on the design and quality of their products, but an equally important part is Honda's marketing strategy on product  pricing .
Honda's products are always priced to suit the target customers that this brand is aiming for, from popular products that meet essential travel needs to high-end products with very high prices to Satisfies user needs and shows the user's class.
When analyzing Honda's marketing strategy in terms of price, the pricing strategy of Honda Vietnam company mainly targets  their target customers  , which are the middle-income class in society. This is the company's main customer base over the years. Therefore, the company always puts this customer group first in its policies.
However, Honda does not stop there, they have high-end products imported from abroad to reach high-class customers. The pricing of these products is also done quite successfully by Honda, the price that Honda offers is relatively high, however, customers easily accept this price to be able to own a motorbike in this class. luxurious.
With different values, each type of Honda product also has different pricing levels. This is the value-based product pricing strategy that Honda is applying.
A value-based product pricing strategy is a pricing strategy that is primarily based on the customer's perceived value of a business's product or service. Value pricing is customer-focused pricing, which means businesses set prices based on what customers believe is appropriate for the value the product provides.
For more high-end products for high-income customers, the price of this product will also be higher than for products for middle-income customers. Customers are willing to pay high prices for quality products. Cars produced by Honda have long been famous for their quality and design. Previously, CUB cars were very famous in the world.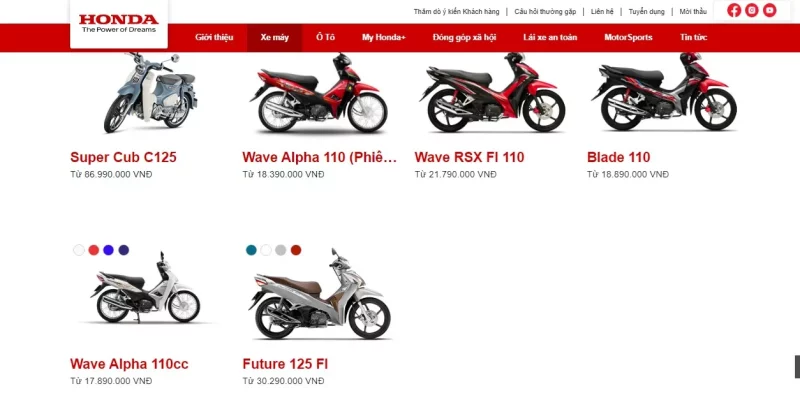 Honda's Marketing Strategy on Distribution System (Place)
Regarding Honda's marketing strategy regarding the distribution system, since entering the Vietnamese market, Honda has focused on building its distribution and sales facilities in major city centers and then from there. from creeping up to district and town level facilities. Honda has two main types of distribution channels as follows.
Exclusive distribution
This is a product distribution method in which high-end product lines such as SH motorbikes will be distributed to large facilities managed by Honda. These large facilities are often located in big cities such as Hanoi City and Ho Chi Minh City. High-end products are usually not distributed to the company's retail agents. With this distribution method, Honda does not spend much to control sales locations.
Widely distributed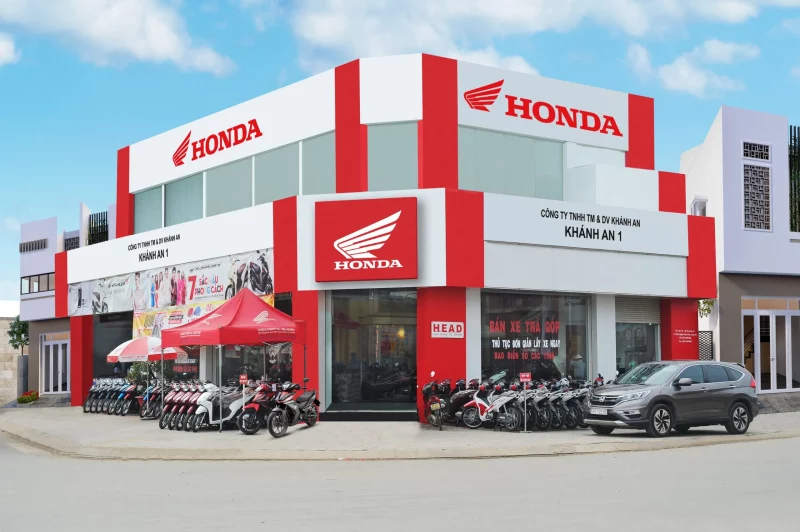 With widespread distribution, Honda will find many sales locations to make it easier for customers to find products manufactured by Honda itself.
In 2020, Honda Vietnam opened 2 new Honda authorized vehicle sales and service stores (HEADs), bringing the total number of HEADs to 801 HEADs nationwide by the end of December 2020.
Honda's Marketing Strategy on Mixed Promotion (Promotion)
Honda Vietnam's marketing strategy for mixed promotion is to take advantage of all communication channels to deploy advertising campaigns and build promotion programs.
Honda Vietnam's slogan is "I love Vietnam". Honda has been attached to Vietnamese people for many years, from motorbikes in the 60s, 70s, 80s to today's modern cars. This is also one of the factors that help Honda products attract customers and win their trust. With its brand strength and product quality, Honda currently still dominates the market, promising to bring customers new, more perfect products in the future.
Honda is a very strong brand in advertising communications, with advertising campaigns from television to Outdoor advertising. On traffic roads we can see Honda advertisements, loud advertisements for its new product lines, or just propaganda about traffic safety. Moreover, television advertising is Honda's strength with dense advertising TVCs and the company carefully focuses on the youthful vitality of Vietnam.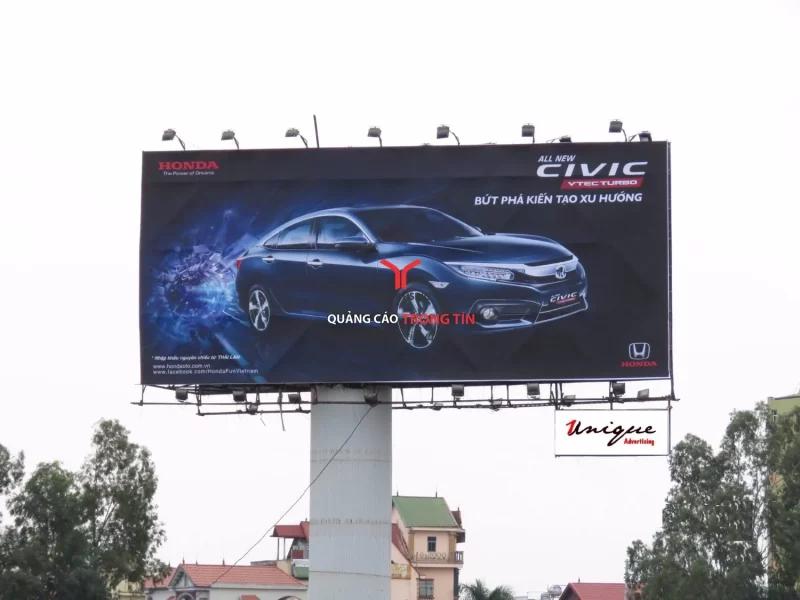 One of Honda Vietnam's outstanding TVCs recently is the "Going home" campaign for Tet 2021. "
Going Home" is a music product in Honda Vietnam's 2021 Lunar New Year Marketing campaign, with the collaboration of two famous singers and rappers Den Vau and JustaTee. The MV impressed the audience with its simple, emotional lyrics and footage imbued with the colors of Lunar New Year. After just over a week of release, the MV has received more than 30 million views along with other marketing successes.
With the message: "home is the place to return", the "Go Home" campaign reminds each of us of the sacredness of family love, from there, the MV also sends a message to children. expatriates say: This Tet, return to your family, return home to live in the loving arms of your father and mother, because: "Happiness is simply being able to return home."
The combination of two famous people with young people, Den Vau and Justatee, along with a meaningful message, Honda Vietnam has succeeded in attracting customers, increasing brand awareness and thereby increasing sales revenue. .
Besides, Honda Vietnam also launches promotional programs. The promotion program included with product purchase is one of Honda's most successful promotions.
Normally in these campaigns, when buying a Honda motorbike such as a Dream, customers will be given a helmet manufactured by Honda, supported with fees when registering vehicle documents, and may also receive Get regular maintenance at Honda centers without having to pay. These are promotional programs that show Honda's class. The car's selling price is still high, demonstrating its quality and class, and the many benefits that come with it.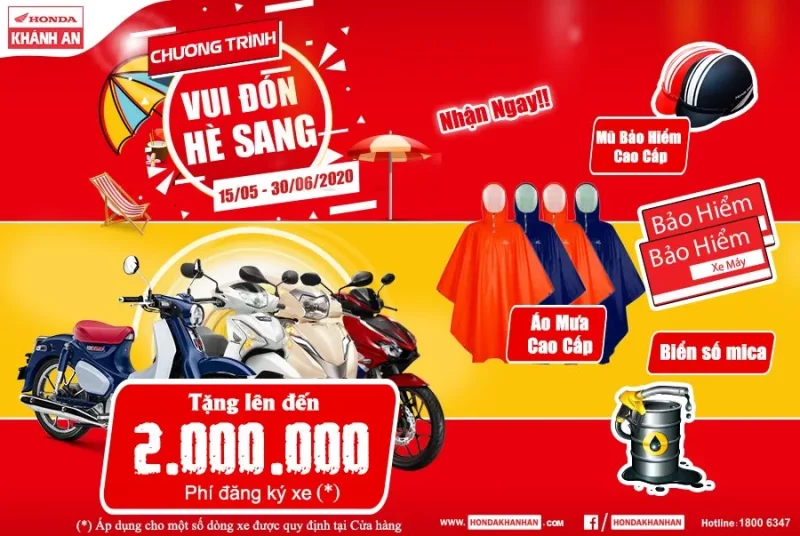 Summary
Honda is one of the famous car manufacturing brands in Vietnam as well as in the world. To achieve current success in the Vietnamese market, Honda has effectively deployed marketing strategies according to the Marketing Mix model.
Regarding products, Honda Vietnam applies a product diversification strategy along with always improving product quality to serve customer needs. Besides, one of Honda's successful marketing strategies on pricing is to use a product pricing strategy based on value and suitable for the target customer.
Honda Vietnam's extensive distribution system also helps customers easily access this brand's products. To increase brand recognition and attract customers, Honda also deploys its advertising campaigns and applies many attractive promotions.
Check out some other great content:
Analyzing Samsung's Marketing strategy in Vietnam