Vietjet Air is one of the famous airlines in Vietnam and attracts many customers. To achieve current success, Vietjet Air has deployed and applied an effective Marketing strategy. Let's analyze Vietjet Air's Marketing strategy through the article below.
Overview of VietJet Aviation Joint Stock Company 
VietJet Aviation Joint Stock Company (VietJet Aviation Joint Stock Company), operating under the name VietJet Air, was established on July 23, 2007. However, after many delays, in 2011 the airline began operations and quickly received support from domestic passengers because of its very cheap flight prices.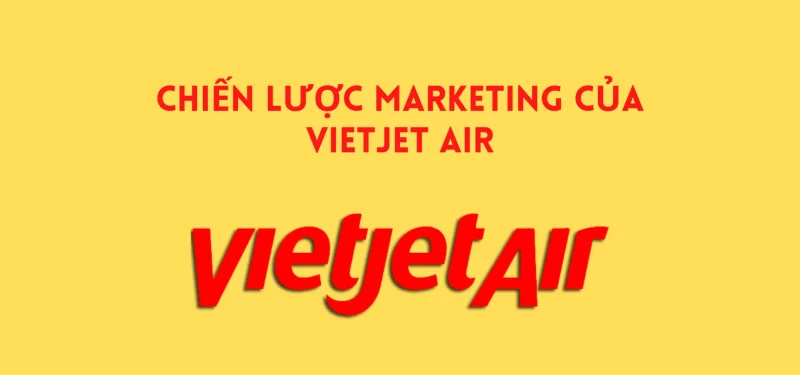 Vietjet Air has its headquarters at Tan Son Nhat International Airport, City. Ho Chi Minh and branch at Hanoi Noi Bai International Airport.
With a registered capital of 600 billion VND (equivalent to 37.5 million USD), VietJet Air is a 100% Vietnamese-owned company with 3 main shareholders: T&C Group, Sovico Holdings and Joint Stock Commercial Bank City Housing Development. Ho Chi Minh (HD Bank).
Vietjet Air owns 100 aircraft of all types: 62 aircraft are on order, 30 aircraft have the right to buy more and 8 aircraft are leased with delivery time until 2022 with a total transaction value according to the manufacturer's price list of about 9.1 billion VND. billion USD. VietJet is the first airline in Vietnam and a few in the region to own the latest, modern Sharklet A320 aircraft from Airbus.
Vietjet also owns a modern staff with a professional, international standard flight crew. Experienced and friendly pilots and flight attendants provide quality aviation services and serve passengers.
VietJet Air has developed a wide domestic flight network and has plans to develop a flight network in the Asia-Pacific region. Meet the increasing travel needs of domestic and international people with the rate of on-time flights and aviation service quality always leading the entire industry. The highlight of the airline is that it always offers many choices, not just means of transportation, VietJet is always creative, bringing passengers many interesting and fun things on flights.
During more than 5 years of operating and serving customers, VietJet has been honored with 32 domestic awards and 9 major international awards.
In addition to the position of "Top 500 Leading Brands in Asia 2016", VietJet was also voted "Best Low-Cost Airline in Asia 2015" by Travel Awards, as well as the "Favorite Airline" award. most favorite in Vietnam" voted by the Economic Times. VietJet has continuously been voted "Best Place to Work" and "Best Recruitment Brand in Asia" for many years.
>> Read more: Bamboo Airways Marketing Strategy
Analyze Vietjet Air's Marketing Mix strategy according to the 4P model
Vietjet Air is one of the multinational aviation corporations, with a wide flight network throughout the region and the world, developing not only aviation services but also providing consumer goods on an e-commerce platform. The brand is loved and trusted by customers.
To achieve current success, Vietjet Air has deployed effective marketing strategies and campaigns. So what is Vietjet Air's Marketing strategy?  How has Vietjet Air implemented  its Marketing Mix strategy according to the 4P model?
Vietjet Air's Marketing Strategy regarding products (Product)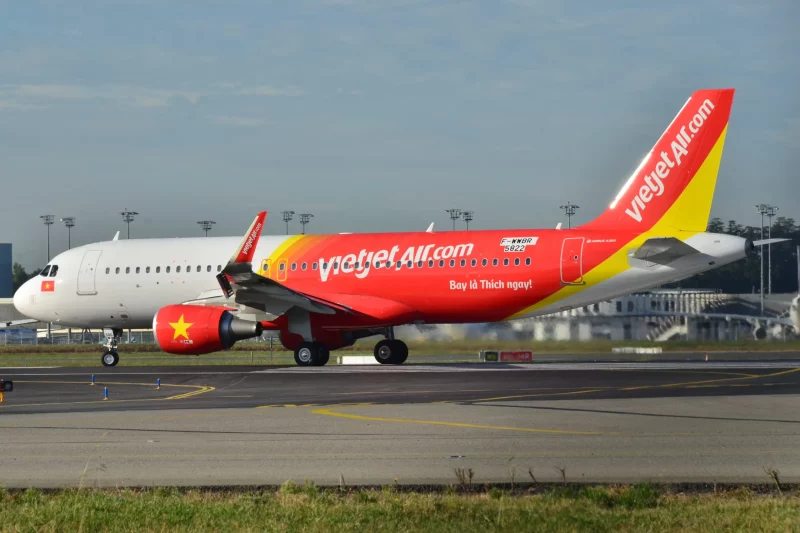 For Vietjet Air's marketing strategy regarding products/services, this airline has used the strategy of diversifying its products/services with the aim of attracting customers and meeting different needs. of  the target customers  that Vietjet is aiming for.
Some services that Vietjet provides to customers can be mentioned as:
Domestic and international air passenger transport.
Other support service activities related to transportation: airline ticket sales agents.
Transporting passengers by road.
Support services related to tour promotion and organization.
Construction of other civil engineering works: Construction and exploitation of facilities for aircraft maintenance, construction and exploitation of flight control centers, construction and exploitation of facilities for aircraft airport station.
Education: Practical training for drivers, technical staff and other specialized staff.
Air cargo transport: Regular domestic and international public transport of goods.
Direct support service activities for air transport: Ground services, routine aircraft maintenance and regular aviation maintenance, aircraft spare parts supply services, aircraft refueling services.
Other remaining business support service activities: Operating large-capacity aircraft and general aviation aircraft on land and water; operating chartered aircraft.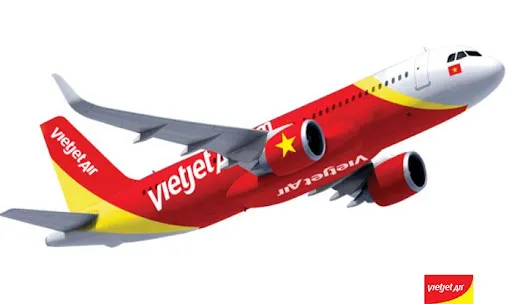 Besides providing diverse services, Vietjet also focuses on improving the quality of its products/services. Vietjet Air invested in a fairly new fleet with fuel-efficient aircraft lines. The airline also opened a new center in Hai Phong to exploit the demand for air travel because this city is experiencing an economic boom, with the advantage of being located in the Northern economic triangle, as well as being close to the Gulf. Ha Long, one of the most famous tourist destinations in Vietnam.
In addition, Vietjet expands international flight routes with longer distances: Domestic routes often have shorter distances and do not operate at night, which are two factors that limit the aircraft's flight hours.
Therefore, VietJet Air continues to expand its international network to quite remote locations such as Incheon (Korea) and Tianjin (China) with flight times of 4-5 hours, passengers will be ready to fly at night. . In addition, the time the plane flies will increase for each takeoff and landing, so the number of flight hours will increase.
VietJet continuously researches and innovates with advanced technology applications to create a breakthrough compared to other competitors. Currently the company is using 20 advanced software to manage its operations. VietJet's ticket booking system is managed and developed by Intelisys (Canada). To manage risk and detect credit fraud and verify internet booking transactions.
The company uses Gatekeepers software provided by Mastercard. Mastercard is one of the world's leading credit card service providers, processing more than 30 million transactions/month for 30,000 companies in 180 countries around the world. Safety flight analysis activities are managed by the EFB system provided by Airbus. EFP helps the flight crew to update information on flight safety and flight operations as quickly as possible.
For operational activities, Geneva software helps VietJet optimize resources in terms of flight schedules, crew schedules, and flight time control. In addition, the subsidiary uses Sunsystems for financial and accounting management and AMOS to manage supplies and spare parts on aircraft.
In terms of appearance, Vietjet Air is called "The most vivid fleet in the world" by the international press. VietJet's aircraft stand out both when flying in the sky and landing on the apron with vivid images. eye-catching on the hull.
With a new generation of aviation style that is safe, friendly and joyful, the airline has pioneered the design of symbols on aircraft. VietJet aircraft are painted in the colors of the National flag (red – yellow) as committed to always providing opportunities to fly at an economical cost, with safe, friendly and luxurious flight services for people and guests. Vietnam international.
Vietjet Air's Marketing Strategy regarding price (Price)
When analyzing Vietjet Air's marketing strategy in terms of price, this airline chose to  price  its  products according to the LCC (Low Cost Carrier) model.
Low ticket prices are a special competitive way for VietJet Air to attract customers. To do so, VietJet must optimize costs. Vietjet Air currently only operates a single line of single-body aircraft, allowing Vietjet Air to rotate many flights and return within the same day, reducing operating costs and accommodation costs for the fleet.
This type of aircraft is also the most advanced, with a young age (3.3 years old), helping VietJet save maximum fuel costs (15%). In addition, VietJet Air has also cut accompanying baggage costs and eliminated in-flight meals. Instead, luggage and meals become services that passengers must pay for separately depending on their needs. In return, instead of the meals included in the ticket price with only 1-2 options, the Vietjet menu has up to 9 hot dishes that suit the tastes of many customers.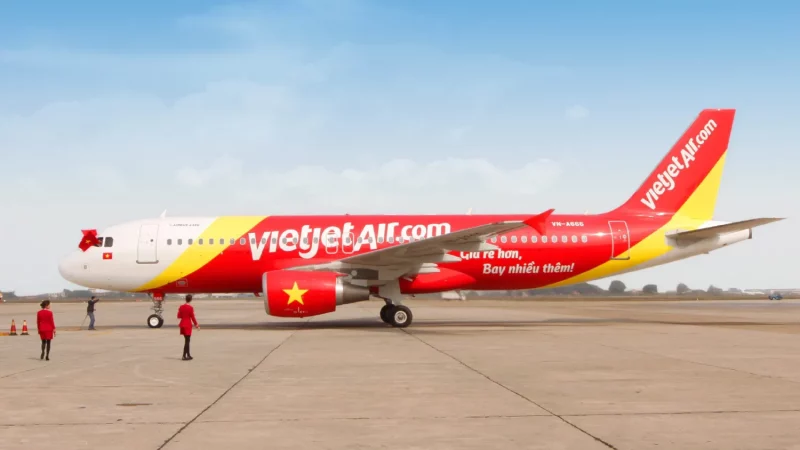 A marketing strategy of Vietjet is that prices will be cheaper the more flights you fly to encourage customers to choose to fly with this airline. Customers registering to fly early is also a way to save money when traveling long distances.
Vietjet's difference is building a new generation airline, whose core values ​​are defined as "safe, friendly, fun, punctual, cheap". Vietjet also aims for the best customer care service. VietJet does not sell tickets with free meals because passengers who do not need them still have to pay. One of the reasons why Vietjet's airline tickets are cheap is that customers do not need to go directly to an airline ticket agent to buy them but book online to minimize operating costs.
Vietjet Air's Marketing Strategy on distribution system (Place)
For Vietjet Air's Marketing strategy regarding the distribution system, Vietjet has used the strategy of building a widespread distribution network to serve all customers.
Some key points about Vietjet Air's distribution system can be listed as follows:
VietJet is a low-cost airline that develops a wide flight network domestically and in the Asia Pacific region.
Vietjet serves all audiences with promotional programs that have contributed to bringing air journeys to the people.
Targeting people who cannot afford to fly; Customers who fly frequently and care about compactness, convenience, and cost savings; young people; businessmen.
This is the first and only airline in Vietnam that allows the operation of domestic and international routes.
Aiming to expand the market, providing Vietnamese customers and tourists with many effective, quality and safe low-cost aviation products and services.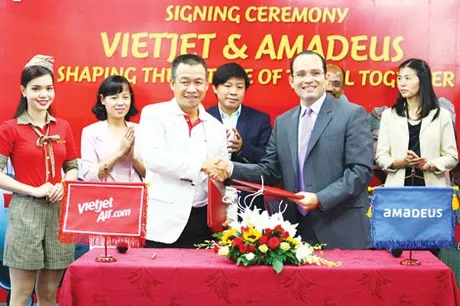 Currently, Vietjet Air has 4 daily flights connecting Hanoi, Da Nang, Ho Chi Minh City and Nha Trang. There are 500 flights weekly. The distribution channel is applied through the ticketing system: BSP of IATA (international air transport association). Vietjet also meets financial and non-financial standards based on IATA standards. Airline tickets are designated for payment with many options for customers.
Vietjet also signed a comprehensive cooperation agreement with Amadeus – a leading technology partner in the field of global aviation and tourism. Accordingly, Vietjet will expand its flight network and distribution channels globally while connecting with more than 446 other airlines in the same Amadeus system. Through Amadeus's agent network, VietJet will provide information about products and services, and promotional programs on domestic and international flights that VietJet is operating.
Vietjet Air's Marketing Strategy on Mixed Promotion (Promotion)
Vietjet Air's Marketing strategy on mixed promotion (Promotion) focuses on advertising, branding and implementing promotional programs.
Advertisement 
Vietjet Air's marketing strategy regarding advertising is to take advantage of social media marketing and mass media.
An effective advertising campaign of Vietjet Air can be mentioned as the campaign: "Connecting love – Love must come". With brand positioning as a new generation, low-cost airline, Vietjet Air always aims to create conditions for everyone to have the opportunity to fly.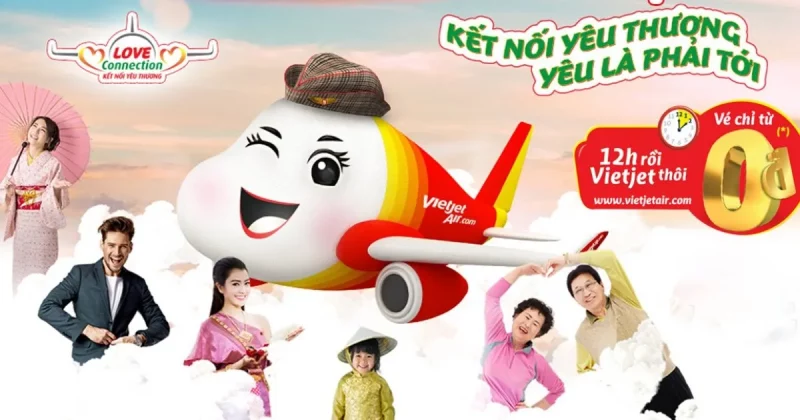 And the end of the year is also the most anticipated reunion and meeting time for spouses, parents – children, lovers or friends… But it will be more difficult if they study and work abroad. . On the other hand, because it is also the festival season in many Asian countries, it is not always possible to "hunt" for good tickets.
As an airline, Vietjet connects love with its cross-border flights. For families, the journey of loving connection is an opportunity for Vietnamese people across Asia to reunite with family and relatives. For young people across Asia, this is an opportunity for them to go to or return to the land they especially love, enrich their living capital as well as realize their "love is a must go" travel desire.
With this advertising campaign, Vietjet has achieved certain success in attracting customers and improving brand awareness with more than 45 million reaches and 3.6 million engagements in 9 countries and territories. campaign launch, 31 million views of the music video "Fly for Love", 2,645 entries in just one week, including more than 700 entries from Korea, 350 entries from Thailand and more than 8,520 entries during the campaign.
Another famous advertising campaign to position Vietjet's brand was the "sexy communication" campaign in 2013. Vietjet Air invited Ngoc Trinh and a group of hot, long-legged models to pose next to its planes. Vietjet.After this campaign, the Vietjet Air brand suddenly became famous, and conflicting opinions "triggered" a heated debate. Some people think that Vietjet's strategies are smart and have good effects, but many people think that Vietjet is doing too much and is offensive. But even so, it must be affirmed that Vietjet has won big, as evidenced by the airline's brand recognition level of up to 98%.
Promotion 
Regarding Vietjet Air's Marketing strategy, the implementation of promotional programs to attract customers is also effectively utilized by this airline.
Vietjet offers many promotions and regularly emails customers such as: 2021 holiday promotion, giving away 2,000 free air tickets to those who want to celebrate Tet in Ho Chi Minh City, air ticket promotions from only 250,000 VND from Hanoi – Ho Chi Minh City, promotion for the opening of ticket sales and customer service centers,…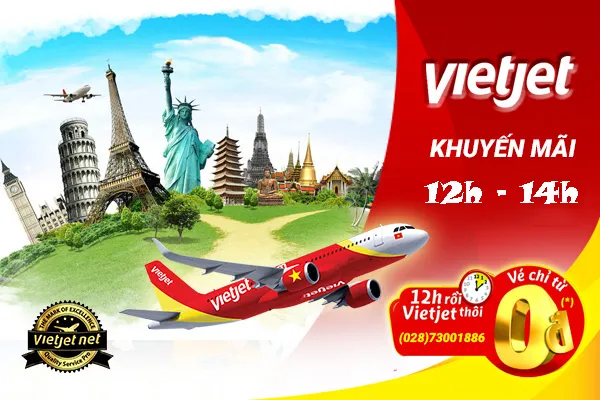 Summary 
Vietjet Air is one of the famous airlines in Vietnam and has attracted many customers thanks to its low-cost airline brand as well as attractive advertising and promotion programs. Vietjet Air's Marketing strategies are always worth learning and analyzing.
Check out some other great content:
Analyze Grab's Marketing strategy in Vietnam in the most detail