Carefully researching the market and properly grasping Vietnamese people's psychology,  Circle K's marketing mix strategy has been bringing significant success in the Vietnamese convenience retail industry.
1. Overview of Circle K's convenience store chain
Circle's success in convenience retailing spans more than 70 years. Circle K's origins date back to 1951, when Fred Hervey acquired three Kay's Food stores in El Paso, Texas, United States. Over time, Circle K has become one of the most popular convenience store brands in North America. Currently, Circle has more than 6,000 stores across the United States, more than 14,000 locations worldwide, popular in countries such as Vietnam, China, Japan, Hong Kong, Mexico,…
In 2008, Circle K officially entered Vietnam. However, it was not until the end of 2016 that this brand made a breakthrough and became one of the familiar shopping brands of the young generation, competing directly with giants in the industry such as Winmart (formerly Vinmart, Family Mart, B's Mart, Ministop,…)
Wherever you go to Circle, you will feel the most familiar convenience, always ready to serve customers shopping and relaxing 24/7. In addition, with the goal of bringing the most convenience to customers, Circle provides a diverse range of goods, ensuring quality and meeting standards of facilities and equipment. To have such large brand coverage today, no small success comes from   Circle K's marketing mix strategy.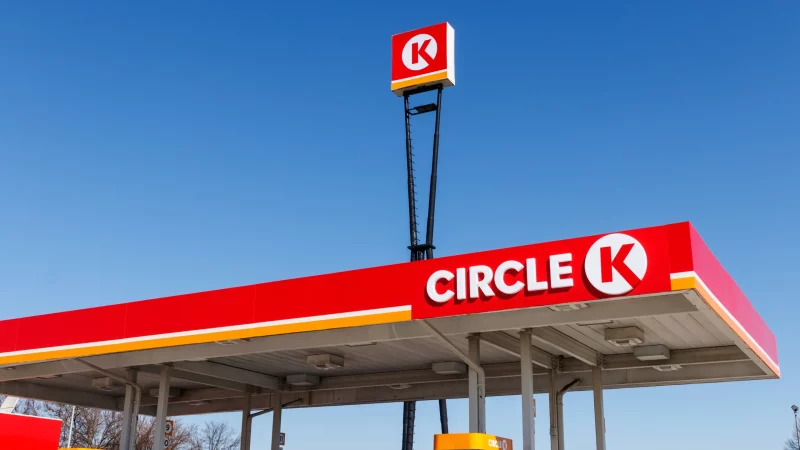 1.1 Target customer orientation
Customer buying behavior and habits
Circle K always advocates serving consumers of all ages. However, because of its convenience and suitability for busy people,   the brand's target  customers are still young people from 16 to 25 years old, who love to explore and are not afraid to innovate. In addition, Circle K's target customer group also has the following demographic characteristics:
Urban consumers: are people living in urban areas and big cities, who love convenience and speed when shopping for goods.

Working people: are people who have little time to shop at supermarkets or traditional markets. They don't have time to cook, and they choose convenience store snacks, coffee, and other foods to replace main meals.

Students: Younger consumers often take advantage of the space in Circle K stores to study, have breakfast, and lunch.

Young families: often bring their children to circle K to rest and relax.
Whatever products and services they need – Circle K will always be available and served in the shortest time. Circle K's staff is also young and dynamic. All combined factors have helped customers have the best shopping experience when coming to Circle K.
>> See more:  Things to know and examples of consumer buying behavior
1.2 Circle K's business situation according to the SWOT model
– Convenient 24/7

– Products are quite diverse, displayed flexibly, and easy to search

– Has large coverage, concentrated in densely populated urban areas

– Prices are higher than supermarkets and grocery stores

– Unable to meet the requirements for clean and fresh food items, vegetables, fruits, etc.

– Waiting time to pay and get food is often quite long

– Many establishments lack parking spaces, customers have to take care of their own vehicles, property, etc.

–  The Vietnamese market has a young population, quick to follow trends, and loves convenience

– Pressure on premises when having to meet requirements
about new business model: area over 100m2, near main road, near densely populated area.

– A number of other convenience store business models are also developing (for example, Tien Tho bookstore combining shopping + rest area), so Circle K needs to optimize resources and costs to improve its capabilities. competitiveness in the market.

– Convenience stores often do not have high product differentiation, so the barrier to entry is low
2.  

Circle K's marketing mix strategy
2.1 Product – Product
Circle K convenience store is providing a variety of goods and services to serve the daily essential needs of consumers:
General goods: stationery, batteries, washing powder, masks, paper towels,… or even umbrellas and raincoats to serve the daily needs of the majority of consumers.

Cosmetic goods: personal items, skin care, make up, …

Packaged foods, foods processed on site: coffee, tea, bread, canned milk, yogurt,…
For food products, besides drinks familiar to Vietnamese people, Circle K also introduces to customers a signature drink taken from the machine at Circle K, and sold in clear plastic cups called Froster. This is an exclusive drink at Circle K, impressing with its outstanding color, delicious flavor and cool feeling. In particular, customers can try each flavor separately (corresponding to different colors), or mix flavors and colors according to their preferences.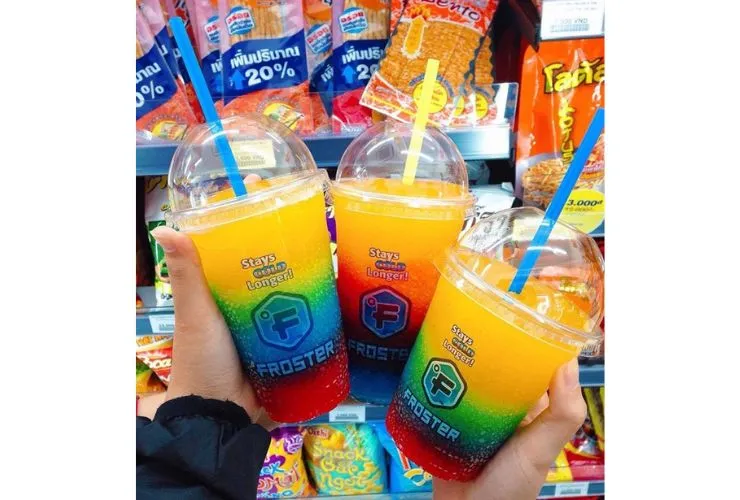 Circle K also creates new drinks from familiar ones. For example, "red Thai tea" with cream added, which Circle K emphasizes as an extremely unique drink only available at the store, or Doraemon donuts that remind us of the childhood of the 8x and 9x generations.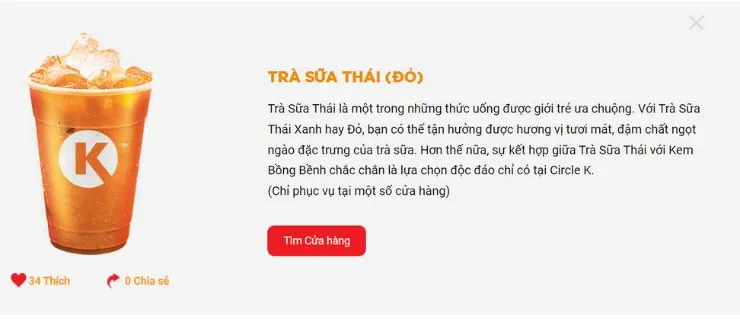 To create a  successful marketing mix strategy ,  Circle K  has paid great attention and is not afraid to invest in diversifying products and services at the store system. In addition to providing daily necessities, Circle K also cares and supports consumers with convenient services such as:
Flexible 24/7 laundry service for some stores

Top up game cards: Circle K provides prepaid cards with many different denominations, and of popular game brands such as: OnCash, Gate FPT, Vcoin, VNG, Garena.

Top up phone scratch cards: Including scratch cards of Viettel, Vinaphone, Mobifone, Vietnamobile with full denominations from 10,000, 20,000 to 500,000.

Pay utility service bills (electricity, water, internet,…), financial bills (credit cards, insurance), installment bills and pay for air tickets and car tickets.

Seasonal services such as: ticket exchange support, ticket sales for major music festival events (3D House, Color Me Run,…) or sporting events.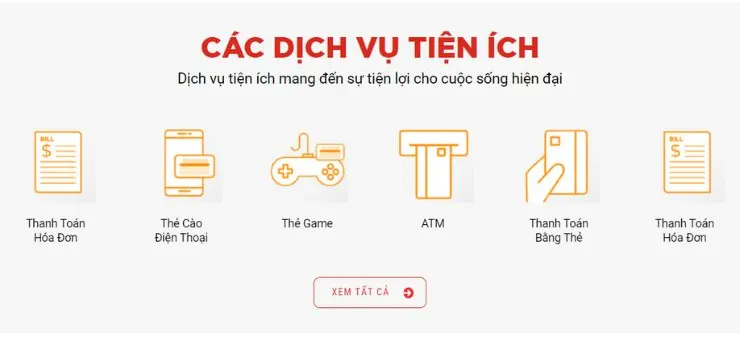 >> See more:  What is marketing mix? How to build an effective Marketing mix strategy
2.2 Price – Price
Circle K operates under the convenience store model, open 24/7, focusing on busy groups of people who need to make quick purchases and prioritize convenience. Therefore, price is not a barrier. That's why products at Circle K are often more expensive than supermarkets or grocery stores.
In addition, Circle K offers many incentive programs so customers can buy products at better prices, thereby stimulating shopping demand. For example, buying combos is cheaper than buying individually, discounts when buying in large quantities, refunds via e-wallets MoMo, ZaloPay, VNPay, Viettel Pay, or giving away movie tickets suitable to young people's preferences.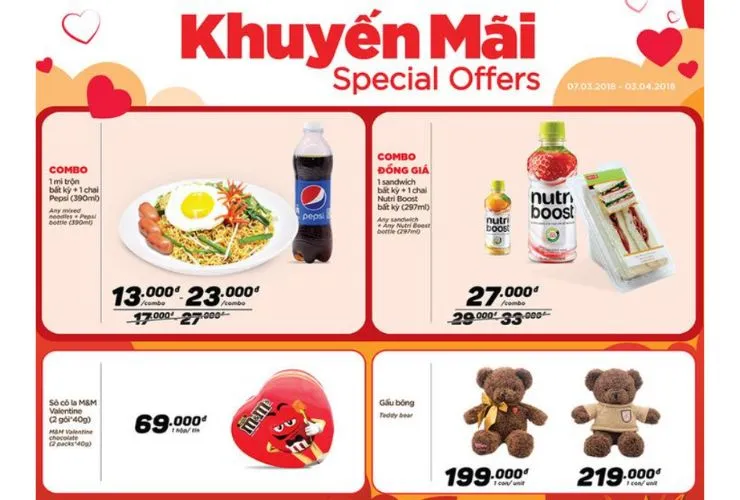 2.3 Promotion – Promotion – Thoroughness  

in Circle K's marketing mix strategy
2.3.1 Marketing online
Circle K owns the official website circlek.com.vn with the purpose of providing full information about the store: including products, services, nationwide system addresses, and promotional programs. And of course, also to  build brand recognition  for consumers.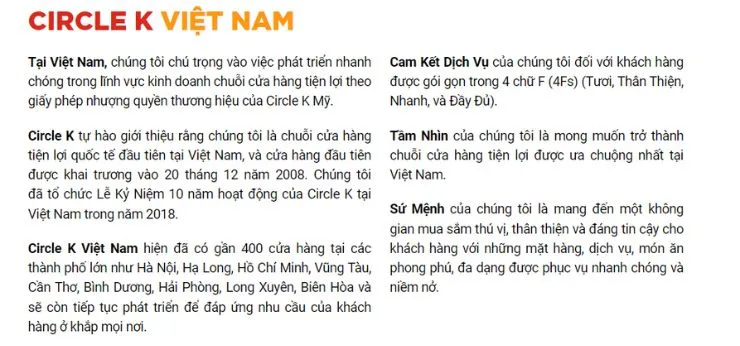 Besides the website, Circle K also set up social networking sites such as Facebook, Instagram, Tiktok to interact directly with customers, and quickly resolve questions and complaints if any.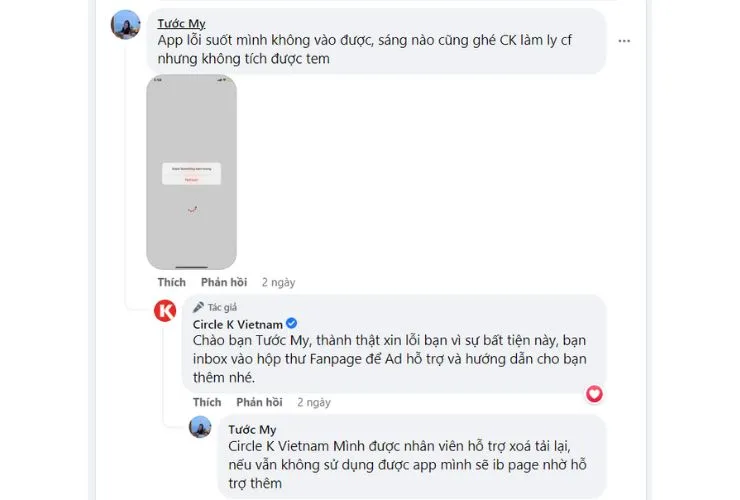 This is also a means to help Circle K promote products, services and promotional programs to customers. In addition, the articles are also invested in many types of creative and attractive content, not only attracting interest and interaction from users but also contributing to raising awareness of Circle K's products and services.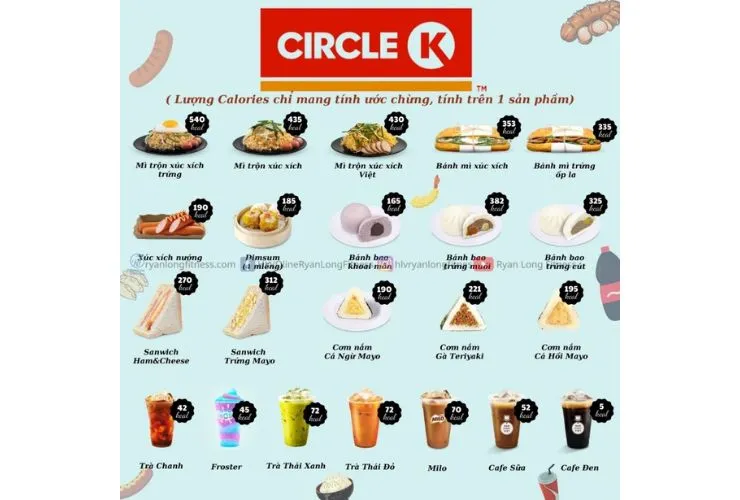 Not only that, Circle K also launched the CK CLUB application with the purpose of building its loyal customer group. In the application, there are discount coupons, gift exchange stamps as well as convenient online shopping features. All of this demonstrates the synchronization in communication as well as  Circle K's marketing mix strategy  in general.
2.3.2 Point of sale marketing
Because it is a convenience store, one point that needs the most attention in  Circle K's marketing mix strategy  is point of sale operations. For point-of-sale marketing activities, Circle K pays great attention to color and youthfulness and modernity. TV screens for advertising are often mounted above checkout counters and around the store.
Advertising content is continuously innovated, from animation, 3D, short clips, videos to beautiful photo content to attract viewers and bring products closer to consumers. Circle K also makes good use of POSMs at counters and product introduction shelves.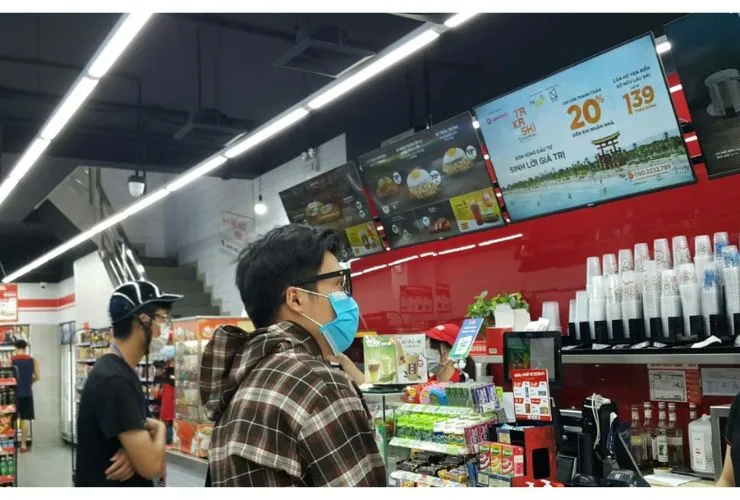 2.4 Location – Place
When first entering the Vietnamese market, Circle K stores often had quite small areas ranging from 25-50m2, located in crowded residential areas, in narrow alleys instead of being developed on main roads. Circle K's marketing mix strategy  for this location   helps the convenience store chain create a friendly image in the eyes of consumers during the process of welcoming new brands into Vietnam.
Today, Circle K has been implementing a strategy to expand its scale with stores with larger areas (about over 100 m2) and concentrated in urban areas, near schools, offices, and densely populated areas. populate. At the same time,  Circle K  continues to implement  the marketing mix strategy  of "creating a destination" combining grocery sales with coffee and fast food counters and a rest area at the store.
In particular, the number of stores near schools is increasing. Circle K's rest areas are always full of students after school. This is also where many parents pick up their children after work. Because Circle K ensures safety, convenience, and space for children to wait.
>> See more:  What is Trade marketing? 4 effective Trade marketing strategies for businesses
2.5 People – People
Circle K aims at comfort when shopping, especially for busy, young people aged 16-25. Therefore, the brand prioritizes recruiting young personnel suitable for the target customer base and training personnel with professional sales skills, friendly, dynamic, and close to customers.
According to information from circlekvn.careers (Tiktok) channel, each Circle K employee will receive thorough training within 3 days, with content revolving around necessary skills including mixing drinks and preparing food. at Circle, cleaning machines and how to pay through the machines.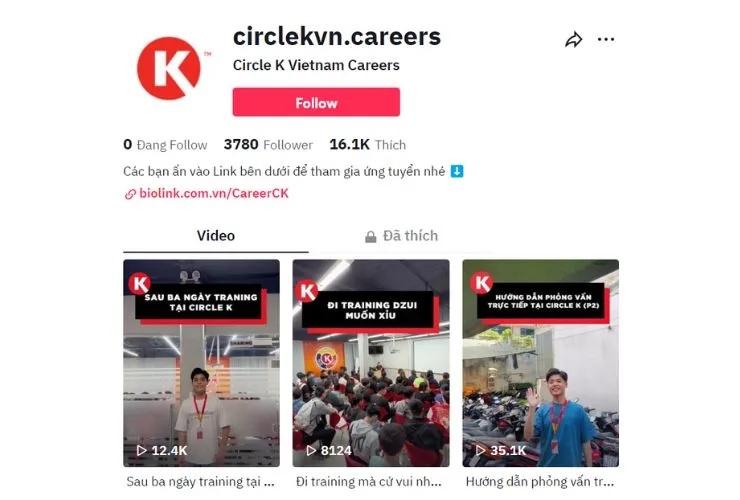 >> See more:  Top 7 most effective communication skills with customers
2.6 Process – Process
In order to optimize customers' convenient shopping experience, Circle K has expanded many different forms of payment including: cash, card swipe via POS, QR code scanning or popular e-wallets today. today (Momo, Zalopay, Viettel Pay,…). Circle K is also open regularly every day of the week for 24 hours, even on holidays and Tet, ensuring it meets consumer needs.
2.7 Facilities – Physical Evidence
Circle K continues to operate a chain of convenience stores with two different scales:
Scale 25-50m2 with the purpose of maintaining brand recognition. These stores are located in small alleys in densely populated areas, serving the needs of residents 

 living in that area.
Scale of 100-120m2 to meet the needs of a large number of customers. These stores are located near schools, offices or densely populated areas with a convenience store model combining coffee shops and fast food stores.
At the same time, Circle K also focuses on investing in upgrading store facilities such as free wifi, music speakers, air conditioning, security systems, and doorbells.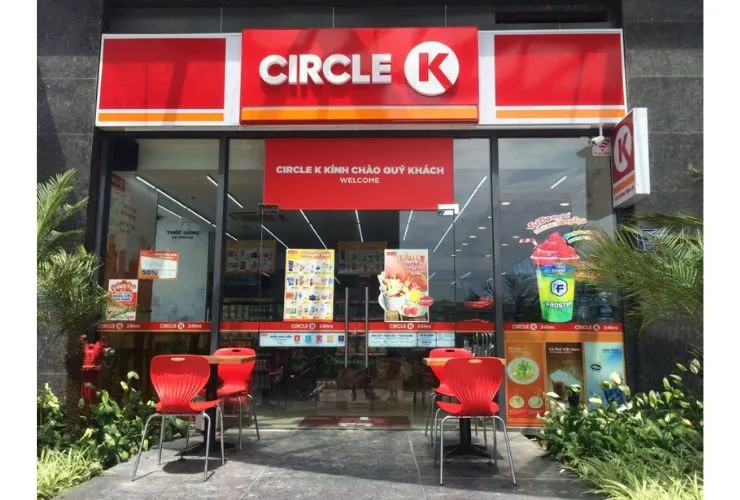 3. Lessons from  

Circle K's marketing mix strategy
3.1 3P and 4F motto
Mr. Yan shared with his employees the secret: If you want to develop in Vietnam, you can only do 3P (Patience) "patience, patience, patience". He believes that we must always work in the true nature of the convenience store model: "24 hours a day." According to Mr. Yan, it is thanks to continuous service that Circle K has been able to stay and grow strongly in the Vietnamese market today.
In addition, after restructuring in 2015, Circle has developed to focus on 4F services, which are: Fresh – Fresh, Friendly – Friendly, Fast – Fast and Full – Full. It is the 4F motto that has helped  Circle K's marketing mix campaign  have great appeal and success.
Accordingly, Circle K invests in multiple services from fast food. With the on-site processing model, adjustments are made depending on the taste and needs of diners; Providing more amenities such as free wifi, seating areas… to turn the store into a multi-utility location. Circle K is not only a shopping place but also a place to rest, meet or date for young people.
3.2 Adaptation, integration – localization instead of changing Vietnamese culture
Although Vietnam has a diverse cultural environment – both clearly expressing indigenous culture and integrating cultures from countries around the world such as Korea, Japan, America, China, etc., Circle K is is very little affected when entering the market.
Vietnamese people like to buy promotional, cheap and genuine items. Understanding this psychology, Circle K has launched many programs for people to receive "bargain" prices such as buying combos, discounts for multiple purchases, refunds to e-wallets, and free movie tickets. In addition, Circle K also applies the Vietnamese mentality of favoring eye-catching shapes and colors to design vivid advertising posters. This is also a very smart marketing mix strategy of Circle K.
Circle K also introduces new dishes to its fast food menu that create excitement and curiosity as well as create a new trend in young people's consumption patterns. This job has really attracted the attention of many young people, not only because of convenience and novelty but also to enjoy a modern style that is very popular in the world.
Besides, based on the needs and habits of Vietnamese people who like to find a comfortable space  to chat with friends, Circle K has designed a cozy space with modern services, free wifi and Trending music. The most interesting thing is that when you come to Circle K, whether you are alone or in a group, you will find a suitable space to comfortably eat, drink, exchange, chat,…
It can be seen that for Circle K, instead of completely changing the eating and resting habits of young people, they still prioritize adapting to and integrating with Vietnamese culture.
Circle K is a model that represents a new, fast and convenient lifestyle for potential young customers. With the development of current Vietnamese society, consumption trends often change rapidly and are increasingly demanding.
Therefore, to be able to compete with established and developing brands, administrators need to have a vision and  marketing mix strategy  worth learning like that  of  this famous Circle K  convenience retail brand  . Let's follow Malu to read more useful articles.