SABECO is one of the famous beer brands in Vietnam. To achieve this success, SABECO has implemented effective marketing strategies. Let's analyze and learn about SABECO's Marketing strategy in the article below.
Overview of the SABECO brand
According to VNR500, Saigon Beer, Alcohol and Beverage Joint Stock Corporation (SABECO), formerly known as Saigon Brewery, was established in 1977. In 2004, the company switched to operating under the parent-company model. subsidiary and officially equitized, changing its name to Saigon Beer, Alcohol and Beverage Joint Stock Corporation (SABECO) in early 2008.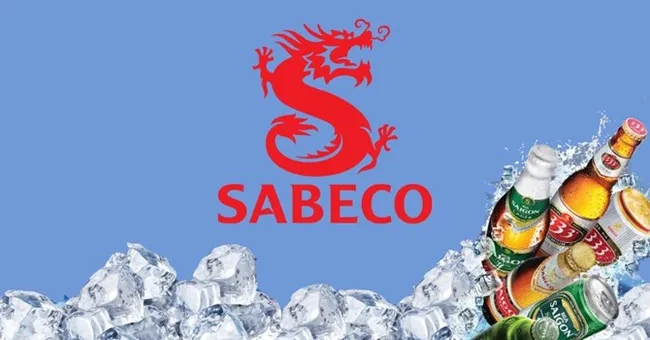 On December 6, 2016, the Corporation's shares were listed on the trading floor of the City Stock Exchange. Ho Chi Minh. On December 18, 2017, after the State divests capital from SABECO, Vietnam Beverage Company will become the largest shareholder holding 53.59% of SABECO's shares. Vietnam Beverage was established in October 2017 with charter capital of 681.66 billion VND. Billionaire Charoen Sirivadhanabhakdi's Thai beer company ThaiBev indirectly owns 49% of the shares of F&B Alliance Vietnam, the parent company that owns 100% of Vietnam Beverage's capital.
Throughout its operation, SABECO has always been evaluated as the industry's leading unit in successfully completing political tasks with high productivity, quality, and efficiency, contributing to the economic development of the industry and locality. and country. SABECO currently holds 40% of the beer production market share in Vietnam, distributes throughout the country and exports to nearly 20 countries around the world.
Over the past years, SABECO has always maintained an outstanding annual growth rate of over 20%. With 2 types of Larue beer with 610ml capacity and 33 bottled beer with 330ml capacity at the beginning of the takeover, up to now, SABECO has developed 10 product lines: Saigon Lager 450 bottled beer, Saigon Export bottled beer, Saigon Special bottled beer, Saigon Lager 355 bottled beer, 333 Premium bottled beer, Lac Viet bottled beer, 333 canned beer, Saigon Special canned beer, Saigon Lager canned beer, Lac Viet canned beer are fully present in the market.
Having gone through many difficulties and challenges, up to now, although there have been many famous beer brands in the world, Saigon Beer and Beer 333 are still the leading Vietnamese brands in the Vietnamese beer market. and is on the way to conquer difficult markets such as Germany, the US, Japan, the Netherlands…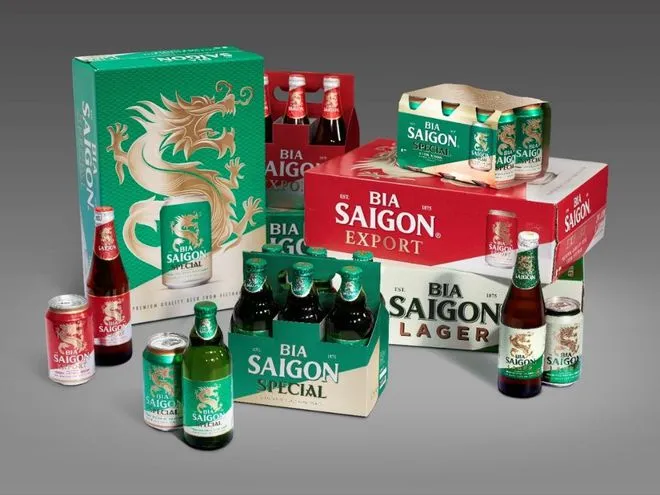 SWOT analysis of SABECO brand
The SWOT model  is a famous tool known and applied by many businesses because of its usefulness in helping managers analyze important factors inside and outside the business from which to establish strategies. appropriate strategy and business plan.
SWOT stands for 4 words: Strengths, Weaknesses, Opportunities and Threats – is a famous model that helps businesses analyze and build your business strategy effectively.
Through SWOT analysis, businesses will clearly see their goals as well as factors inside and outside the organization that can positively or negatively affect the goals set by the business, from which they can develop sales strategies. suitable products to increase revenue.
Regarding SABECO's SWOT analysis, this brand has a number of strengths that need to be promoted, weaknesses that need to be overcome as well as opportunities that can be seized and challenges that need to be faced as follows.
Strengths
Large market share : Currently, SABECO is the beer brand with the largest market share in the industry, with nearly 40% (2019).
Long-standing brand : Established in 1875, up to now SABECO has had more than 145 years of establishment and development. It can be said that SABECO is one of the oldest national brands, as well as a pioneer brand in the Vietnamese beer, alcohol and beverage industry. For that reason, SABECO has successfully won the trust of consumers by affirming the superiority of a traditional brand that has stood the test of time.
High quality standards : To maintain its position as the number 1 beer brand for more than 145 years, SABECO has constantly improved its products and input materials. Always ready to learn, create, and innovate to better meet the increasing and constantly changing needs of the market.
In addition to improving product quality, the brand also ensures stable prices to help the company limit inventory, and products also reach consumers immediately after leaving the factory. This is very important, especially in the F&B industry where product quality will increasingly decline if inventory is left in stock.
Modern technology : Currently, SABECO is a beer company that applies the most advanced technology, undergoes rigorous testing with a 12-step production process, bringing consumers the highest quality products.
Development associated with social responsibility is also a tradition of SABECO. With the application of science and technology, SABECO wishes to share and shoulder responsibilities in minimizing negative impacts on the environment with the most practical actions.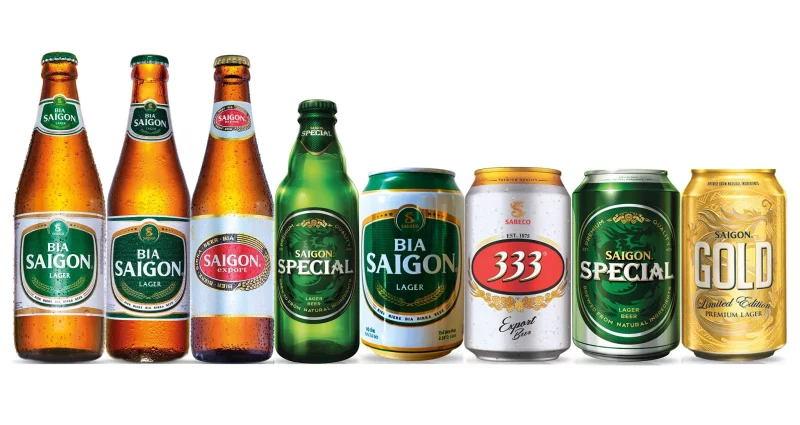 Weaknesses
High input material prices : To ensure the highest quality input materials, SABECO has actively sought suppliers from abroad such as malt (barley grains), hops, enzymes imported from countries in Europe, Australia and America. This makes the cost of input materials quite high, thereby reducing the profits of this brand.
Profits are increasingly outstripped by competitors : Although it is the leading enterprise in terms of market share, when it comes to profit after tax, Sabeco is not the most successful beer enterprise in Vietnam.
In 2019, Sabeco still maintained its leading position in the market, recording net revenue of VND 37,899 billion, 16% higher than Heineken's VND 31,867 billion. However, Heineken's profit after tax is 40% higher than Sabeco's, reaching VND 8,949 billion. In the period 2016-2018, this difference was 63%, 40%, 71%.
Opportunities (Opportunities)
Potential market : Vietnam is the leading country in Southeast Asia and ranks third in Asia in beer consumption. In 2019, the total beer production output reached more than 5 billion liters (up 22.9% over the same period in 2018); Consumption reached more than 4 billion liters (up 29.1% over the same period last year). It can be said that Vietnam is an extremely potential market for the beer industry. If grasped well, this will be a huge opportunity for SABECO.
Potential for export markets : According to Brandsvietnam, ASEAN countries and China are both strong export markets for Vietnam with sharply increasing beverage consumption. In the period 2010 – 2019, export beer output increased over the previous year, reaching more than 46 million liters, worth 45.87 million USD. The recently signed European Union – Vietnam Free Trade Agreement (EVFTA) also promises many opportunities.
Threats (Challenges)
Law on Prevention of Harmful Effects of Alcohol : According to Decree No. 100/2019/ND-CP of the Government, from January 1, 2020, people participating in traffic after drinking alcohol can be fined from 30-40 VND. million dong. This had a significant impact on Vietnam's beer industry, as the stocks of these businesses immediately dropped 13%.
Fierce competition : The entry of many domestic and foreign brands has a negative impact and direct threat to SABECO as this beer company in recent years has always lost market share to competitors. 10 years ago, Heineken only held 19.7% of Vietnam's beer market share, while for SABECO, this figure was 45.5%.
However, in recent years, Heineken has been increasing its market share, helping this beer company close the gap with Sabeco to 6.1% (2019). Therefore, SABECO needs to come up with the right strategies to maintain its number 1 position.
High taxation : Alcoholic beverages in Vietnam are subject to 3 types of taxes: import tax (from 5-80% depending on the type of FTA), value added tax (10%) and special consumption tax (increased sharply from level from 50% to 65% in 2018). This will be a big challenge for the beer industry in general, and the problem for SABECO is how to keep the most competitive prices compared to its competitors.
>>  Read more : What is STP strategy
Analyze SABECO's Marketing Mix strategy
SABECO is one of the most famous coffee brands in Vietnam.  To achieve this success, SABECO has effectively deployed Marketing Mix strategies  according to the 4P model . So what is SABECO's Marketing strategy? How has SABECO implemented the Marketing Mix strategy?
SABECO's Marketing Strategy for Products
Products are always the core of every business, and a good product needs to meet the needs and desires of customers, otherwise competitors will lose market share or even be eliminated from the market.
With 2 types of Larue bottled beer with a capacity of 610ml and 33rd bottled beer with a capacity of 330ml at the beginning of the takeover, up to now, SABECO has developed 10 product lines: Saigon Lager 450 bottled beer, Saigon Export bottled beer, Saigon Special bottled beer, Saigon Lager 355 bottled beer, 333 Premium bottled beer, Lac Viet bottled beer, 333 canned beer, Saigon Special canned beer, Saigon Lager canned beer, Lac Viet canned beer are fully present in the market.
In terms of quality, SABECO products go through strict production processes. Before being brought to consumers, each product is tested according to the 12-step production process as follows:
Grinding : Grind malt grains (or rice grains) to the required size so that the ingredients in the ingredients can dissolve in water and release enzymes to catalyze the subsequent hydrolysis process.
Malt cooking pot : Hydrolyzes macromolecular compounds such as starch, protein into fermentable compounds such as malt sugar, glucose, amino acids, etc. At the end of the cooking process in the malt pot, sweet liquid will be obtained, so the process This is called saccharification.
Wort filter pot : Is the process of separating the husk of the malt grain from the sugar wort.
Boiling pot : The clear wort is boiled with hops to create a characteristic bitter taste. At the same time, the boiling process also evaporates and precipitates unwanted compounds and sterilizes the wort.
Separator : Removes ingredients such as hop petals and precipitates formed during boiling.
Quick cooling : The wort after boiling (100 degrees Celsius) is brought to a suitable temperature for yeast activity, such as 10 – 15 degrees Celsius. This temperature depends on the type of yeast and type of beer.
Fermentation tank : Cold wort along with yeast is put into the fermentation tank to carry out the fermentation process. Yeast will use the sugars formed during the cooking stage to form Alcohol and CO2 gas. Compounds that give beer aroma are also formed by yeast during this stage.
At the end of the fermentation process, the yeast will be recovered from the fermentation tank to be reused for the next fermentation. The post-fermented beer will be transferred to the brewing tank to start the secondary fermentation process.
Brewing tank : Is the process of converting or removing unwanted compounds formed during fermentation such as diacetyl. The brewing process ends when the content of these substances reduces to the desired level and reaches the required time for each type of beer.
Long cooling : Before going through the filtering process, beer will be cooled deeply to negative temperatures to form cold residue. These cold residues will be removed during the subsequent clear filtration process.
Filtration in beer : Yeast, cold residue, etc. will be removed to make the beer transparent.
Clear beer tank : Beer after filtering is stored in a clear beer tank to wait for the extraction and packaging process.
Beer extraction : Is the process in which beer is extracted into different packaging formats to meet the needs of customers. Beer kegs have capacities of 2 liters, 5 liters, 20 liters, 30 liters or 50 liters. Beer is poured into cans with a capacity of 330ml and 500ml. Bottled beer has capacity of 330ml, 450ml, 500ml, 750ml. The capacity of beer bottles and cans depends on the market strategy and consumer tastes of each country.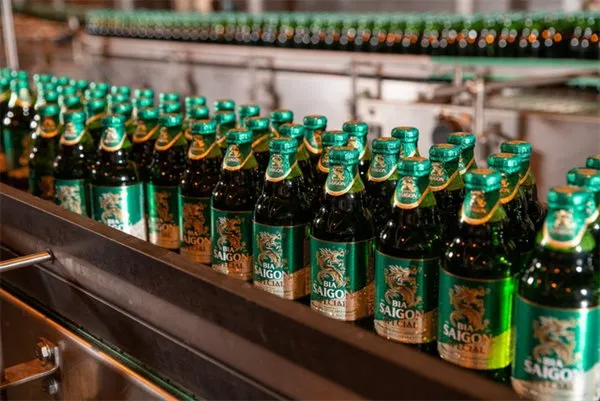 SABECO's Marketing Strategy on Price
Price is one of four important components in the marketing mix. It plays a decisive role in consumer purchases, and for companies, price plays a decisive role in competition in the market. Introducing  a pricing strategy in marketing  is important for businesses because it directly affects the sales and profits of the business.
According to McKinsey, just improving the price factor by 1% will increase profits by 6%. That has more impact than a 1% reduction in variable costs (which increases profits by 3.8%) or a 1% reduction in fixed costs (which increases profits by 1.1%).
Currently, in the beer market there are many brands competing with SABECO such as Heineken, Habeco, Carlsberg, etc. Therefore, in order to compete with competitors, as well as maintain its number 1 market share, SABECO has applied the market penetration pricing strategy (Penetration Pricing Strategy).
Penetration pricing is a marketing strategy used by businesses to attract customers to a new product or service by offering a low price compared to the market during the initial offering. Lower prices help a new product or service enter the market and attract customers from competitors. Market penetration pricing is based on the strategy of using a low initial price to attract more customers to a new product.
The goal of a market penetration pricing strategy is to entice customers to try a new product and gain more market share in the hope of keeping customers there when prices increase back to normal levels. Examples of this pricing strategy include online news websites offering a free month of service to customers who sign up or a bank offering a free account. for six months.
SABECO's target audience is the middle and low class, so SABECO's products are priced at an average and lower price than its competitors. Currently, SABECO products have prices ranging from 11,500 VND/can of 330ml to 255,000 VND/carton of 24 cans of 330ml. This is a price suitable for the majority of Vietnamese people's income.
>> Read more:  10 popular pricing strategies in Marketing
SABECO's Marketing Strategy on distribution system (Place)
Through using the right distribution system, a company can increase sales and maintain positive figures over a longer period of time. This means a larger market share and increased sales and profits.
Precise positioning is an important activity that is focused on reaching the right target customers at the right time.
Currently, SABECO's distribution system spans 3 regions of the country. Specifically, Saigon Beer Alcohol Beverage Trading – Services Company (SABECO) contributed capital to establish 10 commercial joint stock companies in key locations:
Dong Bac Saigon Beer Trading Joint Stock Company with branches in Hai Phong, Phu Tho, Bac Giang.
Northern Saigon Beer Trading Joint Stock Company with branches in the Northwest and Ninh Binh.
North Central Saigon Beer Trading Joint Stock Company with branches in Ha Tinh and Quang Tri.
Central Saigon Beer Trading Joint Stock Company with branches in Quang Ngai and Binh Dinh.
South Central Saigon Beer Trading Joint Stock Company with branches in Ninh Thuan and Binh Thuan.
Saigon Tay Nguyen Beer Trading Joint Stock Company with branches in Dak Nong, Gia Lai, Kon Tum, Lam Dong.
Eastern Saigon Beer Trading Joint Stock Company with branches in Dong Nai, Tay Ninh, Binh Phuoc, Ba Ria – Vung Tau.
Central Saigon Beer Trading Joint Stock Company with branches in Thu Duc and Cu Chi.
Saigon Song Tien Beer Trading Joint Stock Company with branches in Tien Giang, Long An, Ben Tre, Dong Thap, Tra Vinh.
Saigon Song Hau Beer Trading Joint Stock Company with branches in Hau Giang, An Giang, Kien Giang, Soc Trang, Bac Lieu, Ca Mau.
At the same time, SABECO brings its products into supermarket systems and convenience stores such as Mega Market, BigC, Vinmart, Circle K… Along with that, to reach more customer groups, as well as increase coverage. In its market, traditional retail stores such as local grocery stores are also emphasized.
In foreign markets, this brewery currently exports SAIGON Beer products to many markets around the world, including:
Americas: USA, Canada, Chile, Panama…
Europe: Germany, Russia, Denmark, France, Netherlands, England, Sweden, Switzerland, Spain…
Australia: Australia, New Zealand
Africa: West Africa
Asia: China, Japan, Taiwan, Hong Kong, Korea, Singapore, Thailand, Philippines, Malaysia, Laos, Cambodia,…
SABECO's Marketing Strategy on Mixed Promotion (Promotion)
Promotion is a necessary business activity to keep pace with the consumer market. SABECO is a very successful brand with strategies to promote its products through advertising, promotional activities, social activities…
Promotion
SABECO is also a brand that actively launches many promotional programs: 333 – Share great joy, uncap of SAIGON LAGER beer,… with a series of attractive prizes such as Honda SH cars, Samsung TVs…
In 2020, in the face of the complicated situation of the Covid – 19 epidemic, SABECO applied the program "Deliver beer to your home – Receive free gifts", thereby helping consumers to well implement social distancing directives. meetings without having to go to a restaurant to drink beer. In particular, when ordering 01 box of Saigon Beer/333 Beer/Lac Viet Beer, customers will immediately receive 01 2-layer antibacterial mask.
Advertisement
SABECO advertises its products on television channels with a large number of viewers such as VTV1, VTV3, etc. In addition, this beer company also advertises its products through billboards on the streets or banners on websites. web.
One of SABECO's successful promotional campaigns is the campaign "You may not be tall, but others also have to look up" for the product Saigon Special. Right after the start of the campaign, this slogan became more viral than ever, to the point that it became a catchphrase for many people when they wanted to encourage each other to be confident and different to express themselves.
Up to now, although Saigon Special has appeared in canned versions, the name "Dwarf Saigon" is still widely used as a sign of consumer love for this brand.
Social activities
SABECO also focuses on promoting social activities, the most prominent of which is the "Come home for Tet" campaign. With the mission of bringing thousands of workers with the will to rise in life back to reunite with their families on the first days of the new year, SABECO wishes to affirm SABECO's national brand position, while also contributing economically to country, while ensuring responsibility to the community and society.
By partnering with more than 20 KOLs and influencers, the brand achieved its goal of spreading its campaign more widely and reaching the right target audience of the program. At the same time, SABECO also marked the collaboration with the band Tuong to release the MV "Road to Glory" modified to suit the context of the campaign. From there, achieve the highest efficiency.
Throughout nearly 2 months of implementation, the campaign has achieved many positive results:
Top 4 interactions in the Beer industry
Top 7 interactions in the entire market
7.7 million people were reached by the campaign
245,412 people interacted with the campaign
$304,000 media Value
2,000 workers were reunited with their families
Summary
SABECO is one of the famous beer brands in Vietnam. To achieve this success, SABECO has implemented effective marketing strategies.
In this article, we have provided you with detailed information such as:
Overview of the SABECO brand
SWOT analysis of SABECO brand
Analyze SABECO's Marketing Mix strategy
Hopefully you have learned useful knowledge from SABECO's marketing strategy, thereby helping to implement effective marketing strategies for your business!
Check out some other great content: 
Detailed analysis of BIDV Bank's Marketing strategy