Aquafina is one of the famous bottled pure water brands in Vietnam as well as in the world. To achieve this success, Aquafina has implemented effective marketing strategies. Let's analyze and learn about Aquafina's Marketing strategy in the article below.
Overview of the Aquafina brand
PepsiCo is a leading global food and beverage corporation with products enjoyed by consumers more than one billion times every day in more than 200 countries and territories around the world.
PepsiCo Group achieved net sales of approximately $63 billion in 2016 with key brands including Frito-Lay, Gatorade, Pepsi-Cola, Quaker and Tropicana. PepsiCo's product portfolio includes a wide range of beverage and favorite products with a total of 22 brands, generating approximately $1 billion each in annual retail sales.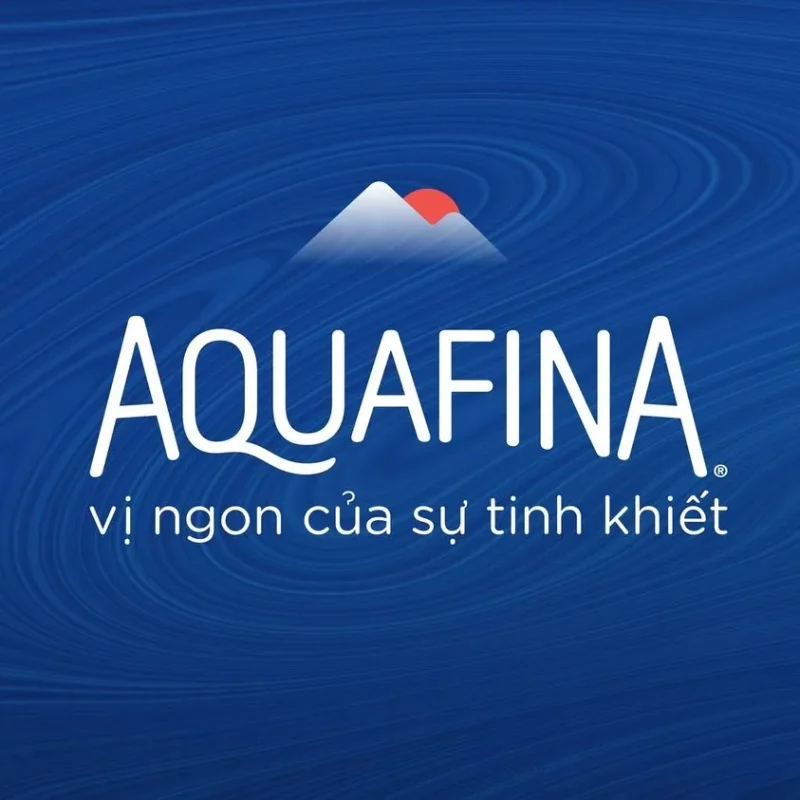 Aquafina is a bottled water brand produced by PepsiCo in the form of purified bottled water. In 1994, Aquafina purified water was first produced and distributed in Wichita, Kansas. After that, the brand quickly distributed throughout most countries around the world such as the United States, Spain, Canada, Türkiye and even Vietnam.
Aquafina quickly caught up with the strong development of other major drinking water brands, becoming a competitive brand with Aqua of Indonesia, Aqua Minerale of Greece, Dasani of the United States…
In Vietnam, Aquafina is a pure water brand belonging to Pepsico Group. This is a famous corporation thanks to its long history in the field of drinking water production and distribution. In the Asia Pacific region alone, Pepsico Vietnam is the only unit producing Aquafina pure water.

Analyze the USP, STP model and SWOT of the Aquafina brand
To better understand Aquafina's Marketing strategy, let's analyze the USP (Unique Selling Proposition), STP model as well as SWOT model of the Aquafina brand.
USP
USP or Unique Selling Proposition, can be understood as a unique and differentiating point of a product. It is used to differentiate your products from other competitors.
Successfully identifying a USP will help businesses gain a competitive advantage over their competitors, thereby easily attracting customers and effectively increasing sales revenue.
Read more details about how to determine USP in the article:  What is USP in marketing? 6 steps to building a successful product USP
With the USP  " Aquafina undergoes a state-of-the-art purification process to bring consumers pure water with perfect taste , " the brand asserts that it provides hygienic and pure water thanks to its filtration technology. most modern country.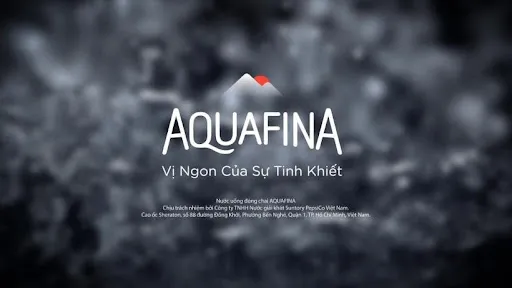 STP model
STP is an important marketing strategy that helps businesses gain an effective competitive advantage by focusing on serving a group of customers in a specific target market.
STP stands for three words: Segmentation, Targeting and Positioning. Simply put, STP is a strategy that helps businesses identify market segments, select specific target markets as well as successfully position their brand.
When applying the STP strategy, businesses will focus their resources on exploiting one or several customer groups where they have a competitive advantage (target market), building their own, clear image in the market. that school.
Instead of targeting a large number of different customers without selection, wasting time and resources, with the STP strategy, businesses will only focus on a few customers with different characteristics. certain similar characteristics, thereby designing a marketing strategy suitable to your target market and achieving high business efficiency.
Read more details about how to analyze the STP model in the article :  What is STP? 4 steps to build the most effective STP Marketing strategy
For the Aquafina brand, Aquafina's Marketing strategy according to the STP model can be analyzed as follows:
Segmentation

 : All subjects looking for hygienic drinking water products.

Targeting:

 All ages (mainly 25 to 35 years old), average income or higher.

Positioning

 : The delicious taste of purity.
SWOT model
The SWOT model is a famous tool known and applied by many businesses because of its usefulness in helping managers analyze important factors inside and outside the business from which to establish strategies. appropriate strategy and business plan.
SWOT stands for 4 words: Strengths, Weaknesses, Opportunities and Threats – is a famous model that helps businesses analyze and build your business strategy effectively.
Through SWOT analysis, businesses will clearly see their goals as well as factors inside and outside the organization that can positively or negatively affect the goals set by the business, from which they can develop sales strategies. suitable products to increase revenue.
Read more about the SWOT model in the article :  What is the SWOT model & 7 steps of SWOT analysis
Regarding the SWOT analysis of Aquafina, this brand has a number of strengths that need to be promoted, weaknesses that need to be overcome as well as opportunities that can be seized and challenges that need to be faced as follows.
Strengths
Health and hygiene awareness

 : Bottled water is a healthier solution as the number of diseases caused by polluted water sources is increasing, as are their serious consequences.

Support from strong parent company

 : Aquafina has stronger brand value with the support of PepsiCo. PepsiCo has been a major factor in Aquafina's rapid growth and broader reach.

Successful Branding and Marketing Strategy

 : From local point of purchase, to TV advertising, Aquafina has succeeded in promoting and building its brand.

Strong distribution network

 : Aquafina has a very strong distribution network thanks to PepsiCo's supply chain. Currently, this brand is present in small retail chains to large hotels and restaurants.

Environmentally friendly packaging

 : With the launch of ECO-FINA, Aquafina has developed a 100% recycled plastic bottle that is highly environmentally friendly.

Differentiation

 : Aquafina offers differentiated products such as flavored water and sparkling water. Besides, Aquafina also launches many other products such as skin and body care.
Weaknesses
High competition

 : The appearance of competitors such as La Vie, Dasani, etc. directly threatens the increase in Aquafina's market share.

Indiscriminate use of empty bottles

 : There have been many cases where branded empty bottles were used to fill impure water. This affects the company's image.

Has not created a breakthrough

 : In terms of packaging, Aquafina does not have many differences compared to other brands.
Opportunities (Opportunities)
Distribution

 : Increasing product distribution is the best and only way for bottled water companies to sell more quantity. Water is a universal need, so the farther and wider a brand is present, the more sales it will generate. Of course, production and shelf life are also a bottleneck in distribution.

Increased awareness

 : There is increasing awareness about pure and hygienic water, which is a driving factor in the bottled water industry.

Mergers and acquisitions

 : Aquafina should seek to acquire and merge competitors to expand its market share and reduce competition.

Associations and collaborations

 : Aquafina should seek more partnerships with hotels, restaurants, sports teams, etc. to increase sales as well as promotions.
Threats (Challenges)
Water scarcity

 : This is a big threat to Aquafina because the government may decide to limit water supply to bottled water companies.

Ease of Entry

 : The bottled water industry is a low capital-intensive industry, especially at the local level, and therefore it is easier for new businesses to enter the market.

Easy to replace

 : When it comes to bottled water, people are often not loyal to one brand and therefore sales depend on the retailer or seller. As long as the water is bottled and consumers are thirsty, they will choose any brand presented.

Competition from local businesses

 : This is also a factor hindering development in the industry.
Analyzing Aquafina's Marketing Mix strategy
Aquafina is one of the most famous bottled purified water brands in Vietnam.  To achieve this success, Aquafina has effectively deployed Marketing Mix strategies  according to the 4P model. So what is Aquafina's Marketing strategy? How has Aquafina implemented its Marketing Mix strategy?
Aquafina's Marketing Strategy for Products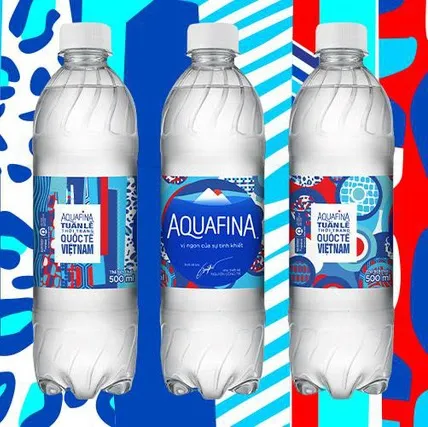 As for Aquafina's marketing strategy, this brand has diversified its product portfolio as well as focused on improving product quality.
Water is considered an accessible resource almost everywhere but in many regions it is scarce. Other factors such as consumer psychology also promote the need to buy bottled water when they are concerned about water hygiene and want to drink RO filtered water or clean bottled water. In addition, water may be easy to find, but pure water or water for drinking is the opposite.
To solve this problem, Aquafina strictly follows hygiene issues by applying water filtration technologies and providing the highest quality bottled water to consumers. Recently, Aquafina purchased hydrogen 7 filtration technology from PepsiCo. In addition, this brand also recently added a line of low-calorie water to its product portfolio.
In addition to unflavored products, Aquafina also develops flavored water product lines such as raspberry, grape, etc. Businesses are also one of the key customers of this brand. Therefore, Aquafina produces 20 liter water bottles suitable for businesses and customers who need large capacity.
Aquafina is also very flexible in product capacity such as: Pet 1500ml, Pet 5000ml to suit the needs of households. For parties and events, Aquafina has produced 300ml and 500ml PET bottles to easily serve guests, thereby minimizing water waste.
Aquafina's Marketing Strategy on Price (Price)
Because there is no differentiation in the bottled water market, quality and customization are limited, so the main competitive factor is price. The price of branded products is higher because of the transportation involved from the production center to the consumer. At the same time, the money invested in branding and advertising also makes it more expensive.
For consumers, water bottles may not be much more expensive, but intermediary profits may be lower, so sales are affected. Intermediaries then push those products where profit margins are higher. However, with a high brand value like Aquafina, it can be said that when consumers are presented with the same product at the same price, they will prefer Aquafina over other products.
The bottled water industry is growing quite strongly. Although water is a freely available natural resource, bottled water is an exception. Different packaging is evaluated differently.
Pricing is an important factor to target consumers and generate revenue and that is why Aquafina is quite selective on pricing. Prices in different countries and in different places are determined according to the consumer market. Mainly the most competitive prices on the market because Aquafina will adjust its prices based on competitors' prices.
Basically, Aquafina targets the middle income group for their products, keeping in mind the health conscious people between 25 and 35 years old as they are more health conscious. The price in the Vietnamese market of Aquafina bottled water ranges from 4,500 VND – 5,000 VND for a 500ml bottle, equivalent to other brands on the market.
Aquafina's Marketing Strategy on Distribution System (Place)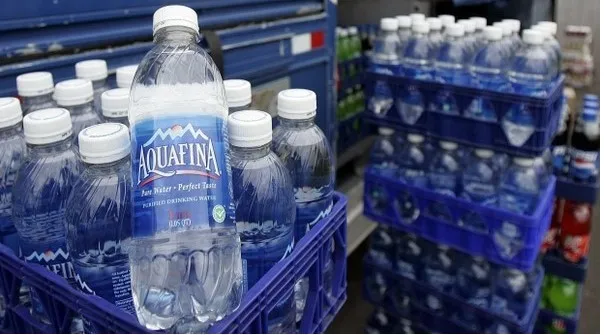 Like most products sold on the market, Aquafina's marketing strategy is to use wholesalers as intermediaries to sell its products because retailers play an important role in business operations. by Aquafina. Distributors, wholesalers, and retailers make it easy for consumers to buy products from this brand.
One of the important factors in selling a product is availability. If products are readily available, consumers are less likely to hesitate between brands. And because this is an essential commodity, people cannot lack water for long periods of time. So, the company's success depends entirely on distribution.
Currently, Aquafina's sales channel distribution system is heavily invested and cared for, with products available in all 63 provinces and cities in Vietnam. In addition, the company also distributes to major supermarkets and retailers nationwide such as: Big C, Mega Market, Aeon, Vinmart+, Fivimart….
It is the coverage from small grocery stores to supermarkets that has made the company's products easier to buy than ever. Aquafina also ensures that the products are available in fast food joints and foot chains as the probability of bottled water being sold with food is quite high.
According to research, Aquafina's products hold a market share of 30% thanks to its large distribution channel in the market, helping customers easily access its products.
Aquafina's Marketing Strategy on Mixed Promotion (Promotion)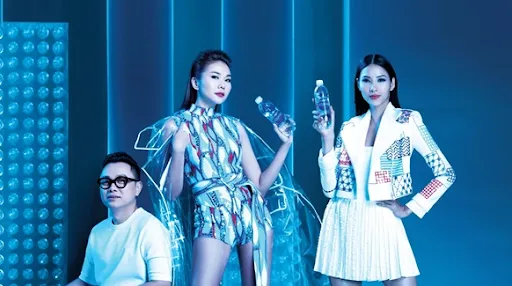 Promotion is a necessary business activity to keep pace with the consumer market. Aquafina's Marketing strategy is to use different types of traditional and modern advertising to promote its products such as newspapers, television ads, using celebrities,… to promote its products. .
Aquafina positions its products as a pure water brand, free of bacteria and safe to drink. Globally, Aquafina is known as a smart marketer that comes with promotions and discounts from time to time.
Aquafina also differentiates itself from other brands through its association with PepsiCo and special filtration technology to remove all natural minerals in the water and give the product a smooth taste. The company also promotes by conducting contests, giving coupons and giveaways on a regular basis.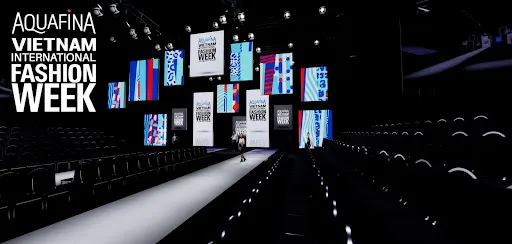 In addition to positioning as a pure water brand, which can be seen in the Vietnamese market, Aquafina intends to expand into the fashion segment. In recent years, Aquafina's appearance on international fashion catwalks such as Vietnam International Fashion Week has received a lot of public attention along with the participation of many celebrities.
Along with that, this brand is also very wise to cooperate with Thanh Hang and Cong Tri – both supermodels and leading designers in Vietnam to launch limited edition drinks. From then on, Aquafina naturally wore the look of "high fashion".
At this time, the message the brand wants to convey is that Aquafina is not only an essential product of life, it is also a fashion accessory. The brand has since become more luxurious and sophisticated. At the same price as competing products, consumers do not hesitate to choose Aquafina to become more classy.
Summary
Aquafina is one of the famous bottled pure water brands in Vietnam as well as in the world. To achieve this success, Aquafina has implemented effective marketing strategies.
In this article, we have provided you with detailed information such as:
Overview of the Aquafina brand

Analyze USP, STP model and SWOT

Analyzing Aquafina's Marketing Mix strategy
Hopefully you have learned useful knowledge from Aquafina's marketing strategy, thereby helping to implement effective marketing strategies for your business!
Check out some other great content:
Analyze Unilever's Marketing Mix strategy

Learn and analyze Cocoon's Marketing strategy