Innisfree is one of the famous Korean cosmetic brands. To improve brand recognition and attract customers, Innisfree has implemented effective marketing strategies according to the 4Ps model. Let's learn and analyze Innisfree's Marketing strategy through this article.
Overview of Innisfree 
According to  Wikipedia , Innisfree is a cosmetics brand founded in 2000 under the Korean Amore Pacific Cosmetics Group. The brand's name is inspired by the poem The Lake Isle of Innisfree by Irish poet WB Yeats, which means "an island for the skin to rest".
This is one of the few Korean cosmetic brands certified by the French organic product certification organization ECOCERT. Innisfree's brand concept emphasizes nature, specifically related to Jeju Island, South Korea.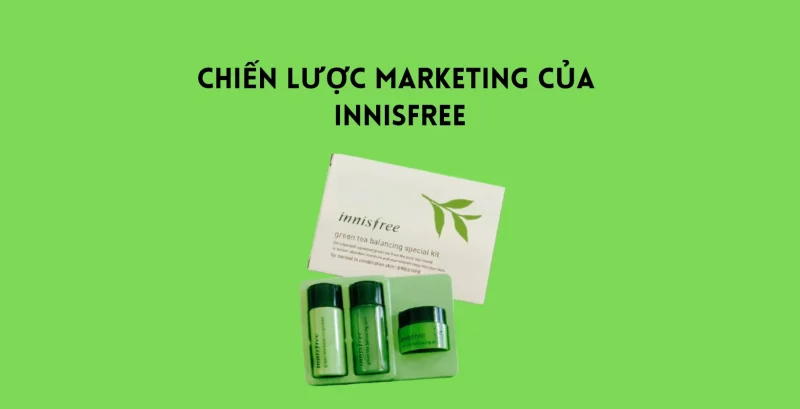 Innisfree was launched in 2002 by the largest cosmetics and skin care company in Korea, Amore Pacific, positioned as the first environmentally friendly brand. In 2005, the company opened its first brand store and opened its 100th store in 2007.
In 2011, the brand reported sales of more than 140.5 billion won ($123.1 million) from more than 434 locations in Korea. Amore Pacific opened the brand's first flagship store in Shanghai on April 25, 2012.
The company expanded and in 2013, opened stores in Hong Kong, Singapore and India. The first Indian store was opened in New Delhi on 10 October 2013[8] and the first in Singapore on 22 November 2013. By 2014, the company operated more than 80 stores. in Korea, Japan, Hong Kong, Singapore and India.
In the first half of 2014, Amore Pacific planned to boost the brand's sales in Taipei and open a second store a few months after its launch in Taiwan, aiming to make Innisfree the leading Korean cosmetics brand. head.
On December 5, 2014, Innisfree opened its first store in Malaysia. As of its 15th year of establishment, the brand is also present in Thailand and its largest store is at Hongyi Square in Shanghai, China. China, with more than 108 stores across the mainland at the end of the year. In 2017, the brand began expanding into North America and opened its first store in the United States on September 15, 2017, in Koreatown, Manhattan.
Innisfree expanded their stores in the United States with the opening of another location in Manhattan on October 5, 2018.
Innisfree officially appeared in Vietnam in October 2016 with its first store at 257 Hai Ba Trung, District 3, Ho Chi Minh City. From the first store, after nearly 5 years of accompanying the Vietnamese beauty community, innisfree now has 21 stores in 6 major provinces and cities: Ho Chi Minh City, Hanoi, Da Nang, Hai Phong, Nha Trang, Binh Duong. Positive. The brand receives support from a large number of young people and cosmetics-loving consumers nationwide.
With the motto "Natural Benefits from JEJU island", the brand was born to share the benefits of Jeju Island's rich nature to the skin.
Not only striving to bring healthy and natural beauty from ingredients from Jeju Island, innisfree always tries to preserve the diversity of nature, bringing friendly values ​​to the skin and the environment. Innisfree products are famous for their nutritious ingredients from the pearl island of Jeju.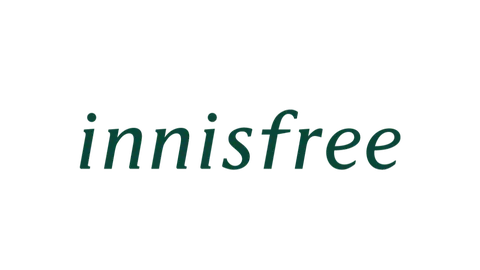 Analyze Innisfree's Marketing Mix strategy
Holding the leading position in the Korean market and 12th worldwide, Innisfree continues to develop based on unique natural ingredients that can only be exploited in Asia. Using green tea, ginseng and many types of beans, this group's cosmetic brands are asserting a strong position in the international arena.
Typically, Innisfree's best-selling skin care product – Green Tea Seed Serum, made from fresh green tea and green tea seeds on the group's organic farm on Jeju Island, is always "sold out" in many countries.
Statistics show that the Innisfree brand is currently leading in meeting customer needs for solutions of natural origin, this brand is also having the highest growth rate among Amorepacific group brands. introduced in the Vietnamese market.
 To achieve these achievements, Innisfree has deployed effective Marketing Mix strategies  according to the 4P model to attract customers and persuade customers to choose to buy its products. So what is Innisfree's Marketing strategy?
Innisfree's Marketing Strategy for Products
For Innisfree's marketing strategy for products, Innisfree has used the strategy of diversifying its product portfolio as well as investing in product quality, using natural ingredients that are beneficial to the environment. .
Innisfree has succeeded in attracting customers by diversifying its product portfolio. Some typical products of Innisfree can be mentioned as:
Green Tea Line
This is a typical product line that customers often remember when talking about Innisfree. Basically, this is not a product that chooses purified water as the base, but a product that chooses green tea extract as the base. In terms of characteristics of Innisfree products, Green Tea is both pure and has a fresh scent. Currently, among Innisfree's best-selling products, the majority depends on this line-up line.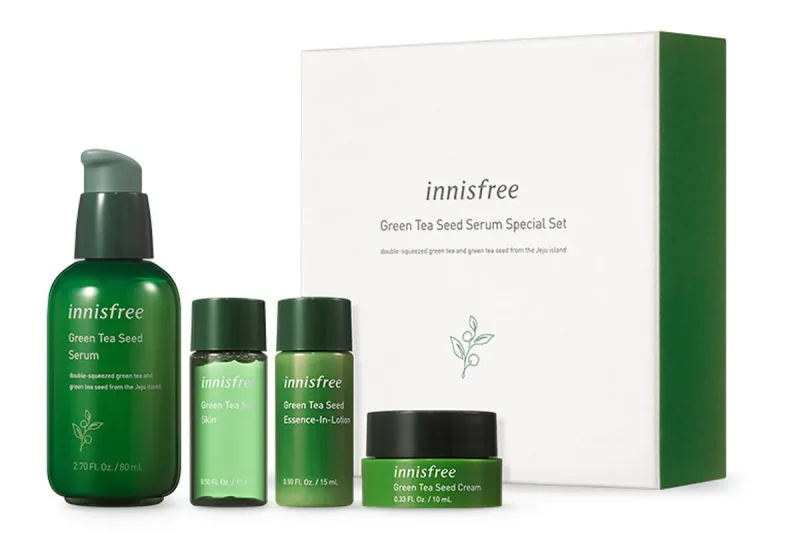 Volcanic Line
This is a product launched with the concept of Jeju Island's volcanic lava, the main feature is to tighten pores. Along with Green Tea Seed Serum, this is the best-selling product. This Jeju Volcanic mask is so famous that it has launched a basic skin care product line, the Jeju Volcanic Cleanser line, Innisfree's best-selling Foam Cleanser.

There was Line
This is a line up for people with serious skin problems. With the foundation of Bija essential oil that has the ability to protect the skin, they divide it into 8 types of products including Cleansing Gel, Facial Foam, Skin, Lotion, Essence, Spot Patch, Spat Clear, etc. In case of BIJA TROUBLE LOTION, use BIJA TROUBLE LOTION. The quantity is somewhat less than other Innisfree line up lotions.

Tradecare Line
This is also a famous product line of Innisfree. When first launched, this product was sold out for 1 week and out of stock occurred. This is also a product line that Innisfree promotes. At launch, the first 10,000 customers will receive a 7-day sample and 20% off the original price.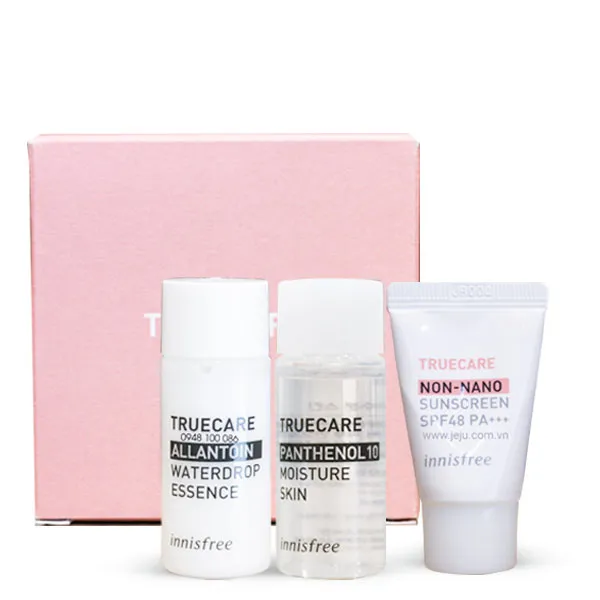 In addition to diverse products, Innisfree also focuses on product quality. The process of creating its products is conducted and strictly controlled by Innisfree in every small step from planting, harvesting to applying advanced technology to extract the essences in the product.
Besides, Innisfree also uses natural ingredients from Jeju Island organic green tea at Seogwang garden, Jeju. After 3 years, thanks to the natural energy and nutrients from the soil that nourishes the roots, seeds, leaves and green camellia flowers, they can maximize their effectiveness and inherent strength.
Innisfree has used green tea meticulously cared for at this Seogwang Jeju garden to create a green tea line that provides energy and is rich in nutrients for customers' skin.
Most customers who have experienced Innisfree's services and products are very satisfied with the skincare and make-up product lines, right from the promotional images to product designs and paper packaging designs that have made a difference. A certain difference between Innisfree and other brands.
>> Read more: 4Cs in Marketing
Innisfree's Marketing Strategy on Price
When analyzing Innisfree's Marketing strategy regarding price in the Marketing Mix 4P model, this brand used the  product pricing strategy  based on market penetration (Penetration Pricing Strategy).
Penetration pricing is a marketing strategy used by businesses to attract customers to a new product or service by offering a low price compared to the market during the initial offering. Lower prices help a new product or service enter the market and attract customers from competitors. Market penetration pricing is based on the strategy of using a low initial price to attract more customers to a new product.
The goal of a market penetration pricing strategy is to entice customers to try a new product and gain more market share in the hope of keeping customers there when prices increase back to normal levels. Examples of this pricing strategy include online news websites offering a free month of service to customers who sign up or a bank offering a free account. for six months.
>>Read more :  Top 10 popular product pricing strategies in marketing
With Innisfree, first, Innisfree's cheapest product line will be advertised to raise people's awareness of Innisfree's brand as well as to attract customers' attention to products with low prices and average in the first 6 months.
Besides, Innisfree will also arrange the price of its products the same as the mid-priced products in the market that Innisfree enters to meet the needs of local people. Prices for all products range from 150,000 VND – 880,000 VND.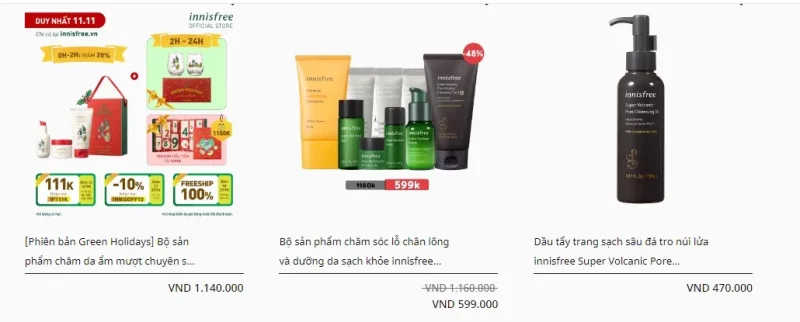 Innisfree's Marketing Strategy on distribution system (Place)
Regarding Innisfree's Marketing strategy for the distribution system, this brand has built a widespread distribution system in supermarkets, shopping centers and genuine stores.
First, Innisfree has taken advantage of large shopping centers such as Vincom, Aeon Mall, SC Vivocity,… to reach its target young customers. Opening stores in large shopping centers helps Innisfree reach  target customers  quickly as well as promote its brand easily.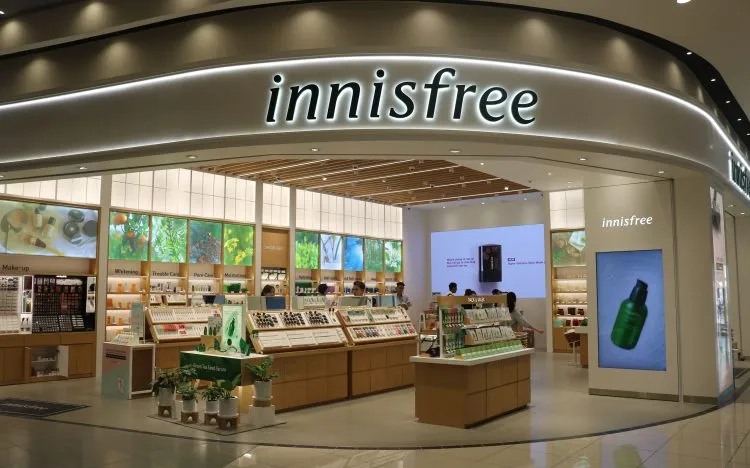 In addition, Innisfree's small stores will be opened around universities or crowded residential areas. That way, Innisfree can easily reach a large number of potential customers because more and more students are concerned about their appearance and they are looking for products that suit their income level.
In addition, Innisfree also takes advantage of digital channels to distribute its products such as the official website and e-commerce sites. Noted last May, Amorepacific signed a strategic cooperation contract with Lazada Group, one of the largest e-commerce platforms in Southeast Asia, to strengthen its digital distribution channels in Southeast Asia. this area.
Innisfree's Marketing Strategy on Mixed Promotion (Promotion)
For Innisfree's Marketing strategy of mixed promotion, Innisfree has invested in advertising campaigns using Influencer Marketing as well as implementing meaningful social activity programs.
Influencer Marketing 
Currently, with the development of the Internet and social networking sites, Influencer Marketing is becoming an effective form of marketing that many famous businesses and brands take advantage of to advertise products/services to a number of people. large number of potential customers.
Influencer Marketing will focus on identifying individuals who have influence over potential customer groups and orienting marketing activities around those influencers.
Through Influencer Marketing campaigns, businesses will send advertising messages to customers and convince customers to use their products/services by taking advantage of the reputation and influence of Influencers. Through the campaign, Influencers will also be paid a commission according to the agreement.
>>Read more : What is Influencer Marketing? Role & 5 steps to implement Influencer Marketing 
Innisfree's Marketing strategy is to cooperate with famous Korean singers and actors to improve brand recognition and attract customers.
Innisfree's first model was actress Han Chae-young. Actresses Kim Tae-hee and Nam Sangmi also participated as brand representatives.
In May 2006, actress Song Hye-kyo was chosen as the 4th brand representative. In 2007, Moon Geun Young advertised for the brand until 2009.
On September 21, 2009, Girls' Generation member Yoona became the sixth model of the Innisfree brand. In February 2012, actor Lee Min Ho also participated in advertising for Innisfree.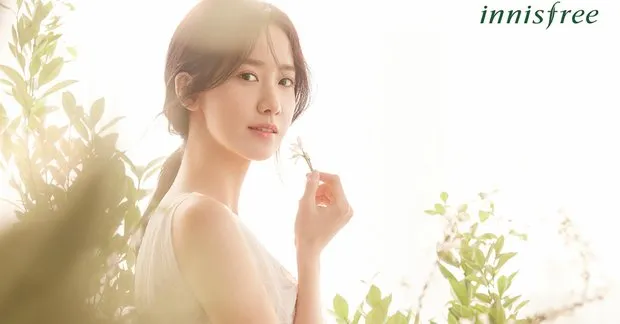 Most recently, On July 27, 2021, Innisfree's official Instagram announced Jang Won-young as the company's new "muse" after Yoona.
Besides, Innisfree also invited Vietnamese artists to visit newly opened branches. This brand also works with Vietnamese beauty bloggers by sending invitations to the store, sending their latest products to them so they can write product reviews via social sites such as Youtube, Instagram, Facebook,…
Social activities
Innisfree has also implemented many meaningful social activities. Some of Innisfree's outstanding social activities include:
Empty bottle recycling campaign
The collection of used product jars under Innisfree's Green Day campaign began in 2003. Customers can receive 300 Beauty points for each empty bottle by returning Innisfree product containers to the store. . The number of empty bottles collected in 2020 was about 30,000 bottles.
In 2017, Innisfree opened a recycling space in a luxury goods store, which uses interior finishing materials from collected empty bottles.
Jeju clean-up campaign
Since 2011, Innisfree has sponsored the "Jeju Olle Walking Festival", at the same time, Innisfree employees organized a green expedition and carried out a Jeju clean-up campaign.
The 'Clean Jeju' campaign is part of the 'Green Life Campaign' carried out by Innisfree, bringing healthy products to consumers through natural ingredients from Jeju, the clean island. A green expedition consisting of Innisfree employees is an activity that preserves the natural environment in Jeju Island.
Global forest protection activities
Since 2012, the "Innisfree Forest" campaign has been conducted as part of global CSR activities. Key activities include tree planting campaigns near Inner Mongolia to prevent deserts in Inner Mongolia, Taiwan, Taimali 'Innisfree' Forest and ASEAN Mangrove Forest.
To protect the Jeju Gotjawal Forest, which is known as the 'lungs of Jeju' as a domestic activity and plays an important role in the Jeju ecosystem, a portion of the proceeds from the 'Forest for Men', a line for men from Innisfree, is sponsored by the Jeju Gotjawal Publication Foundation every year.
Upcycling Beauty
Upcycling Beauty is a project that brings new value to wasted resources and regenerates products with sincerity. In August 2018, the brand developed a body product using discarded coffee grounds as its first project product, in collaboration with Anthracite. In 2019, it developed hair products with Jeju Beer.
Summary
Innisfree is one of the famous Korean cosmetic brands. To improve brand recognition and attract customers, Innisfree has deployed effective marketing strategies according to the 4P Marketing Mix model.
Thanks to a diverse product portfolio and good product quality, accompanied by a suitable pricing strategy, Innisfree has succeeded in attracting its target customers. In addition, this cosmetic brand also cooperates with many famous singers and actors in Korea and Vietnam to promote products and improve brand recognition.
Check out some other useful content: