Milo is one of the most popular milk brands in Vietnam as well as in the world. To achieve current success, Milo has implemented effective 4P Marketing strategies. Let's learn and analyze Milo's 4P Marketing strategy in the article below.
An overview of Nestle corporation and Milo milk products
According to  Wikipedia , Nestle in the world is a famous food and beverage corporation with a wide production and business network around the world, Nestle's headquarters is located in Vevey, Switzerland.
Nestle was born in 1866 when Pharmacist Henri Nestlé invented a food for infants who could not be breastfed, Farine Lactée Henrie Nestlé powdered milk. Success came to Nestle after this product was recognized when it saved the life of a premature baby who could not be fed with breast milk or other regular foods, and since then this line of powdered milk has been sold throughout Europe. .
Currently, Nestle Group has nearly 500 factories distributed in 86 countries, marketing 85,000 brands, 30,000 products, Nestle products are sold in 196 countries. That shows the growth of the corporation as well as its professionalism and quality. Nestle Group always focuses on value for consumers with food that is good for health and life as well as the slogan "Good food, Good Life".
Nestlé's logo is inspired by the family coat of arms of Henri Nestle – the symbol of a bird in a nest. His family name is Nestlé which in German means "bird's nest". The logo image of a mother bird feeding three young birds points to the "family" value of the company's mission and also creates a connection with his company's original infant cereal product.
Nestle has a history in Vietnam for more than 100 years when Nestle's first office was established in Vietnam (Saigon) in 1912. Since then, Nestle's bird's nest symbol has become gradually familiar to Vietnamese consumers.
In 1994 Milo first appeared on the Vietnamese market with its first product, Milo powdered milk. After 4 years of operation, Nestlé officially inaugurated the MILO powder factory in Dong Nai to meet the growing needs and tastes of Vietnamese consumers.
In 2003 Milo sponsored and organized health and wellness associations in Vietnam. In 2005 Milo officially launched innovative powdered milk products with a superior 3-in-1 formula. In 2006 Milo launched its first liquid milk product in the Vietnamese market and the factory was located in Dong Nai.
Up to now, Milo has not stopped actively adding minerals to old products but also launched many new products, in addition, many more milo milk factories have been built to meet demand. of consumers is increasing. The logo of the Milo brand is mainly green and the word Milo is brown, symbolizing barley.
Maintaining the vision of developing health and helping children reach far, Milo has continuously improved products in both design and quality over time, meeting the needs of consumers both domestically and internationally.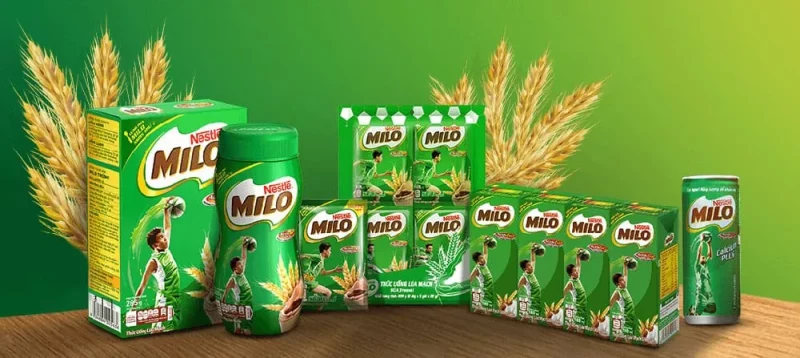 Analyze Milo's 4P Marketing strategy
Nestle's Milo milk has been present and continuously developed in the Vietnamese market for more than 17 years and is a reputable brand, leading in quality and market share in the nutritional cocoa beverage industry for children from 6-12 years old.
Nestle's Milo Milk barley drink is also a perfect combination of the unique delicious flavor of cocoa and a natural source of nutrients rich in protein and nutrients from milk, whole barley germ and vitamins and minerals. matter.
Milo is a popular product in many countries around the world, especially Malaysia where the name Milo is used as a term to refer to chocolate-flavored drinks. In this market, Milo milk accounts for 90% of the total powdered milk market share, making Malaysia the country that uses Milo the most in the world.
Similarly, in Singapore, Milo ranked No. 1 in the list of 10 favorite brands in 2017. Along with many other countries such as India, Australia, Vietnam, etc. Milo has become a non-alcoholic beverage. indispensable in every family, becoming the dominant milk brand in many markets.
To achieve current success, Milo has effectively built and deployed Marketing Mix strategies according to the 4P model. So what is Milo's 4P Marketing strategy? How did Milo implement its Marketing strategy?
Milo's 4P Marketing Strategy for Products
Regarding Milo's 4P Marketing strategy for products, this brand focuses on expanding its product portfolio as well as improving product quality to provide customers with the highest quality products.
The Nestle Milo brand has developed and improved many different product types: canned milk with a straw, canned milk with a screw cap (milo teen), instant drink, etc. With the new invention is a balanced drink and milo milk product. low in sugar with nutritious ingredients such as oats, brown rice, wheat,… are all whole grain foods with higher nutritional value than regular fast starches. This new product is completely good for health, including adults and children.
Some of Milo's main product categories include:
Canned milk: New Milo Teen provides protein and calcium to help develop height and strengthen bones.
Instant milk in bags: Convenient and suitable for consumers' diverse choices when they want to change their preferences.
Milk powder in plastic cans and rectangular paper boxes: Pure milo powder, helping consumers prepare and mix according to their taste, suitable for both adults and children.
In addition to dairy products, Milo also develops many other products such as: breakfast cereals, sandwiches, lozenges, etc. all named Milo and have similar flavors. This helps businesses provide customers with more choices, solving many problems that powdered milk products cannot meet such as convenience and speed.
Regarding packaging and product design, packaging is the top concern of any business or product company. Because packaging is a factor that visually attracts buyers. However, a questionable issue with packaging, especially in the fast-moving consumer goods (FMGC) industry, is materials that pollute the environment such as plastic and nylon.
To optimize that, Nestle Milo Vietnam has focused on environmentally friendly packaging materials, while providing useful recycling information and methods to customers. It can be seen that Milo's products are all paper boxes that are easy to destroy, cans that can be recycled, Milo pure powder plastic boxes that can also be used for consumers to store ingredients, etc.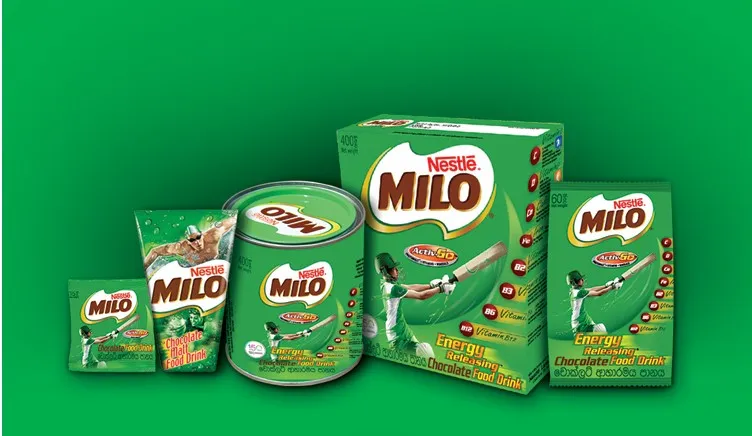 Typically, in 2020, Milo used 16 million paper straws and organized the "Milo shell regeneration" program for preschool and elementary school children in Ho Chi Minh City, affirming its pioneering role. leadership and responsibility in implementing the goal of building a greener, cleaner Vietnam. In February 2020, Nestle Milo implemented new packaging with meaningful environmental protection content.
Regarding product quality, Nestle Vietnam has always believed that "Quality is the prerequisite for success". The success of product development in Milo's 4P Marketing strategy is emphasizing the nutritional value each product provides to consumers.
In 1934, MiLo was first researched and introduced in Australia, initially as a drink combining milk, cereal and cocoa, supplemented with vitamins and mineral salts. More than 85 years later, Nestlé MILO has added PROTOMALT and ACTIGEN-E barley germ (a collection of 8 vitamins and 4 minerals good for the body) to bring nutrition and energy to children in more than 40 countries around the world. gender.
With a diverse product portfolio as well as high quality products, Milo's 4P Marketing strategy for products has successfully attracted customers and is trusted by many people.
Milo's 4P Marketing Strategy regarding price (Price)
Regarding Milo's 4P Marketing strategy in terms of price, the Milo milk product line targets the  main target customers  who are parents with children from 6-14 years old, with incomes from low to high.
Therefore, the  product pricing  of Milo milk is relatively consistent with the average monthly income of households in Vietnam (with an average GDP per capita of 2,750 USD/year according to the Department of Statistics in 2020). ).
Milo's price is not significantly different from the price of other dairy product lines. For example: 1 box of Milo liquid milk in a paper box costs 28,000 VND, then 1 box of Dutch Lady liquid milk in a paper box costs 26,000 VND, a difference of about 2000 VND.
Milo's 4P Marketing Strategy on distribution system (Place)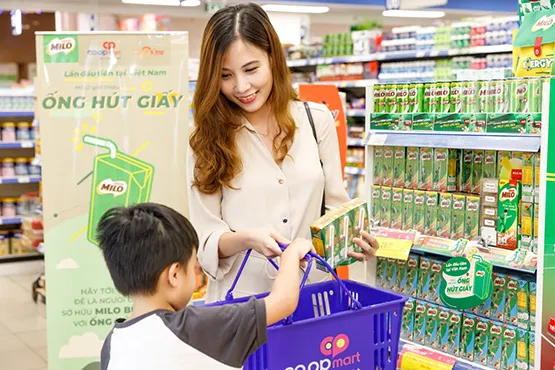 When analyzing Milo's 4P Marketing strategy regarding the distribution system (Place), this brand has built an extensive distribution system to be able to bring its products to customers in the fastest and most convenient way. .
All Milo milk products are widely distributed across the country, from big cities such as Ho Chi Minh City, Hanoi, Da Nang to rural areas.
Currently, Milo's products are available in all provinces and cities in Vietnam. First, the product will be produced at a factory specializing in Milo production: Bong Sen, Binh An. After that, the product will be quality tested, packaged and distributed to Milo's agents as well as wholesalers and retailers: grocery, supermarkets, green department stores, markets,…
In addition to cooperating with agents and supermarkets nationwide, Nestle also cooperates with e-commerce platforms. Thanks to the strong development of information technology, Vietnamese consumers' shopping habits and behaviors have also changed significantly. With the decrease in purchasing frequency and increase in purchase volume per purchase, Vietnamese people also tend to order online in boxes rather than buying retail like in the past.
Milo's 4P Marketing Strategy on mixed promotion (Promotion)
Regarding Milo's 4P Marketing strategy of mixed promotion (Promotion), this brand has focused on implementing advertising campaigns as well as promoting public relations activities (Public Relations).
Advertisement 
With advertising campaigns, Milo has combined a variety of different types of advertising such as TVC advertising, outdoor advertising and point-of-sale advertising.
Milo is remembered by the public with TVCs about a boy or girl becoming more active and creative after using Milo products. At the end of the ad, there is a picture of parents giving baby Milo. The purpose of advertising is to attract the attention of parents and children, convincing them to buy the product.
For example, the product advertisement "Milo balanced breakfast" in screw cap and box, is advertised with the image of a schoolboy drinking Milo and having energy and the melody of the song within just a few seconds "energizing". , enhance friendship, gain momentum to conquer the journey ahead", making customers, mainly mothers, see the practicality, energy, and positivity that the product brings when looking at the advertisement.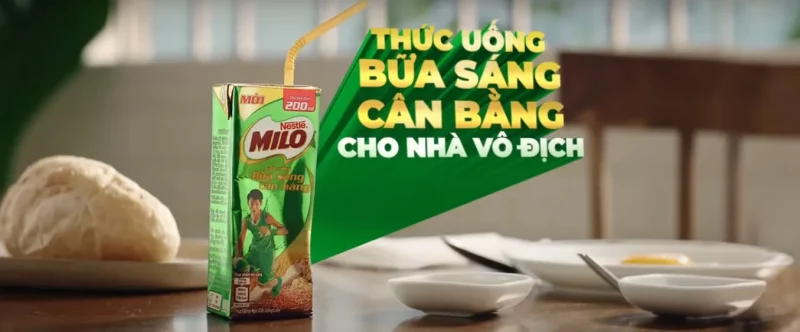 Besides, last April 2021, to advertise the product "Milo – Balanced Breakfast", Nestle Milo Vietnam invited Le Dang Bach – Champion of The Voice Kid 2021 and rapper Ricky Star to star in the MV " Enough Cool Quality". Milo took advantage of inviting today's emerging talents to attract viewers. The MV has received more than 5 million views on Milo Vietnam Youtube channel.
In addition, Milo also deploys outdoor advertising to attract customers. Starting at the end of 2020, at the intersection of Dinh Tien Hoang – Nguyen Thi Minh Khai (District 1, Ho Chi Minh City), Milo deployed billboards with the idea of ​​a curtain revealing a secret one day. of champion.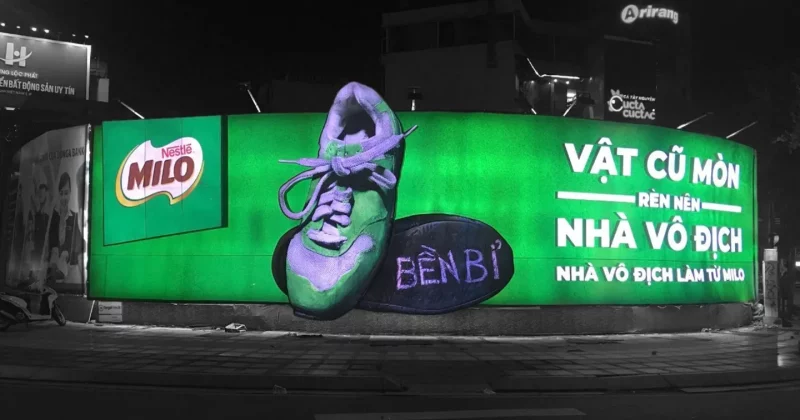 In particular, the content behind the curtain will change corresponding to each session of the day. With 3 messages: "Get balanced nutrition for breakfast" from 5-9 a.m., "Energy during recess" from 9-4 p.m., "Drink delicious Milo after school" from 4-10 p.m., Milo's billboard prevents passersby from getting bored because the content is constantly changing.
Milo has also cooperated with Asia Shopper Marketing to install more than 100 3D projectors at Coopmart and Lotte Mart supermarkets to provide information about current promotions, as well as information about products being displayed. sold over the counter.
Public Relations
With public relations activities, Milo's 4P Marketing strategy is to use the official website to advertise products as well as organize social activities to attract and create trust with customers.
Milo's official website in Vietnam is  nestlemilo.com.vn . When consumers look at the website, the most prominent thing is not the product images but the active children playing sports such as football, basketball, etc. Milo's website also provides information. about nutritional value for mothers, as well as other detailed information about the product.
Regarding social activities, in the last half of 2020, Milo organized the contest "Green journey – regenerating Milo boxes" with students in Ho Chi Minh City. Through this campaign, customers have recycled 3.5 million milk cartons to make trash sorting bins, basketball boards, and sports promotion stations. Along with attractive rewards for schools with the highest number of Milo milk cartons collected is 300 Milo backpacks.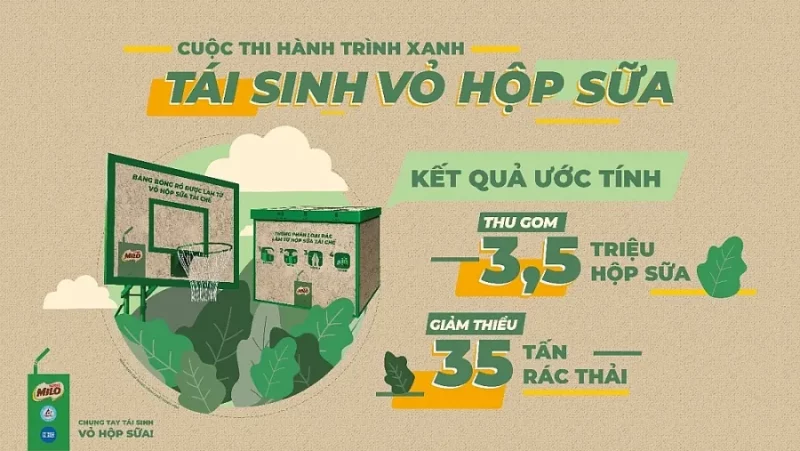 Besides, the "Milo Energy Sports Hub" event is the first event in Vietnam in 2020 with 1 car, 3 challenges (running, climbing, basketball), going through 4 cities of Da Nang , Ho Chi Minh, Hanoi, Can Tho. Milo Energy Sports Hub brings a journey of lasting energy for young people to conquer all challenges ahead.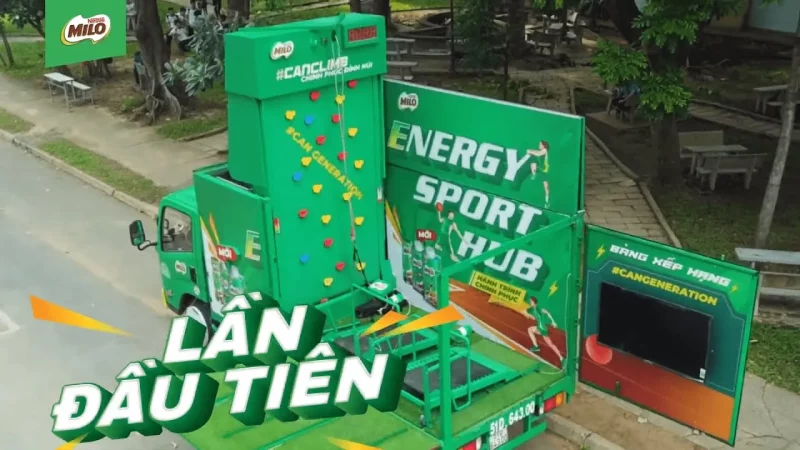 Promotion
Milo's main promotional activities include:
Buy milo as a gift (swimming goggles, school supplies, hot and cold cups)
Buy 2 get 1 free
Minigame program for parents and children, with gifts.
Collect scratch cards and sports cards to exchange for gifts
Discount promotion when buying trash cans
Free shipping on Shopee
Scan the code on the milo teen lid to accumulate points and redeem gifts
Summary
Milo is one of the most popular milk brands in Vietnam as well as in the world. To achieve current success, Milo has implemented effective 4P Marketing strategies.
Regarding products, Milo's 4P Marketing strategy is to diversify products as well as focus on improving product quality. Besides, Milo's price is also suitable for the income of customers in Vietnam. In addition, Milo also deploys effective advertising campaigns and public relations activities to attract customers.
Hopefully you have learned useful knowledge from Aquafina's marketing strategy, thereby helping to implement effective marketing strategies for your business!
Check out some other great content: