After 6 months of operation in Shanghai, Trung Nguyen Legend has won the hearts of diners here because of the excellent coffee quality as well as the Vietnamese atmosphere. Recently, the store has been honored with many prestigious awards: "Best Coffee Shop of 2022" (awarded by Bang Awards) and "Famous Coffee Shop of the Year" (on GOGOShanghai). So what is the secret to the success of Trung Nguyen when bringing the bell to fight the country, especially with the fiercest competition of a country of billions of people like China?
China – a "fertile" land with a lot of potential for Trung Nguyen Legend
On September 21, 2022, the model "Coffee World Trung Nguyen Legend" opened its first space in Shanghai, China, marking an important milestone for the brand in its new development journey.
"On September 21, 2022, in the cool breeze, the flow of people poured into Trung Nguyen Legend coffee shop in Taiguhui mall on West Nanjing Road, Shanghai. More than 10 bartenders in white T-shirts and dark blue jeans are busy at the coffee machine ," quoted an article on China's "Startup Media" page.
The first Trung Nguyen Legend Coffee World was opened at 699 West Nanjing Road, in the Taikoo Hui shopping mall. This is considered the busiest and most luxurious street in China, compared to the Champs-Élysées of the East, where many world-famous brands gather. Interestingly, Trung Nguyen Legend coffee shop is located less than 100 meters from the world's largest Starbucks experience store.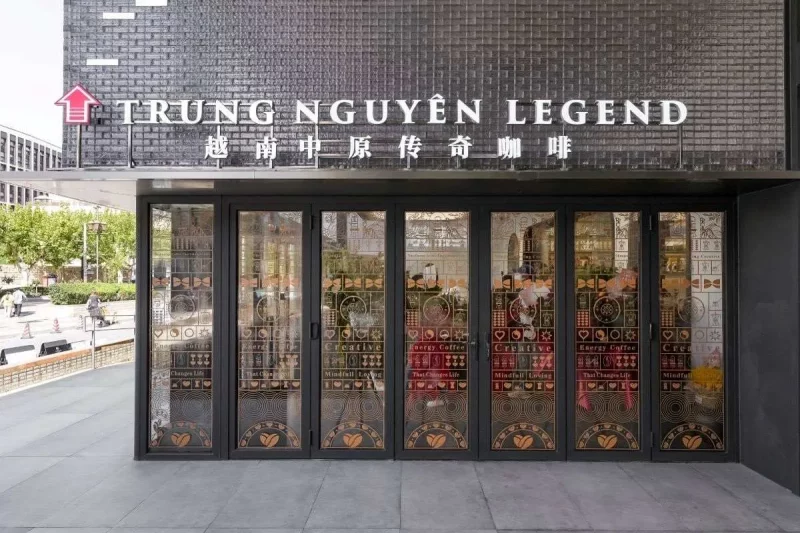 Bringing Vietnamese culture and beauty is present in each architecture, signboard, menu and display image. Perhaps it is that uniqueness and novelty that has attracted a large number of young Chinese people to experience and check-in on the first day of opening.
After about 6 months of presence in Shanghai, Trung Nguyen Legend Coffee World has reached the Top 1 coffee shop in Shanghai with the category "Must Try" – A must try; Top 1 hottest coffee shop in West Nanjing Road on Dazhongdianpin app (the number 1 app in China to evaluate services and places to eat). At the end of 2022, this store also "won" two prestigious awards in the Chinese market, "Best Coffee Shop of 2022" and "Famous Coffee Shop of the Year".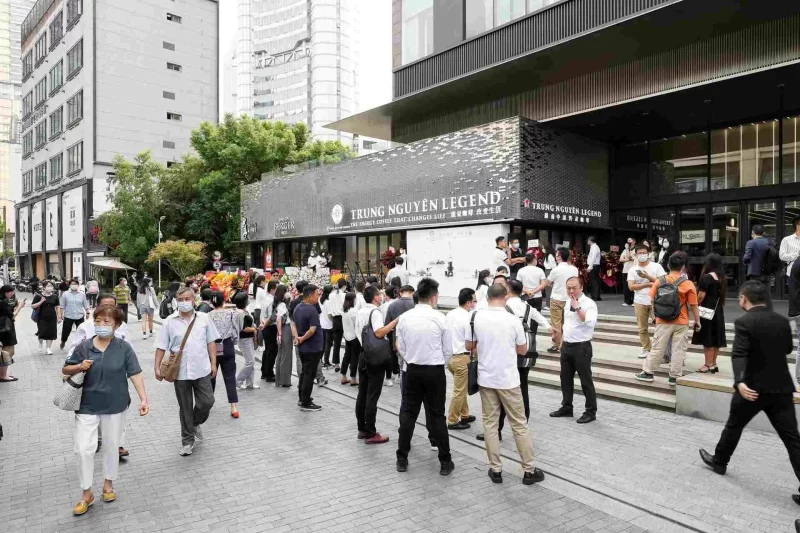 Before that, Trung Nguyen Legend had 10 years of exporting and nearly 5 years of opening a representative office in the Chinese market. According to information shared by Mr. Ly Thanh Hai – Business Development Manager for the whole China market of Trung Nguyen Legend Group: Currently, the Group has 15 importers, 300 secondary distributors, 30,000 points of sale on offline channels (including hypermarkets) and tens of thousands of stores on online channels such as JD, Amazon, Taobao.com, Tmall.com, Century Mart, etc. In particular, the Chinese market has over 15 million users. regularly use G7 coffee.
China is becoming a fertile "land" for coffee shop models in general and Trung Nguyen Legend in particular, due to increasing consumer demand. In this country, there are currently about 300-500 coffee shop chains that are experiencing strong growth, especially in tier 1 and tier 2 cities.
According to Lucy Fu, vice president of the China Coffee Association, a notable trend in China is that breakfasts with coffee are becoming more and more popular, something that did not exist many years ago. The market size of freshly brewed and ground coffee reached 8.97 billion yuan ($1.3 billion). Coffee orders increased 178.7 percent year-on-year. It is estimated that  the market size  of China's ready-to-drink coffee industry will reach 15.79 billion yuan ($2.3 billion) by 2023.
The secret to the success of Trung Nguyen Legend World store in the country of billions of people?
#first. Space and architectural style
The first thing, to attract customers when entering a coffee shop, must mention the space and architectural style of the cafe. Trung Nguyen Legend Coffee World in Shanghai has a total area of ​​about 500 square meters with more than 150 seats. The overall space with two black – white colors is divided into three areas front, middle and back.
Attracted from the main entrance area…
From the main entrance, catching customers' eyes is a sophisticated model of the Vietnam Coffee Museum, surrounded by a bar arranged in an arc to be able to see directly the process of traditional filter coffee processing. of Vietnam.
An account named Duong Tran on the Toutiao platform commented that the fact that customers can observe the entire process of employees creating a filter coffee is an interesting experience because filter coffee is the most different product compared to other products. other cafes in Shanghai.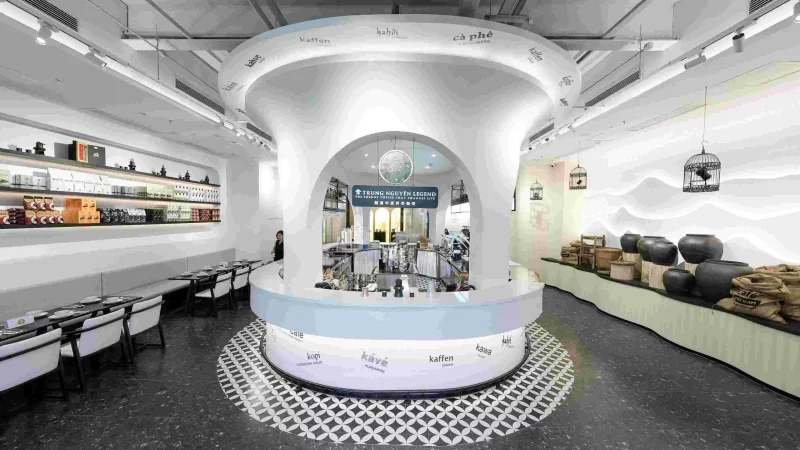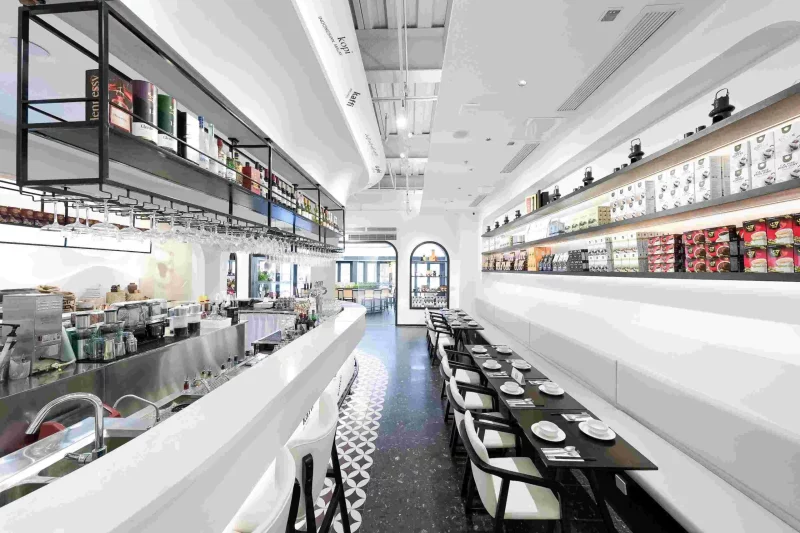 …Continued to the central area
Going inside is a coffee production area, bar and center that combines cultural elements of both countries. China's Jiemian News commented that Trung Nguyen Legend Coffee World has a Vietnamese-style, traditional and sophisticated layout when diners can easily see Vietnamese everywhere, emphasizing the origin of the brand. this mark.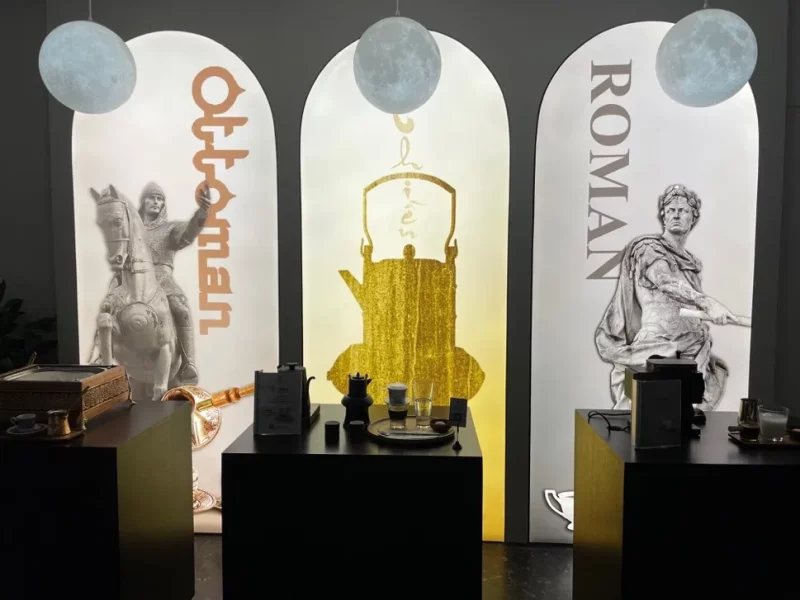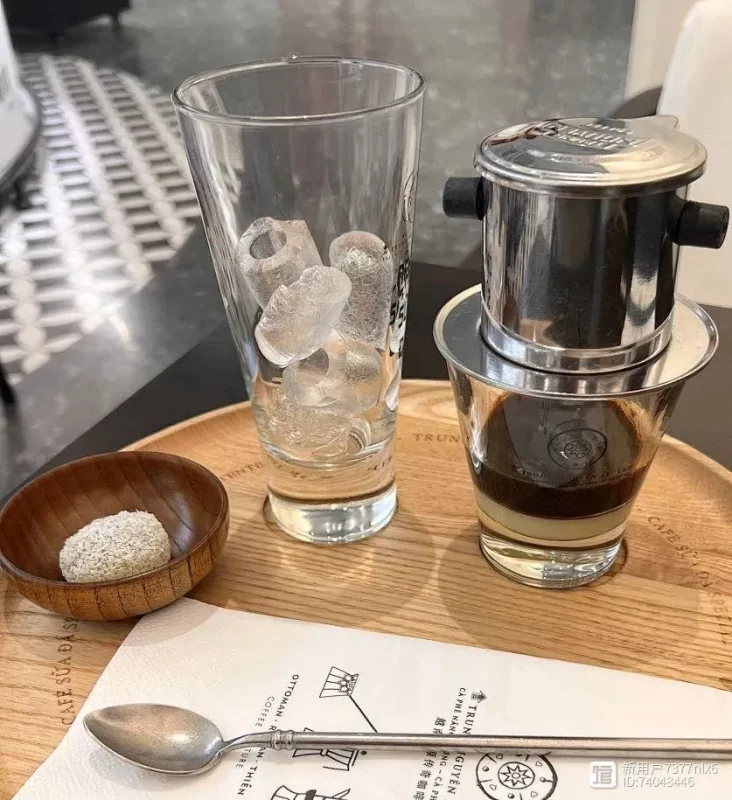 #2. Differentiation in each product
Trung Nguyen has highlighted local characteristics in each of its products through the use of Vietnamese Robusta coffee beans with a unique flavor, a bit of bold and bitter taste combined with a bit of sourness thanks to the caffeine content. High will help you to wake up quickly. This local character has met the needs of Chinese consumers.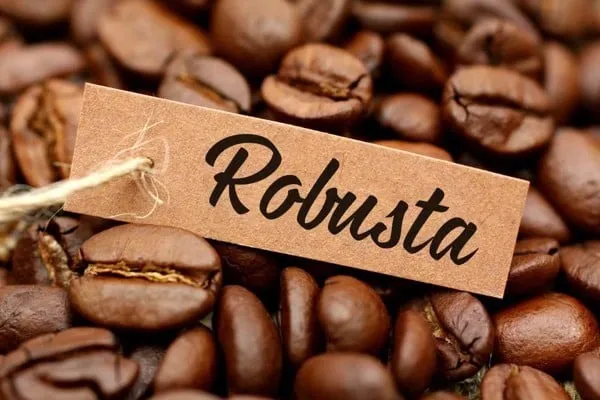 Robusta accounts for nearly 90% of the coffee area in Vietnam, concentrated mainly in the Central Highlands provinces including Kon Tum, Gia Lai, Dak Lak, Dak Nong and Lam Dong. Besides, some midland areas such as Vung Tau, Dong Nai also grow this type of coffee and give a relatively high yield. Famous Robusta coffee growing areas such as Pleiku, Ayun Pa, Buon Ho, Buon Ma Thuot, etc. In which, the most prominent is Buon Ma Thuot – which is considered the coffee capital of Vietnam. This is considered as the strength of Vietnam.
#3. Build a solid foundation in the market
However, for F&B stores, success does not simply come from being beautiful or unique, especially in a crowded and prosperous city with extremely fierce competition like Shanghai. Trung Nguyen needs a more perfect strategy?
According to the China Coffee Consumption Insights 2022 Report published by MEITUAN, the number of coffee shops in Shanghai ranks first in the world, reaching 7,857 stores as of June 30, 2022, far ahead of other coffee shops. big cities like New York, London and Tokyo. Divided by population, the ratio of cafes per 10,000 inhabitants in Shanghai is about 3.16 stores.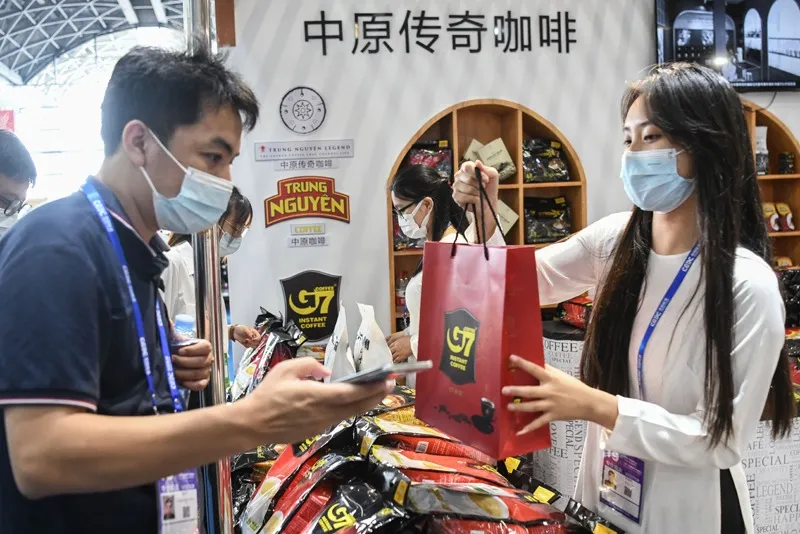 In order to receive the support of customers right after opening the first Coffee World, it is impossible not to mention Trung Nguyen Legend's journey of "building a solid foundation" in China for many years. That is the network, partners in China have established through export deals, is the abundance and diversity of e-commerce stores selling G7 energy coffee such as Alibaba, Taobao.com, Tmall .com, Yihaodian.com, jd.com… and covering the supermarket network (1,000 supermarkets).
According to a ranking from Chnbrand (China), Trung Nguyen Legend's G7 coffee brand has become a popular instant coffee brand in the billion-people market, holding the second largest market share in the e-commerce market. .
With the advantage of having built a previous brand foundation, as well as having solid market exploration steps, the opening of a store serving ready-to-drink coffee in Shanghai is like a further step in the journey. Trung Nguyen Legend's process of conquering the billion-people market.
#4. Habit building and adaptability
G7 is one of the coffee-flavored products that are suitable for the tastes and preferences of the people here. The introduction of a convenient product line that can be prepared at home or at work also meets their fast-paced lifestyle needs. In addition, Trung Nguyen is also constantly developing and innovating its products to be able to serve many different target groups, such as launching new product lines with flavors of mocha, hazelnuts, etc. too familiar with G7, receiving a new product line from Trung Nguyen for the people here will become much easier and simpler.
Ending
The success not only shows the "intense" attraction of the Vietnamese coffee brand in the country of billions of people in China, but also implicitly affirms the quality and prestige of Trung Nguyen Legend in the international coffee village.