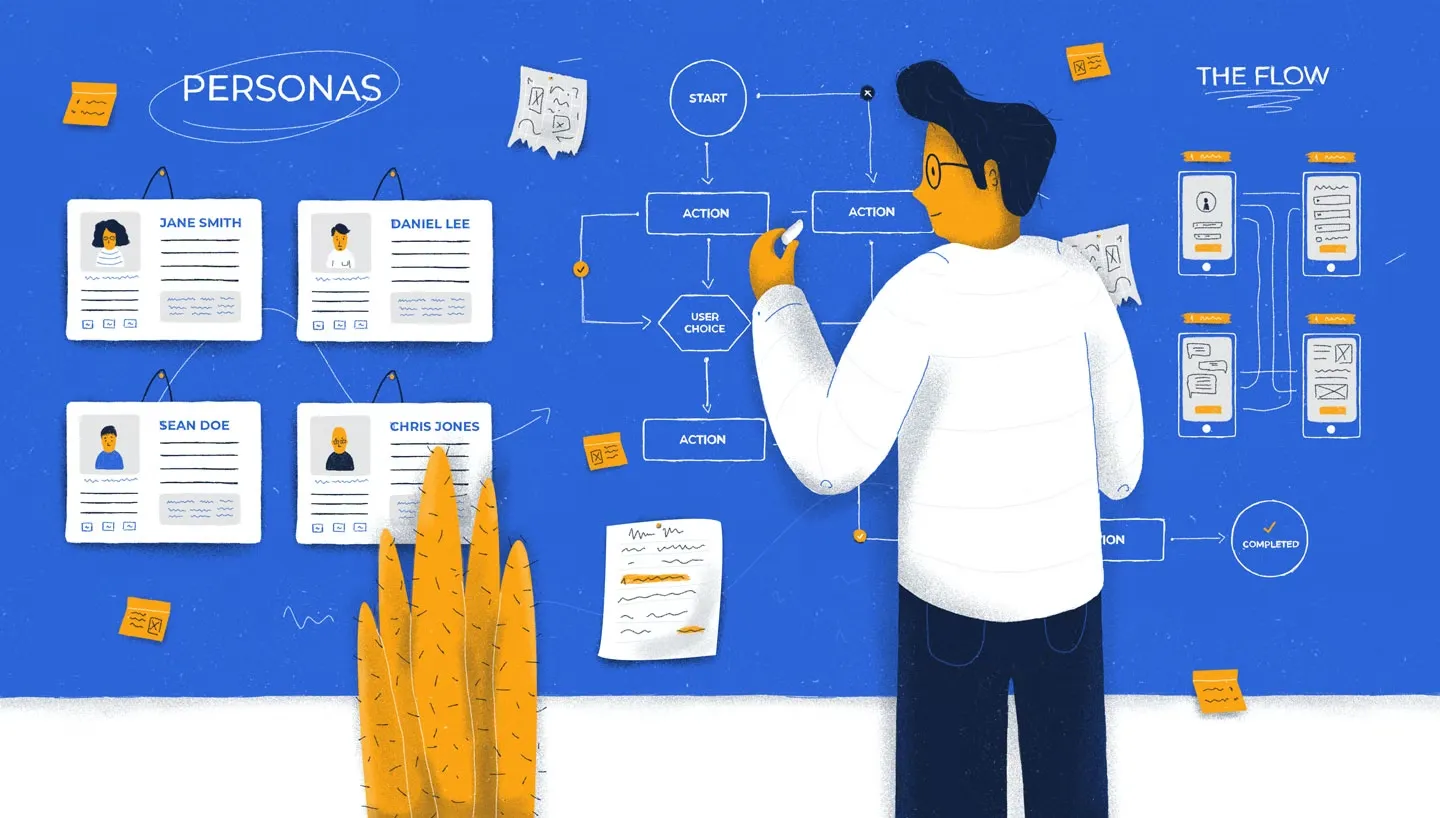 Welcome to the UI UX section of Malu's blog. Today we will learn about UX Research through the following article
1. What is UX Research?
UX Research is the systematic study of users and their requirements in order to obtain important data, thereby bringing the most realistic contexts and insights into the development process. of the product. UX Researchers need to use a lot of different research methods to be able to uncover problems and find opportunities for businesses.
When you do UX research, you'll be able to provide users with better solutions and experiences — because you can discover exactly what they need. You can apply UX research at any stage of the design process. UX Researchers often start with qualitative research methods, to identify user motivations and needs. They can then use quantitative methods (Quantitative Research) to measure their results. To do well with UX research, you must take a structured approach when collecting data from your users. It is important to use methods that are appropriate for your research purposes and are likely to give you the clearest information. Afterward,
"I get very uncomfortable when someone makes a design decision without customer contact."

– Dan Ritzenthaler, Senior Product Designer at HubSpot
2. Subsets of the UX Research set
Qualitative research – Quantitative research
Quantitative research using methods such as interviews and ethnographic fieldwork, etc. You will dig deep into why users do what they do (e.g. why they miss a word) call to action, why do they feel that way about a website).
For example, you can conduct interviews with a small number of users and ask open-ended questions to get personal insights into their exercise habits. Another aspect of qualitative research is  usability testing , to track user responses. You should do your qualitative research carefully. Since it involves the collection of  non-numerical data  (e.g. opinions, motives, opinions, etc.), it is very likely that your personal opinions will influence the results of the research.
Quantitative Research – Quantitative Research
Quantitative research uses more structured methods (e.g. surveys, analytics), you collect measurable data about what users do and test the assumptions you've made from qualitative research.
For example, you could give users an online survey to answer questions about their exercise habits (such as: "How many hours per week do you work out?"). With this data, you can discover patterns in a large group of users. If you have a sufficiently large representative sample of test users, you will have a more statistically reliable way to gauge the number of target users. Either method, with careful research design, you can collect objective data unbiased by your presence, personality, or assumptions.
However, quantitative data alone cannot give you deeper user insights.
In addition, we can also divide UX Research into 2 more types, which are:
#first. Attitudinal  – you listen to what the user has to say – eg  interview
#2. Behavioral  – you see what users do through  observational studies
Combining both quantitative and qualitative research and combining Attitudinal and Behavioral approaches, you can often get the clearest view of an issue in UI UX design.
The chart below from  Nielsen Normal Group  depicts the UX methods and activities included in the different phases of a project. You can check out more!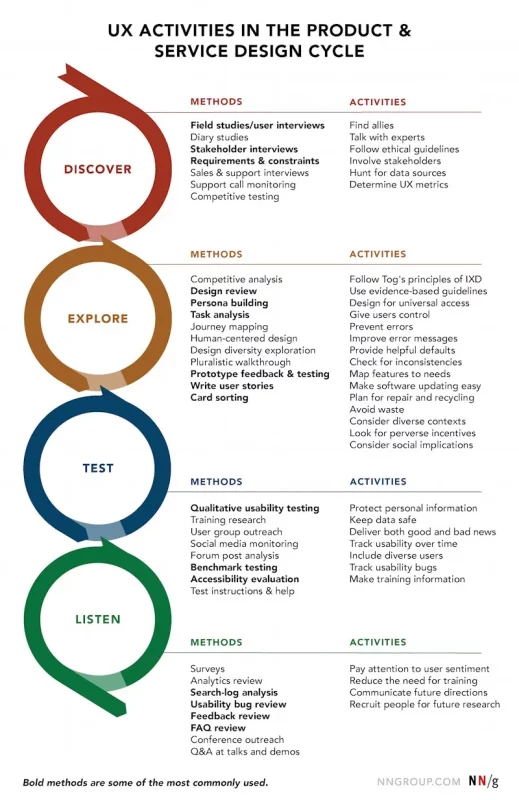 In short, UX Research is extremely important because it gives you more insight into what users think, feel, and act on. It helps you identify the most realistic needs and problems to decide what should be prioritized to do first, saving time and money for a project whether short-term or long-term.
How to build a UX Research team
Today's article is translated from the article of Becky – Design Researcher of the online photo design platform Canva. Since Becky joined the Canva team, she has contributed to the development of UX Research at Canva. Up to the present stage, Canva's research team has 7 people and is still growing. Becky shared the 4 stages of formation, growth, and maturity of her UX Research team, and the tasks and goals she tries to accomplish within the team. different teams, with common organization in each phase.
Hopefully through this article, not only the UX Research team but also any team you are on can learn more about team building, human resource management, team leadership as well as how to work in harmony with everyone in / Outside of the team, clearly show their strengths to work with team members to achieve the goals of the team in particular and the organization/company in general.
And here is the growth journey of Canva's UX Research team, led by Becky:
Stage 1: Preparing to do UX Research (UXR – User Experience Research)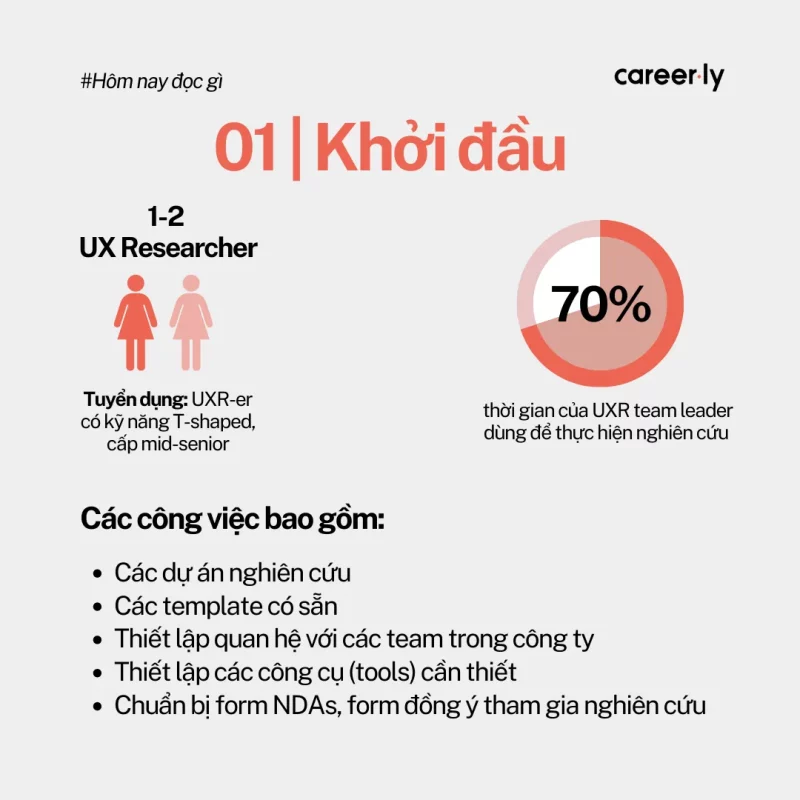 In this phase, the research team will start with 1-2 UX Researcher (UXR-er: user experience researchers).
About research work: Focus mainly on research/work that makes a big impact and "sees and hears"
This is your main job at this stage, once you've settled down, start doing your research right away:
Choose research projects that are important, intuitive, and essential to the company's plans and vision. Know how to say no to the "fancy", try to revolutionize the company with methods you've never seen before! Remember that a research project that delivers findings that are both easy to apply and highly relevant to the product will save you money and make a good impression!

You should learn to prioritize the order of projects and publicly share the logic underlying this arrangement. Even though you are a newbie, never say yes too much, know how to say no so as not to be distracted, do not do too many projects at once so that as a result you do not focus deeply enough on your findings. does not please anyone.
On operating: Should create a process to know what is "enough":
When your team is very short on staff, you should focus on determining what is most necessary for your research project to be completed.
Some basic points for you:
You need to prepare a process for finding and paying for people who agree to participate in the study. Participants in this study may have already been found by your company, or you can search through agencies, or a tool like Respondent/UserInterview.com

Prepare legal issues such as NDA form (Personal Information Confidentiality) and Consent Agreement to participate in research.

Prepare a ready-made template for the research plan and report the results after finishing the study. Once you have the template ready, you will save a lot of time for future research projects.

Create a simple repository of your knowledge (e.g. a wiki page)

Some tools needed for conducting and analyzing your research such as deovetail/Nvivo, dscout, Usertesting.com, etc

The first step in the process of prioritizing projects can start by creating a form to summarize research requests, or create a sheet to track those requirements.
On joint cooperation with the organization: You do not work alone:
You are in the early stages of developing the UXR team and you need to define the goals of the UXR team so that it aligns with the overall goals of your organization.
Before starting to change things, take the time to understand the past between the organization and the UXR. How is your organization seeing UXR? Are there any misconceptions?

Spend time building relationships with other departments in the company, especially the Product team (Design, Product Manager) and other research colleagues (Data Science, Market Research, Customer Success, etc…) . They are probably the people who are "in the same boat" as you at the company. Let's learn from them.

Describe and communicate with your Product team your vision for how UXR should work.

Set up a permanent process to easily share the insights gained from the UXR to the rest of the organization on a regular basis. For example, at Canva, we hold a monthly "Customer Brekkly" session to share essential information from recent research, play videos, share notable "quotes" from users. Our team sends invitations to this meeting to all employees in the company.
Stage 2: Grow the UX team: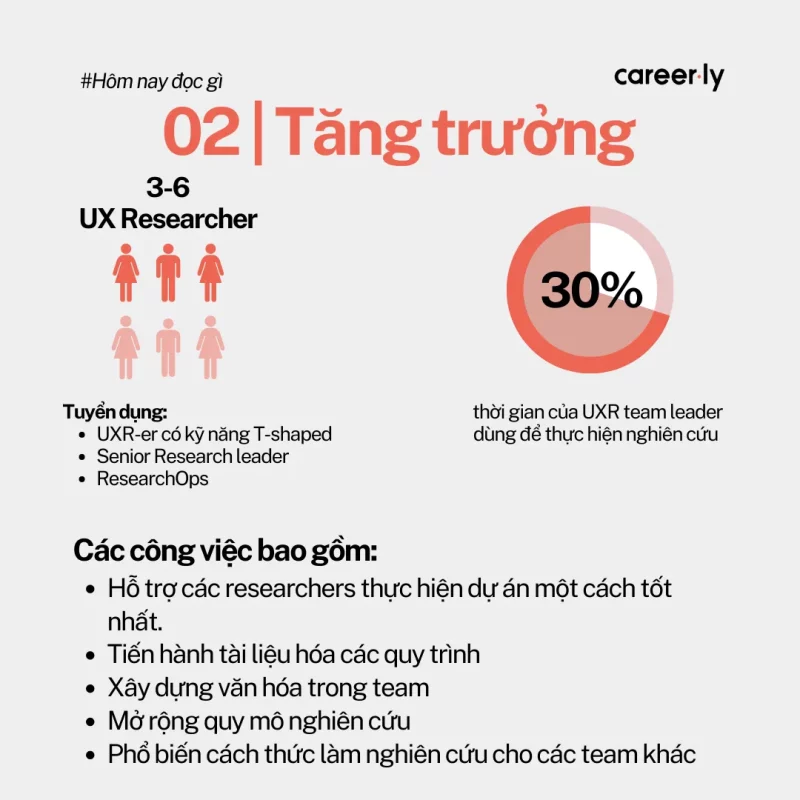 During this period, the team will have 3-6 employees. An interesting thing is that from now on you will start to feel like you are working in a real team, not in the feeling of swimming in a "collection" of many individual individuals.
Regarding research work: Priority is given to the work "eyes do not see, ears do not hear"
As a technical team leader, your work may stretch from project to project, but essentially your role should be to "unleash your team's potential". Friend. This work is often seen as "silent", "eyes do not see, ears do not hear" such as: documenting all processes, setting up / paying for tools, building methods of cooperation with Product team,…
On governance: "Documenting" processes and scaling tools:
Since there are a few new researchers joining, you need to edit all kinds of documents in the team so that everyone can agree and understand what has been and is going on in your team.
Leverage new members to help you document and/or define processes.

Create additional templates or sections that you can reuse to speed up your workflow. For example, the introduction when new people join the study for the first time

The increase in human resources means that you should create a new working environment that is as convenient as possible for them, because a 2-person team will be far different from a 6-person team. You should start learning new tools, improve research processes more effectively. You can start by changing the way you source participants.

Develop a more formal budget for your research that includes agency fees, participant incentives, and tool payments.

If you work in a fairly regulated environment such as in the medical or financial sector, you need to set up a more precise and careful process.

Let's gather all this information into a handbook for the UXR team, it's sketchy but you can update it later.
About the UXR team: Work together like a real team:
As your team starts to have more people, and get used to each other's way of working, this is when you can focus on recruiting and building a team culture.
Start by hiring Senior researchers who can do some independent projects on their own and arrange some juniors to support them. You should focus on candidates with many different backgrounds, different perspectives and skills, from which you can diversify levels of experience and skills in the team so that everyone can support and complement each other. complement each other.

Focus on growing your team. You should learn the strengths of the members and find out what direction they want to grow, and guide them in the direction of the company's development.

You should also spend a lot of time building a culture for your team. You should define the value for the team and do whatever it takes to develop it. Establish some specific rules within your team and prioritize time for team bonding activities. In Canva, for example, we host a weekly "Craft and Camaraderie" session. Agenda activities can take place in a variety of ways and are based on the decision of the entire team. We often comment and give feedback on the work, discuss some "hot" topics or invite speakers to talk.
Regarding cooperation with common organizations: Motivation:
During this stage, you should let your organization see the value of user research:
Try to meet research requests through a clear system, including: prioritizing requirements and allocating team members to each requirement. But remember you do not allocate your team members too thin, instead campaign to recruit more staff.

Leverage relationships with organizational leaders to ensure that UXR is focused on as one of the most important projects for the business and ensure that UXR pave the way for every move of the organization related to the product.
Phase 3: Accelerate the implementation of UXR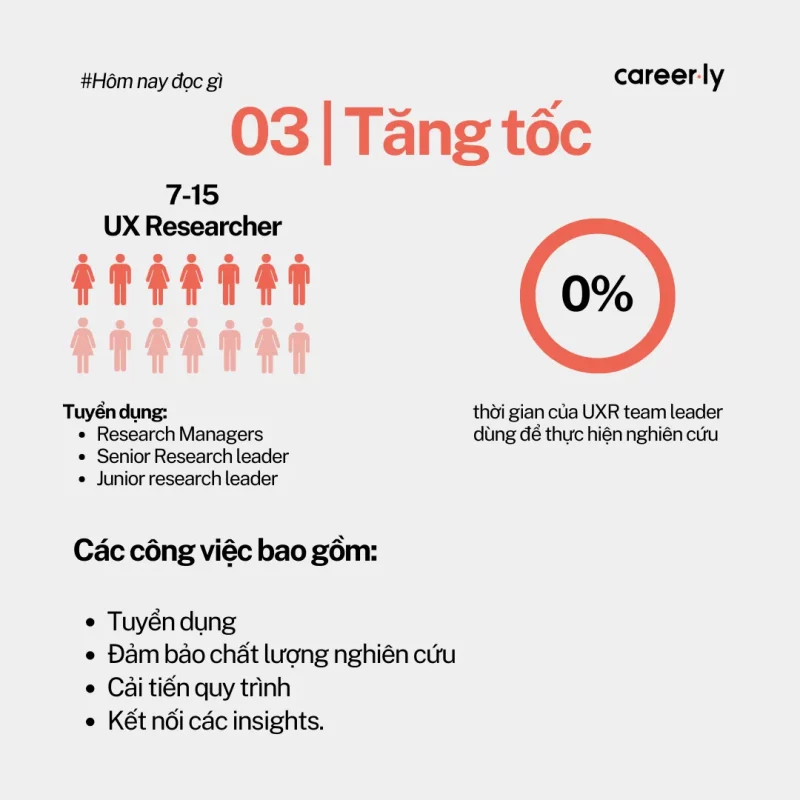 At this stage you have built a solid tracking system and more and more teams in the company start asking for more research. When the team you lead has 6 to 15 UXR-ers, now your main job is to recruit and scale. Now you need to do candidate interviews rather than user interviews!
About Research: Full-time in management work:
Your team is growing and now is the time to build a library full of valuable insights. When you have reached this stage, it means that your UXR-ers are spending every day focusing on detailed implementation of projects, and your job now should be focused on management. Most of your time will be focused on making sure that:
Research project in line with company strategy

Insight gathered after research is highly intuitive and is used in team products as well as trusted by other senior leaders.

The "open points" in the projects have been connected through the research process
On operations: Solve the patchwork in the process you have built
This is a great time for you to look back at the process you've built and resolve any "backlogs" / "patches".
Check your entire process to see if there is any backlog of manual or time-consuming team work.

Check the budget you set at the beginning to see if it still works or not, if there are any further adjustments needed.
About the UXR team: Tuning and tweaking:
At this stage, there will be a lot of pressure from within to force you to recruit to scale quickly. However, you should still keep a balance between the roles in the team while maintaining the team culture that you have worked hard to build and forge from the beginning.
You'll find it easier to recruit junior UXR-ers, but you'll also need plenty of senior leaders and research managers to keep you from getting overwhelmed.

Maintain the quality of the research being done. Also make sure there are clear standards (possibly in writing) for the quality you want for each research project.

Let senior researchers be in charge of their research teams without you having to interfere. This is an opportunity for them to mature in their work and you have time to do more difficult parts of the team.

Take the time to review the initial goals you set for the team and make them more specific. You should share these with your team members, this can be an inspiration to get your team members excited about what you are aiming for and of course they will be the ones to help you explain it. this with the next new member.
Regarding cooperation with a common organization: Maintaining the flame of enthusiasm:
When your team has reached this stage, it means that the product team has found the accuracy and clarity of the insights your team makes completely useful to apply to their projects. You should continue to maintain this momentum to create more value for the UXR team:
As you continue to recruit and scale your team, don't forget to support teams that don't have a research expert by teaching them basic tools and applicable methods/examples. the best. For example, at Canva team UXR organizes Office Hours every two weeks, this is the time when the UXR team educates people about available research resources, guides and helps other teams to form research plans. basic, etc

If possible, support for other departments should be based on the documents you have built.

You should use your experience and keen senses to "guess" where will need team research the most in the next quarter to avoid your team being unexpectedly overloaded.
Stage 4: The team begins to "ripe"
During this period perhaps your UXR team will be up to 15 people. This is probably a great scale for the UXR team, but the UXR Canva team hasn't reached this level yet, so maybe after this achievement, Becky will come back and share. more tips with us.
Epilogue:
Building and developing a UXR team is exciting, but also a huge challenge for any company when it comes to adding UXR to a product. Learn from your own mistakes (everyone makes mistakes) and others (from posts shared by predecessors) to avoid going into the same old mistakes. Deep in your subconscious, you can realize that every discussion, project, template, report, and even hire you've done is a building block for your great success.