From unrelated categories and concepts, such as tires, stars, and food, but unknowingly, appear to exist as a symbol that identifies the sophistication of a Michelin-starred cuisine.

From the ambition to sell car tires
If women have to thank Christian Louboutin for creating the "deadly red lipstick" under the heels of their shoes, foodies must thank the Michelin brothers, Andre and Edouard Michelin, when they accidentally created the red-covered book Michelin Guide is considered the bible of the culinary industry.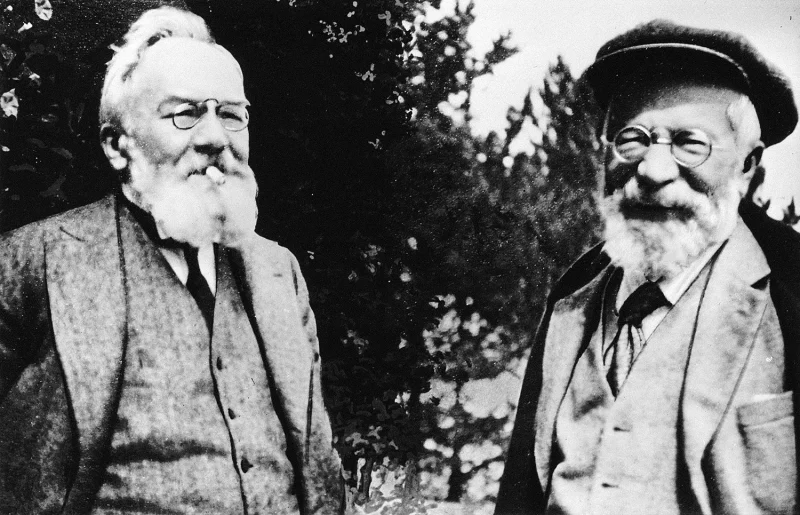 The story of the Michelin Guide begins in 1900. Or in that, its original purpose is not related to food, but simply a marketing ploy.
The thing is, the two Michelin brothers, who are owners of Michelin tire company because they want to sell more tires, have devised a catalog that records useful tourist information such as maps, addresses of restaurants, hotels, etc. gas station … to encourage the French to drive more on trips, the more driving, the faster the tires will wear out, thereby boosting sales.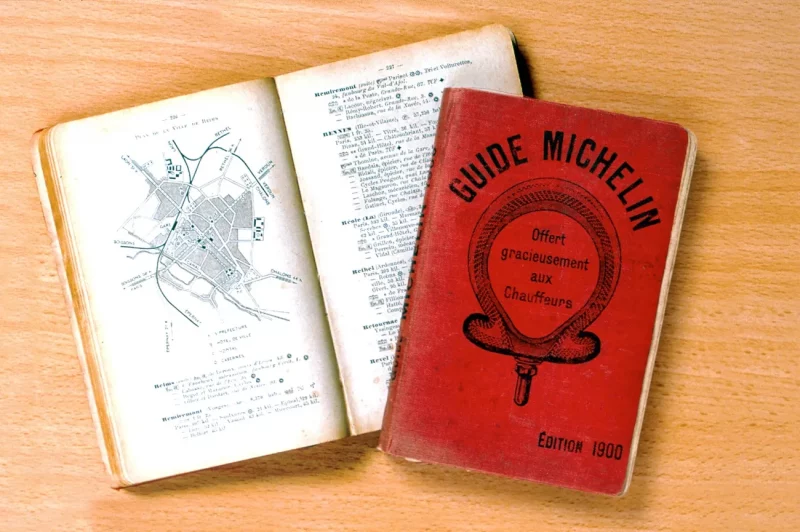 From a marketing tactic for tires, the Michelin Guide has become the "bible" of the culinary industry
Over a century of existence, the Michelin Guide is likened to the culinary bible. The reason it is so powerful is because it contains the core values ​​​​so that cuisine is not only a delicious dish but also an elaborate hobby, an experience journey that begins with sophistication and sophistication. , strict, standard and closed with satisfaction and satisfaction.
Michelin Guide generalizes its sophistication with a set of rules that include 5 difficult criteria in accordance with the sophisticated spirit of France: promoting the quality of ingredients used, skillful cooking techniques, harmony in flavors. , the chef's personality is reflected in the dishes and the stable quality over time of the dishes.
From these 5 criteria, Michelin Guide classifies 1-2-3 stars.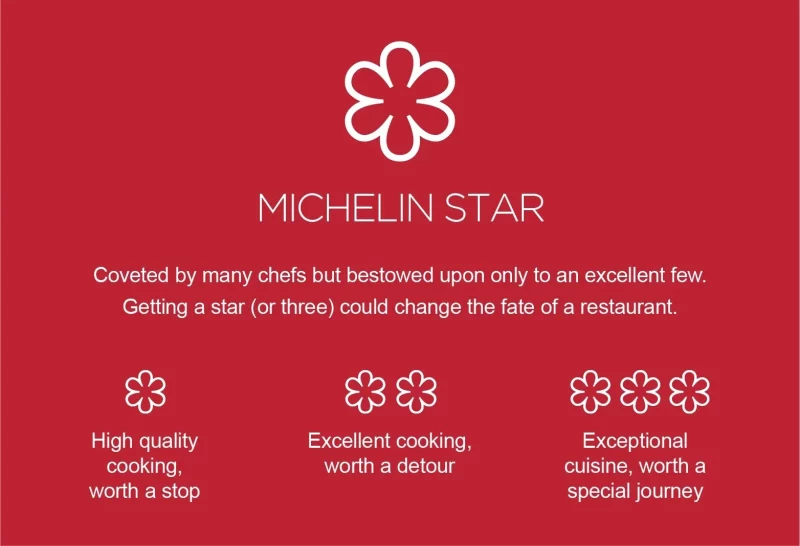 One Michelin Star: A Michelin star is awarded to a restaurant of good quality and of note. This is recognition for meeting high standards of culinary quality and service. The first Michelin-starred restaurant often has a creative menu and good quality food.
Two Michelin stars: Two Michelin stars are an upgrade from one Michelin star and are awarded only to restaurants that are incredible and worth experiencing. Two-Michelin-star restaurants often feature sophistication and creativity in their menus, professional service and classy interior decoration.
Three Michelin stars: This is the highest rank in the Michelin star system and is reserved only for top-notch restaurants in terms of cuisine. Three-Michelin-starred restaurants are considered great destinations, with flair and creativity in every respect. They have a unique menu, excellent food quality, professional service and an unforgettable dining experience.
There is also an additional title of "Bib Gourmand", for restaurants that are reasonably priced but still maintain a high culinary quality. This is a sub-title of the Michelin star system and is intended to honor restaurants notable for their distinctive culinary style and good value.
Michelin star ranks play an important role in evaluating and recommending high-quality culinary places to customers. They set standards and instill confidence in consumers looking for a special and memorable dining experience.
Getting a Michelin Guide star is not easy. After being targeted by the Michelin Guide, the Michelin Guide culinary experts, who are likened to "spies" because their identities are always a mystery, will secretly visit each restaurant, appraise and evaluated based on 5 criteria.
This appraisal process takes up to several years because the Michelin Guide values ​​the consistent quality over time of the dishes.
Come break through to new heights – the illustrious Michelin star
During more than a century of existence, the Michelin Guide stopping in any land means that the culinary reputation of that land is not only affirmed and sublimated. It also opens up countless opportunities to promote tourism and attract high-quality human resources.
In 2007, Michelin Guide set foot in the land of Phu Tang. In 2008, the first Japanese Michelin Guide was released. Within 5 weeks, 300,000 copies were sold out. In 2010, Tokyo surpassed Paris to become the capital of 3-Michelin-star restaurants.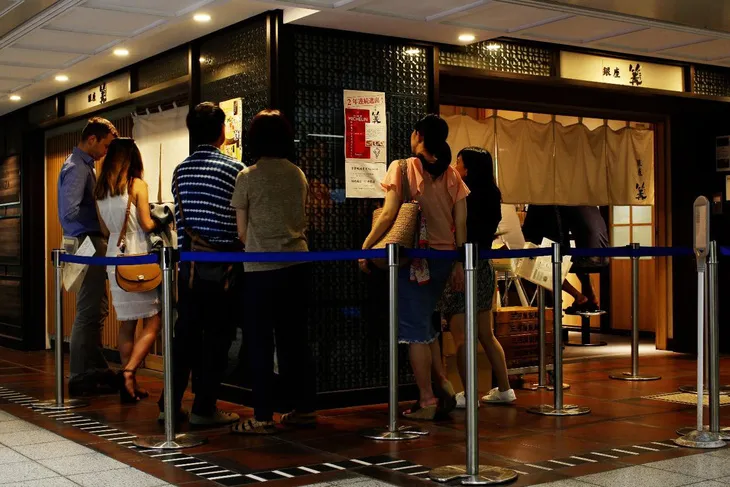 In just 3 years, Japanese cuisine has risen to the top, holding the throne. Before that, the reputation of Japanese cuisine had never been spread to such a high level. Since the Michelin star, Japanese cuisine is associated with the superlative.
In 2016, when the first Michelin Guide Singapore was published, the Lion Island nation was immediately evaluated as a "new eldorado" of world cuisine. For the first time, the Michelin Guide broke its rules by adding two street food establishments to its 1-star list.
Street food from a place of little importance, has been recognized by Michelin to a new height, prestige and reputation. After just one night, Singapore's street food thanks to the Michelin star has turned to a new page, known to the world, paving the way for the invincible tourism industry.
Francis Attrazic, president of the French Master Culinary Association, confirmed in Le Figaro: "Revenues of Michelin-starred restaurants increase by an average of 30%. The stars bring a breath of fresh air to restaurants."
Opportunity for Vietnamese cuisine to receive a Michelin star
Along with the companionship of Sun Group – a brand associated with a series of leading amusement parks and resorts in Vietnam, Michelin has "docked" in Hanoi and Ho Chi Minh City. This will be a rare opportunity for food establishments and restaurants in Vietnam's two largest cities to receive prestigious stars, bringing the reputation of Vietnamese cuisine to the world.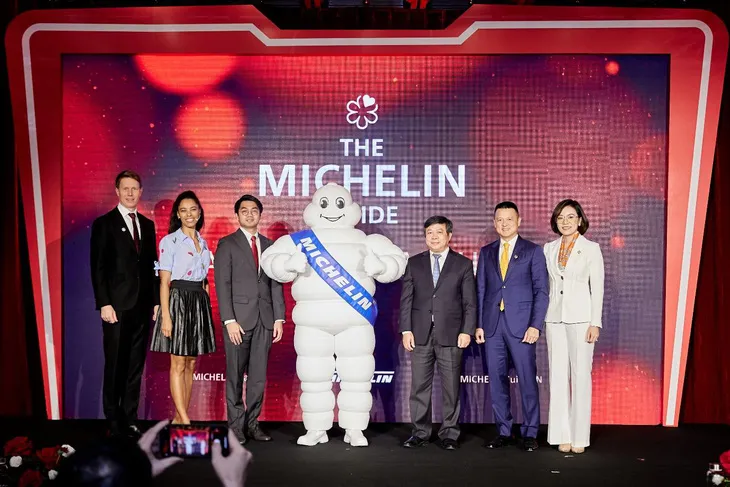 A series of dining establishments and restaurants in the two destinations have been targeted and are in the evaluation stage for the first Michelin Guide Vietnam to be released in June 2023. This list remains a secret until the last minute.
The opportunity has opened up, but how do food establishments and restaurants in Vietnam pass the famous Michelin rigorous appraisal process. The answer can only be quality, quality and quality.
Instead of compromising in pursuit of profit, laxity and ease in the selection of raw materials or in the attitude of serving diners, Vietnamese cuisine needs to aim at higher standards to master the sophistication, harmony and taste. Time to choose for yourself unmistakable culinary personalities.
Only when creating an identity, mastering that identity and building it to be different, then the Michelin star will be a lever for Vietnamese cuisine to affirm its name and stature to rise to new heights. .