Unlike clothes, accessories, fresh flower business, flower electric services, gifts are less competitive, profit margin is high, so many people are interested. People who open a flower shop and gift shop in addition to having business qualities need to have an aesthetic sense and love for art. To start a successful business, Malu will tell you the experience of opening a flower shop and managing sales effectively, reaping profits from flowers and gifts.
1. Source of imported fresh flowers with quality and cheap price
Importing a quality flower source is a pretty big determinant to the success of your store and the quality of the finished products you make. Flower quality affects the freshness of the finished product, color as well as aesthetics. Flowers are required to be fresh, and frozen flowers are restricted (except for imported flowers or flowers that are not directly grown in the province you live in).
Normally, for Vietnamese flowers that can be grown, you can have the following import sources:
Quang An wholesale flower market, buying flowers at gardens such as Tay Tuu or Nhat Tan flower villages (Hanoi) or a famous flower growing district is Me Linh, Hanoi.
In this area, there are 3 wholesale fresh flower markets, namely Ho Thi Ky flower market, Binh Dien wholesale market or Hau Giang wholesale flower market, etc. In addition, southern provinces often import flowers from Da Lat. The western provinces also grow flowers and provide some basic flowers suitable for hot and humid weather.
Importing flowers from abroad:
If the target customer has a high income, spend a lot of money to buy foreign flowers. Usually, it will be imported through a distributor because the number of flowers imported from the shops is not large enough, if imported directly, the input cost is high and many procedures are required.
Besides selling flowers and finished products from flowers, flower shops often combine selling products as gifts in combos. Products can be chocolates, souvenirs or gifts on request.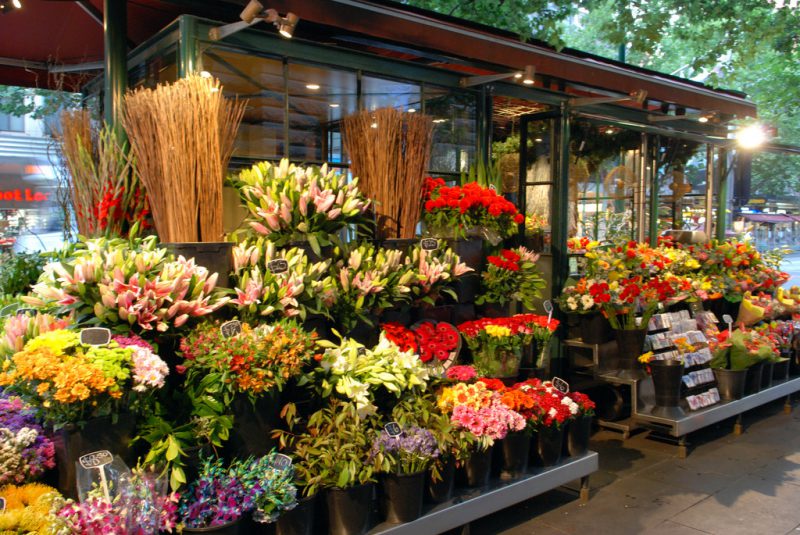 2. How much capital does it take to open a flower shop?
There are supplies, but not enough. You need capital to be able to turn any idea into reality. And capital is the necessary condition to invest in facilities, rent space, repair shops or import flowers and gifts for sale.
Unlike other products when the storage time is long, the value of goods is large, opening a fresh flower shop will only cost 1/4 to 1/5 of the amount compared to selling clothes, shoes or opening a shop. grocery store with the same size, even smaller because of the different business characteristics. The capital to import flowers is not large because flowers have a short shelf life, import goods continuously and the quantity is also less than other goods.
Normally, opening a popular fresh flower shop only costs about 20 million (if only selling flowers) to set up a small booth. With large-scale stores and more diverse products, capital costs can range from 50 million, 80 million…depending on the size of the store and the services the store provides. For a high-end fresh flower shop aimed at middle- and upper-class customers, the store needs to require a beautiful premises, luxurious interior decoration, capital costs will be higher.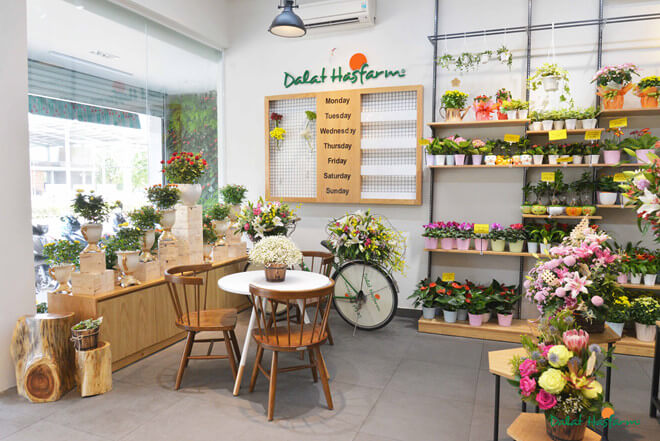 3. Necessary equipment when opening a flower shop
3.1. Computer connected to sales management software
Many flower shop owners have the habit of managing and recording sales on books or phones. However, product management faces many difficulties due to the fact that fresh flowers are calculated in bundles, in flowers or in combos…, short shelf life of flowers. It is difficult to calculate exact sales. Need to manage customer debt but often forget to record information, leading to confusion and errors.
Therefore, it is necessary to invest in a computer, first of all to save information about goods, prices, and look up products in excel. In the process of warehouse management with excel, difficulties arise in using calculation functions to manage export – import inventory accurately, manage import prices – selling prices like to avoid confusion and manage revenue – exact profit.
Therefore, using flower and gift shop management software installed on your computer will help you manage your store easily, limiting errors in data storage and calculation.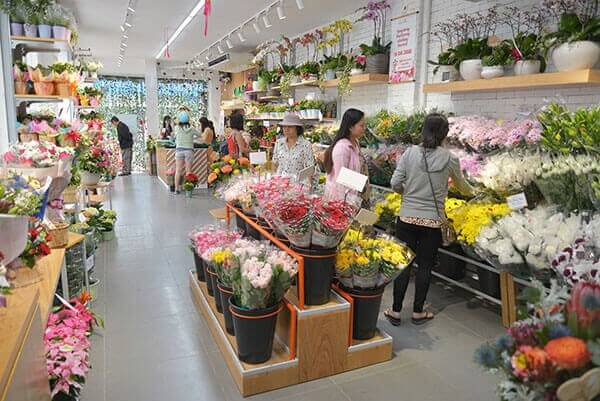 3.2. Desktop POS machine/handheld mini POS machine 
Currently on the market, there are usually portable mini POS machines, 1-screen POS machines suitable for medium, small and large stores. Specifically:
– Mini handheld POS machine is suitable for small and medium-sized flower and gift shops.
– 1-screen POS machine integrated with point-of-sale computers, receipt printers, barcode scanners and sales management software. Sales staff can easily manipulate product information, calculate money, pay and print invoices for customers. This type of machine is suitable for large-scale flower and gift shops.
3.3. Other devices
– Display tools: Fresh flower business is a beauty business, so the display space needs to be delicate, airy and well-lit. There is a product display area, flower arrangement area and a separate flower selection area for guests. If your store is small, you can take advantage of the rack to display your products.
– Camera, anti-theft device:  With diverse product characteristics, many types, easy to lose, the store needs to be equipped with a camera system, doorbell, anti-theft magnetic door ..
– Fire protection equipment:  To limit possible risks, your store should be equipped with a fire alarm system, a mini fire extinguisher, etc.
4. Fresh flower shops should develop a variety of sales channels
Multi-channel selling is a trend of all businesses, especially fresh flowers and gifts, which must be focused on development. In addition to selling goods at the store, you should create a professional fanpage and website design to meet the online shopping needs of your customers. Instead of going to the store to buy, customers can view photos online, order on the website and receive flowers conveniently.
Fresh flower shop business is a "one capital four words" industry if you learn carefully about the market, source of goods and customer needs. Hopefully, the above experience of opening a flower shop will help you have a few more preparations to do business more smoothly. Good luck!