You are cherishing the idea of ​​​​a shoe business, but you do not know what to prepare to open a shoe shop? Malu will answer for you in the article below.
>>  Expensive experience when opening a fashion shop for beginners in the most detail
1. How much capital does it take to open a shoe shop?
If you have an online shoe business, you don't need to invest in the cost of opening a store, display racks, and in-store services, so you only need about 20-30 million VND to import goods to be able to start. But once you open a store, you need to have more capital. If your shoes have an import price of 100,000 VND – 200,000 VND/pair, you must have about 30 million to 50 million VND of capital just for importing goods. In addition, there are the costs of renting space, preparing furniture, paying for employees, etc.
Open a shoe store in the countryside: If you can take advantage of the available house space or rent space in a location in a market or a crowded residential area. The rent of premises in the countryside ranges from 5-7 million VND/month. Display racks can save money by buying liquidation items.
Opening a shoe store in urban areas: The rent in big cities will be more expensive, ranging from 7 to 15 million VND/month. In addition, the cost of decorating the store and hiring staff is also included. Thus, you need a capital of about 200 million VND/month to be able to rotate goods to open a fashion footwear store in the city.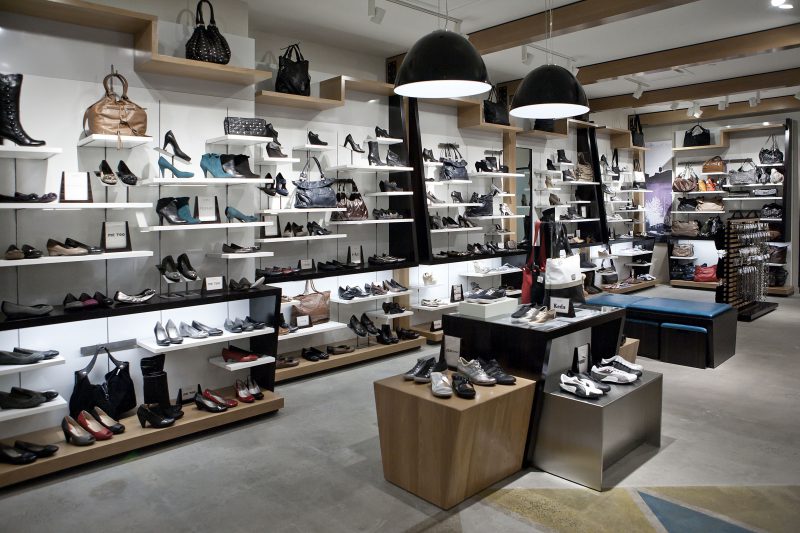 What do you need to prepare to open a shoe shop?
2. Who are your customers?
You must understand customers to be able to import goods that meet their needs and requirements. When sketching a customer portrait, you must also clearly define their fashion style, their income, and the price they are willing to pay for your footwear.
If your customers are students or ordinary workers. These are the objects that can only spend a certain amount of money to buy shoes. Let's import Chinese footwear products, in the low or medium price segment.
For mid-range customers, they have a stable income and focus more on quality. In the higher segment, you should import from processing factories, export Vietnamese goods, and domestic brands.
Particularly for luxury customers, who are passionate about shoes, they even own 10-15 pairs of shoes for themselves, but still want to hunt for the shoes that they pay attention to. They are willing to spend a lot of money just to get those shoes. With customers in such a high segment, you have to import shoes of big brands, portable goods and constantly update the hottest models to import.
3. Where to import quality footwear?
Of course, to open a shop, the issue you need to pay attention to the most is to prepare the source of goods. How to find cheap, beautiful and quality goods? Once you have identified your customer segment, you can start importing goods. Depending on the price you want to sell, find suitable suppliers.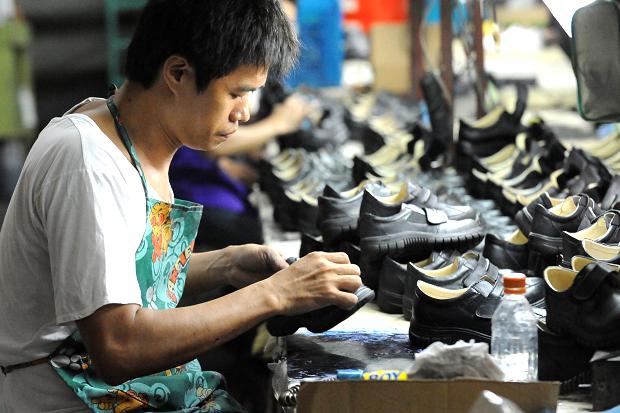 Import quality shoes at reputable production facilities
3.1. Domestic goods
In the northern region, you can import goods from wholesale markets such as Dong Xuan market, Ninh Hiep market (Hanoi), border-gate markets such as Mong Cai market (Quang Ninh), Tan Thanh market (Lang Son). … There are also reputable VNXK shoe factories such as: An Thai Minh Footwear at 111, Dinh Cong, Hoang Mai, Tung Anh Shoes at 38 lane 45 Hao Nam, Dong Da, etc.
If you are in the South, don't miss the big wholesale markets such as: An Dong market (District 5 – Ho Chi Minh City), Tan Binh market, etc. Along with famous shoe factories such as: Outsourcing shoe factory of Mai Nguyen Fashion Joint Stock Company, Tamy shoe factory at C7D/27 Pham Hung, District 8. Or Moon Shoes shoe factory at 7 Hoang Dieu 2, Thu Duc,…
3.2. Foreign goods
With foreign sources, you can import goods at big clues such as Guangzhou market (China), Chatuchak market, Bobae market, Suan Lum night market (Thailand), .. For the most peace of mind, you should go. direct sales. In case you cannot come to the place to import goods, you can order through e-commerce platforms such as Amazon, Ebay, Alibaba, Taobao, 1688, …
4. Experience in opening a shoe shop, what should be prepared for the store?
After renting the space you like, you start to renovate your child before the launch date. The things you need to prepare will be:
Signboard – important and indispensable for customers to distinguish and recognize your store.
Display shelf: The display greatly affects the purchase decision of customers. Display cleverly to highlight your store's footwear products.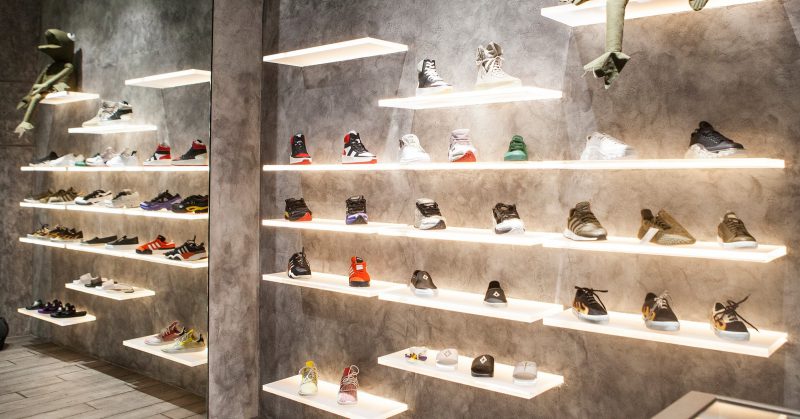 Display of shoes should be neat, eye-catching and easy for customers to choose
You can choose glass shelves, wooden shelves or metal shelves: Metal shelves are suitable for sports shoes, to create more health, dynamism and personality. Aluminum shelves and wooden shelves are more suitable for luxurious and noble high heels.
Mirrors, chairs: "Small but mighty" items to support your customers while trying on shoes and sandals.
Carrying bag, points card, voucher for the next purchase.
Also, don't forget to decorate your store interior in accordance with the style you want your customers to shape when they remember your store. Furniture with the main color of wood, deep will create luxury, nobility and elegance. Interior with bright colors combined with innovative and unique decoration creates youthfulness, dynamism, personality, …
>>  Effective store management experience helps to avoid losses
5. Open a shoe shop, don't forget to ask for the support of online channels
Needless to say, everyone knows the miraculous use of social networks in business. Setting up a facebook page, instagram, zalo, .. Setting up a booth on e-commerce platforms like Lazada or Shopee, etc. will give your shoe shop more credibility in the eyes of customers. At the same time, reach more customers. Regularly update your store's new models on the fanpage so that customers can grasp it. In addition, post lots of honest feedback so that customers can trust the quality of the footwear you sell.
To manage sales effectively at the store as well as on social networking channels like facebook, you may need the support of shoe store management software. It will help you manage customers, revenue, profits as well as orders, inventory or manage shipping units easily.
With the sharing on Malu, I hope to help with the idea of ​​​​opening your shoe shop! Good luck!