Creating a kids logo is different from other logos in that you need to reach 2 target audiences: Parents and kids. A good kid logo will get both kids and parents excited about your brand. It's not an easy feat, but it's entirely possible.
To guide you through it, I've compiled some kids logo design best practices, as well as great kids logo examples.
How to design a children's logo
Follow these general design best practices to create a kids logo that you, the kids, and their parents will love.
The specific messages and values ​​you want your customers (both kids and parents) to perceive when they see your logo will inform your color scheme. For example, a modern children's clothing store would choose  a minimalist logo  with one or two vibrant colors. But someone who is a children's party planner will use bold colors to draw attention.
In general, older kids prefer bold primary colors while younger kids prefer lighter colors. Make sure to choose no more than 2 colors (up to 3 colors) together and make sure they are contrasting colors to create appeal and appeal.
There are five  broad font families  —serif, sans-serif, slab-serif, script, and decorative—each with its own characteristics. You will most likely want to use a normal sans-serif font, a funky decorative font, or a warm script font. Again, the font you choose depends on your brand and the message you want to send.
There are many  different types of symbols , and it's a good idea to take the time to understand the meaning and purpose of each. While not necessarily an iconic logo, icons (especially mascots and animals) are a popular choice for children's logos. The hilarious green giant helps kids eat vegetables and the goofy Kool-Aid Man makes kids want to choose Kool-Aid over Capri-Sun (a fight that still goes on to this day). Mascots allow your customers (both kids and parents) to connect with your brand and make it easier to remember your logo.
Examples of Effective Kids Logos
If you need some inspiration before you start creating kids logos, keep reading. I have compiled a list of great logos under different categories.
From birthday parties to Christmas gifts, toys are an important part of every child's life. Take a look at some of the biggest toy companies and their logos to see how they appeal to both kids and parents.
Chances are you've played Lego as a kid, but you might not know that the term "lego" comes from the Danish phrase "leg godt" which means "play well". The color palette includes red, yellow and black, colors that represent happiness, energy and confidence.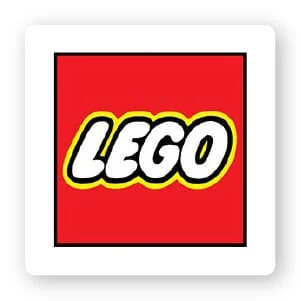 The My Little Pony logo is truly the stuff of pastel dreams. Looking like it was carved from a purple cloud, the 'y' looks like a horse's tail. Complete with pink and purple hearts and rainbows, the My Little Pony logo is playful, youthful, and imaginative.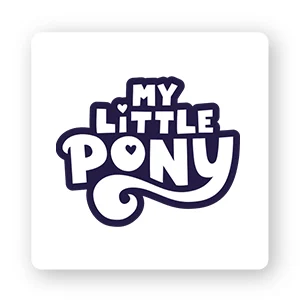 Play-Doh is a soft substance that children mold into any shape they want. The shape of the logo looks like a cloud or a playable piece of Play-Doh. Red is youthful, bold, and playful—the perfect color to capture attention even at a distance.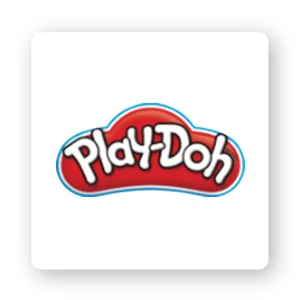 She's stylish, she's graceful, she's Barbie. When you're an icon, you need nothing but a place to put your name on. The pink Barbie script is known to both young and old. The handwriting looks like a young girl's handwriting. It feels effortless, but cute and natural.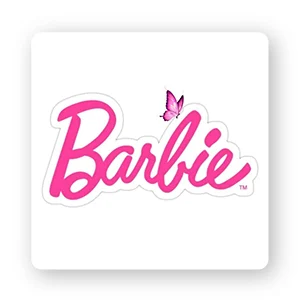 Monopoly himself is also iconic and known to many as the board game. The elderly man in a tuxedo has been around since 1936 and is still included in the brand's logo to this day. Mr. Monopoly is a great example of how a mascot can become a powerful branding tool.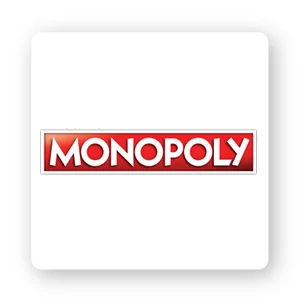 From the first indoor ball to the Super Soaker, Nerf toys have become an integral part of every millennial's childhood. The text appears diagonally giving the impression that it is flying straight through the semicircle it surrounds. The semicircle itself looks like a soccer ball in mid-flight. Orange is a great color for kids toy logos because it symbolizes excitement, determination, and enthusiasm.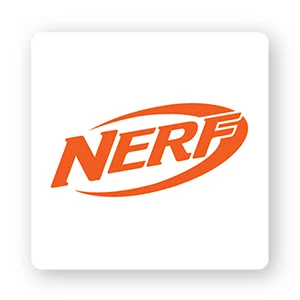 Amusement park is a giant playground for both children and adults, inspiring fear, imagination and joy. See how these famous logos convey magical moments inspired by an amusement park.
Frank Kent Fort Worth Dream Park
Frank Kent's Dream Park in Fort Worth is a playground for children of all ages to explore and let their imaginations run wild. You'll notice that Dream Park's color palette includes rainbows. It is best to use 2 to 3 colors maximum, but in this case it is beneficial for them to enhance imaginative thinking and excitement.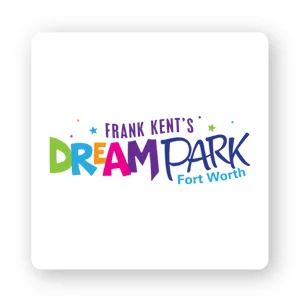 Adventure World's logo has a distinct early 2000s vibe going on. The most notable design element are the roller coaster tracks that run along the circular frame. The initials "AW" appear to be close together; the beginning of the letter 'W' ends with a drop of water, which leads one to assume that it is also a water park.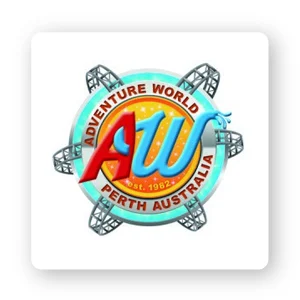 Many successful businesses use their name to announce their logo design. Mimicking the word "luna", the Luna Park logo consists of a crescent (thin blue) and a waxy moon (orange oval). Blue signals parents that their home is respectable and trustworthy, while orange tells kids that it's time to party.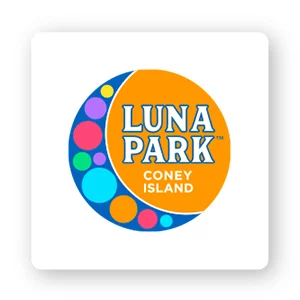 Playland decided to rely on  the wordmark  , which is a logo with only the name of the business, no images or logos attached. That means Playland relies on only 2 design elements: colors and fonts. The dark blue color gives a sense of security and trust, while the fancy font adds a bit of mystery and excitement to the overall design. Also, it helps the 'y' and 'n' brackets look like a slide.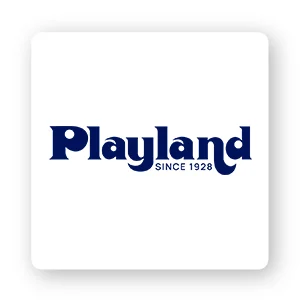 By now, you may have noticed that a lot of logos for kids—no matter what kind of business they run in—use a variety of rainbow colors in their designs. Most logos should use 2 to 3 colors, but children's logos tend to have more space because children are attracted to energetic splashes of color.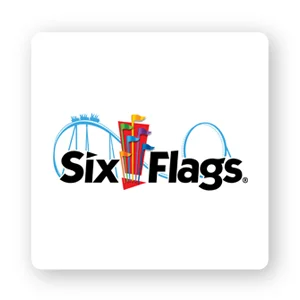 Whether it's a party planning business or an all-inclusive party supply store, these logos will show you how it's done in the entertainment business.
The first emoji that pops up when you type "party" on your phone is a balloon. That's because balloons have always symbolized joy and celebration. The folks at My Deco Balloon promise to bring fun to your next party with imaginative, unique balloon decorations for your occasion. The logo embraces that promise. The black "Deco" and the colored "balloon" aim to show you what your before and after party will look like when they smash the big balloon guns. And the small scratch on "mine" is like an afterthought to emphasize that it is truly catered to customer specifications.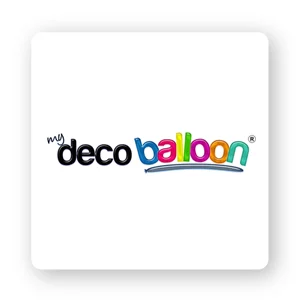 One of the first rules of logo design is to keep it simple. The font's long thin strokes and well-spaced letters convey a sense of sophistication and professionalism. Notice how "Little Miss" is written in a pencil-thin font, while "Party" is a much thicker font. This is a good technique to add depth and appeal to your logo.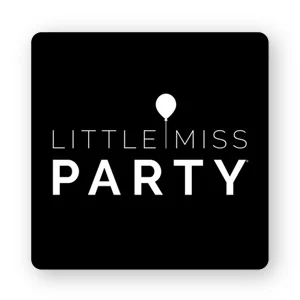 Party Solvers Entertainment
If you need to throw a party but don't know how, let Party Solvers Entertainment join in. I'm not sure if a balloon detective bunny will show up on your doorstep, but their logo promises that they will. Bring energetic fun and excitement to your party.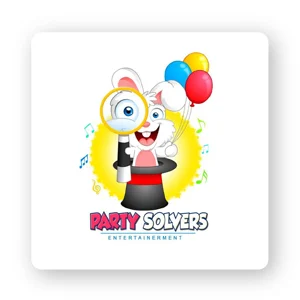 Even if I don't tell you Goin' on an Adventure, just from the name and Indiana Jones-style font you can tell it's an entertainment company. As an interactive party experience for kids, the fairly simple logo allows the kids to be a part of the story and create their own adventure.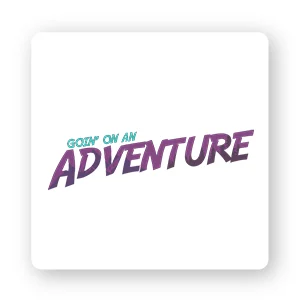 Party City may be the place I spent hours as a kid trying on dozens of Halloween costumes, but it's also the one-stop shop to find everything you need to throw a party. Block text and colorful palettes let customers know they're happy and ready for any occasion.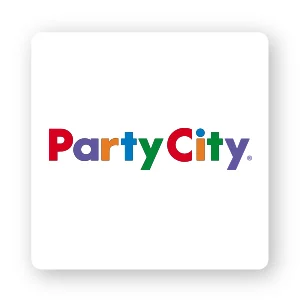 There's no better way to express your kids' fashion brand personality than with a stunning logo. Check out these great logos below to see how successful brands use their logos to grab their customers' attention.
Primary promises soft, simple clothes that kids and babies will love. The yellow abstract zigzag is actually one of many characters known as the Primary. In their words, the new logo is "simple and true to our roots, with a rainbow shape that is so specific to our clothing and brand personality."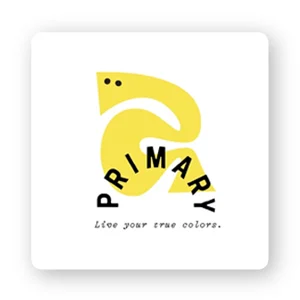 Did you know the baby in the stroller looks cooler and more well-groomed than you? Yes, they're probably wearing Kinderkind, the most stylish toddler brand for stylish kids. To create that cool, modern feel, they used a simple sans-serif font with wide spacing between letters. And gold stars because all these kids get gold stars for their ootd.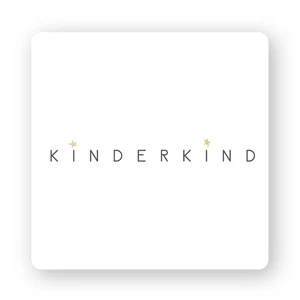 Inspired by the innocence of childhood, the mother-daughter duo behind Little Moony created unique, handcrafted designs. The keyword most customers use to describe the brand is "magic," which the script font and dandelion logo only confirm.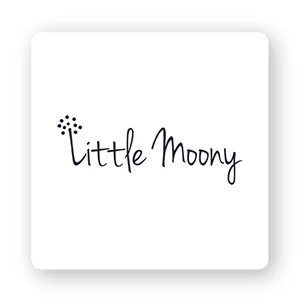 Children's clothing Red Balloon
You should always use your business name to shape your logo design. Something I really like about this logo design is the layout. Stacked texts serve as the background for the design while the kid releasing the red balloon allows your imagination to soar far from the ground.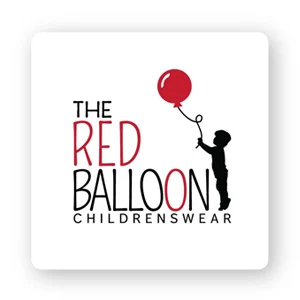 Beebay Kids prides itself on creating unique, high-quality clothing for over a decade. The 3 words fun, adventure and naughty tell you everything you need to know about the brand. That's why they used 6 colors in the logo instead of 3 max. The cute bee symbol hovering above the "bee" part of the logo also adds a sweet touch.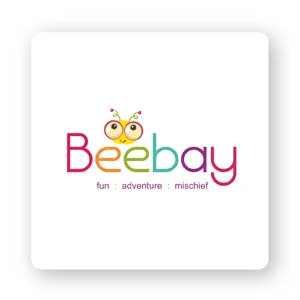 Delicious and sweet or tart, check out these popular candy logo designs that will satisfy any sweet tooth.
The Hubba Bubba logo is surprisingly light for a beloved gum that has defined the childhood of millennials. The only notable thing about the Hubba Bubba logo is the serif bubble font written on a slight diagonal.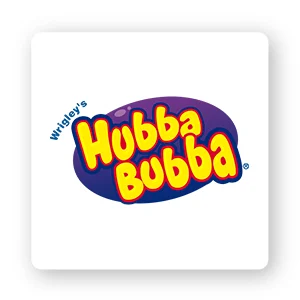 The most notable comment about the Skittles logo is the red background. Especially when used in a logo, red is known to increase feelings of hunger and excitement, making it the perfect color combination for a candy company. The Skittles logo uses the power of the rainbow and all its colors to appeal to children while laying the foundation for the overall logo with a clean design that also appeals to adults.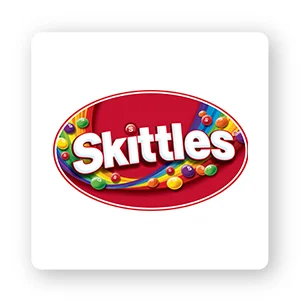 M&M candies have a timeless value—the candy you pass through the line at the movie theater and eat every Halloween until you (almost) regret it. Popular chocolate brands don't need a flashy logo to stay on top. The serif font emphasizes timelessness, and the brown color conveys reliability. Those are the two perfect synergistic qualities of M&M.
Who says kids only want sweets? The Sour Punch candy brand offers sour candies, straws, and bite-sized candies. Interestingly, the lightning through the word "sour" conjures up images of what you would look like when your face wrinkled when you eat something sour (including a green face).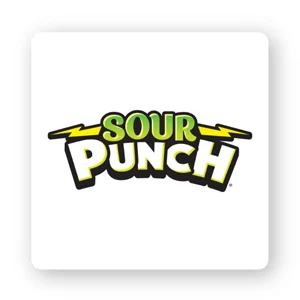 When it comes to logo color palettes, the general rule of thumb is to use 2 colors, up to 3 colors. But only Nerds (and Skittles) broke this logo design principle and made it work in their favor. The two shades of blue act as a solid backdrop for the eye-catching circles that represent the actual candy.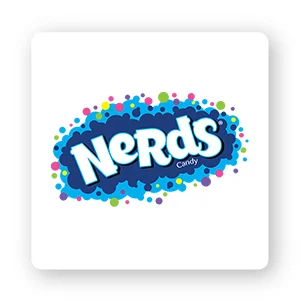 As you may have noticed, some of the same themes keep repeating themselves. First, a kids logo should be playful and fun for kids and believable for adults. Second, kids logos need to have eye-catching visuals like rainbow color grading, fun mascots, and fun fonts. And third, use your logo to tell the story of your brand or play your business name. My final piece of advice: Give your kids a lot of thought and care in the long run. Happy designing!