Gucci – an Italian high-end fashion brand with more than a decade of establishment and development has affirmed its name in the world fashion industry. To achieve that success, Gucci has implemented effective marketing strategies on many different channels. Let's read the article below to better understand Gucci's marketing strategy.
Overview of fashion brand Gucci
The House of Gucci or simply Gucci – fashion brand founded by Guccio Gucci in Florence in 1906.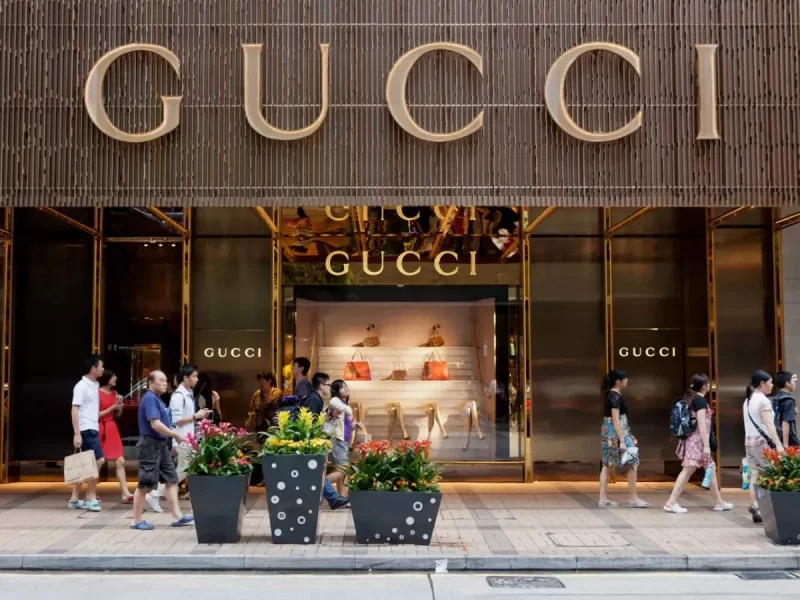 Gucci is one of the world famous fashion brands. After more than 100 years of development, Gucci currently has more than 425 stores in many major cities around the world and many other franchise stores.
The Gucci brand has a logo shaped like two Gs interlocked upside down, creating a characteristic horseshoe shape. With their ingenuity, Gucci designers have put this symbol on handbags, shoes, glasses, clothes… and become a characteristic feature of this brand.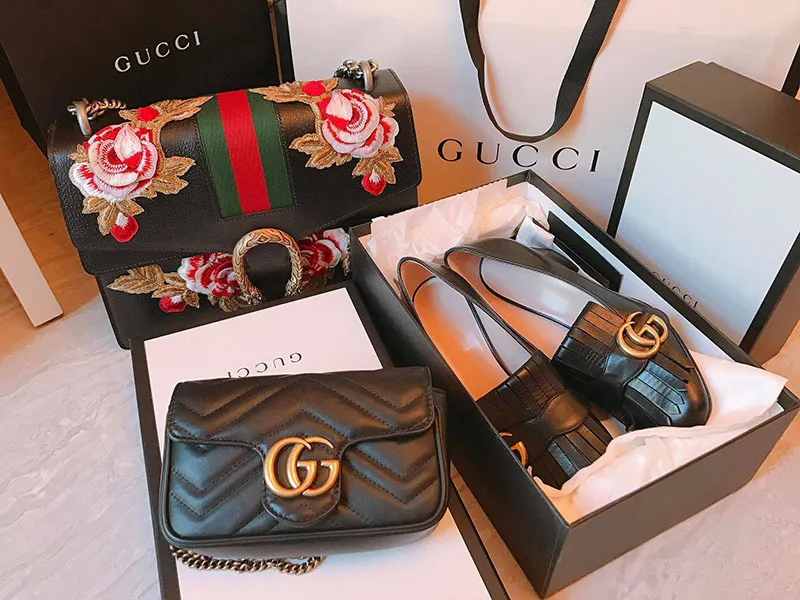 A few milestones mark the formation and development of Gucci:
1920: Guccio Gucci – founder of Gucci opened a small company selling handbags and saddles in Florence.

1930: Gucci attracts a large number of fashionable upper-class customers with products such as handbags, shoes, gloves and belts for equestrians.

1950: Gucci opened stores in New York, London, Milan, Palm Beach, and Beverly Hills to create a leading brand. This was also the year that Gucci's famous striped fabric belt and metal-embellished leather shoe were born

1970: Gucci expanded its business to Asia by building new stores in Hong Kong and Tokyo.

1990: Tom Ford became design director of Gucci

1999: Implemented an alliance with Pinault – Printemps – Redoute and transformed the entire company from single brands into a multi-brand group called Kering

2000: Opened more stores in many major cities around the world, marking Gucci's presence globally.
With a unique personality, Gucci has become a fashion brand that strongly attracts consumers. In Vietnam, in 2007, Gucci opened its first store at Sheraton Saigon Hotel, Dong Khoi Street, City. Ho Chi Minh City and three years later Gucci opened a second store at 63 Ly Thai To, Hanoi. With stores in major cities of Vietnam, Gucci has met the needs of shopping for high-end brands of domestic fashion enthusiasts.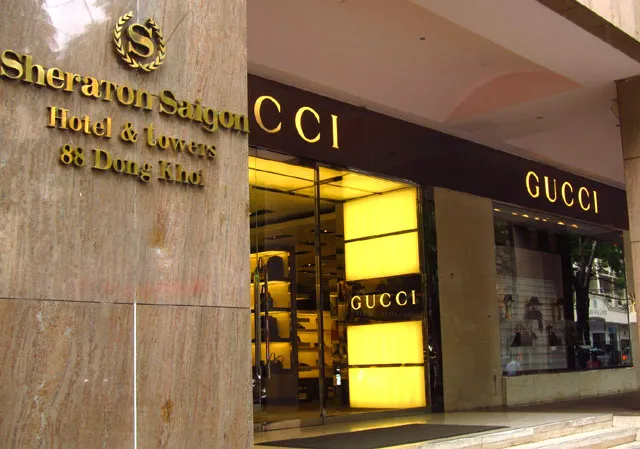 Gucci SWOT model analysis
Analysis of S (Strengths) – Gucci's strengths
When mentioning Gucci, consumers will remember the image of a high-end fashion brand with a worldwide presence.
With a large store system, Gucci strictly controls distribution channels. This is also considered part of Gucci's defensive strategy to capture added value instead of selling products through other intermediaries such as suppliers or retailers.
In addition, Gucci also increased the number of stores they directly manage and operate. In 2003, revenue from directly operated stores accounted for 63.1%, compared to only 32.5% in 1999.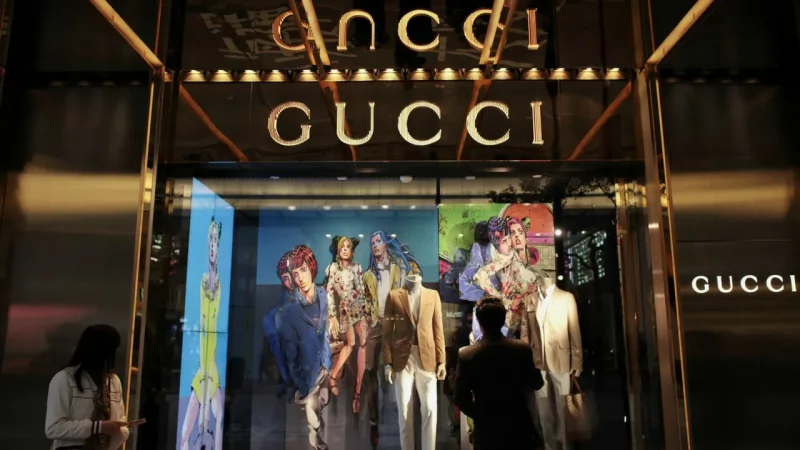 W analysis (Weaknesses) – Gucci's weaknesses
Gucci's weaknesses include instability in management as well as financial basis, and conflicts of interest within the business. The instability in management has significantly affected the company's strategy, causing Gucci to fall into a difficult situation for a time.
Weak financial base undermines high margins in debt. In 1998, the increase in long-term debt was $17 million and in 1999 it increased to $143 million and in 2003 it increased to $1.3 billion.
Besides, having to invest in protecting and maintaining the brand image also costs Gucci a significant amount of money.
O Analysis (Opportunities) – Gucci's Opportunity
Emerging high-end markets in highly developed and populous economies such as China and India are great potential for high-end fashion brands, including Gucci.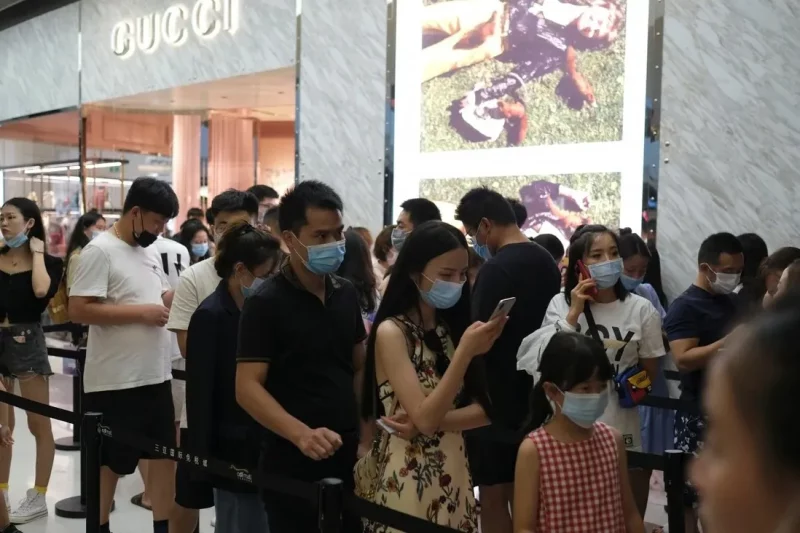 Developing Gucci's different business segments and creating products in the fashion field is a great opportunity for this famous fashion brand.
T Analysis (Threats) – Gucci's challenge
As a high-end and luxury fashion brand, Gucci is not out of line when it comes to competition from other brands. Not to mention there are times when sportswear brands like Adidas and Nike surpass many names like Chanel, Louis Vuitton, and Gucci in terms of searches and likes on social networks.
It can be seen that there are times when ladies are too tired of branded items that quickly go out of style and instead opt for dynamic, healthy outfits.
In addition, a big challenge for Gucci is that items and products are often copied on the market. Therefore, real customers can turn their backs on them to avoid contact and show class that not everyone has.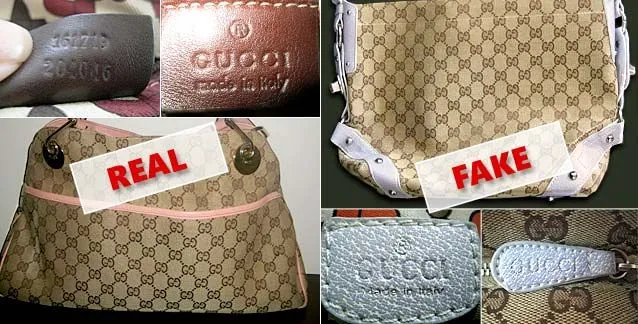 Analyze Gucci's marketing strategy
Gucci's shocking advertising strategy
Under the guidance of Tom Ford – Creative Director, Gucci has taken  "sex sells"  (Advertisements with strong sexual elements) to a new level. Not only recreating Gucci product lines to launch seductive, modern outfits, but also working with the creative team to create Gucci's erotic TVCs.
With a shocking advertising strategy applied at the right time and in the right place on a sensitive topic, Gucci quickly attracted the attention and discussion of fashion enthusiasts as well as consumers. The reason behind the success of the strategy of introducing "sex sells" may come from an obsession with famous figures in pop culture, mixed with a bit of "pop moment" – which is used to refer to "the return of glamor" in fashion. This is considered one of Gucci's unique marketing strategies.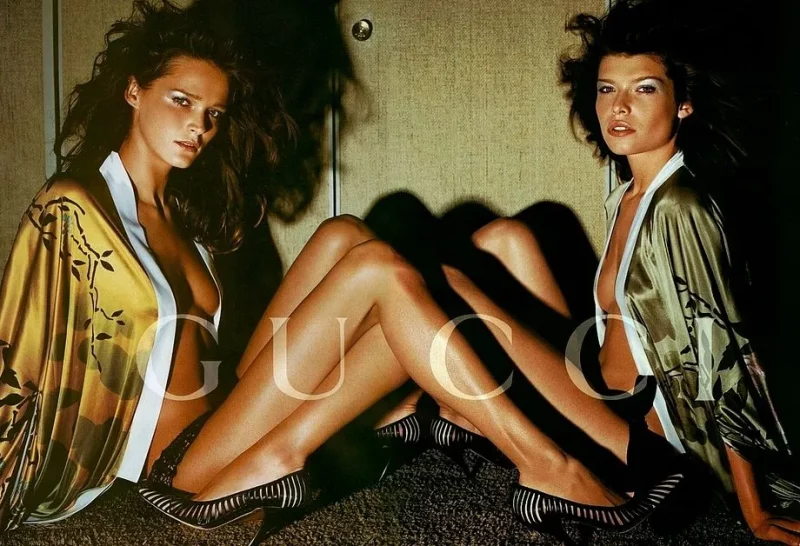 Recently, in the promotional photos of the Spring 2020 Collection, Gucci brought a classic but also extremely rebellious atmosphere and attracted special attention from fashion enthusiasts.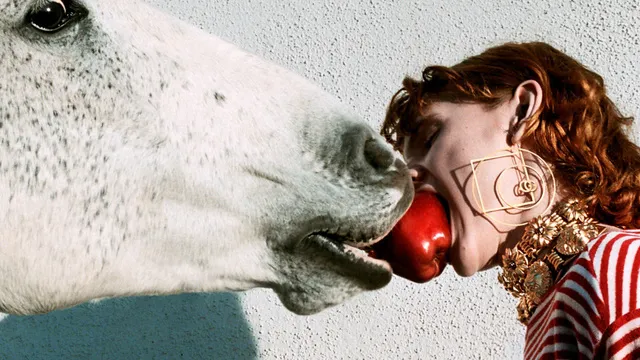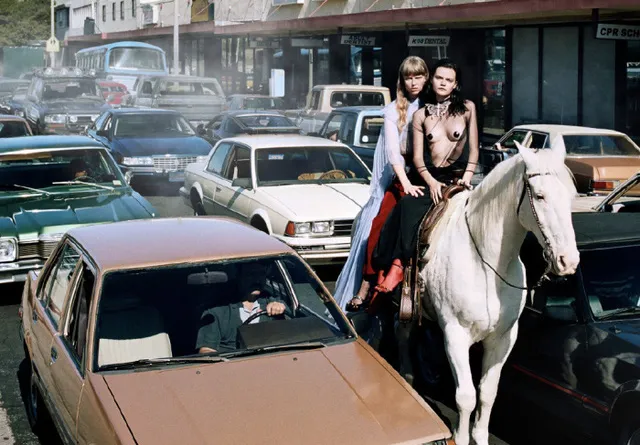 Influencer marketing strategy – cooperation with "Showbiz Icons"
With its flexibility, Gucci quickly cooperated with stars,  "Showbiz Icons"  to promote, introduce and affirm the position of this luxury brand.
Famous and influential fashion style icons such as Harry Styles, Kate Moss, Rihanna, Victoria Beckham… are famous names representing the Gucci brand in many advertising campaigns.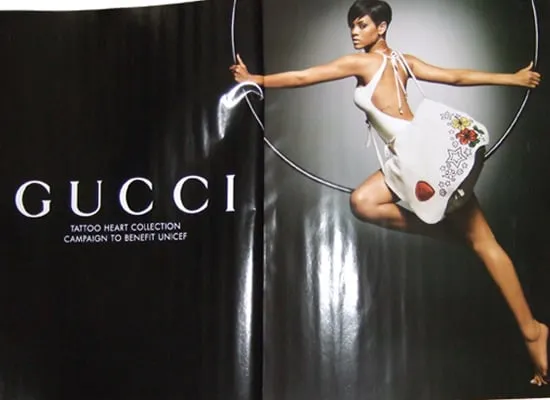 Under the new Creative Director – Alessandro Michele, this brand continues to maintain cooperation with the world's top stars. Global "youth idols" such as Harry Styles, Lana Del Rey, EXO Kai, Jared Leto… were all "recruited" by Gucci and became their brand ambassadors.
Immediately after EXO Kai appeared as a guest to admire Gucci's 2019 Cruise collection in France, the amount of discussion about Gucci quickly peaked and became a trending trend on Twitter.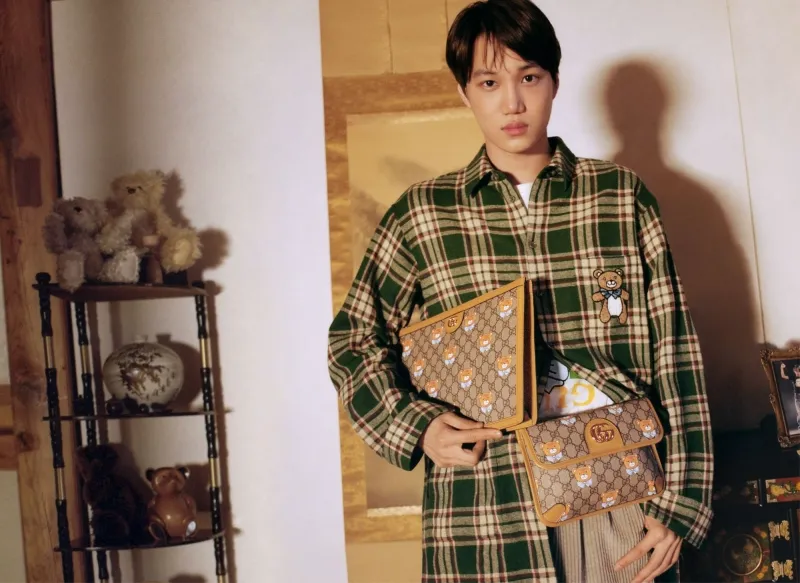 In Vietnam, Gucci also actively organizes events for stars and Fashionistas with the participation of many famous names such as Quynh Anh Shyn, Khanh Linh Co Em Trendy, AMEE, Chau Bui… contributing to bringing the brand Gucci comes closer to young people.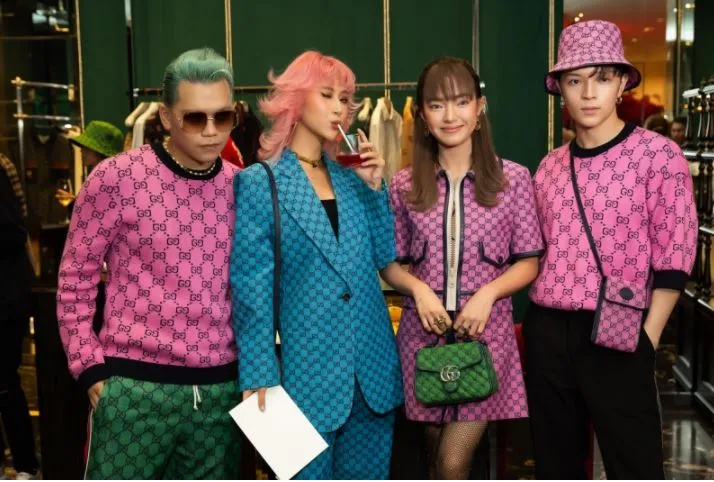 Meme Marketing – using memes without being afraid to be "inferior"
Not afraid to "catch trends" and "have fun" despite its luxury and high-end brand positioning, Gucci has created a lot of witty content and humorous meme images suitable for the Millennials customer base. Y system). The content quickly spread at breakneck speed on social sites and reached 120 million views (as of 2017).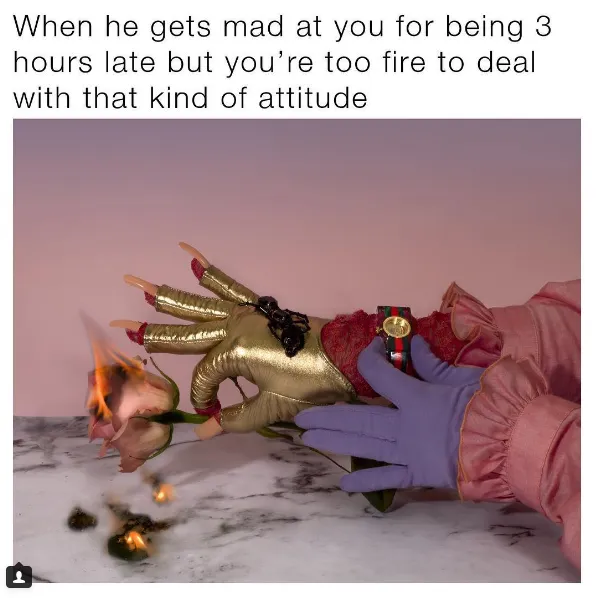 With its new watch promotion campaign, the "That Feeling When Gucci" campaign, this brand has created a series of humorous, interesting images that are suitable for customer psychology and are not "less luxurious". ". This Gucci marketing strategy is considered closer and closer to Gucci's young customers.
Summary
With a flexible marketing strategy, Gucci has taken advantage of many different marketing channels and achieved positive results. Unlike some other luxury brands, Gucci always creates intimacy and constantly updates new "trends" quickly to join young people in new trends.
Hopefully you have learned useful knowledge from Gucci's marketing strategy, thereby helping to implement effective marketing strategies for your business!
Visit our blog regularly to update great marketing knowledge!