Aba is one of the familiar washing powder brands in Vietnam in general and the West in particular. To achieve this success, Aba has implemented effective marketing strategies. Let's analyze and learn about Aba's Marketing strategy in the article below.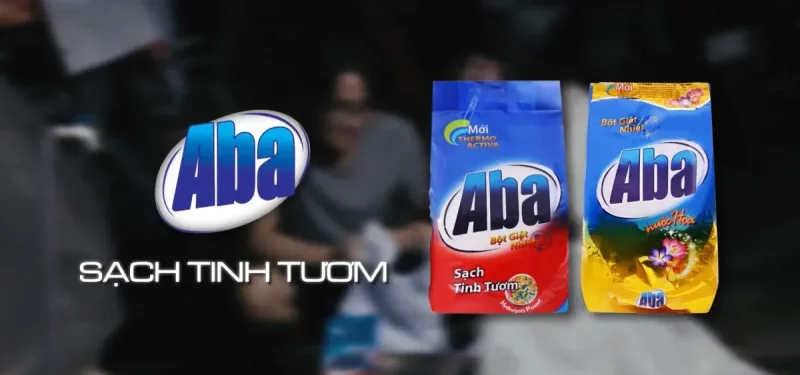 Overview of Aba washing powder brand
Dai Viet Huong Production & Trading Company Limited (VIETCOS),  formerly Viet Huong Cosmetic, was founded by a group of chemical engineers and medical doctors working at Can Tho University more than 15 years ago with famous brands. Deep into the hearts of Vietnamese consumers are Biona, E100 and Aba. The company's headquarters is located at 111 Nguyen Trai, District 1, Ho Chi Minh City. The main line of business is the production and sale of cosmetics, soaps, detergents, polishes and hygiene products.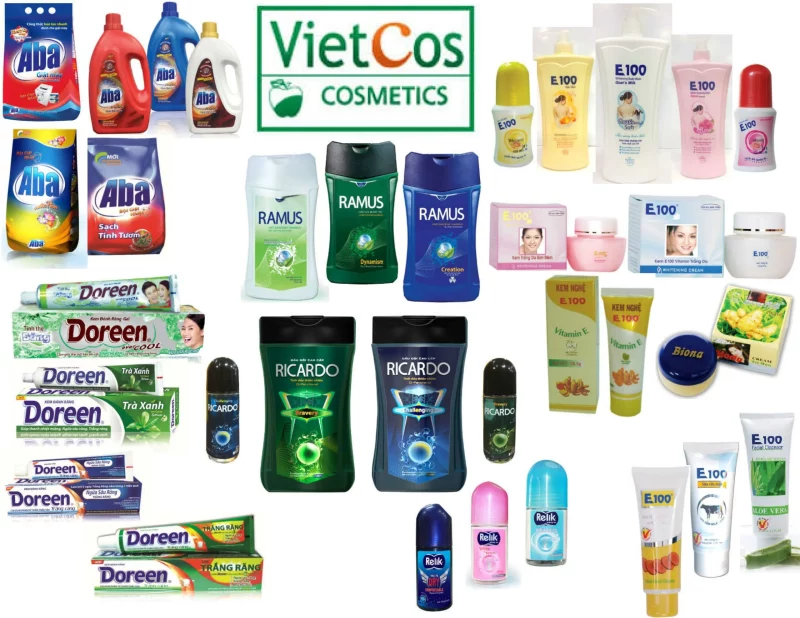 It started with regular skin care products such as sunscreen, skin whitening products and acne treatment products.
With the advantage of working in universities, this group of engineers and PhDs often have the opportunity to go to major laboratories around the world. They select and apply advanced scientific formulas, improve the application of existing products, and develop new products.
Over many years of formation and development, consumers increasingly trust and love brands such as Aba, E100, Biona,… This has given the company a strong spiritual strength to develop and present. actualize your goals.
In April 2007, the company invested in building a new cosmetic chemical factory at Lot A4, National Highway 1A, Hoa Phu Industrial Park, Hoa Phu commune, Long Ho district, Vinh Long province with initial capital. Investment of 5 million USD, factory area of ​​nearly 10,000 m2, capacity of 6,000 – 14,000 tons of products/year.
Along with a modern production line of body care products (including shampoo, shower gel, lotion) and family care products that meet cGMP (cosmetics Good Manufacturing Practice) standards. The factory was completed and began operating in early 2009, creating 500 additional jobs for workers.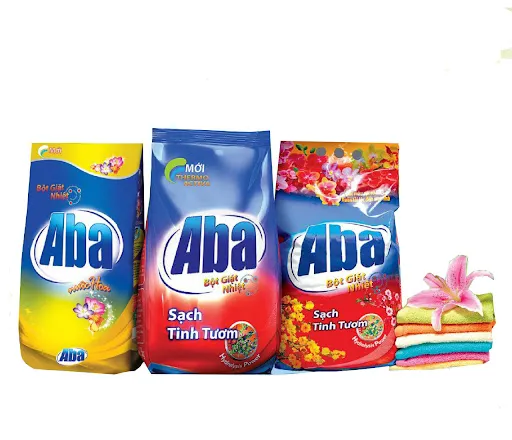 ABA washing powder products entered the washing powder market in 2012. After one year of launching the product, it accounted for about 10% of the market share in the southern region. Aba currently only has about 7% but is still high compared to other brands. Other Vietnamese laundry detergent products.
Currently, Aba is considered a key product in bringing the company to a wider audience, helping to increase revenue and profits significantly for the company. Along with that, Aba also contributed to bringing Dai Viet Huong many meaningful awards such as: Top 10 Leading Vietnamese Brands, Top 10 Trusted Vietnamese Products and Services, High Quality Vietnamese Goods Brand 6 years in a row,…
Analyze the STP and SWOT model of Aba detergent
Analysis of STP model of Aba detergent
STP is an important marketing strategy that helps businesses gain an effective competitive advantage by focusing on serving a group of customers in a specific target market.
STP stands for three words: Segmentation, Targeting and Positioning. Simply put, STP is a strategy that helps businesses identify market segments, select specific target markets as well as successfully position their brand.
When applying the STP strategy, businesses will focus their resources on exploiting one or several customer groups where they have a competitive advantage (target market), building their own, clear image in the market. that school.
Instead of targeting a large number of different customers without selection, wasting time and resources, with the STP strategy, businesses will only focus on a few customers with different characteristics. certain similar characteristics, thereby designing a marketing strategy suitable to your target market and achieving high business efficiency.
>>Read more :  What is STP? 4 steps to build the most effective STP Marketing strategy
For the Aba washing powder brand, Aba's Marketing strategy according to the STP model can be analyzed as follows:
Segmentation (Market segmentation) of  Aba detergent
Market segmentation  helps businesses better understand each target customer by capturing their main characteristics, needs as well as behavior and psychology from which to build strategies. Marketing as well as sales strategies suitable for each market segment.
>>Read more :  What is market segmentation? The 4 most popular types of market segments in 2021
If you look at the detergent market, it is easy to see that multinational corporations such as Unilever or P&G have long occupied almost the entire market share in this industry. That makes it difficult for a new domestic brand like Aba to take a piece of that "cake".
Aba understands that it needs to find a segment that other brands have not yet reached. At that time, this brand realized that most of the big players in the industry were targeting modern families in the city. Therefore, Aba chose the rural Southeast and Mekong Delta as its market.
Targeting ( Target market )  of Aba washing powder
After conducting market segmentation, businesses need to select their customer group. This specific customer group is the customer group that businesses want to reach through their marketing activities and campaigns. This is a group of customers who are more likely to be interested in the business's products and services than other customer groups. As for the target customer group, they share common characteristics such as: demographics, education level, income, psychology and behavior,…
Read more:  What is a target market & 6 steps to identify and implement effectively for every Business
Aba chose his target market as households living in the rural areas of the Western region, the people here have a gentle and honest appearance. Their daily life is not too fussy about details and always cares for each other down to the smallest things. At the same time, they typically watch Korean movies and Chinese movies from the 2000s.
That explains why Aba's TVC commercials are often characterized by lengthy scripts and voiceovers like 2000s movies. Aba's TVC is often criticized by the online community (young audiences) for being confusing. However, this content is quite popular in the rural market and effective for Aba's target customers.
Positioning (Brand positioning) of Aba washing powder
Determining your position in the  brand positioning process  is a method used to create a different image for a business's products compared to competitors' products. From there, it contributes to creating an impression on customers and businesses are also able to penetrate customers' awareness.
>>Read more :  What is brand positioning?
Aba has succeeded in positioning itself as a brand that is close and familiar to people in the countryside, specifically the Mekong Delta. Therefore, in many areas, Aba is the brand that dominates the detergent market, and surpasses other major brands.
SUMMARY TABLE OF STP OF ABA DETERGENT POWDER
| | | |
| --- | --- | --- |
| Segmentation (Market Segmentation) | Targeting (Target market) | Positioning (Brand Positioning) |
| rural areas of the Southeast and the Mekong Delta | Families living in the Western countryside, the people here have a gentle and sincere appearance. | A brand that is close and familiar to rural people |
SWOT analysis of Aba Detergent
The SWOT model  is a famous tool known and applied by many businesses because of its usefulness in helping managers analyze important factors inside and outside the business from which to establish strategies. appropriate strategy and business plan.
SWOT stands for 4 words: Strengths, Weaknesses, Opportunities and Threats – is a famous model that helps businesses analyze and build your business strategy effectively.
Through SWOT analysis, businesses will clearly see their goals as well as factors inside and outside the organization that can positively or negatively affect the goals set by the business, from which they can develop sales strategies. suitable products to increase revenue.
Regarding the SWOT analysis of Aba washing powder, this brand has a number of strengths that need to be promoted, weaknesses that need to be overcome as well as opportunities that can be seized and challenges that need to be faced as follows.
Strengths of Aba Detergent
Product quality : Aba has combined 4 factors: safety for hand skin, whitening, keeping fabric color fresh and fragrance of washing powder into one product that has attracted a lot of attention. favorite and has been trusted and chosen by Vietnamese housewives.
Competitive price : Aba thermal powder products have prices suitable to consumer tastes, lower than other similar products.
Modern technology : Dai Viet Huong Company has applied modern and advanced technology to the production process, and created the highest quality Aba thermal washing powder products. Because of always upholding the criteria of putting customers' interests first, Aba thermal washing powder products have long penetrated deep into the hearts of consumers.
Wide distribution : Aba's distribution system is widespread throughout the provinces and cities, especially well-developed consumer markets such as the Mekong Delta.
Weaknesses of Aba washing powder
Market share is unevenly distributed : Because of its positioning as a brand close to rural people in the West, Aba has not yet been able to compete with other competitors, and dominate the urban market like the North.
Not well trained staff : Continuous growth in recent years has put pressure on the company's management system and human resources. Many new products have been launched on the market but have not achieved the expected development. The reason is that the staff does not have enough capacity.
Opportunities of Aba detergent
Potential market : The consumer goods industry in Vietnam has the potential for strong and stable growth. The country is increasingly developing, leading to people's income also improving significantly. Since then, the domestic detergent market has also grown rapidly, opening up many opportunities for young brands like Aba.
Market development : Vietnam's geographical location and natural conditions are relatively favorable for distributing products internationally. Along with that, the opportunity to expand in Aba's northern market is huge.
Threats (Challenges) of Aba detergent
Fierce competition : Detergent is an essential consumer product so there are many competitors such as OMO, Tide, Ariel,… These are also the brands with the most market share in this industry.
Counterfeit goods are widespread : Aba's counterfeit goods and fake labels affect the company's brand reputation in general as well as the profits of Aba thermal washing powder products in particular.
SUMMARY TABLE SWOT ANALYSIS OF ABA DETERGENT POWDER
Strengths
Weaknesses
Opportunities (Opportunities)
Threats (Challenges)

Product quality
Competitive price
Modern technology
Widely distributed

Market share is unevenly distributed
Not well trained staff

Potential market
Market development

Fierce competition
Counterfeit goods are widespread
Analyze the Marketing Mix strategy of Aba detergent
Aba is one of the familiar washing powder brands in Vietnam.  To achieve this success, Aba has effectively deployed Marketing Mix strategies  according to the 4P model . So  what is Aba's Marketing strategy  ? How did Aba implement the Marketing Mix strategy?
Marketing strategy of Aba washing powder regarding products (Product)
Products are always the core of every business, and a good product needs to meet the needs and desires of customers, otherwise competitors will lose market share or even be eliminated from the market.
Aba's product portfolio is very diverse, but in general it can be divided into two main types: washing powder and washing liquid. Besides, Aba also launches product lines with diverse sizes such as: 45g, 360g, 400g, 720g, 800g, 1.5kg, 2.75kg, 3kg,… to make it more convenient for consumers and have can be best preserved.
To meet the increasing needs of the market, Aba also focuses on developing new and different product lines to easily compete such as washing powder to protect washing machines, easy-to-dissolve washing liquid to save time, and laundry detergent. Perfume uses FREP flexible scent release technology to help preserve fragrance for a long time.
By applying Thermoactiva technology that generates heat in the process of dissolving laundry detergent, Aba creates a comprehensive activation process, promoting hydrolysis of enzymes to increase detergent activity and break down molecules. Stubborn dirt in many different compositions and structures helps remove stains quickly.
In particular, the product contains cellulose derivatives with optimal anti-re-sticking properties, making clothes exceptionally white and bright, and biological enzymes help easily remove all stubborn stains without affecting the user's health. use.
Marketing strategy of Aba detergent in terms of price (Price)
Price is one of four important components in  the marketing mix . It plays a decisive role in consumer purchases, and for companies, price plays a decisive role in competition in the market. Introducing a pricing strategy in marketing is important for businesses because it directly affects the sales and profits of the business.
According to McKinsey, just improving the price factor by 1% will increase profits by 6%. That has more impact than a 1% reduction in variable costs (which increases profits by 3.8%) or a 1% reduction in fixed costs (which increases profits by 1.1%).
Currently, in the laundry detergent market there are many brands competing with Aba such as OMO, Tide, Ariel, etc. Therefore, to be able to compete with competitors, as well as expand your market share, Aba has applied  the market penetration pricing strategy (Penetration Pricing Strategy).
Penetration pricing is a marketing strategy used by businesses to attract customers to a new product or service by offering a low price compared to the market during the initial offering. Lower prices help a new product or service enter the market and attract customers from competitors. Market penetration pricing is based on the strategy of using a low initial price to attract more customers to a new product.
The goal of a market penetration pricing strategy is to entice customers to try a new product and gain more market share in the hope of keeping customers there when prices increase back to normal levels. Examples of this pricing strategy include online news websites offering a free month of service to customers who sign up or a bank offering a free account. for six months.
It can be seen that Aba's customers are mainly housewives. The characteristics of these people are that they are fastidious and consider carefully the design, quality, price, etc. to find the most suitable product for their family. At the same time, Aba's target market is the Mekong Delta, and people here live mainly in rural areas and have average income.
Therefore, Aba aims to cut production costs to lower prices for consumers. This brand has relied on domestically available raw materials to replace imported materials, thereby reducing purchasing costs, as well as reducing import taxes.
Aba's current price ranges from 16,000-200,000 VND depending on product capacity, and is 10% cheaper than Omo.
Marketing strategy of Aba detergent in terms of distribution system (Place)
Through using the right distribution system, a company can increase sales and maintain positive figures over a longer period of time. This means a larger market share and increased sales and profits.
Precise positioning is an important activity that is focused on reaching the right target customers at the right time.
Vietnam market with 75% of people living in rural areas, and the traditional retail market is the majority with more than 450,000 stores, with wholesale stores still dominating. Besides, Vietnamese consumers have the habit of buying every day, instead of going to the supermarket on weekends to buy enough goods to last the whole week. Therefore, Aba takes advantage of available channels such as a system of markets and wholesalers.
At the same time, due to the general consumption trend of Vietnamese people today, they are increasingly accessing modern distribution channels such as supermarkets and buffet stores. Therefore, Aba has implemented a strategy to distribute its products through these retail channels.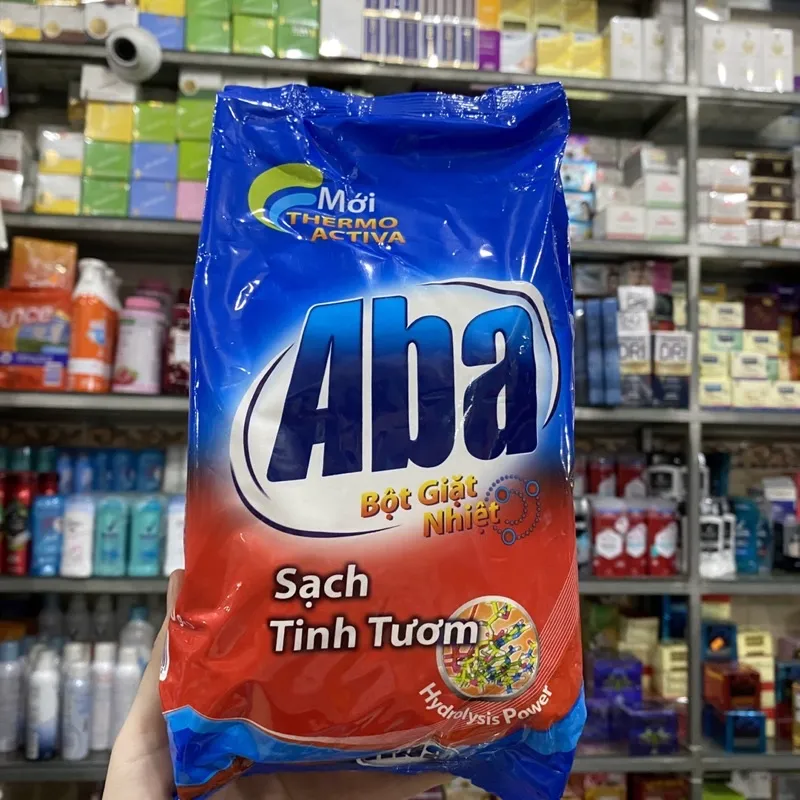 Specifically, Aba products are sold at retail supermarkets such as BigC, Coopmart, Aeon mall, Vinmart, Lotte mart, etc. These supermarkets directly distribute products to final consumers, by giving them to customers. Consumers choose their own favorite and suitable products and product lines.
Marketing strategy of Aba washing powder on mixed promotion (Promotion)
Promotion is a necessary business activity to keep pace with the consumer market. Currently, Aba's promotion strategies mostly focus on TVCs, and these commercials are shown during prime time on national television stations such as VTV1, VTV3…
For nearly 10 years, Aba's advertising has remained faithful to "unlike any other" content, and almost every TVC segment has a "twist" that completely changes the plot or is even unrelated to the story. previous content. This seemed like a failed campaign, but thanks to that, Aba received a lot of attention, from the press to posts shared on social networks.
With a "unlike any other" strategy, Aba's promotional videos posted on Youtube have attracted millions of viewers, an unimaginable number for a normal TVC. Some outstanding advertisements include "The Story of the Fish Market" (2017) with 20 million views, "Love has a term, a lasting marriage" (2019) with 23 million views, and especially the latest TVC, "Picnic" (2020), reaching 30 million views.
But is it true that Aba did not calculate anything and it was all a fluke?If we look back at the target market of this washing powder company, we can see that Aba targets households living in the rural areas of the Western region, people here have a gentle and honest appearance. Their daily life is not too fussy about details and always cares for each other down to the smallest things.
That's why Aba's illogical details are absurd to many people. But for the people here, they see themselves in it, and that is their daily life.
In addition, if you pay closer attention, the content and context in Aba's TVC are all reminiscent of Philippine films, or Korean, Taiwanese, and Chinese films of the 2000s – the favorite film genre of ladies. housewife in the Western countryside. Because, with little exposure to the Internet and other forms of entertainment, the above movies are part of the culture of women in these rural areas. Therefore, they feel more familiar when watching Aba's TVC.
Summary
Aba is one of the familiar washing powder brands in Vietnam in general and the West in particular. To achieve this success, Aba has implemented effective marketing strategies.
In this article, we have provided you with detailed information such as:
Overview of Aba washing powder brand
Analysis of STP and SWOT model of Aba detergent
Analyze the Marketing Mix strategy of Aba detergent
Hopefully you have learned useful knowledge from  the marketing strategy  of Aba laundry detergent, thereby helping to implement effective marketing strategies for your business!
Check out some other good articles: