In recent days, the name Non Son has suddenly been mentioned by the online community on many forums. It is rumored that Non Son's products are both high and expensive, the shop is empty of passersby but still stands and exists for many years. Non Son stores are always located in prime locations and streets in Hanoi and attract passersby's eyes with their vibrant pink color. What is the secret behind this business model that is making the online community extremely curious?
Conspiracy theory about Non Son
Social networking sites simultaneously shared articles and mock-ups about Non Son that had many similarities in the movie "Kingsman Secret". In the film, the headquarters of the agents is hidden behind a deserted tailor shop, but deep inside is an active secret room, containing modern and advanced weapons.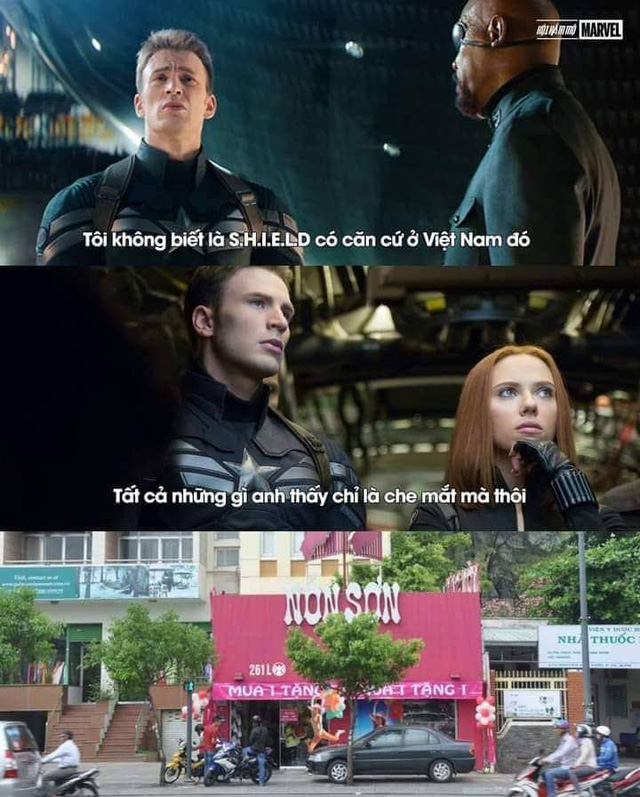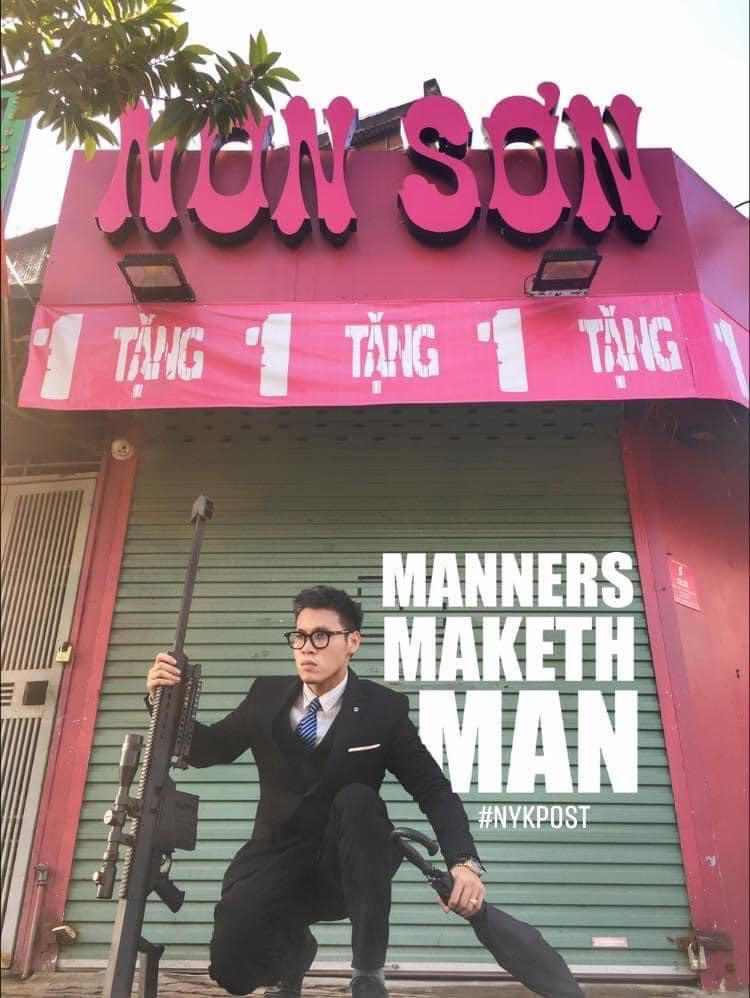 This is the same with Non Son – a store with outstanding colors is always located in a large and beautiful location in the inner city districts of Hanoi, not many people outside but still operating and existing from year to year. another year. Netizens joked that selling hats is just a disguise. It is possible that deep inside Non Son is a special agent organization.
But not! There are no conspiracy theories. All these curiosity proves the success of Non Son when building a brand strategy, a methodical marketing strategy, hitting the psychology of many customers.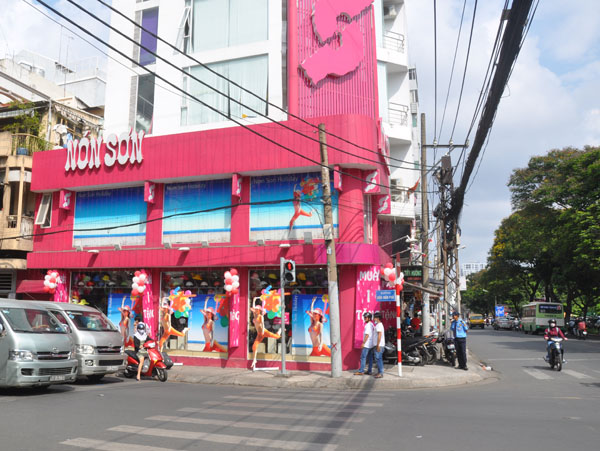 History of Non Son formation
The trip to Saigon on the hot summer days of 1992 became the birth of the 26-year-old Non Son brand in today's market. After searching forever and could not buy a satisfactory sun hat, Mr. Tran Anh Son and his wife, Nguyen Thi Thu Ha, came up with the idea of ​​starting a hat business. At that time, Mrs. Ha was a flight attendant, in charge of importing goods from Korea, and Mr. Son went to remove termites and consign them to clothing stores.
After three years of only importing goods to sell, observing that consumers have more diverse designs, Mr. Son and his wife decided to invest in production. He used his name as a product brand, designed his own logo to simulate the image of two hats facing each other, and registered his trademark in 1996.
10 years later, the new Non Son Fashion Co., Ltd. was established and opened its first store at the intersection of Hai Ba Trung – Dien Bien Phu, District 3, Ho Chi Minh City. This first point of sale is currently one of more than 200 Non Son stores nationwide, of which about 30% are located in districts in Ho Chi Minh City.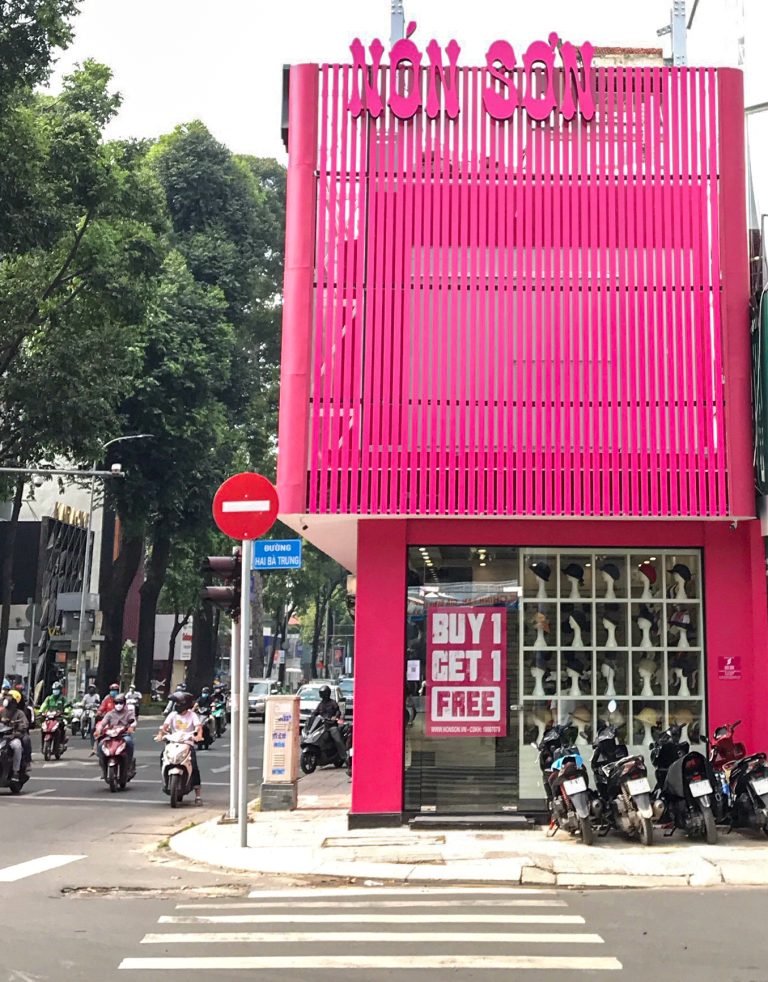 All stores are self-operated (non-franchised), about 70% are located at intersections and founder Non Son owns about 10 premises in prime locations, including The first row is located at the intersection of Hai Ba Trung – Dien Bien Phu.
Non Son's brand positioning strategy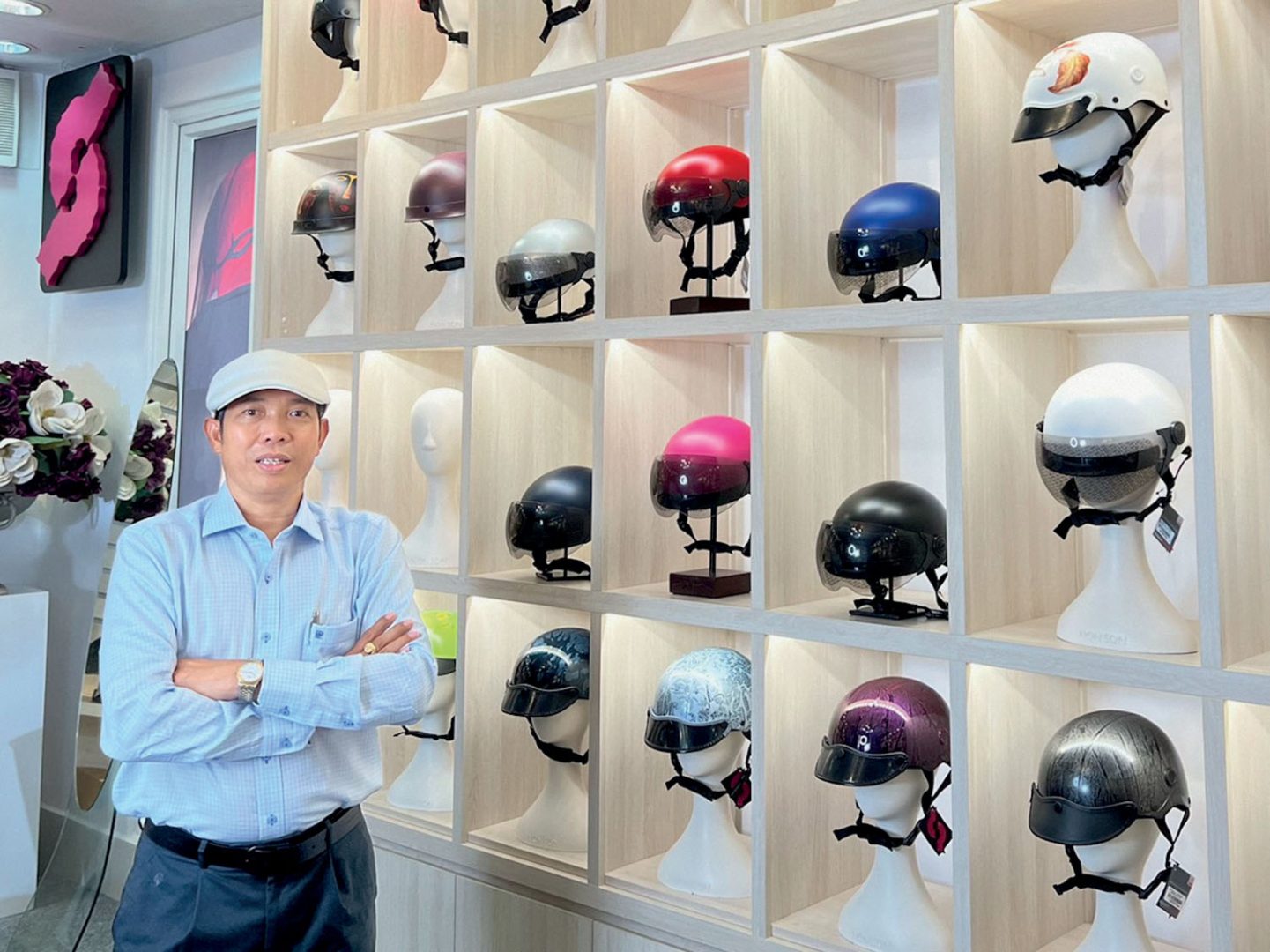 Mr. Nguyen Ngoc Ty, currently the CEO of Non Son, started out as the owner of a fashion store – one of the stores where Mr. Tran Anh Son brought hats to consignment when he was still importing goods for sale. The same passion for fashion as the founder is the reason why Mr. Ty accepted to join the management of Non Son since 1996.
"We only sell hats, being the first to shape the market specializing in hats in Vietnam. Non Son chooses to put quality first, so in the first phase, it accepts losses to build a sustainable brand," the owner of Non Son told Forbes Vietnam.
The area of ​​Non Son store varies from 20m2 to more than 100m2 and averages about 30m2. Mr. Ty explained, if you only choose a small space with low cost, the store is not beautiful and does not show the brand level.
When it was first born, Non Son only produced cloth hats for women. In the early 2000s, the hat brand was associated with stores with eye-catching pink designs and became prominent among the major streets of Saigon.
According to a 2005 Loyola University study, color can increase brand recognition by 80%. Pink is a safe choice if the brand is female-oriented (for example, Barbie dolls or Victoria's Secret lingerie brand). At Non Son, founder Tran Anh Son also chose pink as the brand identity, to show the lightness and purity of the product. The pink color covering shops located at intersections attracts more attention.
From a brand perspective, Ms. Nguyen Thanh Giang, founder of The Purpose Group, a creative and brand consulting company, said that Non Son maintains a unified, progressive image over the years and focuses only on sell hats. "In a sense, it is like an unforgettable image in the commercial culture in urban Saigon," commented Ms. Giang.
Operating under the slogan "Satisfying delicate aspirations" is said to be the core factor that the operator of Non Son believes has helped this brand survive through many economic crises during the past 26 years. Despite the curiosity of consumers about the mysterious brand with pink color, even compared to "Kingsman agent", the founder of Non Son has never appeared in the media to talk about the business model. mine.
According to Mr. Ty, in addition to the role of general director, the founder of Non Son focused on designing samples and assigning the executive director to operate and answer the press. However, most of the time he contacted the media, Mr. Ty only mentioned the story of fake goods, the only topic posted on the "Non Son and press" section of this company.
How is the 4P model in marketing applied by Non Son?
Let's analyze the  4P strategy in marketing  that Non Son brand applies to its marketing strategy:
Place
One of Non Son's marketing strategies that has always been consistent since its establishment is to always choose beautiful locations on major streets as premises to save money on advertising. In Hanoi, one can easily see Non Son on busy streets such as Thanh Nien, Hang Non, Hang Bong, Nguyen Khuyen… and in Ho Chi Minh City at Dinh Tien Hoang, Nguyen Trai, Vo Thi Sau streets… With a vibrant pink color, eye bowls cover the entire store. Anyone passing by the pink house could not help but glance over.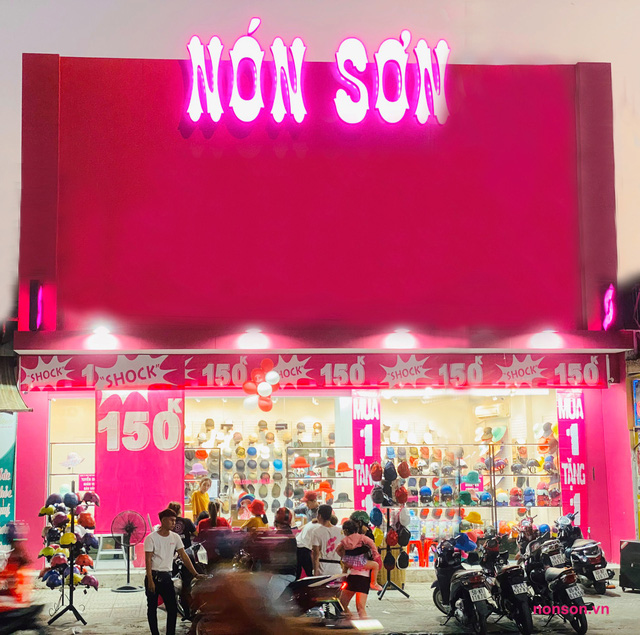 With a prime location and elaborate decor, the store rent also accounts for a significant part of the operating costs of this retail chain. However, it is said that Non Son is still developing well thanks to not losing money on advertising. The "sentence project" strategy in these feng shui positions is considered an extremely effective PR tool for Non Son.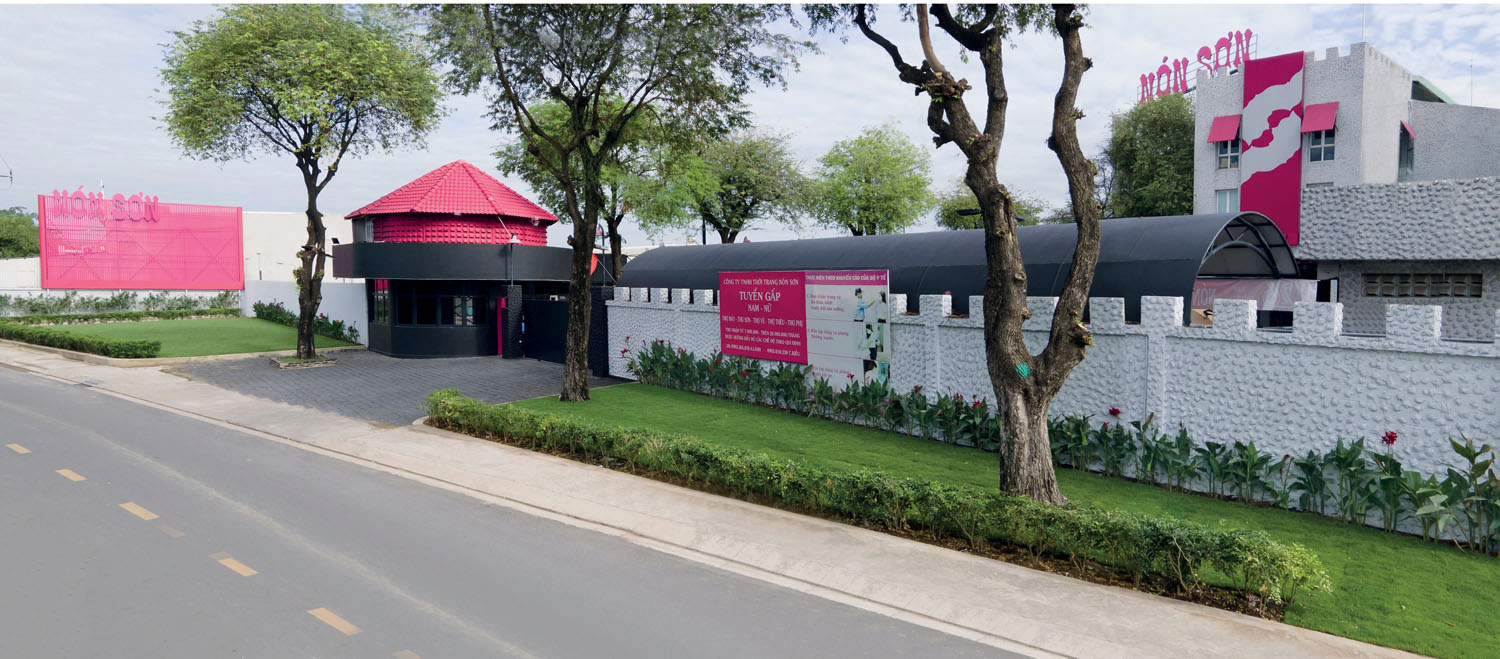 Starting business from a rented workshop at Tra Khuc street, Tan Binh district before moving the rental point to Cong Hoa street and then near Hoc Mon wholesale market, Non Son "headquarters" is now located on a land of 14,000m2 in Hoc Mon district. of Ho Chi Minh City and a staff of more than a thousand people across the country with more than 50% in the manufacturing sector.
Product – Product
The chain of stores specializing in selling fashionable hats for women had just formed when it encountered a "shock" in 2007, when the Government made it compulsory for motorbike riders to wear helmets. They had to turn the situation around, start producing helmets, it took more than a year for customers to gradually accept high-priced products, and at the same time, expand other types such as felt hats, brim hats, conical hats…
In the market, hats are often sold in clothing stores. Less emphasis on clothes, but sometimes wearing a hat can completely change the look of an outfit. Con Son is consistent with the view that hats are a fashion product that should be constantly renewed.
Products with different designs, materials, accessories… are shipped according to the season, according to the tastes of each period. Listed selling price (not applied promotion) of hats at the store from a few hundred thousand to 10 million dong. The initial pricing is up to the manufacturer, but when the prices are set, they also create an identity in the customer, they become the "anchor" that not only determines the current price but also the future.
The operator of Non Son said they have their own way to listen to consumers, to know which winter customers like felt, burlap or summer like chiffon or yarn. Each store is a place to receive "sources" of feedback about the company to find ways to satisfy user tastes.
In fact, up to now, this hat brand still does not have a customer care department, and a new marketing department was set up a few months ago. However, Mr. Ty confidently said: "If calculated on a 10-point scale of brand recognition in the public's heart, I believe Non Son is above level 5. Many customers are so passionate that they buy a new product every time they launch a new product. Because today, when going to the street to wear clothes or ride a car, you have to choose the right hat and color."
During the interview, the phrase "quality" is often used by Mr. Ty to start each sentence. For him, this is an important thing that creates the value of the Non Son brand, when promoting the quality factor in a fashion product mixed with art such as hats, it is difficult to apply the monthly output.
Especially with hand-knitted hats, it is impossible to ask workers to sew both beautiful and fast. An employee of Non Son said that with a line of lacquer helmets costing up to 10 million VND, an artist can only paint two per month. Not to mention for the production of hats, almost 100% of the materials are imported, and then there are the stages of design and color matching. These factors all affect the listed selling price of the company.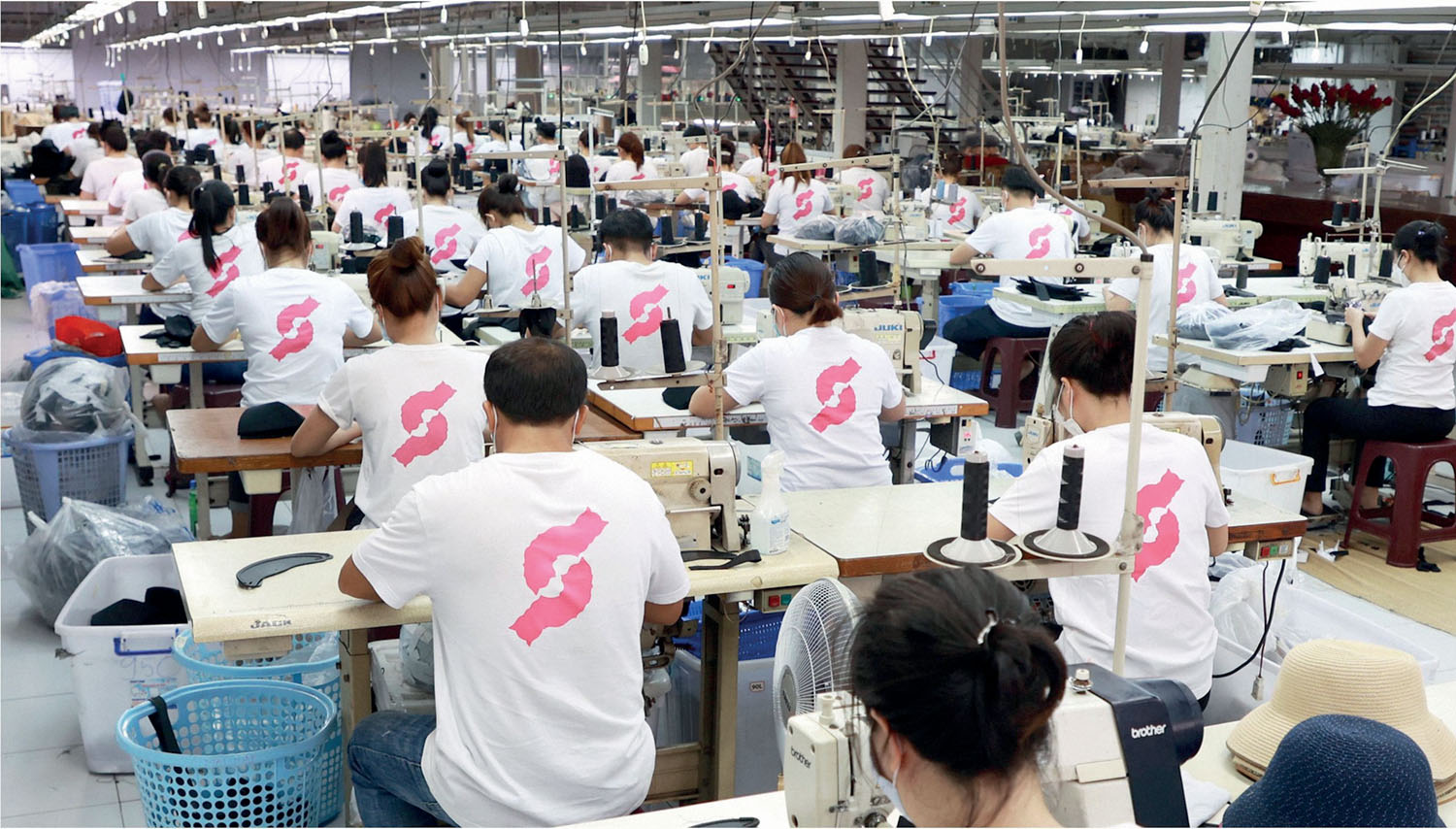 But the strictest criteria lies in the quality control process before shipment. Mr. Ty described this "rigorous" process that once led the management board to accept the destruction of defective shipments of up to 2,000 products because of shrinkage, discolouration, etc.
Mr. Son refused to cooperate with foreign partners because he felt that his capacity was not enough, he had to meet domestic demand first and then consider the plan to reach out. If you rush to make a profit, the brand will no longer exist," said Mr. Ty, adding that the founder and wife of Non Son are still the main owners of this brand.
The main business product line of Non Son is hats, divided into 3 main lines: helmets, caps for men and wide-brimmed hats for women. Although the product lines are not diverse, customers of Non Son all expressed satisfaction with the product quality. Buy 1 time will want to come back and buy next time.
The hats of Non Son are handmade, meticulously colored, without errors, simple designs, suitable for all subjects. The design is nothing special, but its highlight lies in its unique color scheme, in harmony with textures and patterns.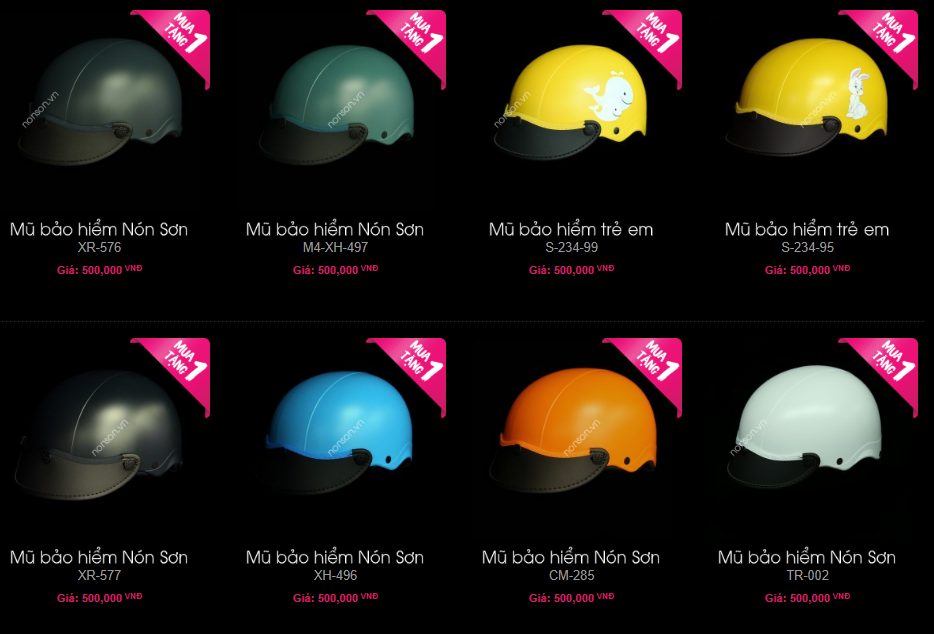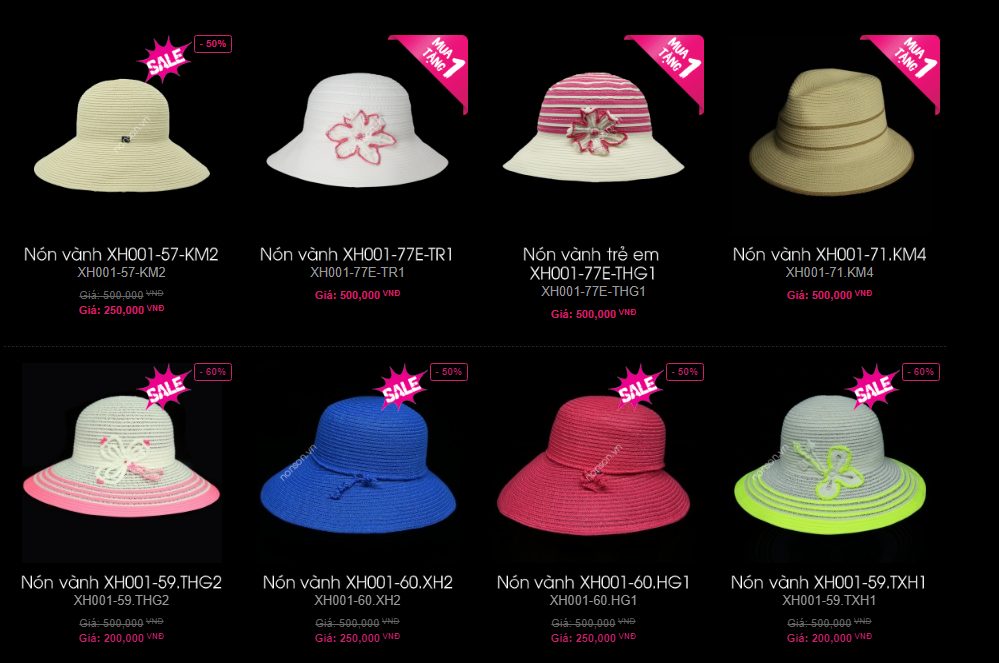 CEO of Non Son, Mr. Nguyen Anh Son also once expressed that he highly appreciates art taste and does not compromise on quality issues. Non Son's products are sewn individually by skilled workers, up to each stitch.
Price
"We define our own customer segments. In the market, for a product that sells for 50,000 VND, you have to sell 100 products to cover the cost, while Non Son sells 1–2 million VND each, about three products are also relatively affordable," said Mr. and shows that the ratio of sales between wholesale and retail is equal.
Refuse to disclose business figures, but Mr. Ty said that it is expected that in the next two years, Non Son will increase the total number of stores to 500, according to the motto "whether rice picks up with fish sauce", expands the store to where it will open. expand production there and depending on the level of financial return.
Non Son focuses on middle-class and older customers. Therefore, the price is also commensurate with the accompanying quality. Due to imported materials, the price of these products is very high, ranging from 500,000 to 5 million VND.
In particular, the line of helmets costs from 300,000/piece up; Men's and women's fashion hats range from 500,000 to 1 million VND, even if the goods are limited, the price of up to several million is normal.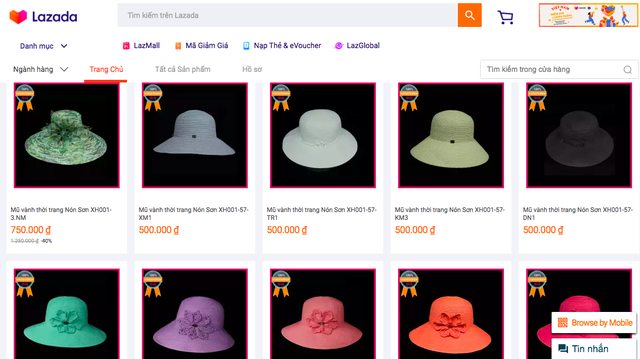 The price-based marketing strategy attracts great curiosity of customers, making them ask the question: just selling hats, why is it so expensive. However, "whatever you get". Products worth the money, commensurate with quality, will certainly receive long-term support from customers.
Hats of Non Son can be used for a long time, the durability is measured in years. If cared for carefully, a hat can be used for 3-4 years and still be new and not fade.
Promotion
For many years, they did not run aggressive brand promotion campaigns, but spent resources with the functional forces of the provinces and cities to control the production and sale of fake products. According to the company's data, within a year to January 2022, more than 30,000 fake hats of Non Son brand and more than 121,000 fake and fake helmets were seized.
What do company leaders think when many people think that Non Son is a mysterious brand? Mr. Ty said: "Because they did not know Non Son from the beginning, when it was first launched, it advertised a lot." In the first stage, they made their brand through beauty contests, the fashion show Miss Friendship World and Southeast Asia (1999), even giving away free gifts at discos in Ho Chi Minh City.
Mr. Ty said there was a time when how much profit was put into advertising. Although it was expensive, the leaders of Non Son at that time believed that through this way, they could reach connoisseurs when positioning products in the high-priced segment.
To attract customers to try, Non Son also implemented a program to buy a product of 80,000 VND, give a box of Coca Cola worth more than 100,000 VND or give customers a lucky draw. "There was a store that didn't sell any products all day until a customer came in to buy a hat that was less than a hundred thousand and then won a gold thread," Mr. Ty recalls.
At the same time, for many years now, they no longer spend money on advertising but change the way, "instead of spending 10 billion dong a year on advertising, they use that money to implement direct customer programs." This is also the reason that almost all year round the words "buy 1 get 1 free" are pasted all over Non Son stores.
Nothing is free, but the classic "buy 1 get 1 free" strategy has real turning power. According to Professor Dan Ariely, author of Irrational, most items have their pros and cons, "but when an item is free, we forget about its downsides."
Free products give the impression that the item is worth much more than the actual value, stimulating users even when it is an item they don't really need. Dan Ariely did a series of experiments before coming to the conclusion that the difference between two cents and a cent is small, but the difference between a cent and 0 cents is huge. This philosophy is reflected in the business method of Non Son.
Non Son does not focus on running marketing on the  media  or PR press advertising. In return, with the rental of prime premises, Non Son always knows how to "offer" with promotions that take place year-round throughout the month. If you pay attention, discount promotion posters are always prominently displayed outside the store. The programs buy 1 get 1 free, shock sale shock, even a sale up to 70%.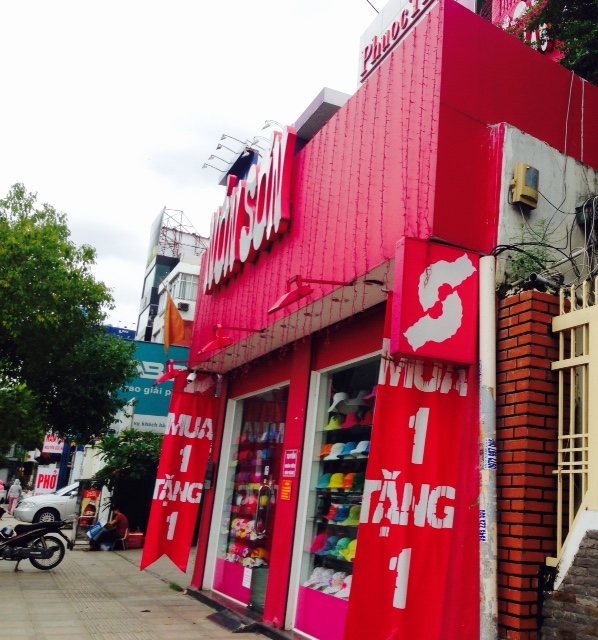 Besides, Non Son also develops online buying and selling channels on e-commerce platforms. At Lazada Mall, Shopee Mall, Tiki… all have active accounts, and the company also has a distribution agent on Sendo.
At the same time, Non Son also built its own sales website and developed very strongly. Youtube channel and fanpage also update information and product updates continuously.