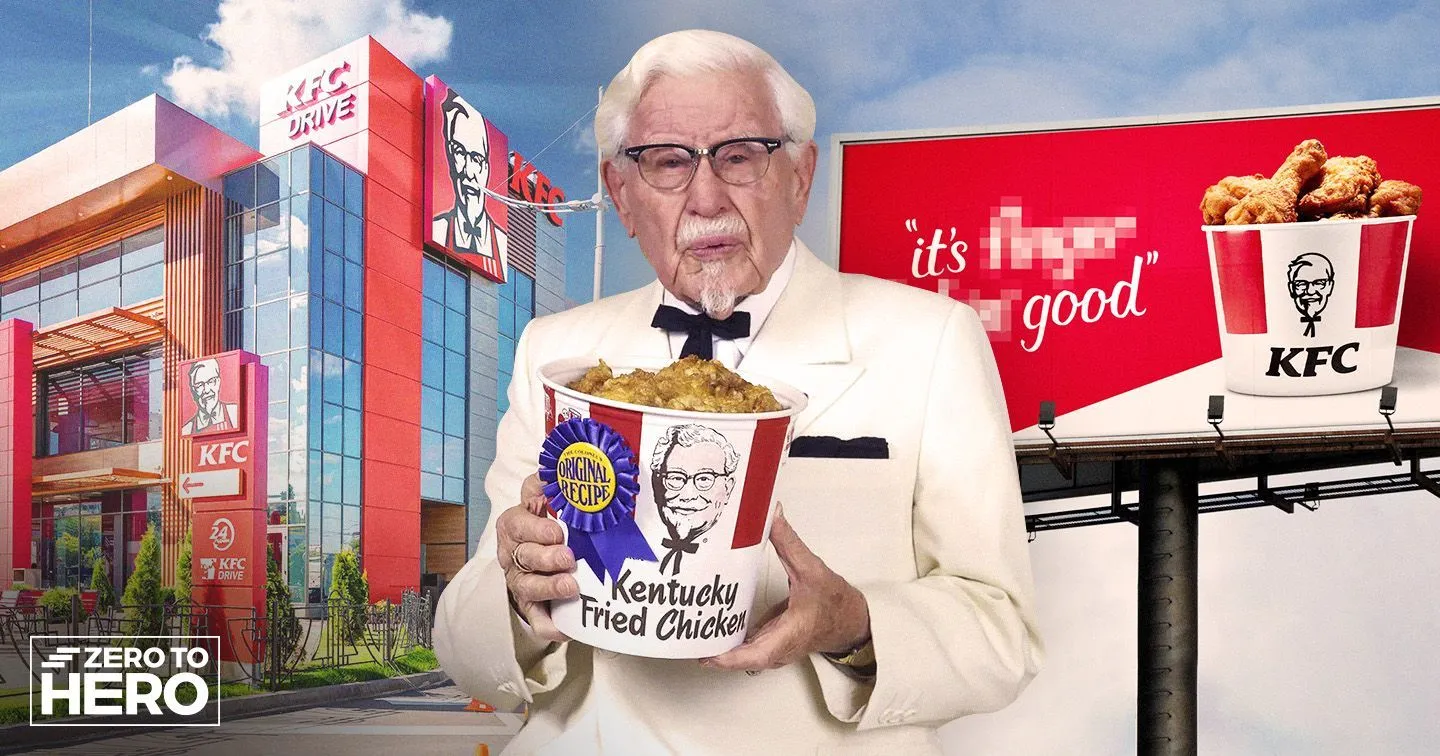 KFC is a fast food brand that makes an impression on consumers with its crispy, flavorful fried chicken products. KFC's marketing strategies have helped this brand assert its position in the fast food market. Join Malu to find out details in this article.
Analyze KFC's 4P marketing strategy
KFC's marketing strategy about products – Product
Product – Product  is considered the leading element in KFC's 4P marketing strategy. KFC's original product was pressure-pressed crispy chicken pieces, marinated with a recipe of 11 herbs and spices created by Colonel Sanders. Coming to each country, KFC always adjusts its menu to suit each country's unique culture and eating habits. In Muslim countries and the Middle East, KFC serves Halal chicken; In India, KFC offers vegetarian sandwiches and vegetarian meals to serve vegetarian customers.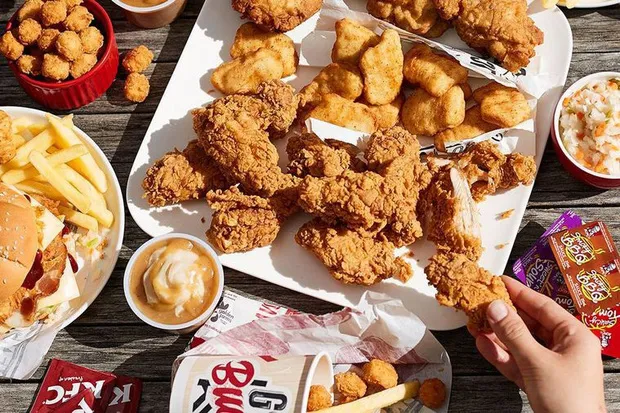 When entering Vietnam, KFC also changed its taste, size, and design to suit Vietnamese cuisine. Besides traditional dishes such as fried chicken and hamburgers, KFC also prepares other dishes such as gravy chicken rice, Jumbo mixed cabbage, soft bread… and the size is also smaller to suit eating habits. of Vietnamese consumers.
In addition, the product list is also arranged into many categories to help customers choose their favorite foods such as: traditional fried chicken, snacks, side dishes, soft drinks… KFC also innovated and launched in the market. The market has many new dishes such as fillet hamburgers, shrimp hamburgers… and many refreshing drinks to replace soft drinks, which also create excitement and curiosity for young people and reduce boredom when exclusively serving fried chicken.
Another noteworthy point is that KFC has researched and created a low-fat chicken frying oil to focus on customers' health. Frying oil produced from soybeans, with less hydrogen and less saturated fatty acids, is better for the heart than other types of frying oil. In addition, KFC's clean and reputable chicken meat supply is also a strong point that helps consumers feel secure when using food hygiene and safety issues increasingly.
>> Read more:  Analyze McDonald's Marketing Mix strategy in the most detail
KFC's pricing strategy – Price
When it first entered the Vietnamese market, fast food like fried chicken was too unfamiliar to Vietnamese people. Therefore, KFC implements a low price policy to penetrate the market to help customers more easily access the product. This is considered an effective strategy because after suffering losses for nearly 10 years, in 2006, KFC began to make a profit and quickly dominated the fast food market share in Vietnam.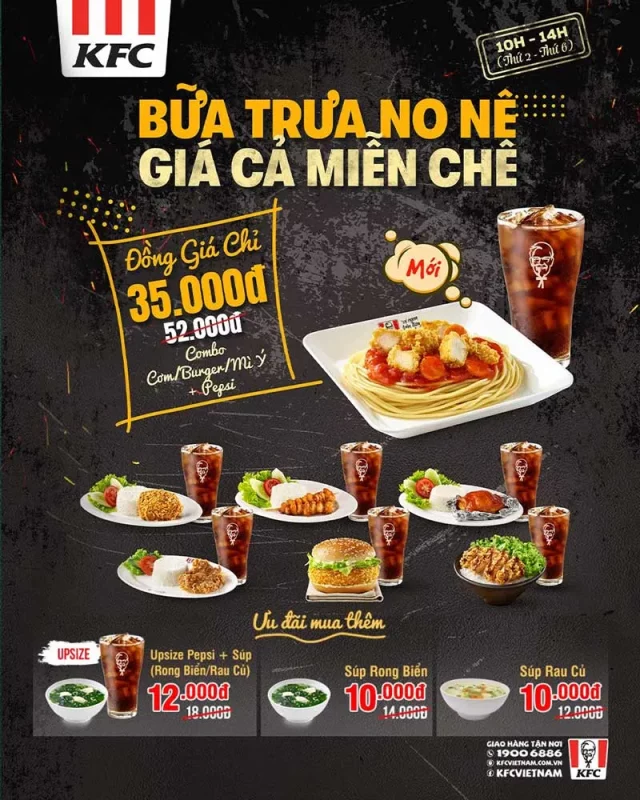 Once it had a loyal customer base, fast food KFC switched to the strategy of raising prices higher than its competitors. Although the price is not much higher, this has a strong impact on customer psychology regarding the image of the leading brand and the thinking that products with higher prices will have better quality.
Targeting its target audience of the middle and upper classes, KFC flexibly uses different pricing strategies to suit different customer groups, specifically:
Optional Pricing

 : With this method, KFC fried chicken tries to increase the amount of money spent when they start buying. Customers can buy main dishes on the menu and choose additional "additional dishes" or side dishes or desserts to match the main dish purchased.

Package price:

  KFC combines fried chicken products and creates a combo package to provide customers with a more favorable price than when choosing to buy individually. This has encouraged customers to buy more items. Combos are also deployed flexibly and optionally to both meet the preferences and budget of Vietnamese consumers.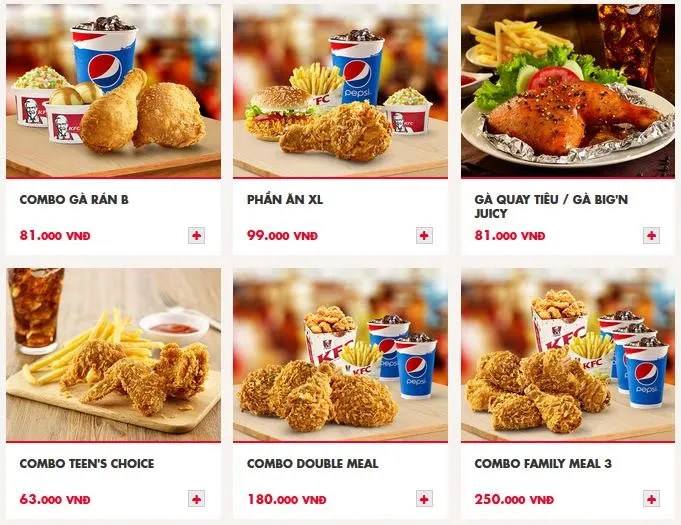 Distribution strategy of KFC – Place
KFC implements a distribution strategy on many fronts: Market segmentation by geographical location, market segmentation by demographics, market segmentation by psychology, market segmentation by behavior.
Market segmentation by geographical location
KFC focuses on large, densely populated cities such as Hanoi, Ho Chi Minh City, Da Nang, Can Tho, Hai Phong… Without massive development, KFC expands its store system in a solid direction.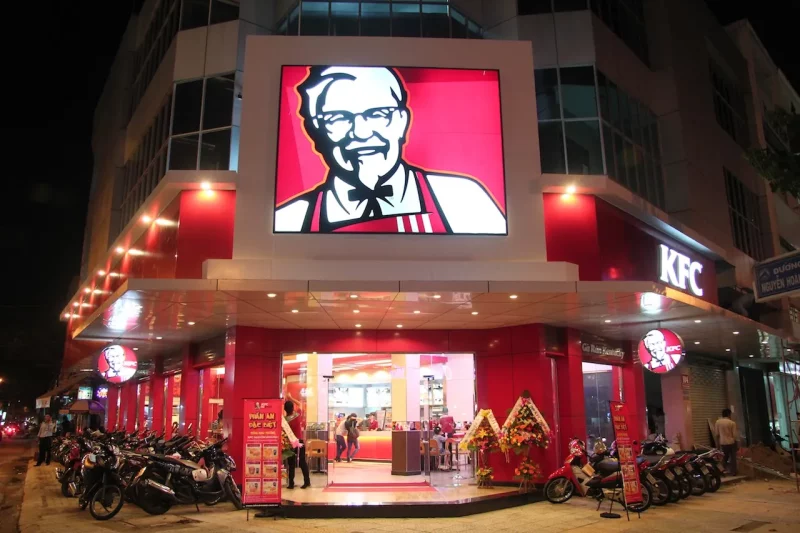 Market segmentation by demographics
KFC segments the market according to 3 aspects: age, income and occupation
+  Age : KFC fried chicken products target customers aged 17 – 29 years old, families with children. Choosing young customers who tend to quickly access culture along with children to influence children's awareness from an early age is one of KFC's outstanding marketing strategies.
+  Income : KFC fried chicken focuses on people with a good income, middle and upper class who can easily spend money on fast food products. Low-income customers can still become KFC customers, but the frequency of use will be lower.
+  Occupation : Young customers, busy office workers, and university students need the convenience of fast food.
KFC market segmentation by psychology
With the mentality of quickly grasping new trends in the world and bringing convenience to customers, KFC gradually affirms its position in the subconscious of customers who love and regularly use fast food products.
KFC market segmentation by behavior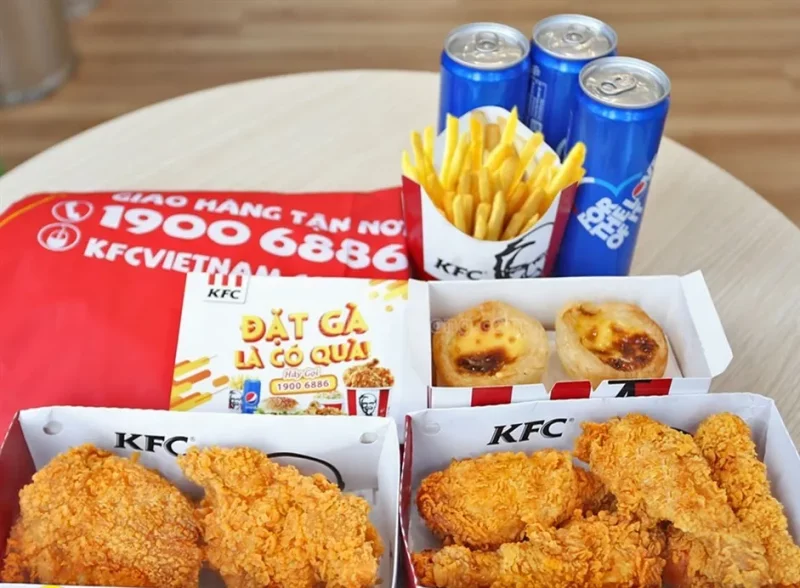 According to KFC's survey of customers aged 17-29 years old about why they love KFC fried chicken products, they all received the answer because of its convenience, deliciousness, affordable price, and fast service. . Therefore, KFC always focuses on training its staff and expanding its store system to bring convenience to customers. In addition, KFC also promotes online sales channels and home food delivery to best serve customers. Customers can order through KFC's website, call center or through various food delivery apps to get preferential prices and not waste time going to the store to buy products.
KFC's advertising strategy – Promotion
Advertising and communication play an important role in  KFC's marketing strategy .
KFC fried chicken uses a variety of advertising media such as  TV, magazines, online advertising, outdoor advertising … to promote the brand to increase interaction and help customers gain a deeper understanding of the products. their products and services.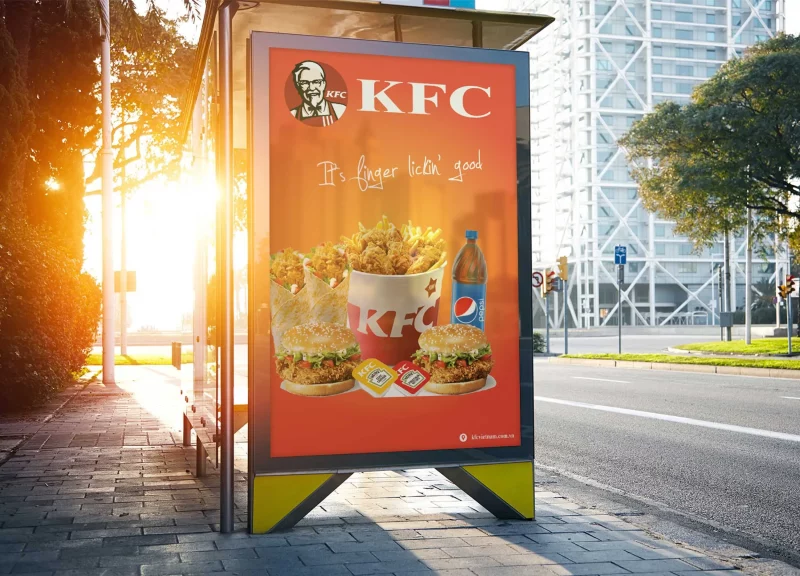 Many brand TV commercials have been made by KFC with the purpose of helping customers become aware of foreign brands but with a strong Vietnamese flavor. In addition, the slogan " Delicious on every finger " was also focused on clarifying and became one of the most famous slogans of the 20th century.
Understanding the tastes of Vietnamese consumers, KFC regularly launches promotions that not only apply on holidays but also on weekdays. Attractive promotions when purchasing at the time the store bell rings (24 times a day), customers will receive 01 piece of chicken, 01 free exchange coupon for 2 large Pepsi cups when purchasing 2 small Pepsi cups at next purchase. In addition, big promotions such as buying a Christmas meal and having the opportunity to receive a laptop, phone, music player… are also applied by KFC.
KFC Fried Chicken regularly carries out many sponsorship and charity activities that both contribute to helping society and improve communication effectiveness. KFC also established volunteer teams to carry out charity activities to help orphans, disabled children… creating a lot of sympathy with customers.