Although still facing a lot of competition in the dairy market, TH True Milk has also achieved some success in building its brand and attracting customers thanks to its effective marketing strategies. . Let's learn and analyze TH True Milk's Marketing strategy in the article below. 
l. Overview of TH True Milk Joint Stock Company
TH Dairy Foods Joint Stock Company was established on February 24, 2009, as the first company of the TH Group with an investment project in industrial dairy farms, modern milk processing technology and system. methodical distribution. TH Group was established with financial advice from Bac A Commercial Joint Stock Bank.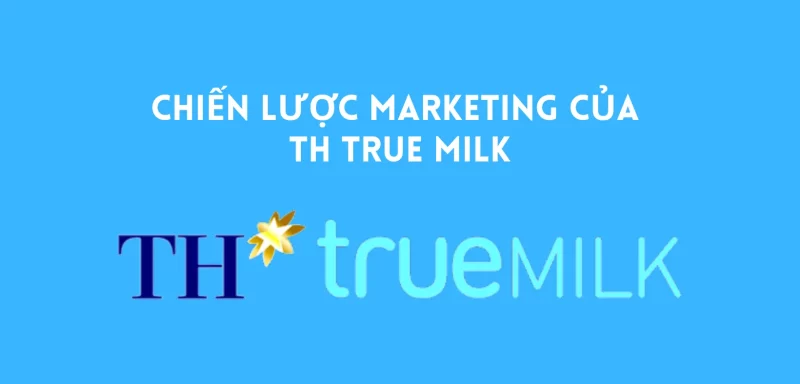 In addition to providing financial services and social security activities, Bac A Commercial Joint Stock Bank especially focuses on investing in the milk and food processing industry.
From that starting point, TH Group is gradually developing to become a leading manufacturer in Vietnam providing clean food products originating from nature, including fresh milk, meat, vegetables and fruits. clean, seafood… of international quality.
TH Dairy Food Joint Stock Company has invested in a high-end management system and a closed, synchronous production process according to international standards from growing grass, building barns, processing food for cows, and managing food. veterinary treatment, processing and packaging, until product distribution to consumers. The barn system applies the most advanced livestock technology in the world. Cows are imported from countries famous for dairy farming such as New Zealand, Uruguay, Canada… to ensure the best source of dairy cows for the best quality milk.

Regarding its vision, TH Group wishes to become Vietnam's leading manufacturer in the clean food industry originating from nature. With serious and long-term investment combined with the world's most modern technology, we are determined to become a world-class food brand that every home trusts, everyone loves and the nation is proud of.
Regarding mission, with the spirit of being close to nature, TH Group always tries its best to nurture Vietnamese body and soul by providing food products originating from nature – clean and safe. , fresh and nutritious.
TH Group's product portfolio currently includes TH true MILK sterilized fresh milk products: pure sterilized fresh milk made from 100% fresh cow's milk, low-sugar sterilized fresh milk, sterilized fresh milk with sugar, strawberry flavored sterilized fresh milk, chocolate flavored sterilized fresh milk,…
In addition to the dairy product line, TH still has other types of products: TH true veg, TH true yogurt, TH true ice cream, TH true cheese, TH true butter,…
When entering the Vietnamese dairy market, TH True Milk took advantage of the abundant natural resources in Vietnam to filter the most quintessential things from nature and bring clean glasses of milk to people.
Besides, with the brand "Clean Milk", TH True Milk has succeeded in hitting the psychology of young mothers and in modern times when the environment is increasingly polluted, leading to unsafe food. Therefore, the issue of food safety is given top priority and TH Milk has tapped into that psychology of consumers.
Furthermore, the difference in price has also impressed consumers about TH Milk (TH price is 26,500 VND/lot – 4 boxes of 180ml and Vinamilk is 22,500 VND/lot – 4 boxes of 180ml). TH True Milk's milk distribution system at Big C supermarkets, CoopMart… with a chain of very large and modern retail stores is also a factor that attracts customers.
Analyze Shopee's marketing strategy worth learning
ll. Analyzing TH True Milk's Marketing Mix strategy
Despite facing many difficulties and competitors in the dairy market, TH True Milk with the brand "Clean Milk" has gradually achieved certain successes in attracting customers to choose its dairy products. yourself and increase sales revenue.
To achieve success, TH True Milk has invested in building and implementing its Marketing Mix strategies  according to the 4P model effectively. So what is TH True Milk's Marketing strategy? How did TH True Milk implement the Marketing Mix strategy? Join Malu in detailed analysis through the article below.
1. Product strategy of TH True Milk – Product 
Regarding TH True Milk's marketing strategy regarding products, this brand has used a product diversification strategy and focused on improving the quality of its products.
Currently, the TH True Milk brand launches many different product lines. Popular product lines of the brand include:
Dairy products: Pasteurized fresh milk, sterilized fresh milk, Topkid formula fresh milk, natural yogurt, nut milk, sterilized drinking yogurt

Butter and cheese products: Natural unsalted butter, Mozzarella cheese sticks

Beverages: TH True Milk Juice fruit drink, TH True Milk Juice fruit milk drink, TH True Milk RICE roasted rice drink

Pure water

Ice cream products: Ice cream cones, ice cream sticks, canned ice cream

Japonica FVF rice products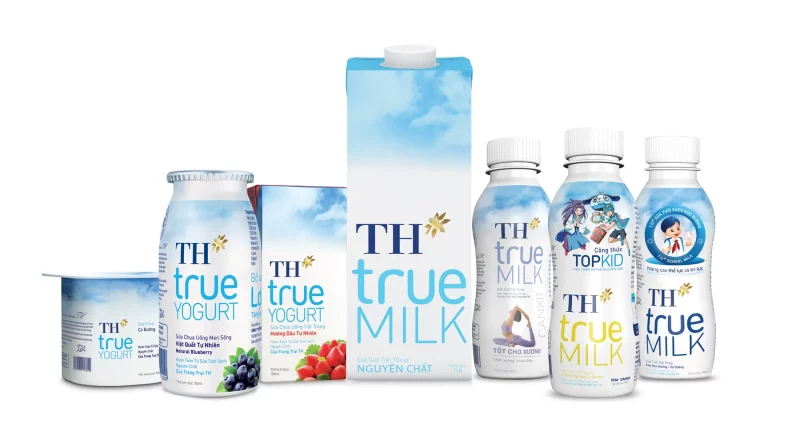 TH True Milk fresh milk products develop in the context of industrial society, increased income along with a better understanding of the benefits of milk, causing the demand for milk consumption to increase, while the environment is becoming increasingly poor. pollution, the need for clean milk is even more essential, so TH True Milk meets that. The product is very convenient, can be enjoyed immediately, is a good thirst quencher and is a nutritious drink that provides vitamins A and D.
The foundation of TH True Milk's success is its long-term commitment to ensuring customers' rights. The company always provides food products originating from nature – clean, safe, fresh and nutritious.
Regarding product quality, to meet the increasing demands of consumers, the company has not hesitated to invest in modern technology lines. Dairy products are produced with the most modern and hygienic production technology.
TH true Milk is completely natural, providing users with truly fresh, clean, quintessential milk. Ensuring factors such as taste, sweetness and purity…
TH true MILK is extremely proud to be granted the ISO 22000:2005 international certificate on food hygiene and safety from the BVQI organization and many other prestigious certifications on product quality and brand.
Regarding product design and packaging, current consumer trends pay great attention to product design and packaging. Understanding that trend, many companies have not hesitated to invest in packaging.
For TH True Milk products, this brand has used Tetra Pak packaging technology from Sweden with modern technology, suitable for the habit of using milk in paper boxes of Vietnamese people, the box size is 180ml and 110ml, the packaging shows all information as well as symbols and images presented simply, clearly and prominently. The name TH True Milk is clearly shown on the milk carton with blue font on a white background, above the milk carton is a blue sky, clearly showing the image and brand of TH True Milk.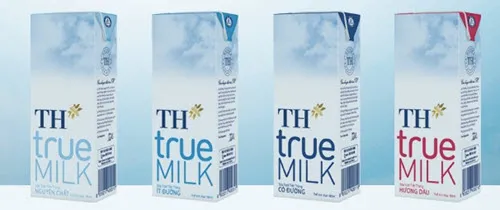 2. Price strategy of TH True Milk
When analyzing TH True Milk's marketing strategy in terms of price, this brand has taken advantage of the premium product pricing strategy (Premium Pricing Strategy).
Premium pricing strategy is a premium product pricing strategy. With this strategy, businesses price their products high to show that the products are high value, luxurious, or high-end. Premium pricing focuses on the perceived value of the product rather than the actual value or cost of production.
Premium pricing is an important function of brand awareness and brand perception. Brands that adopt this pricing strategy are known for providing premium values ​​through their products. That's why they are priced higher than other competitors. For example, the high-end fashion and technology industries are often priced using this strategy because their products can be perceived as luxurious, exclusive, and rare in the market.
Read more about other popular product pricing strategies in Marketing in the article :  10 popular product pricing strategies in marketing
In the Vietnamese market, Vinamilk is the dominant brand in the dairy market, TH is a latecomer, so it needs a pricing strategy to make a difference to penetrate the market. Identifying TH True Milk as a high-end product line, this brand has chosen the highest possible pricing strategy, in addition to trying to influence consumer psychology in the interaction between price and quality. quantity.
TH True Milk's pricing strategy has been carefully calculated and is completely consistent with the development of the current Vietnamese milk market as well as Vietnam's economic development in recent years.
TH True Milk focuses on female customers, aged 15 to 35 and focuses on those from 25 to 35, or those in urban areas, focusing on big cities with dynamic, modern lifestyles. Pay attention to the health of yourself and your family. Accordingly, the price of TH true Milk is quite high compared to the general level.
With a potential dairy market in Vietnam, in addition, Vietnam's GDP per capita is also increasing, boosting the demand for dairy products, especially premium, high-quality, guaranteed milk. To ensure the in-depth growth of the Vietnamese dairy market in the future, such a pricing strategy is completely reasonable.
With the development of the market, income, and life, it is clear that drinking milk is no longer considered a luxury but has gradually become a regular and indispensable need in daily life.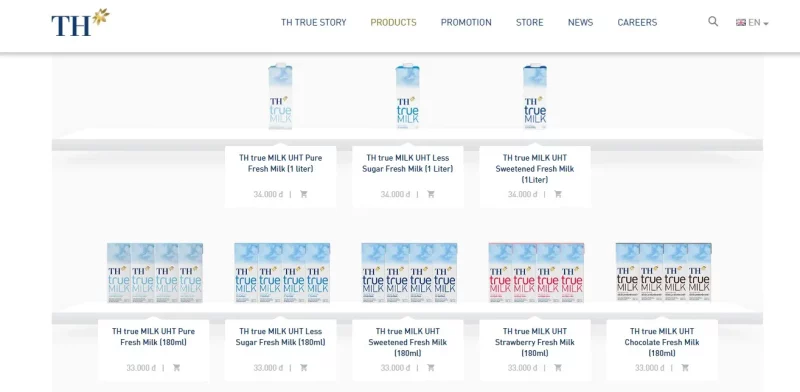 3. Distribution system strategy (Place)
For TH True Milk's Marketing strategy regarding the distribution system (Place), TH True Milk has built a widespread TH True Mart system chain as well as cooperated with distribution systems such as large supermarkets to help customers. You can easily access TH True Milk products.
Milk is a popular beverage, so milk distribution must also ensure that when customers need to buy, they can find TH True Milk. Building a suitable distribution strategy will greatly impact the success of businesses, especially businesses with organized retail and wholesale systems like TH True Milk.
With the investment advice of Bac A Bank, TH Group has chosen its own path following the principle of preserving the essence of nature in each product, which is the birth of the TH True Mart store chain nationwide. water.
In the first phase, this system will be built in major cities such as Hanoi, Ho Chi Minh City, and Nghe An and will continue to be deployed nationwide.
Currently, the TH True Mart store chain has 27 stores in Hanoi, 24 stores in Ho Chi Minh City and 2 stores in Nghe An with modern investments and good product preservation methods. best.

Because milk is a consumer product, the distribution channel is quite long. In addition to distribution at TH True Mart stores, TH Group also uses distribution channels such as large retail systems such as CoopMart, Big C, MaxiMark, .. On the supermarket shelf right next to Vinamilk's milk shelf will be TH True Milk products.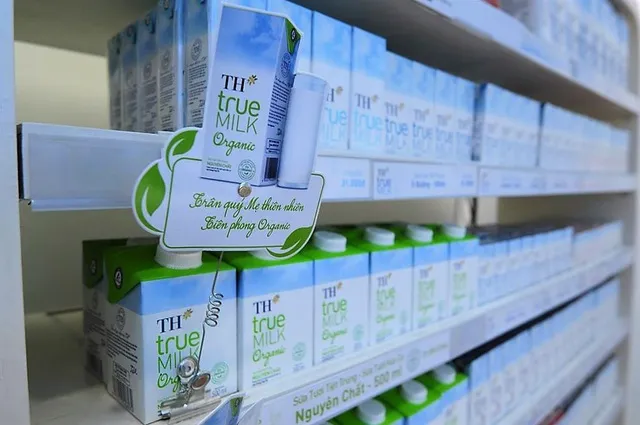 In addition, consumers can also order online on the website  www.thmilk.vn  and receive goods right at their home – a modern shopping experience in addition to traditional purchasing methods.
These are just the first steps in the plan to develop the TH True Mart system to become a trusted and supported retail channel nationwide, aiming to bring fresh, clean, natural products produced directly. by TH Group to reach consumers quickly, safely and most conveniently. TH Group hopes this will be a reliable address for consumers to find the most quintessential natural products.
4. Mixed promotion strategy (Promotion) of TH True Milk
Building meaningful communication messages, implementing effective advertising campaigns as well as taking advantage of trade marketing  (marketing at the point of sale) are TH True Milk's Marketing strategies on mixed promotion (Promotion). 
Media message 
First is about the media message, some advertising messages as well as branding that TH True Milk wants to convey include:
Key message:  

Truly natural

Sub-message:
Physical : Drops of milk filtered from nature through a closed processing process provide essential nutrients for the body.
Body shape and style : Preserve and improve body shape, creating a feeling of lightness, health, youthfulness and attractiveness.
Thanks to the above messages, TH True Milk has succeeded in attracting customers' attention because this brand can clearly understand customer insight  as product quality as well as product benefits. bring.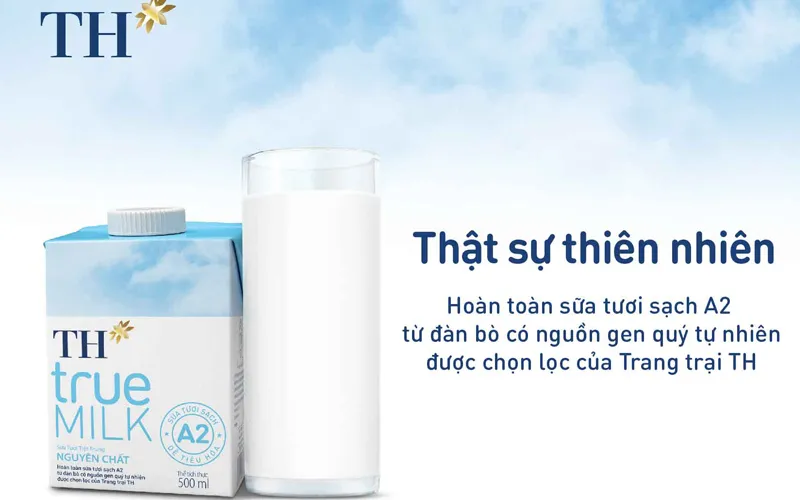 Advertisement 
Besides meaningful messages, implementing advertising campaigns is also a Marketing strategy of TH True Milk.
TH True Milk's main advertising activities include:
Broadcast TVC on TV channels VTV3, VTV1, VTV6, HTV7, SCTV2,… with images of the clean fresh milk production process.

Press: Targeting an audience of women and businessmen in newspapers such as Women, Tuoi Tre, Saigon Marketing, Saigon Entrepreneur, New Hanoi,…

Outdoor billboards, banners, buses,…
Marketing at the point of sale (trade marketing)
Trade marketing – Marketing at the point of sale, is one of the oldest marketing methods, used by both small and large businesses to advertise their products/services.
Trade marketing is also the intermediary between Sales and Marketing. This department is responsible for implementing all organizational activities, product and brand strategies in the distribution channel at the point of sale. In particular, through optimizing the experience of shoppers (Buyer) and retailers (Retailer) to achieve profits and sales.
Trade marketing's job is to focus on researching and implementing solutions to give customers the best access and feel about the business's products at every retail point, supermarket, shopping center, and department store. physical,…. around.
Learn more about trade marketing in the article :  What is trade marketing? The 4 most important trade marketing jobs
TH TrueMart retail systems are often decorated with two main colors: blue and white, and LCDs continuously project TVCs advertising products. Sales staff wear costumes like dairy workers on a farm.
At supermarkets, right next to Vinamilk's store, Dutch Lady is always TH True Milk's store with outstanding and eye-catching shelf decoration.
At small and grocery stores, TH True Milk provides them with advertising banners, supporting them in displaying products.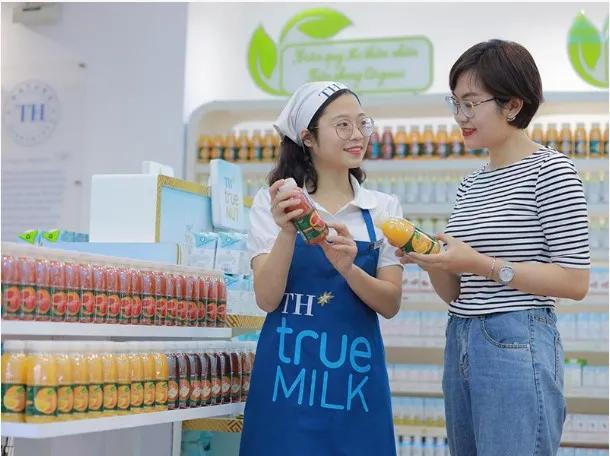 Summary
Although still facing competition from its biggest competitor, Vinamilk, in the dairy market, TH True Milk has also achieved certain successes in building its brand and attracting customers.
Regarding products, TH True Milk's Marketing strategy is to diversify the product portfolio as well as focus on improving quality, product design and packaging. In addition, TH True Milk also applies a premium product pricing strategy to demonstrate the quality and value that TH True Milk's products bring to customers.
TH True Milk also builds extensive product distribution systems to reach customers and invests in effective TVC and outdoor advertising campaigns.