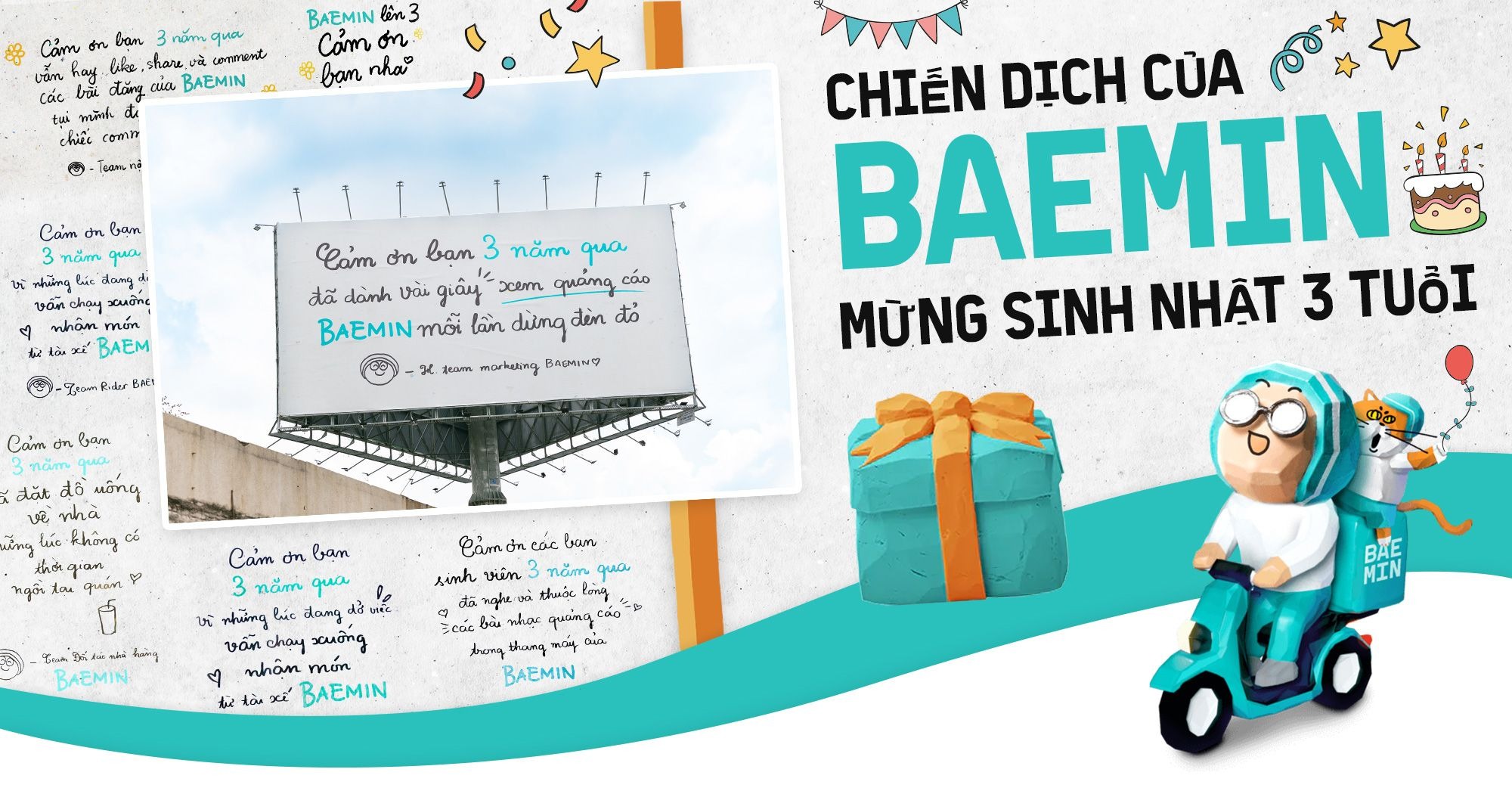 BAEMIN is 3 years old, thanks are sent by the "mint green army" to its customers on a variety of means and platforms. Behind that uniformity is an impressive and effective communication campaign by the BAEMIN marketing team.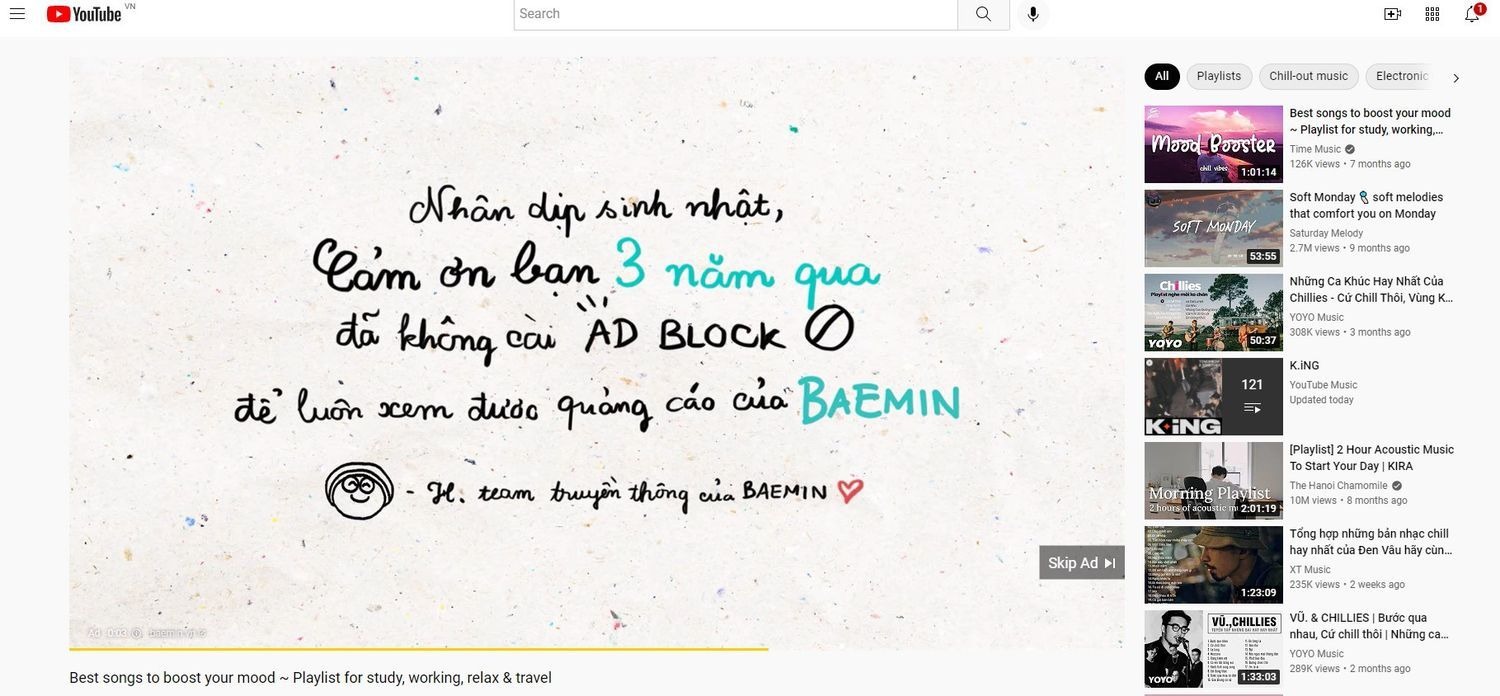 A super fun thank you from BAEMIN on YouTube 
360o Media Hijack is understood as a communication campaign spread across many "touch points" with customers but always associated with the message throughout. There, media products are comprehensive, distributed on many platforms at the same time, but all serve a central idea.
BAEMIN used the 360o Media Hijack campaign to celebrate its birthday: Everywhere you look, this brand is sending thanks to customers on the occasion of their three-year anniversary. From billboards along the way, elevator LCD screens to online newspapers, Facebook or even music apps, etc., there are lines of gratitude BAEMIN sent to users everywhere. All as a "total attack" in terms of images, messages to achieve a core goal.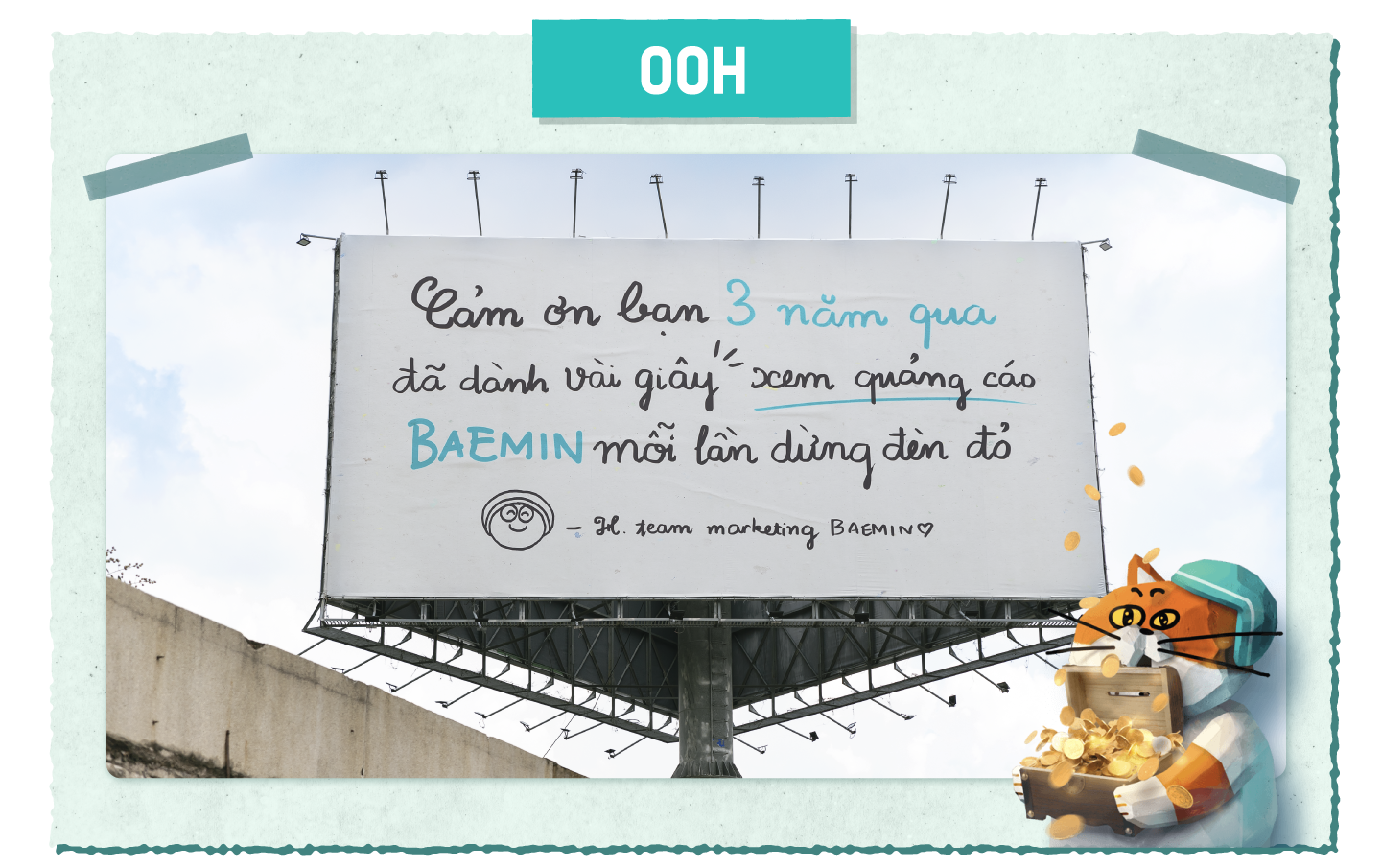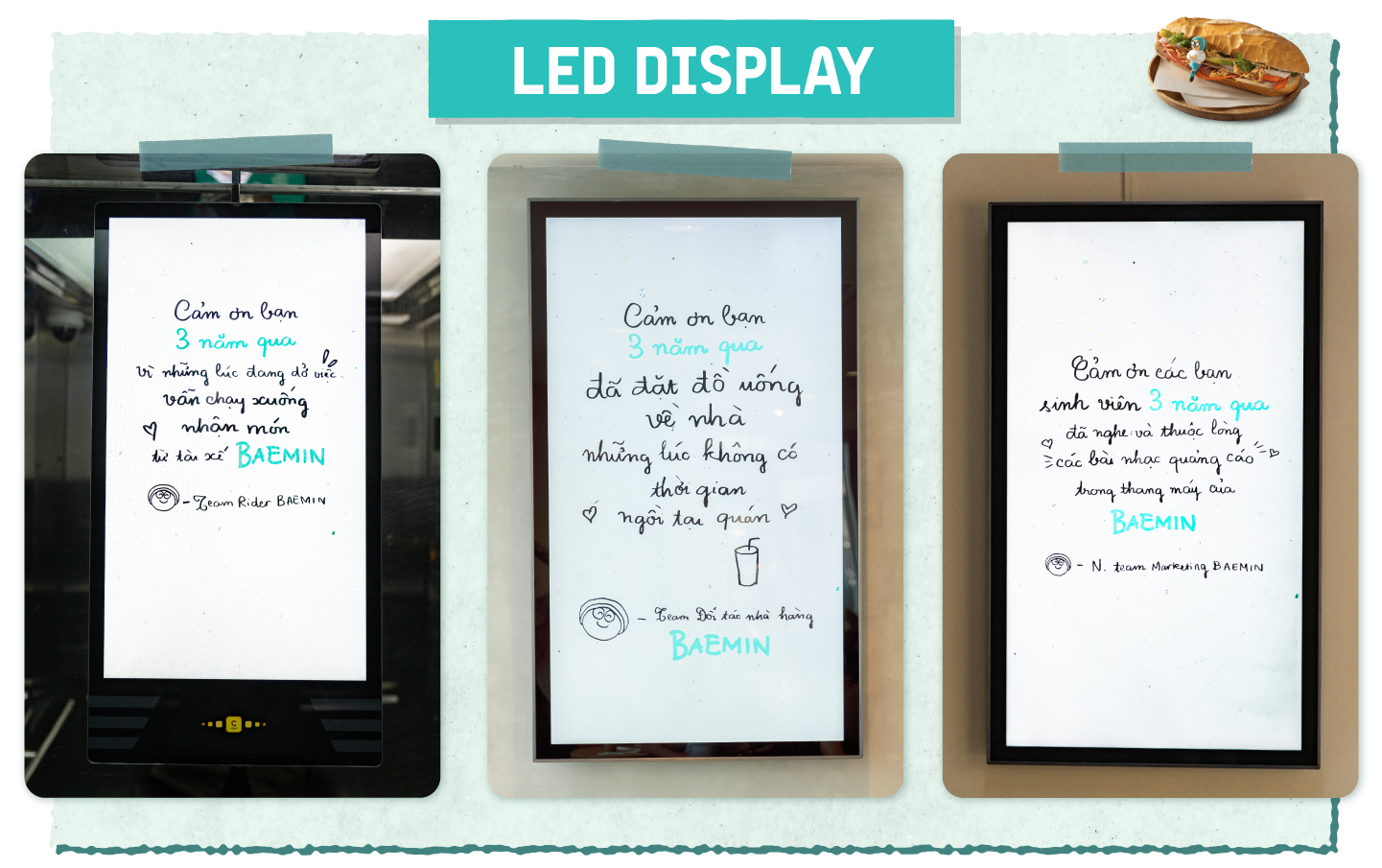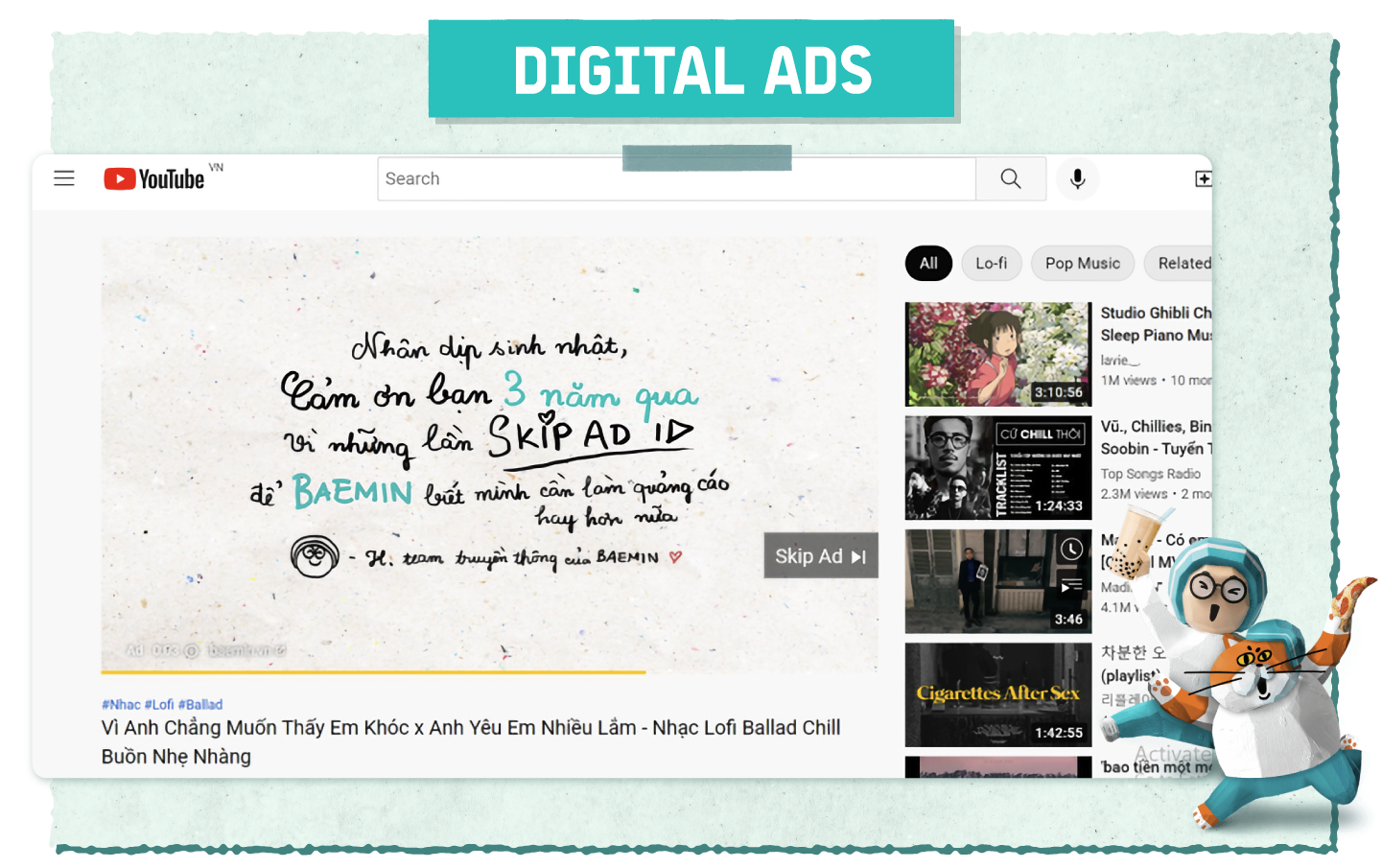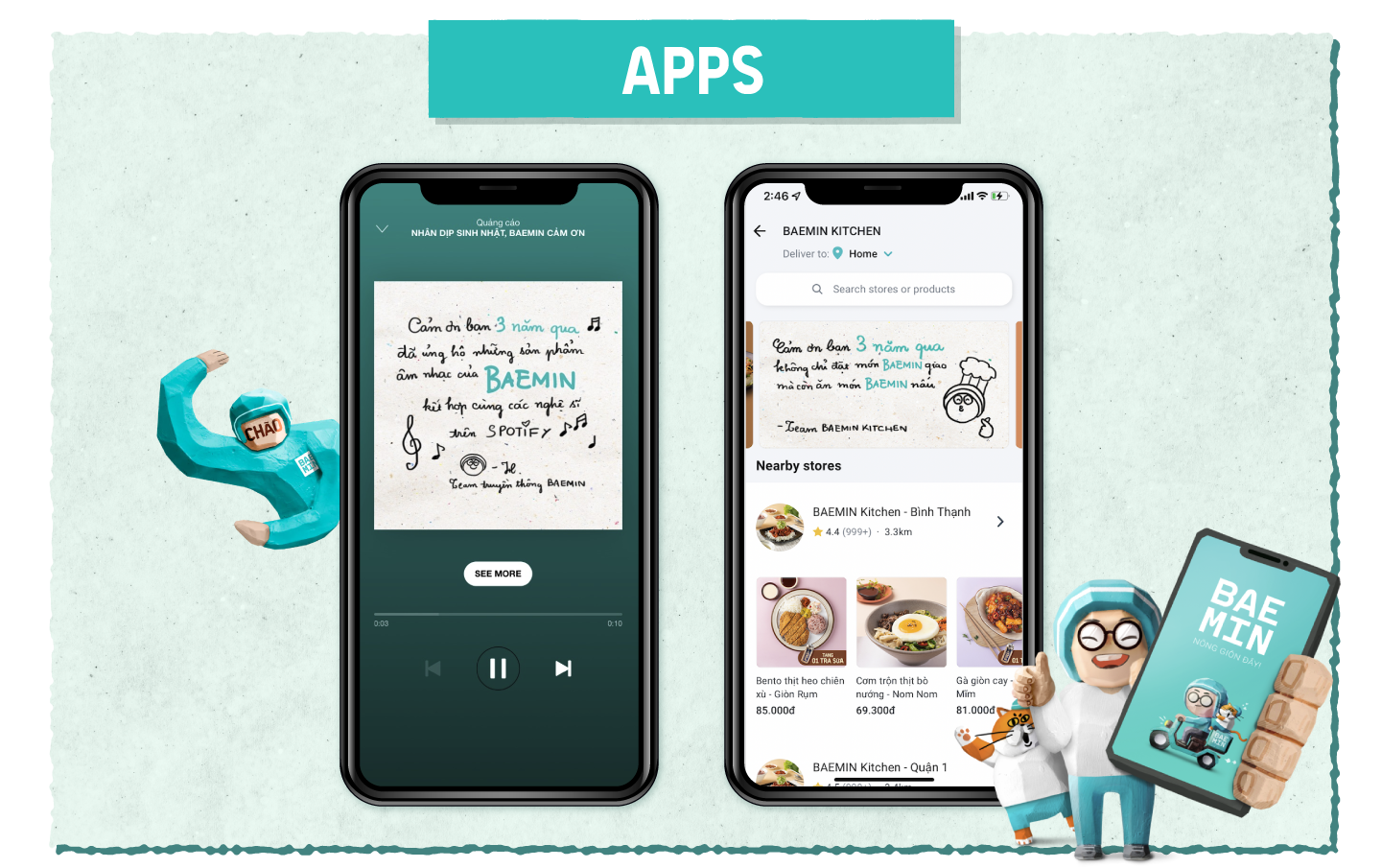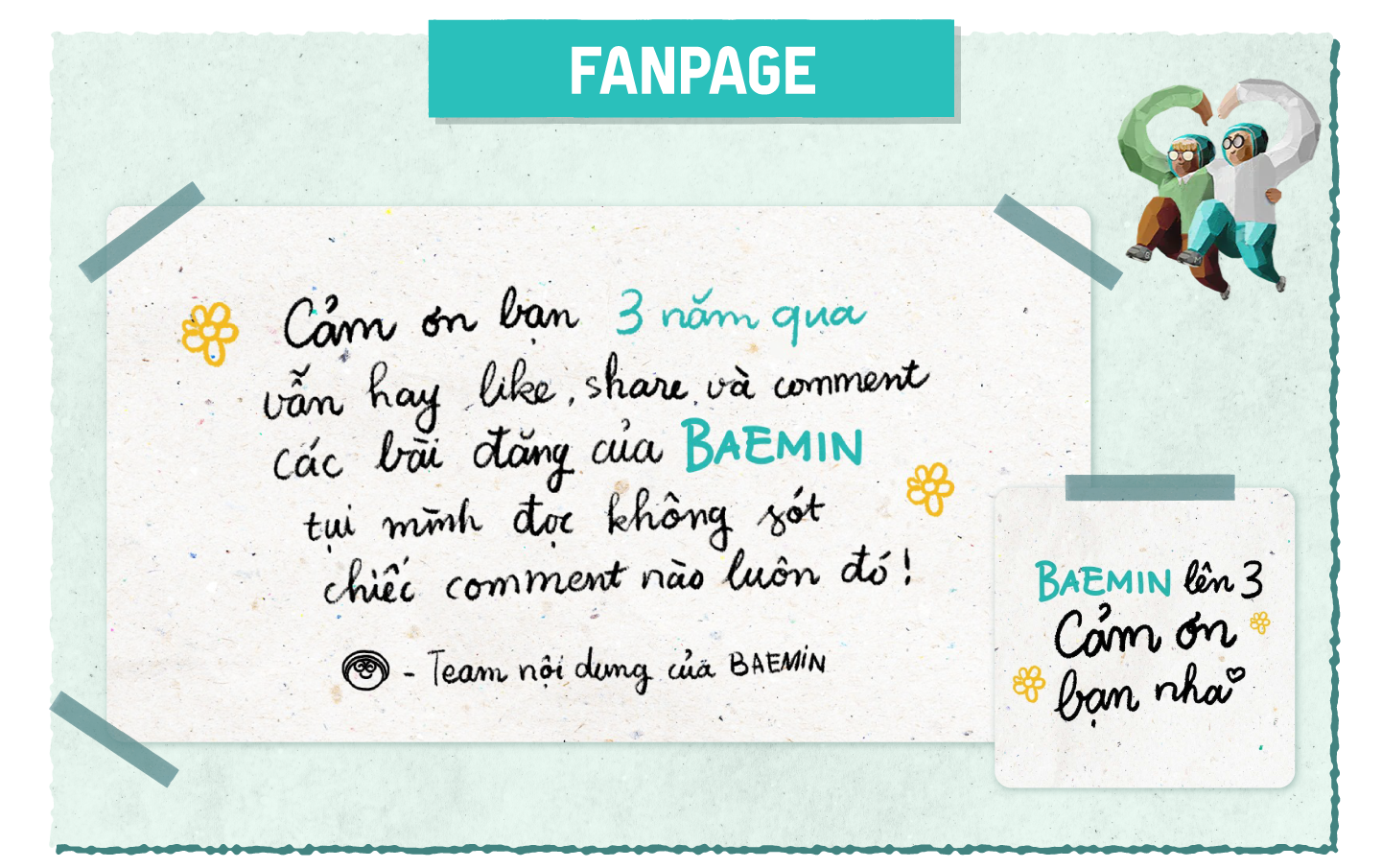 However, the key to success or failure of a 360o Media Hijack campaign lies in the diversity and flexibility in the way the message is presented. The ubiquitous presence of the same image and brand is sometimes a double-edged sword. In the case that customers look everywhere and only see one word or meaning, it will be difficult for them to avoid the feeling of boredom and blandness.
But the idea is always considered as the strong point of the BAEMIN marketing team. On each platform, BAEMIN sends a cute thank you note. On Billboard, BAEMIN wrote: " Thank you for the past 3 years for spending a few seconds watching BAEMIN ads every time the red light stops – BAEMIN marketing team".
On the LCD screens in the elevators of high-rise buildings is the sentence: "Thank you for the past 3 years for running down to receive food from the driver BAEMIN when I was in the middle of work" – Team Rider BAEMIN ; and the sentence "Thank you for the past 3 years for ordering drinks to take home when you don't have time to sit at the bar" – Customer Partner Team .
Or on the Zing MP3 music listening platform, the gratitude message "Thank you for the past 3 years for supporting BAEMIN's music products in conjunction with the artists on Zing MP3 – from the media team", …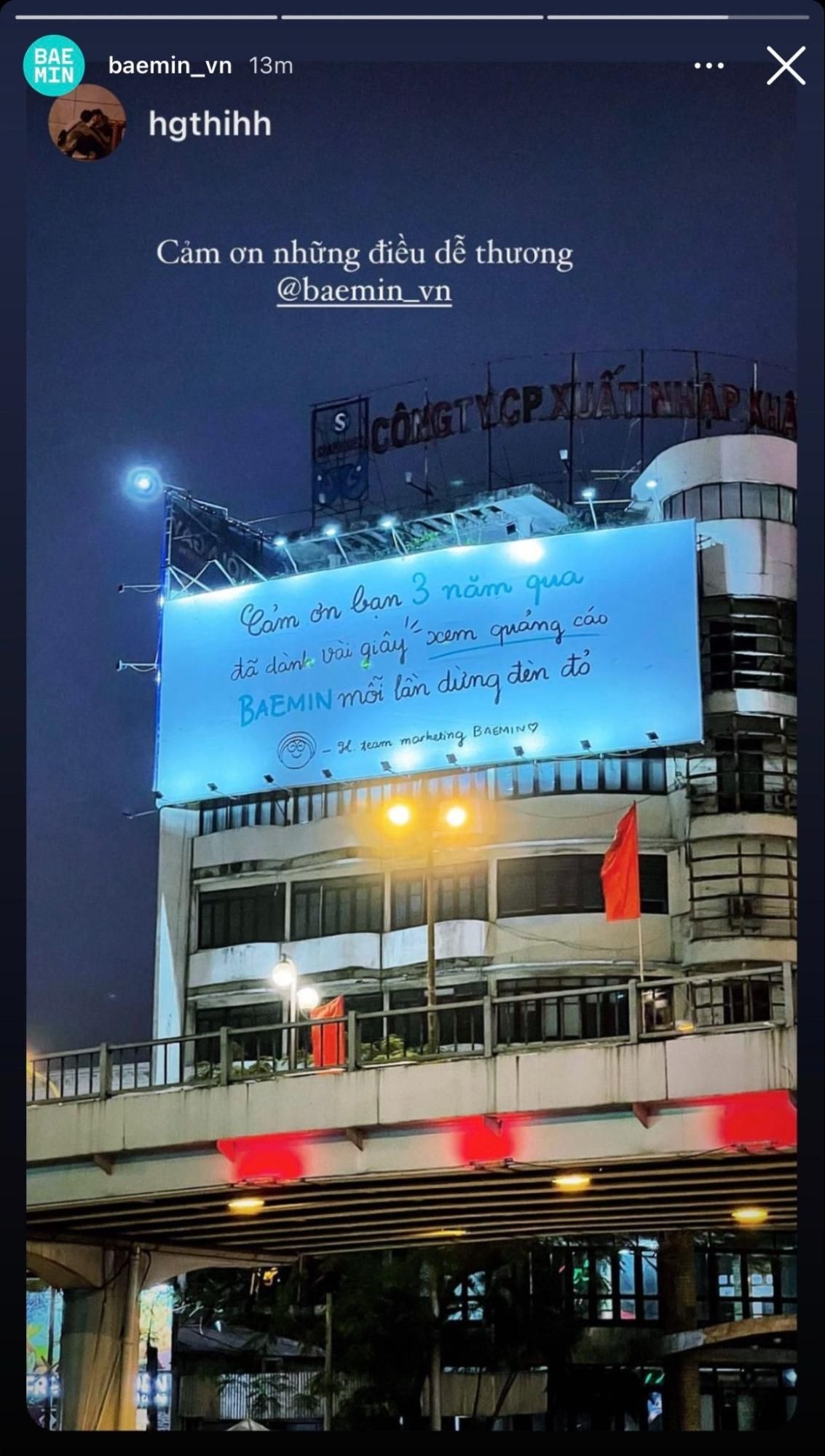 BAEMIN's cute thank you notes on outdoor billboards 
Thanks to the consistent implementation, all BAEMIN's communication products are sending respect to each user. Customers are thanked for every small action, from watching ads while waiting for a red light, opening an app to listening to BAEMIN's music or even skipad habits, etc.
BAEMIN's 360o Media Hijack campaign is not monotonous, using only one sentence "Thank you for being with BAEMIN for the past 3 years" . BAEMIN's marketing team has a unique and subtle variation in each word sent to customers.
However, the words "thank you" and "last 3 years" are always repeated in each message, showing the consistency and central purpose of the campaign.

Since entering the Vietnamese market in June 2019, BAEMIN has always been known as one of the brands that come up with bold marketing and communication strategies. BAEMIN's appearance comes at the right time when the "piece of cake" in the fast food delivery application market is divided by Now, Grabfood, GoFood, etc., so many people doubt the success of a new "player" coming from Korea.
However, after nearly 3 years of operation, BAEMIN has become one of the leading food delivery apps in terms of downloads on Google Play and App Store. In addition, according to a survey by Q&Me, the "mint green army" is also the leading food delivery app in the market in terms of customer satisfaction.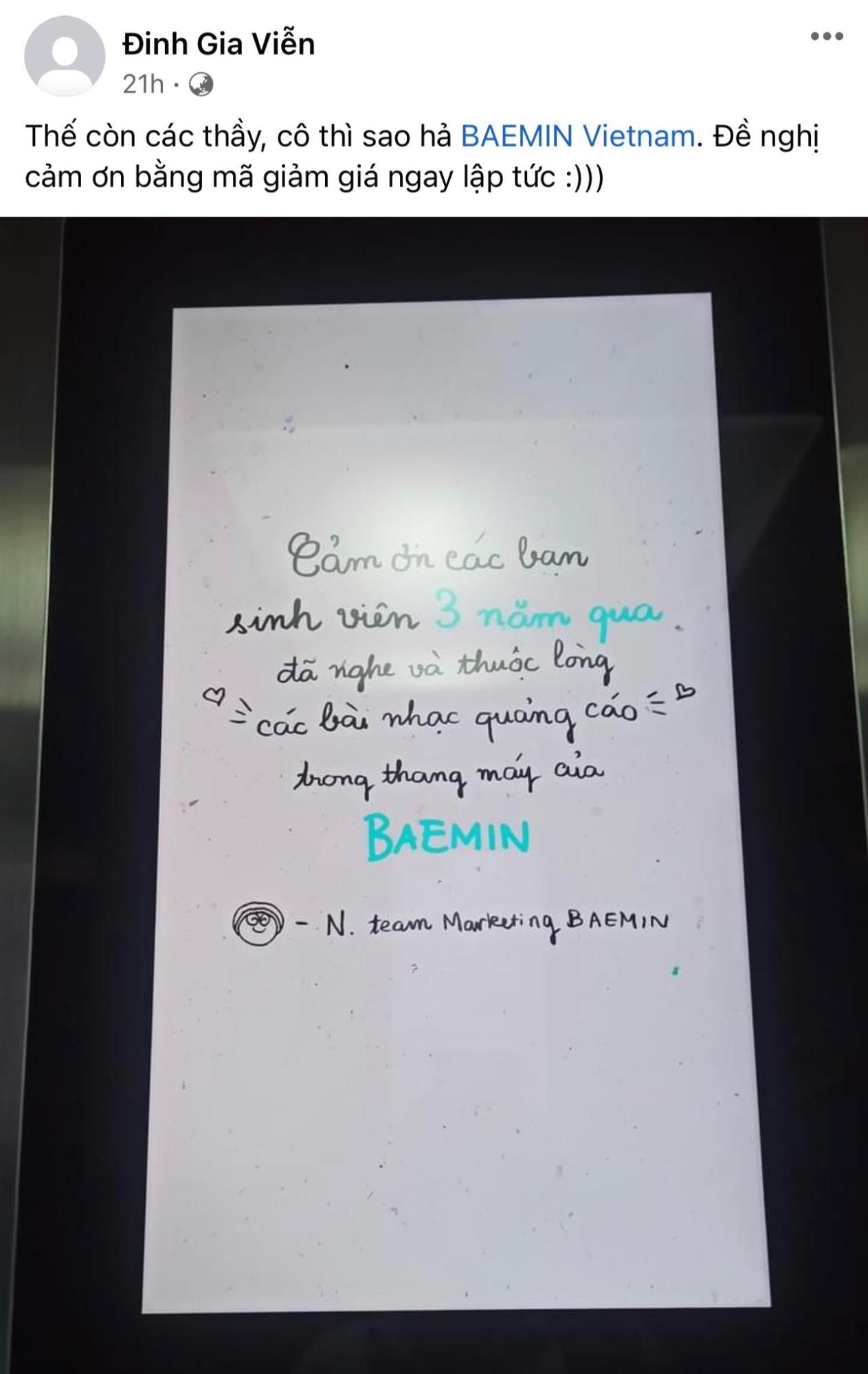 BAEMIN's thanks in the elevator 
The success of BAEMIN is in no small part from its creative and bold marketing and advertising campaigns. BAEMIN's ads do not directly target the invitation to eat, drink, order, nor talk too much about fast delivery or promotion. Instead, the company focuses on connecting with users emotionally so that they see an image, a video – even an advertisement – also feel happy and meaningful.
In other words, BAEMIN approaches customers not only to give them "good food" but also to "have fun". You can remember the outdoor advertising billboards – witty invitations – such as "Hoan Kiem, you know well, still deliver in the alley" , " Tan Binh is your house, you can order it", "Go Vap". I know it by heart, I'm willing to give it to you", "I'm in District 3, you just walked out and I delivered it",…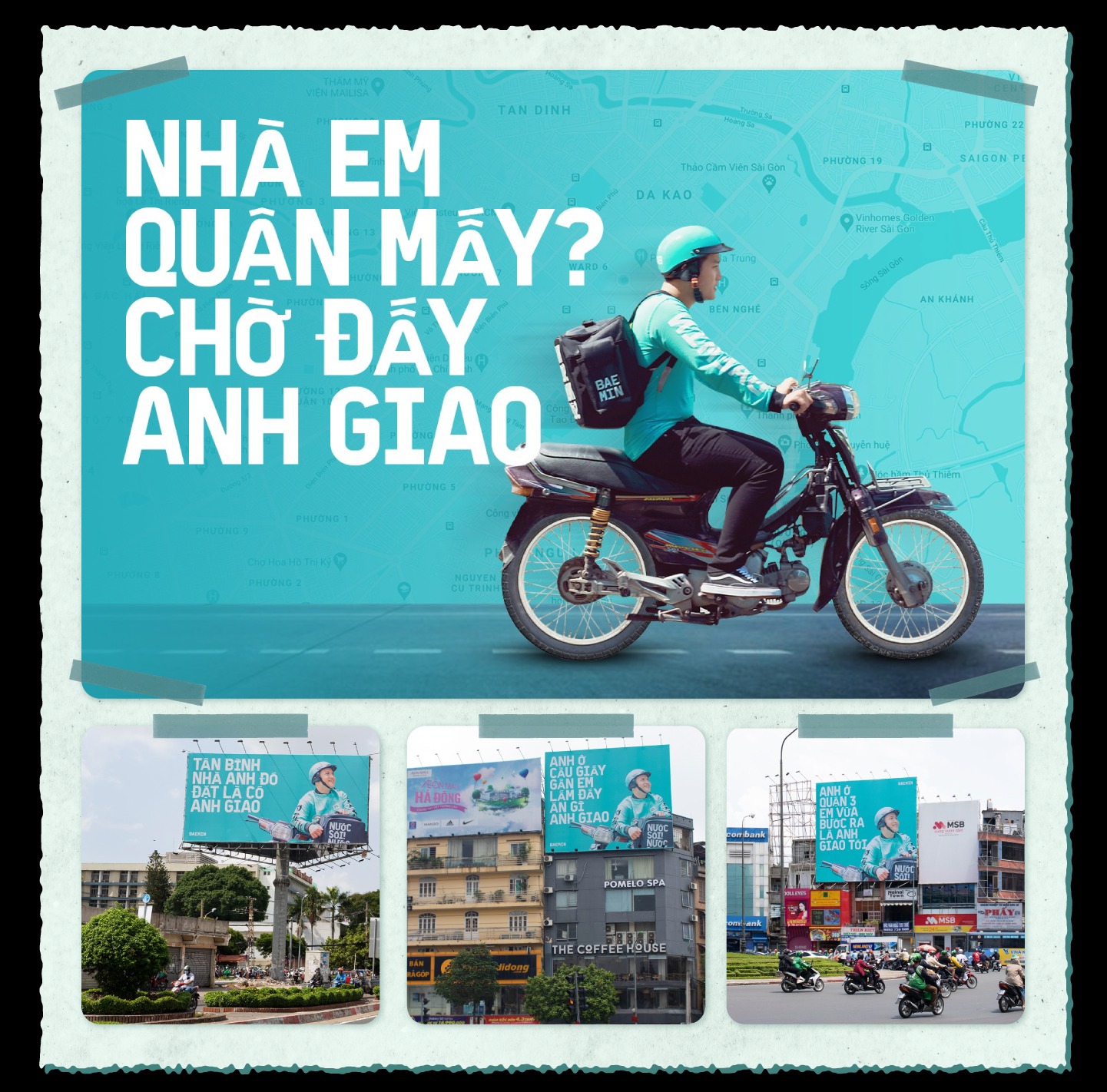 Or the "Baby" campaign helps BAEMIN to stay ahead of the healthy eating and health care trends. The company realized that women always want to be "babies" in the eyes of their loved ones, so it encouraged them to remember to take care of themselves and pay more attention to their health. MV "Baby" performed by AMEE and Karik has reached the top 3 YouTube Trending after only 72 hours of release.
It can be seen that in each media campaign, BAEMIN still knows how to let others talk about themselves with positive reviews. BAEMIN's marketing activities seem very simple, but to create a spillover effect and make people remember it is not easy to do. It is the result of a whole process of market orientation and target customer identification.
Implementation: Advertising Vietnam
Design: Dat Dang