The form of pawnshop business is inherently subject to many prejudices of society, many people often associate the pawnshop field with illegal activities, gangsters, debt collectors, bullies, etc. Spontaneous, small development The retail, individual nature and unprofessional operation of many pawn shops have adversely affected the overall reputation of this business form. The appearance of F88 Business Joint Stock Company with the model of a pawn chain is like a breath of fresh air to the market that has been attributed with many scandals. So what is 

F88's marketing strategy

  to help break down misconceptions about the pawn industry?
About F88
Background
According to the survey results of F88, there are more than  30,000 pawn shops  operating from North to South, not to mention online pawn and loan applications, a number that shows the  huge potential  of this market. Although people's demand for quick loans through this service is great, there is no unit that can meet their needs in terms of service quality, professionalism and especially the trust of customers. row.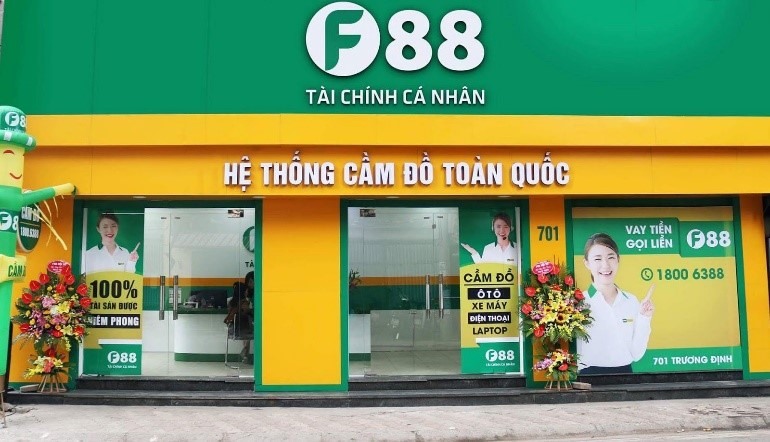 People's opinions about pawn services are too one-sided and slightly negative. Many people believe that pawnbroking and quick loans are only for people who are passionate about gambling, addiction, teenagers playing debauchery, etc. Moreover, the images and video clips record the events of the gangs. , the gangsters come to collect rent, destroy properties, threaten not only the lender but also disturb the surrounding relatives of some unscrupulous pawn shops, making the image of businesses even more ugly. healthy and professional pawn business.
In the face of these one-sided prejudices, Mr.  Phung Anh Tuan  – currently CEO of the F88 pawn chain has decided to enter the pawn market – an industry that does not receive much sympathy from society to start up and explore opportunities. new society to bring better things and  change society's view  of this legally recognized and extremely potential business.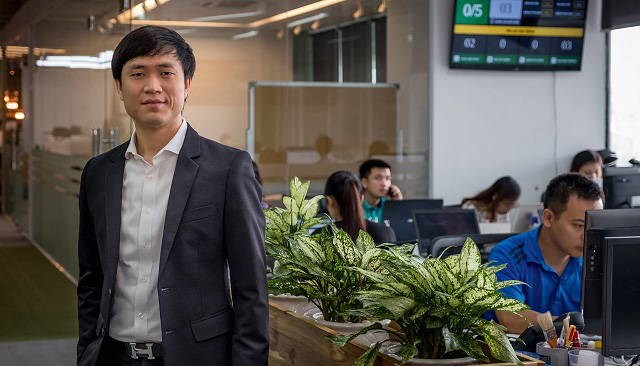 Target
The original goal of F88 when deciding to enter this market was the desire to change the perspective of Vietnamese consumers, change social stereotypes about pawn services and explore a customer base that has never used this product. use this service.

F88 aims to become the 

 number 1 pawnshop service provider in Vietnam

 by 2021  in terms of market share, brand and quality, with 300 transaction stores across 63 countries.

Up to now, the vision and mission of F88 is no longer to change stereotypes about the industry but to " 

Change the approach to finance, helping people have a better life

 ". That is, how to create a service so that people can easily borrow money but borrow money to get better, not to get poorer because of borrowing.
Object
The characteristics of these "hot" loans are that the loan period is urgent, the value is usually not too large, the time is short, the paperwork and procedures are simpler than a bank loan.

Customers of these service businesses are often instantaneous, intermittent, and it is difficult to turn them into loyal customers, so it is necessary to develop a space to attract and attract frequent customers. often.

F88's main customers are retail traders and employees – who are below the standards of banks and other financial companies.

F88 is aimed at a new set of customers who have never gone to pawn or borrowed money.
F88's brand identity image
Friendly, easy to remember and stand out in the crowded street with 
Behind a long-term vision with a great mission of F88 is to change consumer perception . F88 is one of the unprecedented projects with the challenge of changing perceptions and apprehensions towards a professional and reliable service for a long-term vision of the Personal Consumer Finance system chain.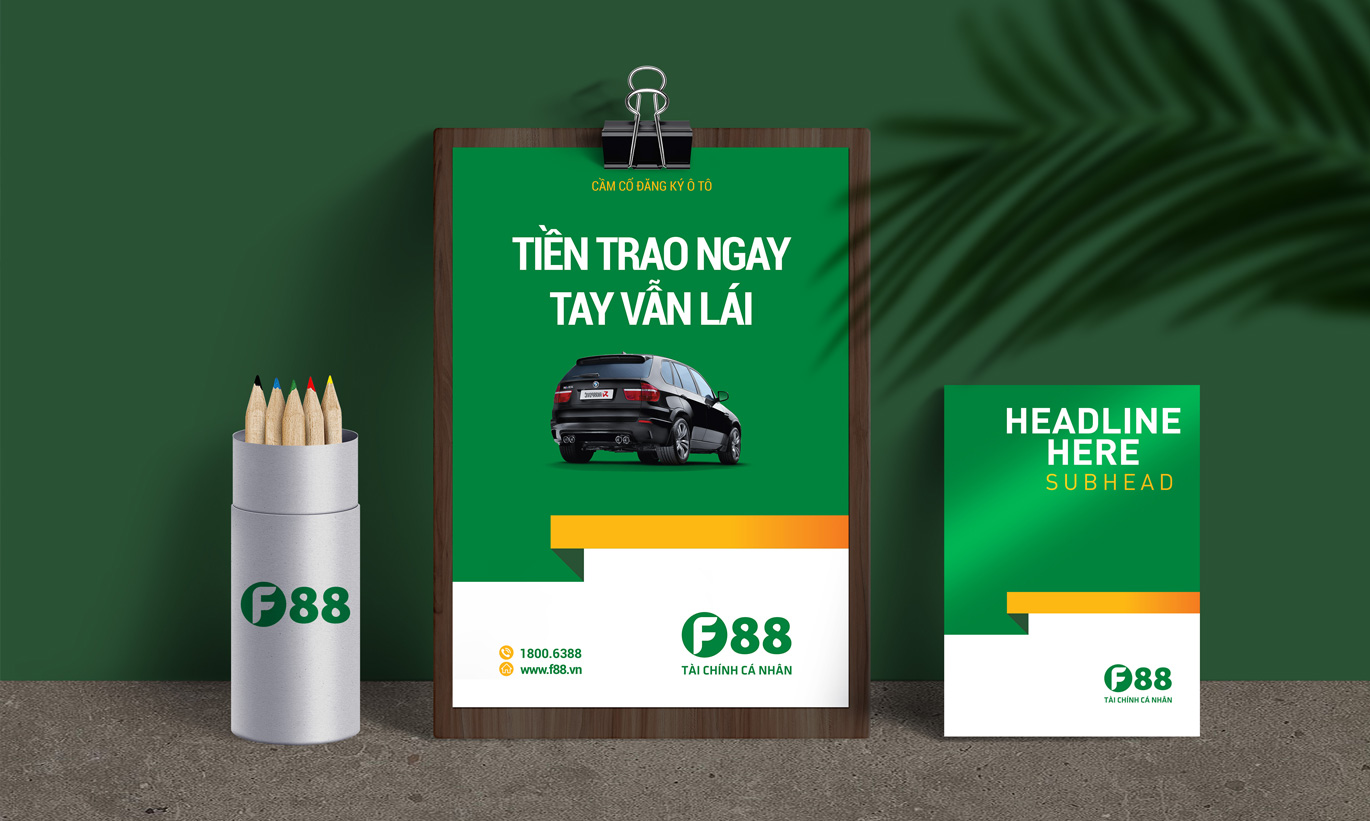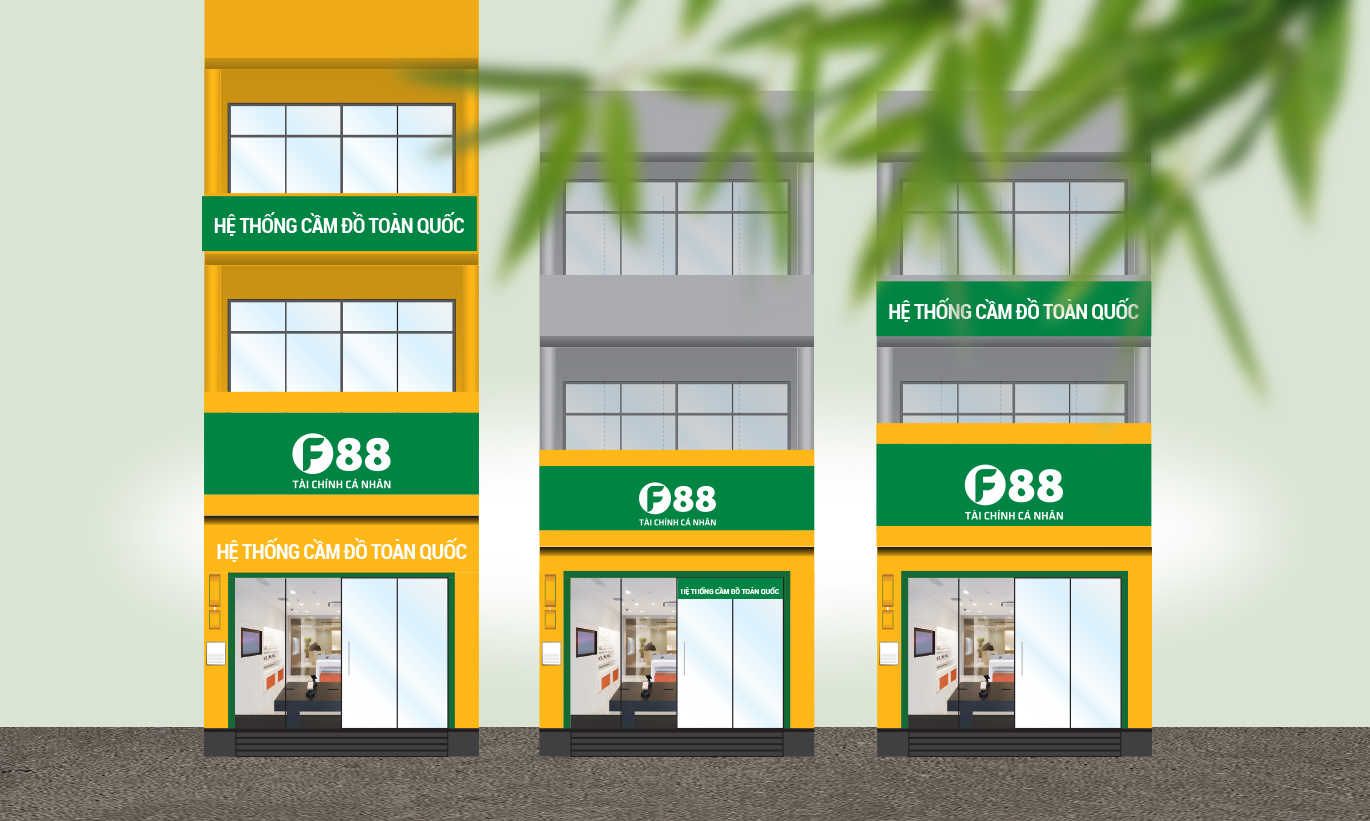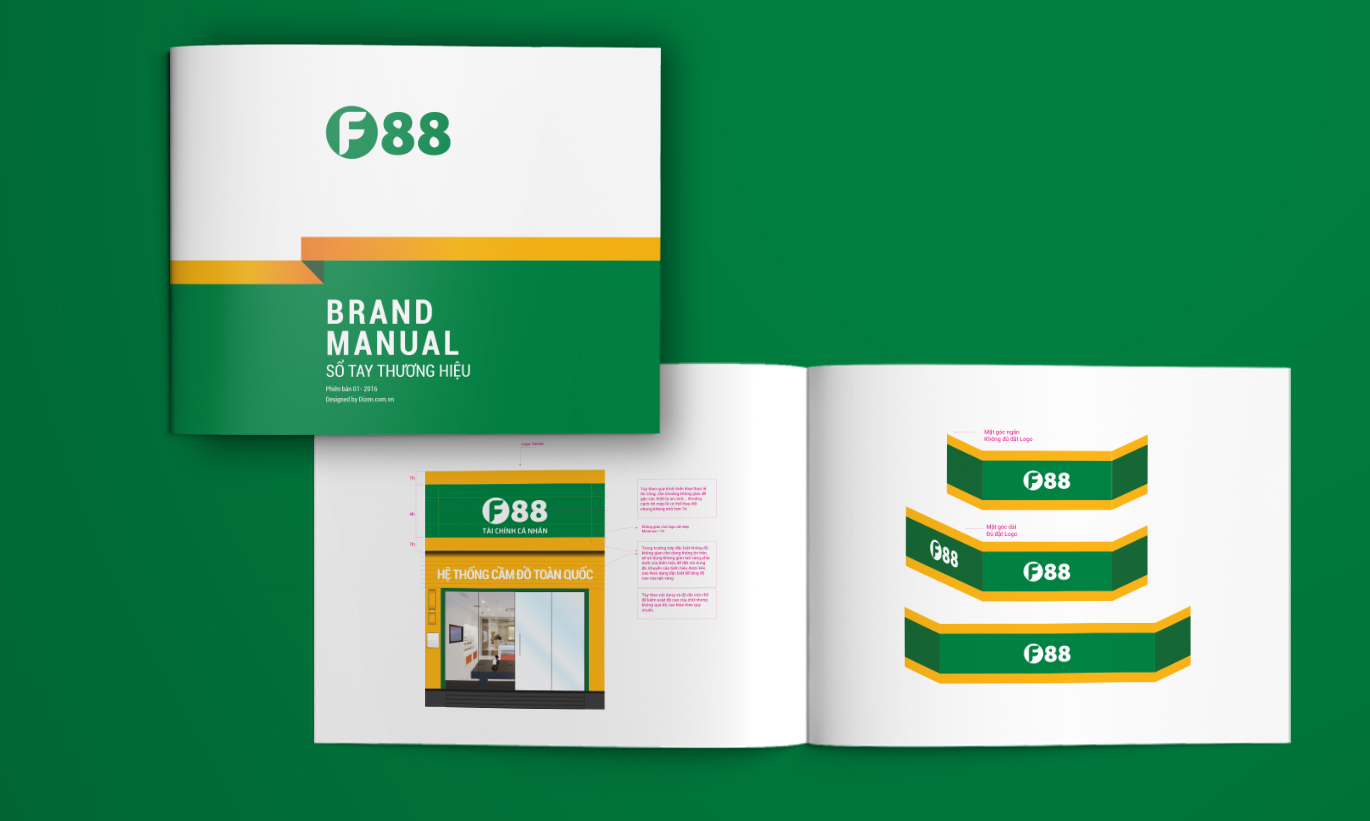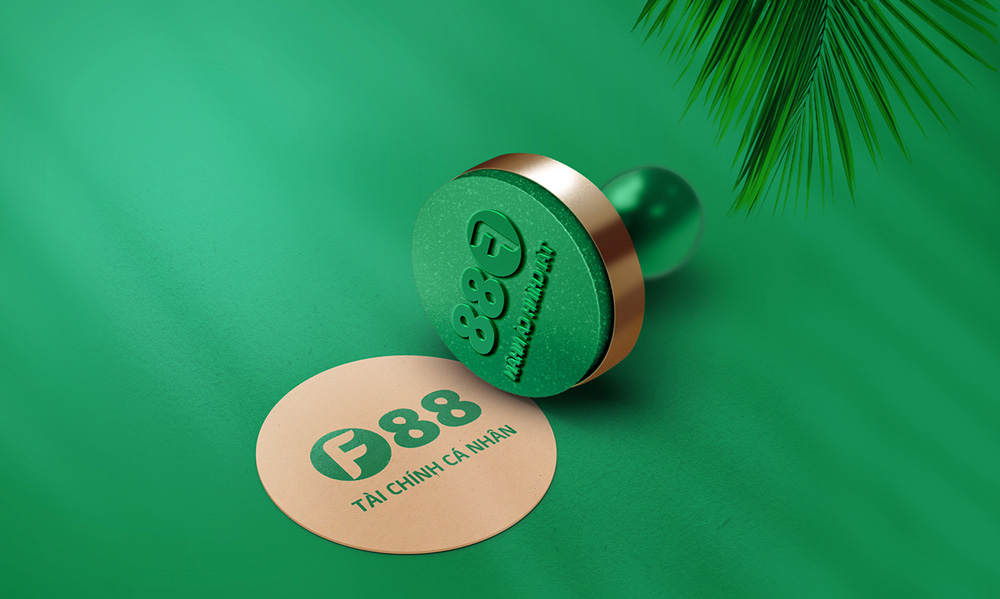 Design by ThiCao
With outstanding eye-catching brand design solutions   , differentiation and rigorous network strategy, the location is the intersections and junctions with the criterion of small area to optimize the brand's point of view and touch. But optimizing costs for investors helps the entire system benefit from transaction locations such as the chain of "Big billboards".
Execution – F88's marketing strategy
Customer satisfaction is the number 1 priority in every thought and action
In order to realize the set goal, from 2018, F88 decided to choose and pursue the  brand positioning strategy of  " Responsible lending " with the desire to change the financial approach, helping people have a better life. Live better by providing Fast – Easy – Transparent service.
The first step in this journey is the effort to earn the " Client Protection Principles" (CPP) certification – the world's first rigorous financial consumer protection standard from Smart  International.  Campaign maintained. This is a certificate endorsed and committed by 5,048 organizations and individuals worldwide.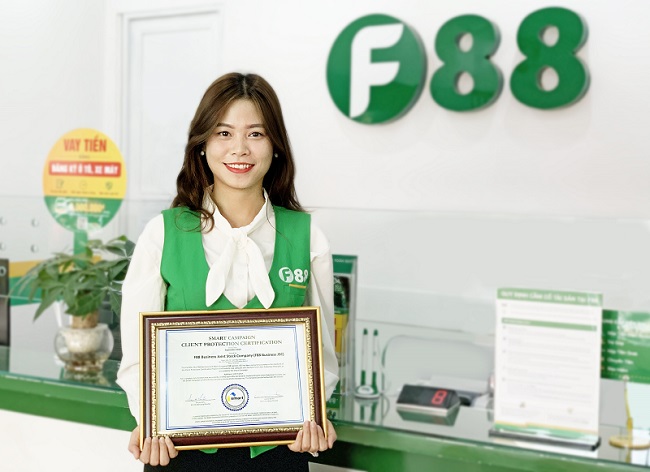 F88 became the first credit institution in Vietnam to receive CPC certification. Photo: theleader
This certification is testament to F88's relentless efforts in building a solid cultural foundation and   sound brand strategy .
Smart Campaign CEO Isabelle Barres said: "F88 has attested to their commitments and actions in terms of responsibility, fair treatment and fair dealing with customers. F88's efforts to put customer protection and care at the heart of it all have contributed to a new standard in consumer finance."
To get this certification, F88 must  meet 100% of the  strict standards of Smart Campaign, and commit to absolutely complying with the requirements for 4 consecutive years and must pass the mid-term assessment after 2 years.
With this certification, F88 customers are committed to transacting in a friendly and transparent mortgage lending environment, providing a variety of loan packages that best suit their ability to pay. At the same time, the customer's personal information is absolutely confidential, the borrower is fully guaranteed legal rights.
Activity: Differences in appraisal
According to Mr. Tuan, property appraisal is the most important step in pawn business. If customers value high, it is easy to give up, this may negatively affect F88's goal of building a loyal customer file in the long run. But if the appraisal is low, the loan amount is small, customers will quickly leave and look for other units.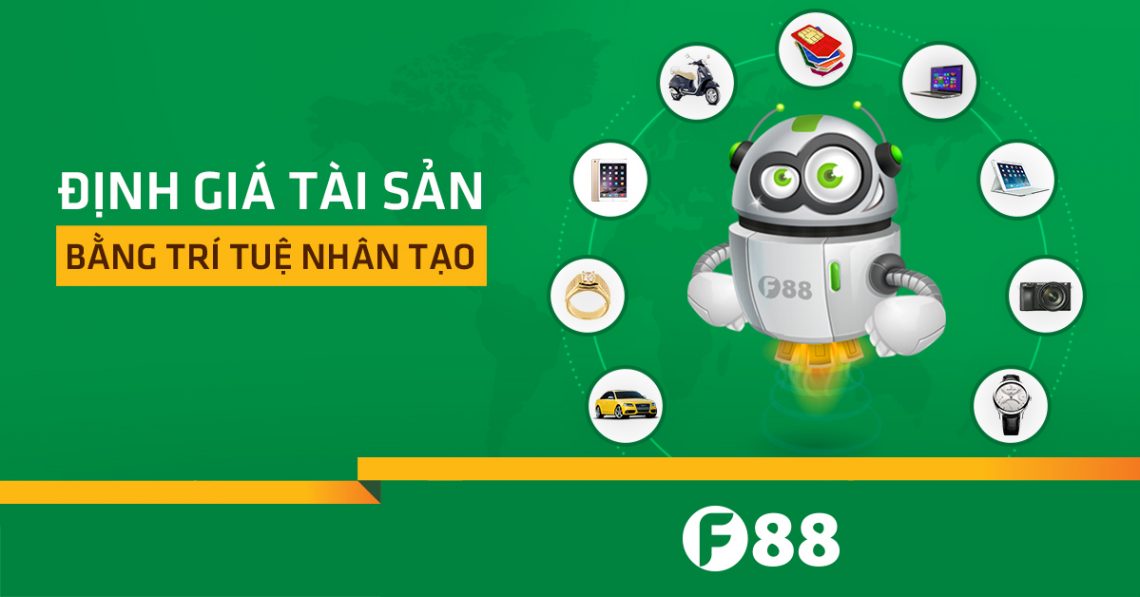 Technology application in property inspection at F88. Photo: F88
To harmonize between these two issues, F88 has built a professional property appraisal committee including many experts from many different fields such as phones, laptops, cars, motorbikes, etc. When the scale is opened Widely, F88 quickly applies technology in appraisal to reduce human effort and reduce customer waiting time.
Corporate culture
F88 has a team full of cohesion, always open and professional. This is an indispensable factor in the success of the F88 pawn chain.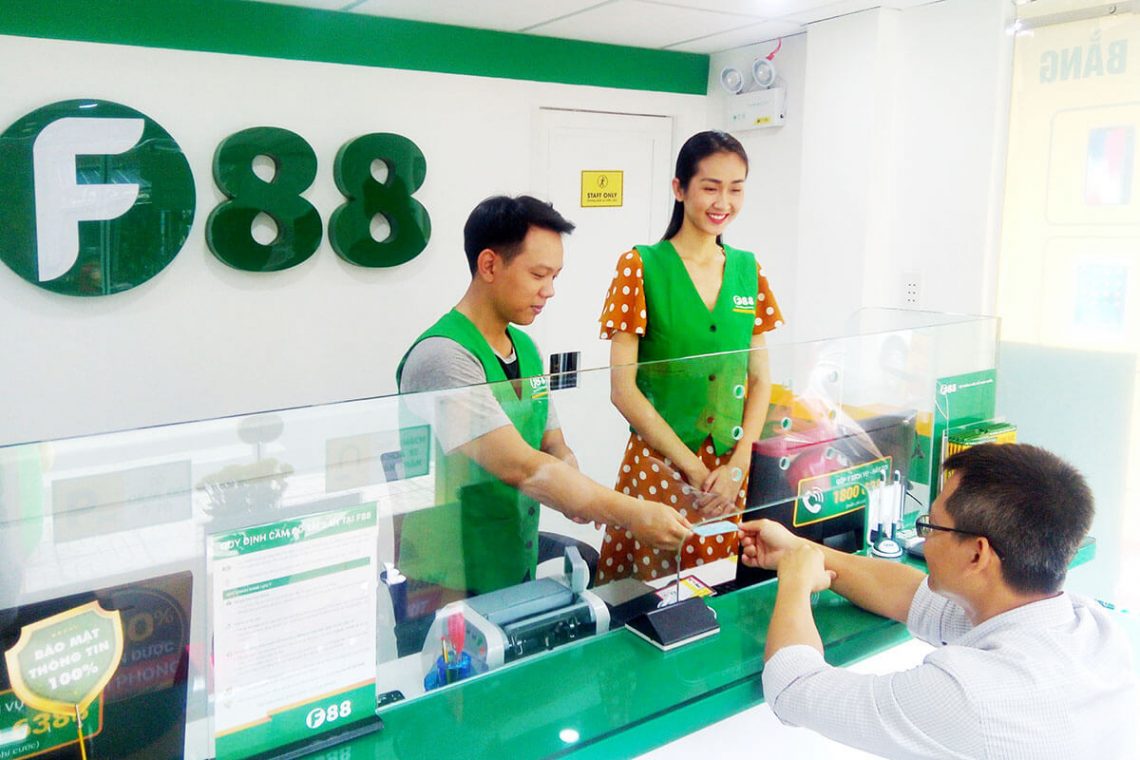 A cohesive team of employees is an invaluable asset of F88. Photo: noitoisong
The friendliness and dedication of the staff, the methodical and transparent service, the spacious store, etc. are the things that contribute to changing consumers' views about pawn services.
Social Media
F88's Facebook page " F88 – Personal Finance " owns more than  78,000 likes  and more than  83,000 followers  – an impressive number given the position of a company operating in the pawn and financial sectors. Taking advantage of the available potential of this platform, F88 has deployed many attractive content to contribute to the goal of positioning the brand in the minds of users. Specifically:
Rice Seeds Love Program : This is a program in the series of activities for the community of F88. The Rice Grain program was initiated by F88 to support difficult situations, heavily affected by the Covid-19 pandemic. This love journey was actively shared by F88 on the fanpage and quickly received strong support from the community.
The program of Rice seeds of love – spreading warmth during the Covid-19 season of F88. Photo: Facebook
Funny, trendy videos and images : The content on F88's fanpage is not dry and rigid. F88 has cleverly integrated its products and services into funny, humane and accessible videos to users.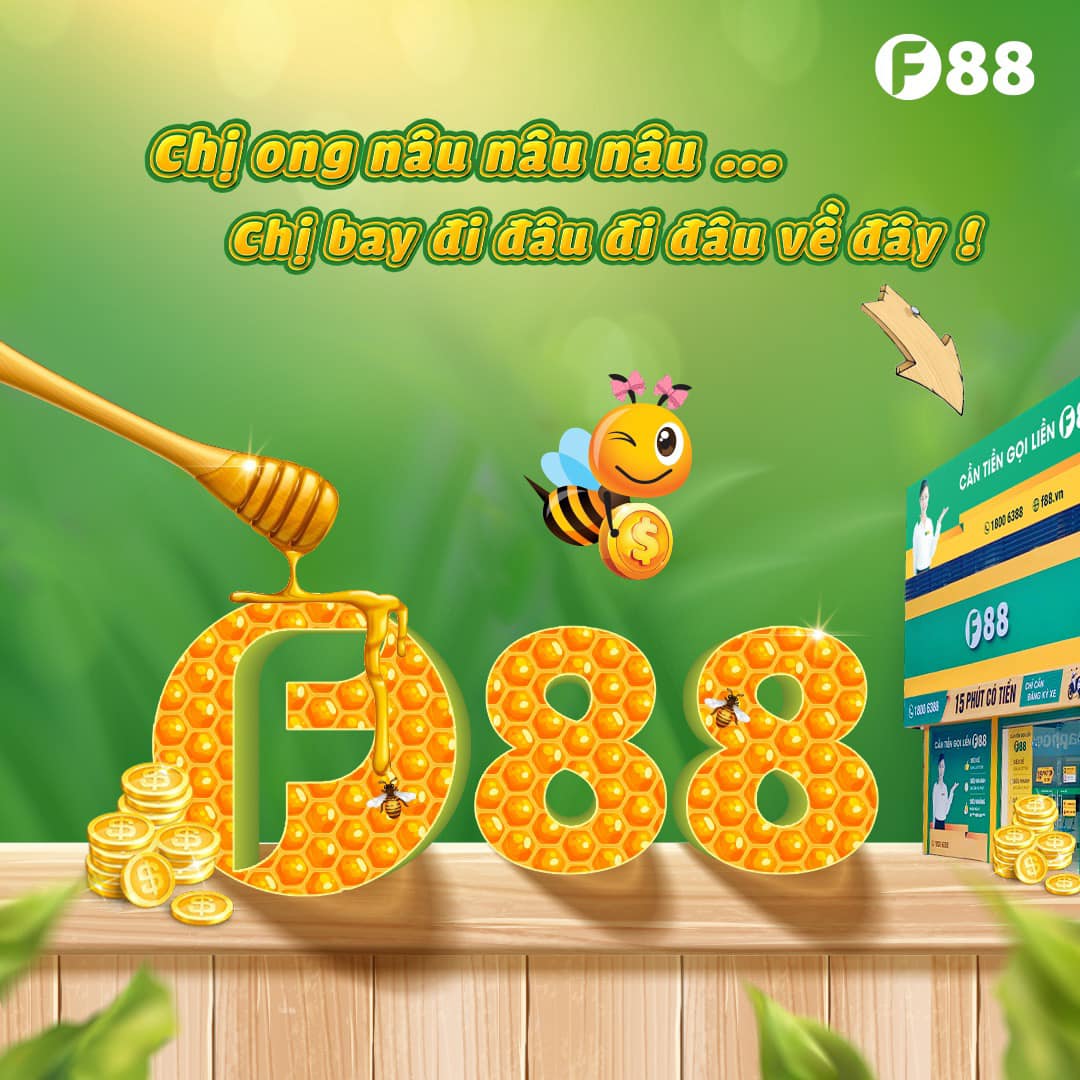 The post caught the trend of "brown bee" of F88. Photo: Facebook
Deploying livestream programs and minigames : F88's livestream always attracts a lot of views and interactions with many extremely attractive gifts.
Results from F88's marketing campaigns
F88 successfully opened its 300th transaction office in 2020, reaching its target one year ahead of schedule. According to CEO Phung Anh Tuan, now F88 can open a new transaction office in one day instead of three months as before.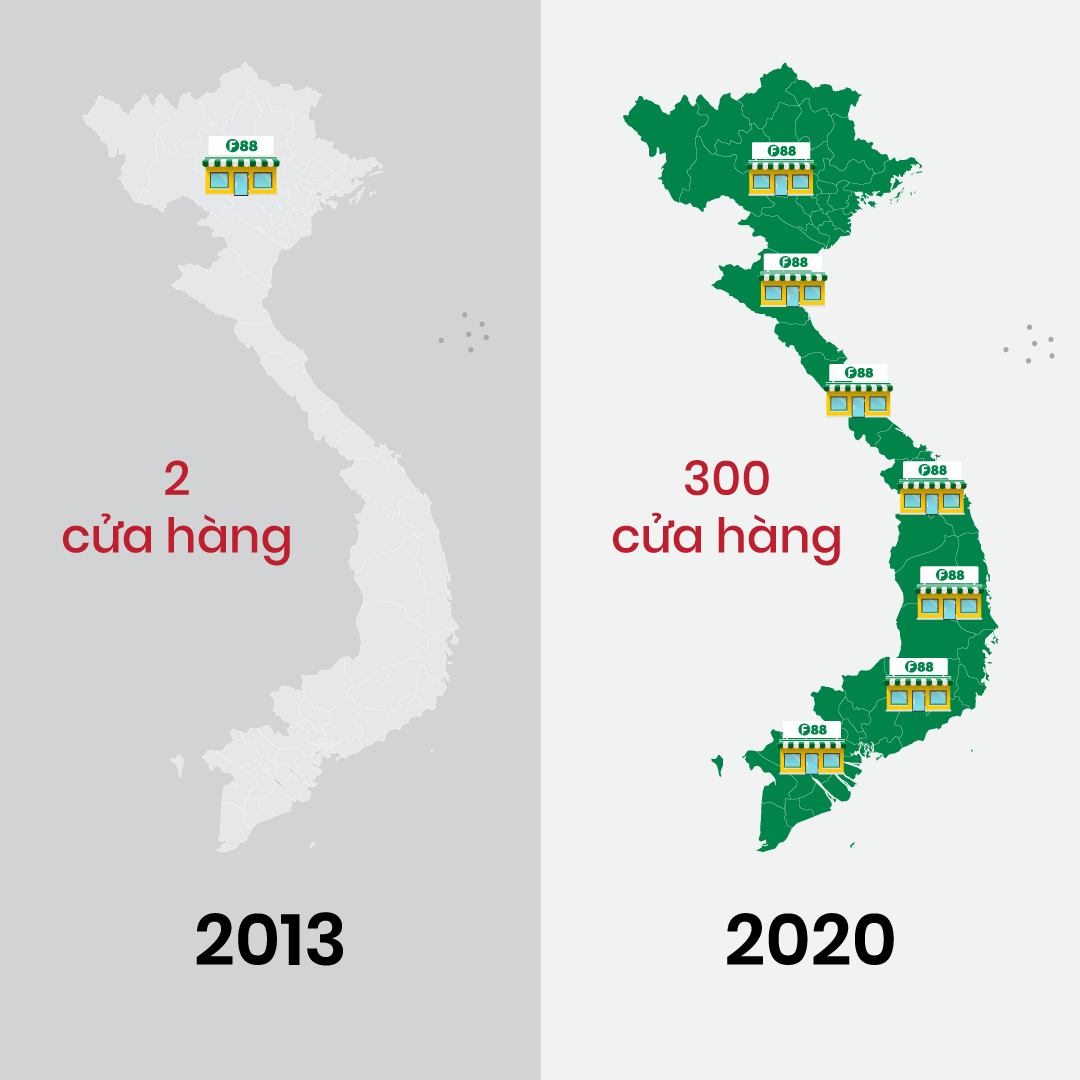 F88 reached the target of 300 transaction stores one year ahead of schedule. Photo: Facebook
The inferiority of employees at F88 has been replaced by pride, they love and are willing to stick with the organization for a long time.
F88 has become a reliable credit institution in the eyes of consumers, because of its thoroughness and professionalism from product quality, safety and information security to staff behavior, store space. and work for the company's community.
F88 is funded by Mekong Capital – a pretty cool investor, owning a list of "terrible" capital investments such as The Gioi Di Dong, Golden Gate, Wrap & Roll.
Conclude
The change of an unfriendly view of the pawnbroker sector, which is not an obvious thing, when the not-so-good events related to this activity still regularly take place and spread on social networks. However, with the unremitting efforts of the excellent staff, a clear strategy and a methodical management system, F88 has received the recognition, openness and trust of the society about this type of business. its service model.