Starbucks is one of the most famous coffee brands today in the world and in Vietnam. To achieve current success, this brand has deployed effective Marketing Mix strategies according to the 4P model. Let's analyze Starbucks' Marketing strategy in detail in the article below.
Overview of Starbucks Coffee
According to  Wikipedia , Starbucks is a famous coffee brand in the world. Starbucks coffee company is headquartered in Seattle, Washington, USA; In addition, the company has 17,800 stores in 49 countries, including 11,068 stores in the United States, nearly 1,000 in Canada and more than 800 in Japan.
The first Starbucks coffee shop was founded at 2000 Western Avenue (Seattle, Washington) on March 30, 1971 by three people: Jerry Baldwin – English teacher, Zev Siegl – history teacher and Gordon Bowker – writer. literature.
Inspired by Alfred Peet, founder of Peet's Coffee & Tea, the founders of Starbucks initially purchased green coffee beans from Peet's. Some time later, the shop moved to 1912 Pike Place, where it still exists, and they also began buying coffee beans directly from the farms.
Founded on March 30, 1971 in Seattle, Starbucks was then just a small store specializing in selling premium coffee and coffee grinding equipment. The history of this coffee shop changed when Howard Schultz – the famous CEO of Starbucks – realized the potential of bringing the Italian coffee service style to America.
Howard Schultz joined the company in 1982 as director of retail operations and marketing. After a trip to Milan, Italy, he came up with the idea that the company should sell both bean coffee as well as ground coffee. The owners rejected the idea, believing that going into the beverage business would move the company against its direction.
For them, coffee is something that is prepared at home, but they decided to introduce samples of ready-made drinks to customers. Some had the money to be making pre-made drink sales, and Schultz started the Il Giornale coffee bar chain in April 1986.
In 1984, the original owners of Starbucks, led by Baldwin, took the opportunity to buy Peet's (Baldwin is still active there).
In the 1980s, Starbucks offered the best benefits to their employees. Part-time bartenders not only have health insurance, they also have the option to buy company stock. However, Starbucks has also been the target of protests over issues such as fair trade policies, labor relations, environmental impact, political views, and anti-competitive practices.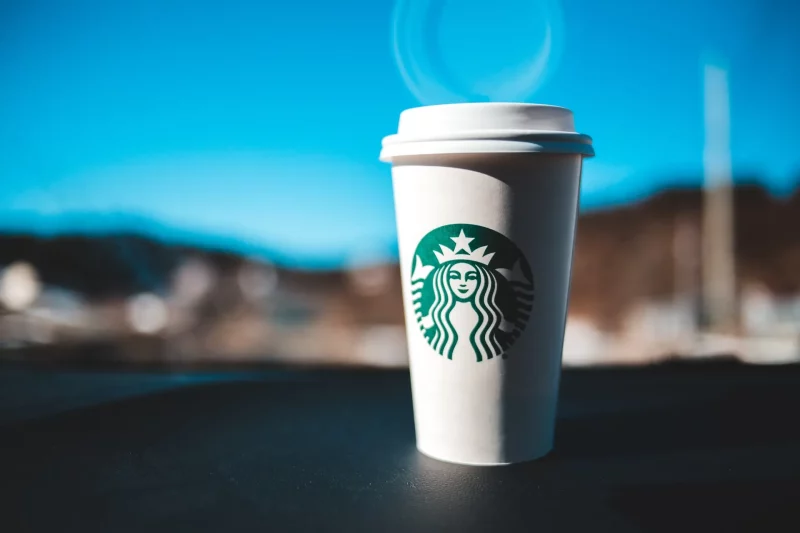 Analyze Starbucks' Marketing Mix strategy according to the 4P model
After 40 years of establishment and development, Starbucks has not only confined itself to Seattle or the US, but has even spread out of the continent, bringing the art of enjoying modern Italian coffee to other countries such as Japan, Hong Kong, South Africa…
Starbucks coffee brand currently has more than 20,000 stores in 61 countries around the world with 150,000 employees. The company's employees in the US earn an average salary of 8.8 USD an hour and receive insurance and some stock options. More than 65% of Starbucks stores are located in the US.
Currently, the Starbucks coffee brand serves more than 40 million customers every week and sells 4 billion cups of coffee every year. Starbucks does not have a franchising policy and has no intention of doing so in the future.
To achieve current success, Starbucks has  effectively deployed and applied the Marketing Mix strategy according to the 4P model.  So what is Starbucks' marketing strategy? How did Starbucks build its Marketing Mix strategy?
Starbucks Marketing Strategy for Products
When analyzing Starbucks' marketing strategy regarding products, Starbucks used a product diversification strategy to attract customers and serve the diverse needs of  target customers .
Some of Starbucks' main products can be mentioned as:
Coffee
Tea
Barbecue
Frappuccino
Smoothie
Other food and beverages
Goods (cups, instant coffee, etc.)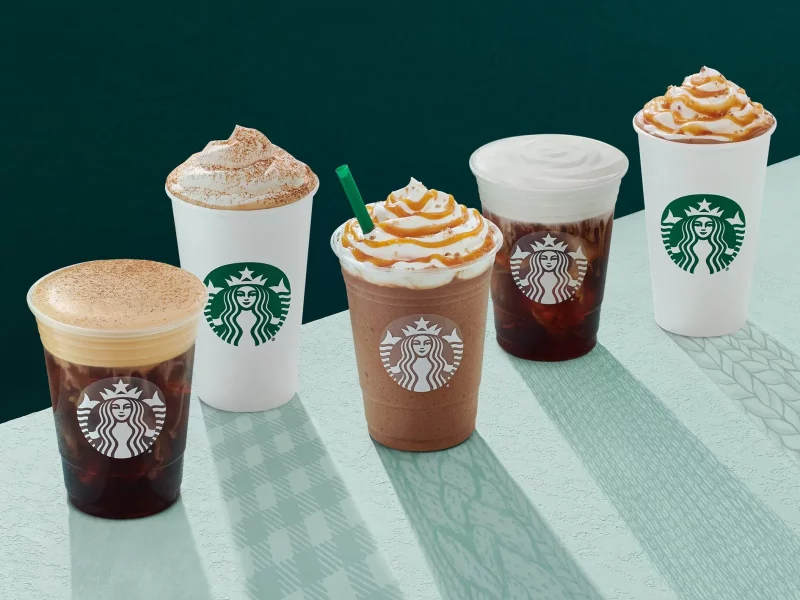 In addition to products sold all year round, Starbucks also constantly renews its products and product lines with seasonal products, limited edition products, products for the holiday season, etc.
Besides diverse products, Starbucks also always focuses on improving the quality of its products and services. Starbucks always wants to bring rich aromatic coffee cups, unique flavored cakes and teas, and professional service style from staff. These are the  USPs  (Unique Selling Propositions) of Starbucks to attract its customers.
Starbucks has always innovated products to suit customer needs. In addition to cups of coffee with passionate flavors, other products such as fruit tea, seasonal products, limited products… constantly change to match the flavors of each season. It's the scent of berries that helps cool off in the summer, or the warm, sweet chocolate flavor that's indispensable during the Christmas season.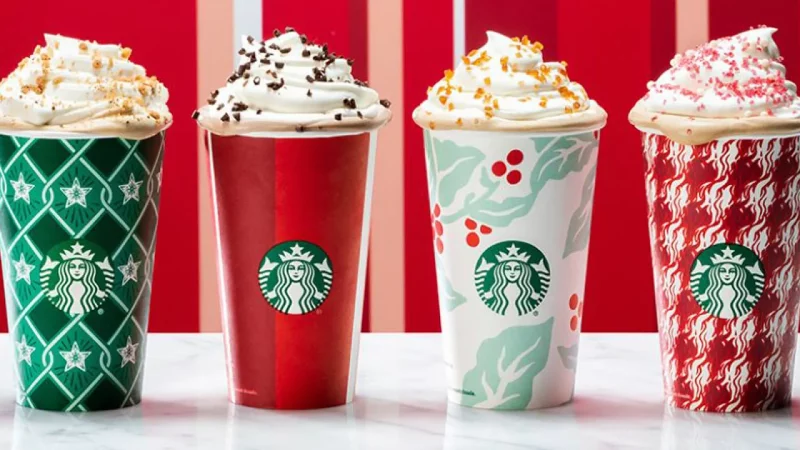 Starbucks' products are so unified that they are willing to abandon their products or product lines if those products greatly affect key products. Starbucks once eliminated their sandwich line because it affected the taste of coffee – the key product this brand provides to customers.
Basically, Starbucks' main marketing strategy for products is diversifying its product lines, while focusing on innovation and improving product quality to better serve customers.
Starbucks Marketing Strategy on Price (Price)
For Starbucks' marketing strategy regarding price (Price), this brand has used the   premium product pricing strategy (Premium Pricing Strategy).
With this strategy, businesses price their products high to show that the products are high value, luxurious, or high-end. Premium pricing focuses on the perceived value of the product rather than the actual value or cost of production.
Premium pricing is an important function of brand awareness and brand perception. Brands that adopt this pricing strategy are known for providing premium values ​​through their products. That's why they are priced higher than other competitors. For example, the high-end fashion and technology industries are often priced using this strategy because their products can be perceived as luxurious, exclusive, and rare in the market.
>>Read more about other popular product pricing strategies in Marketing in the article :  Top 10 popular product pricing strategies in marketing
With Starbucks' marketing strategy, through high-end product pricing, this brand taps into the behavioral tendency of consumers to always think that expensive products will have high value, which has helped the Starbucks brand maintain its reputation. image of a premium and extremely high-quality beverage brand.
It can be seen that beverage products and bakery products sold by Starbucks have higher prices than usual. To explain this, it can be seen that Starbucks focuses on product quality and conveys the message that the products provided to customers are high-value products. From carefully selecting coffee beans to strict processing processes with a team of professionally trained staff, Starbucks brand products cannot be cheap.
In the Vietnamese market, Starbucks has taken advantage of price to target customer psychology. Starbucks offers a discount of VND 10,000 for each Starbucks member's drink when they use the brand's bottles and cups to store drinks. Currently, this promotion program is also upgraded by requiring customers to reuse their previous Starbucks drink cups. This helps reduce plastic cups released into the environment.
Besides, being a member of Starbucks also allows you to enjoy many incentives on drinks and prices on festivals, customers' birthdays or Starbucks' anniversary, etc.
Through this pricing strategy, Starbucks maintains its image as a premium coffee brand. However, the company still strives to develop to truly deliver high-quality products and improve customer experience at its cafes.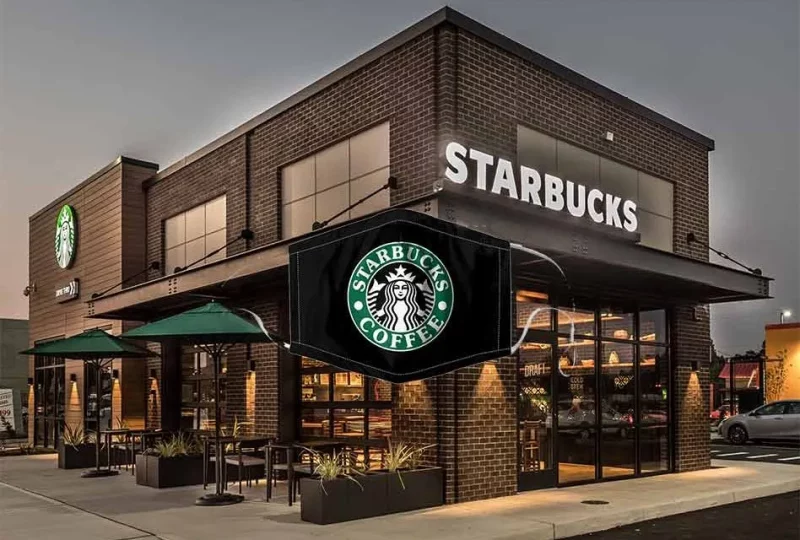 Starbucks Marketing Strategy regarding distribution system (Place)
Extensive distribution system is one of Starbucks' effective marketing strategies.
At first, Starbucks sold its products at Starbucks Coffee shops. As the Internet grows, Starbucks offers products in Starbucks Online stores.
Additionally, some products are sold through retailers worldwide. The company also allows customers to use the Starbucks App to place orders anytime, anywhere. This proves that the "giant" Starbucks has adapted quite quickly to changes in time, technology, and market conditions.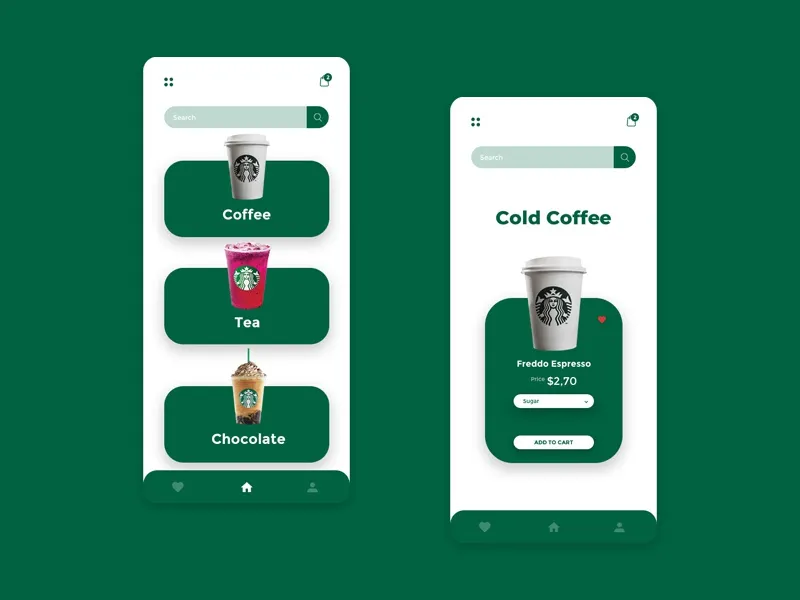 Starbucks has also brought its products to affiliated consumption points such as airports, hotels or coffee shops for office workers, helping Starbucks quickly expand its market and maximize profits. .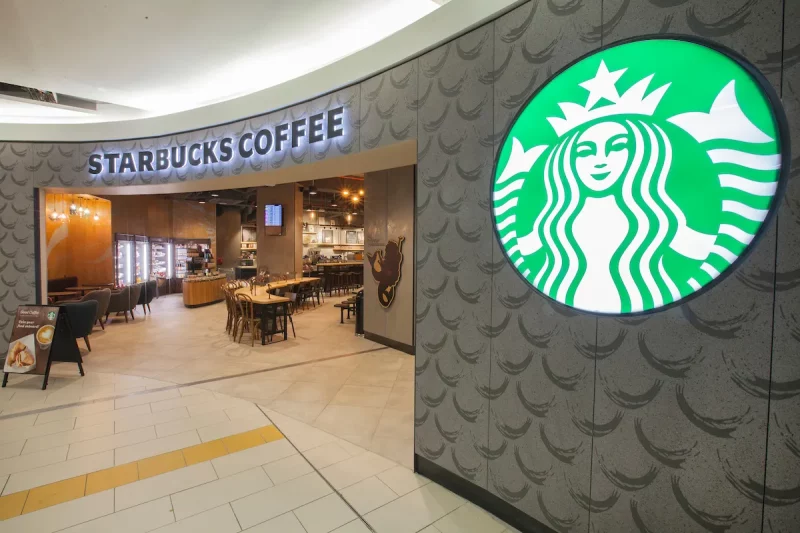 To date, Starbucks products are available in more than 40,000 grocery stores, including 33,000 stores in the United States. This huge number proves that Starbucks' marketing strategy regarding the distribution system has helped this brand demonstrate its number one position in the coffee shop market and provide premium drinks.
Starbucks Marketing Strategy on Mixed Promotion (Promotion)
When analyzing Starbucks' marketing strategy on mixed promotion, this brand has focused on implementing brand promotion campaigns and applying attractive sales discount programs  .
Social Media Marketing  is an effective marketing method that helps businesses reach a large number of potential customers, thereby building appropriate strategies to attract them online. Social networking platforms and conversion optimization.
Currently, most business customers access the Internet and use social networking platforms (Social Media) every day. According to statistics from Statista.com in 2020, people spend an average of 135 minutes a day using social networks.
With undeniable popularity, Social Media are clearly effective platforms for businesses to reach a large number of customers, deploy appropriate marketing campaigns to attract them and increase conversion rates. convert.
Understanding that, Starbucks has also taken full advantage of social networks, becoming one of the most mentioned coffee brands. Knowing that customers not only need to drink coffee but also want to share those moments with friends and family, this brand has increased its presence on popular social networking platforms such as: Facebook, Instagram, Twitter, Pinterest and turn coffee drinking into a customer hobby.
Not only is it successful with its products, but this brand also conveys Starbucks' coffee drinking culture by sharing images of customers enjoying life alongside cups of coffee at their stores.
Such images have attracted attention on social networks. The central image in many posts is not Frappuccino or Espresso cups but customers chatting and enjoying coffee together in a quiet and gentle space.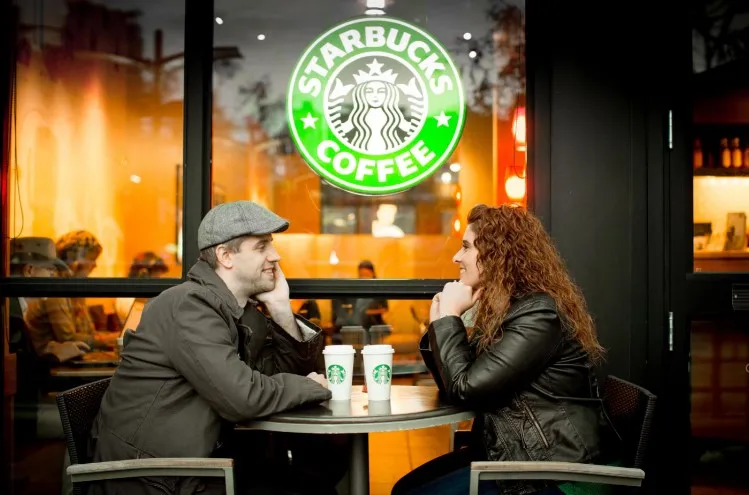 An effective social media marketing campaign of Starbucks can include the campaign: "Tweet-a-coffee". The Tweet-a-Coffee campaign allows people to give a $5 gift card to a friend simply by placing @tweetacoffee and their friend's Twitter handle.
In two months, more than 27,000 users tweeted about a cup of coffee and Starbucks' campaign. This has increased the brand recognition of this famous coffee company. Not only that, Starbucks also has customer information, such as Twitter handle images for thousands of coffee lovers.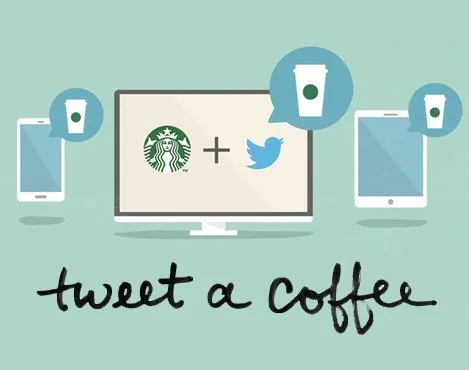 Implement promotional programs 
Implementing attractive promotions is also one of Starbucks' marketing strategies.
A prominent Starbucks promotion is the promotion used in Starbucks Rewards, which is a program involving free gifts that customers can take advantage of after purchasing a certain number of Starbucks products. company.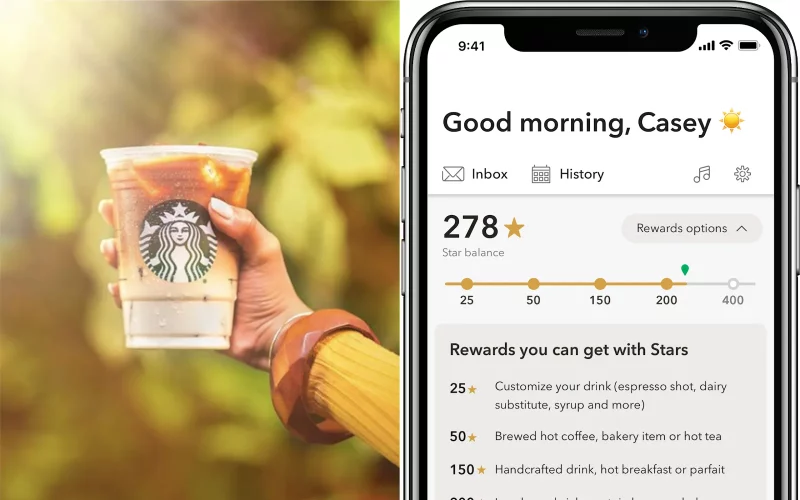 Besides, in Vietnam, when buyers own a membership card, a special incentive for them is to receive a free drink when paying the first 200,000 VND.
In addition, on their birthday, customers are given a free cake to express the store's congratulations and concern for service users. Thanks to these promotions, it has promoted the word-of-mouth marketing process, bringing Starbucks closer to customers.
Summary 
Starbucks is one of the most famous coffee brands in the world today. To achieve current success, this brand has built its brand as a high-end coffee company with a diverse and high-quality product range as well as owning an extensive product distribution system to attract and reach customers. Starbucks' Marketing strategy is always worth learning and analyzing.
Check out some other great content: