Talking about the giants in the beverage market, Coca Cola is certainly one of the famous names mentioned at parties and conferences. In the Marketing strategy chain, Coca Cola's distribution strategy is always highly appreciated for its bold moves and secrets that are rarely mentioned in the media. Come on, let's explore with Malu through the article below!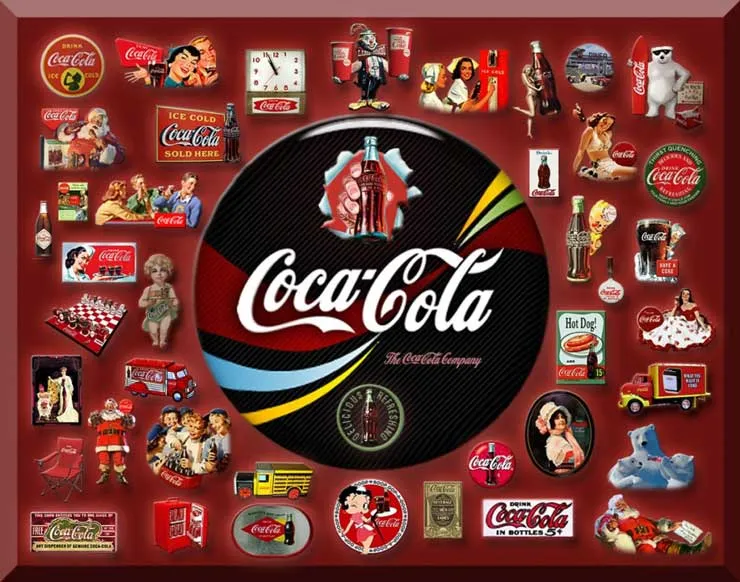 I. General introduction about Coca Cola Group
Coca Cola is certainly a very familiar beverage brand to the Vietnamese market. Entering the Vietnamese market since 1960, Coca Cola has begun to exploit the potential values ​​of the market as well as come up with unique marketing strategies to attract customers.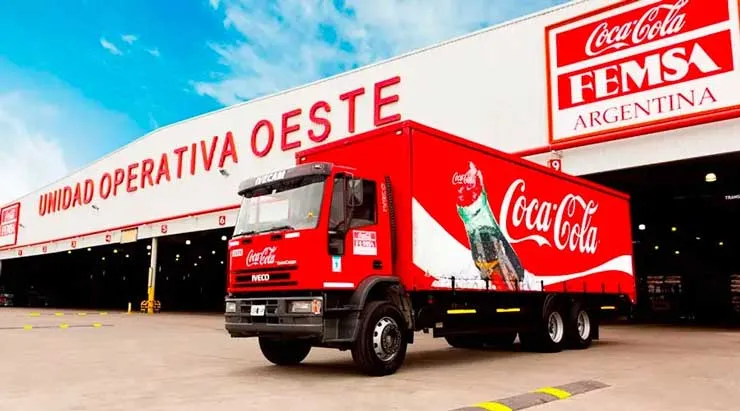 Due to the characteristics of the Vietnamese market, Coca Cola is aware that this is a very diverse customer segment in terms of beverage needs, Coca Cola Vietnam has attracted young people with its stylish, youthful and attractive style. . In fact, brands do not directly accept each market segment, but the process of analyzing target market segments requires a brand to have criteria appropriate to each segment, corresponding to the target market segment. a specific value.
Coca Cola focuses on segmentation according to two main criteria: Coca-Cola Vietnam has made efforts to distribute from South to North with a dense network from urban to rural, plain to mountainous areas. However, it is still mainly focused on densely populated areas. Coca Cola products appear everywhere, from large restaurants to small lemonade shops, from street ends to alleys,… stretching from North to South. Regarding demographics, Coca Cola uses influential KOLs, especially young people, to attract target customers.
II. Coca Cola's distribution strategy
1. Coca Cola distribution strategy directly to end users
Coca Cola originated from a small beverage shop with the main retail form being directly to users. After that, Coca Cola beverage became more popular with customers, sales increased rapidly, and the scale of Coca Cola also increased day by day.
Since then, Coca Cola branches have gradually expanded throughout Vietnam. With the goal of bringing products to consumers quickly, Coca Cola later had other distribution strategies such as through agents, supermarkets, wholesalers, etc. However, the focus is still on the sales strategy. direct.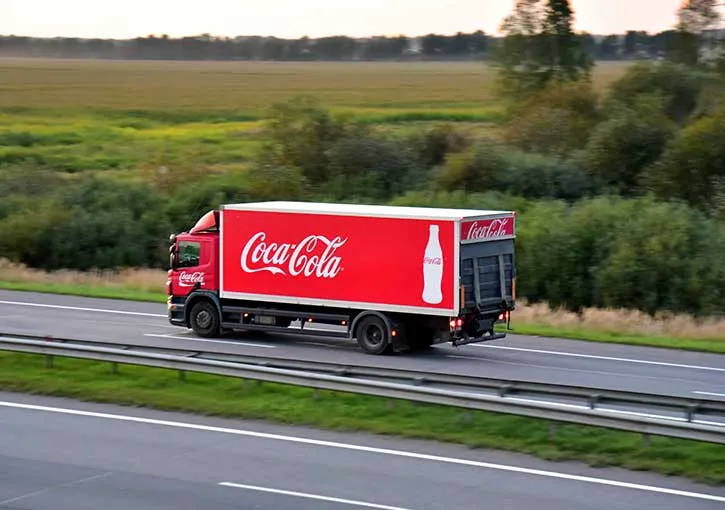 2. Coca Cola distribution strategy through vending machine system
Coca Cola's vending machine system is located at restaurants, entertainment venues, hospitals, schools, etc. Coca Cola earns billions of dollars every year thanks to its in-store vending machine system. Thousands of different locations.
Coca Cola's distribution strategy through vending machines has brought great revenue.
3. Coca Cola distributes products at direct sales points
At direct sales points, Coca Cola has been perfecting its distribution system with many new drinks on its menu such as carbonated drinks, energy supplements, milk and fruit juices. , drinks of plant origin, coca coffee, low-sugar coca…
In addition, Coca-Cola constantly innovates machinery, production equipment, packaging, and labels to ensure product quality and freshness. Thanks to this "innovation", Coca Cola always connects consumers at the point of sale and is always the top choice of customers when it comes to carbonated beverage brands.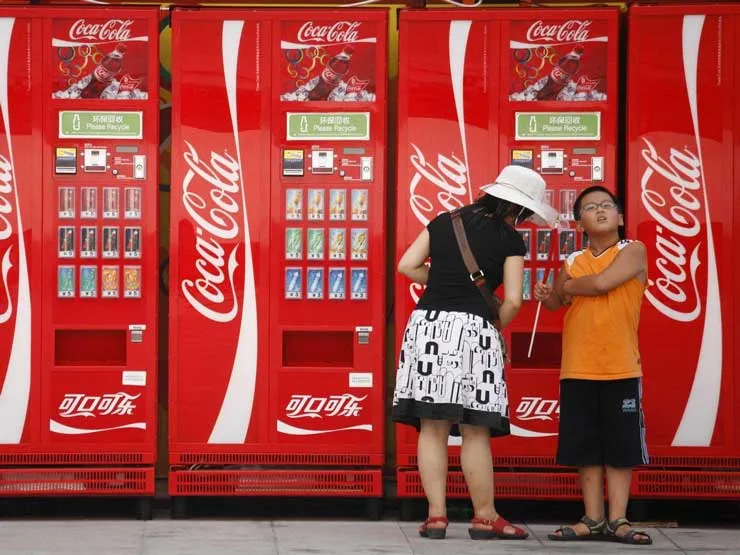 4. Coca Cola's distribution strategy to retail companies
Retail is an indispensable strategy for all businesses. Since its establishment, Coca Cola has followed the retail model at supermarket chains and agents to gain market share faster in the beverage market. Customers can easily find Coca Cola products in all large and small supermarket systems such as AEON, Big C, Vinmart, Coopmart, Lotte Mart, Emart, grocery stores… Coca Cola hits the psychology Users often stroll through the supermarket before going to the checkout counter. Therefore, Coca Cola is always displayed in many different positions in supermarkets to stimulate consumer shopping needs.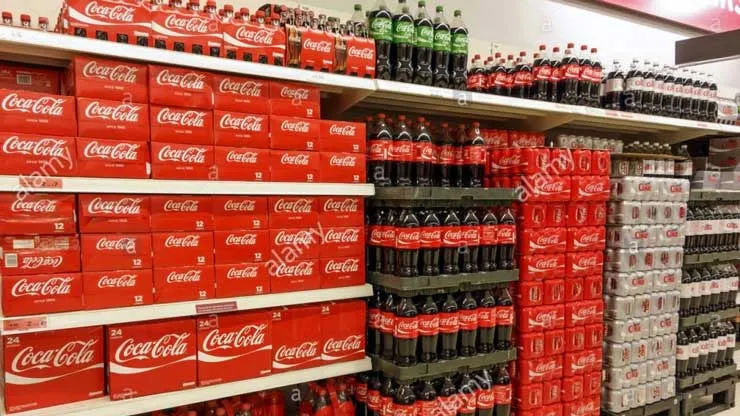 5. Distribute products to retail locations
In fact, many consumers are afraid to buy goods at supermarkets for many reasons such as: time consuming, cumbersome transportation, parking space… Therefore, users tend to go to small retail stores to shop. Buy products to make payment more convenient and save time. Therefore, distributing products to small chain stores is a very potential market that any big player in the beverage market is aiming for.
Understanding this, Coca Cola is now present in all small stores nationwide and has support policies for store owners with attractive discounts. For example: Support for sales management software, installation of display counters, billboards, stimulus promotions… Thanks to that, Coca Cola's revenue increased "dizzily" in the 2000s because At that time, Coca Cola was successful with its distribution strategy for each small store in the market.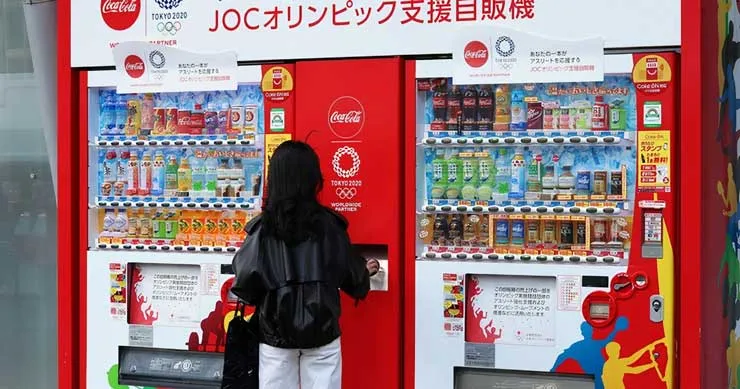 6. Coca Cola distributes products to target channels
Currently, Coca Cola Vietnam has three factories in Hanoi, Ho Chi Minh City and Da Nang, supplying drinks to corporate chains such as bars, restaurants, motels, hotels, hospitals, and systems. schools, etc. In fact, today's wholesale or redistribution companies have great potential in marketing, communication, capital, science and technology.
Therefore, Coca Cola was very smart when drawing up a distribution strategy for large locations such as Lotte Mart, KFC, cinemas… After all, cooperating with large distribution channels will help Coca grow quickly. quickly in terms of product consumption. In addition, this also helps companies save a lot of marketing and communication costs.
>> Read more:  Coca-Cola's Marketing Strategy in Vietnam 
As we have seen, Coca Cola has been very successful with its marketing strategy to customers, especially, applying Coca Cola's product distribution strategy to all corners of the Vietnamese market has helped the brand. This increasingly affirms its position in the hearts of customers. Hopefully the above information about  Coca Cola's distribution strategy  has brought readers useful knowledge.