To become one of the famous airlines, Vietnam Airlines has extremely effective business strategies. Let's learn and analyze Vietnam Airlines' business strategy in the article below.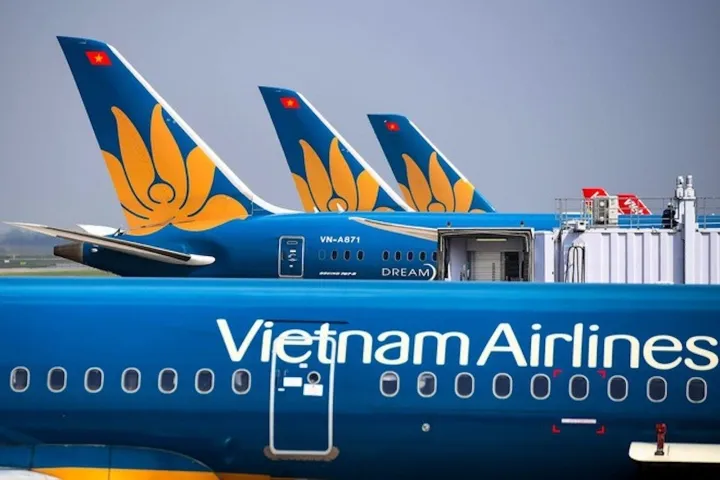 Overview of Vietnam Airlines Corporation
Vietnam Airlines  is Vietnam's national airline, affiliated with Vietnam Airlines Corporation and was established in April 1993. The airline is under the management of a Board of Directors with a 5-year term consisting of 5 to 9 people. .
Vietnam Airlines is currently operating more than 97 routes to 18 domestic destinations, 35 international destinations with an average of 360 flights per day.
Vietnam Airlines is the largest shareholder in Pacific Airlines with 98% of shares, holds 49% in Cambodia Angkor Air (Cambodia's national airline) and 100% in VASCO – a small airline specializing in flights to the South and the South. North in Vietnam.
In particular, in 2016 Vietnam Airlines was honored to receive the award "Asia's Leading Airline in terms of cultural identity", "Asia's Leading Economy Class Airline" from the World Travel Awards and "In the top airlines in Asia". Asia's most popular major airline in 2018. This has affirmed the position as well as the quality of service that Vietnam Airlines brings to customers.
Before 2002, Vietnam Airlines used the image of a stork flying through the full moon as its symbol. On October 20, 2002, Vietnam Airlines organized the introduction of the new symbol "Golden Lotus" marking a comprehensive change and restructuring with a program to modernize the flight team, expand flight routes and improve quality. service quality to become a regional and world-class airline.
As one of 10 traditional airlines with 4 stars or more in Asia, Vietnam Airlines shows its growth and development according to a unique strategy to compete with other low-cost airlines such as Vietjet Air. , Jetstar Pacific, BamBoo Airways… are increasingly expanding in the market.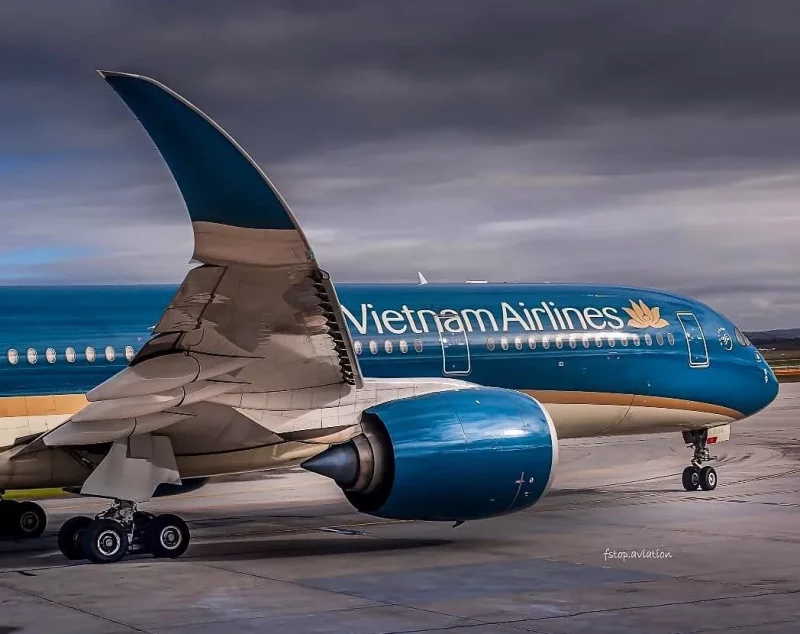 SWOT analysis of Vietnam Airlines
The SWOT model  is a famous tool known and applied by many businesses because of its usefulness in helping managers analyze important factors inside and outside the business from which to establish strategies. appropriate strategy and business plan.
SWOT stands for 4 words: Strengths, Weaknesses, Opportunities and Threats – is a famous model that helps businesses analyze and build your business strategy effectively.
Among the 4 elements of the SWOT model, strengths and weaknesses are two factors for internal assessment of the business. For these two factors, businesses can control and change. Often these factors are related to company operations, assets belonging to the business, product development, etc.
Besides, the remaining two factors, opportunities and challenges, are external factors that are often related to the market and are macroeconomic in nature. Businesses may not be able to control these two external factors. Businesses can fully seize opportunities, but they must also pay attention and be wary of external challenges that can occur at any time.
Read more details about the SWOT model in the article :  What is the SWOT model & 7 steps of SWOT analysis
For Vietnam Airlines, the strengths, weaknesses, opportunities and challenges of this brand can be analyzed as follows.
Strengths
It can be said that the strongest point of Vietnam Airlines is the support of the Government with a network of routes spreading across the country and globally. Large financial scale and modern and diverse aircraft fleet give Vietnam Airlines strength in image and reliability.
Vietnam Airlines has been known to people across the country for decades, so it does not need much promotion to be chosen in the minds of customers. Vietnam Airlines is an official member of the Skyteam airline alliance, so the international flight network will be wider.
Weaknesses
One weakness of Vietnam Airlines is that the state operating mechanism can lead to slow and dependent decision making. The level of flexibility in operations will certainly not be high.
In addition, Vietnam Airlines faces high operating costs. Currently in Vietnam, Vietnam Airlines is the airline that owns the most aircraft with 104 aircraft. Vietnam Airlines' fleet structure also includes the most advanced aircraft models, including wide-body aircraft including Boeing 787-9, Boeing 787-10 and Airbus A350. Therefore, the cost to maintain operations is extremely high.
Opportunities
Vietnam Airlines has the opportunity to expand its flight routes globally and domestically. With many advantages and routes, as well as support from the Government, if Vietnam Airlines knows how to take advantage, it will become a large corporation on the continent.
Vietnam Airlines also improved its image by supporting the Government and the health sector in transporting and ensuring equipment and supplies while the country and the world were "struggling" to fight the epidemic.
Threats
Regarding challenges, Vietnam Airlines is at risk of fierce competition and gradually losing market share when other businesses participate such as: Mekong Air, Trai Nguyen, VietJet Air Asia, Indochina Airlines…
Besides, in the context of a complicated epidemic, Vietnam Airlines is facing great financial pressure. Vietnam Airlines Corporation (Vietnam Airlines) in the first 3 months of 2020, Vietnam Airlines' consolidated revenue is estimated at 19,212 billion VND, down 6,712 billion over the same period and a loss of 2,383 billion VND.
Detailed analysis of Vietnam Airlines' business strategy
To become one of the famous airlines, Vietnam Airlines has extremely effective business strategies. So what is Vietnam Airlines' business strategy?
Business philosophy of Vietnam Airlines
Regarding the philosophy of Vietnam Airlines' business strategy, Vietnam Airlines commits to always accompany shareholders, be transparent and disclose information, maintain and enhance open dialogue channels with shareholders and operating organizations. Safe, quality and effective business on the basis of harmoniously balancing the interests of shareholders with meeting the country's economic development needs.
Business strategic goals of Vietnam Airlines
As for the goals of Vietnam Airlines' business strategy, this airline aims to maintain its leading position in market share (over 50% domestic market share; over 25% international market share) and competitiveness. compete on the basis of improving service quality.
On the other hand, Vietnam Airlines aims for an aviation business to reach group 3 in terms of revenue scale in Southeast Asia; strive to bring the Corporation to the group of 10 most popular airlines in Asia; On the basis of putting safety and quality first, consolidating 4-star service and gradually bringing Vietnam Airlines to 5-star airline standards during its term.
In addition, Vietnam Airlines also has the goal of implementing strong technological transformation towards becoming a digital technology airline and becoming the top preferred enterprise in the Vietnamese labor market.
Scope of business strategy of Vietnam Airlines
To be competitive, the scope of Vietnam Airlines' business strategy is the market segments that this brand targets. In particular, Vietnam Airlines focuses on customers and regions and geographies where products will be provided. From determining the strategic scope, the company will have appropriate business strategies.
For Vietnam Airlines, in Vietnam, while the market is highly differentiated, Vietnam Airlines Group has products that cover all customer segments. In addition to coordinating dual brands with Jetstar Pacific to serve the low-cost segment, Vietnam Airlines mainly focuses on developing mid- and high-end services according to international 4-star standards, highly appreciated by the rating organization. Prestigious airline in the world Skytrax.
Read more about market segments of other famous brands in the article :  What is market segmentation? 4 common types of market segmentation
Business strategy activities of Vietnam Airlines
Regarding Vietnam Airlines' strategic business activities, this brand has focused on developing and improving the following activities.
Research and development
Vietnam Airlines always focuses on promoting research and development activities. Vietnam Airlines' research center has the role of advising and assisting the Board of Directors and CEO. In addition, the center's activities are also to research and propose application solutions in the field of technology and management in the aviation field. At the same time, providing services for the company's production and business activities.
Currently, Vietnam Airlines' research center is operating with two main specialized departments: the Technology and Management Solutions Department and the Science and Technology Services Department with a total of 20 employees.
Technology
With strong investment in technical infrastructure, VNA has promoted online check-in methods via websites, mobile applications and increased self-check-in Kiosk check-in counters at many domestic and international airports. foreign.
Since 2019, the airline has launched a new mobile application version with many modern and easy-to-use features, helping passengers quickly search for flights, look up itineraries, and book tickets online. Timely updates on promotional programs,…
In addition, Vietnam Airlines also expands many payment methods on new technology platforms such as: payment by QR code through domestic payment gateway Napas (Momo, Moca applications) and domestic payment gateway VNPay; At the same time, adding SOFORT Banking online payment service in German, Swiss and Austrian markets… to create maximum convenience for passengers.
As the first Vietnamese airline to equip a Wireless streaming system on the A321neo aircraft, Vietnam Airlines has changed the "concept" and brought passengers a completely new in-flight entertainment experience.
Marketing Activities
Regarding Marketing activities in Vietnam Airlines' business strategy, this airline has developed and implemented the   following outstanding marketing strategies .
Locating a premium airline
Compared to other competitors in the market, Vietnam Airlines has an outstanding advantage when it is called "Vietnam National Airlines".
This is considered the company's advantage in attracting customers to its services. Vietnam Airlines affirms its position as a national brand airline, along with the quality of flight safety and service, helping customers feel truly secure and satisfied when taking Vietnam Airlines flights.
Nationwide dealer distribution
With a rapidly growing distribution network with 10,240 ticket offices (as of December 2016) and 31 branches and representative offices in 20 countries and territories, Vietnam Airlines covers markets in 4 continents to meet the needs of customers around the world.
In Vietnam, Vietnam Airlines has 5 affiliated units, 25 branches and is present in 20 major provinces/cities in Vietnam (according to Vietnam Airlines Annual Report 2019). Ticket offices located in major cities are the airline's official transaction points, assisting customers in solving problems related to reservations, ticket issuance, ticket refunds, and ticket exchanges.
In addition, Vietnam Airlines' distribution channel also focuses on digital transformation, implementing "digitization" through many projects such as improving website infrastructure and mobile applications, automating the customer care cycle such as Ticket exchange and online payment procedures help customers more conveniently and quickly when performing Vietnam Airlines services.
Media and PR build a "clean" image
Vietnam Airlines' communication and PR strategy is marked by a "clean" image, without tricks, helping customers feel its professionalism and high-class service.
Vietnam Airline makes short advertisements to introduce the airline's image and increase the frequency of broadcasting news about commercial activities on domestic and foreign news bulletins. With its position as "Vietnam Airlines' national airline", advertising TVCs that often appear on Vietnam Airlines' news bulletins have attracted the attention of a large number of interested people and widely promoted it to many people. different customer objects.
Read more details about Vietnam Airlines' outstanding marketing strategy in the article :  Vietnam Airlines' marketing strategy – Affirming its position as a "big man" in the aviation industry
Summary
To become one of the famous airlines, Vietnam Airlines has extremely effective business strategies.
Hopefully through this article, you will learn more about Vietnam Airlines' effective business strategies and then refer to them to deploy appropriate strategies for your business. Visit our blog to update good knowledge every day!