In today's market with most brands calling for attention, Muji represents the opposite of consumerism. Let's learn about Muji's success through this Muji Case Study!
Founded in 1980, Muji is a global Japanese retail company with a wide range of household goods, furniture, clothing and food.
Philosophy:  Ergonomic design, minimalist style, high quality and low to medium price.
What makes it different:  Focus on product quality and remove any unnecessary elements, including the brand name printed on the product – typical of minimalism, less is more.
Brand Story – Muji Brand Story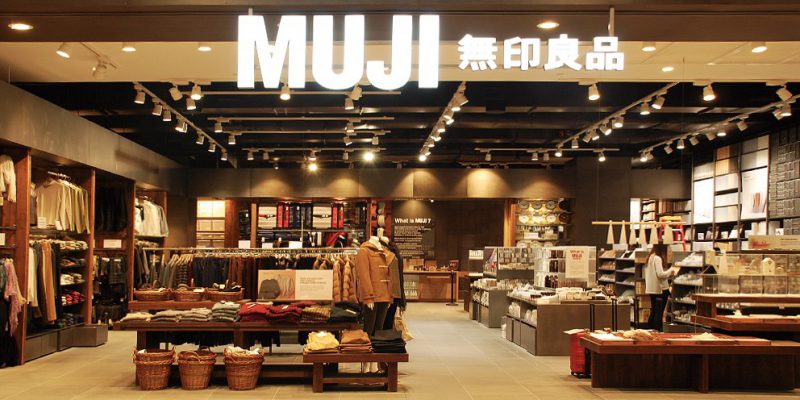 Start with the Muji Case Study which is the story behind the brand. The brand name 
Muji
 (full name: Mujirushi Ryohin) can be translated as "no brand quality goods". Is a retail company originating from Japan that specializes in selling a variety of items such as home appliances, furniture, clothing and food. Muji is known for its philosophy of designing quality, ergonomic products with minimalist Japanese aesthetics at a reasonable price point. The brand directs the focus to the product and eliminates unnecessary decorations. Everything about the brand, from the logo, packaging and minimalist design of the stores, represents "Less is More". Muji is also known for being ahead of the current "Marie Kondo" trend of sorting, tidying and organizing things.
Launched in 1980 with only 9 household products and 31 food products, Muji started as a product brand within The Seiyu supermarket chain in Japan. The Muji product line is designed to provide low-cost and good-quality products, marketed under the slogan "Lower prices are for a reason". With the original product only wrapped in clear paper, with a sticker of plain brown paper and red text – very simple, it can be seen that they only focus on optimizing, saving as much as possible to reduce costs. for customers. While other stores only offer whole, perfect slices of dried shiitake and throw the rest away, Muji decided to package those whole pieces and sell them. While other stores only sell straight spaghetti and throw away the U-shaped ends, Muji also decided to pack the U-shaped ends and sell them.
Therefore, the Muji brand has made its difference with a brand story that emphasizes recycling, avoiding waste, but still ensuring quality and convenience in production and packaging.
Brand strategy 
In the Muji Case Study, it is impossible not to analyze Muji's strategy of "No brand, with quality". This is a strategy to attract a group of customers who are tired of consumerism and pursue a modern, minimalist lifestyle, focusing on quality over quantity. With packaging kept to a minimum and natural, neutral colors, Muji's products may seem boring but are aesthetically appealing to customers who prefer simple, non-flashy products. , no labels. This is clearly reflected in the company's vision: "Be natural without name, be simple and be earthly".
1.The difference: Creating simple, quality, Japanese-style products without advertising. 
MUJI's "No-Brand" strategy attracts customers who want to go against consumerism, looking for new and different options from conventional "condensed" products with brand elements. . Using familiar materials such as wood, cotton and porcelain, simple packaging with natural tones such as black, white, beige, etc. MUJI's products make a deep impression on users in a very personal way.
Besides, MUJI upholds the Japanese style in its products with the philosophy: seeking beauty and art from simplicity . Along with sustainable green growth efforts, MUJI has built a strong relationship with customers who pursue minimalism and care about environmental issues.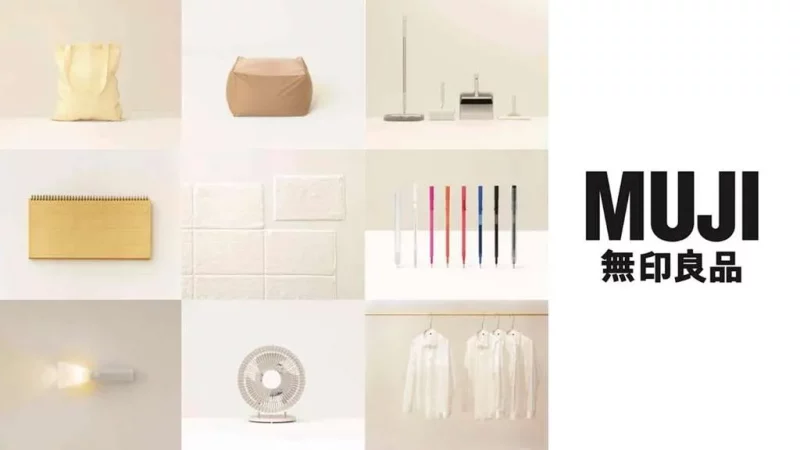 "Like Japanese culture, MUJI values ​​sincerity, honesty and efficiency. This is also how consumers feel about MUJI. They can find in MUJI products designed for them and for themselves." – Takuo Nagahara, Managing Director of MUJI Australia.
MUJI does not communicate by directly advertising products and organizing promotions. Instead, they focus on telling the brand story and spreading the philosophy behind the products through press and in-store events . In 2016, to promote fashion products made from recycled materials, MUJI held a meeting with designer Reiko Sudo at the flagship store in New York.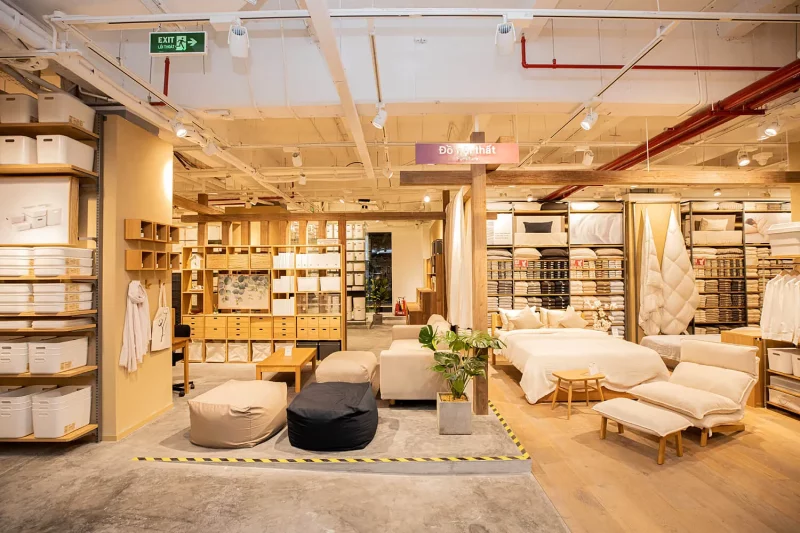 Besides, MUJI invests in the shopping experience of customers in-store and on online channels. MUJI's store always has soft music, relaxing scents and experience corners for customers to try products such as seals, essential oils… and feel the brand spirit in the most clear way. Therefore, MUJI's popularity mainly comes from the power of word-of-mouth marketing thanks to a large number of loyal customers who are satisfied with their experience at the store and after using the product.
2. Brand personality: "Natural, unbranded, simple and close" 
"Be natural without name, be simple and be earthly" is MUJI's vision. Brands impress consumers with sincerity (honesty, closeness, "ageless", ethical, conscientious), excitement (smart, innovative products) and efficiency. results (reliable, sure, durable).
3.Brand Model: The Everyman – Ordinary People 
Pursuing the model of friendliness, loyalty and comfort, MUJI wishes to connect and accompany customers. When buying MUJI products, consumers also express their views on consumerism, demonstrating a minimalist lifestyle that values ​​individuality. Choosing MUJI is a lifestyle choice and sustainable values.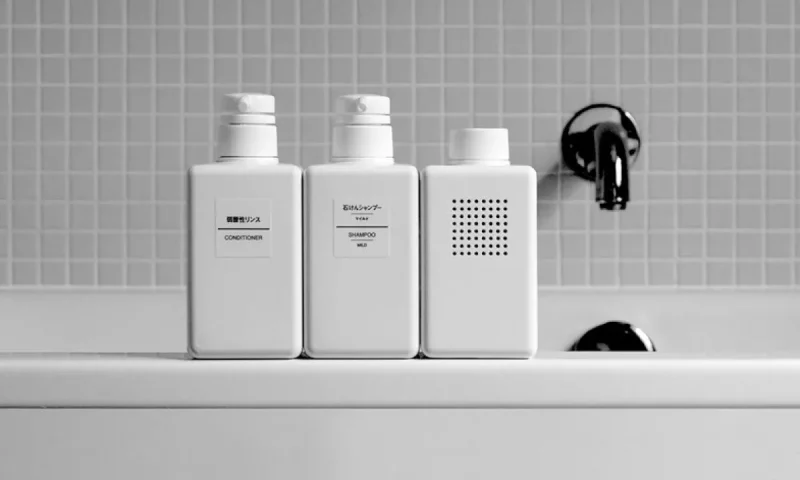 With high recognition and near-perfect customer experience, no need for logos or labels, users can still recognize simple, convenient MUJI-style products anywhere. It can be said that MUJI has built a strong brand with its own paradoxical "No Brand" strategy.
Some of the brand success factors for Muji include
Minimalism in design: 
The key success formula is integral to the Muji Case Study, and the main reason why the brand stands out in the market is its relentless focus on the product.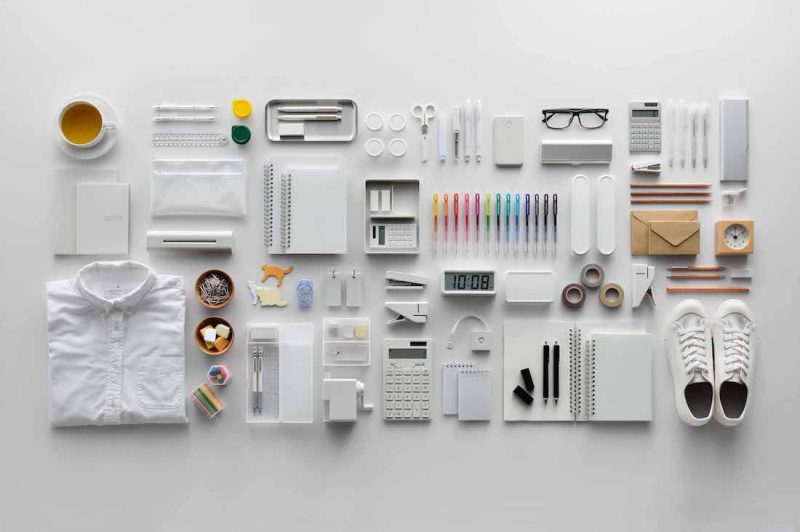 Minimalism in product design by Muji
They examine products rigorously through three lenses:  raw material selection, process streamlining, and packaging simplification . Muji searches all over the world for raw materials of the most consistent quality, even those that are often rejected by other manufacturing companies. Processes that do not affect product quality will also be eliminated. For example, if the bleaching process is omitted for the pulp, the resulting paper will have a light beige color. Muji realized that this light beige paper could still be used for their packaging and labeling without necessarily needing to be bleached. As a result, Muji uses completely pure, natural, and fresh paper for its packaging – a huge contrast to the more carefully designed, sometimes overly embellished products on the market.
Packaging: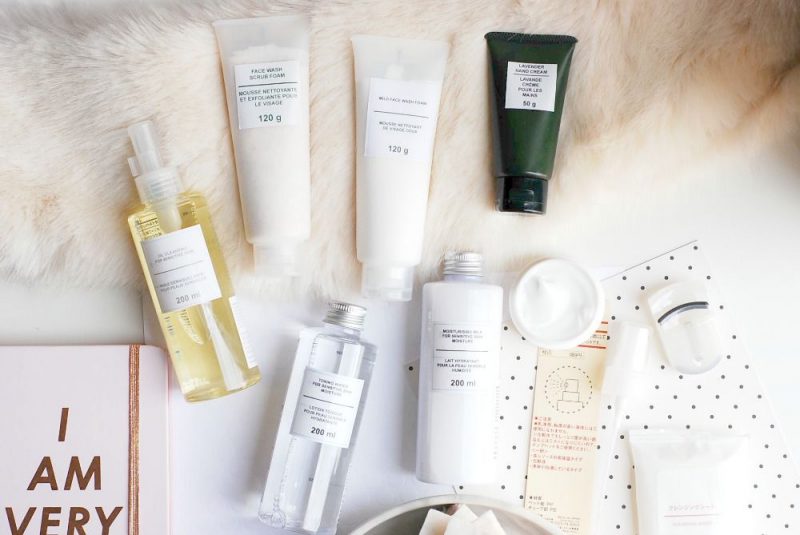 Muji uses simple, natural or transparent packaging to bring out the natural colors and shapes of the product, while saving materials and reducing waste. One of Muji's major design successes is the brand's shampoo, soap, and lotion refills. Through ethnographic research, Muji realized that a common problem faced by consumers was cluttered bathrooms filled with messy images from different product packages. By combining this discovery and their design abilities, they come up with simple, identical packaging and refill products so that customers no longer have to worry about the clutter of too many products. same label.
Design process:
Few people know but Muji completely restricts technology in his design process. Muji's prototype designs are produced on paper instead of a computer to avoid unnecessary details. Muji's number one design priority has always been convenient packaging according to consumers' habits. Therefore, details that do not affect the use of customers will be omitted for easy production.
Due to the focus on product design instead of branding, Muji's products became highly sought after after their launch and created a sensation not only in Japan but also around the world. .
Personalized: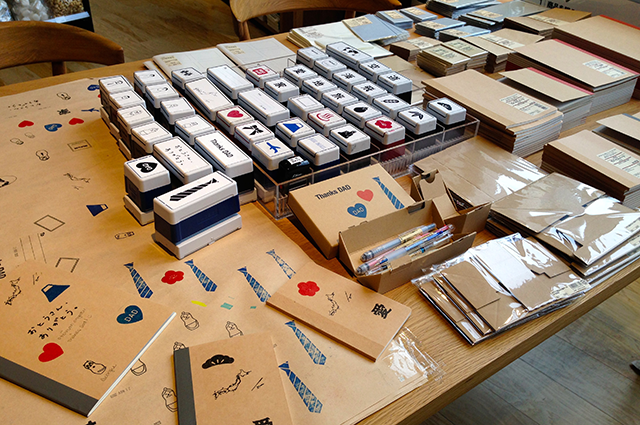 With simplicity and universality at the forefront of its design principles, personalization can easily be applied to Muji products. Customers can create and personalize their notebooks, gift bags, etc. at the free stamp station available at every store, or even personalize the embroidery on canvas bags through orders. custom.
Each Muju product is like a blank sheet of paper, allowing consumers the flexibility to incorporate their personal style in product design, thereby expressing their personality, feelings and thoughts. them using Muji products. Therefore, Muji's products are not only attractive to a group of customers who like simplicity, but can also skillfully attract customers with completely separate styles.
Digital Leverage: 
Another winning formula to analyze in the Muji Case Study is Muji's ability to leverage digital to serve the evolving needs of its customers. When they discovered that customers often browse products on their website before buying products in-store, they developed a mobile app called Muji Passport in May 2013 to build closer relationships with customers and enhanced in-store experience.
About the Muji app:
A convenient platform for customers to search for store and product information as well as in-store stock availability.
Capture customer data, buying trends and preferences, thereby creating push notifications to attract customers to buy
Functions as a loyalty card. Customers are rewarded with redeemable points for visiting the store, writing product reviews and making purchases
Muji's Director of Marketing Technology, Kosuke Hamano expressed that the main goal of the mobile app is to drive brand communication and drive traffic to the store, rather than just using it as Another platform to drive sales. The app now has over 2 million monthly active users – an undisputed success for Muji
Muji brand architecture
Muji has always followed a certain expansion strategy – this can be clearly seen in the Muji brand architecture. The design with neat and tidy square compartments, the main neutral colors of brown, white, gray and the minimalist style of Muji is almost no difference between stores in all parts of the world. gender. Entering the store, whether in Singapore or Japan, customers can easily feel the most authentic Muji, simple, gentle but relaxing. In particular, this architecture has not changed whether in the retail chains of Muji, Café & Meal Muji, Muji Outdoor, Muji Home or Muji hotel.
It is thanks to the synchronization in this design that helps Muji easily build its brand image, imprinting in the minds of customers the image of a simple but extremely modern Muji.
Brand communication
Muji spends very little on traditional marketing activities in the form of advertising or product promotion. In fact, they don't even advertise their own products to fit their minimalist aisle. Muji's main success in communication is attributed to word of mouth marketing.
In addition to word-of-mouth marketing, instead of focusing on promoting products, Muji focuses on showing and demonstrating to the public the ideology and philosophy behind its products. They do this through the press or through in-store events and workshops. In 2016, for example, Muji held a New York City store talk amid the release of a clothing line made from recycled textiles. With the participation of famous textile designer Reiko Sudo, the event attracted more than 100 people to the store.
In addition to in-store communication, Muji also uses a digital platform to express its beliefs and strategy of "No brand, with quality". For example, on the Muji Website, they communicate their brand philosophy through a series of short 10-second videos that showcase how their products are used in homes and how they help simplify and enhance. user's life. These videos use a no-frills, signature style and communication method, explaining only the benefits of the product through video footage of the product's use, with minimal, soothing music. .

In addition, Muji communicates its brand aesthetic through campaigns. From 2003 to 2009, Muji ran a campaign called Horizon, led by Japanese graphic designer Kenya Hara. Customers coming to Muji are shown a picture of a man in the middle of a vast snowy landscape against a blue sky. This image does not include any Muji products, but instead allows users to freely imagine what they would feel at Muji, when using the products, and making purchases at Muji. From this campaign it can be seen that, in fact, Muji's ads and products do not force customers into a certain mold but provide an empty jar for the audience to provide meaning to the product itself.
Another important communication tool that Muji uses is collaboration. Muji collaborates with many brands in various industries to further emphasize the simple, universal ethos and the ability to personalize and customize the brand. For many years, it has cooperated with different brands and industries to produce new and innovative products such as Nissan (cars), Lego (toys), Merci (clothes and household products). )…
If the content of Muji Case Study is useful, please like and share to support Malu.