App design, interface design for software, mobile applications has become a new trend in the 4.0 era, where your mobile device can do almost everything, from entertainment to entertainment. , to work and communication.
With the number of users of mobile devices exploding like peach blossoms on the branches of Tet holiday, entering the mobile application market is a right step and will certainly bring many benefits to businesses.
If you decide to build and develop a new mobile app, offering something radically different from the competition is the road to success, helping you stand out and increase your competitive edge in the industry. crowd. Beautiful interface, simple, easy to use  are 3 important criteria to evaluate a good app design.
If you want to introduce your newly developed applications to customers, you need to understand the purpose of building applications yourself, and have a good experience using them. Surely, customers will come back to use your app as a habit.
But how can a good mobile app be built?
That's why you need this article, let's learn through the content that will be mentioned in the article:
Points to note in the application design process
Here are a few things to keep in mind during app design:
1. Simplicity in navigating users to use the app's features
A great app must have simple navigation between features. Therefore, you need to keep in mind that your design also needs to be customer-oriented, with simplicity and convenience in their experience.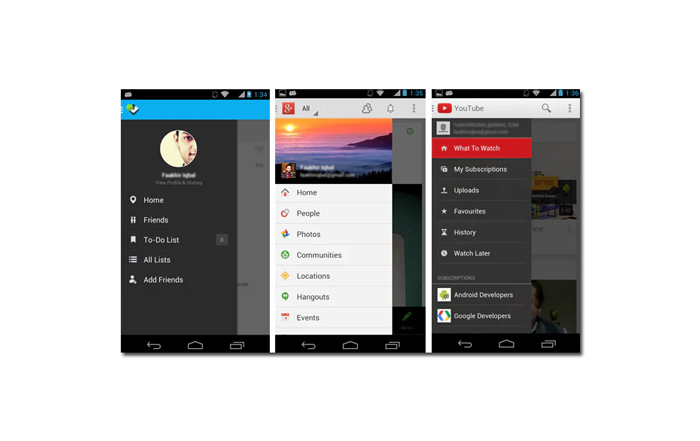 Make sure the navigation bar in the application is clear and easy to see for the user. Users won't be able to use the features in your app, if you don't guide them with clear and specific instructions.
Always keep in mind that the layout of the application should be user-friendly, so that their experience becomes convenient and easy.
Note : Your application must be user-friendly. If the buttons and links are too small (for their fingers), it will be difficult for them to navigate to other features in the application.
2. 

Simplicity in design
Keep it minimal and modern in your design. Create a lot of space in the design. That helps users focus on the most important elements in the app.
Use familiar icons and phrases to make it easy for users to use the app experience (for example, the search icon should be a magnifying glass, the "Options" bar should be named "Options",…).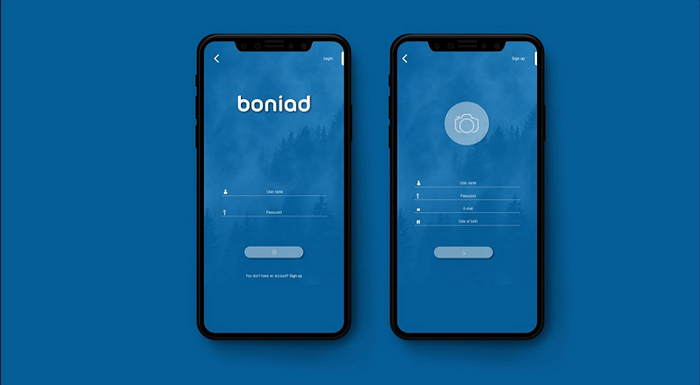 Simplicity in design means creating a comfortable and simple experience for users while they use the application. Stuffing too much information on the screen, or too little information can cause customers to leave and delete your app.
3. Choose colors and fonts carefully
Colors play an important role as they can guide the user's emotions. The font will affect the visual aspect of the application. Consider carefully the appropriate color and font for the message you want to convey to the user.
Also, don't use too many colors and fonts in your app, you need a professional and consistent look and feel, not a flashy artwork.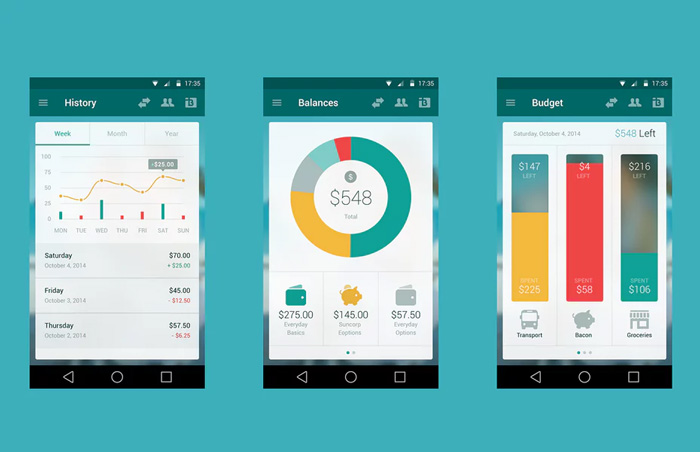 If your brand uses its own colors and fonts, sync them to the app. That improves customer recognition of your brand.
>>> Discover more articles about Malu's color: Choosing colors for the brand
4. Image consistency in the app
One aspect that we always mention in the tips above, is the visual consistency of the application (in terms of colors, buttons, and icons), consistency in use (such as a feature that can be used uniformly across all elements of an application, like search buttons on all pages), and uniformity with other business platforms (such as visual consistency between Enterprise website and mobile application).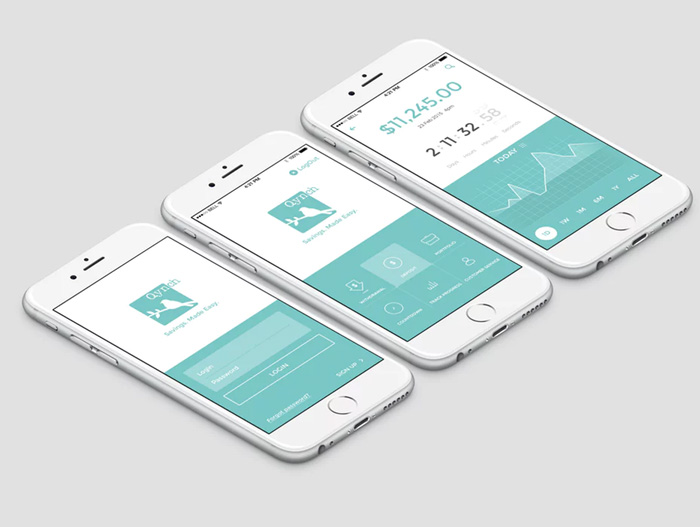 Consistency makes businesses more professional in the eyes of customers. It also offers many benefits, making it easy to associate your app with your brand (with the accompanying brand identity).
>>>  Tips for Website Design  ; 10 tips for website design
App Design Steps
Step 1. Set goals when designing the app
Before actually starting to design smartphone application software, you should outline on paper why and why you design this product. Why do you need to program this app, what goal do you need to achieve in the end? What do customers need? And many more questions you need to identify and answer before actually going any further.
Take out a pen and paper, and  answer the following questions:
1. What is the basic goal of the application? What exactly did you build it for?
2. How to make your app attractive in the eyes of users?
3. What is your plan when building the app? What problems do you want to help customers solve when building and developing apps?
4. Why do customers choose your app over your competitors? What makes the difference?
Determining goals before design is an extremely important job, not only in the field of design, but also in any job. Setting a clear goal and writing them down will give you a solid base when starting to build and develop the real application later.
Step 2. Make a plan
Of course, the preparatory work did not stop here. Just answer the questions above first.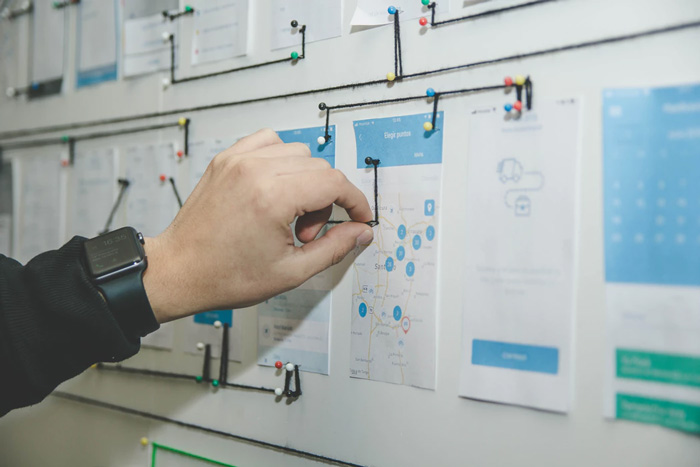 Now with a clear answer, plan your design project. In this step, you should define how you can monetize the app (from ads, in-app purchases, or making customers pay to use the app in the first place); features in the application; and how you build those features in your app.
Think of this step as you sketching out a rough outline of the application you plan to build, step-by-step towards the goal you set in part one.
Step 3. Market and competitor research
Well, now you can put your pen and paper down, and enter the internet world with the divine search engine Google
Market and competitor research is an integral step in the app design process. You need to determine what should be done to meet the needs of the customer, and what should be avoided in order not to enter the "competitor's territory". The world of apps out there is vast and extremely competitive. But "know you know me, a hundred battles a hundred wins", what you need to do to succeed is to understand yourself, understand your customers and understand your opponents to succeed.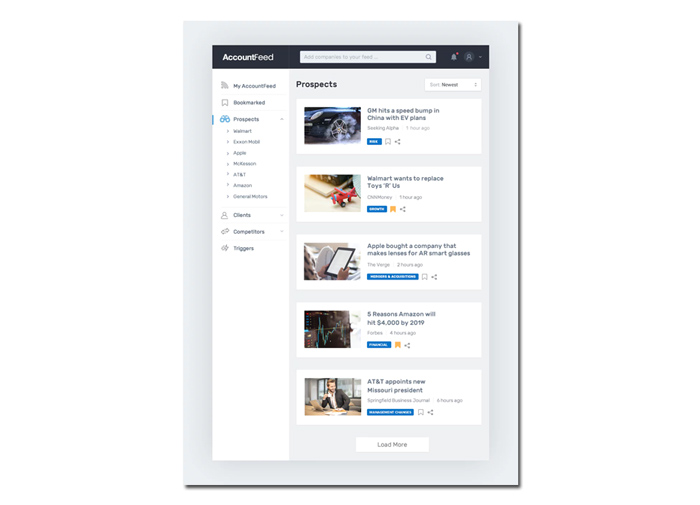 Of course, don't copy what you find. Just because many apps have similar functionality, your app must have it. Research the market to determine what you need to avoid, and what the competition lacks. Who knows, you might come up with breakthrough ideas to come up with your design project?
Pay attention to customer reviews, you'll find what users like (or don't like) from that app. With the limitations, what solutions do you have to solve those problems? Study and think back to the notes you sketched out in the previous sections, you will surely come up with some good ideas!
Step 4. Set up wireframe for the app
First, let's learn what a wireframe is, and how important it is to app design.
Wireframe is a blueprint that helps programmers, managers, and designers to communicate and communicate with each other. With any change in the design project, the three parties can quickly communicate, make suggestions and agree on the modification.
Wireframe can completely be expressed in pen and paper (on hard copy), but communicating on digital platform (meaning using soft copy to communicate) will make the exchange easy and convenient. especially as wireframes tend to become more specific and complex than before.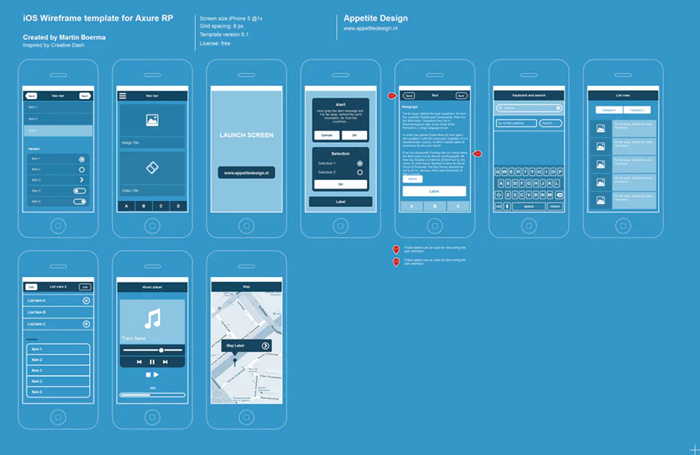 Wireframe plays a very important role in app design. You can completely use wireframe to convey your wishes and vision to the parties, and put it on the mobile screen. Don't worry that this step may affect specific visual aspects. Wireframe is just a supplementary tool for building an overview of the project, and a way for stakeholders to communicate and exchange work.
The previous steps help you generate ideas as you build your design. Wireframe will be a more specific and detailed framework of what you want to implement in the design project.
To help with wireframe setup, there are many tools to assist you such as:
Once the wireframe is set up, you have an overview of the project, and how your app will work.
To check if your wireframe is working properly, use the Invision tool. This tool makes it possible for you to click through the screens you have planned and helps you check that the navigation you have set up makes sense.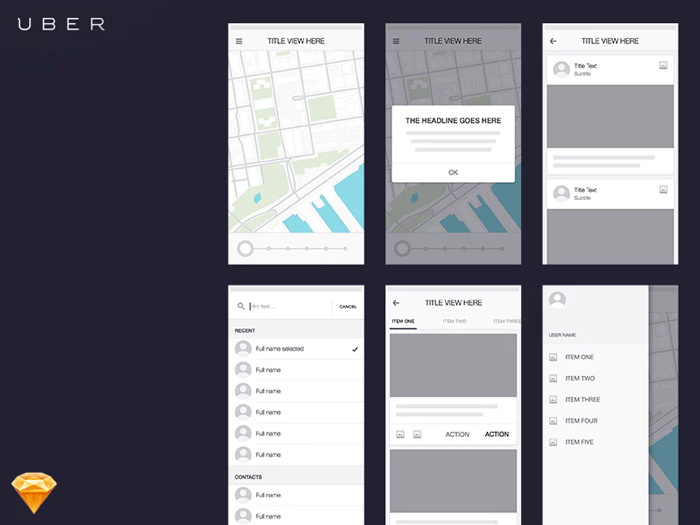 Show your colleagues the wireframe and ask them for their opinion on the layout and navigation of the app. Their reviews can help you decide which tools you should keep when releasing your app, as well as determine if the app is customer-friendly.
Step 5. Start designing software
Now it's time for you to really get down to software design. This is a key step in the process of building and developing a project, because this is the time for you to make the best impression on your customers. Do your best to create a beautiful interface with professional features right in this important step.
What colors, fonts, and design elements should you use in your designs? Those are really important and extremely important decisions.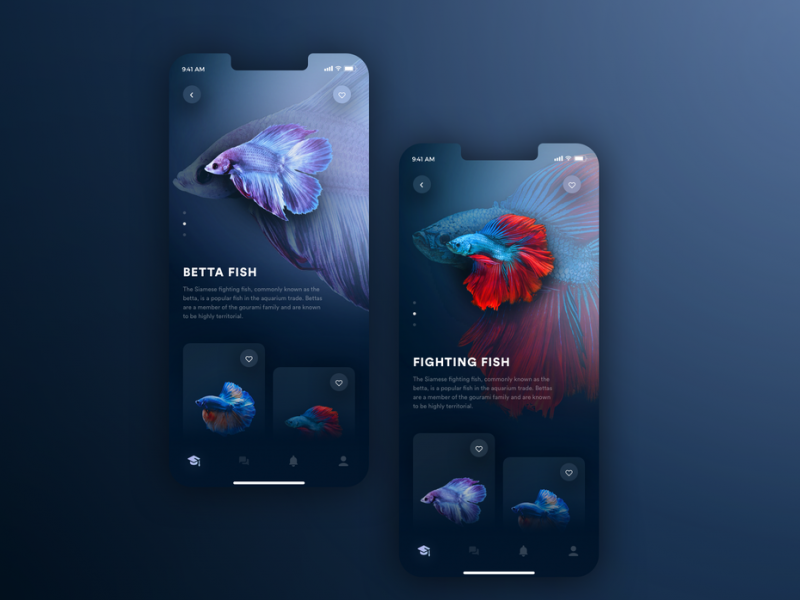 And when deciding to design an app, you need to consider the technical side of the app – the design aspect. You think maybe you should design the app yourself so that everything is in sync, and more importantly, "under your control". But we advise you not to do that.
Let the professionals do this work, if you don't want your design to be flooded with errors that you can't solve by scratching your head.
You should consider the following options in app design, depending on the needs and capabilities of your business:
# Work directly with a professional designer
Obviously you already have an overview of what your app will look like when it's released. You want it to achieve the goals and plans you have set out as in the wireframe. The easiest way for you to achieve them is to work one-on-one with a professional designer.
You can totally work with a freelancer – if you can't find another designer.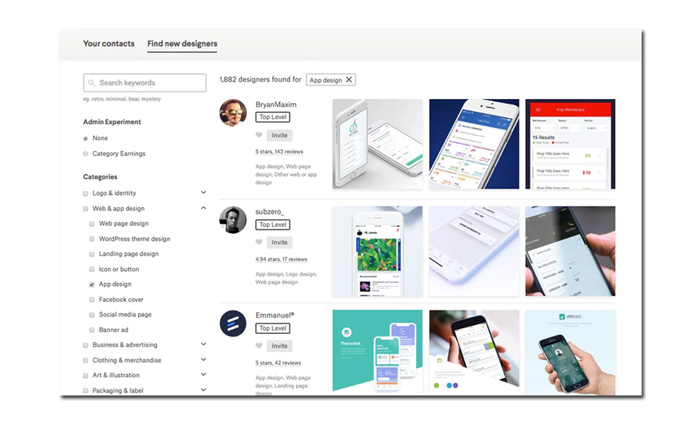 Make sure that the previous designs of the designer you hire are consistent with what you want in your project, both in terms of technical aspects, and in terms of the interface of the app.
 # Use tools to support app design
One of the other ways to help you with your application design work, is to use specialized tools. It saves you a lot of money (much more than hiring a professional designer). Of course, this requires you to design it yourself from A – Z, with your own limited knowledge.
Remember, when you decide to follow this option, you must have in-depth knowledge of design.
# Hire an agency
The final option is to hire an agency to take care of from A – Z the design of the application for your business. This is the perfect choice if your project is too complex, requiring the involvement of experts in many fields.
Of course, hiring an agency will cost the business a lot of money, but the results are indisputable in terms of efficiency and implementation time. They certainly won't let you down.
Whichever option you choose, whether you're working directly with a designer (perhaps a freelancer), designing your own with the help of a tool, or hiring an agency, make sure to give feedback regularly. to the designer, as well as always keep an eye on the synchronicity between the design and the  brand identity  of your business.
Don't forget the goals you set at the beginning, and convey them to the final design.
Step 6. Collect feedback from the design
Once you have a fairly complete and complete design, you need to send them to friends, relatives, or even to competitors, for them to test and evaluate the effectiveness.
It should be emphasized that this is not the final design for the product, and there are still many tests pending. So this test is mainly to evaluate the layout, orientation, and interface of the application. Other aspects such as functionality and efficiency of features should be highlighted in the back testing.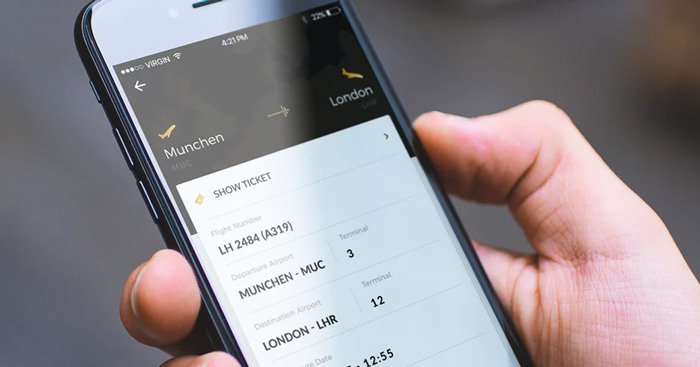 The higher the number of test samples, the more feedback you get, the better your chances of spotting design flaws. Who knows, the comments will help you come up with more unique ideas. What you need here is constructive criticism, so don't hesitate to "dig into" their suggestions, paying close attention to find out what they really mean when they comment on your app like So.
Once you've gathered enough feedback, and understand what adjustments need to be made to the design, send them to your designer for the appropriate adjustments.
Step 7. Application Programming
Once you've completed the interface design aspect of the app, it's time to take care of the functional aspect of the app. You need to work with your company's programming team to code the features, make sure the application can run smoothly and efficiently. It is very likely that the developers will require you and the designer to adjust some elements in the application to make the application run smoother and more efficiently.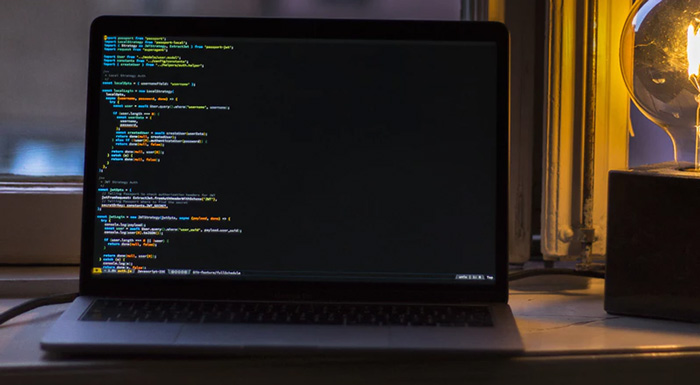 Once this step is completed, your application is almost complete and fully functional. You need to review the goals you have set, and decide if everything is going according to the plan and the path you have outlined. Does your application solve a problem that customers often face? Is their experience with your app really good with the results you just got?
Step 8.
 Test the app with a small sample of users
Now, with a full-featured application, you need to test them on a small sample of users.
Remember those friends who helped you perfect the look and feel of your design? Call them again to evaluate your application overall.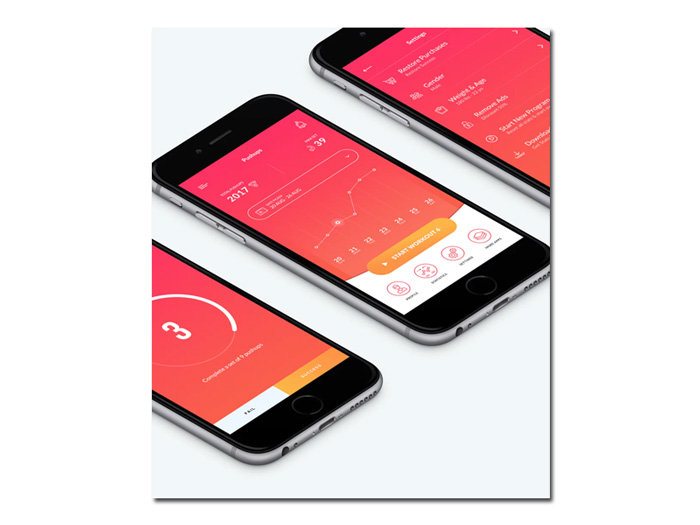 Try to gather enough feedback before releasing the final design product. Work with designers and programmers to make the appropriate adjustments.
Step 9. Release the beta version
An app's beta means testing the app on a small sample of users (which of course is larger than the sample of users above). This is a way for you to test your app narrowly, in a real environment (and see how users react to the new app).
Let users know how much you value their feedback, by using it to make adjustments right in your design.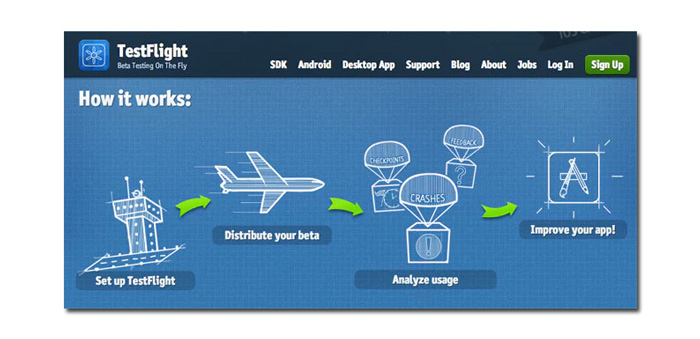 Once you've got the necessary feedback, along with a rough assessment of how your app will perform in a real environment with a narrow denominator, the finished version is available. You're ready to show the world your work.
Step 10. Launch the app
And finally, "the plank was built into a boat". It's time to officially launch your app.
Android usually doesn't ask for a review before you launch an app. This means you can simply upload your app to the Google Play Store (just like the beta version). Users can immediately download your app to their device.
With iOS, things look different. They require you to include user reviews before allowing you to upload files to the App Store. But don't worry, if you follow our instructions correctly, it shouldn't be difficult for you to get a nod from Apple.
Now that your app is live, don't stop it. Keep developing and uploading your app to give your users the best experience.
And don't underestimate the importance of the next step – Marketing. Marketing will make your app more widely known.
Conclude
This mobile application plays an increasingly important role in business activities of enterprises in the 4.0 technology era. Currently. Application design. Mobile app seems to be a very complicated job, but if you follow the instructions that we have given, and steadily small step-by-step, the job will become a lot easier. .
So what are you waiting for? Put on the design "hat", and turn your creative ideas into reality!