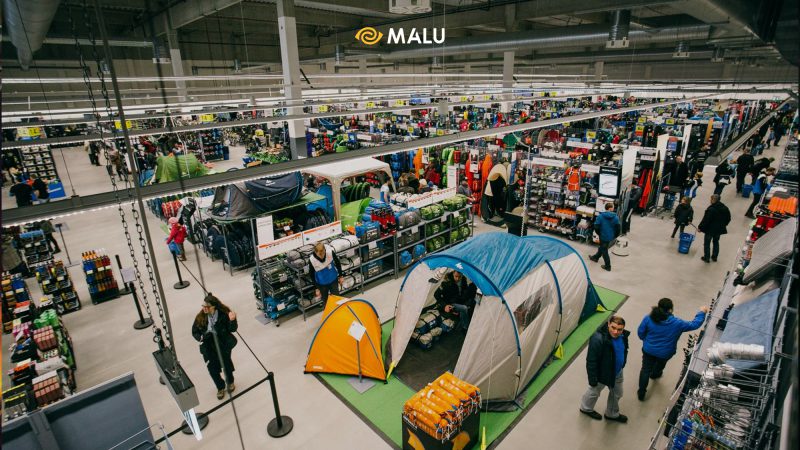 Before the monotonous, easy to forget communication campaigns, marketers with unlimited creativity have made a big revolution in making customers "engraved" their brand through Experiential Marketing.
Data collected from American magazine  AdWeek  shows that: Up to one-third of Marketing Managers at large enterprises decide to spend 21-50% of their media budget on experiential marketing within a few days. next year. Experiential marketing is really a new marketing trend in the new industry era.
If you have ever complained about spending tens of millions of advertising budgets without getting any results. Don't miss your chance to be part of an inevitable trend:  Experiential Marketing . Explore the concept of Experiential Marketing with Malu , and discover the top 10 creative campaigns that cannot be ignored by the marketing media in the past year.
What is experiential marketing?
Experiential Marketing  (or  Experiential Marketing ) is a technique in Marketing to establish interactions and experiences between customers and brands. Experiential marketing often uses  activation marketing  to activate brands, bring products directly to customers.
Customers can experience the product's features for themselves, or discover interesting aspects of the product through events and activities organized by the business.
Benefits of Experiential Marketing
Experiential Marketing brings businesses benefits that are hard to refuse. The message that businesses want to convey will certainly have more effects, if customers can directly hold, try and experience the product / service themselves. This seems to be a thousand times more effective than simply running Facebook ads, or buying TVC spots on television.
>>>  Customer Experience: Enhancing Customer Experience
Basically, experiential marketing is also a form of helping businesses improve customer experience through touch points.
Experiential marketing also has some potential risks in the implementation process. These include: Large marketing budgets, unexpected incidents, unfortunate customers having negative experiences, etc.
However, the benefits that experiential marketing brings to businesses far outweigh the disadvantages. The risks when encountering can be completely prevented if businesses build a thorough marketing plan, clear messages, and organize regular events. Here are the top 10 creative and outstanding Experiential Marketing campaigns in recent years for your reference:
10 creative experiential marketing campaigns not to be missed
1. Ghostbusters (2016) Movie Promotion 
In the summer of 2016, people in London had a "howling" when they witnessed their famous Waterloo station shelter being invaded by a giant cotton candy "monster".
Fear not, as this is part of a promotional campaign for the remake of the classic Ghostbusters  (  2016). Instead of panicking and screaming in horror, the people of the British capital seemed quite interested in this "big baby" of cotton candy.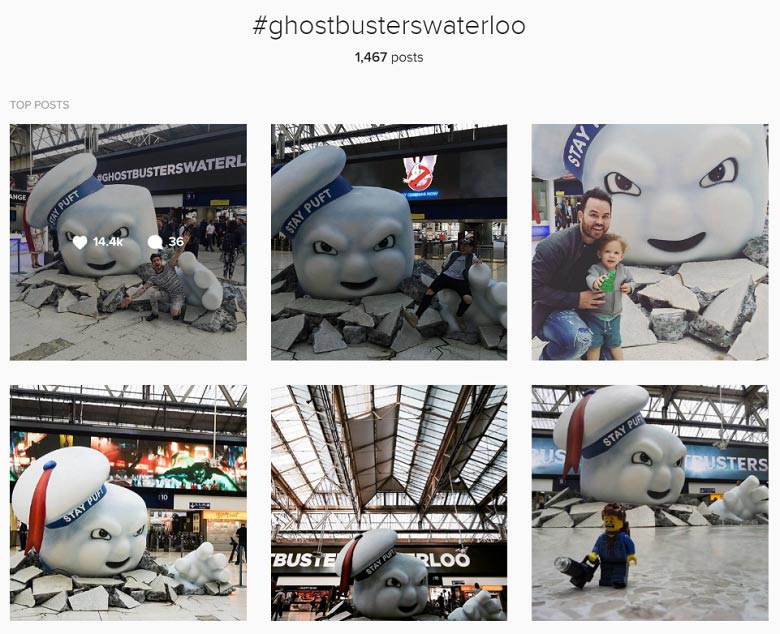 As soon as the media campaign started, Instagram was flooded with the hashtag  #ghostbusterswaterloo . As a habit, Londoners take the opportunity to record themselves unique, one-of-a-kind photos, and share on their Instagram wall.
Thanks to that,  Ghostbusters  grossed up to £ 6.1 million in the first week of its release. This media campaign really works for the film's distributor.
2. Coca-Cola and AR World Cup 2018 experience campaign
Coca-Cola  started the media campaign for the 2018 World Cup with an AR virtual entertainment experience program in Zurich, Switzerland.
Participants will simultaneously "compete" with Xherdan Shaqiri in a "real but virtual" ball, take pictures with idols in extreme virtual styles, and have the opportunity to win the official ball of the 2018 World Cup. .
Coca-Cola has been very wise when integrating advanced entertainment technology with the big festival of the whole world every 4 times – the 2018 Football Cup.
>  Emotional Branding – How to build an emotional brand
3. WaterAid's " 
Hope Lockers
 " Campaign
WaterAid  is a non-profit organization that cares about the clean water needs of countries around the globe.
To improve people's understanding of the importance of clean water for people. WaterAid, in collaboration with media partners Proximity and MediaMonks, organizes the  Hope Lockers experiential marketing campaign .
Maybe the campaign is not aimed at maximizing profits, but the effectiveness of Hope Lockers' spread and influence   is not small.
>>>  What is Brand Story? Steps to Telling a Compelling Brand Story
4. Doc McStuffin 's "special" clinic 
Doc McStuffin  is one of the famous Disney animated movies. With fun content, convey useful messages about health to the little ones.
To promote the second season of the series, in 2014, Disney collaborated with major toy store chains in the UK, opening special clinics called Doc McStuffin.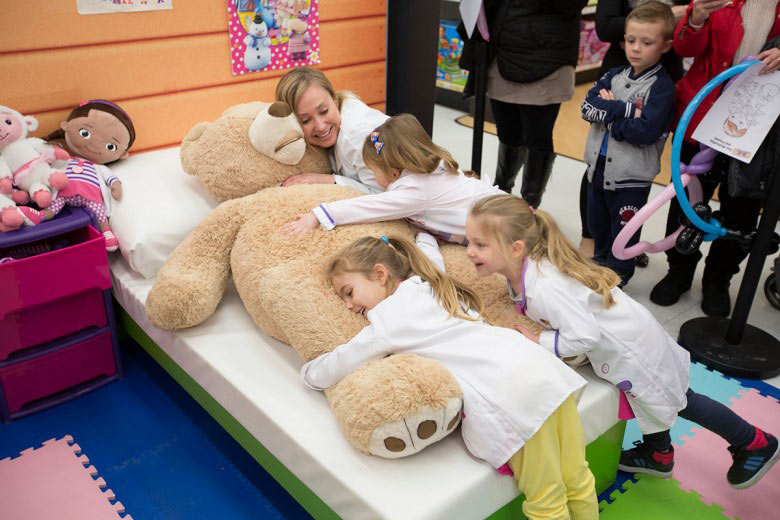 In 10 minutes of exciting experience, the children will play the role of a child doctor, together examining the big teddy bear Ted, diagnosing the disease like the lovely little Doc in the movie.
The boys and girls were all very excited, because who doesn't want to be the little doctor Doc McStuffin. This Disney campaign was a huge success, with more than 8,000 boys and girls participating. Parents of the children are also very satisfied, with up to 75% rating "Very satisfied" when surveyed.
More importantly, the event boosted sales related to this TV show, as the number of souvenirs sold on the market increased by 5.3%.
5. 7-Eleven simultaneously turned into  
Kwik-E-Marts
Back in 2007, when the movie about the Simpson family was bombarding outside the cinema,  7-Eleven  and the movie distributor  20th Century Fox  were very quick to transfer the identities of 12 convenience stores in the same time. the system became  Kwik-E-Marts  (following the Apu character's shop in  The Simpsons ).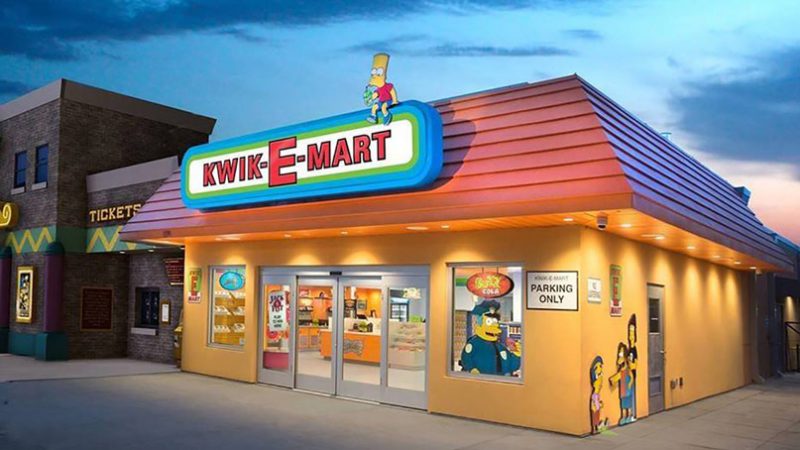 Not stopping there, the Kwik-E-Marts chain also offers a limited supply of KrustyO's cereal, Buzz Cola and Squishee drinks, which are very popular in the Simpsons home TV series.
In preparation for the debut of  The Simpsons  on the big screen for the first time,  7-Eleven  and  Fox  seem to have prepared a very thorough Experiential Marketing campaign.
6. Lush New Product Launch 
Every year, the famous cosmetics company  Lush  launches its new products in a large-scale organized program, called  Lush Creative Showcase .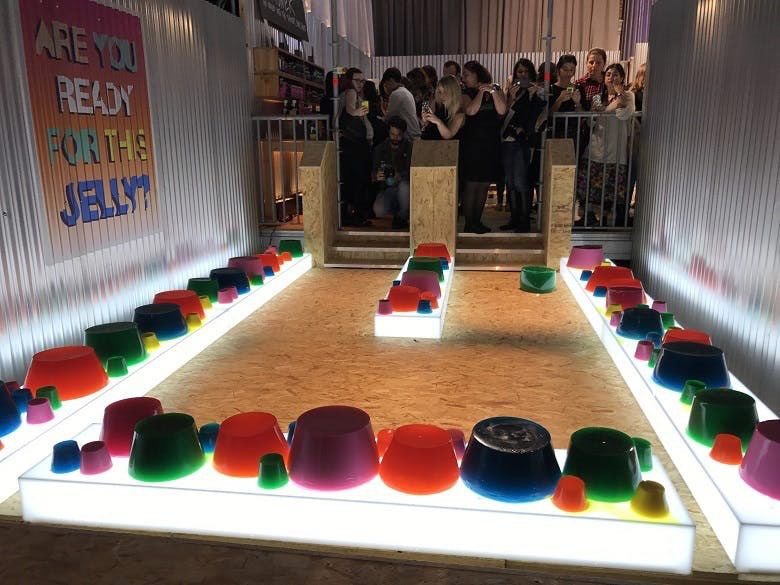 The launch gives the public closer access to Lush 's new products  . Not only that, the creative product layout and groundbreaking exhibition space make every year the audience look forward to the launch of new product lines from Lush.
>>>  Brand Perception – 4 Steps to Measure Brand Awareness
7. 2012 Olympics campaign from  
Samsung
As one of the main sponsors for the 2012 Olympics,  Samsung  did not forget to take advantage of it by organizing new product demonstrations throughout the main stadiums in London, England.
But more specifically, from July to September 2012, Samsung started running the  Samsung Studios campaign , to promote the launch of Galaxy S3 and Galaxy Note.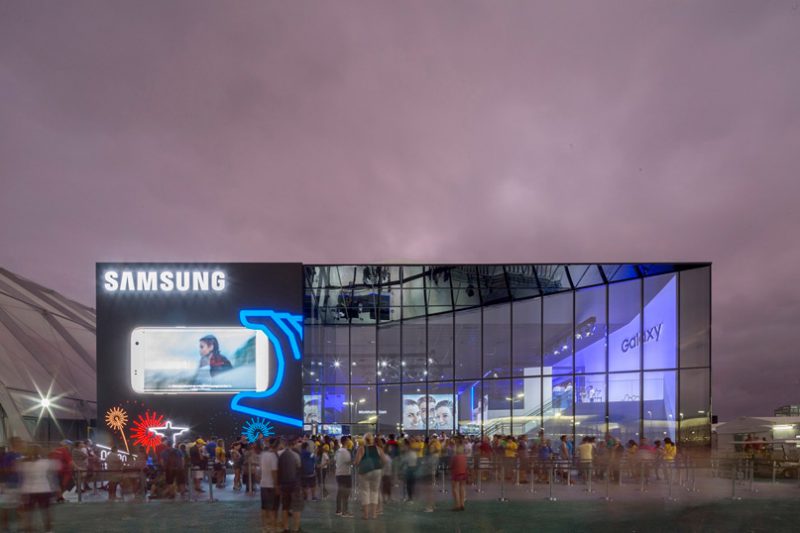 Users who spend time at the  Samsung Studios  booths directly at the stadium can create their own interesting photos, then upload them to their personal pages to participate in the contest to win a brand new S3 from Samsung.
After the campaign, up to 35% of customer experience at Samsung Studios said that they would consider using Samsung products in the future. A remarkable success of the Korean smartphone giant.
>>>  Branding Strategy – The Most Basic Knowledge About Brand By Philip Kotler
8. Adidas and the campaign with Derrick Rose
The famous basketball star of the Chicago team Derrick Rose has  stirred up London, England with Adidas  .
During an event at Adidas' Jump Store, Rose appeared in a cool manner. He challenges participants to a 10-foot (more than 3 meters) barefoot jump to reach for their favorite shoes.
Take a look at those exciting moments in the clip below:
9. Mountain Dew and  
Guerrilla Tour
The Marketing team of  Mountain Dew  must have spent a lot of brainpower creating an activation campaign called  Guerrilla Tour. Mountain Dew  organized a 43-day trip in 2012 to promote this energy drink. Participants get to experience, play games and receive dozens of rewards.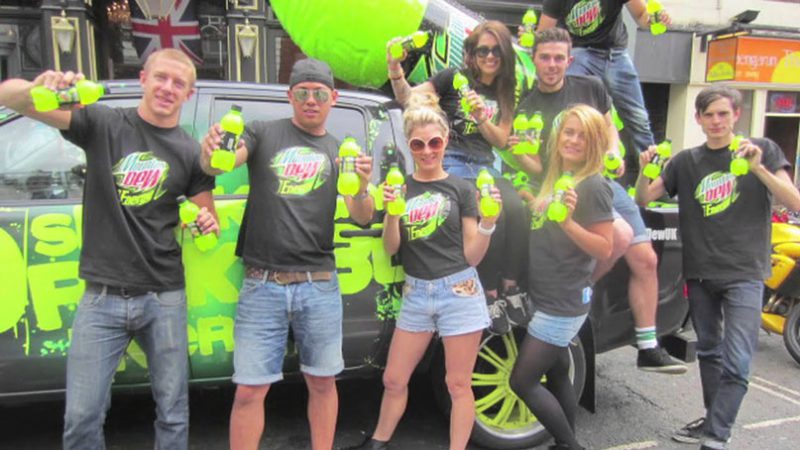 Interesting, as well as hilarious, Mountain Dew raked in £1.85 on board ROI from the event.
>  ROI in Marketing – How to Use & Measure Effectively
10. IKEA and the "one-of-a-kind" event
In 2011, IKEA organized an event that probably never happened anywhere else: Customers were allowed to spend the night in IKEA warehouses.
Not only overnight, participants also get massages, manicures and listen to late-night stories from celebrities. A great opportunity to spread the features of IKEA's superior bed cushions.
summary
In the face of a flood of media messages, customers easily fall into a matrix of no exit, forced to filter out what they consider interesting, entertaining and necessary. Experiential marketing is an effective way for businesses to stand out and occupy a solemn position in the minds of customers.