Have you ever felt frustrated because you spent a lot of effort and money studying marketing and sales but still inferior to your colleagues who didn't learn anything? Or worse, fall into a situation of working hard and still not being appreciated by the boss like those who work less and enjoy more. All of them indicate that "Because your communication skills are very poor".
Communication is a discipline that is made up of both art and science. In addition to the ability to speak fluently, you also need to use body language and most especially read the situation, judge the personality of the person you are talking to. The 9 books below will help you solve all of these problems and improve your communication skills.
1. Good speech will get the world
In modern society, from applying for a job to being promoted, from love to marriage, from exchange to cooperation… there's nothing without the ability to speak.
Being eloquent is like having the "lubricant" that ensures your relationships "run" smoothly. Not good at speaking, encountering small problems, obstacles, big problems, failures.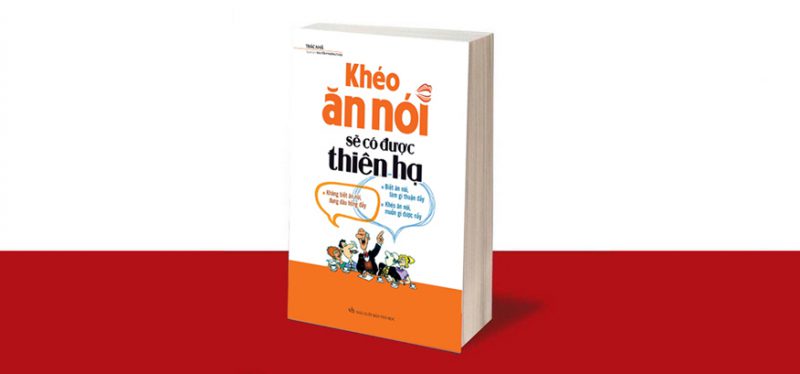 How to speak fluently? How to say the word "goes into people's hearts"? On different occasions, with different people, in different situations… with this book suggested, you can improve your communication skills and become a good speaker.
2. The art of communication for success
The Art of Communicating for Success (Reprint) is a book aimed at all audiences, whether students, salespeople, entrepreneurs, managers, politicians or housewives or anyone. want to control their relationships, income or life in a more effective way…
They have the best jobs, the best spouses, the best friends and… have a really big bank account.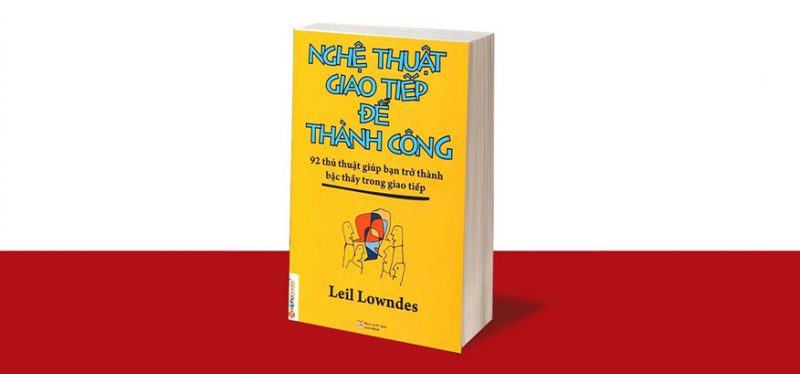 Why did they achieve it? Do they have the hands of King Midas that touch everything turns to gold? Or are they more Gifted? Not so. Many of them are no smarter, or even better-looking, than you!
In fact, such successful people often have the ability to communicate and behave more skillfully than others. Another fact that may surprise you is that all of us have this potential, it's just that some have a lot, some have a little.
In this book, with 92 simple yet effective tips, Leil Lowndes will help you discover and hone the skills to make a great start and meet the people you want.
3. Psychological blows in persuasion
Why are some people enchantingly persuasive and always masters of the Game of Persuasion? What are the invisible forces behind the force that drives us to agree with others? What are the tricks used by the masters of persuasion, and how do you defeat them – and turn them into your own "secret weapon"?
With Psychological Attacks in Persuasion, you will have the answer to all those questions. In this wonderful book, renowned psychologist Robert B. Cialdini reveals six powerful "weapons" of influence: commitment and consistency, scarcity, reciprocity, social proof, authority and sympathy.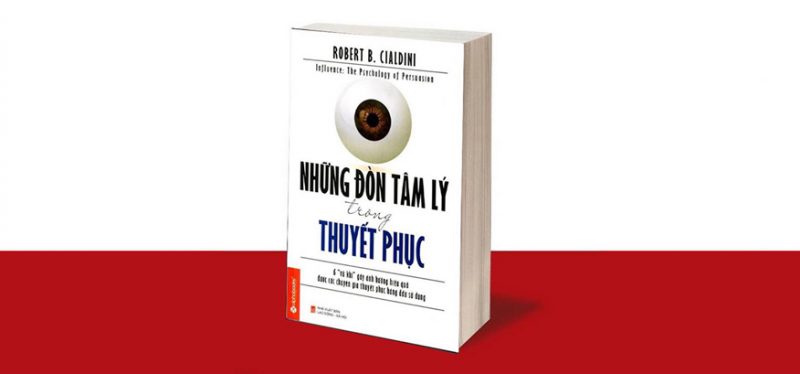 Each type is governed by a basic psychological principle that governs human behavior and thereby gives strength to each trick. Especially when combined together, they will make a huge impact.
Own that arsenal and become the master of the Game of Persuasion. You will never say "yes" if you really want to say "no", and you will never cease to be amazed at the power of influence that grows within you day by day.
4. Saying How To Be Welcome, How To Be Acknowledged
There is an aphorism "Stay at home thanks to your parents, go out to rely on friends", saying that enough to understand how important social relationships are in life. However, social relations are also the most complicated. Learning to eat, to speak, to learn, to learn from an open school package is a word to teach children from birth.
Based on psychological knowledge, the book helps you better define what to say and do, as well as suggest you how to say and do to make others feel impressed.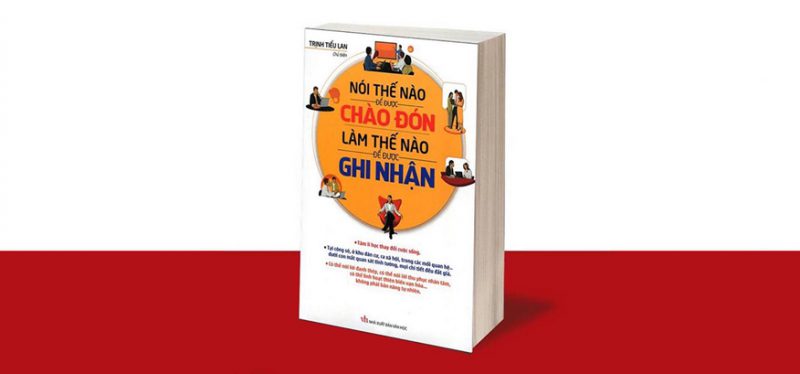 Want a promotion, want to increase salary, how to say?

Want to refuse, but afraid of others' blame, what to do?

Want to miss an appointment, but afraid of anger from others, what to do?

Want to criticize, want to protect, but afraid of people's pride, what to do?

Want to change the covenant, but afraid of being ostracized, how to say, how?
Every move, every movement creates a chain reaction, what should not be said, every time it is said, it will be wrong? What can't be done, will regret doing it? Learn from the masters of strategy, listen to them, watch them do, and you will shine.
5. The power of words
Use the right words for the most effective communication.
If you are like millions of people who often sit quietly in meetings, miss many promotion opportunities, stress in meetings, do not know what to say when facing superiors, often tell relatives things that make you regret later, or never get the results you want in arguments… then this book is the right choice for you!
The Power of Words book is divided into three parts with 20 chapters with content applied to work, customer-supplier relationships and in social communication with hundreds of suggestions, situations and examples. Realistic, vivid examples with tips, communication tips that are surprisingly effective and really useful in your work and life.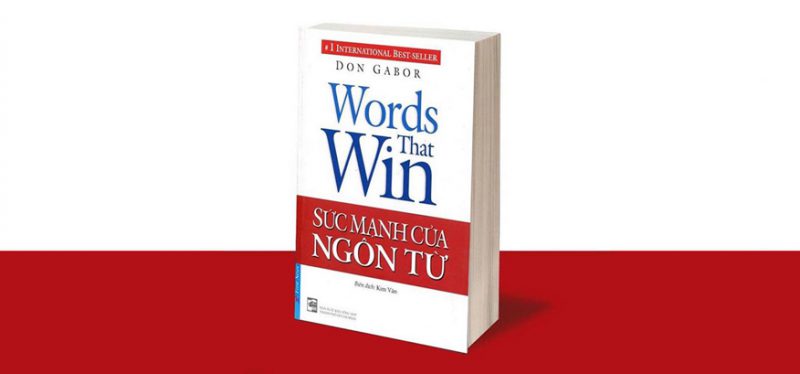 At the same time, it will give you many magical words, delicate sentences, unexpected openings that attract the audience, communication contexts and extremely vivid illustrations…. For example, how should you use language to:
Impress your boss and advance your career path

Reconciling relationships with difficult colleagues or customers

Ask suppliers of goods and services to serve you better

Have a good date

Create sympathy with your neighbors

Build good relationships with friends, colleagues, and family

To achieve what you want, communication is the first key
Surely the Power of Words will help you achieve what you want in the communication process in many aspects of life: family, friends, … especially at work and in negotiations with partners.
Believe that when you apply these strategies, tips and communication skills, you will become more confident, attractive, professional and achieve more success.
6. You Can Negotiate Anything
The world is one giant negotiating table, and like it or not, you're a participant. You, as an individual, will at times come into conflict with others: family members, salespeople, competitors, or entities with majestic names like "The Powers." prestige" or "power structure".
How you handle these conflicts can determine not only your prosperity, but also your ability to lead a fulfilling, enjoyable, and comfortable life.
Negotiation is an area of ​​knowledge and effort that focuses on pleasing people from whom you want something (one or more). Just as simple as that. Almost everything is negotiable, but how do you walk out of each negotiation like a achiever?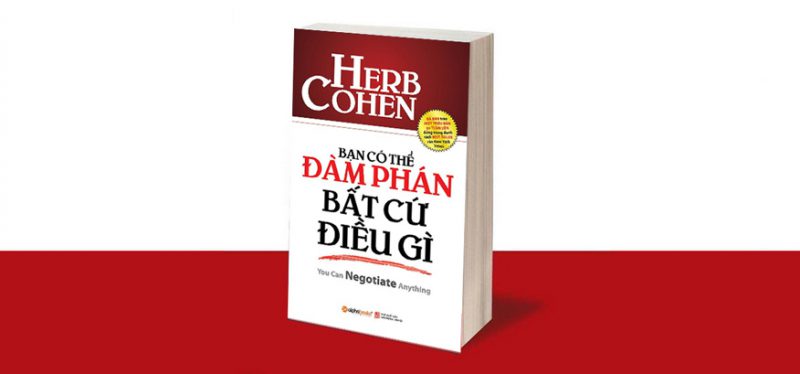 Herb Cohen has been a professional negotiator for more than 40 years, advising presidents Jimmy Carter and Ronald Reagan on counterterrorism, and advising leading merchants, corporations, and government agencies. The United States such as the State Department, FIB, CIA, Justice Department, White House….
In addition, he has also taught at top US universities such as Harvard University, University of Michigan, Brookings Institution, and FBI Academy.
In the book You Can Negotiate Anything, Herb Cohen shares with us 40 years of experience entering and successfully closing thousands of negotiations large and small.
The book not only presents the basic elements of negotiation and the main types of negotiation, but also provides interesting and practical illustrations for different situations, proposes solutions to deal with problems. flexible, delicate but effective in every situation or conflict, whether in the family (When children cry for gifts…), in daily life (When your wife is silent…), at work ( When applying for a raise….) or business environment (When declaring income tax, when buying land, etc.).
So You Can Negotiate Anything has been a bestseller in the US for more than nine months straight, and has been translated into over 20 languages.
7. The perfect rejection
There is always a paradox in life: the more you have, the less you feel. The more you do the job, the more you are assigned to do, the more people you help, the more you are asked, the more you buy, the more you want to buy, etc. And more and more we are tormented by this paradox, the more we grow, the more we grow. hardship, pain and guilt.
We attach too much importance to learning "more" but forget to learn "less".
We say Yes to too many good deeds, and end up doing no good at all. We try to please everyone so we don't feel guilty, only to end up feeling guilty for not pleasing anyone. The only thing that is equal to everyone is time, everyone has an equal asset – 24 hours a day.
How you invest this asset will shape your future. You will fail when you try to do everything well. You need to know what you want, what is important to you to know how to refuse things that don't want, have little meaning to yourself.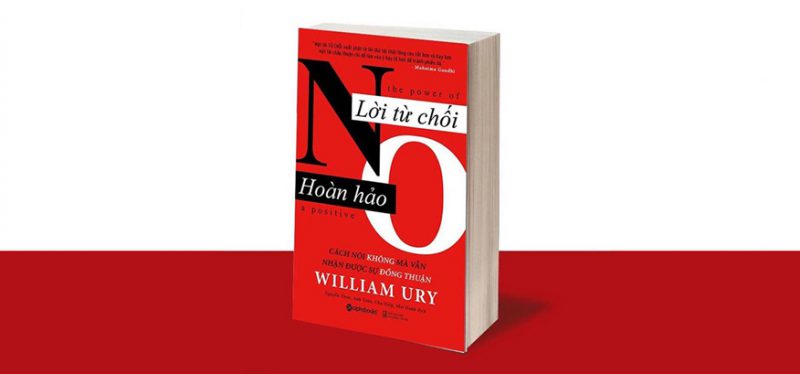 In a world that is increasingly materialistic and overflowing with information, as well as entertainment, the skill of refusal in communication becomes a skill that we need to learn. Perfection cannot be reduced any more. In order to be successful, it is imperative that we turn down a lot of things.
So how does our rejection not only carry weight and deserve respect, so that saying no becomes the perfect rejection?
It seems to be a whole science of the art of living. You must go through the stages sequentially, from preparing, giving, and completing Decline. In each stage there are three different steps. Your ultimate goal is not to deny, criticize or eliminate the views, opinions, and values ​​of others, but to affirm your interests, your own values, and reach consensus. of everyone.
8. Seven levels of communication for success
SEVEN LEVELS FOR SUCCESSFUL COMMUNICATION is written in the style of a fictional story, consisting of 12 chapters, each chapter tells a story, after each story is a lesson for life, readers ponder and draw for themselves. valuable experience in the communication process itself.
This is a great book to guide your business growth without using conventional methods that are deemed imperative. From the sales and relationship marketing concepts Michael J. Maher learned from his mentors, he distilled them to create an easy-to-follow strategy to take you "from Numbers don't become heroes in the business world."
A book with effective business strategies will not take you weeks or months to understand and put into practice.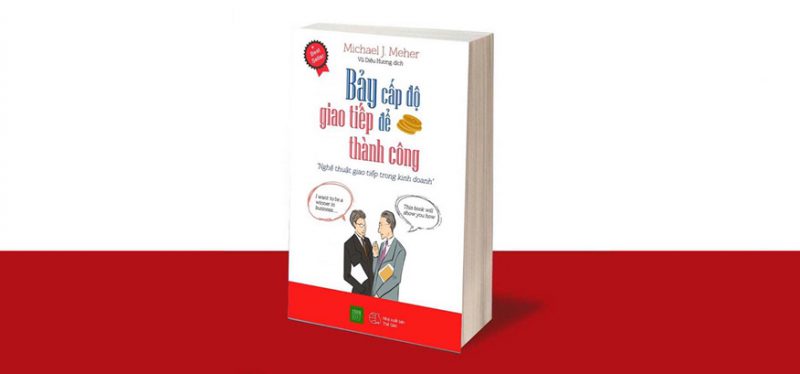 The Seven Levels of Communication is a great book, all the methods in this book have been successfully tested and there is no risk of failure in the real estate business (this formula works for everyone). sales type).
If you are working in sales then this is the book you need to read. No matter what field you work in, it is the people you know who will lead you from where you are to where you want to go and Michael J. Mahel is proof of this and you can too. can do that.
Read the book to do it now! Your family, your customers, your wallet and yourself will appreciate this.
9. Talking a lot is not as good as speaking right
Talking a lot is not equal to saying right is published by Thanh Nien Publishing House. This book will teach you 36 Secrets to Winning People's Hearts.
In addition, after reading the book, you will also understand more about the process of "Silence – Observe – Listen". Research carefully before you speak so that every word you say becomes more valuable than ever.