Along with sales, how to manage a clothing store (offline and online) is something you need to pay attention to and invest properly from the very first days of your business. Here is  an extremely effective store management experience  for fashion and accessory shops to avoid losses and increase profits.
1. How to manage store inventory
Scientific inventory management is not easy, even if you sell clothes online, you still need a fixed warehouse. Do not think that your warehouse is small and few goods but ignore the scientific inventory management and recording.
Before starting to import goods, your warehouse needs to be neatly arranged so that products can be quickly found when needed. You can use marked or labeled shelves, shelves, or cabinets to organize your products quickly.
If you sell adult clothing , you can divide the shelves by product style, arrange by product line with sizes from XS, S, M, L, XL or by color.
For children's clothing,  you can arrange by product line from number 1 to number 10, each shelf can be arranged from 2 to 5 product models. In addition, with products that are able to "run out" quickly, you should prioritize arranging them on the shelves that are easy to get and most visible.
This arrangement not only helps you find products quickly, but also makes the inventory process easier. Shelves, shelves, storage cabinets, you can find and buy at De La Thanh, Pho Hue, ….with 2-storey or 3-storey style suitable for warehouse area.
Warehouse management experience shows that, when entering products into the warehouse, the documents, invoices, and delivery records are all information you need to care about. These data need to be added to excel statistics tables or store management software, books to be able to unify between product output and output.
With inventory products, you can choose the method of calculating the inventory value with the form of "first in, first out" or "first in, first out". Trading in clothes, your inventory is hard to avoid.
When the weather changes suddenly, customers can immediately switch to buying autumn and winter goods, causing summer goods to be immediately sold out. In this case, you need to consider between releasing the existing winter products and bringing the summer goods to the warehouse, regardless of whether the winter products are imported before or after the summer goods.
Regular product inventory, besides the reconciliation of book data, are things you need to conduct regularly, about once a month. How many products are being sold, how many products have been sold and what quantity and items are still in stock, etc. are the information you receive after the inventory process. From there, you can make a decision to import new goods or promote discounts to "push goods".
If you have difficulty in managing your clothing inventory, you can use sales management software to easily make statistics on the actual amount of goods exported – imported – in-stock every day. The software will automatically report to you the details of the number of each model, color, and size, thereby saving you time and effort in comparing the number of books and monthly inventory. Minimize loss or bulk inventory.
2. Product inventory management
Selling on the website not only helps you to create a professional business image and support customers quickly, but also is an effective assistant in product management of the store.
How many products you sell each day, with items ranging from dresses, tops to hats, scarves, etc., are displayed in the order list. However, if you only look at these orders, you still have many difficulties in counting the number of products sold, checking which products are more and less to make plans to import goods in the next month.
Therefore, managing a clothing shop through a sales management software system will help you overcome this difficulty. Otherwise, you can still manage the number of products sold and inventory by declaring it in a tracking book or excel file. Whichever form is used, strict product management is extremely important when selling.
3. How to manage store staff
During your first year of selling clothes, you can do everything on your own, from importing to selling. However, from the 2nd year onwards, when the sales work has come into play and you want to expand your business or open a store, you will need the support of the staff.
You can manage employees based on working time, number of messages or phone calls to customers, and from the number of orders fulfilled or sales achieved by employees.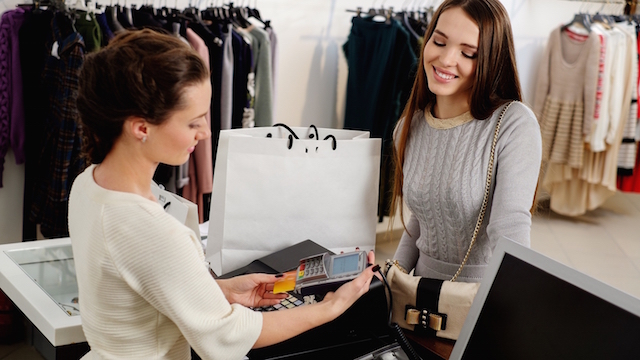 Effective employee management for clothing stores
Most stores pay employees based on performance. That is, when they sell a lot, they will get a high salary, if they sell less, the salary will also be lower. Managing employees' sales, their working time as well as decentralizing and clearly assigning roles for each person will help sales efficiency increase significantly.
4. How to effectively manage the store: financial problems
Through the financial plan in the business plan, you have estimated the capital needed to operate in 1 year as well as the expenses and profits earned during the time of managing the clothing shop.
Whether you're just selling clothes online or opening a brick-and-mortar store, the store management experience from many shop owners shows how important money management is.
You can record revenues and expenditures in a book or excel file, but this will cause a lot of difficulties when you take time to calculate and search for data.
The  work of managing a clothing store , products, employees, and finances will take up a lot of your time, but these are all things to do that any clothing shop owner must solve.
5, Customer Management
Customers are the lifeblood of the store. Besides activities to attract new customers, pay attention to taking care of old customers to keep them for a long time.
Managing customer information not only helps you take good care of your customers, sending the right offers to them. Customer information is also the basis for you to determine your business location (if you open more branches), and is a source to help you run effective targeted advertising.
Currently, customers at fashion stores are kept informed and have major incentives such as:
Discounts and promotions on birthdays
Specials on holidays
Offers for close members (vip guests, silver, gold members …)
Seasonal offers…
More than 70% of the sales of many clothing and shoe shops come from patrons. Store management experience is that in addition to maintaining the quality of goods, maintain a close and lasting relationship with customers,
If you have trouble managing customers, use apps that help you manage customer information, create membership cards, and send offers to them. You can manage more effectively, also help customers enjoy each time they visit the shop to buy goods.
6. Manage orders and delivery status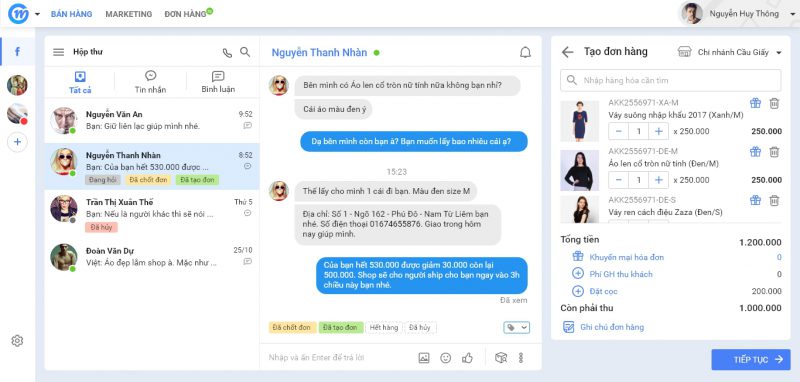 Manage orders and delivery status
In the past, when social networks and e-commerce platforms were not developed, order management mainly took place in stores. In recent years, online sales have become popular, order management and delivery management are especially important.
Experience in managing deliveries and orders at fashion shops, which should be centrally and synchronously managed. It is convenient to track the delivery status and easily create orders on the system without using too many applications, websites of each carrier, social networks or e-commerce floors.
Today, the integration of shipping into point-of-sale software has helped fashion stores connect to deliver faster.
7. Purchasing and supplier management
Many fashion shops are defaulting that buyers and suppliers may not need to care too much. But reality has proven, managing purchasing and supplier information is especially important for store development.
When trading in clothes, you have encountered a shortage of goods for sale, confused supplier debts, even among many suppliers, you often remember the amount of money you paid…
Experience in store management so that this situation no longer occurs, please pay more attention to the management of information related to purchases and suppliers. From there, avoid unnecessary errors such as errors in cash flow, not enough goods to return customers …
Instead of only paying attention to a few basic operations such as sales, revenue and expenditure management, pay attention to the 7 important factors mentioned above. Good luck!