It probably doesn't need to remind you that recently, the milk tea business has exploded and flourished. When it's peak on a few streets, 50m has more than a dozen milk tea shops, popular with franchise brands everywhere such as: Gong Cha, Royal Tea, DingTea, …
>>> See more:  Secrets of Effective Coffee Business
Should you start a milk tea business at this point?
Although there are many speculations that milk tea, like many other drinks, only existed for a short time following the trend of young people.
But on the contrary, milk tea shops have sprung up like mushrooms with all kinds of brands from all over the country and abroad, so the question is whether the milk tea industry has reached the saturation stage or not? Do I still have the opportunity to participate in this super profitable industry?
In my personal opinion, opportunities are still very much, because a business with so many competitors shows that the demand for market size is still very large and the profit margin is very attractive in the eyes of investors. Investors.
If you are a milk tea drinker and plan to start a business in this industry, it is recommended that you start as soon as possible to build brand awareness in the eyes of customers. The question is, where do we start?
Read the helpful steps below and start a bubble tea business.
12 Steps To Successful Milk Tea Business
Step 1. Shaping the style of the milk tea shop
Most milk tea shops today have their own design styles, to make a difference in the minds of customers when it comes to it. Therefore, you need to find your own substance at the store that can't be found anywhere else, then ask for advice from the design units to get the best store.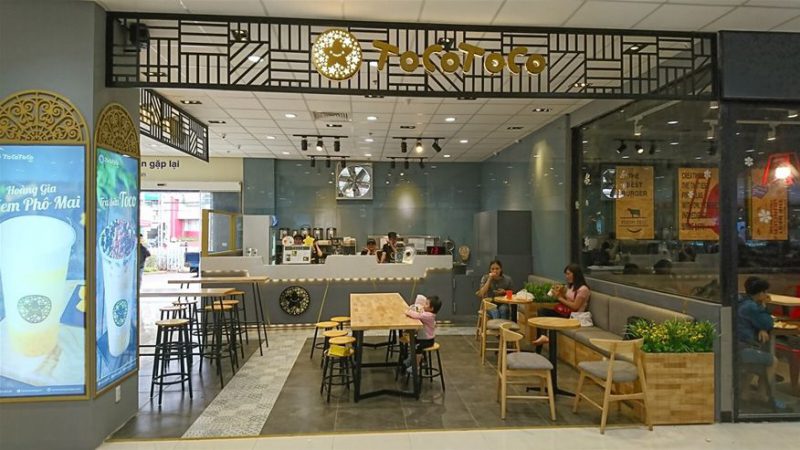 Does your milk tea shop serve mainly for takeout, or in-store? Does your menu just need to keep it simple, or do you need to be rich and creative? Discovering the style of the shop is the first step you need to clarify for an effective milk tea business.
Step 2. Create your own milk tea brand
Building brand identity is very important, to increase the ability to develop into a chain like other milk tea business units are doing. You need to understand the current market, the characteristics of your geographic area, then build a brand based on the target customer file you target.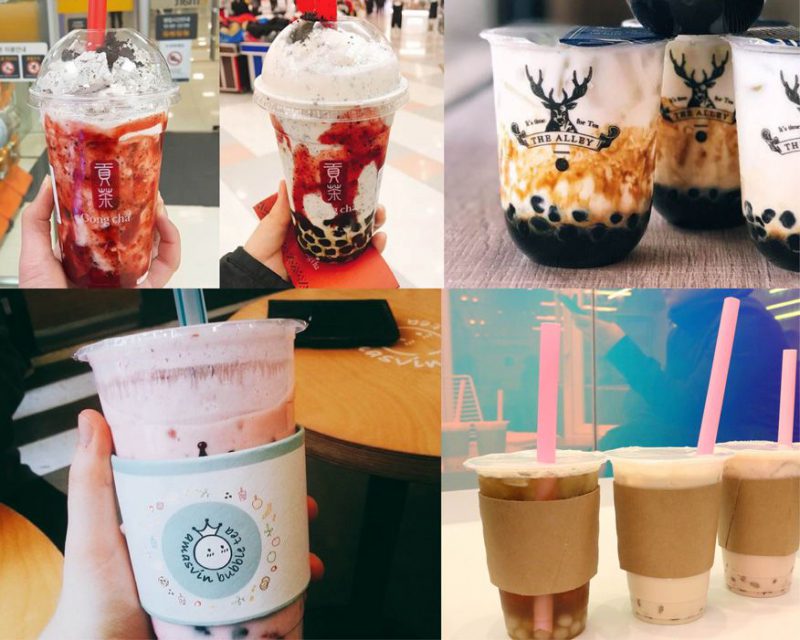 Researching competitors in advance is also a pretty good approach, when strong competitors with a lot of market share have a clear target audience. If you don't want to compete directly with them without enough resources, choose your niches wisely.
In addition, your brand also needs consistency from the name, colors, logo and promotional materials. Choosing an easy to read, easy to remember name, building a good story behind the name is also a way for you to make an impression in customers.
Step 3. Choose a place to rent milk tea business
The key to the success of the milk tea business is convenience. This is an extremely important step that requires research and exploration of the residential characteristics of each rental location, sometimes even the element of luck.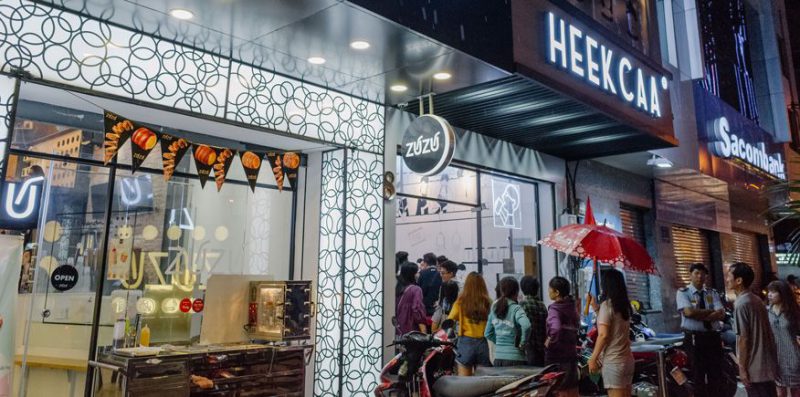 If you want customers to spend a lot of time in the store, choose locations that are busy on foot, with little parking space. If you want to target young customers, consider locations around schools, amusement parks, entertainment venues.
In more detail, you need to know the history of the place you want to rent: Is it safe around to ensure the safety of guests and employees? Are there any rental shops here? Why did they move?
Step 4. Make a milk tea business plan
The more detailed a milk tea business plan, the more you will not get lost in the future. You need to come up with specific strategies for business, marketing and finance…
How much does it cost to invest in a store? How long is the expected revenue and return on investment? Your Unique Selling Point  compared to other bubble tea shops:
+ Fast, free shipping?
+ Quality of delicious, different drinks?
+ New and special restaurant space?
.. or whatever idea you think will help you succeed.
>>  A detailed Business Planning Manual from A – Z
Step 5. Design the restaurant menu
The menu of the restaurant also needs to go hand in hand with the personality of the brand. The design also needs to be polished, reflecting the style and characteristics of the restaurant.
In addition, you should also consider issues such as: if there are too few products, the variety will not be displayed, and if there are too many products, the cost of importing raw materials and maintaining high (if you there are dozens of different products, and of which only 3 make up 95% of the store's sales)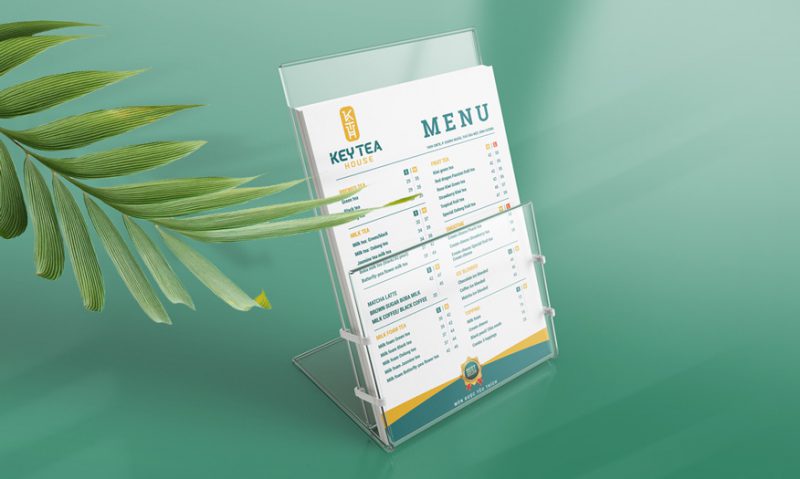 You can add something special to impress your customers, by changing the menu weekly, monthly or seasonally. Drink specials on certain nights of the week.
My advice is that special programs that attract customers should be reserved for the evening when you have the fewest customers, to entice them to come to the store (CGV's strategy when reducing fixed fares). on 1 session a week)
Step 6. Design and decorate the store
While there isn't any secret formula for a successful bubble tea business, you still need to pay attention to the balance between aesthetics and the number of seats.
You need to ensure that the space factor is just enough so that customers do not have a bad experience when coming to the shop. At the same time, avoid arranging too few seats will not optimize revenue.
Step 7. Invest in equipment
There are a lot of machines and equipment that need to be invested in order for the milk tea business to come into operation, for example:
+ Tea cap machine (about 10 to 12 million VND)
+ Tea brewing machine (about 500,000 VND). )
+ Tea mixer (about 4 to 5 million VND)
+ Automatic pearl making machine (about 10 million VND)
and some other equipment depending on your needs.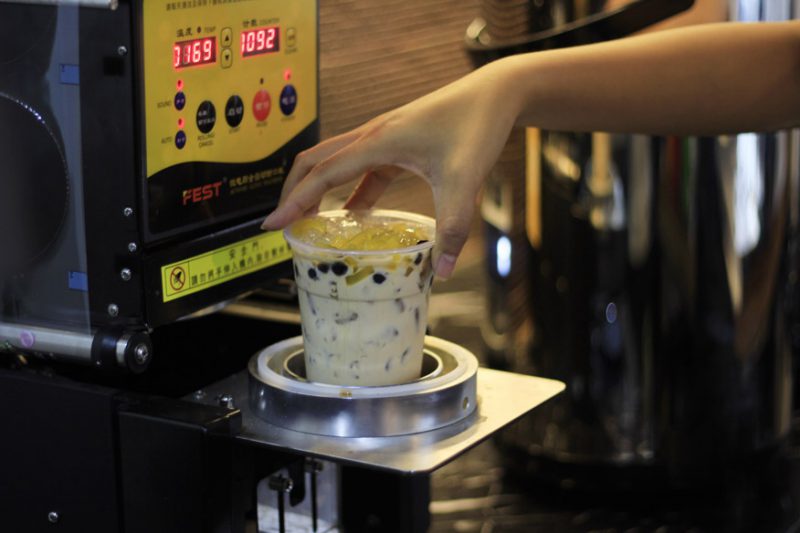 Consider investing in equipment from reputable units and quality products. Although a bit more expensive, it will definitely avoid unnecessary damage during your operation. Imagine when you have gone into a stable business, one day the pearl machine breaks down, you will have to spend a lot of time repairing or buying a new one.
One more thing is to maintain and use it according to the instructions to prolong the life of the machine.
Step 8. Find raw material suppliers
Research the quality of ingredients from reputable, budget-friendly suppliers in balance with the average price you sell to customers on the menu.
You will need suppliers of specialized items such as: high quality milk, cream, mix powder, flavors, tea leaves, sugar, and other complex ingredients in your recipe. You also need to add cups, plastic bags, bags, etc.
Step 9. Apply technology to management
Many businesses still use paper and pens to store and manage their revenue and expenditure data. But if you apply technology, all these jobs will become much simpler and more convenient.
You will not be able to be 100% at the store to manage your employees. So the paperwork on the computer managed by the milk tea shop management software will help you have the most detailed and clear view of today's business activities.
There are also many other tools to help owners such as fingerprints to calculate work, store goods import and export, etc.
Step 10. Recruit and train employees
Employees are the representative of your store's image. They will be responsible for all products and services you provide to customers.
An ideal employee would be someone who learns recipes quickly, has great resourcefulness and is excellent at solving customer problems.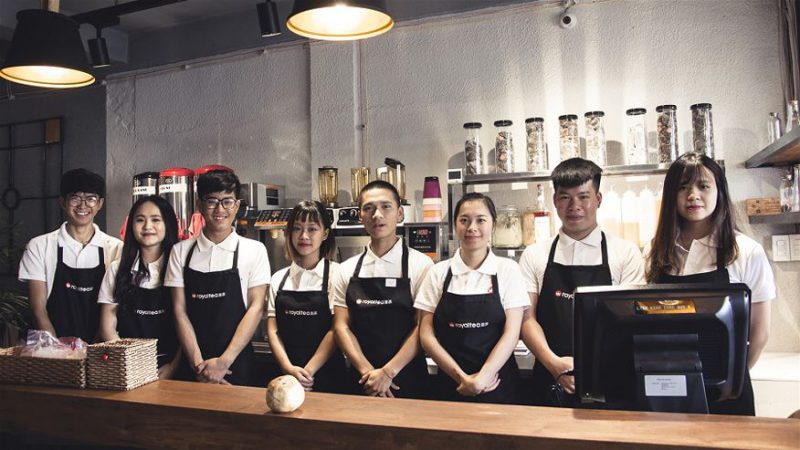 It is your responsibility to train them so that they can properly promote their abilities, as well as provide appropriate regulations, rewards and punishments for employees.
Step 11. Get a milk tea business license
A lot of paperwork and procedures will take up months of your time before being licensed to operate. To open a milk tea shop, it is necessary to have procedures such as business registration license, certificate of origin of raw materials, certificate of food safety and hygiene …
Make sure you have enough legal documents to avoid troubles when trading milk tea.
Step 12. Promote the image of the brand
The last step is to promote your milk tea brand image. Sure, you must create social networking sites to constantly interact, connect and update your customers.
Facebook and Instagram will be two great platforms that any milk tea shop should use. There are also other F&B platforms as Lozi,  Foody ,  Zalo , Grab Food… Make sure you're developing all in the right direction.
>> Using  Wifi Marketing  to promote the brand