Currently in the world, it is estimated that the number of Internet users reaches 2.9 billion people and an average of about 650 million USD is transacted on the Internet platform for online business purposes every day. The report indicates that, within a decade, there will be 3 billion more people using the Internet regularly, and this number will certainly contribute significantly to this online economy.
Bill Gates said, "If in 5-10 years, you don't have an online business, then you better not do business anymore."
Rapid population growth combined with the development of modern technology has completely changed people's shopping habits. The opportunity for online business people to get rich becomes clearer than ever. "Appear online or die"
This article will provide complete and detailed instructions on how to build an online business system from the first days with the least cost and least risk. This article must be very long, informative, in-depth, so you can feel free to skip the parts you feel are not necessary, and focus on more important topics.
What's in this guide to making money online?
Divide this article into 3 main parts, each part is different stages in the process of running an online business.
>>>  Tips for selling online from AZ ; Understanding and Doing Digital Marketing – What is Digital Marketing? ; Building a customer care process for the brand
Why do you want to do business online?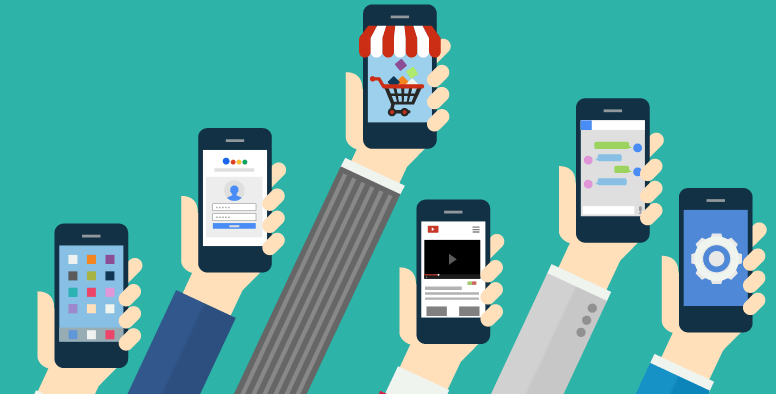 The results of all our actions are likened to fruits and roots. There, the fruit is delicious or not depends on the roots are good or not. Whether or not our thoughts are "quality" affects the quality of our actions. And the quality of the action will determine the end result.
The first step in building a successful online business is to understand the "roots". Why do you want to do business online? What motivates you?
So why do you want to start an online business, in my personal experience, there are usually the following reasons.
1. Earn extra income outside of your main job
2. To be able to quit a job you don't like
3. To work on a project you're passionate about
4. To be financially independent
What is stopping you from doing business online?
There are a few misconceptions when hearing a lot of startups say that
"Online business is very expensive"
A few years ago, this might have been true. To connect with customers, you need a place to sell, easily costing you from 10 to 20 million VND a month.
Today, the risk of doing business online, selling and making money online has decreased a lot, without a store, you can also operate smoothly and efficiently.
"Make money online takes a lot of time"
FULLY WRONG. Finding leads and driving traffic to your website can take a while, but it's part of the journey. Many people blame it on being busy, cherishing an online business but haven't started it yet, so maybe that person is not passionate enough and doesn't really want to do it.
Each day adds 1 hour, which means 365 hours a year, equal to about 9 working weeks. What will you achieve in these 9 weeks?
"Is it difficult to sell online successfully?"
It depends on many factors. It depends a lot on how you act, what niche you choose, and how you approach them. There are lucky people who have instant success in just 1 month with their YouTube channel, but there are also those who struggle for years to make more profits.
The difficulty in online business depends entirely on your knowledge, vision, and acumen.
Part 1:  

What products should I sell online?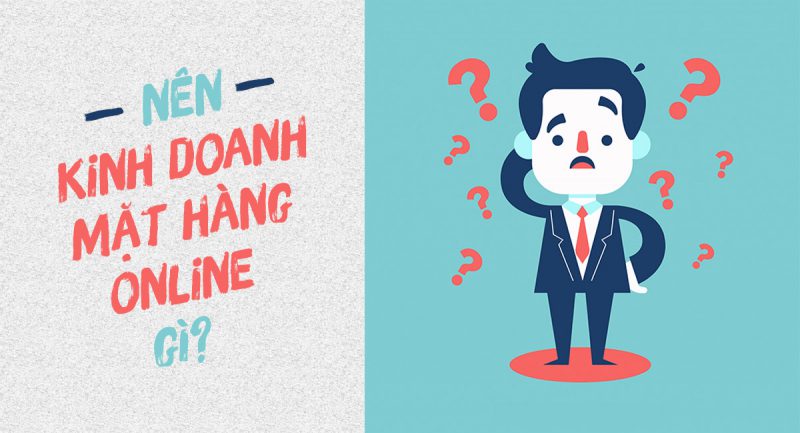 Explore your niche
The biggest mistake newbies make online is coming up with good ideas in a bad market, and coming up with bad ideas in a good market. Many people see the potential of the travel blogging industry, just going out to earn money to jump in, only to make no money because the competition is too fierce.
So what products and services should you choose to sell online?
1. You must be passionate about the product that you trade online.
2. If possible, choose  exclusive products .
3. You must be different.
4. You must satisfy the needs of the market.
5. You must be able to commercialize the product.
Choosing a niche can help people save or earn money
I know someone who is a stockbroker (a niche of securities). You can earn 500,000 coins in commission for each broker referral to a client. There are more than 10,000 people who are always looking for a good stockbroker, so he easily makes huge profits.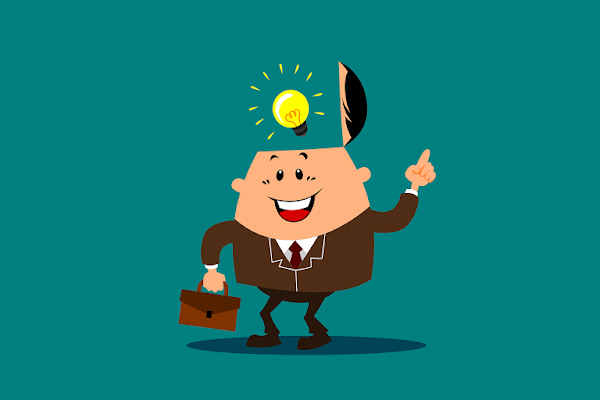 Analyze competitors and opportunities
Once you have an idea and product, you need to assess how competitive you are in the market.
Before going into more detail, it is necessary to emphasize to you that having a rival is a great thing. Not only does it show that your industry is a potential and attractive industry (the more competitors, the more attractive it is) but it also motivates you to work.
How many people wish to solve their problems over the Internet?
Imagine that your idea is to build a  Website  to help people understand more about cheap housing. All you need to do is use some tools to check the search volume around all keywords on your topic. Refer to the tool keywordtool.io
How many searchers per month on average? This is to assess whether your industry and product are in the category of growth potential.
How "hard" is your opponent?
As mentioned above, having a rival is great. But too many competitors, or too strong opponents, it will be difficult for you to compete. The main keywords related to your product when searching, the first results pointing to are the big competitors that you need to compete with.
Use tools to study their business system, how they find and acquire customers, how they build customer relationships, etc.
If your financial and human resources are not large enough to compete in many areas, wisely choose an area to focus on for development.
how to earn money online?
There are tons of different ways you can make money from the online business idea you just came up with. However, let's take a look at the four most common ways:
1. Affiliate marketing  – This is where you will introduce your products through a special link. If someone makes a purchase after clicking this link, you will receive a commission. Most of the major websites that offer this service offer free registration.
2. Advertising  – There are several ways you can allow ads to be displayed on your website. You can talk directly with the partners who want to place ads, or use Google Adsense, pay each time someone clicks on the ad.
3. Sell your products yourself  – This is the most common way for people who want to make money online, as you can keep 100% of the profits from the products you sell.
4. Drop shipping  – This is a combination of affiliate marketing and self-selling products. Customers buy products on your website, then you send this order to suppliers for them to ship. Usually, the commission for drop shipping will be higher than that of affiliate marketing (about 20-35% profit).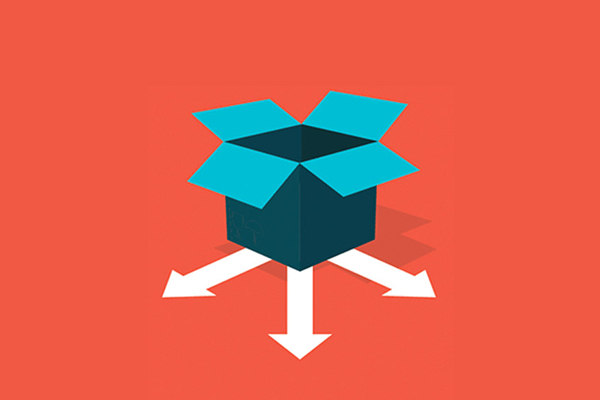 How much money can be made in this industry?
Trying to estimate sales is like predicting the future.
For example, you are creating a blog about financial advice. How much money will you make if you rank first for the keyword "financial advice"
The first result on Google will usually earn about 56% of all people searching for that keyword. So assuming a search volume of 2000 people a month, you will have about 2000×0.56= 1120 visitors to your website.
A package of financial advice is worth about 5 million, and 1% in 1120 will decide to buy your service package. Therefore, reaching the top 1 means you will have an average revenue of about 5,000,000 x 1120 x 0.01= 55,000,000
It also counts for related sub-keywords that users are also searching for related to your products and services.
In the next section, you will learn all about how to set up an  online business with the lowest cost
Part 2: How to set up an online business?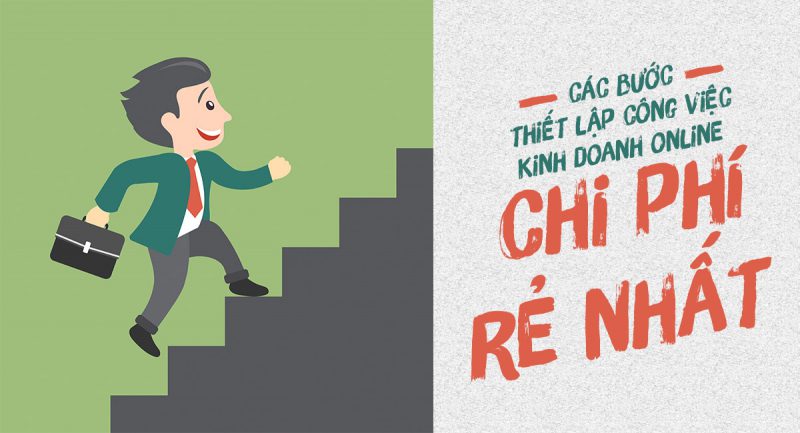 "A journey of a thousand miles begins with the first step"
This section is all about setting up an online business, the most basic things to get you up and running.
Choose a name for your online sales job
I won't focus too much on this, but to tell you one thing, I've met a lot of people who put off starting an online business because they couldn't decide on a name for them. Don't laugh, you may also have a headache thinking about it.
There are 3 suggestions for you to choose a name:
1. Choose a name that is easy to read, easy to write, not confused when reading, when writing, up to 3 syllables, preferably in 1-2 syllables.
2. Do not put individuality in the name.
3. Make it memorable and recognizable.
Register domain name, web hosting and install WordPress
To have a website, you need 3 things:
1. Domain name  – Is the address for users to access your website.
2. Web hosting  – Is the land where you put your website house in the Internet world.
3. Install WordPress  – Instead of having to code each page on your website with HTML yourself, you don't need technical knowledge to build your own website with WordPress.
Choosing a hosting company is also especially important. It will provide security, download speed, and server capacity.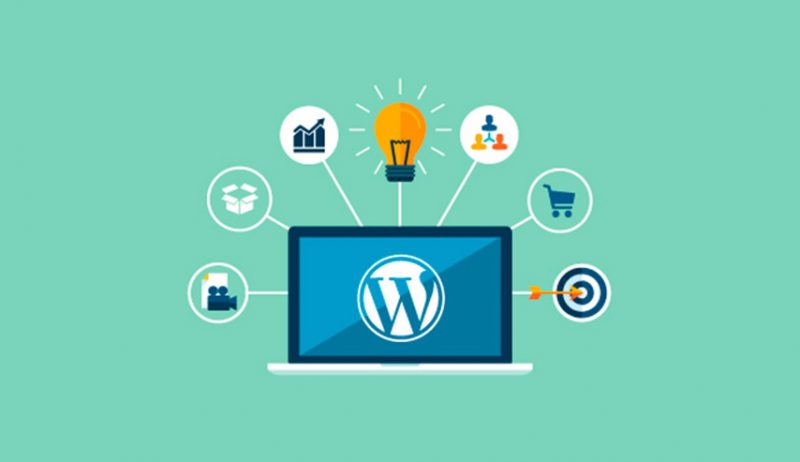 Website and Logo Design
Website design
Once you've installed WordPress, you'll be able to choose themes and customize them to suit your needs and desires. There are thousands of different themes, both free and paid, to choose from.
Of course, the paid themes on WordPress will be more glitter, more supportive features, more compatible with search engines. My advice is to use the paid version for the best experience, the cost ranges from 800,000 VND – 1,000,000 VND.
Logo design
A dark brand identity will make customers remember you longer. You should also invest in a complete brand identity to run your business well, most importantly, stand out from your competitors and get closer to customers.
You can refer to  Malu's logo design and brand identity package.
Set up social networking sites
Sure, you need to set up social networking sites to interact and chat with customers, increasing their trust in your brand.
1. Create Facebook Page
2. Twitter Account
3. Business LinkedIn Page
4. Business Google+ Account
5. Business Youtube Channel
6. Business Pinterest Channel
You should include complete information such as address, website, email, phone number, and a description of the product and service industry you are doing to become more professional.
Create online stores
WooCommerce is a free plugin that allows you to turn your website into a complete e-commerce site. You can let customers order products by themselves, fill in shipping information, choose quantities and pay online.
Very simple in terms of ease of use.
Install Google Analytics
Google Analytics is a great tool for you to measure and track traffic to your website, thereby easily improving and developing content.
Google Analytics gives us a lot of information about our users, from their location, age, and behavior on the page, from which it is easy to build a persona of our customers.
Part 3: To sell the first order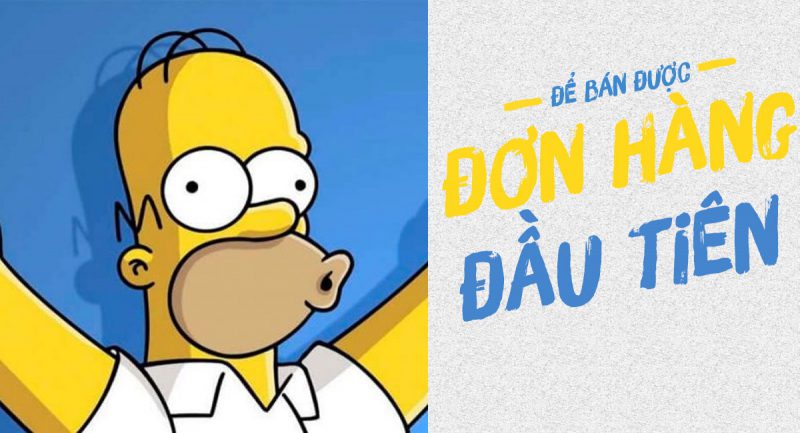 The first thing always leaves people with certain emotions, the first job, the first month of salary, and certainly, the first order when doing business online.
Here are 3 process systems  to help you sell online
1. System used to attract attention
2. System used to collect data
3. System used for sales
Why is the system needed? Easy to manage, automated, you can just go on vacation, lie down on the beach and still sell, that's the advantage of these systems.
System used to attract attention
To build different traffic sources for the system, you need to choose the right channels for your industry and product, here are some suggestions:
1. Run an advertising campaign on Google Adwords
2. Run an advertising campaign on Facebook
3. Organize a contest, event on social networks
4. Create an attractive blog to attract potential customers
5. Build a channel Youtube
System used to collect data
There's no point in getting a lot of traffic if you don't take further action. You need to collect information of your potential users – your potential customers, the most important data is email and phone number.
Typically, users only exchange their personal information with you when they receive something to the contrary. So you should give them something that makes them excited, like a sales eBook would be a good idea.
System used to sell online
Now that you have a system in place to collect traffic and data, you now need to focus on conversion rates.
To sell you need 3 things:
1. Product
2. Point of sale
3. Platform to communicate with customers
The most important skill of the owner
Everyone should learn to sell. Because – everything is for sale.
There are 3 important skills to help you make steady progress in your online business
1) Be honest  – The most important quality of a salesperson is honesty. Because if you are not honest, you will not win the trust of your customers, and no sale will take place.
2) Ask smart questions  – If you ask customers stupid questions, you will get stupid answers. Learning how to ask smart questions is one of the key skills to increase sales.
3) Measure the problem, and solve the problem  – In the first few sales sessions, you will probably face difficulties due to inexperience. Call 50 people to close 1 order. But if you measure the problems from yourself, from the approach to the problem, the way of speaking, this number will soon drop to 30, then 20… Don't sell the product, sell the benefits of the product.
Feedback is more important than sales
When starting an online business, you should aim to gather as much information about potential customers as possible, and this should take precedence over sales.
Why? Customer feedback is the fastest way for you to assess whether your products and services match what they want. Bad feedback will help you rethink and improve your service, and good feedback is a tool to help you  advertise and  take your products further in the market.
Feedback is a great thing, a gift from customers to help you grow.
Build potential customers
Sure, you need to nurture and care for your leads with supporting articles. Rarely does a customer agree to buy your product the first time.
You need to repeat your brand to customers, providing valuable information to solve their problems many different times.
Part 4: Business models and making money online in Vietnam
Online business in Vietnam is changing and developing day by day. In this part 4, Malu would like to introduce the  most popular online business and earning models today
Business through e-commerce channels
E-commerce has been so popular abroad with the big giants Alibaba, Amazon, Ebay… With a country of more than 90 million people and an Internet prevalence rate of about 75% like Vietnam, doing business online through the Internet has become a very popular  business  . more popular than ever. This is also the reason that e-commerce channels are constantly developing in the S-shaped country.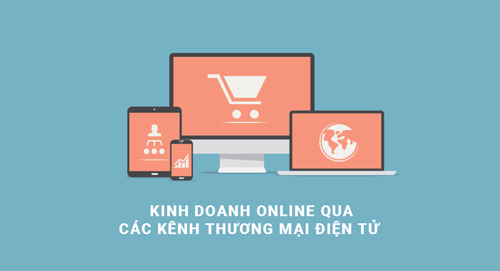 If you have an online business plan, you can't ignore channels like Sendo.vn, Lazada.vn, Shopee.vn … These are all sites with millions of visits a day. If we compare, the number of visitors at the above sites is more than that of Vincom or Lotte Mark on September 2
Refer to the articles on how to sell online on Malu's e-commerce sites:
1.  Instructions for selling on Sendo from A – Z
2.  Instructions for registering to sell on Tiki
3.  Sharing selling experiences on Lazada
4. Effective online sales on Shopee
Business model of the Contributor
Currently, the collaborator business model is very popular in Vietnam, especially in big cities – where many students are studying. The biggest advantage of this model is that there is no capital investment, or very little capital. Of course, the more you work, the more you enjoy, the less you earn, and the less you work, the less you earn. This is an online business model suitable for women, especially nursing mothers.

If one day walking around Facebook, you see someone selling anything, hanging pictures of certain agents or general agents, don't think they're sublime. They are simply trendy people who know how to do online business to earn extra income.
Online business through the power of Facebook
According to the latest statistics, Facebook users in Vietnam have reached the threshold of 60 million and are steadily increasing in both usage time as well as the number of accounts. This makes it easier for online businesses to reach customers than ever before.
Since 2015, in Vietnam, there have been "thousand singles" phenomena on Facebook. Their daily revenue is up to hundreds of millions, especially in some cases, it has reached the 10-digit revenue threshold.
Facebook is always ready to welcome advertisers to them. But please read the policies and terms of use carefully before doing business online through Facebook. There have been cases of very unfortunate penalties for not reading the terms carefully. And remember, Facebook is by no means a place to sell luxury goods.
For Effective Online Business
Starting an online business is not an easy task, but it is totally worth the effort. Surely in the next years, online business will become a trend that no one can deny. Try to make the most of the tools to create your own online business empire.
Hope that the above article has helped you a little in the process of your online business.