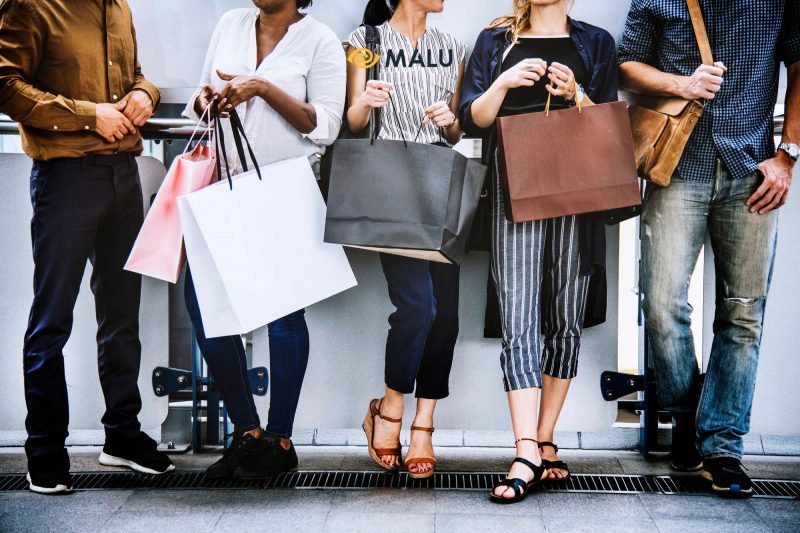 Just a few decades ago, few people aspired to become an expert in sales. In our eyes, salespeople are shaped like people dressed in luxurious clothes, with shiny hair, and talking like honey in their ears. Even, we have a prejudice that these merchants often use some of their "smart" tricks and talents to "seduce" customers.
Today, more than three billion people on Earth are connected via the Internet. The world becomes flatter, making the opportunity for businesses to expand their markets also greater.
This invisibly turns selling into a profession in society. But selling is not intrinsically the same as the biases inherent in our thinking. To be a great salesperson, you need to understand specific concepts, like CRM, B2B or B2C.
So what is the B2C concept here? How important is it to every salesperson in today's world? What is the difference between B2C and another concept that is B2B?
Surely, a lot of questions are popping up in you right now. This article will be the handbook that answers all your questions about the concept of B2C, and its applications in the business environment. Come on, let's get started.
>>> Learn about  Marketing Mix – Marketing 4Ps, 7Ps ; Marketing Model 4Cs
What is B2C?
First, readers need to understand what B2C is? B2C stands for English phrase:  Business to Customer . A term describing the transaction, buying and selling activities between businesses and final consumers, or the retail sector.
Business activities of  B2C businesses  directly implement the process of selling products/services to individual consumers.
To understand the concept of B2C well, we need to put it on a par with another concept,  B2B (or business-to-business) . Simply put, the transactions of the B2B model are transactions between objects that are businesses, and B2C are transactions between a business providing products / services, and the other party the end consumer for that product/service.

While B2B provides solutions for businesses to improve their business operations, B2C focuses on satisfying the consumption needs of individual customers.
Features of B2C business model
It can be seen that  B2C business model  is the most popular today and plays a core and important role in trading, buying and selling of goods.
Businesses develop according to the B2C model to directly approach customers, advise consumers to choose products, interact, support customers, receive feedback from customers.
Traditional B2C businesses can be mentioned as: stores, supermarkets, trade centers, booths… With the development of e-commerce, digital technology, B2C sells online through e-markets. , online shop, website or social network…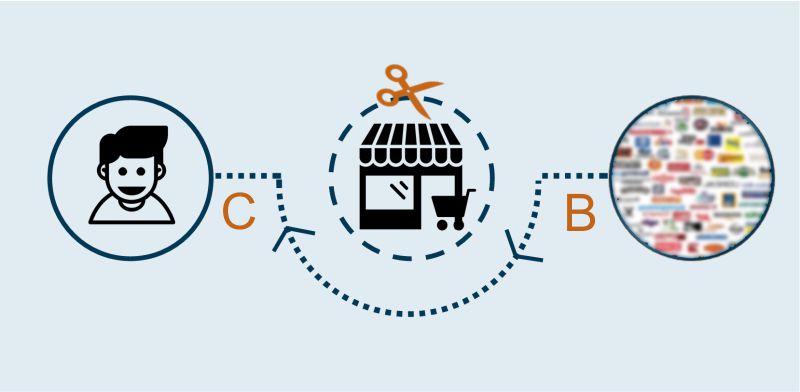 The B2C model sells all kinds of items to meet personal needs, daily consumption, vehicles, real estate, gold, etc. What do users need for living, living and entertaining activities? B2C will respond and deliver directly to the end customer.
Businesses that grow and generate sales depend on B2C and need to maintain good customer relationships.
This ensures customers will come back and choose the products/services of your business or store over your competitors. B2C businesses need to come up with marketing campaigns, marketing towards the emotions and experiences of consumers when buying.
Classification of B2C business models
B2C business model develops, is an integral part of the market economy, in the product supply chain. With the development of society and economy,  B2C models  are divided into many types to distribute goods directly to consumers:
Direct Sellers – The most popular B2C business model today. Consumers will directly buy goods at retail stalls, small businesses, department stores, supermarkets …

Online intermediaries – People who do not actually own the product/goods but are the connecting object between the seller and the consumer.

Advertising-based B2C model – A model that uses free content, allowing consumers to visit a website. The number of customers accessing the website used to sell goods, provide services, advertise, etc.

Community-based B2C model – Based on social networking platforms such as Facebook, instagram, zalo… to create a community that allows retailers, marketing and selling directly to customers.

Fee-based B2C model – Based on an online website platform, charging customers to use products/services on that website. Part is free but there will be restrictions. Users who want a higher service experience need to pay a fee.
Distinguish between B2C and B2B: The main difference is in the sales process

Speed ​​(Speed):
The turnaround time for a B2C business model transaction is usually quick, with the purchasing process not overly complicated. While a B2B transaction requires a business to pursue for a long time, it is necessary to build and nurture trust and commitment with customers who are businesses.
Therefore, an important factor for businesses following the B2C model is: The time for a transaction needs to be as fast as possible.
Similar to the B2B model, businesses do not necessarily close sales in the shortest possible time. The important thing here for a B2B salesperson is to close the order first, because the transaction process is complicated and involves many small intermediary steps.
Decision Makers:
For each B2C transaction, the person making the purchase decision is only one or two people. In contrast, there is an entire division in the business that will decide to make a purchase for a B2B transaction.
Leads:
B2C businesses can access a large number of customer data sources to earn quality transactions. With the B2B model, the work will be more difficult. Often, collecting sales leads for B2B models requires you to have certain skills and a wide enough social network.
A HubSpot study found that 41% of B2B businesses and up to 67% of B2C businesses reach customers through social networking platforms like Facebook.
Value earned in each sale transaction:
Often the value that businesses get in a B2C transaction will be much lower than the value they get in a B2B transaction. Of course, a B2B transaction requires a business to put in more effort and time.
However, overall, the total value of B2C transactions is still greater than the total value of B2B transactions (because the number of customers of the B2C business model still accounts for a larger proportion of the total number of sales transactions). row).
According to eMarketer, total B2C e-commerce transactions have reached $15 trillion, and continue to grow. This growth comes from potential and attractive markets such as Asia-Pacific.
Number of suppliers and purchasing process:
B2C transactions usually happen "straight" and fast. Goods are often targeted at mass customers, requiring little personalization per unit of product supplied to the market. Meanwhile, customers in B2B transactions require the product to be tailored to the needs of their business.
Therefore, the number of suppliers of the B2C model dominates the e-commerce market. The buying process of B2C is also simpler and less complicated than B2B.
>>>  Applications of the Boston Matrix in Business
Case Study on B2C: Coca-Cola
With items supplied under the B2C business model, the issue is not just what need the product will solve in my or your life, but also the emotions that I or you can feel. obtained by using the product.
In other words, the emotional aspect here plays an extremely important role for businesses in establishing and implementing marketing strategies to drive sales.
From social media platforms to traditional TV advertising spots, businesses have to spend a large amount of money to get their products to reach the emotional side of each customer.

According to Dr. Noel Murray from Inside the Consumer Mind magazine, "Emotions are the main reason for customers to remember brand names. Because after all, the brands out there all use the same ingredients, at the same price. The question is, why should we pay extra for the brand of the product we are using?".
Obviously, the efforts and resources to push  your brand awareness  in the minds of customers are not simple and free. Coca-Cola can be considered a giant in spending heavily on marketing campaigns.
According to a 2013 Ad Age Datacenter report, the company spent up to $3.3 billion on advertising globally. Coca-Cola CEO  Muhtar Kent has confirmed that he will raise $1 billion in budgeting for advertising and branding next year.
The majority of Coca-Cola's resources are used in the creation and marketing of emotional communications campaigns. Another interesting point is that Coca's campaigns also aim to eliminate customers' thinking about a carbonated, sweet, unhealthy drink. Coca-Cola is now the third largest brand globally in terms of popularity and recognition, just behind two other giants, Apple and Google.
>>>  Concept of M&A in business
Tips for professional B2C sellers
Salespeople possess superior skills in B2C businesses that require them to target a large and diverse market audience. In other words, anyone can become a customer in the B2C market.
Professional B2C salespeople  need  to meet the following criteria, to improve sales and reach customers effectively:
Salespeople need to have good communication skills, handle situations to solve problems that may arise in the sales process. Sellers create a comfortable psychology, create good feelings with consumers, which will help buyers easily make payment decisions.

Salespeople need to understand the products/services they offer. This is a very important step to create trust and choice of users when they are still wondering.

Salespeople need to capture customer psychology effectively, identify consumer insights, to advise and stimulate purchases. Every user can be a potential customer, it is important to elicit a purchase need.
However, it is difficult to attribute the buying behavior of countless different individuals to a distinct identity that helps you establish a specific norm.
But first and foremost, whatever your position in the sales department, you need to have excellent communication skills, the ability to handle customer complaints, versatility, and a penchant for getting along well with everyone. People.

A study by Aspiring Minds revealed that the most effective communication skill in sales activities is the combination of extroversion and dedication and enthusiasm for customers in every salesperson. row.
Along with Google today pushing to create certain advantages for local small and medium businesses can reach their customers on its search engine platform. B2C businesses have more and more advantages in expanding and developing business activities.
>>>  What is KPI? Building KPIs in the business
We hope that the information we have shared above will be of great help to your business in orienting its operation method and promoting development in the online business environment on the e-commerce platform.