In the digital age, mobile phones are not only an inseparable means of communication but also a working tool for most Vietnamese people. According to statistics, 80% of the population of Vietnam is using a smartphone and owns at least 1 phone with them. Therefore, the phone business is an extremely HOT industry, making huge profits. How much capital does it take to open a phone shop? Find out through the article below.
1. The cost of renting space to open a phone shop
How much capital does it take to open a phone shop?  20 million or 100 million depending on the form and size of the store. Currently, there are two main models: opening a store and doing business online or you can combine these two forms.
You need to determine the right accessories business model to prepare for capital investment. Each form will have its own strengths and weaknesses for you to choose from.
– If you only have an online business,  you can use your home as a warehouse. Save space rental costs, setup costs, hire staff…
– If you open a store,  you should find beautiful locations, densely populated areas, convenient traffic. Customers who buy phones, often of great value, do not want to enter small alleys and empty alleys. You should pay attention to whether there are stores doing business in the same field around to reduce competition.
If opening a phone shop in a rural or town, the cost of renting space ranges from 3 to 5 million depending on the location.
And renting space in the city to open a phone shop will be from 7 million. In many prime central locations, at street intersections, the rental price is quite high and often has to pay the rent for 3-6 months depending on the contract.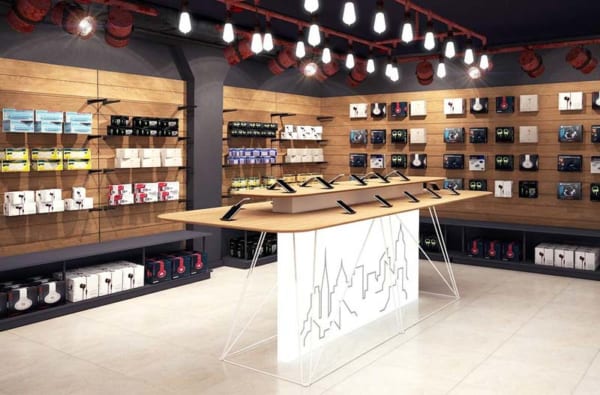 With those requirements, the rent for an area of ​​​​20-25m2 in the center of Hanoi will be about 8-1-0 million/month. As for suburbs, rural districts, it will be lower.
In fact, if you have a lot of capital, you should invest in renting new premises and decorating separately. If not, you can find stores to transfer the premises, make use of old furniture or decor and the initial investment for the premises will be less.
Read more:
>>  Experience in opening a fashion store for beginners
>>  How much capital does it take to open an auto parts store?
2. Cost of importing phone goods
Where to find wholesale sources to import good quality phones at reasonable prices? Malu suggests you some phone sources:
2.1. Import goods from Guangzhou – China
You can order on e-commerce platforms such as Alibaba, Taobao … Some Chinese domestic phone brands are quite quality, used by many people such as Oppo, Xiaomi, Lenovo, Vivo …
With a relatively cheap price, about 2 million can own a smartphone with features and quality not inferior to other major brands. Regarding the way to import goods, you can use the service of ordering – shipping to Vietnam or directly importing and shipping.
2.2. Find the source of unique and strange portable phones
This source of goods is suitable for unique, strange and newly launched products because the price is quite high and rare. For example, iPhone, Vertu,… Dealers will be relatives, friends, flight attendants.
The peculiarity of this product line is that it is not popular in the market or only in a few countries that you already have. And of course, the price will be higher than the manufacturer. Customers also pay more. For this source of goods, there is no need for quantity, only quality.
2.3. Register as a distributor of major brands
You can also become an authorized dealer of major phone brands such as Samsung, Sonny, Nokia, Apple… Then you can sell hardware products, software, use images and copyright products of the company. trademark. However, you will have to complete the procedures and make a separate commitment to the brand.
Thus, to import a stable source of goods, you must have at least 200 million. If you have more capital, you can refer to and import more phone accessories such as charging cords, headphones, phone cases… to earn more income.
3. The cost of decorating the phone shop and display items
Phone store decoration will be simpler than some other stores such as fashion, cosmetics. You just need to invest in shelves, locked glass cabinets, cameras, sales management software ,  barcode scanners, receipt printers, timekeepers (if the store has many employees) …
To save initial investment costs, you can find sources of liquidation or transfer. Depending on the quality of hardware, but you also need about 20-30 million VND for this.
Suggestions on how to decorate the phone store to attract customers:
The main door should choose a full glass door in the form of a pull or a push so that customers from the outside can see the size of the phone shop.

Main colors such as white, luxurious blue.

Use full overflow condenser shelves to display products

There should be a wide aisle between the shelves so that customers can easily observe and choose products.

Different phone brands should be arranged in different areas so that customers can easily find them.

In the area near the checkout counter, there are more accessories for sale such as memory cards, headphones, leather cases, selfie sticks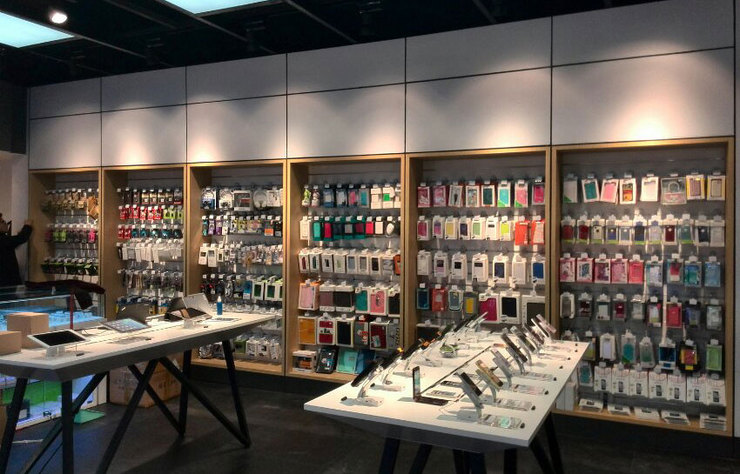 4. Cost of hiring staff
Some brothers and sisters who have just opened a mobile phone and accessory store often manage and sell by themselves or ask family members for support. However, for scientific management, to avoid loss and confusion, even if the store is small, you should also hire sales staff to support. It is not possible to manage, sell, and check inventory at the store 24/7.
As for large-scale stores, you will need many employees such as collectors, sales consultants, inventory control. The average salary depends on the position, but fluctuates around 5-6 million/month/employee excluding bonuses based on sales.
5. Investment costs for advertising, marketing products or stores
Newly opened stores, displaying products without implementing promotional programs or running aggressive ads, it is very difficult to attract customers. You should have a separate budget to implement advertising programs, promotions on holidays, customer gratitude.
Some common forms of marketing include handing out flyers, hanging posters, advertising posters in stores or some prime locations. Use social networks such as Facebook, Zalo, Instagram… to reach more customers.
In addition to the above fixed expenses, you need to set aside an amount to handle arising problems or when the debt cannot be recovered, you still have money to import goods.
Thus, to open a phone business, how much capital you need depends on the form and size of the store. But you need to have at least about 500 million and have a detailed plan.