Known as the model that is dominating the current market with great development. C2C is the type of transaction and business being used by big companies such as eBay, Amazon, Shopee, etc. Besides, more and more retailers are also using C2C as a key business model. So what is C2C? Let's find out with Malu in the article below.
What is the C2C model?
C2C  stands for  Consumer To Consumer , is a business model that allows customers to transact with each other, in which the buyer and seller are both individual customers, this transaction is usually done on the environment. online school.
C2C makes it possible for consumers to transact with each other through a third party, usually through intermediary online sales platforms, or intermediary auction sites.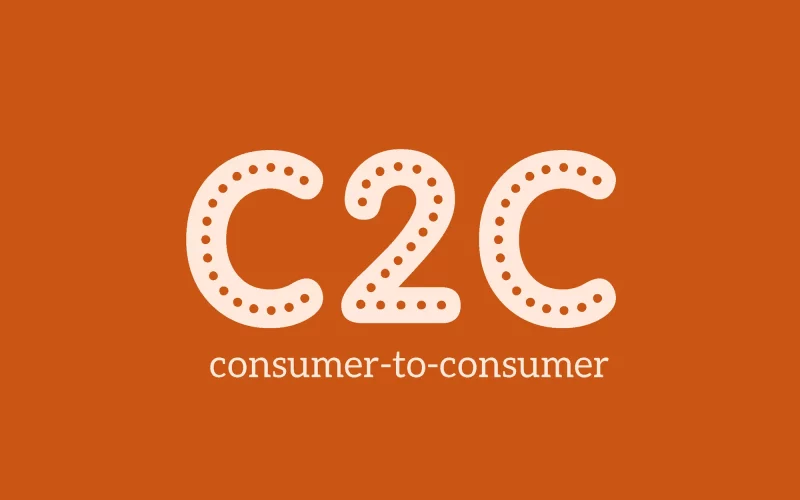 Example of C2C . model
Currently, there are a series of  e-commerce trading platforms  such as  Lazada , Sendo,  Shopee , etc. These platforms allow users to post classifieds and sell their products. Regarding how it works on the e-commerce platform, the listings for sale will be classified according to different products including: fashion, food, home appliances, electronics, etc.
However, e-commerce platforms do not provide payment and delivery services. Buyers and sellers will go through another service provider, such as Momo, AirPay for payment, Giaohangtietkiem, Giaohangnhanh, etc. for shipping.
Compare C2C and B2C . models
The most basic difference between these two models is the core characteristics. In particular, the C2C model is a model of cooperation between individuals and individuals, and consumers with consumers (not businesses). B2C   is a business model between businesses and individuals, and is also the most popular sales model in the world .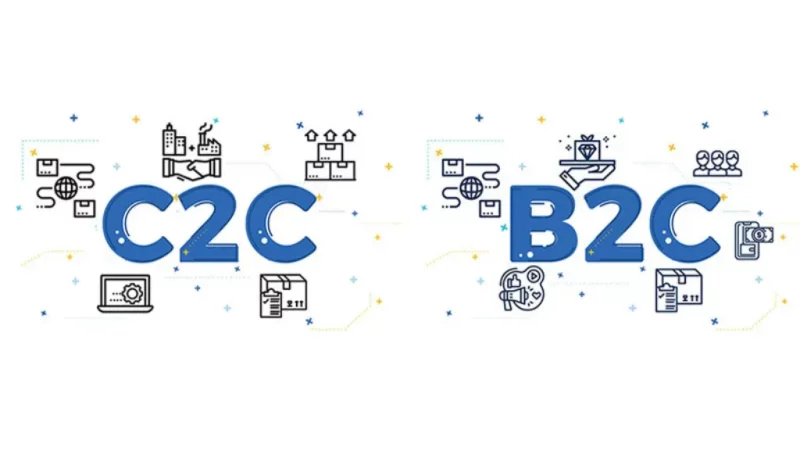 More specifically, the B2C model will be the purchase, sale and exchange of goods between businesses, in which the seller is a business and the buyer is an individual. The advantage of this model is the diversity of goods, the use of smart electronic catalogs for various forms of purchase, and convenient online payment support.
Advantages and disadvantages of the C2C . model
Each business model has its own advantages and disadvantages. So what are the advantages and challenges that C2C needs to overcome?
Advantage
Product value is maximized
The C2C model helps users sell products they bought but don't use, or products that are used but no longer needed. Therefore, the value of the product is maximized, reused in a reasonable way. On the other hand, there are products that are no longer produced, which will be sought after by many people for the purpose of collecting or displaying.
Bring benefits to both seller and buyer
The nature of C2C is to say no to brokers and intermediaries, so buyers and sellers will be free to exchange prices with each other. Therefore, product prices will not be bound by traditional pricing methods. The seller also enjoys a higher profit, and the buyer side will receive a cheaper price compared to going through the middleman.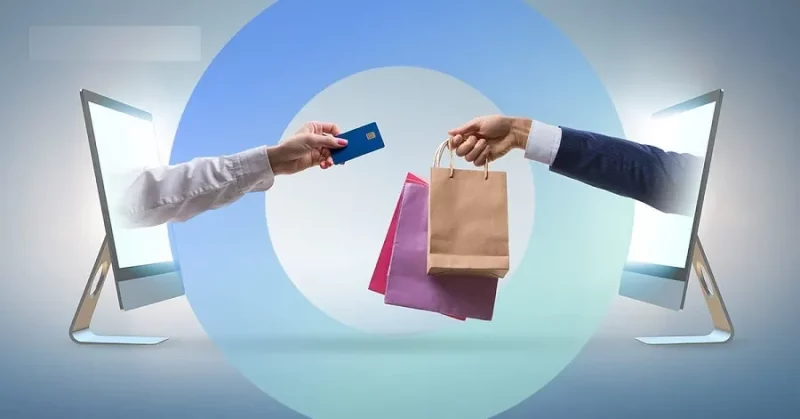 Defect
Product quality is difficult to verify
Since it is a transaction model between consumers, there will be absolutely no guarantees from any one party. So it is very likely that the buyer will receive a product of poor quality as promised. Currently,  e-commerce sites  are actively improving this problem by allowing buyers to return goods when the product is of poor quality.
Unsecured payment problem
On the seller's side, they may bear the risk of payment problems. Because no party can guarantee that the buyer will definitely receive the goods or pay.
What are the characteristics of the C2C model?
Because it is a transaction model between individuals and without the participation of businesses, C2C possesses the following outstanding features:
Competitive product
Because it is not an enterprise, the products of the C2C model are not mass-produced or easily duplicated. The items sold are limited, even some products are antiques, rare goods, no longer appear on the market or are sold elsewhere. Also because of this scarcity, it attracts the attention and preference of many customers.
Higher margins for sellers
Sellers will enjoy higher profits because there is no impact from manufacturers and intermediary retailers.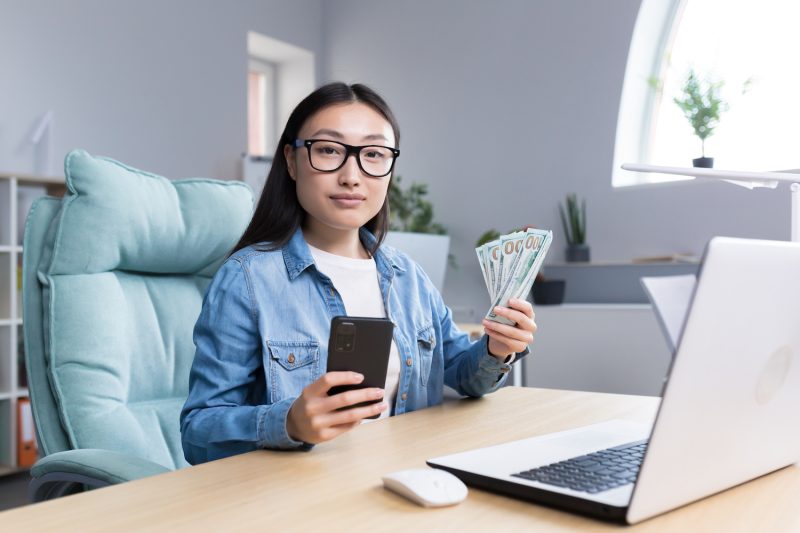 Lack of control in quality and payment
Since there are no manufacturers or retailers involved, it is difficult to control the quality. Besides, the payment stage also has potential problems that may arise.
How does it work in the C2C model?
For a more detailed look at the C2C model, below are the common operations of the C2C model, namely:
Auction
This is considered a popular activity of the C2C model with the appearance of eBay – a famous global auction site. The platform allows sellers to post their products for sale and set a certain floor price. After that, those who want to buy the product will conduct an auction. Finally, the individual offering the highest price will own the product.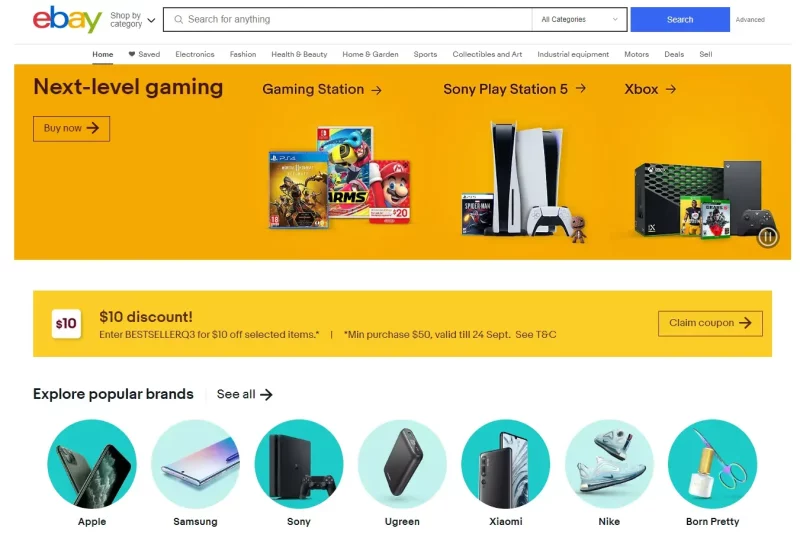 Exchange transaction
Is the exchange of user or product information. Users will exchange with each other in the form of items, in exchange for another item of equal value.
Support Services
As mentioned, the issue of quality, payment is being taken very seriously by many buyers. Therefore, support services have appeared to increase the reliability of product quality or guarantee of payment. For example, Paypal was used to support payments.
Sell ​​virtual assets
Virtual assets are items in games that are owned by players. They will bring these items to exchange, trade with each other, the rarer the equipment, the more valuable it will be. This activity for gamers is probably nothing new.
If you are a person who likes to experience and play games, now playing games will no longer be boring and you can still make money. P2E is a money-making gaming trend that is being invested and experienced by many gamers. You can also refer to this article by Malu.
Benefits of doing business under the C2C . model
Each e-commerce platform has its own business model, not all use C2C. However, Shopee is certainly the clearest demonstration of the benefits that this model brings.
Specifically, the advantages of C2C can be mentioned as:
Posting for sale is easy, quantity is not limited
Your personally owned items can be easily sold on C2C e-commerce platforms. In addition, individual accounts are not limited in quantity, you can sell as many items as you like.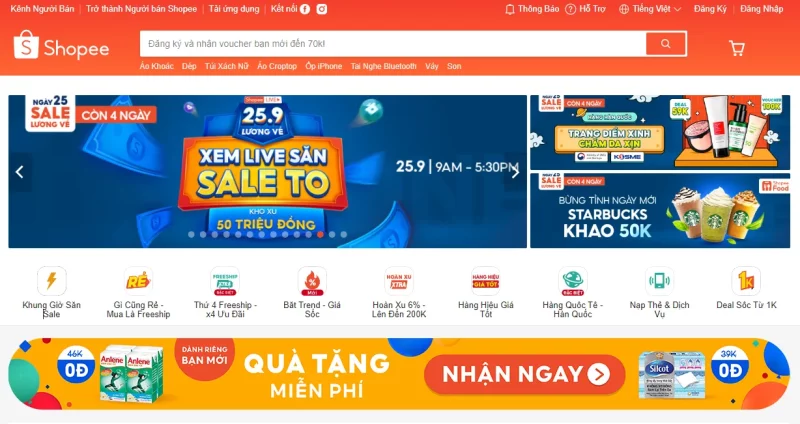 Increase interaction between buyers and sellers
Currently, there are many websites operating under the very popular C2C model, such as Facebook, and are used by many people to sell products. Sellers post information to find buyers, and buyers can easily find products to buy on these platforms. The exchange of prices and product information is also very simple and quick through the message section on the platforms.
Making money on the Facebook platform is becoming more popular and easier than ever. Without too much experience or large investment capital, you can also make money on this platform simply through the article  13 easy money-making online jobs at home that Malu shared.
Reduced commissions for brokers
As mentioned above, the C2C model makes the selling price unaffected by 3rd parties. Buyers and sellers directly connect to each other to transact. As a result, the interests of both sides are guaranteed. Sellers do not need to discount sales to intermediaries, and buyers get a lower price than the market.
The development of the C2C model in the future
At the present time, the C2C market has been very developed, with this growth momentum, it is predicted that in the future, this model will grow even stronger. This achievement is due to the continuous increase in the number of products sold, while the cost of using 3rd parties is decreasing. In addition, the popularity of social media makes retailers gradually know the C2C model and become an essential business channel.
For a better example of the growth of C2C, we can look at eBay and Amazon. These are known to be the top two popular C2C providers today. eBay is a leading auction site where customers can bid to own products. Amazon is known as the world's leading online retailer, even operating in two markets B2C and C2C. In addition to allowing consumers to exchange goods themselves, Amazon also allows businesses to distribute goods to customers.
Frequently asked questions
Epilogue
Not only in foreign countries, in Vietnam, the C2C model is also entering a prosperous period with prominent names such as: Shopee, Lazada, Sendo… Hopefully with the above information, you have understood what C2C is. and how the C2C model has great potential. Please share if you find the article interesting and follow Malu to receive more useful information.