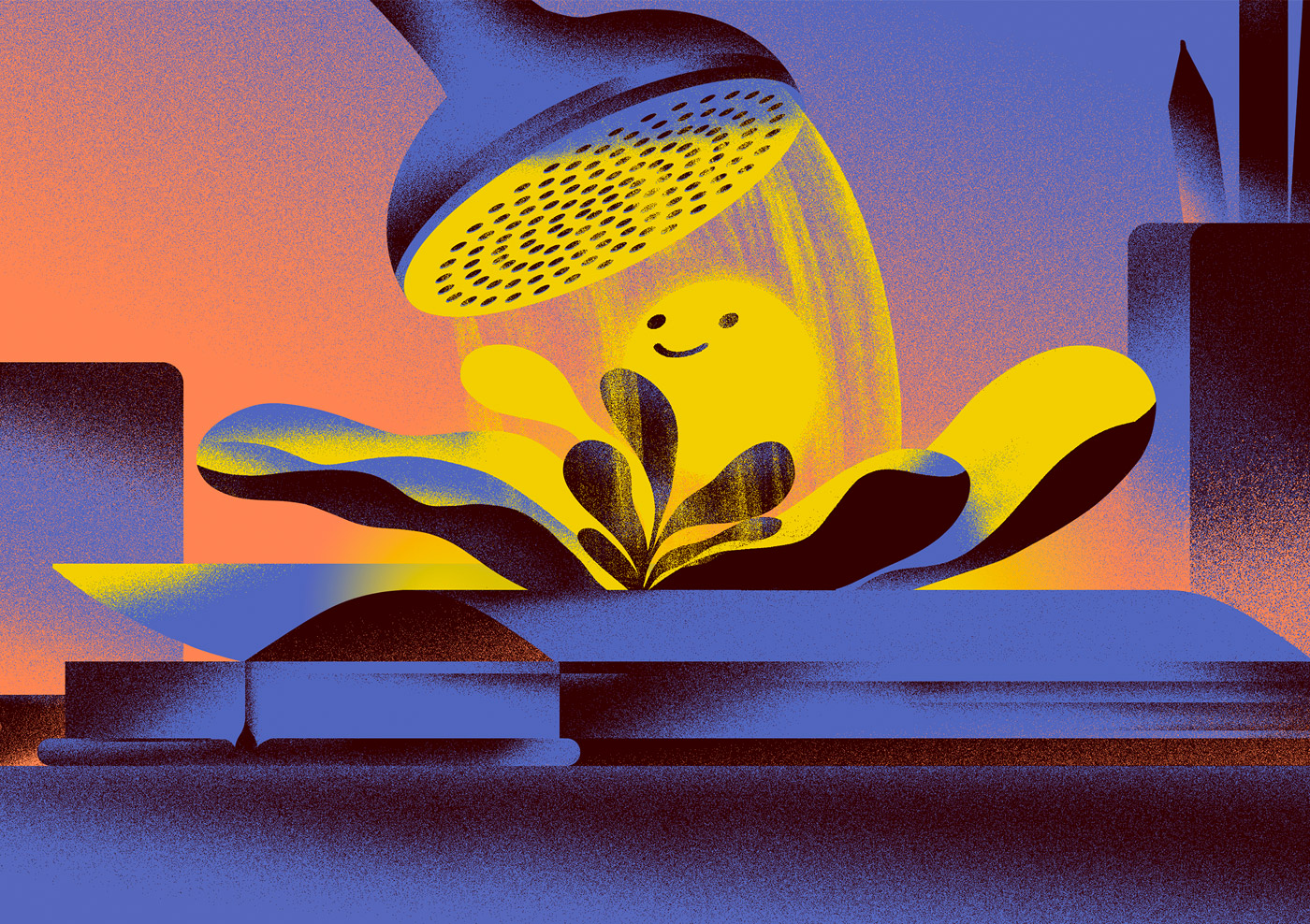 Illustrations have become a design trend in recent years. Terms like Illustration, Artwork are increasingly popular. So what is Illustration Art?
Today, Malu will explain them with you, and give you some inspiring examples of Illustration Art.
1. What is Illustration Art?
Do you remember the stories 'Vietnamese Prodigy' or the legendary 'Doraemon'? The illustrations in those books can be called illustrations.
Illustration is translated in Vietnamese as Illustration
In general, Illustration Art are illustrations, whose messages are conveyed visually. In addition, Illustration art is also often used as decoration or carrying a private message. We can think of them as drawings or paintings. Illustration art often appears with some media or entertainment publications such as magazines, books, video games, movies. Besides, the job of illustrator is also increasingly potential. To become a talented illustrator step by step, all you need to prepare  is here.
Illustration art can be done on Adobe Illustrator or Adobe Photoshop software when connected to an electronic drawing board  – a super-important tool in this subject.
2. The evolution of Illustration over time
Illustrations have a long history, since people have more sophisticated imagination and use of tools!
According to IllustrationHistory, the first illustration appeared around 15,000 BC.
Ancient illustrations show us how our ancestors lived at that time!
As ancient Greek and Roman civilization flourished, humans left behind hundreds of illustrations of their legacy. Illustrations are found all over the world, but perhaps most distinctive are those depicting battles, myths, monsters, etc.
And although illustration has been a part of people's lives for a long time, it wasn't until the late 19th century that the golden age of illustration really began.
The world has forever changed printing technology, namely "halftone printing" invented in the mid-19th century.
Images can now be reproduced on many physical documents with the development of the printing industry.
Photography dates back to 1826, but it wasn't until about a century later that photography began to replace the widely used illustrations – in newspapers and magazines.
Today , both photography and illustration are flourishing in a new medium : the digital environment !
3. Different types of illustrations
Let's learn more about the types of illustrations and where they are used. There are many areas that require visualization; Here are some of the categories of Illustration:
Editorial

 illustration

Advertising illustration
Concept art

Fashion illustration

 (Fashion illustration)

Technical

 (scientific) illustration

Infographics

 (Infographics)

Packaging illustration

 (Illustration of packaging, branding)
What is Editorial Illustration?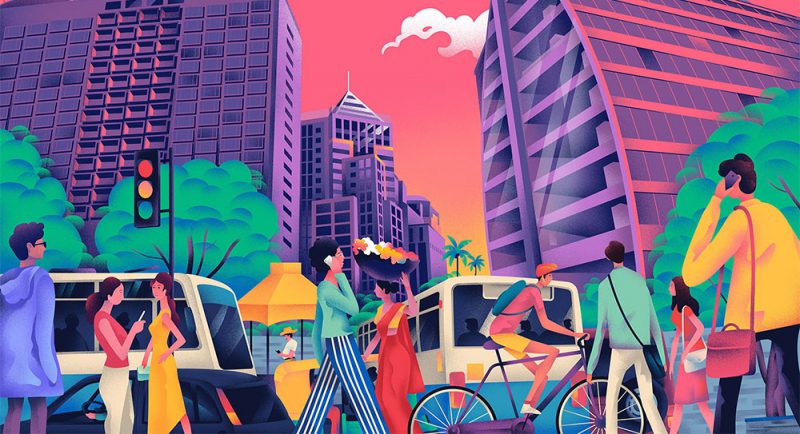 Editorial illustrations are illustrations created to better represent ideas from text, often used in books, magazines, newspapers, or on web content. This type of illustration cannot exist without text.
What is Advertising Illustration?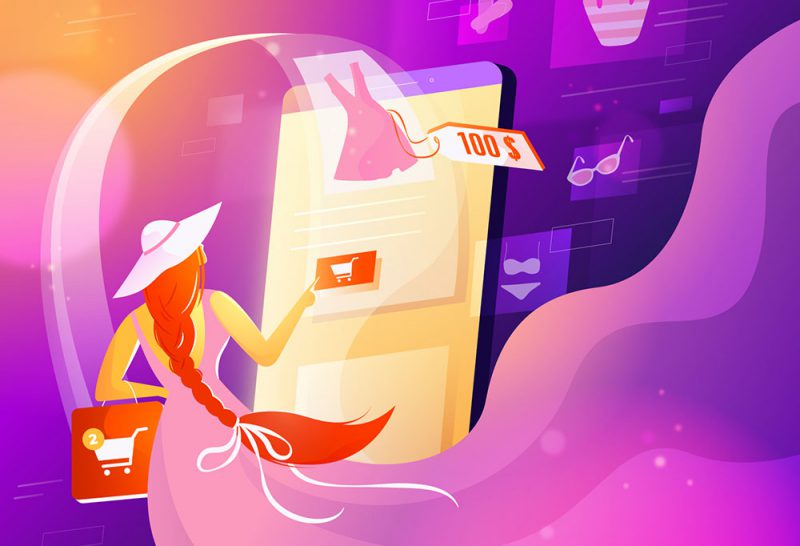 This is the illustration used in the promotional material and its main purpose is to grab the attention of the viewer. It can be used without any text (only the company logo) but presents a strong idea that is easy to remember.
What is concept art?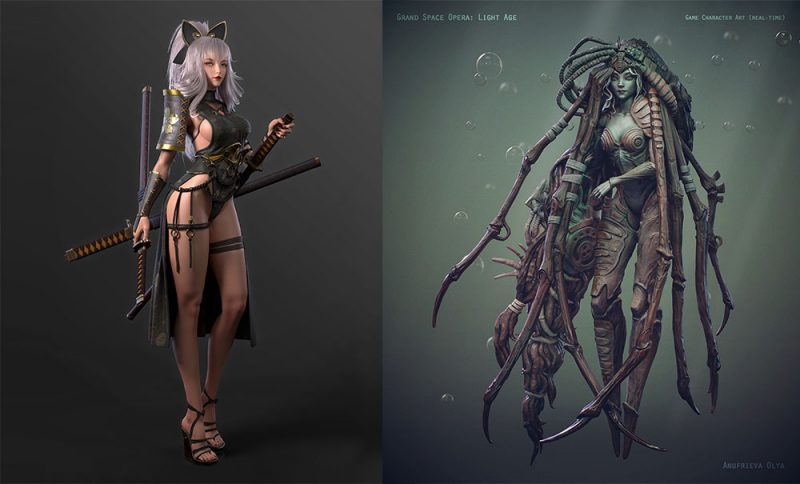 Concept art is often used in movies, games and other industries, as working documents to find the best image of the work's atmosphere. Concept art is created and frequently edited. The most important thing is not to create a perfect beautiful image but to choose the  right  image because it is just a concept, a preview. The final sketch went through the art director's review. Concept art is usually created for environments, characters, costumes, and items.
What is Fashion Illustration?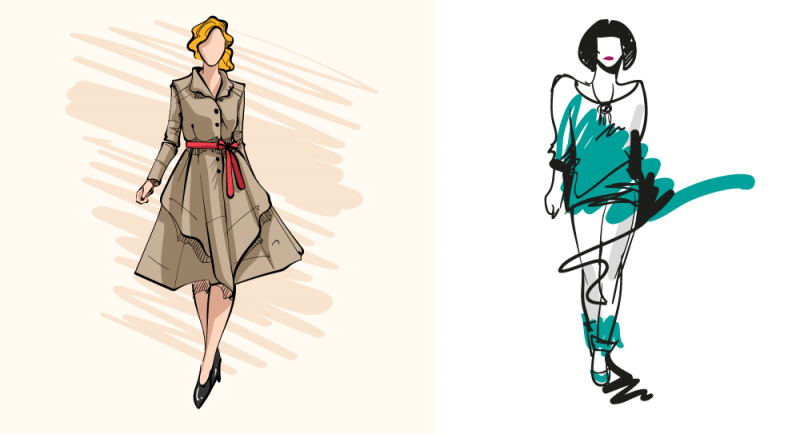 Fashion illustration can be used to visualize a piece of clothing before it is produced. Fashion designers use it a lot in their creative process. The garment needs to be envisioned before sewing. In addition, fashion houses use the work of fashion illustrators to promote their product and present it in a distinctive style.
What is Technical Illustration?
The purpose of technical (scientific) illustration is to accurately depict an object in order to simplify its understanding. In technical illustration, what is important is not the beauty of the image, but the clarity of the image and the absence of confusion.
What is Infographic?
Infographics provide content visually and with minimal use of text, allowing you to quickly understand the essence of the topic. Infographics are related to communication and graphic design, but can also be attributed to Illustration. Good infographics make it easier to understand information when there is a large amount of data.
What is Packaging Illustration?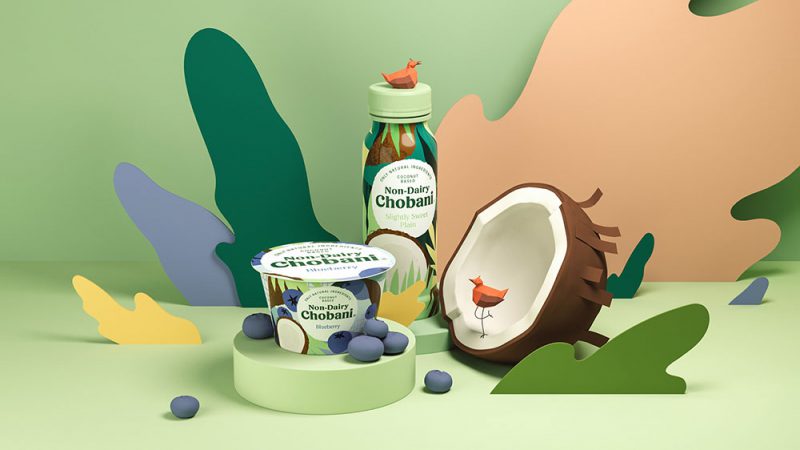 Like promotional illustrations, packaging illustrations help companies sell their products. And it also has to be eye-catching and grab the viewer's attention. Additionally, the packaging illustrations help define the brand, creating an extra sense of personalization and a custom feel.
4. The difference between graphic design and illustration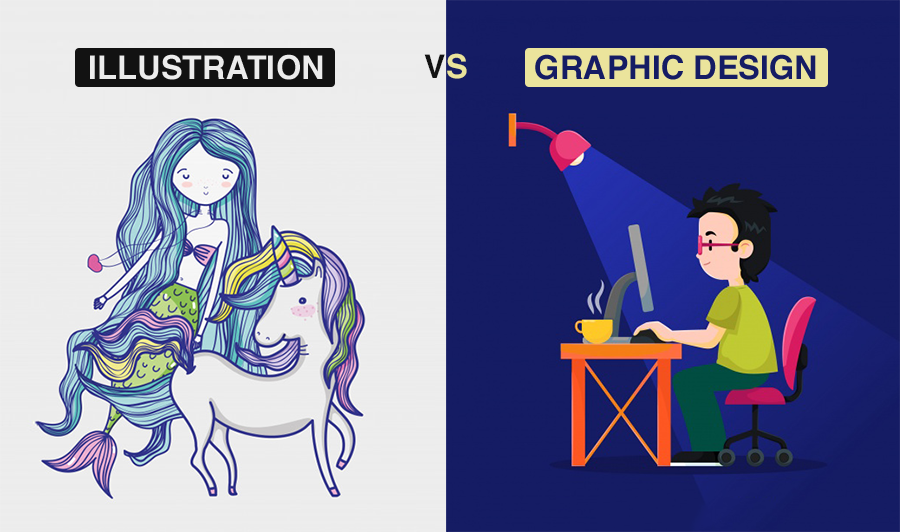 Usually, graphic designers work with ready-made objects, and their task is to create suitable compositions from them. Illustrators create products themselves (even if they are collages).
The main task of the designer is to create a successful product that meets the requirements of the customer and the needs of the target audience.
A good illustrator will also think about the needs of the client and target audience in their illustration, but should focus more on the image itself, rather than on the marketing goals – which Designers have thought of!
5. The difference between art and illustration
Illustration art is not a work of art. Art is created to express the inner world of the artist, while illustration is created to explain an idea. The main goal of a work of art is aesthetics. While the main purpose of the illustration is to explain. An illustration is created for the needs of a client with specific goals and a work of art can be created without any of the client's goals. Good illustrators are always thinking about the goals of their viewers and clients.
6. What Are The Best Illustration Techniques?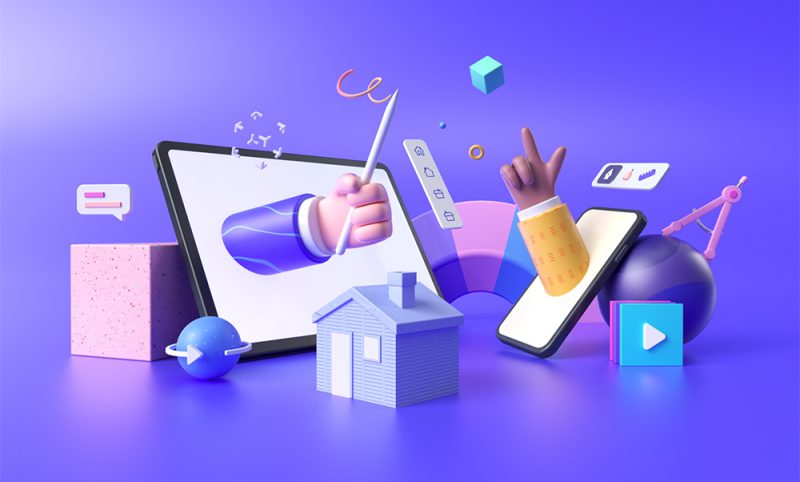 It doesn't matter what technique the illustrator uses; What matters is what the illustration is for. This is not a story about how an image is created, but about what the purpose of that image is.
A commercial illustration can use traditional techniques: it is drawn with pencil, ink, and paint. Or it can be created in digital programs such as Photoshop, Illustrator, Procreate and others.
Some illustrators use a mixed technique: for example, drawing with a pencil, then processing the image on a computer. There are also people who use collage and engraving techniques. You can use any technique; it depends on the purpose of the work and the illustrator's preferences.
7. How to Become an Illustrator Professional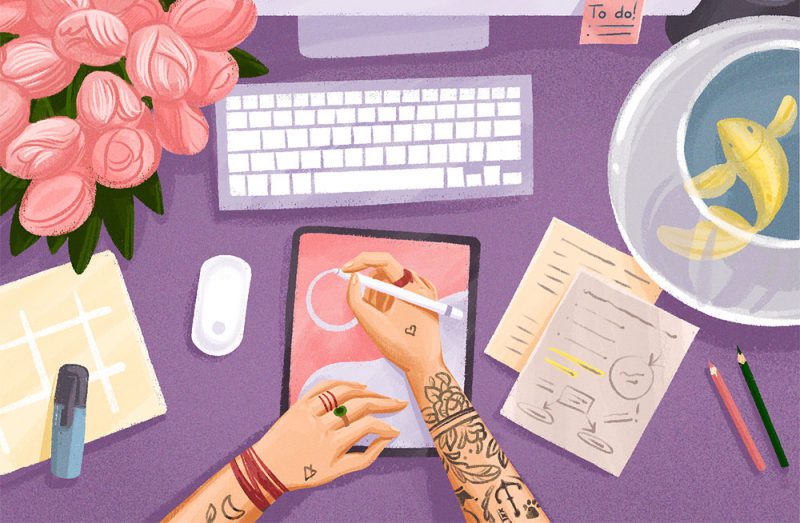 It all depends on the field that you want to develop and the technology that you will use. To be an illustrator, it is important that you can draw. But nowadays it is not the main thing, because there are illustration techniques that are not directly related to drawing. But you will definitely need a good knowledge of composition, color and perspective, and a lot of practice.
There are many online courses and universities where you can get an education. I recommend choosing courses that focus on the basics of composition and the ability to work with text rather than on techniques and materials.
Knowledge of the basics of marketing, skills in working with clients, and an understanding of the subtleties of the law would be a good help.
8. Illustration "West" and "I" inspire
Illustration proves to be attractive to viewers when it is effective for many brands to apply illustration art to their marketing. And it seems that brands that use illustration in their promotion channels are more popular?! Let's discover:
1. Esty
As a special e-commerce platform for 'handmade' believers, Esty made an impression when entering their website. The whole picture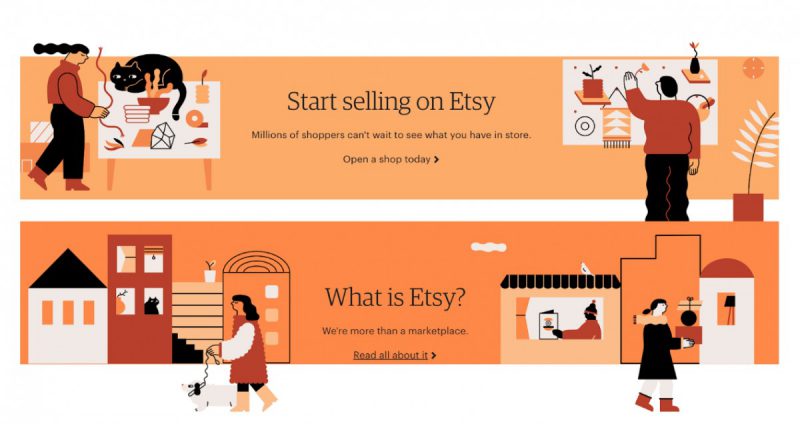 Illustrations on Esty .'s website
illustration on the website with a yellow-orange tone as their brand color. The illustrations of people with daily activities create closeness and friendliness, helping Esty create a feeling of safety and trust, where handmade products can be bought and sold.
2. Slack
You will be impressed from the first seconds you step into Slack's Website to see! Well-known as a platform for business communication between people at work, the illustrations on Slack's website are made with the layout as a dynamic and colorful working environment, associated with this application.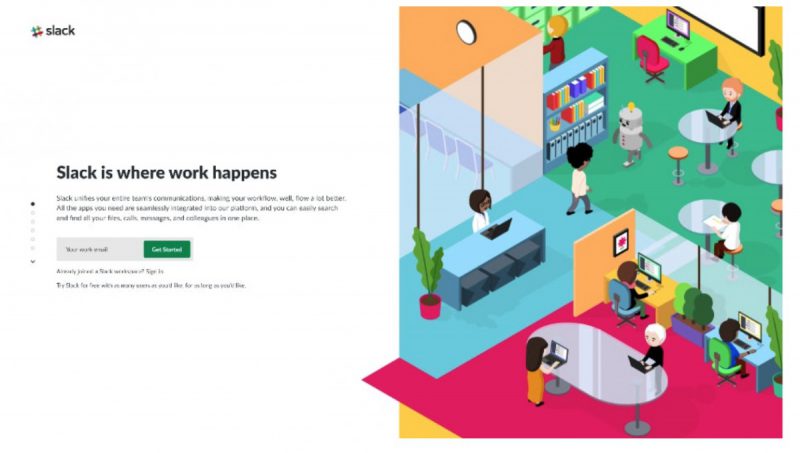 3. Mailchimp
Mailchimp's Website interface is illustrated with bright yellow tones, hand-drawn illustrations. The common point of the illustrations is to show a lot of energy, convey the message of Mailchimp's fast Mail sending feature.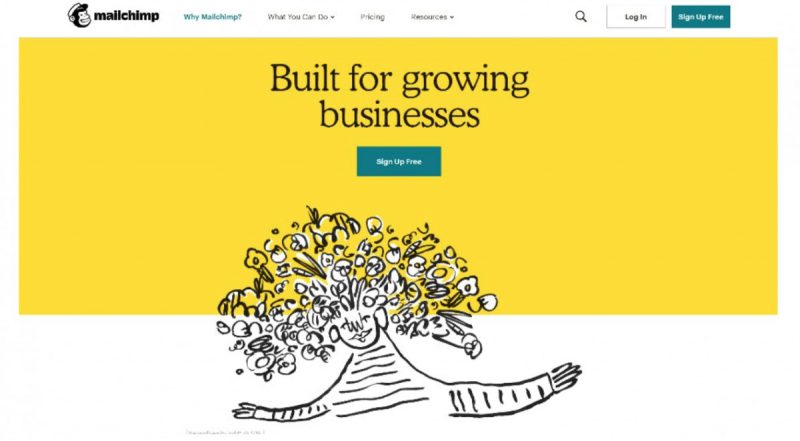 The illustrations of this brand are also "covered" by many platforms such as Facebook, Instagram, reaching a young audience – those who love the illustration style.
4. The Coffee House
Different from many of the above brands that use illustration on the Internet platform. The Coffee House – the "national" coffee chain used to cause a fever with the application of Illustration on its own product packaging for the Mid-Autumn Festival last year.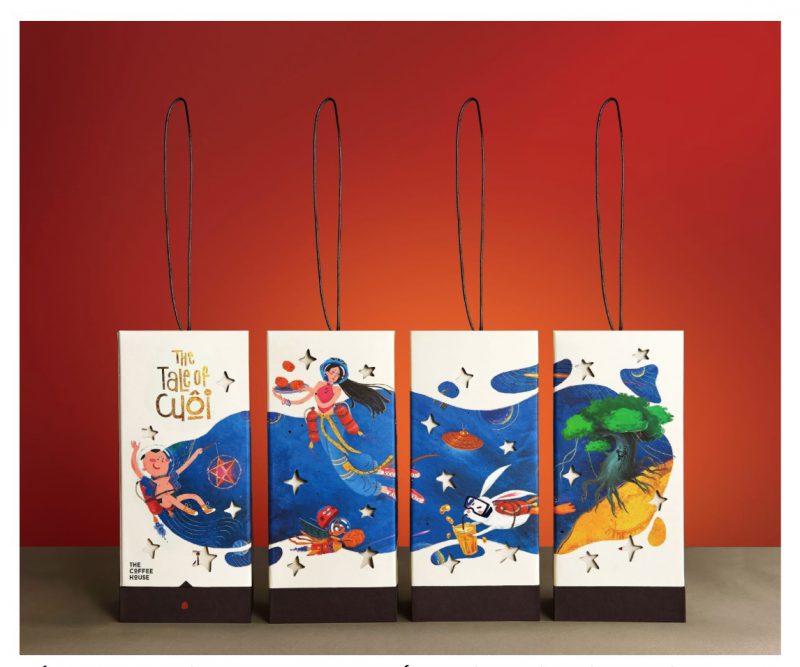 If the 'West' Illustrations are colorful and modern, the illustration on the package of The Coffee House in the Mid-Autumn Festival uses very 'Ta' details with Uncle Cuoi, banyan root, star, and some modern details. as big as a spacesuit.
5. Asana
The illustrations on the Asana (Teamwork Management Platform) website follow another journey. This journey corresponds to the tasks in the work management process that Asana's service provides.
The illustrations mostly use simple shapes, with limited colors within their brand colors. This also shows the simplicity and ease when customers use Asana's products.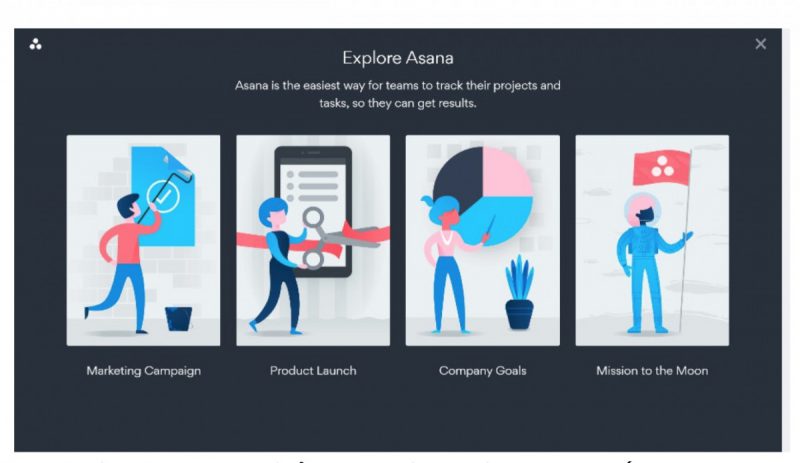 Meanwhile, this Asana uses pretty colorful and trendy illustrations on social media platforms. This makes sense, because it helps them stand out on competitive social media platforms – that's also the power of illustration.
6. Head Space
Is a website that provides information and content to help users reduce stress and have good sleep. Head Space's illustrations are built around a variety of characters. What they have in common is bright colors, always smiling. In particular, illustrators make a variety of characters with different drawings. This conveys the message: Head Space can be used by everyone to achieve mental comfort and good sleep.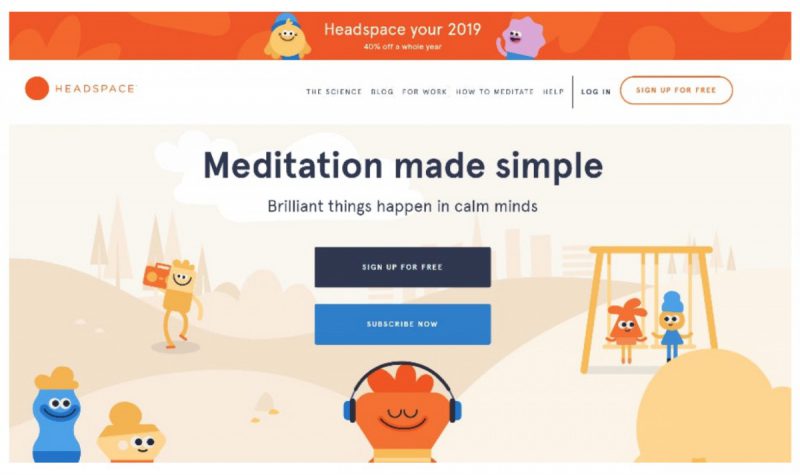 EPILOGUE
Question  What is Illustration?  Along with the effective applications of  Illustration  has been explained to you by Malu with lots of useful information.