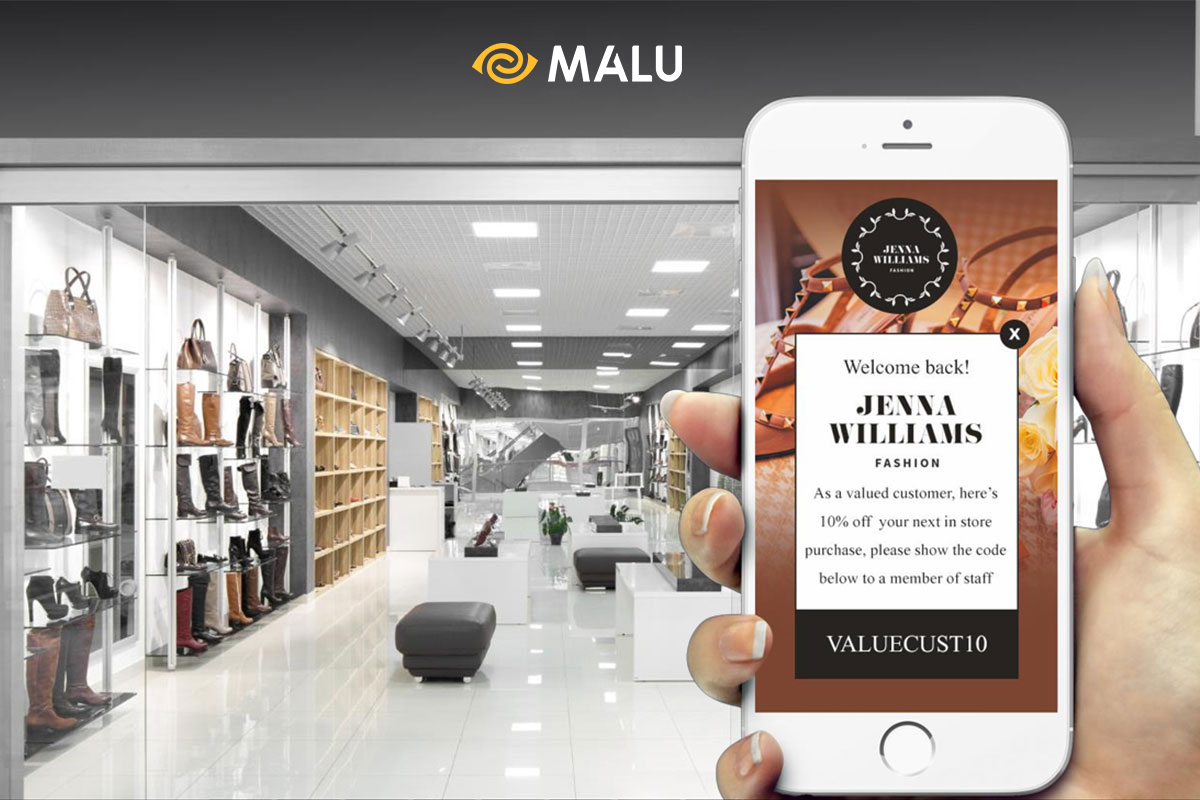 At cafes, shops, milk tea, it is not difficult for you to use free wifi. A study from Cisco, the leading electronic telecommunications company in the United States, has clearly shown that up to  96% of customers in Vietnam prefer to visit stores that provide free wifi . They even tend to return to these stores to purchase in the future.
Wifi Marketing  must play an important role for businesses in improving customer experience.
But is Wifi Marketing simply providing wifi network for service users? What is the essence of the concept of  Wifi Marketing ? Are there ways for businesses to set up a  free, effective Wifi Marketing system ? Let's find out more details with Malu through the following article.
Let's explore first:
What is Wifi Marketing?
Wifi Marketing, simply understood, is that businesses and stores provide a Wifi network system directly to customers, and at the same time, use this connection system to transmit appropriate marketing and communication messages.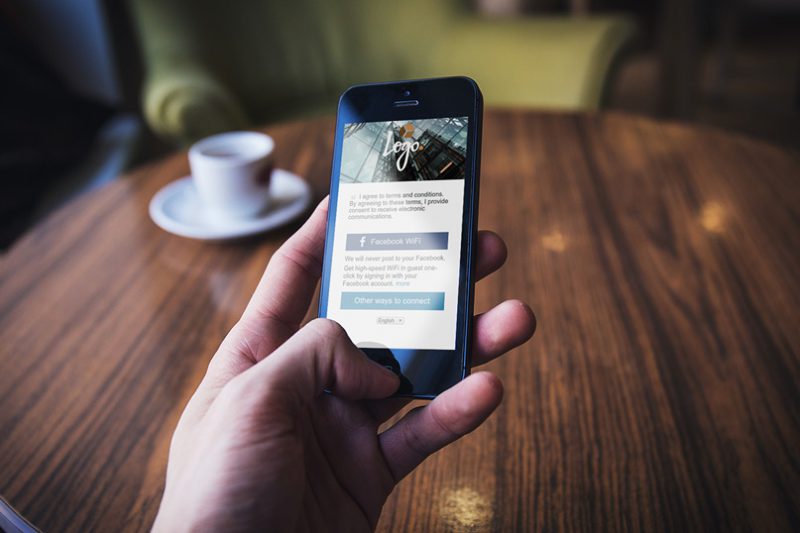 Thus, just having a Wi-Fi network with extensive coverage, and specialized Wifi Marketing setup software, you have an additional effective communication channel to your target customers.
In addition, with Wifi Marketing, you can completely collect data from customers (name, age, phone number, ..), ask them to interact with the store's social networking platforms to connect and use Wifi (like like, share Facebook page, …). This is an effective method of collecting customer data but also extremely "delicate".
How does Wifi Marketing work?
This is how Wifi Marketing works:
Customers come to the store and access the Wifi network. When connecting to the system, the customer's mobile device will immediately point to a landing page, asking the customer to enter their phone number, email, or like and share the store's Facebook page to use the network.
In addition to the required information above, businesses can integrate their advertising and communication messages below to attract customers' attention.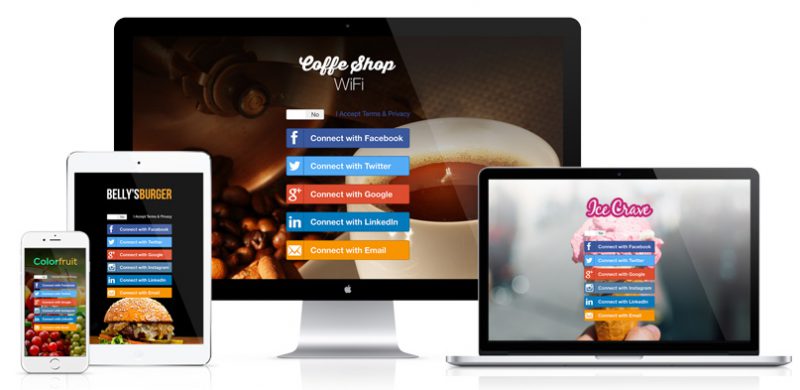 It is an arrow that hits two goals: Just collect customer data, and conveniently promote the store's Marketing program without being "excessive".
What are the benefits of Wifi Marketing?
Wifi Marketing not only gives businesses visible benefits, customers also benefit from using a completely free Wifi network with a simple switch:
With customers:
Convenience:

  Guests can connect to the Internet at much faster speeds than using the usual available 3G, 4G networks.

Improve customer experience:

  According to a survey, up to  

62% of businesses

  admit that customers use the service longer in stores that provide free Wifi. This is proof that customer experience is improved when businesses use Wifi Marketing.
For businesses and stores:
Sales Growth:

  The goal of any business is sales growth. This is true for stores that offer free Wifi systems. Customers are willing to pay more for businesses that provide services that make them feel satisfied.

Understand customers better:

  Wifi Marketing is the ideal way for your business to collect information about customers. Not just simple data information, you also have the opportunity to understand more about how often customers come to the store, how long they use the service, etc.

Optimizing other Marketing activities:

  One of the interesting points of Wifi Marketing, is that you can use the information collected from customers for other marketing activities, such as Email Marketing, Marketing across platforms. social networking platform…

Promote New Marketing Campaigns/Products: 

 Obviously, you can take advantage of Wifi Marketing to promote your business' new Marketing campaigns. Who knows, customers will be interested in the messages you convey?
Instructions to create a free Wifi Marketing system
Understanding the benefits of Wifi Marketing, it's time for you to set up a free Wifi system and take advantage of them to promote and market your store.
Malu would like to share the instructions for creating a free Wifi Marketing system according to the following process:
#1: Installing a Wifi network transmission system
To create a free Wifi Marketing ad, you must first install a Wifi network transmission system for your store.
After doing this, your store is basically ready to provide free Wifi service to customers. But, if you just stop at this step, you create a true Wifi Marketing system. You need additional tools:
#2: Use free Wifi Marketing creation software
That's right, to integrate content and advertising messages via Wifi network, you need specialized software. Malu would like to introduce to you 4 completely free Wifi Marketing software that are easy to install, adjust and set up:
SmartWifi is one of the famous Wifi Marketing software in Vietnam market.
With connection operations, simple adjustment, feature that requires customers to login with Facebook, Google, email, and completely free, this is the first choice for cafe and restaurant owners to take advantage of. your Wifi network to collect customer data, as well as promote your brand.
Here is a video on how to use and install free Wifi Marketing via SmartWifi software:
HiCity is an enterprise specializing in providing dedicated Wifi Marketing solutions. You can not only use HiCity to perform installation operations, set up a cross-platform Wifi system, but also analyze customer data collected from the software.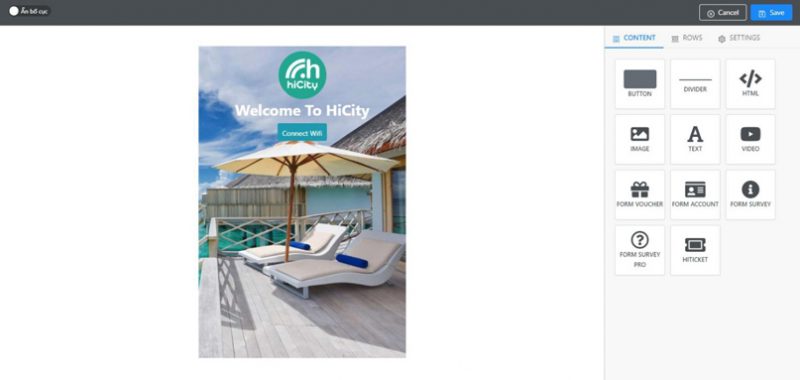 Currently, businesses and stores wishing to use them can refer to HiCity's service prices on its homepage.
WRT Wifi provides you with a full package of building and setting up a Wifi Marketing system for shop owners and businesses, from hardware devices (such as routers, swift sets, …) to management software and system support. systems (such as creating landing pages, managing and collecting network visitor data, etc.).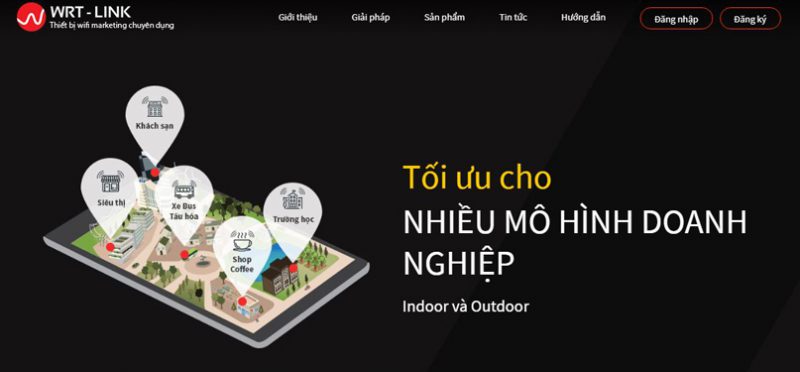 TMT Solutions is also one of the famous Wifi Marketing solution providers in Vietnam. Enterprises support the design of synchronous Wifi Marketing management software on all platforms, free strategic advice for customers, …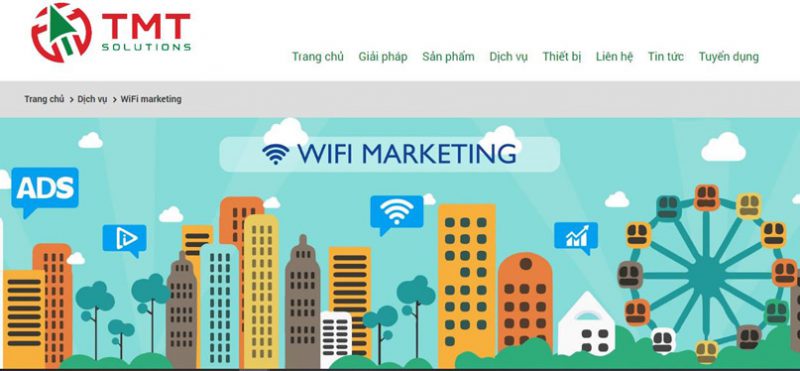 Build an effective Wifi Marketing strategy
After choosing the software to create Wifi Marketing, stores need to determine an effective marketing strategy to transmit messages to target customers through the Wifi platform.
That strategy can be related to Promotion programs in each store, or it can be a general Marketing campaign, an overview of all branches.
In addition, you need to make available the data and information of the customers you want to collect and analyze. Do you need their phone number, email address for remarketing, or do you need them to access your business' social media channels?
>> The Secret to Building an Effective Marketing Strategy
Inform customers about the presence of Wifi
Efforts to build your Wifi Marketing system will be wasted, if customers do not know the existence of Wifi network in the store.
Do not forget to inform customers about the presence of free Wifi network through different methods: Notice board placed in the store, in the invoice as soon as the customer pays for the service, or on the introductory menu of the store. row.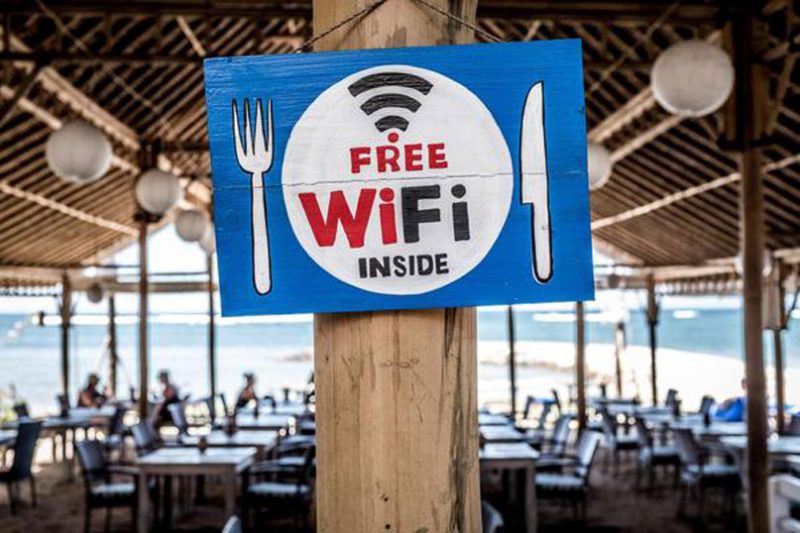 In addition, when accessing Wifi, customers may be a little surprised. Do not forget to train the staff in the store on how to guide customers to access the Wifi system. Wifi Marketing can enhance the customer experience, or vice versa, make their experience less pleasant.
Some things you need to know when setting up Wifi Marketing
Here are some issues you need to keep in mind when installing a Wifi Marketing system in your store / business location:
Choose a suitable location for the Wifi transmitter
When deploying Wifi installation, you need to make sure that your Wifi broadcasting device must cover the entire store / business location. This ensures that customers can use the wireless network anywhere, with the best signal quality without interruption.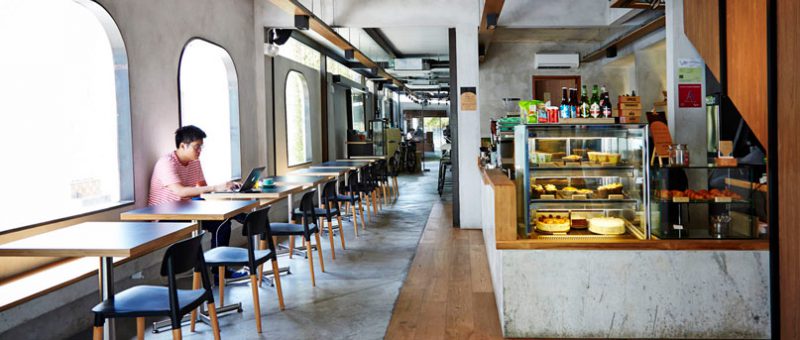 With a business location with multiple floors and / or a large room space, businesses should consider installing many separate Wifi transmitters, or installing Wifi boosters (to save costs).
Pay attention to interference factors
Wifi waves can completely be interfered with by many different factors, such as frequency conflicts, bluetooth networks, overloaded lines, etc.
First, you need to make sure your network does not have frequency conflicts with the Wifi waves of neighboring areas. To check, you can download the software to check the band and Wifi channel on Google Play to your mobile device.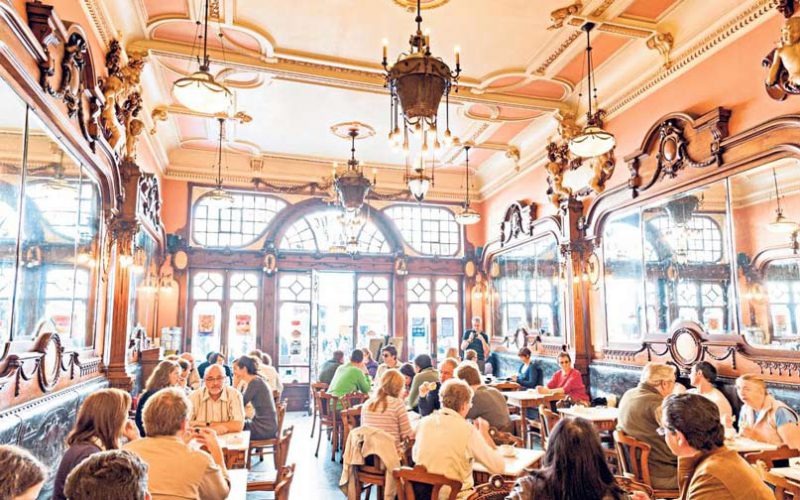 Next, you should consider how much your Wifi transmitter can withstand the maximum simultaneous connection.
For example: If in a store there are 40 customers using the Wifi network at the same time. Since the current system can only load 20 users at the same time, it's time for you to replace the transmitter with a new one, or install a booster.
Consider how to log in using Wifi
The purpose of Wifi Marketing system is to collect data from customers and spread brand identity. However, the problem is that each method of logging in via Wifi Marketing, you get a different benefit: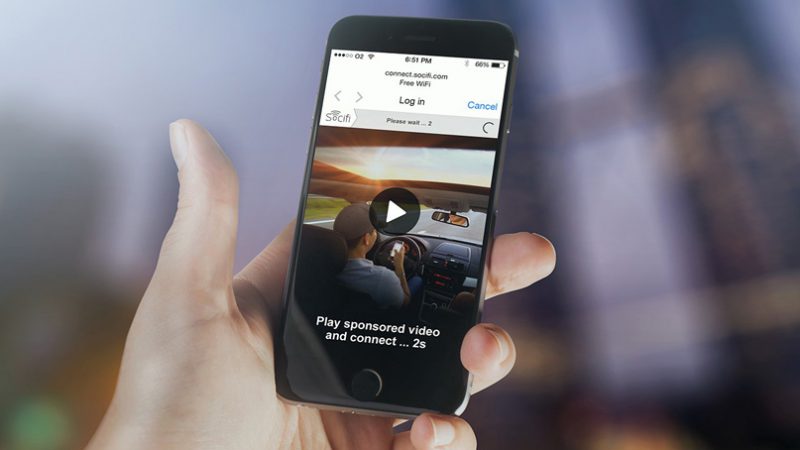 Facebook login

 : This is a good practice for you to collect social network data from users. The brand's reach can even be boosted, if you ask customers to check-in your store on Facebook. However, if handled improperly, it is likely that this approach will make customers feel uncomfortable.

Regular login pointing to the website

 : This ensures respect and satisfaction from customers. In many cases, the store can even point customers to a landing page with a target message. However, this may not work, as the guest can exit the session immediately.

Log in with an access code: 

 Every time you make a transaction with the store, you will receive a code to access the Wifi network. This approach is quite "delicate" – it can both collect information from customers and not make them too uncomfortable. However, the wall code is only valid for about 30 minutes – 1 hour. Most likely, the customer will have to return to the counter to extract a new code.

Login with phone number:

  This is a common practice of stores when building a Wifi Marketing system. The advantage is that it is easy to implement, and the system construction is not complicated. However, like  

Facebook login

 , guests may feel uncomfortable sharing personal information.
Read more articles about  Marketing on Malu.