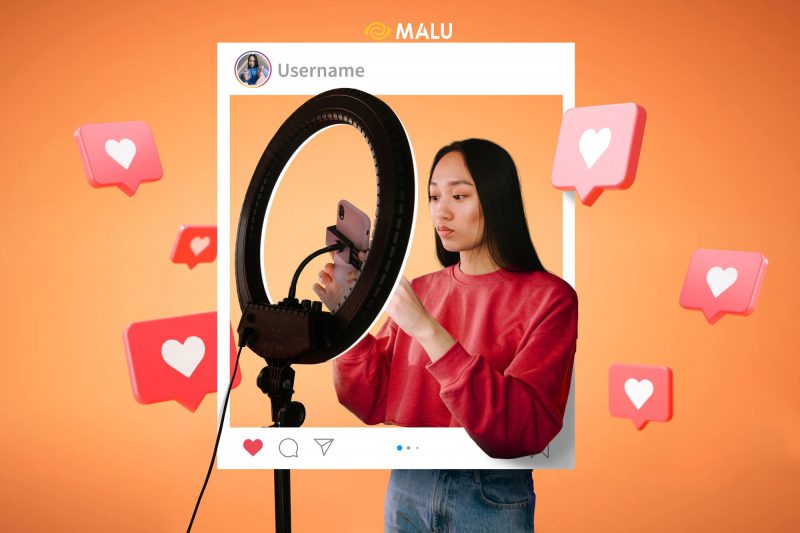 When it comes to KOLS, influencers and influencer marketing campaigns, we often think of advertising publications, TVCs use images of famous people to convey a message from a certain brand. The concept of influencers is not too strange in the marketing world, when many businesses use KOL as a trump card for them to spread the brand to the target audience.
According to Nielsen, up to 92% of customers say they trust celebrity product advice more than when influenced by traditional advertising. This highlights the importance of influencers in contributing to the effectiveness of a successful media campaign.
In an Online Marketing market   with countless different competitors, brands using promotional methods like KOL will help businesses become more prominent in the eyes of customers.
>> See more interesting articles:
What is KOL?
KOLs , or Key Opinion Leaders , are highly influential individuals who have expertise in a particular field. KOL is an effective way for businesses to convey messages about their products/services.
Because of their certain influence, all suggestions and decisions of these KOLs are listened to and valued. For example, a medicinal product is more likely to be trusted by customers when it is recommended by a well-known doctor. A restaurant will have more customers to eat if a famous chef regularly visits and gives many compliments for the food there.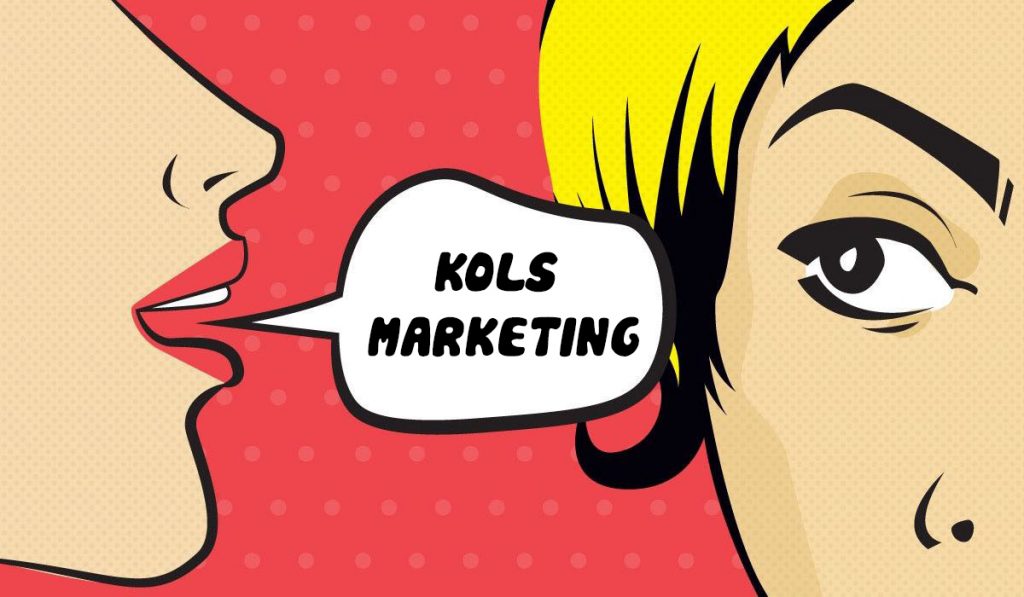 The KOL method exists in many different fields, from sports, photography, cosmetics, entertainment, and many different industries that depend on trust. Influential individuals can be sports commentators, coaches, athletes, critics, and celebrities.
But sometimes, they are KOLs not because they are really famous as a true A-list star, but mostly because their voice has a great influence in a certain field. Customers, who are less informed, have become reliant on influential voices to help them make decisions and make purchases.
With the development of today's social networking platforms, such as Facebook, Instagram, Zalo or TikTok, the role of KOLs or influencers is even more important in building and directing marketing messages of businesses.
Using KOL effectively in "push trend" campaigns for brands on social networks in a short period of time will help businesses achieve very quickly KPIs in terms of,  interaction  , orders, .. (usually engagement, people talking about…)
The most popular forms of KOL today
By now, you must have understood  what kol means,  right? According to the nature of the impact of KOLs on the community of individuals, KOLs are classified into the following 3 groups:
Celeb group (also known as Celebrities, VIP, ..)
This group brings together the most famous people who have the widest, largest and strongest influence on a certain age group or industry. Their role is not only the face of a brand, the image of a brand… but also strongly influences the lifestyle, culture, and orientation of the generation. This group of people owns popularity not only on social networks but also on media channels, newspapers, television, etc.
What is an Influencer Group?



Although they share the same influence on the community, the scope of Influencers is narrower than the Celeb group, and this group often thrives on social media channels. They have quite a strong voice in a certain field community.
What is a Mass Seeder Group?



The object of influence of the Mass seeder group is a small set of customers. They are the ones who give readers unbiased, honest reviews about products or services. Besides, they can  PR by sharing content from the two groups above.
How to become a famous KOL
To be a KOL is not simple, but there must be a process. So what are the factors required to become a  KOL?
1. Understand your strengths
Knowing your strengths is essential for long-term growth. For example, you need to have in-depth knowledge of a certain field, to focus on cultivating and training. Videos that share the same topic but are diverse in many aspects will help highlight your strengths and make it easier for others to remember you.
2. Identify target customer groups
The next step needs to be determined in the field you pursue will be suitable for which audience group, age, income level, etc. It can be said that the audience and customers are the people who bring in income. enter KOLs. Knowing the target customer audience, KOL easily builds a development strategy.
3. Invest in building effective content
Once you have identified the target group, you need to rely on the needs of your customers and social platforms to build the right message. Content content   needs to be detailed, concise and complete. Videos or articles, after being posted on social networks, must satisfy the needs and bring benefits to the audience.
4. Receiving positive comments
When becoming a public figure, the appearance of many opposing opinions is inevitable. In that case, you need to selectively absorb positive comments so that you can improve and develop better, in line with the audience's tastes. As more needs can be met, your audience will improve.
5. Accept opposing opinions
Since each individual will have their own opinions, you must accept the appearance of negative opinions. It's really lucky to have a lot of supportive opinions from people who love you but also can't avoid mixed opinions. Use conflicting opinions as motivation and improve yourself.
6. Continuously creating and refreshing content
Audiences are always interested in new things. Therefore, even if you are only focusing on one area, you still need to create more diverse content. This not only helps attract more interested people, causing interest for the audience, but also helps the mindset to grow.
7. Constantly learning and improving expertise
To become a KOL, you have to be really good at something. In this day and age, everything changes every day. Therefore, always cultivate knowledge, refresh yourself to bring to the audience new and useful knowledge, thereby increasing the number of followers.
8. Strengthen and expand relationships
KOL needs to have good communication skills and make people sympathetic. This brings you closer to your fans, as well as more opportunities to collaborate with other KOLs to make the image diverse. Thanks to that, you can increase the number of followers, as well as increase your income.
>>> Read more Personal Branding – How to Build a Personal Brand From Zero
Difference between Influencer and KOL
Many businesses associate the two concepts of influencer and KOL as one, because both concepts refer to individuals who use their power and influence to influence customers' purchasing decisions.
Influencers, like KOLs, can offer opinions that have a big impact on customers. They can be extremely famous people, completely trusted by fans. In many cases, the aforementioned fans come to them not for entertainment, but for advice on the products they are wondering about in the market.
While influencers are usually influential individuals on social networks with large followings, KOL is a broader term, used to refer to experts in fields such as science, agriculture, medicine. science, politics, technology and more.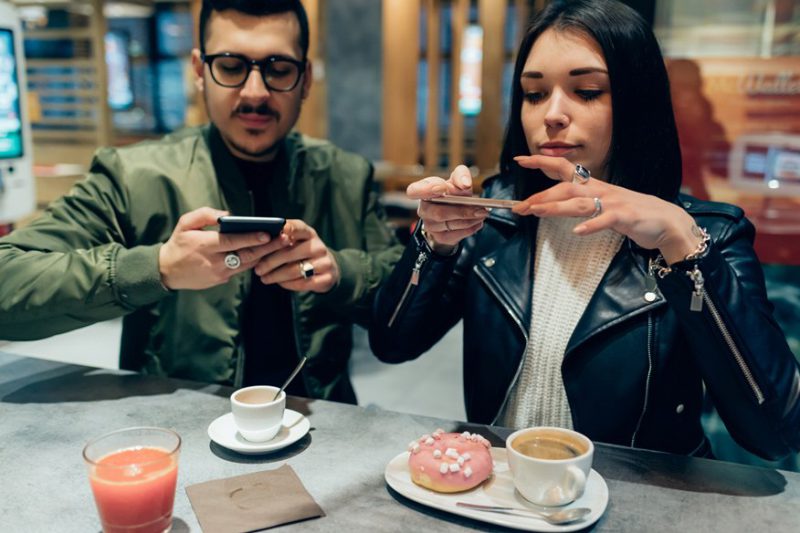 There are several incompatibilities between the two concepts of KOL and Influencer: While influencers attract a lot of fans and regularly follow their activities, KOLs do not attract such a large fan base.
The value of a KOL, is that their voice on an issue has higher accuracy and reference value. There are cases where the influencer is the KOL, but there are also cases where it is not.
When businesses want to promote products / services related to a specialized industry, need the introduction of a voice with weight, they need the opinion of a KOL instead of an influencer. Because the ultimate goal of businesses is not to need the attention of a large audience, they need their target customers to choose a product and make a purchase (based on advice from an expert). above).
What is the most important factor determining success when choosing KOLs?
Reliability and expertise  are paramount to a KOL. Regardless of the target group KOLs belong to, their personality and image must be consistent with a specific community group and a certain industry. Thanks to the relationship they have built with their audience/readers, their opinions/statements have the ability to transform into influencing factors for the community's buying behavior. The most important thing of KOL is to win the trust of followers.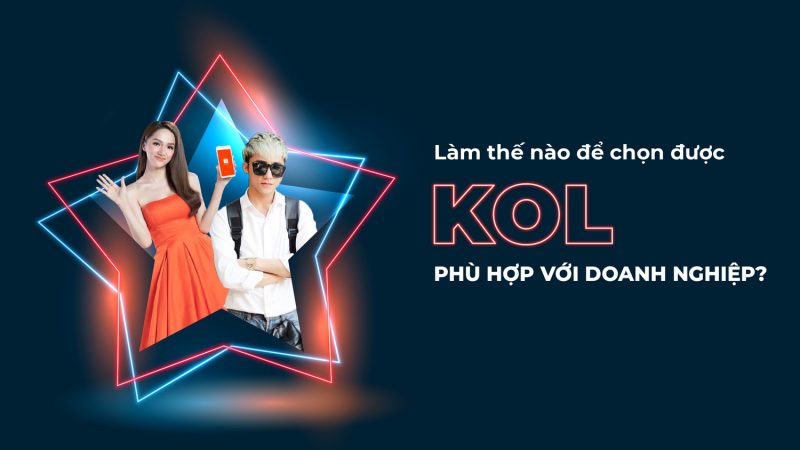 From  lifestyle  to specialist areas such as sports equipment and electronics, social media influencers like KOLs are key brands looking to increase personal engagement, credibility expertise and human factors. It doesn't matter whether they are KOLs or Influencers, these people have a great impact on the target audience and have the ability to resonate with the brand.
Besides,  the image  of KOLs must be consistent with the brand's positioning and characteristics. And depending on each stage of brand development and the specific requirements of the campaign, businesses should have criteria for choosing KOLs for themselves. An important factor in determining the success of the campaign is the target audience, look at the list of followers, influencers, see if they are the audience to use your product or not, then choose an influencer.
To effectively use KOLs, marketers need to pay attention to the frequency of posts, brand names and how to place links. It is recommended to alternate posting at most three posts in a week, otherwise one post per week is best. Never ask influencers to mention brand features and product names more than 3 times in a single post, because it is difficult for readers to remember more than 3 features of an issue in a short time, and more mentioning the brand too much makes the PR post obvious and offensive. Links are also not encouraged by Facebook to be included in the post and almost make the reach and views lower than usual. If you want to include the link in the article, ask the influencer to put the link in the comment section and push the link. Links are always at the top.
Every campaign involving KOLs needs to be closely evaluated, evaluated and measured. The best way is to make an excel sheet to estimate the number of interactions of this post based on the results of previous posts, or you can also rely on the results of many previous posts to calculate a number. near exact. Evaluation, measurement and analysis will help you prepare better, more effectively for future campaigns.
summary
Trust in the expertise of customers is the key to businesses using KOL to promote their products. Whether the expert is famous or not, their voice is respected in the community of followers, or people working in the said field. Experts have built a relationship of trust with their community, and that trust has the potential to influence customers' purchasing decisions.
>>>  What is Marketing? Basic overview of Marketing
Whether it's an influencer or a KOL, businesses should not forget to use the impact of the human factor on the success of their marketing campaigns. Hopefully, the above knowledge will contribute to the use of KOL in your business' marketing communication campaigns in the future.
Find out more  marketing knowledge  at  Malu  's  Blog .