What is Tent Card?
Sometimes referred to as a Table Tent, a Tent Card is a form of small billboards placed on a table and is considered an effective way of displaying communication messages by companies, as they are often placed in areas easy to see.
Tent Card is a convenient promotional tool that can stand on its own and is created from cardboard. As the name suggests, the Tent Card is designed to be placed on a tabletop – as well as on a counter, desk or any other horizontal surface. So they are almost printed in all kinds of different colors to stand out everywhere. The same drawing you can print on both sides (since the Tent Card will be visible from both sides) or you can choose to print each side with a different image.
In most cases, Tent Cards are made of solid sheets of cardstock. It will give the Tent Card enough rigidity to stand upright on a flat surface. The cutouts are created to help these surfaces stick together to form a triangular "tent", or they can be joined together with some other tool, like tape or pins.
Tent Cards are widely used in restaurants, bars and hotels, for the purpose of attracting customers' attention to the products, items or services that businesses provide, or products. /new services, special offers, upcoming events and similar promotional messages.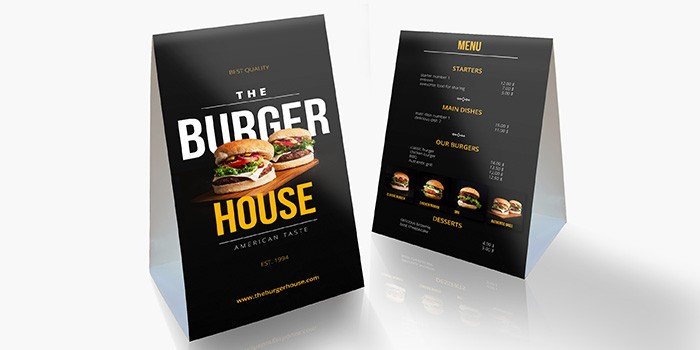 Outside of the hospitality sector, Tent Cards are also popular in corporate showrooms, lobbies, checkout areas, trade show booths – and almost anywhere else marketing communications can be done. and needed a simple and effective tool that could display the full range of messages.
Tent Cards differ from advertising publications in that the inside of the tent card is empty. In addition, it will have a holder at the bottom (but not always). Tags can be mounted on a stand (metal or wood) or just placed on a flat horizontal surface. Tent Cards are usually designed in a vertical version rather than a horizontal one.
Tent Cards come in a variety of sizes, although its general shape is always triangular. Typically, tent card sizes can be 4 inches x 6 inches, 4 x 8, 5 x 5.5 or 5 x 7. Width is usually 2 to 3 inches. In most cases, the height is greater than the length and the length is greater than the width.
>>> See more: What is POSM 
What are tent cards used for?
Each company and business will use Tent Card for different purposes, but most often they use Tent Card in indoor and outdoor events to introduce new products or incentive programs. What is the intended use of  the tent card?
However, Tent Card is especially popular in marketing activities of restaurants, bars, hotels, etc. Tent Card can help increase sales of hotel products and services. Because at restaurants, bars and clubs, Tent Card is very suitable for advertising special food and drinks, enticing customers to try a typical dish of that restaurant/bar.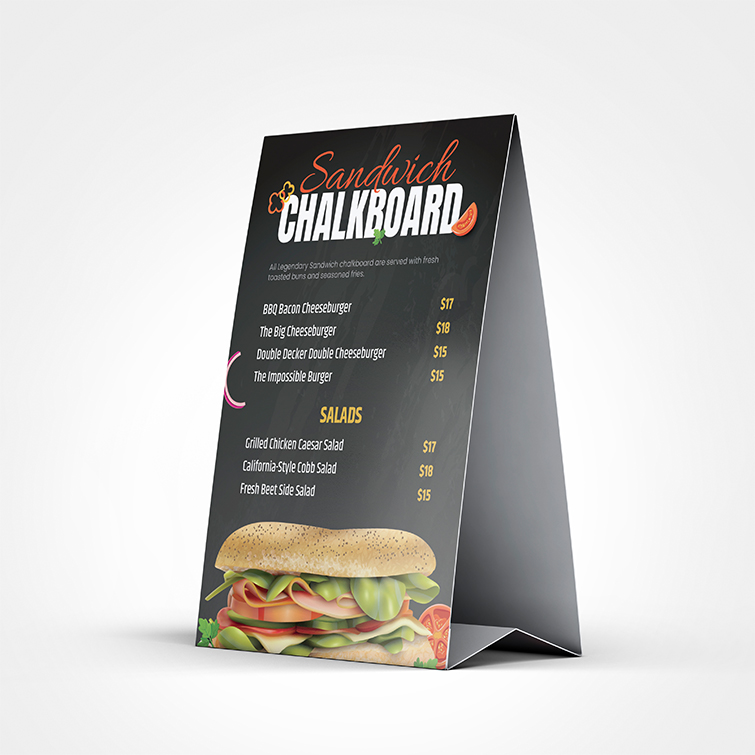 For some programs and conferences, Tent Card can be used to make table cards to record attractive information and note highlights in that program or event (can be Name Card, Menu Card). , etc…). Tent Cards are also commonly placed in hotel rooms as an effective way to advertise menus or room service, as well as information about room facilities or other relevant information.
At corporate offices, Tent Cards can be used to highlight the company's services, or used as a desktop calendar – best suited for year-end gifts.
Notes when choosing Tent Card design
As mentioned above, Tent Card is one of the most popular communication tools today, especially for business types such as restaurants, bars, etc. Therefore, when choosing a device When designing a Tent Card for their business locations, or the events they organize, units should note the following factors:
1. Products/services and service users
As with any field, before you start working, you must learn about the characteristics and properties of the product/service, and analyze the demographics of the audience using the product/service. there. For the design of the Tent Card too,  what are the things to keep in mind when designing the tent card ?
The first and foremost factor when you want to choose the right Tent Card design is that you need to understand what product/service this Tent Card is used for to be able to put the content on the card accordingly. fit. For example: That Tent Card is used to introduce a new dish in a restaurant, how do you put all the information of that dish on the card, but still not distract the eyes and ensure to attract the eyes of customers? diners entering the restaurant. This process requires a thorough study of the product, as well as a deep discussion with the person who makes that product or service. From there, you can make suitable suggestions to meet their needs, before embarking on creative ideas, presenting those content in the most unique way.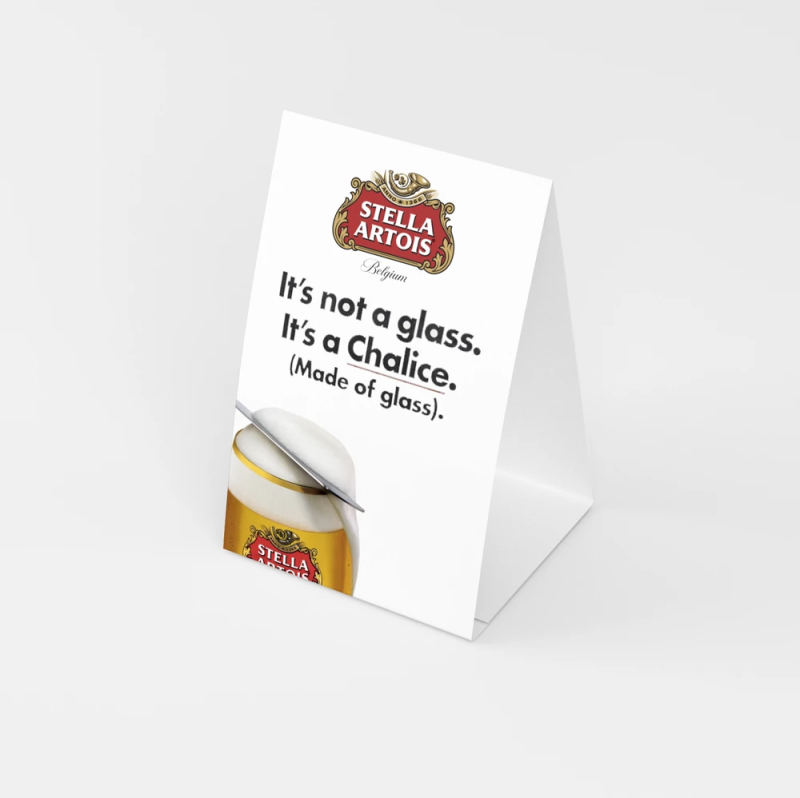 The next factor you need to pay attention to is who is the user of that service? It is a high-class restaurant, casual restaurant, hotel, bar, etc., or any business establishment. Regardless of which of the above, you also need to do clear research on the market, business development goals, target audience, competitors, etc… of that type of business. Each type of business will have a specific design feature, and for each business unit there will also be a special point in design, showing the identity of the brand. Gradually, as you go deeper, you will grasp the key points to create a design that is suitable for the audience you need to target. The important thing you should remember is that at that time Tent Card was not just a regular tent card, but it became a marketing tool to help attract customers,
2. Design Format and Layout
After determining the target and target audience, the next equally important factor you need to pay attention to is choosing the format and layout for this design. The format chosen should be appropriate for the placement of the Tent Card and the event you use that Tent Card. Since Tent Cards do not have a specific size rule, you can change them as long as it suits the placement and the content printed in the Tent Card.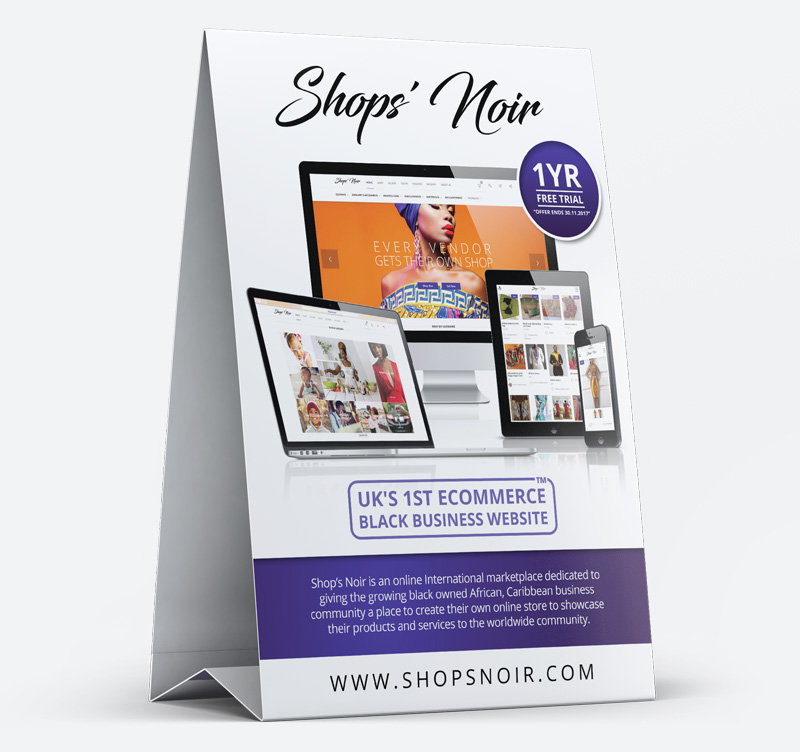 Note that Tent Card is often used to attract customers' attention to important, new and special information of your business, so do not insert too much information here. Your goal is that customers will understand the most basic information of the program, so the layout needs to be clear, showing creativity through color schemes and font use. Photos can be added to make Tent Card more intuitive, attractive and outstanding.
Tips for you is to list the elements needed in that Tent Card, arrange in order of importance from top to bottom, then scale in the above order. The last step is color matching, choosing fonts and expressing your creativity.
3. Creative non-stop
It is not surprising that two Tent Cards have the same layout, but the one with the more creative color scheme and accent details is more attractive to customers. Therefore, it can be said that creativity plays a key role in creating an attractive and differentiating feature for your business's Tent Card.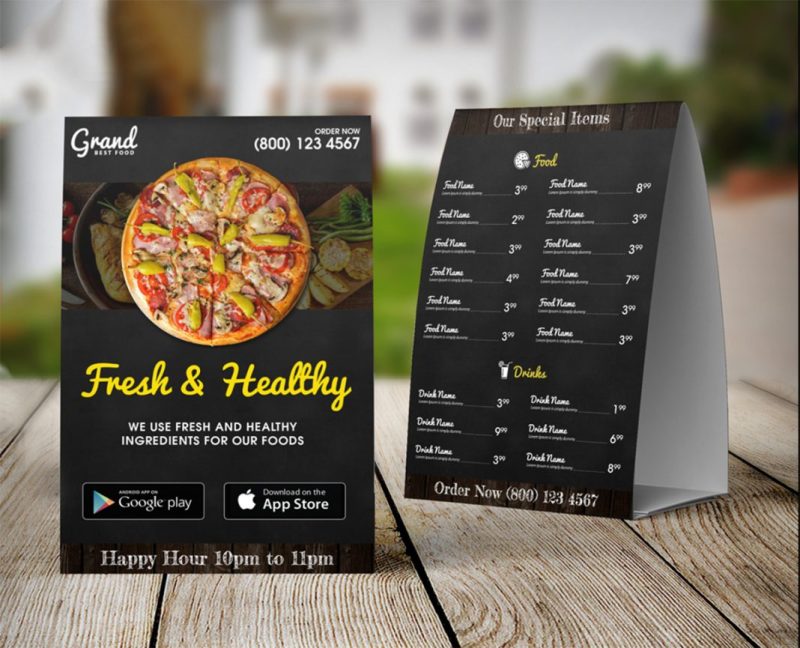 That creativity can come from your own ideas, but it can also be cultivated through researching and learning through ideas on the Internet, thereby forming your own ideas. No matter what, always keep in mind creativity in every detail, because even small differences make you stand out in the crowd.
Some popular Tent card formats today
1. Triangular Tent Card – Traditional Format
This is probably the most popular format and also the one we see most often. It is a desktop tent card created by folding a long, thick piece of paper into 3 segments and letting it stand upright in the shape of a tent. Depending on the thickness and hardness of the paper, how long your Tent Card can stand. But usually, a paper Tent Card is only used in a reluctant case if you cannot use the industrial printing process, because paper usually cannot stand for too long, especially in outdoor events.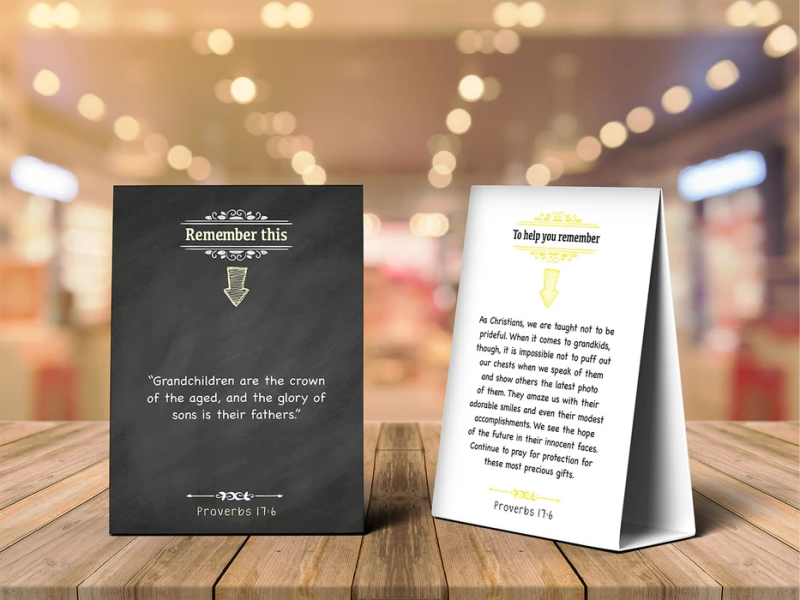 2. Tent Card with sturdy frame
You can simply understand that a frame Tent Card is a rigid frame, made of plastic, wood, or glass, etc…. If you want to put content on these frames, you can print them out and attach them.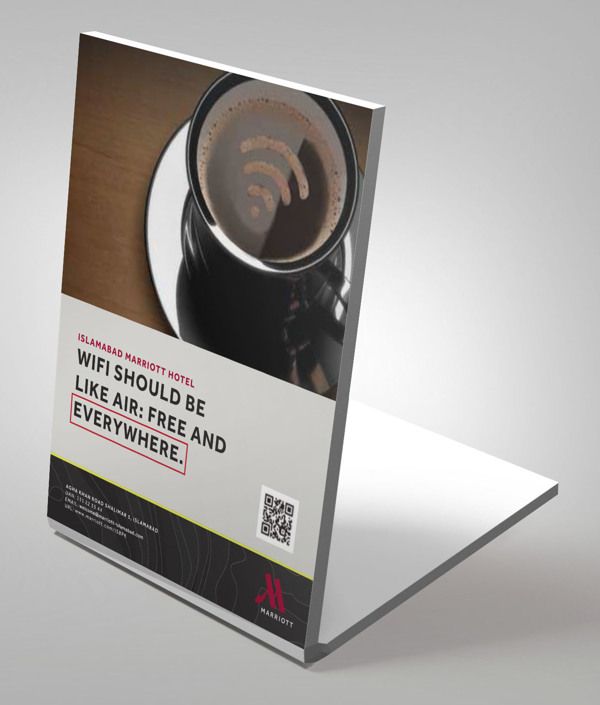 This is a popular form of Tent Card used recently because it is cost-effective, you only need to do it once and use it for a long time. If you want to change the content, just reprint the attached content on paper. Not to mention this frame is very sturdy, you can use it in many places, many kinds of events and look very professional.
3. Flip-flop Tent Card
The flip-flop Tent Card is especially suitable when you have a need to store long information, when the product needs a lot of advertising or your program cannot be reduced to a single sheet of information. The most common example you might see is a table calendar or restaurant menu.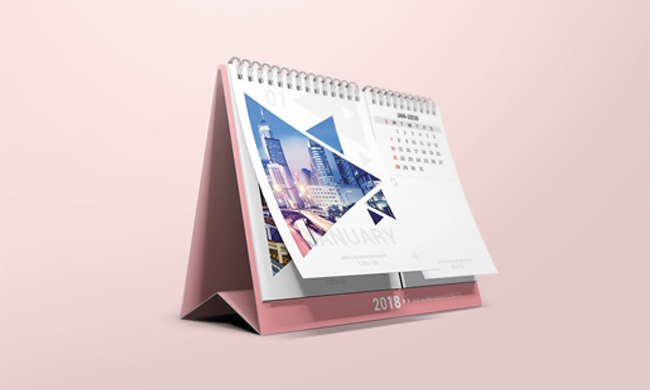 At that time, you can flip through each page to fully understand the information that the business wants to convey, extremely flexible and equally effective. This flip book Tent Card is often placed in attention-grabbing locations and is often prominently designed on the first page to attract customers.
Conclude
Although Digital Marketing is growing and users tend to read more information online, one cannot deny the importance of offline communication tools like Tent Card. Through this article, I hope you have a clear understanding of what the Tent Card concept  is , the popular Tent Card formats today to apply for the future marketing strategies of the business.