Starting from a family-scale brewery in Amsterdam, Heineken is now one of the world's famous beer brands. To achieve this success, Heineken has implemented effective marketing strategies. Let's analyze and learn about Heineken's Marketing strategy in the article below.
l. Overview of the Heineken brand
Heineken is a Dutch beer company, founded in 1864 by Gerard Adriaan Heineken in the city of Amsterdam on the basis of purchasing from a brewery called De Hooiberg (Haystack). The original brewery in Amsterdam stopped production in 1988 and is preserved as a museum called Heineken Experience, one of the most attractive tourist destinations in the Netherlands. The Heineken Brewery, located in Amsterdam, is a historical monument and information center for visitors about the global distribution of pilsner and Heineken beer.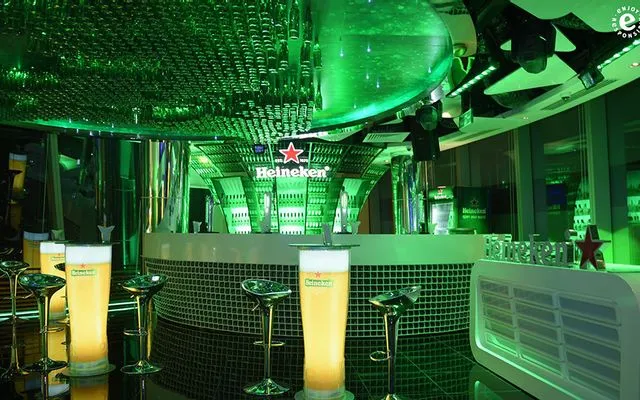 Alfred Heineken, grandson of Gerard Adriaan Heineken, joined the company in 1942 and transformed Heineken from a mere manufacturing facility into a customer-friendly business. He was also the one who came up with the idea of ​​exporting beer worldwide, a stepping stone for Heineken's worldwide expansion. In 1933, Heineken became the first foreign beer brand to be imported into the US after the ban on beer and alcohol production was lifted.
While the whole world was facing two World Wars, Heineken began entering the markets of France, Belgium, England, West Africa and Indonesia.
Heineken entered the British market in 1961, when it signed a cooperation contract with the British brewing group Whitbread & Co. In 1969, the company granted a license to process Heineken beer right in the UK, because at that time, the British preferred light beer. than lager beer. Heineken has created a new beer that is lighter than regular Heineken beer and named it Heineken Cold Filtered. This beer has different packaging than traditional Heineken beer and is sold at a lower price so that customers are not confused.
The decision to replace Heineken Cold Filtered and Export in the UK in 2003 with a beer produced in the Netherlands marked the end of the relationship between Heineken NV and Whitbread & Co and ushered in a new era for the Heineken brand.
Currently, Heineken has more than 130 beer factories in more than 192 countries with 85,000 employees working for the group. Heineken owns a total of 250 beer and cider brands.
About Heineken Vietnam
2021 marks 30 years of formation and development of Heineken Vietnam – a joint venture partner with Saigon Trading Corporation (SATRA), with proud milestones and achievements. Starting from the first factory in Ho Chi Minh City in 1991, Heineken Vietnam now operates 6 factories with 3,500 employees across Vietnam.
People are the central element in Heineken's development journey in Vietnam. This beer brand has been creating 183,000 jobs throughout the value chain, contributing equivalent to 0.9% to the total national GDP.
As a constantly innovating company, Heineken Vietnam combines international experience with know-how and deep understanding of the Vietnamese market to bring Vietnamese consumers a diverse, suitable product portfolio. Suitable for different needs, preferences and enjoyment times.
In Vietnam, Heineken produces and distributes the brands Heineken®, Tiger, Larue, BIVINA, Bia Viet and Strongbow; including products created by Vietnamese beer brewing experts, exclusively for beer lovers across Vietnam such as Bia Viet – the newest brand in this beer company's product portfolio.
Sustainable and responsible business is the guiding principle for all activities of Heineken Vietnam. This is shown through the commitment "For a better Vietnam" from the first day of establishment. Heineken Vietnam has been honored by the Vietnam Chamber of Commerce and Industry (VCCI) in the TOP 3 Most Sustainable Manufacturing Enterprises in Vietnam for 5 consecutive years (2016 – 2020).
This brand currently uses 56% renewable energy at its factories; and reuse or recycle up to 99% of waste and by-products. Heineken is also a pioneer in promoting responsible drinking and solving the problem of driving after drinking alcohol in Vietnam. In 2020, Heineken Vietnam launched the product Heineken® 0.0 to accompany the government's efforts in these activities.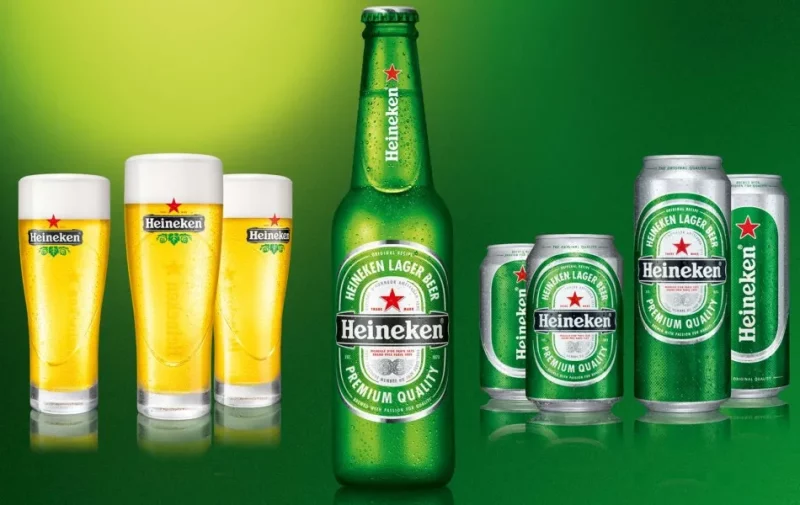 Detailed analysis of Yakult's marketing strategy in Vietnam

Detailed analysis of BIDV Bank's Marketing strategy
ll. Analyze Heineken's target market
Target market  is the segmentation of customers into certain groups in accordance with the strategy and goals of each business. In other words, the target market includes potential customers who are really interested in the business's products and services.
This specific customer group is the customer group that businesses want to reach through their marketing activities and campaigns. This is a group of customers who are more likely to be interested in the business's products and services than other customer groups. As for the target customer group, they share common characteristics such as: demographics, education level, income, psychology and behavior,…
By analyzing target market segments, businesses can understand who their ideal customer group is. When approaching this group of customers, you will not need to try too hard to convince them to buy your product or service, because they already have a need to use the product before. All businesses need to do is make them more aware of their product brand and provide effective customer service.
Currently, the beer market in Vietnam mainly focuses on the affordable and popular segments. Understanding this, Heineken believes that it is necessary to find its own "playground" to create a competitive advantage, when the beer industry in Vietnam has so many brands entering.
Therefore, the target audience that Heineken wants to target are people with high income compared to the general social level. They are businessmen, successful people, and have status in society, and they mainly live in urban areas, big cities such as Hanoi, Hai Phong, and City. Ho Chi Minh…
lll. Analyze Heineken's Marketing Mix strategy
Starting from a family-scale brewery in Amsterdam, Heineken is now one of the world's famous beer brands.  To achieve this success, Heineken has effectively deployed Marketing Mix strategies  according to the 4P model . So what is Heineken's Marketing strategy? How did Heineken implement its Marketing Mix strategy?
1. Heineken's Marketing Strategy for Products
Products are always the core of every business, and a good product needs to meet the needs and desires of customers, otherwise competitors will lose market share or even be eliminated from the market.
Currently, Heineken has 3 main product lines:
Original Heineken

 : As the name of this product suggests, this is a product line that keeps the original flavor like the first days of production. The traditional taste has endured for over a century and a half thanks to the simplicity and quality of the ingredients and meticulous attention to the brewing process.

Heineken Silver

 : Heineken Silver – light, smooth, easy to drink while fully preserving Heineken's world-famous flavor. With a perfectly balanced flavor, Heineken Silver will be the ideal companion to accompany all fun, especially during meals, which is a popular habit of enjoying beer in Vietnam.

Heineken 0.0

 : Heineken 0.0 is a non-alcoholic beer (0.0% alcohol beer) brewed from natural ingredients, using a unique recipe to create a characteristic balanced flavor – and only contains 69 calories per bottle. /can capacity 330ml.
Heineken 0.0 gives consumers a new choice for all times of the day. They can enjoy Heineken 0.0 right at work, at the gym, during lunch and even right before driving – because this is a non-alcoholic beer product (0.0% alcohol).
Regarding designs, Heineken launches a variety of designs and capacities such as 330ml cans, 250ml bottles… packed in blocks of 6, or boxes of 24, thereby meeting all consumer needs. In addition, Heineken also launched the Draft keg product, a convenient draft beer system that is easy to carry and easy to use and the empty keg can be easily thrown away after enjoying.
Heineken's draft keg is a 5 liter keg filled with premium Heineken beer. The inside contains an integrated carbon dioxide cartridge that allows enjoying fresh beer whenever and wherever. This means customers can now enjoy authentic draft beer at home, at parties, barbecues, birthdays, at the beach, on boat trips – wherever they like.
In terms of quality, Heineken products go through strict production processes. Before being packaged for consumers, each product is tested according to the following production process:
Ingredients selection

 : Heineken beer contains only three main ingredients: barley, hops and water.

Barley: It all starts with barley. A cereal containing lots of starch, protein and natural fiber. After soaking, the barley is gently heated to dry for a few days. This meticulous process is called malting.

Hops: There are many types of hops, each with a unique flavor; From spicy scent to gentle herbal scent.

Water: Water is the main ingredient in lager, it can account for up to 95% of the finished product. Being such an important ingredient, only the highest quality water is used.
Brewing and cooling

 : The artistry in brewing beer comes from the naturalness of the production steps, enhanced by craftsmanship to create the perfect drink. In this step, water is mixed with crushed barley. This produces a sweet wort, which is then boiled. In addition, hops are also added to enhance flavor.

Horizontal tank fermentation

 : In the 19th century, Heineken discovered special yeast-A, since then, this has been the key to the brand's characteristic flavor. At the right temperature, Heineken's unique Men-A is added, starting a natural fermentation process that converts sugar into alcohol and CO2. This process creates the characteristic balanced Heineken taste. Our Men-A are hardy and work best with a large surface area in horizontal fermenters.

Brewing

 : To get a perfectly balanced flavor, clarity and beautiful golden color. Heineken takes 28 days to brew and brew beer.
2. Heineken's Marketing Strategy on Price
Price is one of four important components in the marketing mix. It plays a decisive role in consumer purchases, and for companies, price plays a decisive role in competition in the market. Introducing  a pricing strategy  in marketing is important for businesses because it directly affects the sales and profits of the business.
According to McKinsey, just improving the price factor by 1% will increase profits by 6%. That has more impact than a 1% reduction in variable costs (which increases profits by 3.8%) or a 1% reduction in fixed costs (which increases profits by 1.1%).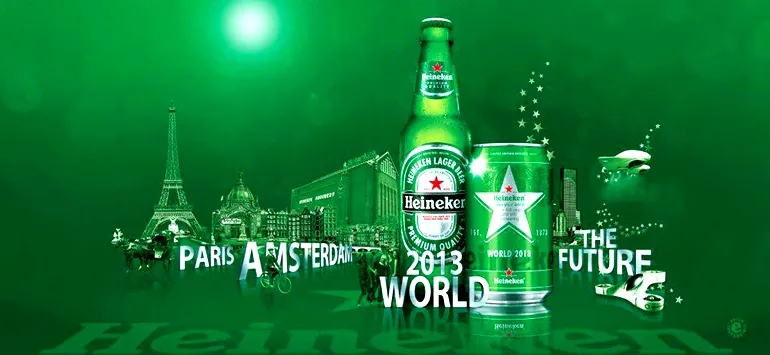 Currently, in the beer market there are many brands competing with Heineken such as Sabeco, Habeco, Carlsberg, etc. Therefore, in order to be able to differentiate from competitors, as well as raise image awareness as well as its value, Heineken has applied the Premium or premium product pricing strategy (Premium Pricing Strategy).
Premium pricing strategy is a premium product pricing strategy. With this strategy, businesses price their products high to show that the products are high value, luxurious, or high-end. Premium pricing focuses on the perceived value of the product rather than the actual value or cost of production.
Premium pricing is an important function of brand awareness and brand perception. Brands that adopt this pricing strategy are known for providing premium values ​​through their products. That's why they are priced higher than other competitors. For example, the high-end fashion and technology industries are often priced using this strategy because their products can be perceived as luxurious, exclusive, and rare in the market.
Currently, the retail price of a 330ml can of Heineken beer in the Vietnamese market is 16,000 VND, which is quite high compared to the general level such as Hanoi beer and 333 with a capacity of 330ml (about 11,000 VND), Dai Viet Lager Beer 330ml (9,000 VND). D).
Read more:  10 popular product pricing strategies in marketing
3. Heineken's Marketing Strategy on distribution system (Place)
Through using the right distribution system, a company can increase sales and maintain positive figures over a longer period of time. This means a larger market share and increased sales and profits.
Precise positioning is an important activity that is focused on reaching the right target customers at the right time.
Currently, Heineken has more than 130 beer factories in more than 192 countries with 85,000 employees working for the group. Heineken products can be easily found in 20 countries in Eastern Europe, the Middle East, and Africa.
In Vietnam, Heineken's distribution system is strongly and widely developed with 6 manufacturing factories and 9 sales offices across the country.
Da Nang Brewery

Hanoi Brewery

District 12 Brewery

Quang Nam Brewery

Tien Giang Brewery

Vung Tau Brewery

Hanoi office

Ho Chi Minh City Office

Hai Phong sales office

Vinh sales office

Da Nang sales office

Quy Nhon sales office

Khanh Hoa sales office

Can Tho sales office

Tien Giang sales office
To ensure wide coverage, Heineken also brings its products to both distribution channels: modern and traditional.
Traditional distribution channels mean that after production, goods will be delivered to consumers in the following order: manufacturer – distribution intermediary – consumer. In this channel, Heineken distributes its products to grocery stores, restaurants, and bars.
A modern distribution channel is when the manufacturer and distribution intermediaries will combine together into an integrated whole. That is, after production, goods will be circulated from this unified entity to consumers. For this distribution channel, Heineken products are sold in supermarkets or convenience stores such as Vinmart, Mega Market, Big C, Circle K…
At these points, Heineken will coordinate with supermarkets and convenience stores to arrange and display products in attractive, eye-catching, diverse, and full product lines. In addition, the company will coordinate a team of professional sales staff, ready to support right at the point of sale, helping consumers quickly choose Heineken products.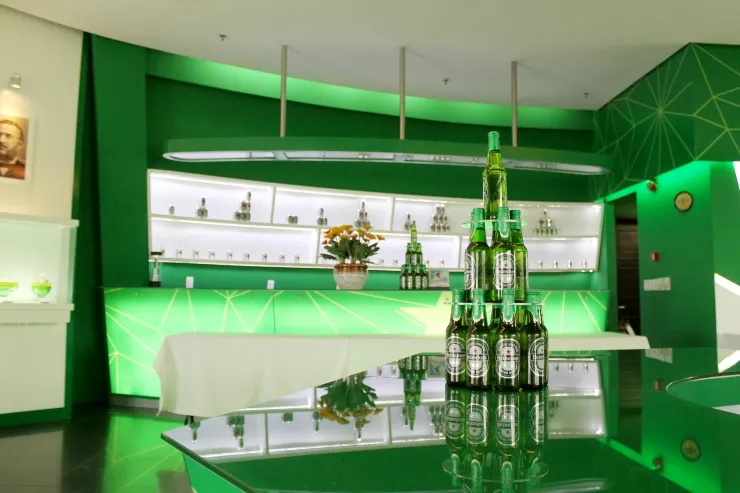 4. Heineken's Marketing Strategy on Mixed Promotion (Promotion)
Promotion or promotion includes advertising, public relations, direct marketing, promotional strategies, and personal selling. The goal of promoting a product is to show consumers why they need it and why they should pay a certain price for it.
Promotion plays a very important role in Marketing Mix. If products are not promoted effectively, customers cannot learn about our products and services, and sales will stagnate.
One of Heineken's most famous media campaigns cannot help but mention the "Cheer to all" campaign in 2020. With a subtle gender equality message, TVC brings scenes in bars, where people Modern women are always prescribed cocktails while men default to beer drinks. However, they exchanged drinks that suited their preferences and broke this stereotype.
This idea comes from the fact that beer is often considered an unfeminine or elegant drink for a lady, so many women are afraid of the eyes of people around them focusing on them. Understanding that, Heineken launched this campaign to change the mindset that beer is only for men.
In addition, this campaign also brought Heineken first place in the award for the most effective creative advertisements of 2020 based on consumer reviews.
In Vietnam, advertisements for alcoholic beverages are often limited due to the Government's Advertising Law, so this is a common disadvantage for the industry. Therefore, to be able to spread to many audiences, as well as ensure its presence, Heineken has been organizing music events such as Heineken Countdown at the transition between the two years.
This is an event that many people look forward to, because of the appearance of famous artists, promising to bring the most memorable moments for everyone. This event attracted a lot of attention from the press and media, thereby helping Heineken's image spread widely.
Content marketing is a strategy that businesses use to create and share valuable content with target audiences. Creating engaging and quality content is an important part of a Content Marketing strategy. Click on the image below to register to immediately download the full set of Content Marketing plan templates to help businesses evaluate the effectiveness achieved from Marketing campaigns.
Summary
Starting from a family-scale brewery in Amsterdam, Heineken is now one of the world's famous beer brands. To achieve this success, Heineken has implemented effective marketing strategies.
Hopefully through this article, readers will better understand the case study of Heineken's marketing strategy, from which they can refer to implementing appropriate marketing strategies for their businesses. Visit our blog to update good knowledge every day!