Mirinda is one of the leading carbonated beverage brands. Not only impressed with new flavors, Mirinda also creates unique and creative marketing strategies and attracts a lot of attention from consumers. Let's read the article below to better understand Mirinda's marketing strategy.
Overview of Mirinda
Mirinda is a beverage brand belonging to PepsiCo – a group that owns famous brands such as Pepsi, 7up, Sting energy drink… Mirinda was born with a blend of fruit flavors and carbonated water.
Mirinda impresses consumers with its carbonated drinks with many outstanding flavors: Orange flavor, sassafras flavor, cream soda flavor, tamarind ice flavor.
With rapidly growing consumption, the non-alcoholic beverage group in Vietnam has increased by 7% over the same period last year, contributing 19.7% to the fast-moving consumer goods industry and equal to the rate of beer products. For Mirinda, thanks to good effects from marketing activities, in 2019 revenue skyrocketed to 55.4% and led to 12% growth in the entire carbonated soft drink industry of Pepsico Company.
Analyze Mirinda's marketing strategy
Not only impressed with products with new flavors, Mirinda also creates unique and creative marketing strategies and attracts a lot of attention from consumers. Let's learn in detail about Mirinda's marketing strategy.
Mirinda won big with "Forget the past" Tet 2019
In 2018, Vietnamese social networks are filled with negative information and fights between famous brands. From the head-to-head battle between Milo and Ovaltine or Shopee's "heartfelt" birthday celebration for Lazada… it made the media laugh and cry.
Based on this social issue, Miranda "cleverly and subtly" carried out the media campaign  "Forget the past"  during Tet 2019 to guide people to happy, good things, ready to welcome. new year.
Kicking off the campaign, Mirinda collaborated with singer Bich Phuong to make the music video  "Forget the past".  With the cheerful, bustling melody of Tet, the MV depicts in detail the real conflicts often encountered between neighbors or between generations. Playing the role of a peace messenger, singer Bich Phuong appeared with the concept of  "Miss Ba Reconciliation" , inviting everyone to take a sip of refreshing Mirinda to "cool down" and together eliminate all daily conflicts, welcoming a new world. Happy and joyful new year.
Besides making music videos, Mirinda has collaborated with many famous Influencer groups and KOLs such as Celeb group (including Khoi My, Hai Trieu, BB Tran…); Professional group (including Quang Hai, Bui Tien Dung, Pew Pew, Misthy…) and Citizen (Thanh Tran…) to spread this message to many different customers.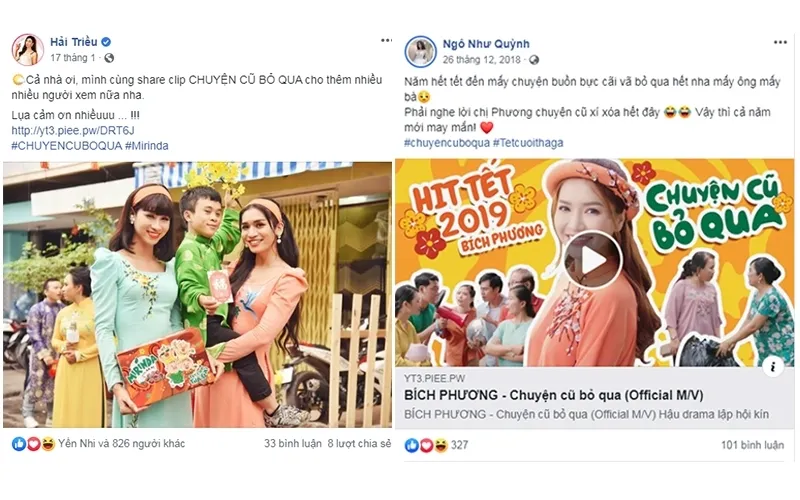 The story of erasing old stories with the hashtag #chuyencuboqua has attracted more than 83,615 discussions, becoming one of the 10 prominent social media campaigns for Tet 2019. In addition, the MV "Forget the past" also reached more than 100 million  views  . views, 247,000 likes and 12,216 comments on Youtube channel.
Creating consumer-centered content and skillfully selecting KOLs is considered the right step in Mirinda's marketing strategy in this campaign. After the campaign, Mirinda succeeded in spreading the message, positioning the brand and sales also skyrocketed 41% during Tet 2019.
Continuing the success with the spirit of  "Forget the old things" , Mirinda fully exploited it with a new way of doing things during the 2020 and 2021 Tet season when collaborating with singer Truc Nhan and Rapper Ricky Star. The skillful storytelling and simple message have helped "Forget Old Stories 2" and "Forget Old Stories 3" receive positive responses from the community about familiar situations often encountered in daily life. . Since then, the Mirinda brand has become closer and closer to customers.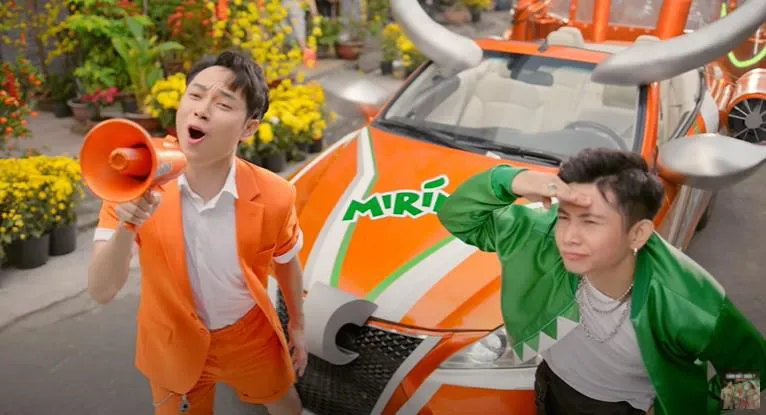 Social media push with the "April Fool's Day, What a Joke" campaign
April 1 – International Joke Day is an opportunity for brands to unleash their creativity in marketing campaigns that bear their own imprint. As a beverage brand for teenagers, Mirinda is no exception to creating surprises for its customers on April 1, 2017 with the campaign "April Fool's Day, What a Joke  "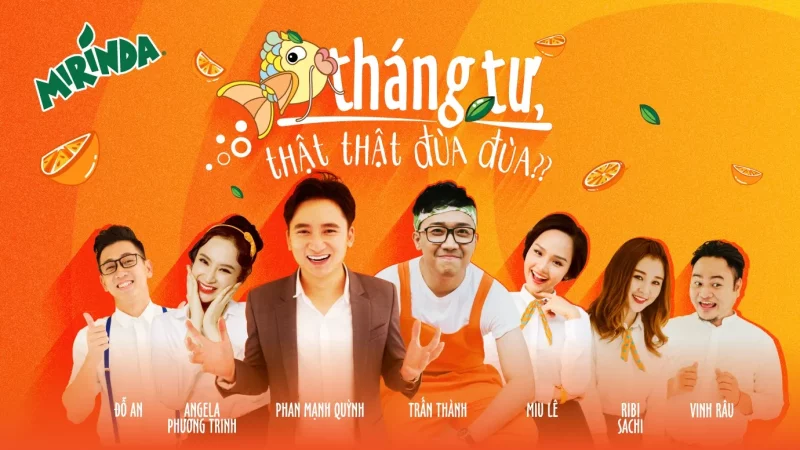 Understanding the psychology of young people who are still "shy" in expressing their emotions, Mirida opened the campaign with the MV "  April Fool's Day, What a Joke"  composed and performed by Phan Manh Quynh. The MV recreates situations that teenagers often encounter every day, such as having a crush on a teacher, liking a long-time best friend, or teenage love, with the lyrics presented with humor and the message "Just keep going.  " Say it all, What a joke for a day without anyone thinking…"  received excitement and support from young teenagers.
After the MV was released, Mirinda also cleverly selected KOLs and Influencers who are faces loved by young people such as Miu Le, Angela Phuong Trinh, Tran Thanh, Vinh Rau, Do An… to share this message with others. its customer base.
With this campaign, Mirinda chose zalo as the main channel to increase interaction. Also right on April 1, Zalo launched the "Zalo Moments" feature that allows users to freely confide and confide and it only lasts for 24 hours.

In just 1 week of launch, the campaign had 51,300 shares on Facebook, more than 700,000 times using Zalo moments. This has helped Mirinda further affirm her position and brand among teenage customers.
Mirinda Soda Kem x Zing MP3 – Campaign to attract customers with sound
Understanding the preferences of young customers for a rich drink with a rich, creamy taste, in 2018 Mirinda quickly launched the product Mirinda Cream Soda, which retains the refreshment of carbonated drinks and adds a creamy taste. fragrant and fatty.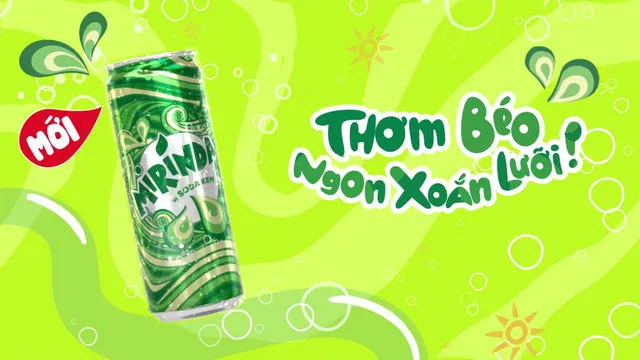 Launched at the right time in the summer, when competitors in the same industry are also continuously introducing soft drinks, ice cream and energy drinks, requiring Mirinda to have a new and interesting communication strategy to attract customers. young customer target. Mirinda selected a group of young customers 13-19 years old with an audio advertising solution with the catchy saying " Mirinda Soda Ice Cream – Delicious Tongue Twister"  to carry out the campaign. This is considered the key to helping Mirinda reach iGen customers – people who are often distracted by a lot of information and external factors.
The chorus  "Mirinda Soda Cream Fat – Fragrant-Fat – Fragrant – Delicious Tongue Twister"  with a length of 30 seconds has become a familiar sound to ZingMP3 users. Not only dancing to the melody, the advertisement also makes young consumers in the target customer group hunt for Mirinda Soda Cream to try.
In addition, Mirinda also performed TVC advertising with many popular names such as HariWon, singer Duc Phuc, Hoa Minzy, Huy Khanh… to increase brand awareness and help customers know about the new product Mirinda Soda. Cream. The "uncomfortable" expressions of the participating artists made netizens excited and curious about the "culprit" that made the artists so excited.
The TVC also received a lot of shares from participating artists, creating a fever on social networks. This has helped Mirinda Soda Kem successfully introduce new products to its target customers.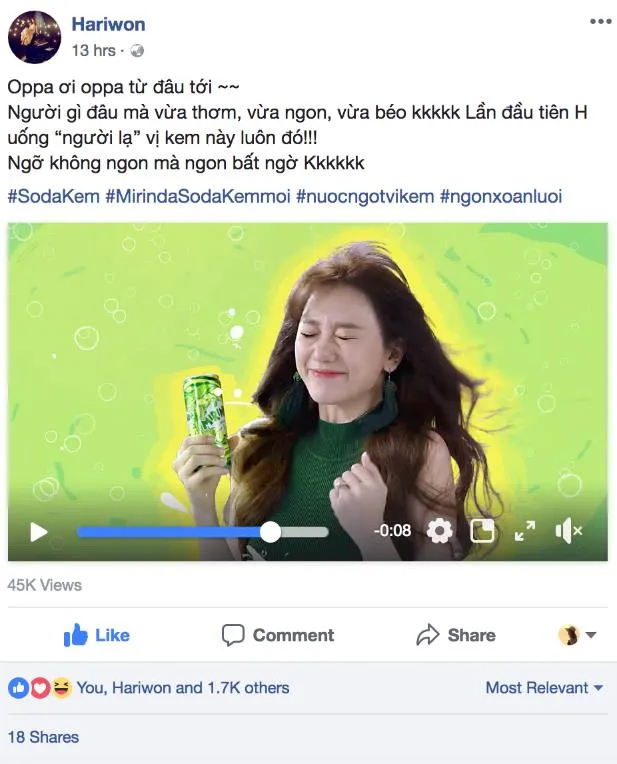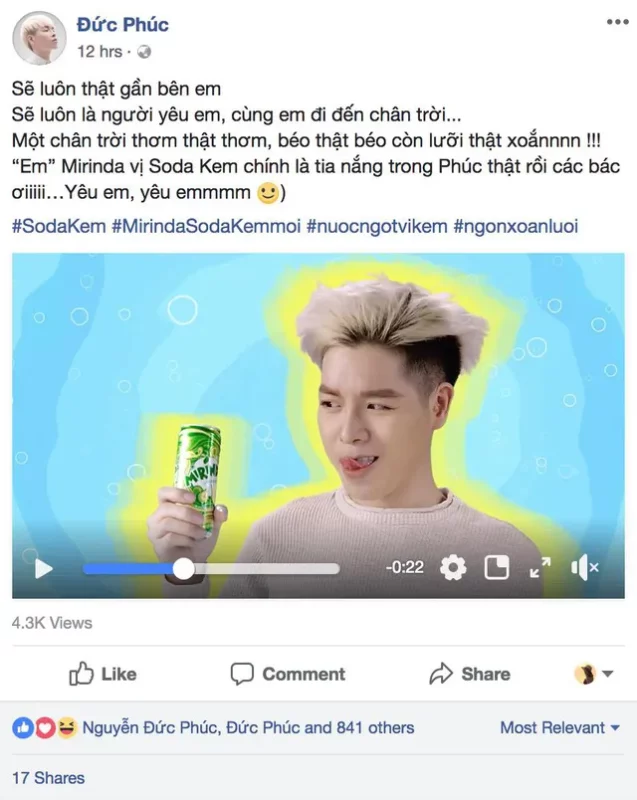 Summary 
Understanding psychology and attracting customers with sophisticated, flexible, trend-setting marketing strategies, Mirinda gradually affirms its brand and position in the beverage field. Hopefully this article has helped you better understand Mirinda's marketing strategy and have ideas for implementing appropriate marketing strategies for your brand.
Visit our blog regularly to update good articles every day!
Check out some other good articles: