Thanks to the implementation of smart and effective marketing strategies, Pepsi has become one of the most famous soft drink and beverage brands in Vietnam and around the world. Pepsi's Marketing Strategy is one of the case studies Marketers should analyze and learn from. Let's learn in detail about Pepsi's 5 most outstanding Marketing strategies through the article below. 
l. Overview of Pepsico Group
According to  Wikipedia , PepsiCo is a world-leading food and beverage corporation with products enjoyed by consumers more than one billion times every day in more than 200 countries and territories around the world.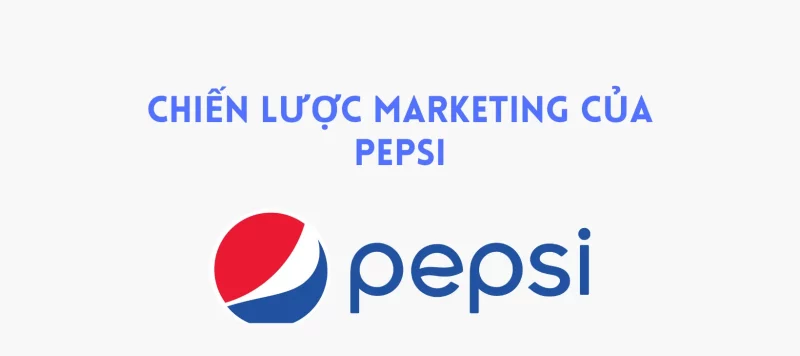 PepsiCo Group achieved net sales of approximately $63 billion in 2016 with key brands including Frito-Lay, Gatorade, Pepsi-Cola, Quaker and Tropicana. PepsiCo's product portfolio includes a wide range of beverage and favorite products with a total of 22 brands, generating approximately $1 billion each in annual retail sales.
PepsiCo is interested in manufacturing, marketing and distributing nut-based snack foods, beverages and other products. PepsiCo was founded in 1965 with the merger of Pepsi-Cola Company and Frito-Lay, Inc. PepsiCo has expanded from its namesake Pepsi product to a broader range of food and beverage brands, the largest of which include the acquisition of Tropicana in 1998 and Quaker Oats Company in 2001. Acquiring these companies helps Pepsi add the Gatorade brand to its product portfolio.
As of January 26, 2012, PepsiCo's 22 brands generated retail sales of more than $1 billion, and the company's products were distributed in more than 200 countries, resulting in net sales of annually is 43.3 billion US dollars. Based on net revenue, PepsiCo is the second largest food and beverage enterprise in the world, after Nestlé. Within North America, PepsiCo is the largest food and beverage company by net revenue.
Pepsi is a famous product produced by PepsiCo corporation. Caleb Bradham, a druggist in New Bern, North Carolina invented Pepsi in the early years of the 20th century.
From very ordinary beginnings, Pepsi survived two bankruptcies and became the second largest beverage company in the world. Today, Pepsi's global logo is one of the most recognized logos worldwide. Pepsi-Cola beverages can be found in more than 195 countries around the world.
ll. Pepsi's 5 most effective marketing strategies in the Vietnamese market
Pepsi is one of the famous beverage brands in Vietnam as well as in the world. One of the things that makes this brand successful is that Pepsi has implemented effective marketing strategies, successfully attracting customers and increasing sales revenue. Basically, Pepsi has applied 5 main marketing strategies as follows:
1. Brand positioning marketing strategy

 
Pepsi's first effective marketing strategy is to focus on brand positioning.
Pepsico Group has positioned its brand and products very well in the market. With 22 brands in its current portfolio, Pepsico offers low-calorie and nutritious snacks and drinks in addition to their regular soda products.
Pepsi's brand positioning strategy is to always build a youthful image, with a very youthful and dynamic message: "Live for now – Live every second". Because Pepsi's customers are young people between the ages of 18 and 22, who like new experiences and always live life to the fullest. The Pepsi brand always targets young people and the newness of the future.
2. Digital marketing strategy
Pepsi's Marketing strategy to attract customers is to focus on digital marketing.
Traditionally, Pepsico has always invested heavily in marketing activities to grow in the market and drive more sales. However, according to Pepsi's annual report, they increased their global marketing and advertising budget by more than 12% for 2019.
With the development of social networks and digital media, Pepsi has invested its budget in implementing  social media marketing campaigns . Some of Pepsi's prominent social media advertising campaigns can be mentioned as: "Pepsi #Summergram", "Springing the summer off", "Pepsi brings Tet home",…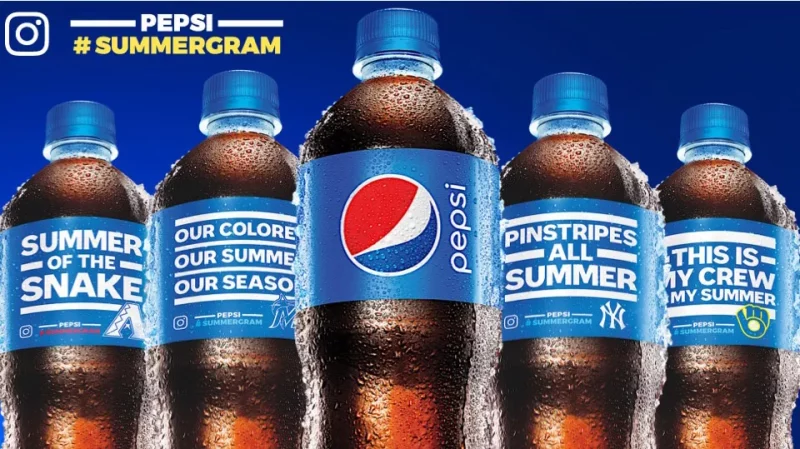 Since social media became trendy, Pepsi has started connecting with their customers through real-time advertising campaigns. This has helped Pepsi connect with millions of people around the world at the same time, quickly and conveniently. Pepsi is also more conscious about the quality of its products and customer service because they are aware that negative comments and news can easily spread on social media and reach millions of people in one go. short time.
3. Multi-channel advertising strategy
Investing in appropriate channels is also an effective marketing strategy for Pepsi.
Besides taking advantage of social networks and fanpages, Pepsi also invests in advertising campaigns on TV, placing outdoor advertising banners and billboards to reach and attract customers, thereby increasing brand recognition.
Fanpage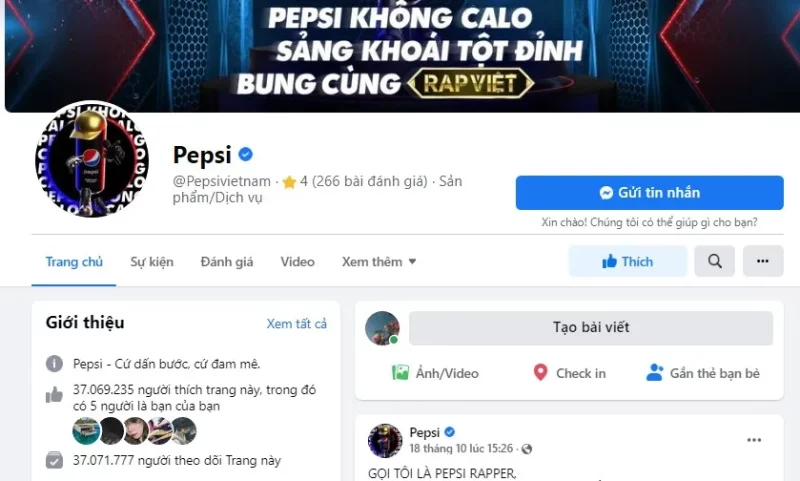 With interesting, attractive content and eye-catching designed images, Pepsi's fanpage in Vietnam has attracted more than 37 million likes and followers. Fanpage is the channel where Pepsi advertises products, introduces attractive sales discount programs as well as interacts with its customers quickly and effectively.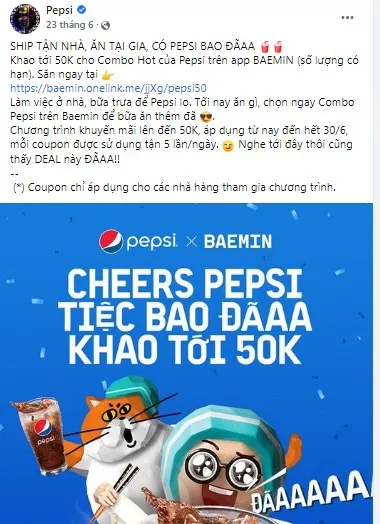 TV advertising
A successful TV advertising campaign of Pepsi can include the "Pepsi brings Tet home" campaign that ended 2021.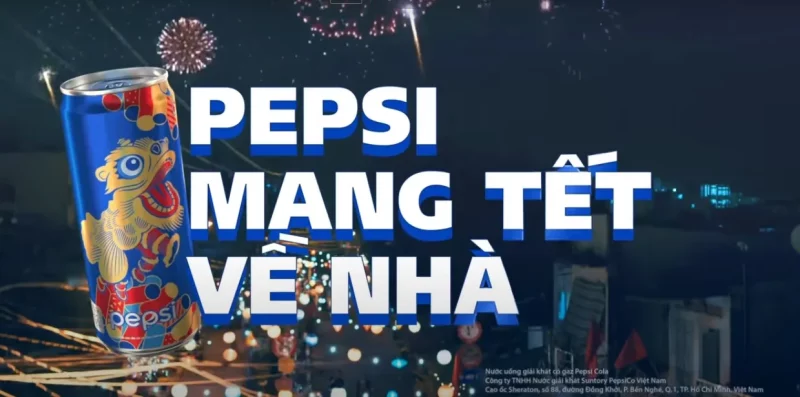 The story of returning home for Tet is an Insight that most brands take advantage of for campaigns during the Lunar New Year. However, for Pepsi, it is not just a simple campaign for communication purposes, but behind it is a real action, an emotional experience with a three-color flight with a special number "Bring Tet home". home".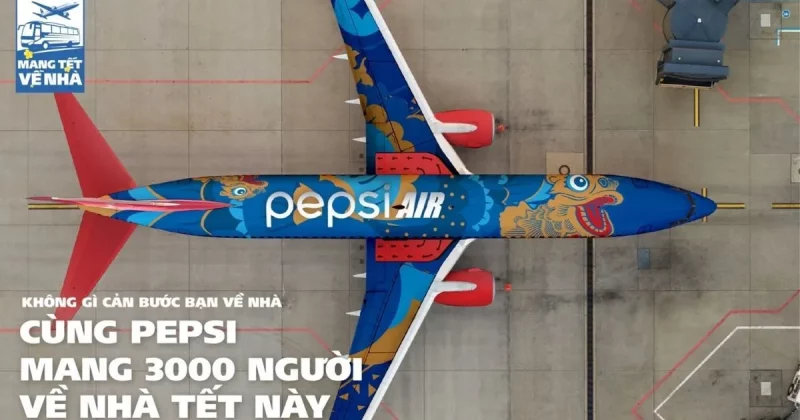 With this campaign, more than 1,000 airline tickets, 2,000 round-trip car tickets and other meaningful gifts will be given to more than 3,000 students, workers, and employees working away from home. difficult situation, unable to afford to return home to celebrate Tet with family. With a very meaningful campaign, Pepsi has succeeded in making customers trust the brand more and turning customers into long-term supporters of the brand.
Outdoor advertising
Placing outdoor advertising signs is also an effective way for Pepsi to improve brand recognition and attract customers.
Pepsi's outdoor advertising signs are often designed with youthful, eye-catching colors, creating a dynamic and fun feeling. Taking advantage of the fresh and modern colors, in 2010 Pepsi launched an advertising campaign with creatively designed billboards combined with digital lights, making this billboard extremely unique. lively and eye-catching.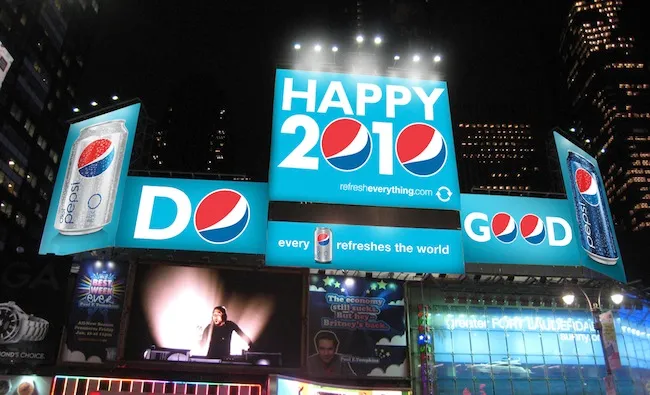 Last year, outdoor billboards with eye-catching designs and the slogan "#SayItWithPepsi" also attracted a large number of customers, especially Gen Z customers as this slogan shows dynamism, enthusiasm, and relevance. with young people.
Deploying multi-channel marketing is an important strategy in reaching and interacting with customers in many different communication channels. When implementing, Marketers need to closely monitor the effectiveness to evaluate, optimize, etc. Therefore, Marketing reporting is necessary, helping Marketers measure and monitor Marketing effectiveness, optimize campaigns to increase sales. increase conversions.
4. Strategy to take advantage of Influencer Marketing
Influencer Marketing  is also an effective marketing strategy for Pepsi.
In addition to promotional campaigns, Pepsi also relies heavily on partnerships and sponsorships to increase brand awareness. In particular, they invest heavily in sports marketing, partnering with many different sports organizations around the world to promote themselves in essential markets.
For example, in 2015, Pepsi partnered with the National Basketball Association (NBA). In 2016, they partnered with the Board of Control for Cricket in India. And in 2017, the brand partnered with the UEFA Champions' League for the second time to promote some of their brands.
Besides, Pepsi also cooperates with many famous music groups and singers to advertise the brand.
On September 12, 2020, BlackPink, one of Asia's leading music groups, officially became Pepsi's spokesperson. Four members will accompany Pepsi, the new generation of Pepsi Cola, Zero Calories to spread the voice of young people – "Dare to Say No", encourage the "gen Z" generation to overcome all limits, inspiring to live to the fullest. I give passion and live true to myself. This is a campaign using KOLs to advertise and PR for Pepsi's extremely strong brand.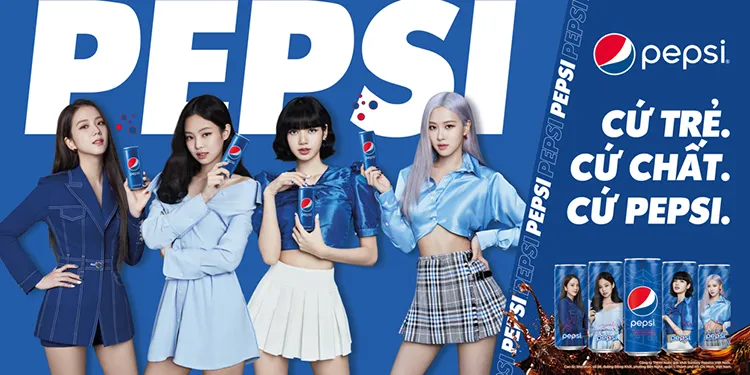 Besides, Pepsi is also the main sponsor of Rap Viet – The hottest music program today. Through the program, Pepsi has succeeded in improving brand recognition and attracting customers.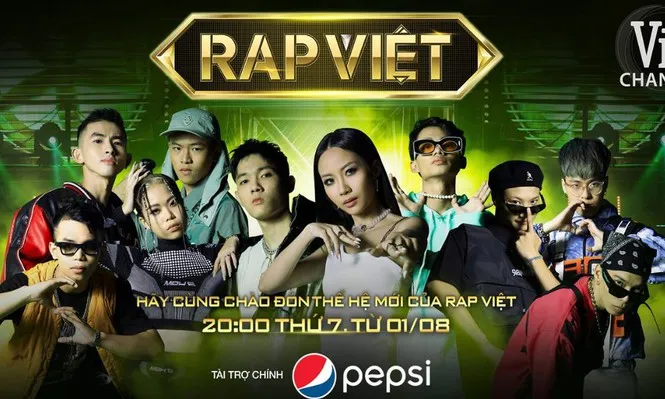 The strategy is to always innovate products
An effective marketing strategy for Pepsi is to always innovate products.
Pepsi regularly invests in its packaging and product quality. The brand has also expanded its product offering by adding more nutritious options for consumers concerned about their health. Diverse product portfolio with many choices and delicious, nutritious flavors, all part of Pepsi's effective marketing strategy.
Pepsi's packaging and product quality are always innovated. This brand updates its designs regularly with the aim of meeting the diverse needs of customers.
lll. How Pepsi Vietnam implements its Marketing strategy according to the 4P model 
Pepsi has also effectively implemented a 4P marketing strategy with product strategy, price strategy, distribution system and product advertising campaigns suitable for  target customers  in Vietnam.
1. Pepsi's Marketing Strategy for Products
Pepsi products thrive in a developing social context. People are often busy with their work and don't have much time, so they love fast food and accompanying carbonated drinks like Pepsi.
In addition, Pepsico has also produced Pepsi specifically for dieters to expand the market. Through reducing the amount of sugar, Pepsi has launched the product Diet Pepsi.
Currently, Pepsi has researched and launched the world's first plastic bottle made entirely from renewable energy and surplus products from food processing. Green PET bottles are produced from biological materials such as corn husks, grass… through many conversion steps. Pepsi also uses waste products from its food production process such as potato peels, orange peels and oat shells to produce Green PET bottles. This type of bottle has the same usability and appearance as bottles made from petroleum.
With diverse products and packaging and designs designed to be convenient and environmentally friendly, Pepsi has convinced a large number of customers to use its products instead of competitors.
2. Pepsi's Marketing Strategy in terms of price (Price)

Pepsi has  priced  its products through several key strategies:
Market penetration pricing

 : Different from low pricing strategies to filter the market, Pepsi has chosen a relatively low new product pricing strategy with the purpose of market penetration to attract a large number of customers, At the same time, achieving a large market share.

Discount Pricing

 : Pepsi will adjust prices to provide discounts to customers who pay ahead of time or buy in bulk.

Differentiated pricing by product type

 : Pepsi's product types are priced differently and proportional to the respective costs to produce each type of product.
3. Pepsi's Marketing Strategy regarding distribution system (Place)
Regarding the distribution system, Pepsi has a diverse distribution system through cooperation with supermarkets, agents, fast food stores, cinemas,…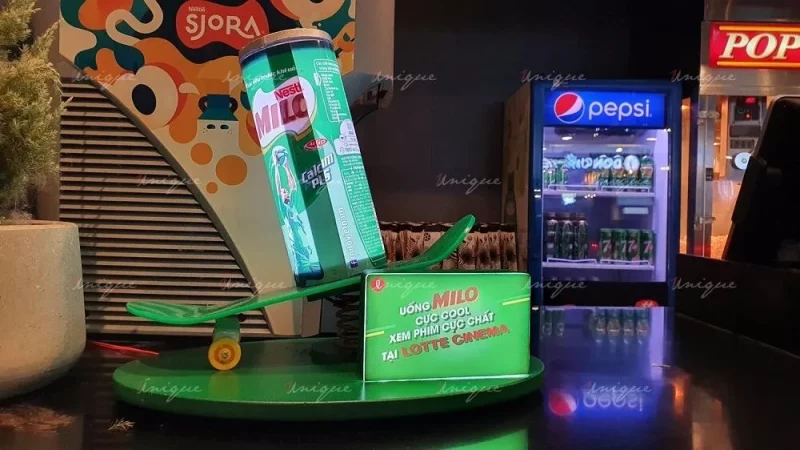 Pepsi has brought products to final consumers in the Vietnamese market through intermediary distribution channels. This helps businesses save costs and does not affect scale expansion.
Pepsi has distributed products through major supermarket channels such as BigC, Metro, Co.opmart, etc. Besides, Pepsi also expanded its distribution channel system by cooperating with agents and food stores. as fast as Lotteria, KFC and McDonald's.
Read more: Analyze McDonald's Marketing Mix strategy in the most detail
Pepsi's distribution system is always expanding to ensure that products can reach consumers in all geographical areas. Consumers can access Pepsi products easily.
4. Pepsi's Marketing Campaign on Mixed Promotion (Promotion)
Although Pepsi's beverage has a modern production system, along with traditional flavors and intense sweetness, very suitable for Vietnamese people's taste, promotion and advertising of the product is the means. effective for Pepsi to reach consumers and achieve the current large sales volume.
For the Vietnamese market, Pepsi captures and understands the states such as: Knowing, understanding, liking, liking, believing and buying of consumers, thereby applying creative and effective support tools.
When first entering the Vietnamese market, with the vision of a global brand, Pepsi implemented activities to contribute to the community, with the purpose of brand PR to make their brand closer to consumers. used through very successful campaigns such as: "Drink a can of Pepsi and spend 50 VND to support flood victims".
Besides, Pepsi also launches attractive promotions to attract customers. For example, for Tet 2021, Pepsi launched the program "Bring home unicorns with Pepsi". With this program, customers who buy 2 boxes of Pepsi 24 Cans of 330ml or 245 ml (value from 270,000 VND to 364,000 VND) during the promotion period will receive 1 box of Pepsi 8 gold cans (valued at 39,500 VND).