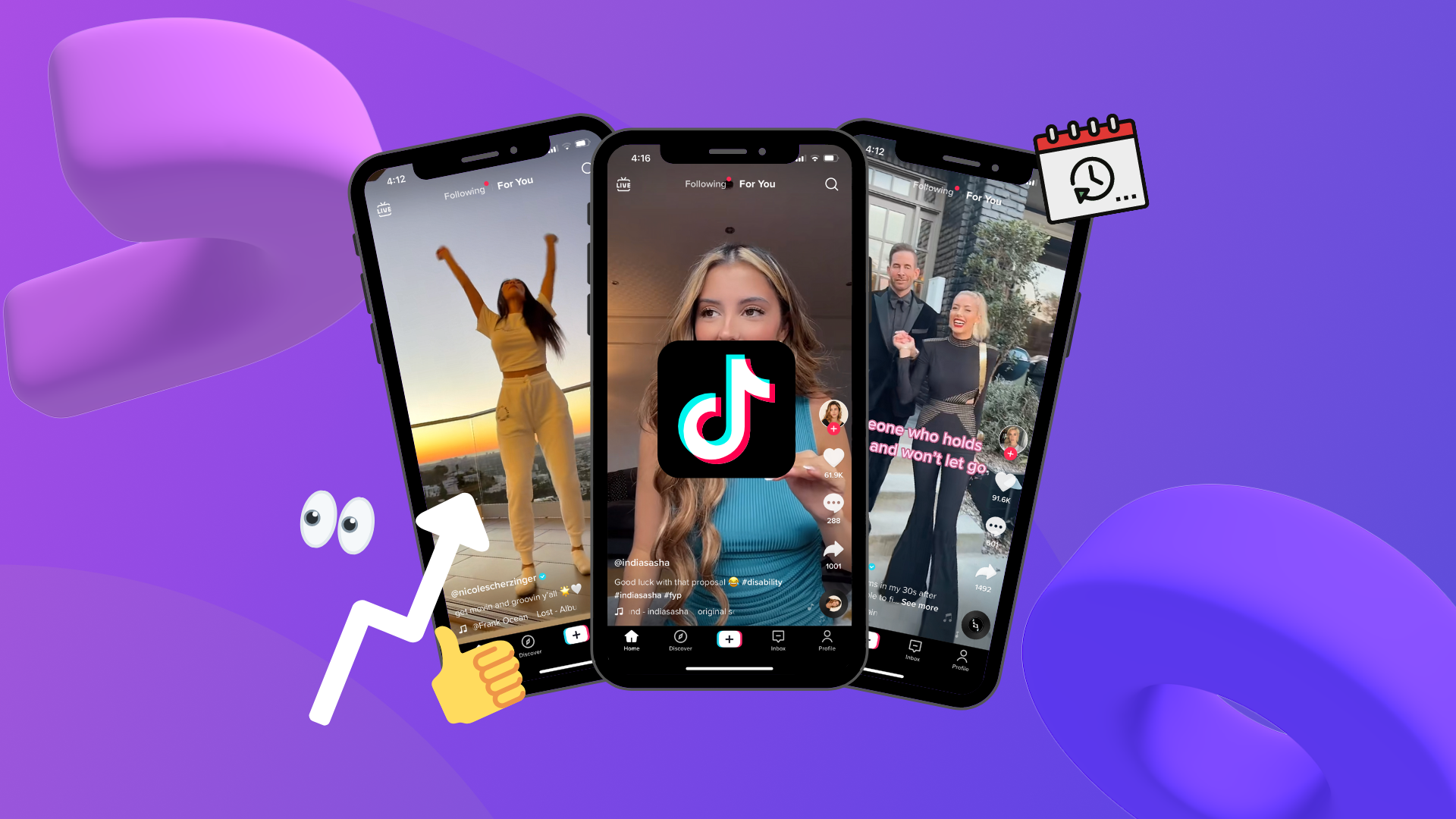 TikTok is a social network that allows users to share short videos – a type of content that is ahead of trends in user behavior. For businesses that are just starting to enter this market, the first thing to do is to understand and grasp the TikTok market trends.
In this article, Malu will help you analyze the TikTok market and point out TikTok trends that you should not miss in 2022.
TikTok Market Overview 2022
The year 2022 has seen the boom of TikTok as the platform recorded more than 1 billion active users. With this number of users, TikTok has become a media weapon with rapid growth in statistics.
According to TikTok data, this app recorded more than 3.5 billion downloads on CHplay and Appstore and became the most downloaded non-game app in 2022.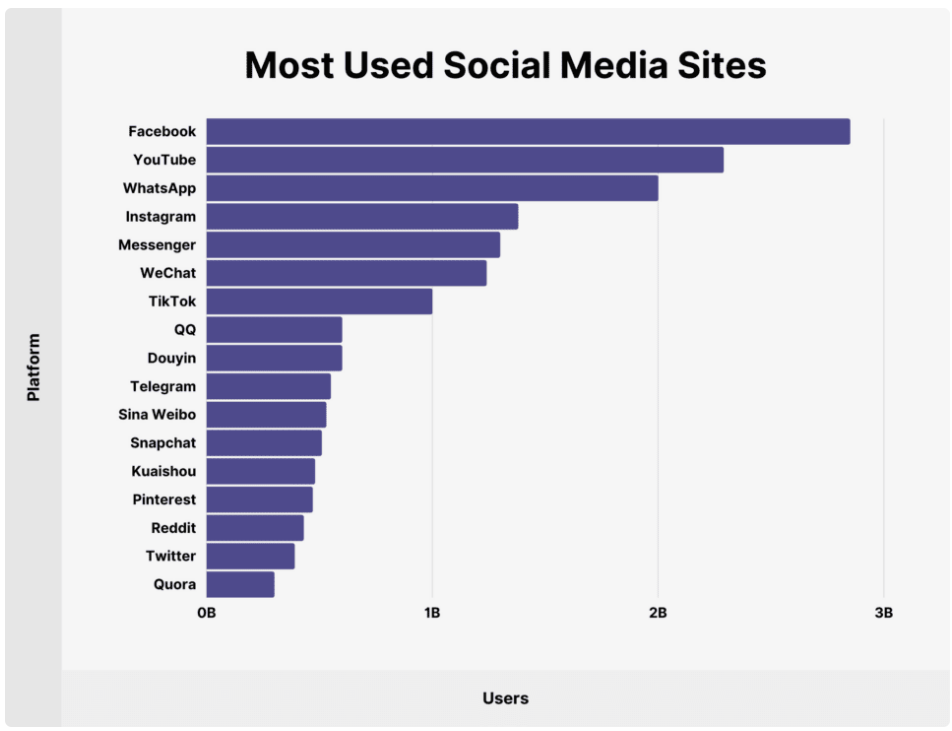 According to  
Hootsuite
 , TikTok has become the 7th ranked social network worldwide, behind 3 messaging applications Wechat, Messenger, Whatsapp and 3 social networking platforms Facebook, Youtube and Instagram. Notably in this list, TikTok has nearly 2 times more users than Telegram and 3 times more than Twitter when these two applications are used very widely, especially Twitter is one of the major social networks. in the US alongside Facebook and Instagram.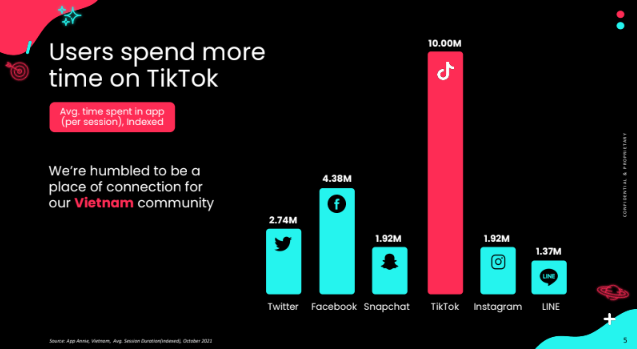 While not the most used app, TikTok recorded the highest uptime on the app per session. Specifically, the average amount of user activity time on TikTok reaches 10 minutes per session, nearly double Facebook with 4.38 minutes and 4 times Twitter with 2.74 minutes.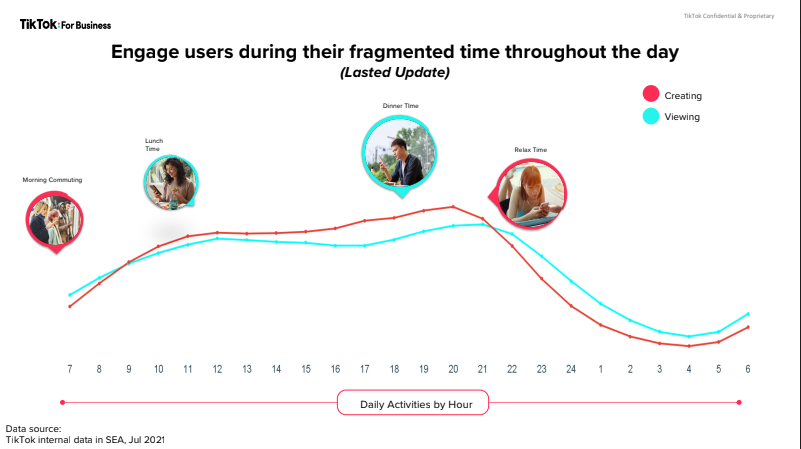 With the advantage of short and sequential video content, TikTok has been extremely successful in keeping users active on the application. From the perspective of marketers, this is an advantage because the longer the user is active, the higher the frequency of reaching the ad will increase.
In Vietnam, users spend an average of 28 minutes a day on TikTok, and the main time using the application is from 6 to 8 pm on Friday and Saturday.
With the achievements achieved in 2022, TikTok in 2023 will certainly bring many new trends for businesses. Let's find out what are the TikTok trends of 2023!
Shopping trends combine entertainment (Shoppertainment)
In the context of the Vietnamese market appearing more and more big shopping waves such as Shopee or Lazada's super discount programs, TikTok predicts Shoppertainment will be a particularly popular trend in 2022.
Based on TikTok's survey conducted in March 2021 with more than 1,800 Southeast Asian users, 74% of them said that Tiktok helps them want to learn more about brands and products after watching video reviews. Notably, 55% of users have made unplanned purchase decisions and 67% of those surveyed said that TikTok inspires them to shop even when they're not. Search for products/services.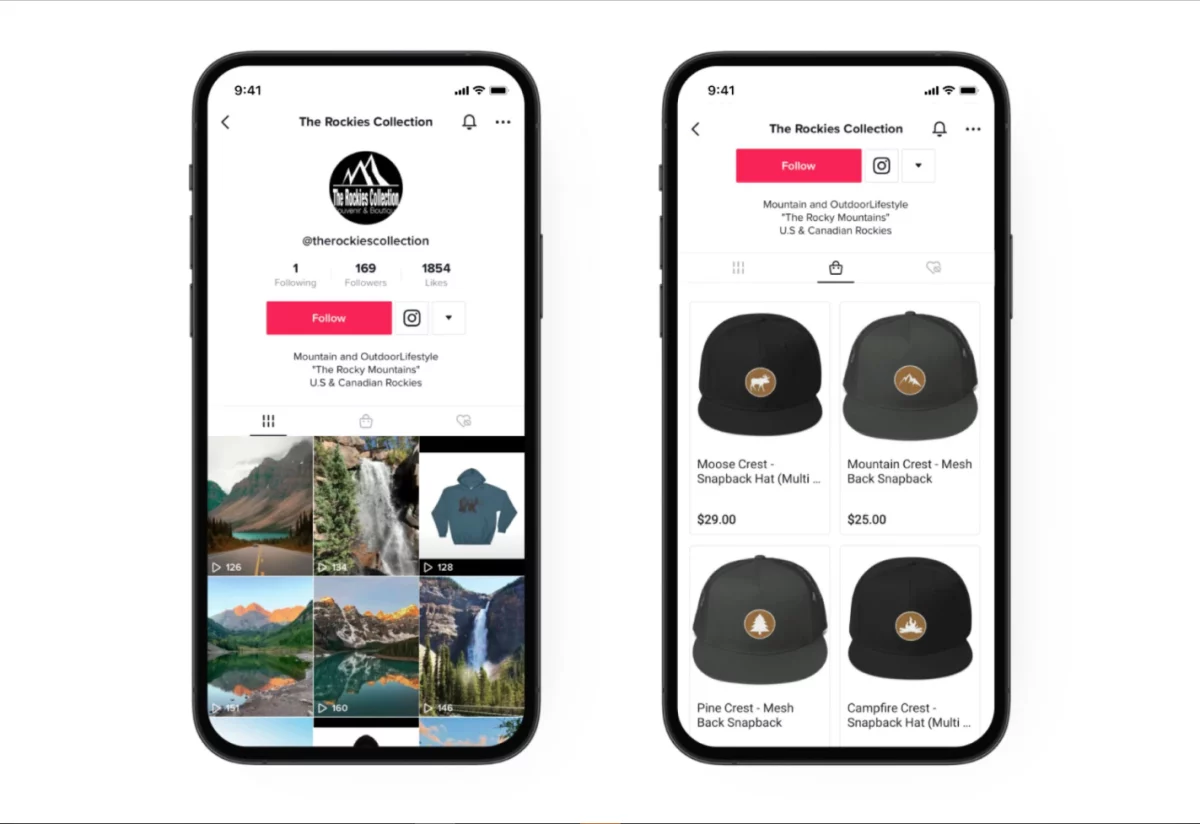 Specifically, TikTok launched the  TikTok Shop feature  in the Vietnamese market at the end of April 2022. This is an e-booth integrated directly into a user's TikTok account. This feature helps content creators or sellers to directly display the store's products right on TikTok's platform.
As soon as the door opened to welcome brands to join the marketing race on TikTok, a piece of advice from TikTok for brands was "Don't make ads, make TikTok " – "Don't create ads, create TikTok".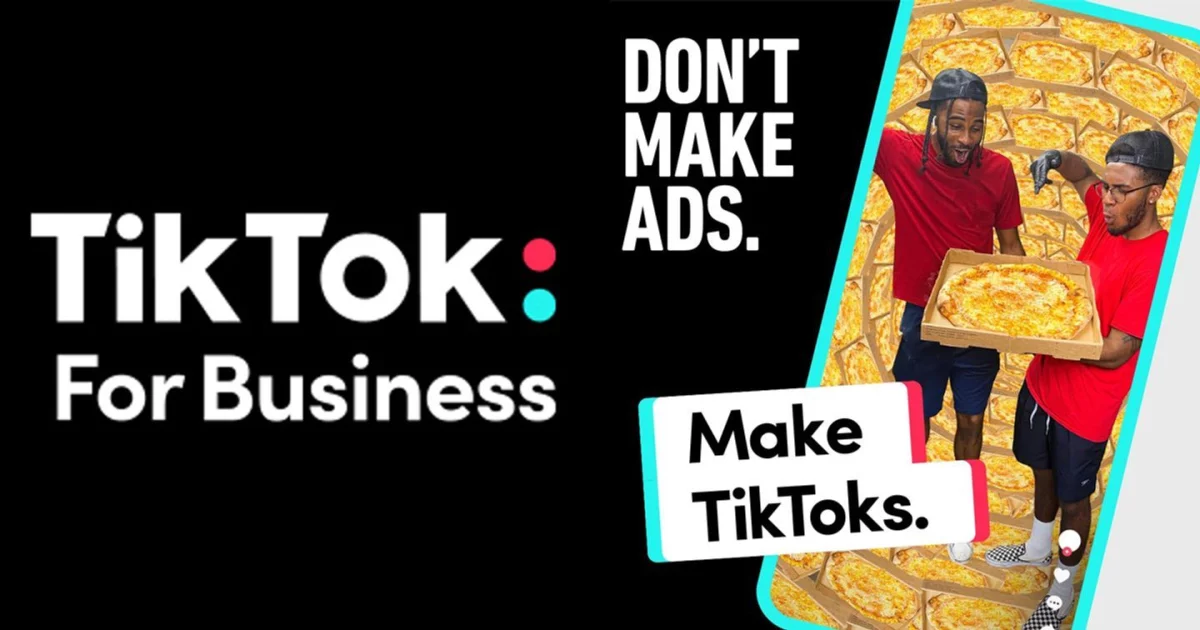 Brands should turn  their TikTok Ads  into an entertaining piece of content, interwoven with product images or promotional messages. Avoid cramming the product in a "disrespectful" way, which annoys the viewer. Products in promotional videos on TikTok should be displayed naturally and integrated in stories close to viewers, helping them understand the message and remember the product longer.
In particular, user-generated content (UGC) has a higher level of authority and objectivity than branded "self-flattering" content. Therefore, brands encourage customers to create and post more videos on TikTok, sharing about their experience using the product.
The rise of hashtag #meme
Users are already used to viewing memes (memes) as still images, but video memes are also a trending content on TikTok. This content is very easy to create interaction, especially with high shares and great spread.
Research by Martech has shown that: Humor is the top factor that Generations X, Y and Z care about when viewing ads. Therefore, meme marketing is expected to become a communication touch point with strong appeal to the young generation, especially gen Z. From there, the wall separating the brand and the user will be easily removed by humor and variation in the message of the advertisement.
Content development trends for all ages
Not only young people – Gen Z, but now, adults are also starting to use TikTok as an entertainment application. Many online newspapers have also applied and transformed their reporting methods by publishing news in the form of synthetic videos, to direct content to Gen X (8x, 7x generation audiences).
Entertainment channels on TikTok are tending to develop content suitable for Gen X, even some TikTokers are older generation but still participate in content creation on this platform.
17 content trends on TikTok in 2022
Here are 17 content trends on TikTok in 2022 that you should know:

For brands, sellers
TikTok is seen as an important marketing platform.

TikTok becomes a fundraising tool for nonprofits.

Brands use TikTok to create branded content.

Content is becoming more and more relevant to older people.

Brands that have their own channels and build creative content will have better reach.
For Content Creators and Influencers
Influencers will be paid based on the number of followers.

Celebrities will use TikTok more.

TikTok became a leverage strategy for the careers of celebrities.

TikTok is used for personal branding purposes.

TikTok will prioritize displaying videos with high quality, high interaction with viewers.
For Platforms and Users
The number of monthly users will increase to 40%.

The largest demographic file is the 18 – 34 age group.

The number of videos longer than 15 seconds will increase.

Trending content is a genre of emotional content.

Consumers tend to watch videos with review content before buying.

The type of content that will soon be popular on TikTok: Live broadcast video (Livestream).

The popularity of effects (filters) and stickers will increase.
3 businesses that will become mainstream on TikTok in 2022
TikTok is a new tool to help businesses orient their images and increase brand recognition for brands and products. Therefore, advertisers on TikTok tend to focus on creating content related to the fashion, beauty, and even retail industries of high-value products such as real estate and cars. …
Let's see what are the content trends of the industries that are of interest on TikTok today!
From the end of 2021, when the epidemic gradually passes, people's lives are gradually returning to normal, the need to learn about vehicle-related issues has increased again.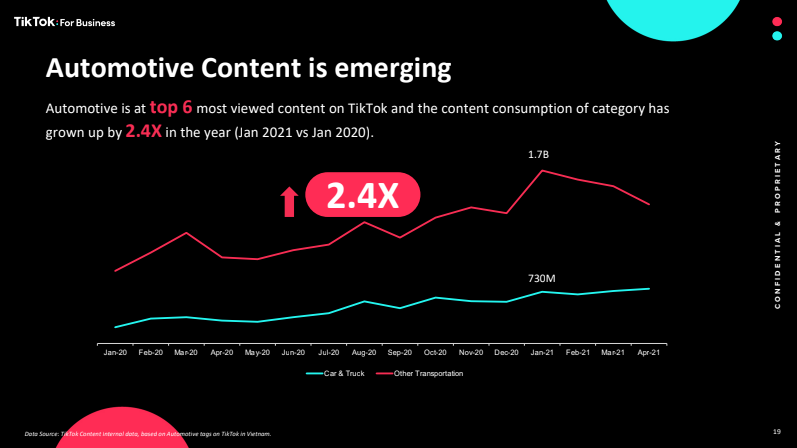 According to TikTok's 2021 statistics, vehicle-related content has increased 2.4 times and ranked 6th in the list of most viewed content. This shows that these content always receive a lot of attention and attract users. Vehicle content is expected to continue to increase when the demand for transportation and people's economic conditions are gradually recovering after the pandemic.
If you are the owner of a car showroom or want to participate in advertising vehicle-related products on TikTok, you need to learn carefully about the tastes of users, see what content they are interested in. According to data from TikTok, users tend to love to learn and are easily attracted to videos with content such as reviews, demonstrations, tips and tricks, etc.
Vehicle-related content needs to be regularly refreshed and diversified to increase user reach.
According to Vietnam's national health report in 2022, instead of finding solutions after getting sick, people will tend to actively learn ways to prevent disease and improve health. Therefore, health care is also an equally important factor compared to the transportation industry.
According to the chart, predicting content trends for products in TikTok's healthcare category, the 3 categories of products that will be most interested include: Sports nutrition, Weight and fitness control, Vitamins and foods supplementary products. In particular, the product category of sports nutrition is forecast to have a sudden growth of nearly 18%, while weight control and bodybuilding products and nutritional supplements have a corresponding increase rate. 12% and 11%.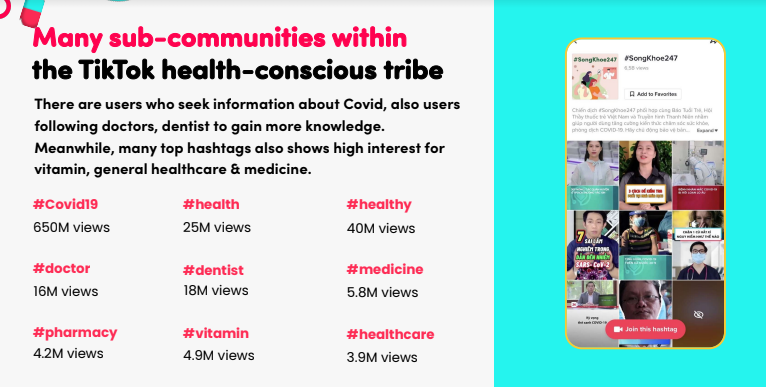 Health-related content has a huge view when attaching hashtags like  #health ,  #medicine ,  #healthcare , etc. The number of users searching and viewing these hashtags shows the need to care and learn about health issues. health is enormous.
With twice as many female users as men, it is obvious that beauty content will be a trend not to be missed in 2022.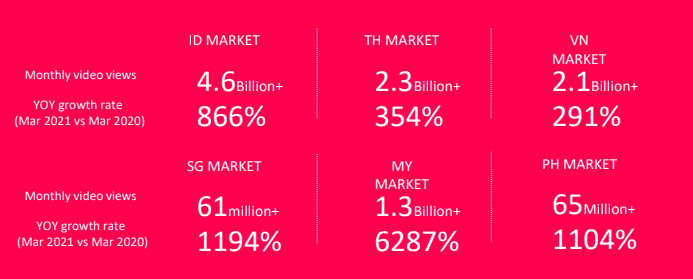 In the Southeast Asian market, content related to beauty products attracts the majority of female users. According to TikTok's 2021 statistics, videos with beauty content in Vietnam alone have reached more than 2.1 billion views per month, the year-on-year growth rate is 291%, ranking 3rd after the market. Indo with over 4.6 billion views and Thailand with over 2.3 billion monthly views.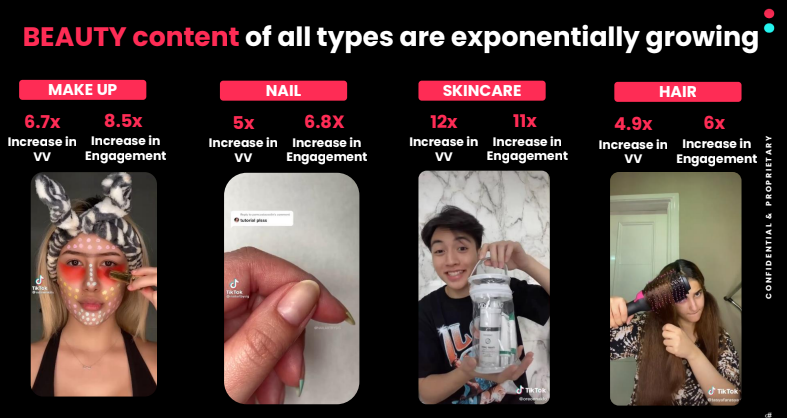 The beauty content on TikTok is now extremely diverse with exponential growth numbers. Specifically, in 2021, makeup videos have a 6.7x increase in views and an 8.5x increase in interactions compared to the previous year. In particular, videos with skin care content increased 12 times in views and 11 times in interactions with videos.
With the continuous growth in beauty needs of Vietnamese women, the trend of making beauty care content in 2022 will not only continue to be maintained, but also be forecasted to become the most popular content in the world. top on TikTok.
Conclude
The above is an overview of TikTok market trends and what content will become trending on TikTok in 2022. Hope the above information will help you before starting a business on this platform.