In its nearly 30-year development history, this is the second time VPBank has re-branded with the mission statement "For a prosperous Vietnam" and a new communication model. Dive deeper into these changes, from the sharing of the companion agency.
Building a brand positioning strategy
Established in 1993, VPBank repositioned its brand for the first time in 2010, with the name change from Joint Stock Commercial Bank for Non-State Enterprises of Vietnam to Vietnam Prosperity Joint Stock Commercial Bank with the message "Action for Dreams" brand.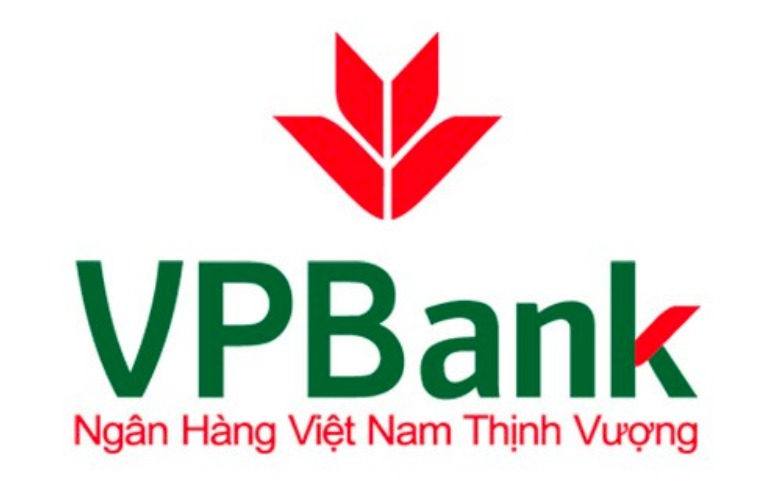 With the vision of becoming the most consumer-friendly bank thanks to the application of technology and entering the group of 3 most valuable banks in Vietnam, VPBank's mission is from "acting for the dreams" of each customer, now takes on a greater responsibility:
"Helping each individual and each business become more prosperous, contributing to the big dream of all of us, a prosperous Vietnam in both material and spiritual terms."
Brand statement:
"From the name Vietnam Prosperity Bank, that is our promise to each individual customer, each business, each partner, each shareholder, each employee and the whole country. VPBank is changing, bringing a friendlier customer experience every day, stemming from the core value of taking customers as our focus for the past 27 years, and rising with the change of customers. world, with technology that makes convenient customer experiences easier. We believe that friendly customer experiences will help each individual and each business become more prosperous, contributing to the big dream of all of us, a prosperous Vietnam in material and spiritual terms. ".
Brand identity creation
Using the results of Phase I as a creative criterion, Pencil Group, a brand consulting unit, has clarified and created the core identity elements – Building a bold image with a unique identity, including including:
Brand language
Vision
Values
Mission
Promise
Slogan
Character
Positioning sentence
Rules of conduct
Brand image
Logos, trademarks
Color
Font
Apply to communication materials with standard format templates, in order to express the brand differentiation strategy of sub-brands and product brands.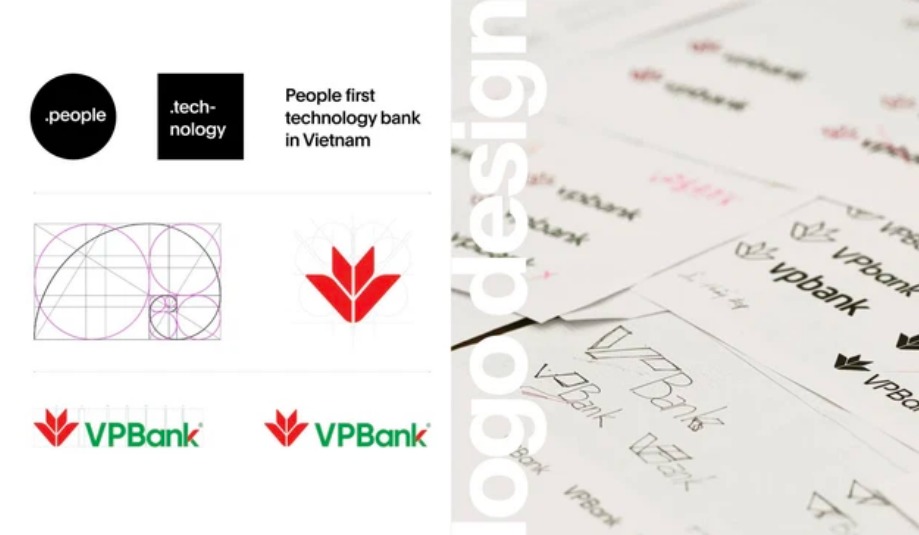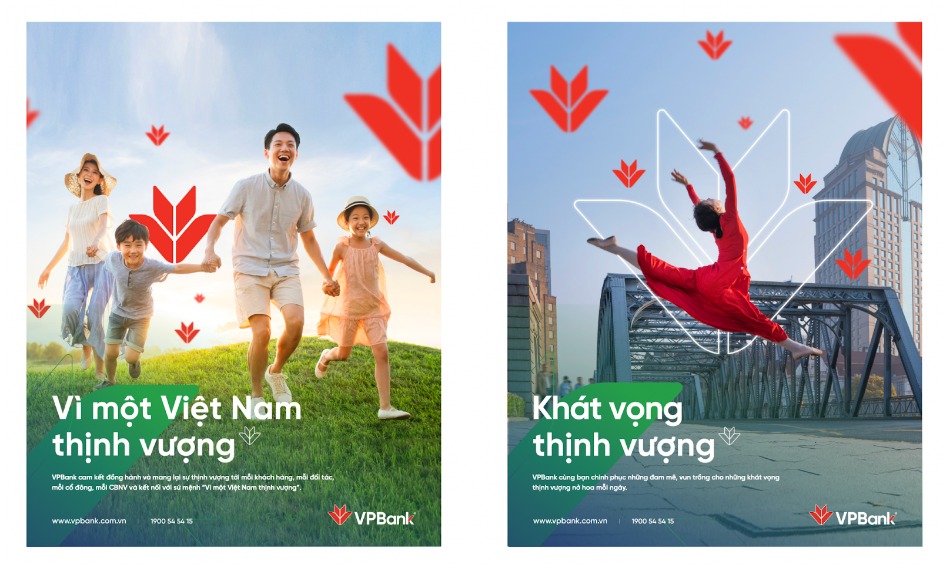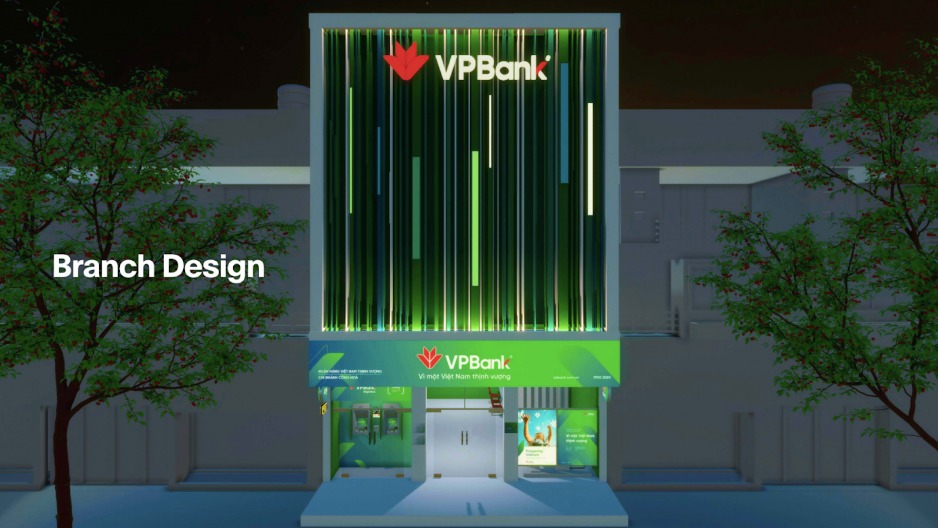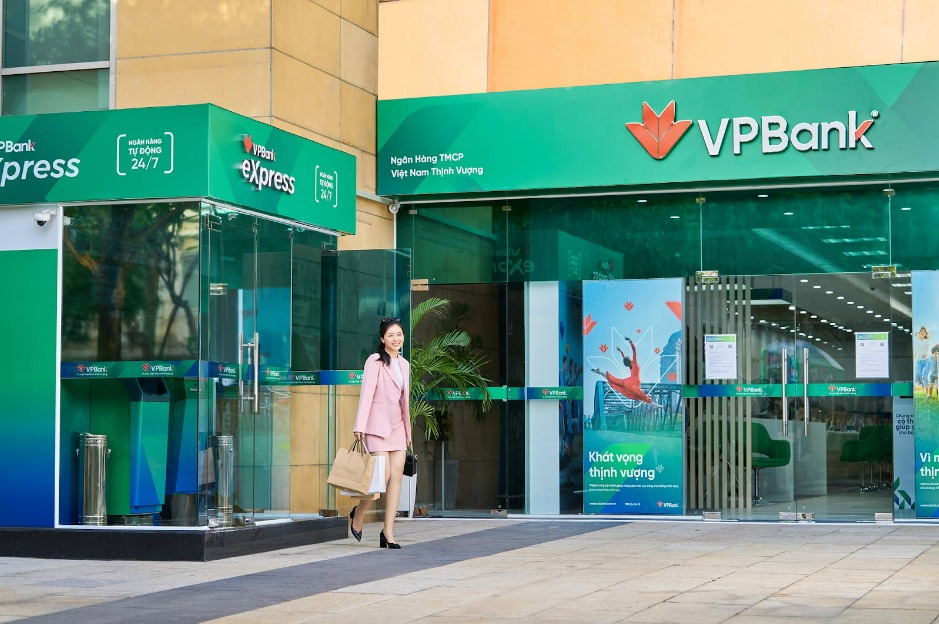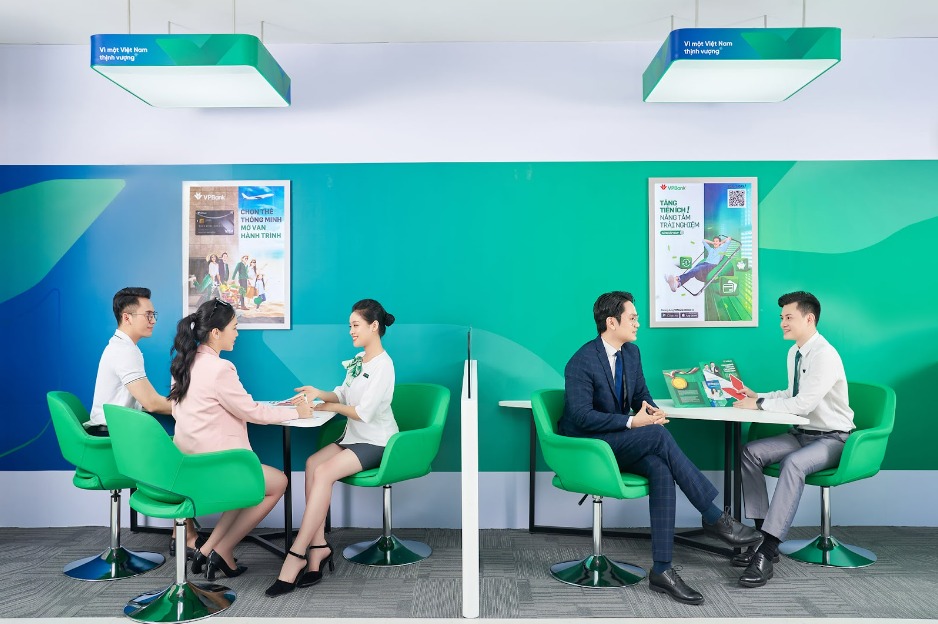 Brand Story Movie
Melodies of Prosperity
Creative innovation
Unrelenting ambition
Elevate your life
Customer-centric
That's how we bring prosperity flowers everywhere
Meeting arid land is also dyed with vitality
Meet the horizon of aspiration, let the dream fly
Meet an unnamed opportunity, pave the way to cooperation
Coloring sketches, turning cherishing into sublimation molting
For the rhythm of joyful life, the whole of Vietnam mingled in the song of prosperity.
VPBank – For a prosperous Vietnam.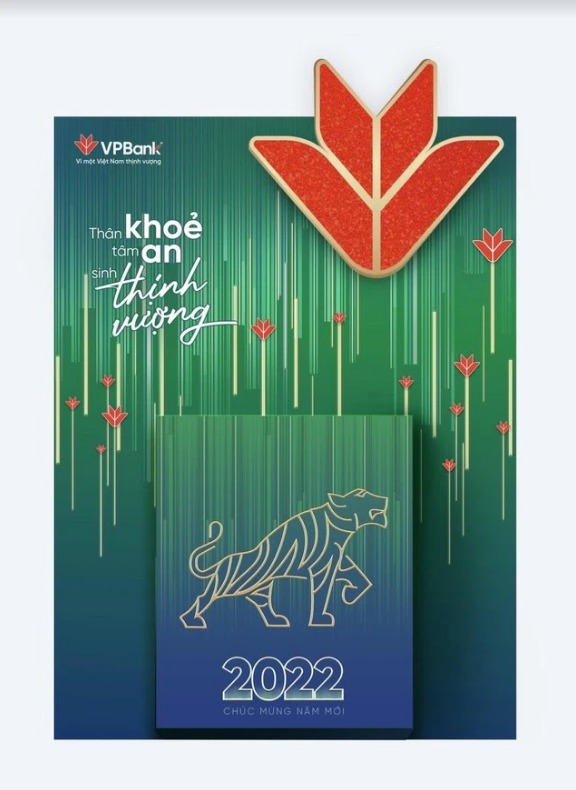 The brand identity is expressed through the Tet calendar from the calendar's message story to the design details.
Building brand architecture
Based on the content of the brand strategic positioning statement Pencil has researched – discussed the brand development model.
At the same time, the brand relationship structure model will be proposed in accordance with the brand differentiation strategy.
Brand architecture specifies the relationship between the parent brand and its sub-brands, or product brands in the future.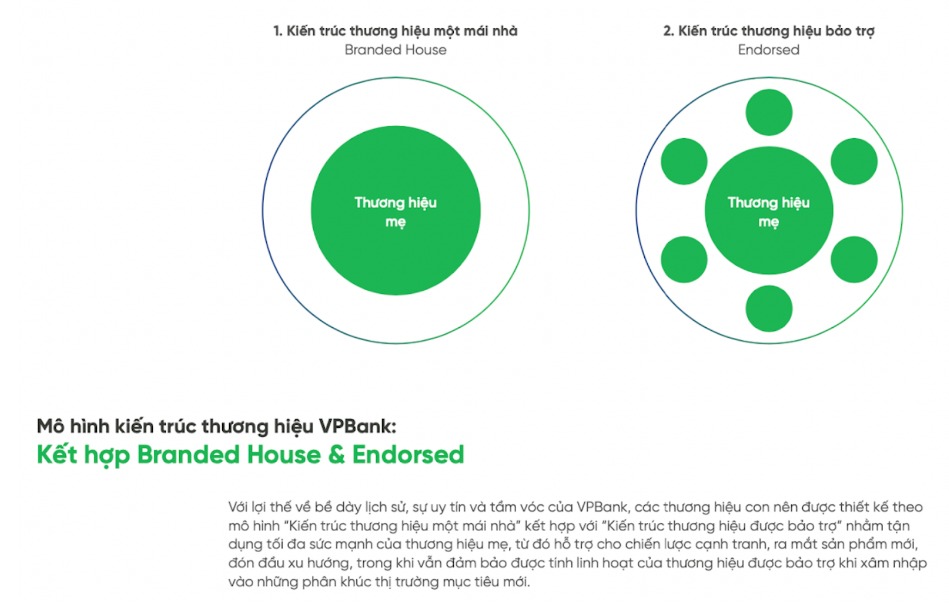 Brand communication strategy
Based on the content of the brand strategy, Pencil builds a brand communication plan for parent brands, sub-brands, and product brands to promote brand identity while helping to attract target customers and build brand awareness. branding for sustainable development.
VPBank's repositioning strategy focuses on four major values:
Financial Prosperity – Community Prosperity – Physical Prosperity and Spiritual Prosperity.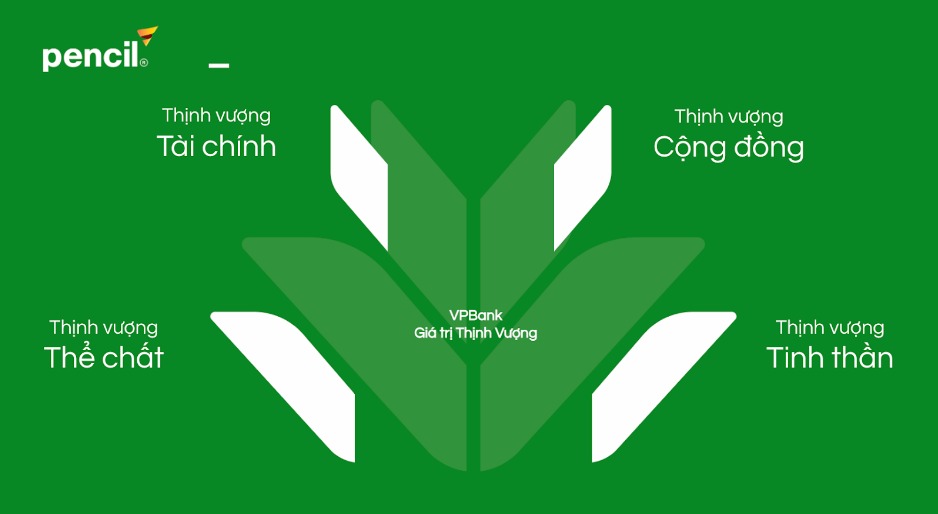 Since then, operational programs and communication platforms have been developed under these four pillars, towards full and sustainable prosperity, from each individual to the whole nation.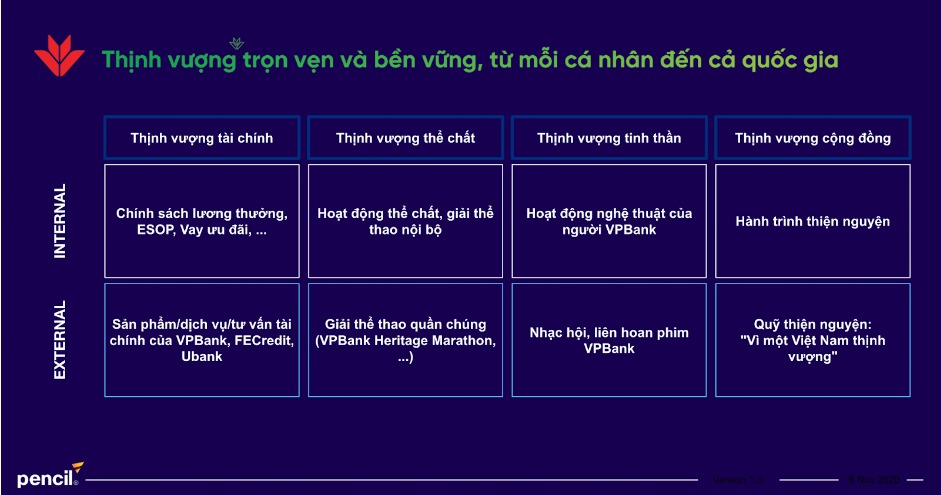 Developing modern products to launching a series of new activities
New products – Comprehensive experience of "prosperity"
Specifically, VPBank provides customers with comprehensive financial solutions, smart financial consumption trends, and flexible and effective support packages.
Consumer finance solutions will help low-income people have conditions and motivation to improve their lives.
Services for middle-class customers (VPBank Prime) and priority customers (VPBank Diamond) not only bring more versatile financial solutions, but also help create a strong breakthrough for customers to conquer. many important goals in life.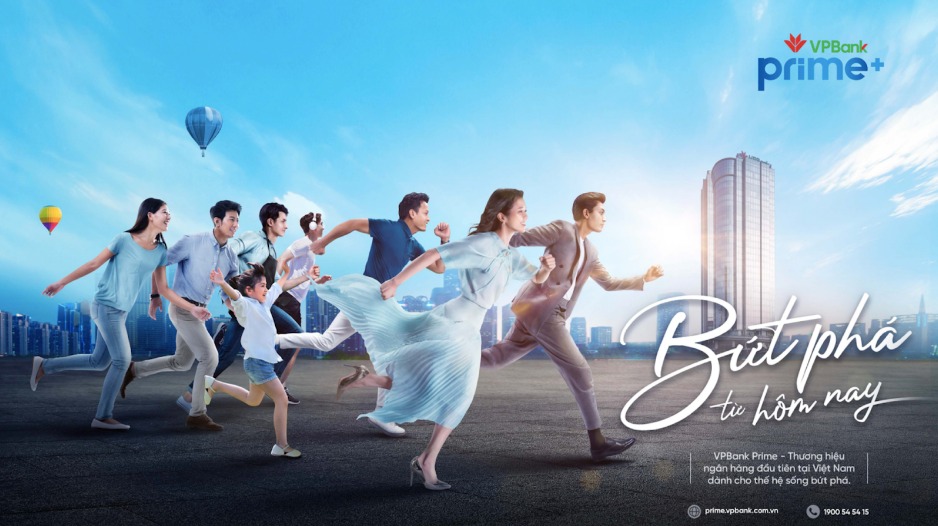 For businesses, VPBank becomes not only a companion but also an effective "financial leverage" to bring businesses to greater success.
The bank also revamped VPBank Express transaction points, replacing ATMs and automatic deposit machines (CDMs).
Here, customers can use the new feature to withdraw money by QR code with VPBank NEO app or deposit money into their account at any time.
Customers today are looking for convenience and speed, do not want to be limited by time with banking services.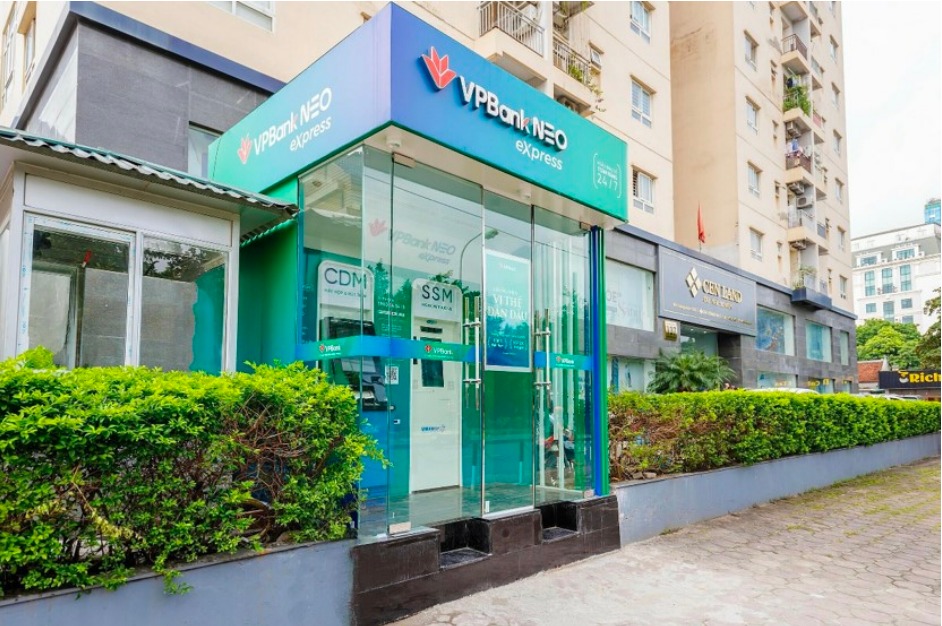 Therefore, the 24/7 VPBank NEO Express self-service kiosks were also newly opened with spacious appearance and modern technology to provide a wide range of convenient and safe self-service financial services to customers.
New activities towards community and social responsibility
In addition to changing the brand identity, the " Light Up Vietnam " program is an event marking the mission of "For a prosperous Vietnam" of VPBank.
The appearance of Vpop's most popular stars, international quality lighting and sound systems and the spectacularly designed stage of the concert are the "first drum beats" to cheer for the excitement. return of the economy, cultural and artistic activities, of a Vietnam overflowing with new vitality.
VPBank representative said.
"Along with activities such as lighting up iconic buildings across the country, giving passbooks to orphans because of COVID-19, free medical examination and treatment for poor small businesses in many provinces and cities across the country. .., we hope that the "Light Up Vietnam" music festival will spread the meaning of new prosperity values ​​that pioneers initiated to the community, thereby arousing the desire to conquer new heights in every young Vietnamese."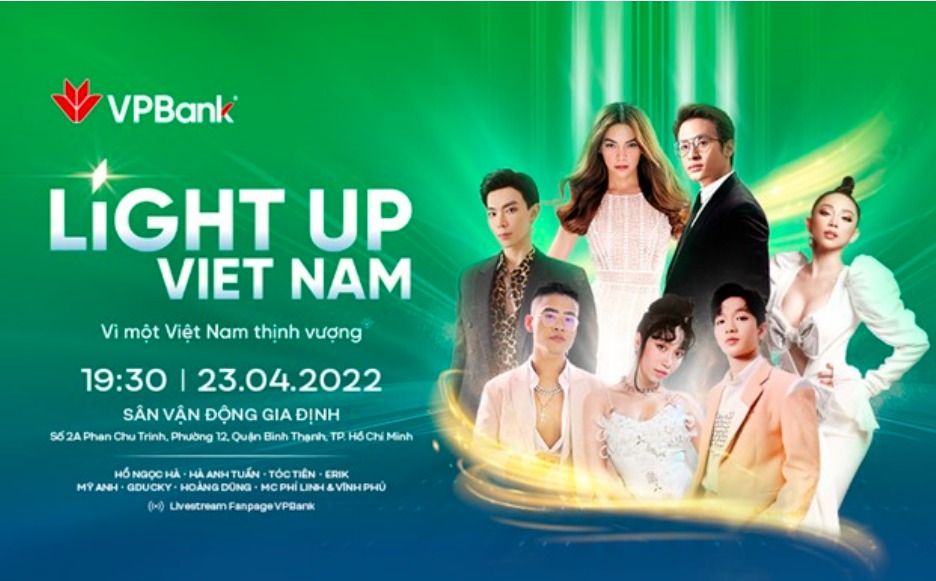 Light Up Vietnam will also be Ho Chi Minh City's first large-scale entertainment event after nearly a year of separation.
VPBank has invested and prepared very well for the event, with the hope that the program will start the "revival" of vibrant festive colors as well as promote an optimistic Vietnamese spirit. resilient after the pandemic.
Creative thanks to the "customizable" hands of Agency Viet with international qualifications and experience
It can be said that the success of VPBank's repositioning campaign cannot fail to acknowledge the companionship and important contribution of Pencil Group – a complex of creative communication, consulting and brand implementation, and outstanding marketing. in the Vietnamese market.
In the past, big brands from Vietnam often chose foreign consultants for rebranding projects.
In the fair bidding between foreign units and a domestic unit with Vietnamese personnel with international experience, Vietnamese creativity has been confirmed.
Pencil Group is the unit that has bid and won 5 multinational corporations, in the bidding package for strategic consulting and implementing new brand communication.
At the presentation round before VPBank's board of directors, Pencil Group turned the regular presentation into an exhibition showcasing innovative applications of the new identity system and was approved on the spot by the chairman.
Before, Vietnamese billion-dollar corporations used to think that they had to be foreign to do it, but the reality is much different now.
Logo design, new branch design, development of new brands VPBank Prime and VPBank NEO are also done by Pencil Group.
When the financial industry needs a complete rebranding
"In the new context, the financial industry needs to innovate in terms of branding, showing a 'lifestyle' that is more suitable for the shift of society.
Therefore, the image of financial industry brands, which is considered dry, needs to be renewed to accompany the change in the digital life of the majority of people," emphasized CEO Nguyen Tien Huy.
According to Mr. Nguyen Tien Huy, especially in the post-COVID-19 period, the shift to digital lifestyle is much stronger.
Because everyone communicates with each other, connecting with each other through the online space is over after the time of separation.
At the same time, financial solutions for individual customers, corporate customers or even leading large enterprises now have a big shift.
Therefore, banks and financial institutions must also transform themselves to adapt and quickly seize opportunities.
According to the media, the fact that a Vietnamese enterprise like Pencil Group is the author of the brand strategy, designer of the brand identity and brand communication for a large, ambitious bank like VPBank is also shows that the creative capacity of Vietnamese people is not inferior to foreign enterprises.
Pencil Group's companion journey with VPBank has opened up new opportunities and a bright signal for the ambition of capable agencies, ready to renew the billion-dollar brand name of large enterprises in Vietnam.