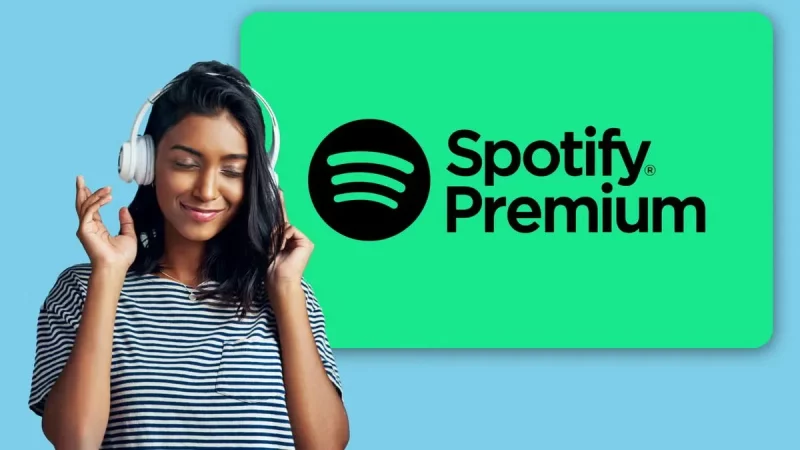 Spotify specializes in providing online music and video streaming services. What marketing strategies does Spotify use to "win" users? Let's learn about  Spotify's marketing strategy through this topic.
Spotify is one of the most successful online music, podcast and video streaming service businesses with 345 million users as of 2021. With 2 free and paid versions, Spotify has effective strategies to attract users and be able to successfully "convince" customers to use your paid service.
Currently, streaming music services are becoming popular with big names such as Apple Music, Google Music, Amazon Prime Music and we cannot help but mention Spotify – the "Boss" of the music streaming industry. .
As of 2021, with nearly 160 million Premium users, Spotify is one of the most successful online music streaming service businesses.
I. Spotify's marketing strategy in Vietnam
Spotify is one of the most famous online music streaming service providers today besides Apple Music, Amazon Prime Music and Google Music. With a rich, quality music store and a free account with almost all basic features, Spotify has quickly won the love of users and quickly achieved an admirable number of downloads.
However, with a free account with full basic functions as well as with the psychology of regular customers wanting to save money in every transaction and purchase, how can Spotify "convince" users to upgrade? Successfully upgraded to paid music service (Premium)?
Let's take a look at some of  the marketing strategies Spotify  has used to "convince" its customers as follows.
1. Spotify's marketing strategy focuses on personalizing user experience
Spotify is a service known for effectively leveraging data to personalize user experiences.
By making the most of data and technology, Spotify can successfully personalize user experiences in ways such as:
Personalize music playlists

Use a localization strategy (Localization)

Organize and optimize music playlists

Connecting local artists with users
1.1. Personalize music playlists 
To be able to personalize music playlists, Spotify uses algorithms to optimize the music suggestions that appear from the user's main menu to curated playlists like Discover Weekly. week) or Your Top Mixes (Mix list based on the songs users listen to most often).
Based on the songs that users often listen to, Spotify can suggest playlists of songs of similar music genres or mix those songs into a playlist so users can listen to the songs again. which I love in the most convenient way.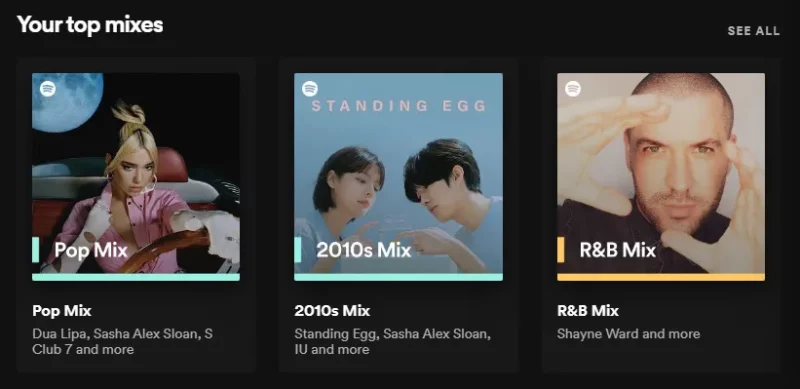 1.2. Use a localized marketing strategy (Localization)
For users, personalization does not just stop at the music genres they listen to, through their unique fashion style, through their hobbies or interests, but personalization can also be expressed through other factors such as geographical factors, especially the hometown/place of residence of each user.
Understanding that, Spotify has proven its ingenuity by using a localization strategy, customizing the language as well as suggesting music playlists of local artists in the place where the user lives. living. Spotify understands the importance of user identity and takes advantage of the power of personalization.
Spotify has music playlists created to suit the region where the user lives. The music experience of each region on this platform is different and very rich and diverse, not stereotyped or poor.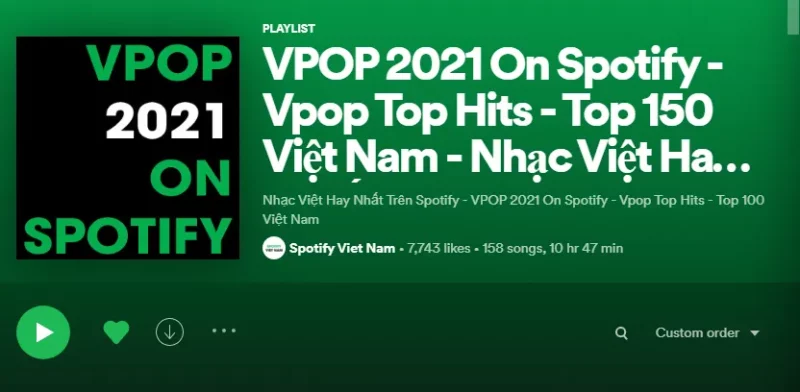 Whether users have a passion for vibrant music from Korea or ballad and R&B music from Europe and America, Spotify always has the most suitable playlists for its users.
To create a difference and attract users to use the paid version, Spotify also offers a policy: when traveling abroad. Spotify free version will not apply this policy. Users will need to purchase a 14-day Premium music package for their trip.
To encourage customers to invest in the paid version, Spotify has targeted users who are "travelholic" in large numbers, have a high willingness to pay, and have a high need for local exploration. Spotify has been very sophisticated in creating demand and suggesting them to use its Premium paid version in a reasonable and convincing way.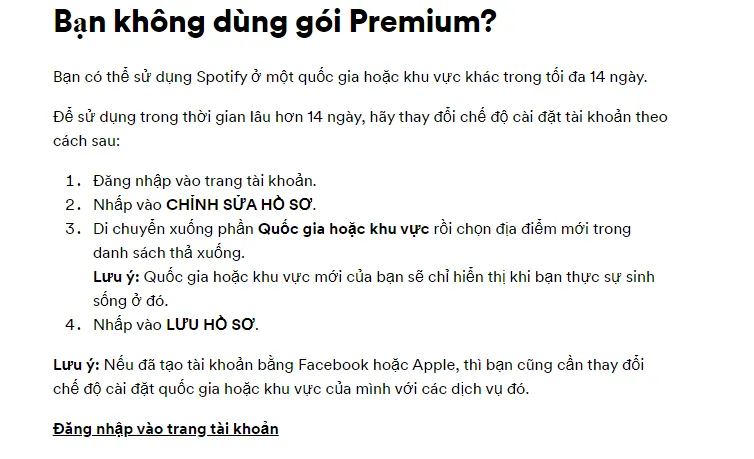 1.3. Spotify organizes and optimizes music playlists 
To suggest to users and automatically transfer songs to suit their preferences, Spotify's algorithm is created based on machine learning: This feature analyzes songs in a playlist. given and tries to predict which suitable song should be played next – as if the user himself created and added the song to the playlist.
Spotify wanted new ways to build that feature, so Spotify's artificial intelligence studied millions of user-created playlists to understand what a good playlist looks like. , thereby providing suggestions that are most similar to the user's intention.
To be able to listen to a music playlist according to their preferences, in the paid version, users can freely listen to each song in the playlist that they like, while in the free version, users Can only listen randomly from a list. This encourages investment action to use the paid version from users.
In addition, a number of other elements such as advertising or the Download feature of music playlists that users create on the mobile version, which are only available on the paid version, are also designed to increase user conversion rates. Use this version.
1.4. Connecting local artists with users 
With the localization strategy, with emphasis on personalization of customer experience, Spotify has realized the customization of music or specifically their playlists/song suggestions according to the user's locality. is very important.
So, they developed a new strategy: supporting and uplifting local artists. This strategy has created a connection not only in territory but also in musical thinking between listeners and musicians.
Although it does not directly increase the user conversion rate to the Premium version, this strategy does increase the value of the service Spotify provides. Increased product value increases brand value. Therefore, users may be willing to pay for Spotify's service in the future.
2. Freemium trial strategy
As mentioned in the introduction to Spotify, Spotify's service provides users with two types of accounts: a free account with basic features and a paid account with advanced features. than.
So how did Spotify use the Freemium strategy?
With the free version, users cannot choose their own music and turn off ads
When using the free version, users can only listen in random order that Spotify has arranged. Even, the maximum number of "skipping cards" for the Free package is 5 times/hour.
At the same time, if you are using the Free version, users have to get used to the ads between songs that they cannot skip or turn off.
With the free version, users will not be able to listen to music while offline
With the free version of Spotify, users not only have to listen to Spotify's random arrangements and controls, but also only listen online. For Premium users, once they have invested a sum of money to be able to use Spotify's service, they can save or download any favorite song to their memory, regardless of whether they are listening to music online. or offline.

The sound quality of the free Spotify package is only 160kbps, while the Premium package is 320kbps. This can be considered an outstanding competitive advantage in  product pricing  in Spotify's marketing strategy when entering Vietnam.
This free trial strategy has helped users gradually switch from listening and using pirated music to using copyrighted but free music streaming platforms like Spotify, before they have enough conditions and awareness to switch completely. to use paid services.
In addition, Spotify also allows users to use the Premium version for free for 1 month so that users can experience the Premium service before making a decision to pay to use this service.
3. Take advantage of Influencer Marketing / KOLs
Because users always want to listen to music from idols or singers they are interested in, taking advantage of Influencers or KOLs to convince users to use Spotify or sign up for paid services is understandable.
For example, on Spotify there is a lot of copyrighted music from famous artists like Taylor Swift or Justin Bieber and KPop idols like BTS, BlackPink or Red Velvet, increasing users through cooperation with many artists on Spotify. world is an effective marketing strategy for Spotify.
These famous artists will encourage their fans to use Premium services through promotional messages or videos on their Spotify pages.
4. Website design suitable for target customers
As one of the leading technology businesses, website design suitable for  target customers  is certainly Spotify's strength.
With a minimalist interface and easy navigation, Spotify's homepage has attracted customers with the slogan "Music for everyone" with effective user experience personalization features.
Grasping the demographics and preferences of target customers, Spotify's current target audience is Gen Z with the characteristics of being dynamic, youthful and full of vitality. Therefore, Spotify's website design also focuses on colorful, eye-catching colors to attract the attention of this user group.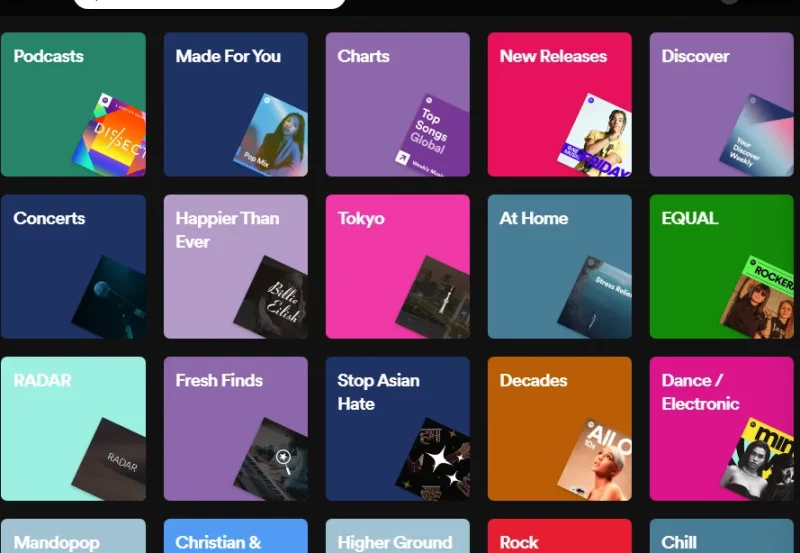 Gen Z is currently a group that regularly listens to music on Spotify to relax. Therefore, with an eye-catching website design and personalized music listening experience, this user group may also be willing to pay for Premium services to listen to music regularly without being bothered by ads or be able to enjoy the service. Choose your music playlist comfortably and conveniently.
5. Spotify marketing strategy connects users
When using Spotify, users can connect with idols or artists they are interested in through playlists they share.
Besides, thanks to the ability to integrate into Facebook, the Spotify music application allows users to see what songs their friends are listening to, and from there you can listen with or connect with your friends. me. Of course, users can also completely protect their privacy and turn off this feature if they want.

II. Spotify's impressive marketing communications campaigns
What impressive marketing communication strategies does Spotify have to attract customers?
1. Equal Campaign 
In the first half of 2021, Spotify launched the Equal campaign with the purpose of honoring the talents and musical styles of global female artists, and more deeply, to support the voice of equality. gender equality and feminism.
According to a recent study conducted by Spotify, despite playing a key role in the music industry, only 1/5 of the artists on the charts are women. To overcome this gap, Spotify has launched the Equal campaign, a new project aimed at promoting gender equality by increasing the promotion of products by female artists. The campaign launched on March 8 and runs throughout March and April 2021.
Equal Playlist collects the best songs by famous female artists from 50 countries around the world. Each month, a female artist will be featured on the cover of the respective country playlist.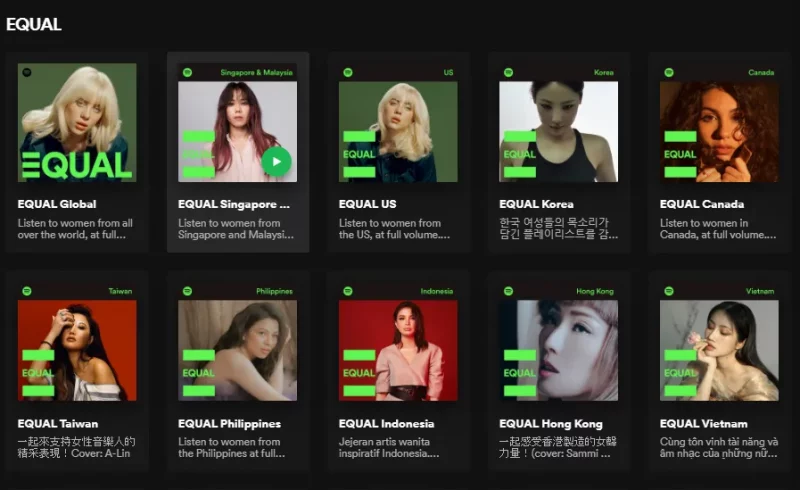 2. Wrapped Campaign
At the end of each year, Spotify launches the Wrapped campaign to honor the artists, creators and fans who create music culture – a catalyst that brings people together.
The campaign is carried out through many different media channels such as outdoor advertising, video, digital platforms and social networks. Spotify has implemented "Circles of Gratitude" on outdoor billboards and social networks to thank outstanding artists of the year.
The advertising samples are presented colorfully. In addition, the billboard also inserts relevant information and data about the artist.
Wrapped is also a campaign that summarizes the songs and artists that users frequently listen to throughout the year and summarizes the songs or artists with the most listeners.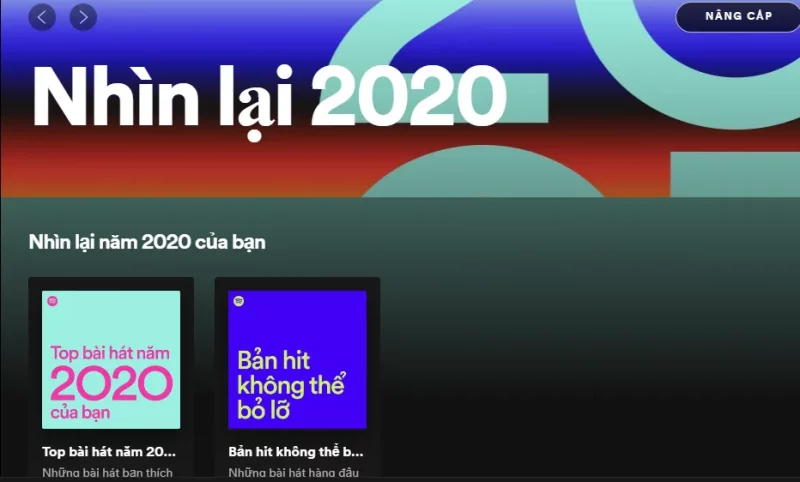 3. Spotify deploys outdoor advertising campaigns
With the goal of connecting people closer together and uplifting all of our moods with music, Spotify has launched an outdoor advertising campaign on many different media to convey invaluable messages. same good.
Advertising billboards and posters inspired by online memes will be used as icons for different playlists, corresponding to each emotional state. The slogan set here is "Music for every mood".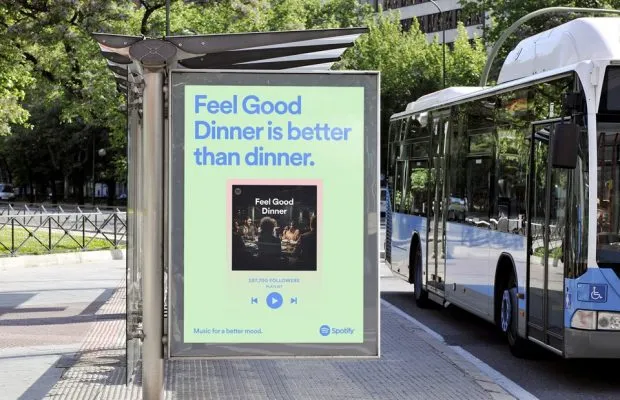 Besides, with the target customer being Gen Z, Spotify uses meme format – a famous trend among young people.
Memes are funny images or videos that are shared at breakneck speed on the Internet. Memes today are extremely popular and demonstrate a superior ability to connect with customers, compared to conventional, traditional promotional images. Furthermore, it can also be said that Spotify has invested a large enough amount of time to learn about the most popular trends with their listeners.
With a witty approach through the clever use of memes, Spotify has been very sophisticated in creating relevant content for listeners. In 2020, Spotify officially "stormed" the Internet with the clever use of memes for their Marketing campaign.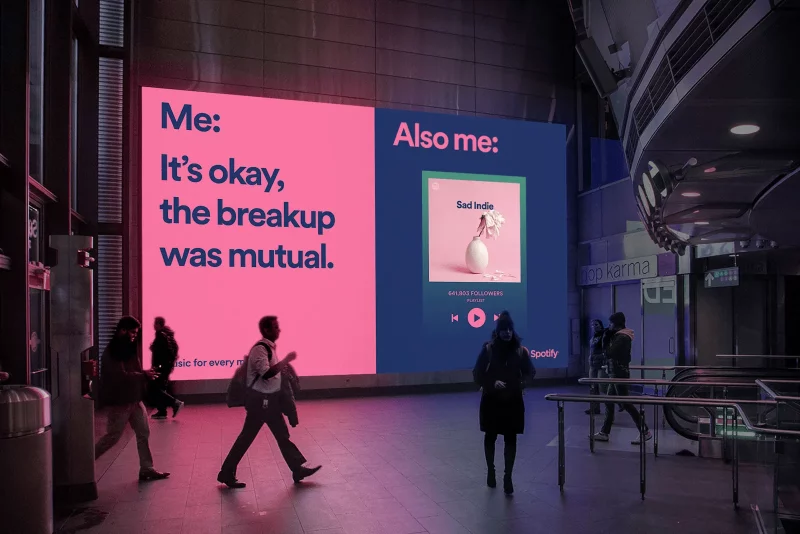 III. Summary 
So what lessons can we learn from Spotify's strategies?
Focus on personalizing customer experience

 : By personalizing user experience by leveraging data and technology, Spotify can attract customers and gain a competitive advantage over competitors. competitor

Take advantage of the Freemium strategy

 : When using the free version, users can listen to music and access diverse music playlists. However, they will often be bothered by ads and have to listen to music randomly. Therefore, users will need to pay for the Premium version to get a better music listening experience.

Application of technology and data

 : Thanks to user data profile analysis technology, Spotify has developed strategies that increase their users significantly.