Cocoon's marketing strategy has conveyed the message to users that cosmetics are vegan, protect the environment and are not tested on animals. It is those meaningful messages that have helped the Cocoon cosmetics brand get closer to consumers. Let's learn about Cocoon's Marketing strategies through the article below.
1. Overview of Cocoon – Vegan cosmetics brand
Cocoon is a famous Vietnamese vegan cosmetics brand and is a completely "Made in Vietnam" product. According to  Cocoon Vietnam ,  Cocoon means "cocoon", a cocoon is like a "house" to incubate and nurture a small caterpillar that will one day turn into a beautiful and splendid butterfly.
From that meaning, Cocoon is the "home" to care for the skin and hair of Vietnamese people, helping them become more beautiful, perfect and shine in their own way.
Cocoon was born for a simple reason: to beautify Vietnamese people from familiar, familiar ingredients. The Creator also favors our Vietnamese nature with an extremely rich plant world from fruits to herbs. Inside they contain valuable nutrients that are not only delicious to eat but also very good when applied to the skin and hair.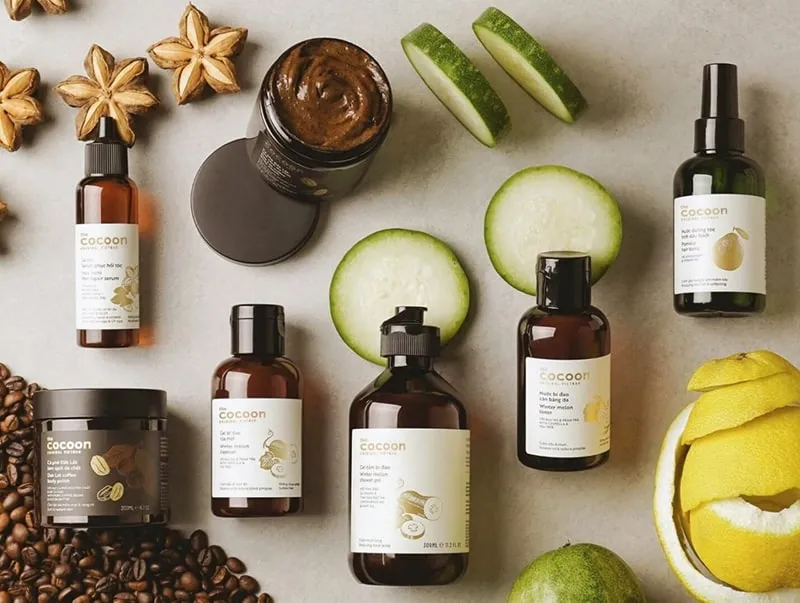 Cocoon cosmetics was born in 2013 and is known to many consumers for its benign natural products. In recent years, the cosmetic name Cocoon has suddenly attracted attention in the beauty market because its packaging has been innovated to be extremely beautiful and neat. Combined with humane and close messages.
With fierce competition in the cosmetics industry, Cocoon conquers customers thanks to beautiful stories and strict commitments on the safety of each product's ingredients.
Each Cocoon product is clearly marked with the "Vietnamese Element". Cocoon gives users a map of the typical products of each region of the country. Experience from Dak Lak coffee to Ben Tre coconut; from Tien Giang cocoa butter to Cao Bang roses. Then other natural ingredients such as grapefruit, sachi, pennywort, squash… go through a production process that meets the CGMP criteria of the Ministry of Health.
In addition, Cocoon also applies the most advanced extraction technology to retain the maximum vitamin, mineral and antioxidant content in the ingredients.
Through Marketing campaigns, Cocoon is also very successful in conveying brand personality and values. These campaigns always emphasize the naturalness of products and Cocoon's social responsibility commitments. With the fierce competition of the cosmetics industry, Cocoon conquers customers thanks to beautiful stories and strict commitments that not many brands are willing to make.
2. Cocoon's 4 most effective marketing strategies
The birth of Cocoon is like a "new breeze" for the Vietnamese cosmetics industry. When we not only see a Vietnamese brand that is meticulous in form and design, but even the product quality is not inferior to other foreign brands.
To achieve success and become one of the most famous Vietnamese cosmetic brands, Cocoon has deployed and built extremely effective marketing strategies. So what is Cocoon's Marketing strategy?
In general, Cocoon's Marketing strategy includes 4 outstanding tactics as follows.
2.1 Social media marketing
Currently, most business customers access the Internet and use social networking platforms (Social Media) every day. According to statistics from Statista.com in 2020, people spend an average of 135 minutes a day using social networks.
With undeniable popularity, Social Media are clearly effective platforms for businesses to reach a large number of customers, deploy appropriate marketing campaigns to attract them and increase conversion rates. convert.
With the strong connectivity of social network channels, implementing and deploying Marketing campaigns through these channels is gradually becoming a commonly used and developed form in the digital age. Currently.
Read more details about how to implement social media marketing in the article : [Instructions] 6 steps to implementing an effective Social Media Marketing strategy 
For Cocoon's Marketing strategy, this brand has taken advantage of social media platforms to organize minigames to attract customers, inspire or give rewards to winning customers.
In particular, with the "Discover Vietnam" marketing campaign taking place in August 2020, Cocoon uses Social Media Marketing through attractive Minigames on the main Facebook Fanpage with easy playing rules, aimed at introducing new product lines to customers.
Players just need to comment and tag friends in the Minigame post. A joining link will be sent directly via Messenger via Chatbox. The prize is a vegan product line with roses from Cao Bang and coffee from Dak Lak.
Through this minigame,  Cocoon's Marketing strategy  has succeeded in attracting customers, increasing brand interaction on the fanpage and having a strong viral effect. After less than 1 month, on September 7, 2020, Cocoon's strategy had 7,104 customers participating.
Besides these mini games, Cocoon is also very active in sharing information about tips, tricks, as well as knowledge about body care. Articles with topics such as "Are you removing your makeup properly?", "What does the combination of the antioxidant duo Vitamin C and Ferulic Acid do for your skin?",… all receive reactions. Very positive feedback from readers.
In particular, Cocoon is a brand that actively interacts with customers. Most customer comments, regardless of content, are responded to by Cocoon. This not only helps customers better understand the product, but also helps build a relationship with the brand.
For a highly competitive market like cosmetics, creating even a small advantage, like the way Cocoon is doing, is crucial to becoming different.
Creating engaging and quality content is an important part of a content marketing strategy. To build an effective Content Marketing plan, businesses need to create a detailed, specific and thorough plan template.
Currently, with the development of the Internet and social networking sites, Influencer Marketing is becoming an effective form of marketing that many famous businesses and brands take advantage of to advertise products/services to a number of people. large number of potential customers.
With the trust of the public as well as followers, influencers will have a positive impact on consumers' views on brands and products, playing a leading role, suggesting and influencing decisions. consumer's purchasing intention.
Taking advantage of Influencers will help businesses gain more trust from target customers and easily convince them to choose their products/services instead of competitors' products/services.
Read more about Influencer Marketing in the article:  What is Influencer Marketing? Role & 5 steps to implement Influencer Marketing
With Cocoon's marketing strategy, this vegan cosmetics company has cooperated with famous Beauty Bloggers such as Trinh Pham or female rapper Suboi. Thanks to the cooperation with Influencers, the Cocoon brand has more widespread coverage, attracts customers and is trusted by customers.
2.3 Collaborative marketing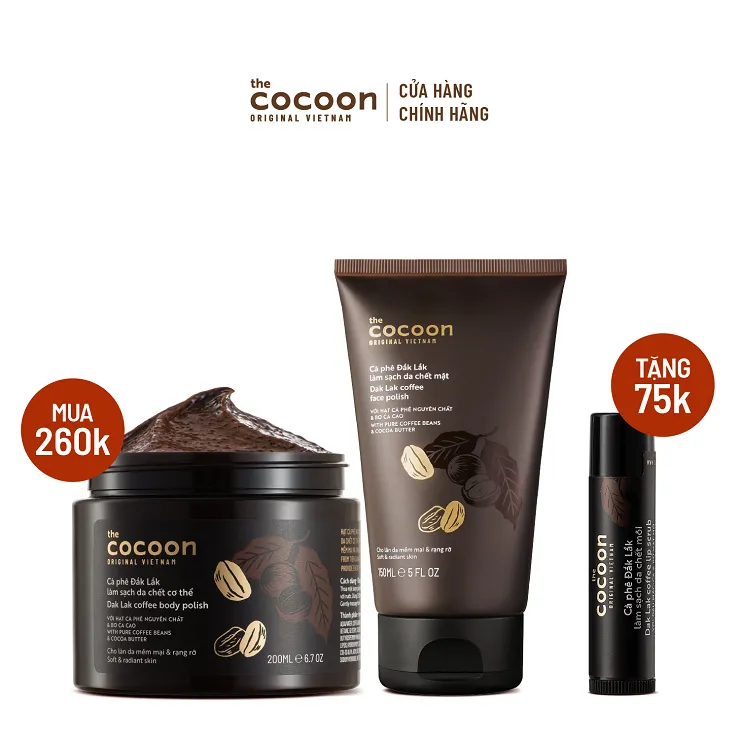 In 2020, 100% vegan cosmetics brand Cocoon, in collaboration with Lazada, one of the largest e-commerce platforms in Vietnam, launched a series of promotions and discounts for its products. me. This partnership aims to drive sales and increase brand awareness among Lazada's customer base. The campaign is promoted through both Cocoon and Lazada's social media channels, including Facebook and Instagram.
Specifically, during the big promotion "Lazada 8.8", Cocoon launched many discount deals up to 20% that customers can only find on Lazada. This event not only helps Cocoon attract customers who do not know the brand on Lazada; but also a step to motivate Cocoon's existing customers to start shopping for its products on the Lazada platform.
A proof of Cocoon's success on Lazada is the company's presence in the LazMall Brand Awards 2022. Cocoon was honored in the category  " Vietnam Brand of the year" for brands with high quality certification. Outstanding growth through each Lazada campaign.
Besides Lazada, Cocoon also cooperates with Hasaki Beauty & Clinic. Hasaki Beauty & Clinic is one of the leading health and beauty retail chains in Vietnam, headquartered in Ho Chi Minh City. Recently, on April 16, 2023, Hasaki Beauty & Clinic's 100th store officially went into operation. At the same time, Cocoon products, including samples and products, were fully available at 100 Hasaki stores.
2.4 Positioning the vegan cosmetic brand "made in Vietnam"
Besides the above campaigns, Cocoon's personality and brand value are also expressed in many other ways. As initially introduced, Cocoon focuses on authenticity, sustainability and social responsibility. The brand promotes transparency and honesty when it comes to its products and business operations. That's why Cocoon uses environmentally friendly packaging and supports organic farming methods.
In addition, Cocoon is committed to social responsibility and donates a portion of its profits to support environmental and social causes. For example, on November 1, 2022, the "COCOON X AAF" campaign was launched with the aim of ending elephant riding in Dak Lak. On December 4, 2022, "Cocoon x Xanh Vietnam – the 4th national trash pick-up" was held. The campaign was a huge success with the participation of 15,000 volunteers. Another Cocoon campaign called "Change old bottles – Get new products" has received 10,085 bottles after 2 years of implementation, as of January 18, 2023.
It can be seen that in just a short time, Cocoon has organized many campaigns that bring value to the environment and the community. This also helps strengthen brand value as well as increase awareness of Cocoon among potential customers.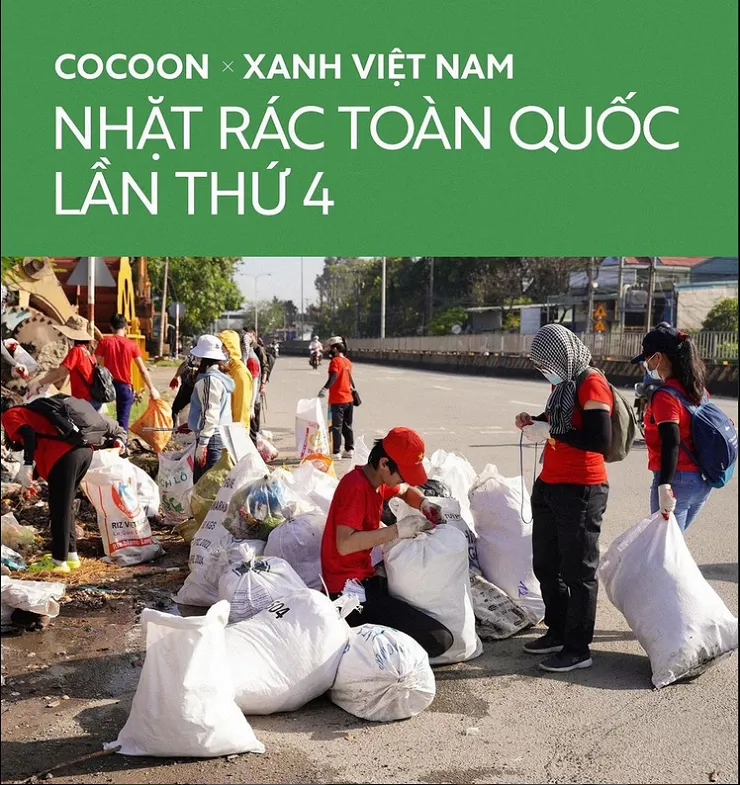 2.5 Products that are beneficial to health and society
With a reputation as a vegan cosmetics brand, Cocoon's products are beneficial not only for health but also for society.
Cocoon products are 100% vegan, registered by The Vegan Society – a long-standing educational charity in the world, providing information and guidance on various aspects of life. vegan. With the "sunflower" symbol, The Vegan Society is also one of the most prestigious certifications for products that do not contain animal ingredients and are not tested on animals.
Cocoon is also the first Vietnamese cosmetics brand to be approved by the Leaping Bunny program that commits to no animal testing or cruelty to animals by Cruelty Free International and is certified cruelty-free. animal testing from animal rights organization PETA.
During the production of cosmetics, Cocoon does not perform animal testing and does not require other companies, organizations or individuals to perform animal testing under its brand.
Cocoon has also participated in Cruelty Free International's Leaping Bunny and PETA's Beauty Without Bunnies global programs. These are the two most prestigious animal protection and cruelty-free commitment programs in the world. In particular, Leaping Bunny is considered the global "gold standard" for cosmetics, personal care and household products. To date, worldwide there have been more than 1,000 brands approved in this program.
3.1 Cocoon's Marketing Strategy for Products
With the product strategy, this cosmetic company is very smart in keeping up with the extremely popular beauty trends in the world today, which are Vegan and Cruelty Free (not tested on animals). . This has helped Cocoon attract customers and position its brand.
As beauty issues become more and more necessary, people are more careful with what they put on their skin and promote humanitarian factors, vegan cosmetics are a trend chosen by many people. In Vietnam, Cocoon is known as one of the pioneering domestic brands in this field. They launch safe, benign vegan product lines, made from Vietnamese plants and not tested on animals.
Besides, Cocoon is also a cosmetic company 100% made in Vietnam, the raw materials are taken from Vietnamese nature and the commitment to not use harmful and "addictive" substances for the skin is also a factor that helps The company scores points with customers and is trusted by customers.
Regarding product quality, all ingredients in Cocoon products have documents proving their origin from domestic and foreign raw material suppliers.
All of Cocoon's cosmetic products are researched for 12 to 24 months before being put on the market, tested to pass tests on microbiology, pH, and stability over time. temperature, irritation (according to the standards of the Japanese DRC center with a branch in Thailand) and must fully meet regulations and market circulation according to the regulations of the Ministry of Health of Vietnam.
Cocoon's cosmetic formulas are researched and tested using laboratory tests (in-Vitro test) or on volunteers (in-Vivo test). At the same time, raw material suppliers also pledge that they do not test on animals during the research and production of that material.
3.2 Cocoon's Marketing Strategy in terms of price (Price)
Regarding Cocoon's marketing strategy in terms of price, its products are  priced  at a mid-range level from 160,000 VND – 260,000 VND, so Cocoon's products attract all classes of customers.
The company also offers many beauty combos at prices lower than retail purchases for customers to choose from.
For a market where vegan products that use 100% natural ingredients are still quite rare, Cocoon pricing products at this price range is an effective strategy. First, it makes it easier to encourage customers to use a new product. At the same time, product pricing is not too low, helping Cocoon maintain its position as a high-quality brand.
In the future, Cocoon can completely reposition itself as a high-end brand by using more premium natural ingredients and deciding to increase product prices.
3.3 Cocoon's Marketing Strategy regarding distribution system (Place)
Regarding the distribution system, Cocoon's marketing strategy is to distribute products widely so that customers can easily access them. Currently, the Cocoon brand is present at more than 300 points of sale in cosmetic distribution systems such as Watsons, SammiShop, Hasaki,… and many other systems nationwide.
In addition, besides traditional stores, Cocoon also sells online on two official websites: cocoonvietnam.com and myphamthuanchay.com along with e-commerce channels such as Shopee and Lazada.
3.4 Cocoon's mixed promotion strategy
Not only is it a vegan cosmetics company with a commitment to beauty and health, Cocoon is also a brand that positively inspires users by implementing many meaningful programs such as: "Campaign to grow trees from old plastic jars." of Cocoon on Earth Day 2020″, "Exchange old bottles to get new products" with messages and purposes of protecting the environment, saving electricity,…
In particular, the "Discover Vietnam" campaign deployed by the company on its fanpage by organizing mini games and attractive gifts attracted more than 7,000 participants, helping the company not only increase sales but also increase sales. brand recognition and promote many new products to consumers.
In addition, Cocoon also launched a product advertising campaign in collaboration with female rapper Suboi called "Queen" Chat on October 19. With the spirit of "Quality from the inside out" as affirmed, the two sides have officially launched the "Queen" Quality collection including 2 dead skin cleansing products for body and lips from raw Dak Lak coffee. matter. This collection is eye-catchingly designed with impressive hot colors and the image of the inspirational character Suboi prominently printed on the packaging.
The campaign name "Queen" is a play on words of quite special origin. This name shows that the raw materials that the Cocoon brand is using in its products are pure, concentrated, unadulterated and of the highest quality from reputable suppliers. in Vietnam, as well as in the world.
The collection is on shelves at more than 1,000 large and small cosmetic stores across the country, attracting a large number of interested customers and purchases.
4. Lessons learned from vegan cosmetics brand Cocoon
4.1 Focus on unique selling proposition
This can be seen clearly from Cocoon's strategies and orientation. Cocoon's commitment to natural and organic beauty products is one of the brand's strongest differentiators. By highlighting the benefits of using natural ingredients in its products, Cocoon has resonated with consumers about the effects of synthetic chemicals on the skin and the environment. .
4.2 Influencer marketing is very effective in reaching young customers
Cocoon has leveraged this strategy to great effect. Partnering with influencers has allowed Cocoon to reach out to young consumers and create buzz around their products.
When deciding to use influencer marketing, there are a few factors businesses need to pay attention to, such as their target customer profile, budget, suitable influencers for each campaign, influencer influence, etc.
For example, besides their followers, some influencers even influence other influencers in the industry. Even influencers often seek out people with greater influence. Therefore, businesses can consider working with these major influencers. Despite the high cost, the potential of the campaign is huge, and will help the business in the long term.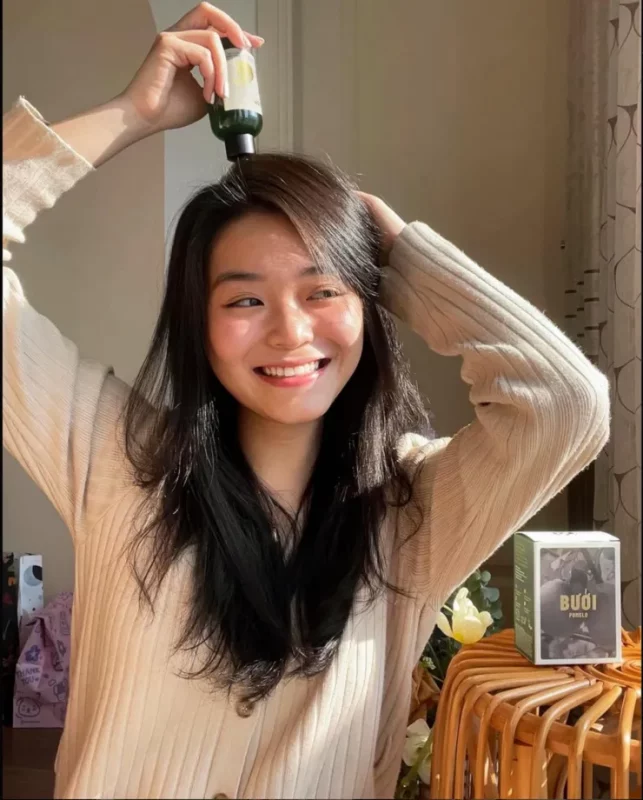 As consumers become more socially concerned, the importance of CSR also increases. In 2014, a Nielsen report stated that Vietnamese consumers expressed the second highest sentiment towards CSR in the world. More recently, in 2022, a report published on ResearchGate highlighted the positive relationship between CSR and customer purchasing behavior.
It can be seen that Cocoon clearly shows this. These actions not only benefit society and the environment but also help build brand loyalty and trust among consumers. Developing strategies that have a positive impact on society enhances the value of a business as more than just a brand or a simple shopping destination.
4.4 Customer interaction is essential 
Customer interaction is crucial to building a strong brand and Cocoon has made this a priority. By creating opportunities for customers to connect with the brand through campaigns such as "Cocoon x Xanh Vietnam" and interactive social media content, Cocoon has built a strong brand identity and promoted promote customer loyalty. Through each campaign and program organized, customers feel part of a community, joining Cocoon in building a better society.
Since most people use social networks, connecting with customers through these channels is what businesses should do.
5. Evaluate Cocoon's future marketing opportunities
According to a 2019 Aflac survey, 77% of consumers prioritize brands committed to helping society thrive. In addition, up to 73% of investors stated that businesses' efforts to improve the environment and society influence their investment decisions.
As the importance of corporate social responsibility (CSR) continues to grow in society, Cocoon and other businesses need to implement a number of strategies to continue growing stronger.
Partnering with local organizations is an effective way for Cocoon to demonstrate its commitment to creating a positive impact in the community. Non-profit organizations or agricultural support organizations are potential partners. Besides collaboration, Cocoon should also consider supporting events that have a positive impact on the community.
For example, in addition to organizing its own environmental protection events, Cocoon can sponsor other businesses' events, or help events spread information. Through these actions, Cocoon will help raise awareness of important issues and show support for causes that align with their brand values.
In addition, on June 17, 2022, Ms. Nguyen Cao Ngoc Dung, senior manager of NielsenIQ Vietnam, shared the increase in the trend of consuming products with health factors. The reason for this is the impact of the Covid-19 pandemic. Therefore, Cocoon should emphasize natural and organic ingredients in its products when implementing marketing campaigns.
In addition, Cocoon should consider partnerships with experts or influencers in the health field. Besides product promotion, providing educational content about the benefits of natural and organic ingredients will help Cocoon enhance its brand value.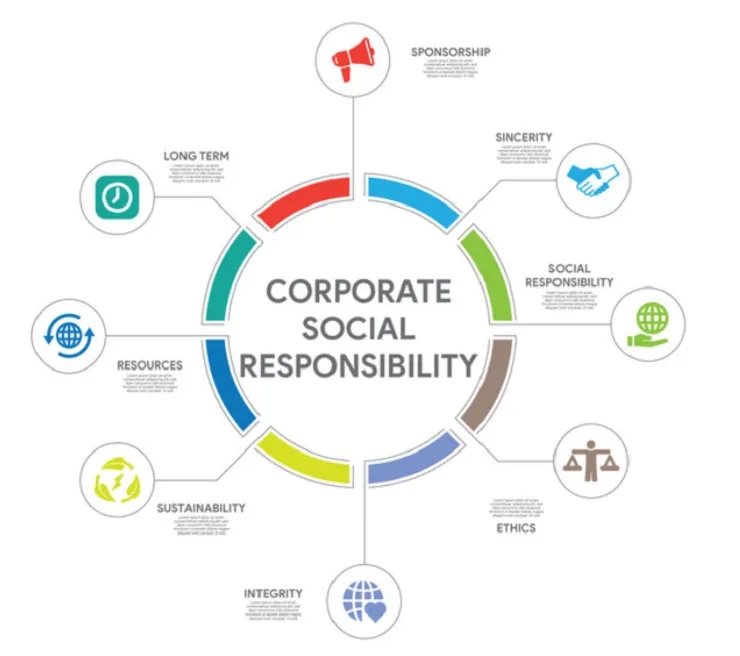 Summary
Cocoon is a cosmetic brand 100% made in Vietnam and is trusted by most customers thanks to its quality ingredients, which are beneficial to the environment and not tested on animals.
By clearly understanding and focusing on its unique selling proposition, Cocoon has developed a methodical and effective Marketing strategy. However, in the context of the market and customers changing every day, Cocoon still needs to have plans to be ready to adapt.