Yakult is one of the popular milk brands in Vietnam and around the world. To achieve this success, Yakult has implemented effective marketing strategies. Let's analyze and learn about Yakult's Marketing strategy in the article below.
Overview of the Yakult brand
Yakult Honsha was founded in 1935, and is one of the leading Japanese companies pioneering the field of Probiotics, developing, manufacturing, and commercializing products containing probiotics and pharmaceuticals. Yakult Honsha's product portfolio includes fermented milk, fruit juices, pharmaceuticals (prescription, non-prescription drugs and medical devices), cosmetics. In addition, Yakult also develops and commercializes drugs in the field of oncology.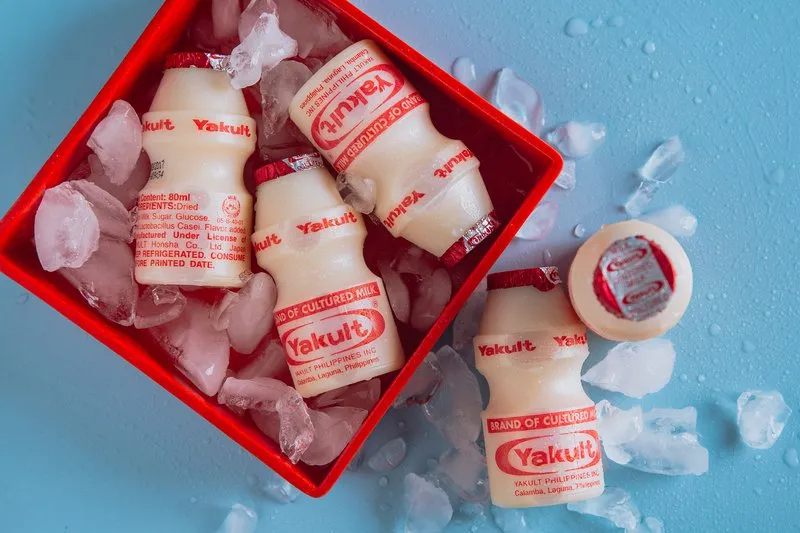 Yakult was formed from the passion of doctor Minoru Shirota. At the beginning of the 20th century, Shirota recognized poor hygiene and malnutrition as the two main causes of infectious diseases such as cholera and dysentery, causing many unfortunate casualties in Japan. Concerned about this situation, he began studying medicine at Kyoto University, studying microorganisms and focusing on prevention instead of treatment.
During his research, he discovered that lactic acid bacteria effectively suppress harmful bacteria in the intestines. In 1930, he succeeded in cultivating a strain of lactic acid bacteria (Lactobacillus casei Shirota) that could survive through digestive fluids (such as gastric juice and bile), reaching the intestines to produce beneficial effects.
With the goal of providing this lactic acid bacteria to everyone in the world, Dr. Shirota launched an easy-to-drink and affordable fermented milk (Yakult) in 1935. To date, Yakult has Present in 38 countries, and is one of the most popular drinks good for the digestive system in the world.
Analyze Yakult's Marketing Mix strategy
Yakult is one of the most popular milk brands in Vietnam and around the world. To achieve this success, Yakult has effectively deployed Marketing Mix strategies according to the 4P model. So what is Yakult's Marketing strategy? How did Yakult implement the Marketing Mix strategy?
Yakult's Marketing Strategy for Products
Products are always the core of every business, and a good product needs to meet the needs and desires of customers, otherwise competitors will lose market share or even be eliminated from the market.
Yakult is a fermented milk drink made from skimmed milk powder, sugar, water and Lactobacillus casei Shirota strain. Each bottle of Yakult contains 6.5 billion Lcasei Shirota bacteria. Unlike most other normal bacterial strains in Yakult, Lcasei Shirota bacteria have the ability to survive in gastric juice and bile, reaching the intestines still alive, helping to restore the balance of intestinal microflora. intestine.
In the Vietnamese market, Yakult launches only one basic, easy-to-drink flavor, suitable for all ages. This dairy company's packaging includes two types: block 5 and block 10. This is a reasonable packaging method because of Yakult's short shelf life as well as strict storage conditions, this helps the milk achieve the highest possible efficiency. can.
In addition, because it contains acid, drinking too much will affect the activity of other enzymes in the digestive system. Therefore, Yakult currently only provides a single capacity of 65ml, an amount just enough for the probiotics to be most effective.
In terms of quality, Yakult products go through strict production processes. Before being packaged and delivered to consumers, each product is tested according to the following process:
Prepare ingredients : Skimmed milk powder, glucose and white sugar.
Dissolving tank : Dissolve skimmed milk powder with glucose and white sugar in hot water.
Sterilization equipment : Sterilized at high temperature to have a source of sterilized milk/sterilized sugar water.
Fermentation tank : Inoculate Yakult yeast into the sterilized milk tank, ferment for a few days. After the fermentation period, the fermentation tank contains billions of living bacteria and at this time the milk in the tank is thick. The mixture is then homogenized.
Sterilization equipment : Sterilized at high temperature to have a source of sterilized milk/sterilized sugar water.
Homogenizer : Fermented milk is pumped through the homogenizer. After homogenization, the product will be transferred to a large tank containing sterilized sugar solution.
Sterilized sugar solution tank : Fermented milk after homogenization is pumped into the storage tank and stirred well with sugar water to form semi-finished milk.
Mixing equipment : The condensed milk solution after fermentation is mixed with sterile water to dilute into semi-finished drinking milk. The purpose of this stage is to neutralize the sour taste of the product after fermentation and at the same time sugar will be a source of nutrition for Lcasei Shirota bacteria to live during the shelf life.
Bottle making machine : Polystyrene plastic bottles are produced right at the factory using a bottle making machine. Polystyrene plastic pellets are heated and molded into Yakult bottles. Then, they are transferred to a large sterile tank for the next stages.
Machine prints expiration date and product information
Milk filling and aluminum capping machine
Packaging machine 5 : The product is packaged 5 bottles into 1 with Polyprolylene plastic.
Complete packaging machine : Pack 10 blocks into 1 polyprolylene plastic box.
Cold storage : The final product will be transported to cold storage <10 degrees Celsius and the product will be stored in the warehouse for about 1-2 days to check product quality before distributing to consumers.
Refrigerated vehicles, transporting goods : After quality inspection, products will be distributed to Yakult stores and transported to consumers with the best quality.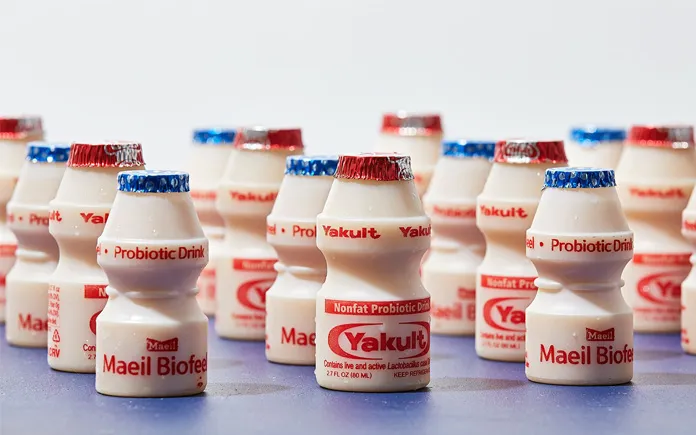 Yakult's Marketing Strategy on Price
Price is one of four important components in the marketing mix. It plays a decisive role in consumer purchases, and for companies, price plays a decisive role in competition in the market. Introducing  a pricing strategy in marketing  is important for businesses because it directly affects the sales and profits of the business.
According to McKinsey, just improving the price factor by 1% will increase profits by 6%. That has more impact than a 1% reduction in variable costs (which increases profits by 3.8%) or a 1% reduction in fixed costs (which increases profits by 1.1%).
Currently, Yakult's price ranges from 23,500 VND for a box of 5 bottles, this is a suitable price that is accessible to everyone, as well as meeting the goal of providing probiotic products for everyone. in the world by doctor Minoru Shirota.
In addition, Yakult also applies a product bundling pricing strategy to increase the value of its products for customers who are willing to pay for more than one product. This strategy can also help businesses attract interested customers and buy more products faster.
A product bundling pricing strategy is when a business offers two or more complementary products or services together in the same package and sells them for a single price. Businesses can choose to sell their bundled products or services only as part of a bundle or sell them as a bundle. For this strategy, customers are encouraged to buy more products at lower prices, instead of buying those products separately.
Product bundling pricing is an extremely popular strategy in industries like e-commerce and retail. Customers will often see bundles of products on sale for less than if they were purchased individually, or discounted items. However, these are not the only industries using product bundling strategies. Businesses in all fields from software to utility offerings use bundling to sell their products.
In most distribution systems, this dairy company launches product combos such as 2 blocks of 5, or 4 packs of 5 at a cheaper price than buying 1 box individually, thereby easily making consumers spend more money. Spend more on a single purchase.
Read more:  10 popular pricing strategies in Marketing
Yakult's Marketing Strategy on Distribution System (Place)
Through using the right distribution system, a company can increase sales and maintain positive figures over a longer period of time. This means a larger market share and increased sales and profits.
Precise positioning is an important activity that is focused on reaching the right target customers at the right time.
Currently, Yakult Vietnam factory is located in Vietnam Singapore Industrial Park – Thuan An district – Binh Duong province, with a total area of ​​24,000m2. Here, Yakult applies the most advanced and advanced technology from Japan, and input materials are also carefully selected. Therefore, this dairy company not only always meets the needs of consumers in Vietnam, but also ensures the highest product quality when it reaches customers.
Regarding the distribution system, Yakult is present in most supermarkets and retail stores in the provinces and cities, and at large supermarkets such as BigC, Vinmart, Mega Market, Circle K… mom-and-pop grocery stores to supermarkets have made its products easier to buy than ever.
Besides, this brand also develops a store system with free delivery throughout 8 provinces and cities in Vietnam:
Nha Trang: Ngoc Hiep Store, Le Hong Phong Store
Vinh: Huynh Luu Store, Vinh Tan Store, Vinh Store, Dien Chau Store
Binh Duong: Tan Uyen Store, Di An Store, Chanh My Store, Chanh Nghia Store, Ben Cat Store, Thuan An Store
Da Nang: Hai Chau Store, Son Tra Store, Thanh Khe Store, Cam Le Store
Hai Phong: Tien Lang Store, Le Chan Store, Hai Phong – Thuy Nguyen Store
Hanoi: Son Tay Store, Thuong Tin Store, Ha Dong Store, Tran Cung Store, Hong Mai Store, Au Co Store, Tam Trinh Store, Duong Khue Store, Hanoi Store, Store Dong Da, Hoang Ngan Store, Long Bien Store – Bac Ninh, Giai Phong Store
Dong Nai: Tam An Store, Tan Hiep Store, Phu Thinh Store, Bien Hoa Store
City. Ho Chi Minh: Binh Chanh Store, Nha Be Store, Cu Chi Store, Tay Lan Store, Gia Phu Store, Lac Long Quan Store, Ly Thuong Kiet Store, Che Lan Vien Store, Dat Store Thanh, Vinh Loc Store, Truong Van Bang Store, Le Van Quoi Store, Go Vap Center, Nguyen Anh Thu Store, Tam Phu Store, Nguyen Xuan Khoat Store, Tan Thuan Store, Nguyen Tri Store Phuong Store, Binh Phu Store, Lam Son Store, Binh Tan Center, Pham Huy Thong Store, To Ky Store, Ta Quang Buu Store, Thu Duc Store, Cau Do Store, Nhat Chi Mai Store, Tan Quy Store, Binh Thoi Residential Store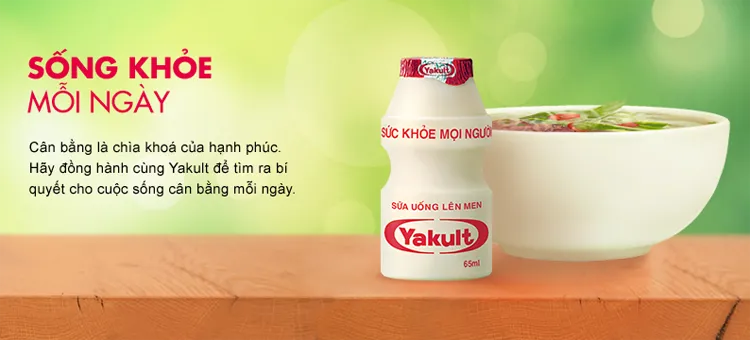 Yakult's Marketing Strategy on Mixed Promotion (Promotion)
Promotion is a necessary business activity to keep pace with the consumer market. Yakult is a very successful brand with strategies to promote its products through advertising, promotions, social activities…
Yakult x Zalo
Yakult is currently the top choice of consumers when it comes to the fermented milk industry, however, the entry of many other competitors is a threat to Yakult's number 1 position. Besides, many other brands package products similar to Yakult, so Yakult's brand recognition is becoming increasingly saturated.
With that situation, building multi-channel advertising strategies, covering social platforms to promote your products is a good strategy to maintain your brand and connect it with customers. customers, helping customers remember your brand, or in other words, increasing brand recognition.
Realizing this, Yakult immediately launched a sticker set in combination with Zalo to increase coverage, this is a very effective strategy when currently in Vietnam there are more than 60 million Zalo users. The results from this campaign exceeded expectations with more than 500,000 organic downloads.
Promotion at point of sale
Yakult is a brand that focuses on promoting promotion activities at the point of sale. By cooperating with its distribution system, Yakult is displayed in a beautiful location, easy for customers to find. In addition, Yakult also regularly places POSM to optimize customers' shopping experience.
POSM are items and accessories that support sales at retail points, supermarket systems… Currently, there are many brands using POSM to advertise and introduce product information to increase product experience. customer experience at specific points of sale.
Currently, Yakult's popular POSM is usually Wobbler, with a cute Yakult sticker along with the effects of this milk. In addition, this brand also regularly opens product trial booths, increasing customers' shopping experience, helping them make faster decisions when purchasing.
Social activities
Social activities, or social responsibility, are one of the effective promotional activities. Campaigns for the community always achieve great effectiveness, not only building a socially responsible corporate image but also attracting the interest and attention of the community.
One of Yakult's outstanding community activities is Yakult Lady. Taking the image of familiar milk delivery women in Japan, Yakult Vietnam is also expanding this model.
Most of the subjects Yakult recruits are middle-aged or retired. In this way, the brand has solved the problem of many women who need jobs when there are almost no businesses recruiting in their age group.
In addition, the salary for this position at Yakult Vietnam is quite high (income over 10 million VND/month), with this salary, Yakult Ladies can take care of their families, as well as satisfy their needs. your personal.
Besides, Yakult does not consider them as sellers but as product introducers, and they do not deliver but bring the products directly to customers. From there, it can be seen that this brand's strategy not only helps Yakult Ladies have stable jobs, but also shows dedication to customers.
Summary
Yakult is one of the most popular milk brands in Vietnam and around the world. To achieve this success, Yakult has implemented effective marketing strategies.
Hopefully through this article, readers will better understand the case study of Yakult's marketing strategy, from which they can refer to implementing appropriate marketing strategies for their business. Visit our blog to update good knowledge every day!
Check out some other good articles: