Kinh Do is one of the famous brands in confectionery production in Vietnam. To increase brand recognition and sales revenue, Kinh Do has invested heavily in implementing marketing strategies. Let's learn about the successful marketing strategies of Kinh Do – the "big man" in the moon cake market segment in Vietnam through this article.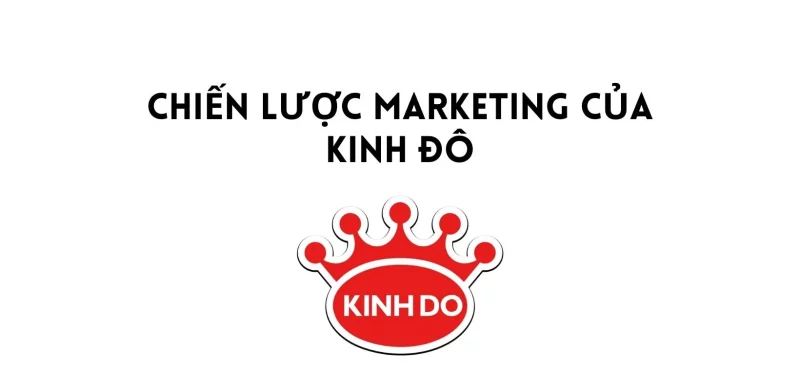 l. Overview of Kinh Do company
According to  Wikipedia , Kinh Do is a joint stock company specializing in manufacturing and trading snacks in Vietnam, with main products including cakes, candy and ice cream. Currently, Kinh Do is one of the private companies with the highest profits among companies listed on the stock market in Vietnam.
Kinh Do Company is currently the leading confectionery manufacturing and processing company in the Vietnamese market with 7 consecutive years of being voted by consumers as High Quality Vietnamese Goods. Kinh Do's distribution system spreads across 64 provinces and cities with 150 distributors and over 40,000 retail points. Kinh Do's products have been exported to markets around the world such as the US, Europe, Australia, the Middle East, Singapore, and Taiwan, with export turnover striving to reach 10 million USD in 2003.
In 2010, Kinh Do merged Kinh Do Northern Food Processing Company (NKD) and Ki Do Company into Kinh Do Joint Stock Company (KDC). Kinh Do's orientation is to expand the scale of the food industry through mergers with the ambition to become a leading food corporation not only in Vietnam but also in the region. Southeast Asia.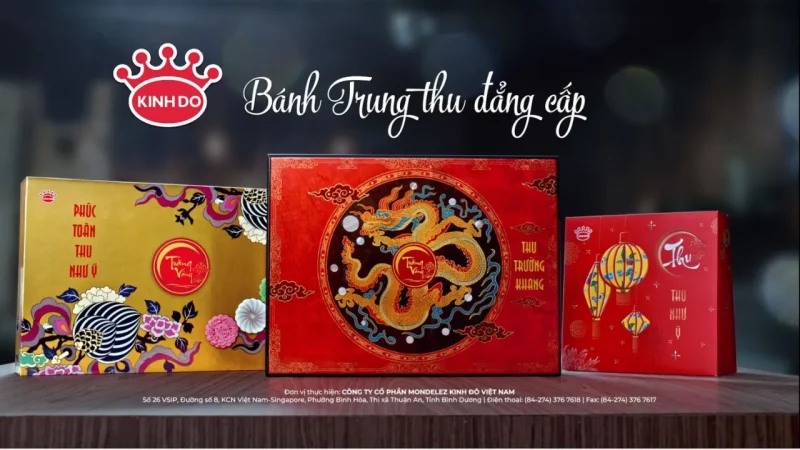 With the development orientation to become a multi-industry corporation, Kinh Do also expands into many other fields such as real estate business investment, finance and retail system development. Accordingly, the fields have a correlation and support each other. The parent company plays the role of specializing in financial investment, the subsidiaries operate in each field with specific industries according to the general development direction of the Group.
Kinh Do's main products can be mentioned as: Cookies, Snacks, AFC – Cozy Cracker Cakes, Chocolate Candy, Hard and Soft Candies, Salty and Sweet Breads, Sponge Cakes, Cream Cakes, Kido's ice cream, Kinh Do mooncake, chocolate,…
Kinh Do has been awarded the Labor Medal twice by the state, has been voted by consumers as a high quality Vietnamese product for many years and is also the only brand to be voted as a National brand 4 times…
Analyzing the Marketing strategy of Apple – "Biggest" in the technology industry

#3 Vinamilk's successful marketing strategy in Vietnam

The most detailed SWOT analysis of Vinamilk in 2023
ll. Kinh Do's Marketing Mix strategy in the moon cake market follows the 4P model 
Kinh Do is one of the most famous confectionery brands in Vietnam. In particular, Kinh Do mooncake products are often at the top of the market and are always invested in and improved every year in both quality and packaging design.
To achieve this success, Kinh Do has built and implemented effective marketing strategies according to the  4P Marketing Mix model  for its moon cake products.
So what is Kinh Do's Marketing strategy according to the 4P model in the moon cake market?
1. Kinh Do's Marketing Strategy for Products
When it comes to Kinh Do's marketing strategy for products, Kinh Do not only focuses on the product, but they also care about most of the factors that make up the brand identity.
Kinh Do Moon Cake takes traditional elements as the core value and makes a difference compared to similar products on the market. In particular, traditional product lines such as fish fins, ham roasted chicken, mixed sausages, green beans, taro, red beans, coconut milk, green tea lotus seeds… are favored by Vietnamese customers for their ingredients. are products of the Capital of thousands of years of civilization such as: Quang Ba lotus, Nghi Tam kumquat, Dien grapefruit flower…
Besides, a difference ( Unique Selling Points ) in Kinh Do's marketing strategy for products compared to other businesses is that in addition to modern technology, Kinh Do places great emphasis on product processing techniques, Especially the additive formula, thanks to which Kinh Do's moon cakes have an attractive and unique flavor.
Kinh Do always boldly invests, continues to take the lead in improving quality, producing its products with new technology on the world's most modern production lines and upgrading the quality of mooncake products. .
Among them, the breakthrough in creativity is the Hung Phu Golden Moon product set, which is processed according to modern moon cake production technology with ingredients such as Mochi lotus seed cake, snow green tea, and avocado green beans – a combination. Unique between tradition and modernity, between East and West with the blend of high-quality French butter, green beans and almonds, creating the typical fragrant flavor of Kinh Do mooncake products.
Kinh Do's products, in addition to their breakthrough in quality, also have frequent design changes. In particular, Kinh Do mooncake products always affirm luxury, sophistication and premium value.
Kinh Do mooncake products with outstanding designs include the Golden Moon Phu Quy product. With a completely new, beautiful packaging design, improved quality not inferior to high-end imported products, Kinh Do Mooncakes are used by consumers not only as gifts to give to each other, but also is a sincere wish for the Mid-Autumn Festival.
In terms of quality, Kinh Do is currently applying a quality management system according to ISO 9001:2000 standards in product and service quality inspection, certified by the British BVQI organization in October 2002. The ISO 9001:2000 quality management system is strictly followed by this brand. Since 2002, Kinh Do has had its quality management system re-evaluated every 6 months by BVQI with good results.
With outstanding design and quality products, Kinh Do mooncakes are always one of the products that consumers prioritize during the holidays.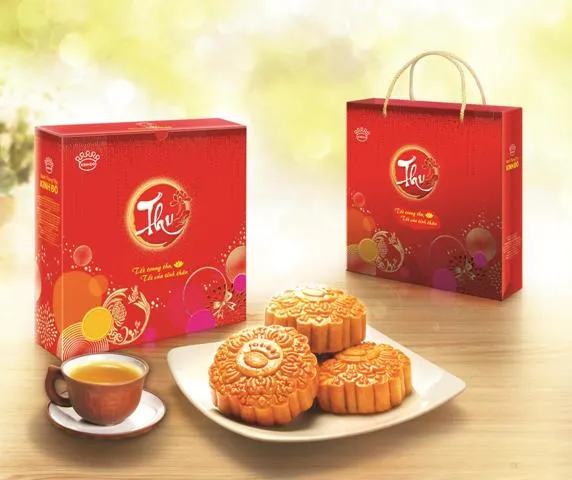 2. Kinh Do's Marketing Strategy in terms of price (Price)
Kinh Do's main marketing strategy regarding prices for Kinh Do mooncake products is  product pricing strategy  and discount programs .
Kinh Do offers many prices suitable to the financial capabilities of different customers. In addition to popular cake lines that are affordable, Kinh Do also has high-end product lines with affordable prices. up to millions of dong. In particular, Kinh Do mooncakes do not reduce their prices after the Mid-Autumn Festival, this price reduction will be assigned to agents.
In parallel with the product pricing strategy in many different segments, Kinh Do deploys many  attractive sales discount programs  for customers and agents. The discount rate for Kinh Do's distributors is quite high compared to its competitors, so the expansion of Kinh Do's distribution network is quite good. It can be said that discount pricing is one of the pricing strategies that has helped Kinh Do succeed in possessing a competitive advantage and attracting customers.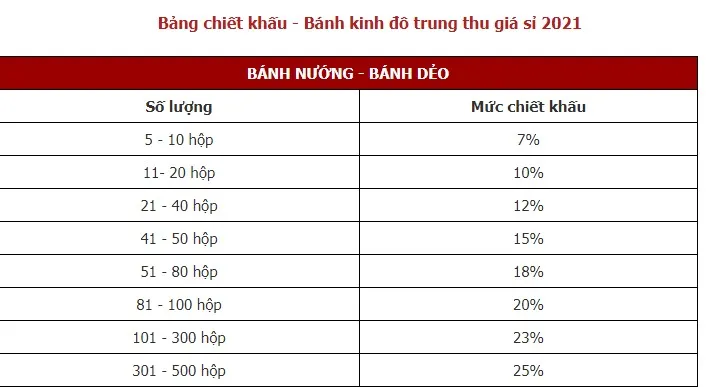 Besides, Kinh Do also uses a value-based product pricing strategy. A value-based product pricing strategy is a pricing strategy that is primarily based on the customer's perceived value of a business's product or service. Value pricing is customer-focused pricing, which means businesses set prices based on what customers believe is appropriate for the value the product provides.
For its high-end moon cake products, Kinh Do has priced the products higher than other product lines because the ingredients and quality of high-end products will be more suitable for the high, worthy price. worth the value that the product provides to customers.
3. Kinh Do's Marketing Strategy regarding distribution system (Place)
The widespread distribution system is also an effective marketing strategy for Kinh Do.
Kinh Do's distribution system is considered the most perfect among confectionery manufacturing companies in the Vietnamese market. Kinh Do has a nationwide distribution network mainly through 3 main channels: system of distributors and agents, system of Kinh Do Bakery stores (belonging to Kinh Do Saigon Joint Stock Company), supermarkets and Northern Kinh Do Joint Stock Company (distributing to the Northern provinces) as well as through strategic allied partners.
Kinh Do distribution system has brought great trust by creating a clear transformation with more than 200 strong distributors, a chain of 30 Kinh Do Bakery stores, nearly 120,000 points of sale, 30,000 points of sale of ice cream and dairy products. milk,… throughout the territory of Vietnam with the service of more than 1,800 sales personnel by the end of 2010.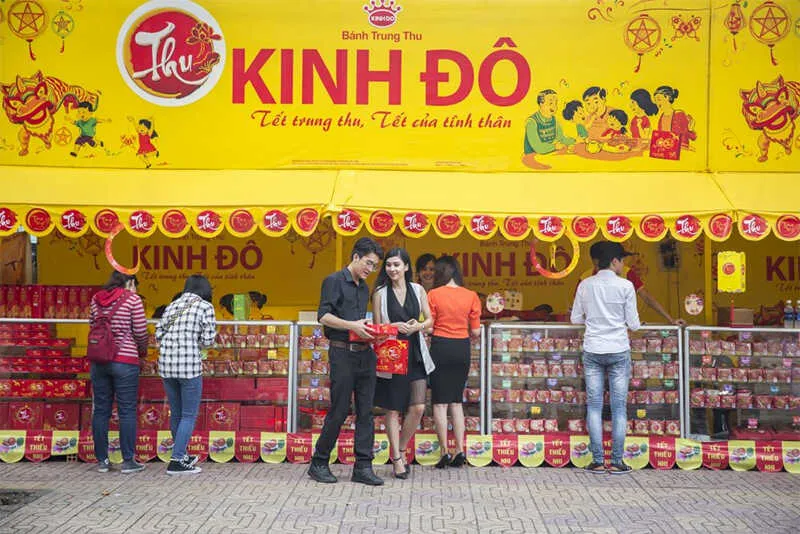 For the current distribution system, Kinh Do supplies products directly to more than 150 supermarkets. Therefore, this distribution network is considered one of the widest in the country and adapts effectively to market fluctuations, consuming about 85% of the company's sales.
Kinh Do not only focuses on distribution on traditional channels, but also distributes through many channels such as supermarket systems, bakery systems, seasonal channels, school channels, amusement parks… Up to now, most of the Sales points from the center of the province to the districts and communes all have the presence of Kinh Do products, making Kinh Do the leading confectionery manufacturer in Vietnam with a market share of nearly 30%, specifically in cake categories. Mid-Autumn.
Kinh Do also has a great advantage in the market with a market share of up to 70% nationwide. Every year, Kinh Do's distribution channel growth rate is from 15 to 20%.
4. Kinh Do's Marketing Strategy on mixed promotion (Promotion)
When it comes to Kinh Do's marketing strategy on mixed promotion, Kinh Do has deployed many diverse marketing campaigns to attract customers and increase sales revenue for mooncake products.
Promotion 
Because Kinh Do mooncakes are famous for their eye-catching designs, delicious flavors and are safe for consumers' health, the prices of Kinh Do mooncakes are often higher than other common products of the same type.
However, Kinh Do is still successful in attracting customers thanks to its attractive promotions. Kinh Do does not apply "huge" promotional strategies such as "Buy 1 get 1 free", "50% off"… Instead, Kinh Do supports customers to buy in bulk with different discounts for each customer. Both premium and regular cakes when purchasing 5 boxes or more.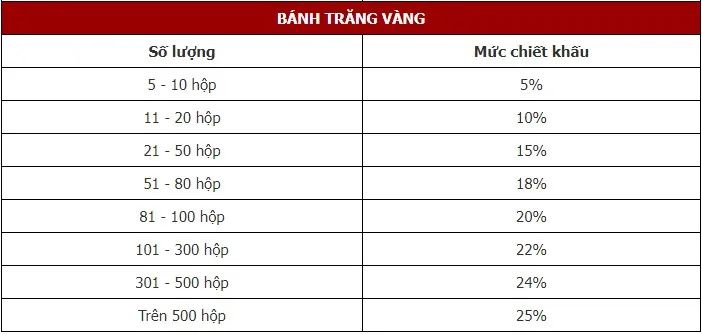 Discount levels will vary from year to year but generally do not fluctuate much. Above is the discount table for the mid-autumn season of 2021. In addition, in Mid-Autumn Festival 2010, Kinh Do also has a promotion program to give special gifts applicable to the first 100 orders.
Another promotion program of Kinh Do includes supporting 50 banners and 50 glass cabinets for stores and retail agents. Besides, the company also cooperates with online sales websites to sell shopping cards at attractive prices: 1 voucher worth 120,000 VND, 50% off, only 60,000 VND.
Advertisement 
Starting from the strategic direction of Kinh Do brand advertising, after going through the phase of "creating brand awareness for customers", Kinh Do invests in the phase of "creating emotions" for customers. viewers through  Online Marketing channels , news media, radio…
The Mid-Autumn Festival is a traditional folk festival dating back thousands of years, a festival very close to children, imbued with Asian identity, so every year when the Mid-Autumn Festival approaches us, I had the opportunity to see advertisements about Kinh Do moon cakes, most of which were broadcast on TV with unique and different messages to consumers.
In particular, the slogan: "Mid-Autumn Festival – Tet of love" is still Kinh Do's chosen slogan to distinguish it from other competitors such as Bibica – Good soulmate or Friendship – Sweet traditional flavor . Mid-Autumn Festival is a "reunion festival", so advertising targets the feelings of family members. In 2017, with the advertisement "Dad's Mid-Autumn Festival", the brand received positive feedback from consumers, and receive support from customers.

Content marketing is a strategy that businesses use to create and share valuable content with their target audience. Creating engaging and quality content is an important part of a Content Marketing strategy. Register to immediately receive a full set of Content Marketing plan templates to help businesses evaluate the effectiveness of their Marketing campaigns.
Social activities
Every year during the Mid-Autumn Festival, Kinh Do coordinates with agencies and social organizations to deploy many social activity programs. Last year, the program's organization budget and 10,000 gifts with a total value of 550 million VND were sent to children in difficult circumstances at Shelters, Open Houses, and the elderly at Nursing Centers. old man…
In the South, there have been more than 7,000 Kinh Do gifts for humanitarian social activities programs with the desire to bring children in difficult circumstances. These programs have created a fun, warm atmosphere.
In the Northern provinces, Kinh Do donated about 3,000 gifts to programs of social benefactors, 1,000 gifts in the Mid-Autumn Festival program organized by the Vietnam Children's Fund and 500 gifts. for the program organized by the Golden Heart Social Social Fund, giving about 1,500 gifts to programs of the Labor Federation – My Hao district, Vietnam Association for the Relief of Disabled Children and other agencies and organizations.
Summary
Kinh Do is one of the famous brands in confectionery production in Vietnam. To increase brand awareness and sales revenue, Kinh Do has invested heavily in implementing its marketing strategies effectively.
Kinh Do's marketing strategies on products, prices, distribution systems and mixed promotions in the 4P Marketing model will be a case study for brands to research and learn about constantly improving product quality. , services and promote communication in the right direction to achieve the expected positions in the market.